{"id":5880365252772,"title":"Mintiml Kitchen Brush","handle":"v","description":"\u003c!-- Build time: 2020-07-14 15:06:32 --\u003e \u003c!--\n * @Description: listing build template\n --\u003e\n\u003cstyle\u003e\u003c!--\n.listing-build-item table {\n width: 100% !important;\n margin: 5px 0 !important;\n border-collapse: collapse !important;\n table-layout: initial !important;\n word-break: break-word !important;\n }\n\n .listing-build-item table ul li,\n .listing-build-item table dl dd,\n .listing-build-item table dl dt {\n list-style:outside none !important;\n margin:0 !important;\n }\n\n .listing-build-item table ul,\n .listing-build-item table dl {\n margin-left: 0 !important;\n }\n\n .listing-build-item table tr\u003etd,\n .listing-build-item table tr\u003eth {\n padding: 10px 14px !important;\n font-size: 14px !important;\n border: 1px solid #cbcbcb !important;\n background-clip: padding-box !important;\n position: relative !important;\n letter-spacing:initial !important;\n text-align: left !important;\n }\n\n .listing-build-item table tr\u003eth {\n font-weight: 600 !important;\n }\n\n .listing-build-item h3 {\n color: #000 !important;\n font-size: 20px !important;\n font-weight: 600 !important;\n margin: 0 !important;\n padding: 10px 0 !important;\n text-align: left !important;\n }\n .listing-build-item table th,.listing-build-item h5{\n color:#000 !important;\n }\n .listing-build-item ul li,\n .listing-build-item dl dd,\n .listing-build-item dl dt {\n list-style: disc outside !important;\n margin: 0 0 3px 18px !important;\n padding:0;\n }\n\n\n .listing-build-item {\n margin-bottom: 30px !important;\n word-break: break-word !important;\n }\n\n .listing-build-item ul,\n .listing-build-item dl {\n margin: 0 !important;\n padding:0 !important;\n list-style:outside none !important\n }\n\n .listing-build-item .img-box {\n margin: 10px 0 !important;\n }\n\n .listing-build-item .img-box img {\n height: auto !important;\n max-width: 100% !important;\n margin: 0 auto !important;\n padding: 0 !important;\n display: block !important;\n }\n @media screen and (min-width: 992px){\n .listing-build-item table tr\u003eth {\n width: 180px !important;\n }\n }\n @media screen and (max-width: 750px){\n .listing-build-item table tr\u003eth {\n width: 100px !important;\n }\n }\n\n .listing-build-item tr:first-child th:after,\n .listing-build-item tr:first-child td:after {\n border: initial !important;\n }\n\n .listing-build-item ul\u003eli:last-child,\n .listing-build-item ul.features\u003eli:last-child,\n .listing-build-item ul\u003eli.package-row:last-child {\n margin-bottom: 0 !important;\n }\n .listing-build-item ul.features li,.listing-build-item ul li.package-row{\n margin-bottom:7px !important;\n }\n .listing-build-item h5{\n margin: 20px 0 5px 0 !important;\n font-weight: 600 !important;\n text-align: left !important;\n }\n .listing-build-item strong{\n font-weight: 600 !important;\n }\n--\u003e\u003c\/style\u003e\n\u003c!-- BEGIN features --\u003e\n\u003cdiv class=\"listing-build-item\"\u003e\n\u003ch3\u003eMain Features\u003c\/h3\u003e\n\u003cul class=\"features\"\u003e\n\u003cli\u003eIt is healthy to eat fruits and vegetables regularly, but it is healthier to wash fruits and vegetables properly before eating. \u003cspan style=\"color: #ff8000;\"\u003e\u003cstrong\u003eWe provide you with flexible vegetable brushes.\u003c\/strong\u003e\u003c\/span\u003e\n\u003c\/li\u003e\n\u003c\/ul\u003e\n\u003cimg src=\"https:\/\/cdn.shopifycdn.net\/s\/files\/1\/0026\/0928\/3181\/files\/611hg7QJYwL._AC_SL1005_480x480.jpg?v=1594710743\" alt=\"\" style=\"display: block; margin-left: auto; margin-right: auto;\"\u003e\u003cbr\u003e\n\u003cul class=\"features\"\u003e\n\u003cli\u003eThis is a multi-functional brush made of high-grade materials, which is \u003cspan style=\"color: #00aaff;\"\u003e\u003cstrong\u003edurable and easy to use.\u003c\/strong\u003e \u003c\/span\u003e\n\u003c\/li\u003e\n\u003c\/ul\u003e\n\u003cbr\u003e\n\u003cul class=\"features\"\u003e\n\u003cli\u003eIt is \u003cspan style=\"color: #ff8000;\"\u003e\u003cstrong\u003eflexible and has a non-slip curve with a comfortable grip that will not harm your hands.\u003c\/strong\u003e\u003c\/span\u003e It has a flexible shape, and even shaped vegetables and fruits can be easily brushed off.\u003c\/li\u003e\n\u003c\/ul\u003e\n\u003cimg src=\"https:\/\/cdn.shopifycdn.net\/s\/files\/1\/0026\/0928\/3181\/files\/61VIgUyhtJL._AC_SL1002_480x480.jpg?v=1594710522\" alt=\"\" style=\"display: block; margin-left: auto; margin-right: auto;\"\u003e\u003cbr\u003e\n\u003cul class=\"features\"\u003e\u003c\/ul\u003e\n\u003cbr\u003e\n\u003cul class=\"features\"\u003e\n\u003cli\u003eThe flexible vegetable brush has an ultra-soft but durable mane, which can \u003cspan style=\"color: #00aaff;\"\u003e\u003cstrong\u003eimmediately remove dirt, dust, and stains on fresh vegetables and fruits\u003c\/strong\u003e\u003c\/span\u003e to eliminate its healthy skin and nutrition.\u003c\/li\u003e\n\u003c\/ul\u003e\n\u003cbr\u003e\n\u003cul class=\"features\"\u003e\n\u003cli\u003eIt is for all types of fruits and vegetables (such as apples, potatoes, potatoes, radishes, carrots, beets, broccoli, etc.), and even those that can scrub hard skin \u003cspan style=\"color: #ff8000;\"\u003e\u003cstrong\u003eeffectively for storage and maintenance.\u003c\/strong\u003e\u003c\/span\u003e\n\u003c\/li\u003e\n\u003c\/ul\u003e\n\u003c\/div\u003e\n\u003c!-- END features --\u003e \u003c!-- BEGIN usage_scene --\u003e\n\u003cdiv class=\"listing-build-item\"\u003e\n\u003ch3\u003eUsage Scenarios\u003c\/h3\u003e\n\u003cul\u003e\n\u003cli\u003ePerfect for potatoes, carrots, beets, broccoli, and more. This flexible scrubber will follow the contours of the vegetable while the sturdy nubs dislodge dirt in nooks and crannies.\u003c\/li\u003e\n\u003c\/ul\u003e\n\u003cbr\u003e\n\u003cul\u003e\u003c\/ul\u003e\n\u003c\/div\u003e\n\u003c!-- END usage_scene --\u003e \u003c!-- BEGIN using_text --\u003e \u003c!-- END using_text --\u003e \u003c!-- BEGIN specification --\u003e\n\u003cdiv class=\"listing-build-item\"\u003e\n\u003ch3\u003eSpecification\u003c\/h3\u003e\n\u003ctable\u003e\n\u003c!-- BEGIN specification_material --\u003e\n\u003ctbody\u003e\n\u003ctr\u003e\n\u003cth scope=\"row\" class=\"specification-th\"\u003eMaterials\u003c\/th\u003e\n\u003ctd class=\"specification-td\"\u003e\n\u003cul\u003e\n\u003cli\u003eABS\u003c\/li\u003e\n\u003c\/ul\u003e\n\u003c\/td\u003e\n\u003c\/tr\u003e\n\u003c!-- END specification_material --\u003e \u003c!-- BEGIN specification_custom_attribute --\u003e \u003c!-- END specification_custom_attribute --\u003e \u003c!-- BEGIN specification_models --\u003e \u003c!-- END specification_models --\u003e \u003c!-- BEGIN specification_colors --\u003e \u003c!-- END specification_colors --\u003e \u003c!-- BEGIN specification_size --\u003e\n\u003ctr\u003e\n\u003cth scope=\"row\"\u003eProduct Size\u003c\/th\u003e\n\u003ctd\u003e\n\u003cul\u003e\n\u003cli\u003e14CM × 6CM × 2.1CM\u003c\/li\u003e\n\u003c\/ul\u003e\n\u003c\/td\u003e\n\u003c\/tr\u003e\n\u003c!-- END specification_size --\u003e \u003c!-- BEGIN specification_weight --\u003e \u003c!-- END specification_weight --\u003e \u003c!-- BEGIN specification_weight --\u003e \u003c!-- END specification_weight --\u003e \u003c!-- BEGIN specification_many_package --\u003e\n\u003ctr\u003e\n\u003cth scope=\"row\"\u003ePackage Contents\u003c\/th\u003e\n\u003ctd\u003e\n\u003cul\u003e\n\u003cli\u003eMintiml Kitchen Brush × 1\u003c\/li\u003e\n\u003c\/ul\u003e\n\u003c\/td\u003e\n\u003c\/tr\u003e\n\u003c!-- END specification_one_package --\u003e\n\u003c\/tbody\u003e\n\u003c\/table\u003e\n\u003c!-- BEGIN specification_size_img --\u003e \u003c!-- END specification_size_img --\u003e\n\u003c\/div\u003e\n\u003c!-- END specification --\u003e \u003c!-- BEGIN note --\u003e\n\u003cdiv class=\"listing-build-item\"\u003e\n\u003ch3\u003eNote\u003c\/h3\u003e\n\u003cul\u003e\n\u003c!-- END note_apply --\u003e \u003c!-- BEGIN note_other --\u003e\n\u003cli\u003eDue to the different display and lighting effects, the actual color of the item may be slightly different from the color displayed on the picture.\u003c\/li\u003e\n\u003c!-- END note_other --\u003e\n\u003c\/ul\u003e\n\u003c\/div\u003e\n\u003c!-- END note --\u003e","published_at":"2020-11-24T17:06:14+08:00","created_at":"2020-11-24T17:06:14+08:00","vendor":"solegg","type":"Hot produts","tags":[],"price":799,"price_min":799,"price_max":799,"available":true,"price_varies":false,"compare_at_price":1999,"compare_at_price_min":1999,"compare_at_price_max":1999,"compare_at_price_varies":false,"variants":[{"id":37050622312612,"title":"ORANGE","option1":"ORANGE","option2":null,"option3":null,"sku":"LE12040775JUS","requires_shipping":true,"taxable":false,"featured_image":null,"available":true,"name":"Mintiml Kitchen Brush - ORANGE","public_title":"ORANGE","options":["ORANGE"],"price":799,"weight":0,"compare_at_price":1999,"inventory_management":null,"barcode":null,"requires_selling_plan":false,"selling_plan_allocations":[]},{"id":37050622345380,"title":"PINK","option1":"PINK","option2":null,"option3":null,"sku":"LE12040775FEN","requires_shipping":true,"taxable":false,"featured_image":null,"available":true,"name":"Mintiml Kitchen Brush - PINK","public_title":"PINK","options":["PINK"],"price":799,"weight":0,"compare_at_price":1999,"inventory_management":null,"barcode":null,"requires_selling_plan":false,"selling_plan_allocations":[]},{"id":37050622378148,"title":"BLUE","option1":"BLUE","option2":null,"option3":null,"sku":"LE12040775LAN","requires_shipping":true,"taxable":false,"featured_image":null,"available":true,"name":"Mintiml Kitchen Brush - BLUE","public_title":"BLUE","options":["BLUE"],"price":799,"weight":0,"compare_at_price":1999,"inventory_management":null,"barcode":null,"requires_selling_plan":false,"selling_plan_allocations":[]},{"id":37050622410916,"title":"GREEN","option1":"GREEN","option2":null,"option3":null,"sku":"LE12040775LVS","requires_shipping":true,"taxable":false,"featured_image":null,"available":true,"name":"Mintiml Kitchen Brush - GREEN","public_title":"GREEN","options":["GREEN"],"price":799,"weight":0,"compare_at_price":1999,"inventory_management":null,"barcode":null,"requires_selling_plan":false,"selling_plan_allocations":[]}],"images":["\/\/cdn.shopify.com\/s\/files\/1\/0508\/2592\/0676\/products\/1_e0b607f5-3e67-4a09-83e8-3ccf28533ade.jpg?v=1606208774","\/\/cdn.shopify.com\/s\/files\/1\/0508\/2592\/0676\/products\/2_ced6b78f-18c0-4fbf-b6ec-38bbf95962ee.jpg?v=1606208774","\/\/cdn.shopify.com\/s\/files\/1\/0508\/2592\/0676\/products\/3_1a315090-1f72-4bac-877b-f43fa9588d06.jpg?v=1606208774","\/\/cdn.shopify.com\/s\/files\/1\/0508\/2592\/0676\/products\/4_2e865270-88df-4a83-95a1-192527e95174.jpg?v=1606208774","\/\/cdn.shopify.com\/s\/files\/1\/0508\/2592\/0676\/products\/5_dc99d953-f94b-454e-83b1-e3246053fd9b.jpg?v=1606208774","\/\/cdn.shopify.com\/s\/files\/1\/0508\/2592\/0676\/products\/6_ff3b3901-c44c-46fa-ac7e-4dfac1d43880.jpg?v=1606208774","\/\/cdn.shopify.com\/s\/files\/1\/0508\/2592\/0676\/products\/7_bd9ca27b-0583-4299-9c94-3e2942355bab.jpg?v=1606208774","\/\/cdn.shopify.com\/s\/files\/1\/0508\/2592\/0676\/products\/8_f8317c8c-e92d-4ba1-8ac6-a1dd9dc9a6c8.jpg?v=1606208774"],"featured_image":"\/\/cdn.shopify.com\/s\/files\/1\/0508\/2592\/0676\/products\/1_e0b607f5-3e67-4a09-83e8-3ccf28533ade.jpg?v=1606208774","options":["Color"],"media":[{"alt":null,"id":12998769213604,"position":1,"preview_image":{"aspect_ratio":1.0,"height":800,"width":800,"src":"https:\/\/cdn.shopify.com\/s\/files\/1\/0508\/2592\/0676\/products\/1_e0b607f5-3e67-4a09-83e8-3ccf28533ade.jpg?v=1606208774"},"aspect_ratio":1.0,"height":800,"media_type":"image","src":"https:\/\/cdn.shopify.com\/s\/files\/1\/0508\/2592\/0676\/products\/1_e0b607f5-3e67-4a09-83e8-3ccf28533ade.jpg?v=1606208774","width":800},{"alt":null,"id":12998769246372,"position":2,"preview_image":{"aspect_ratio":1.0,"height":800,"width":800,"src":"https:\/\/cdn.shopify.com\/s\/files\/1\/0508\/2592\/0676\/products\/2_ced6b78f-18c0-4fbf-b6ec-38bbf95962ee.jpg?v=1606208774"},"aspect_ratio":1.0,"height":800,"media_type":"image","src":"https:\/\/cdn.shopify.com\/s\/files\/1\/0508\/2592\/0676\/products\/2_ced6b78f-18c0-4fbf-b6ec-38bbf95962ee.jpg?v=1606208774","width":800},{"alt":null,"id":12998769279140,"position":3,"preview_image":{"aspect_ratio":1.0,"height":800,"width":800,"src":"https:\/\/cdn.shopify.com\/s\/files\/1\/0508\/2592\/0676\/products\/3_1a315090-1f72-4bac-877b-f43fa9588d06.jpg?v=1606208774"},"aspect_ratio":1.0,"height":800,"media_type":"image","src":"https:\/\/cdn.shopify.com\/s\/files\/1\/0508\/2592\/0676\/products\/3_1a315090-1f72-4bac-877b-f43fa9588d06.jpg?v=1606208774","width":800},{"alt":null,"id":12998769311908,"position":4,"preview_image":{"aspect_ratio":1.0,"height":800,"width":800,"src":"https:\/\/cdn.shopify.com\/s\/files\/1\/0508\/2592\/0676\/products\/4_2e865270-88df-4a83-95a1-192527e95174.jpg?v=1606208774"},"aspect_ratio":1.0,"height":800,"media_type":"image","src":"https:\/\/cdn.shopify.com\/s\/files\/1\/0508\/2592\/0676\/products\/4_2e865270-88df-4a83-95a1-192527e95174.jpg?v=1606208774","width":800},{"alt":null,"id":12998769344676,"position":5,"preview_image":{"aspect_ratio":1.0,"height":800,"width":800,"src":"https:\/\/cdn.shopify.com\/s\/files\/1\/0508\/2592\/0676\/products\/5_dc99d953-f94b-454e-83b1-e3246053fd9b.jpg?v=1606208774"},"aspect_ratio":1.0,"height":800,"media_type":"image","src":"https:\/\/cdn.shopify.com\/s\/files\/1\/0508\/2592\/0676\/products\/5_dc99d953-f94b-454e-83b1-e3246053fd9b.jpg?v=1606208774","width":800},{"alt":null,"id":12998769377444,"position":6,"preview_image":{"aspect_ratio":1.0,"height":800,"width":800,"src":"https:\/\/cdn.shopify.com\/s\/files\/1\/0508\/2592\/0676\/products\/6_ff3b3901-c44c-46fa-ac7e-4dfac1d43880.jpg?v=1606208774"},"aspect_ratio":1.0,"height":800,"media_type":"image","src":"https:\/\/cdn.shopify.com\/s\/files\/1\/0508\/2592\/0676\/products\/6_ff3b3901-c44c-46fa-ac7e-4dfac1d43880.jpg?v=1606208774","width":800},{"alt":null,"id":12998769410212,"position":7,"preview_image":{"aspect_ratio":1.0,"height":800,"width":800,"src":"https:\/\/cdn.shopify.com\/s\/files\/1\/0508\/2592\/0676\/products\/7_bd9ca27b-0583-4299-9c94-3e2942355bab.jpg?v=1606208774"},"aspect_ratio":1.0,"height":800,"media_type":"image","src":"https:\/\/cdn.shopify.com\/s\/files\/1\/0508\/2592\/0676\/products\/7_bd9ca27b-0583-4299-9c94-3e2942355bab.jpg?v=1606208774","width":800},{"alt":null,"id":12998769442980,"position":8,"preview_image":{"aspect_ratio":1.0,"height":800,"width":800,"src":"https:\/\/cdn.shopify.com\/s\/files\/1\/0508\/2592\/0676\/products\/8_f8317c8c-e92d-4ba1-8ac6-a1dd9dc9a6c8.jpg?v=1606208774"},"aspect_ratio":1.0,"height":800,"media_type":"image","src":"https:\/\/cdn.shopify.com\/s\/files\/1\/0508\/2592\/0676\/products\/8_f8317c8c-e92d-4ba1-8ac6-a1dd9dc9a6c8.jpg?v=1606208774","width":800}],"requires_selling_plan":false,"selling_plan_groups":[],"content":"\u003c!-- Build time: 2020-07-14 15:06:32 --\u003e \u003c!--\n * @Description: listing build template\n --\u003e\n\u003cstyle\u003e\u003c!--\n.listing-build-item table {\n width: 100% !important;\n margin: 5px 0 !important;\n border-collapse: collapse !important;\n table-layout: initial !important;\n word-break: break-word !important;\n }\n\n .listing-build-item table ul li,\n .listing-build-item table dl dd,\n .listing-build-item table dl dt {\n list-style:outside none !important;\n margin:0 !important;\n }\n\n .listing-build-item table ul,\n .listing-build-item table dl {\n margin-left: 0 !important;\n }\n\n .listing-build-item table tr\u003etd,\n .listing-build-item table tr\u003eth {\n padding: 10px 14px !important;\n font-size: 14px !important;\n border: 1px solid #cbcbcb !important;\n background-clip: padding-box !important;\n position: relative !important;\n letter-spacing:initial !important;\n text-align: left !important;\n }\n\n .listing-build-item table tr\u003eth {\n font-weight: 600 !important;\n }\n\n .listing-build-item h3 {\n color: #000 !important;\n font-size: 20px !important;\n font-weight: 600 !important;\n margin: 0 !important;\n padding: 10px 0 !important;\n text-align: left !important;\n }\n .listing-build-item table th,.listing-build-item h5{\n color:#000 !important;\n }\n .listing-build-item ul li,\n .listing-build-item dl dd,\n .listing-build-item dl dt {\n list-style: disc outside !important;\n margin: 0 0 3px 18px !important;\n padding:0;\n }\n\n\n .listing-build-item {\n margin-bottom: 30px !important;\n word-break: break-word !important;\n }\n\n .listing-build-item ul,\n .listing-build-item dl {\n margin: 0 !important;\n padding:0 !important;\n list-style:outside none !important\n }\n\n .listing-build-item .img-box {\n margin: 10px 0 !important;\n }\n\n .listing-build-item .img-box img {\n height: auto !important;\n max-width: 100% !important;\n margin: 0 auto !important;\n padding: 0 !important;\n display: block !important;\n }\n @media screen and (min-width: 992px){\n .listing-build-item table tr\u003eth {\n width: 180px !important;\n }\n }\n @media screen and (max-width: 750px){\n .listing-build-item table tr\u003eth {\n width: 100px !important;\n }\n }\n\n .listing-build-item tr:first-child th:after,\n .listing-build-item tr:first-child td:after {\n border: initial !important;\n }\n\n .listing-build-item ul\u003eli:last-child,\n .listing-build-item ul.features\u003eli:last-child,\n .listing-build-item ul\u003eli.package-row:last-child {\n margin-bottom: 0 !important;\n }\n .listing-build-item ul.features li,.listing-build-item ul li.package-row{\n margin-bottom:7px !important;\n }\n .listing-build-item h5{\n margin: 20px 0 5px 0 !important;\n font-weight: 600 !important;\n text-align: left !important;\n }\n .listing-build-item strong{\n font-weight: 600 !important;\n }\n--\u003e\u003c\/style\u003e\n\u003c!-- BEGIN features --\u003e\n\u003cdiv class=\"listing-build-item\"\u003e\n\u003ch3\u003eMain Features\u003c\/h3\u003e\n\u003cul class=\"features\"\u003e\n\u003cli\u003eIt is healthy to eat fruits and vegetables regularly, but it is healthier to wash fruits and vegetables properly before eating. \u003cspan style=\"color: #ff8000;\"\u003e\u003cstrong\u003eWe provide you with flexible vegetable brushes.\u003c\/strong\u003e\u003c\/span\u003e\n\u003c\/li\u003e\n\u003c\/ul\u003e\n\u003cimg src=\"https:\/\/cdn.shopifycdn.net\/s\/files\/1\/0026\/0928\/3181\/files\/611hg7QJYwL._AC_SL1005_480x480.jpg?v=1594710743\" alt=\"\" style=\"display: block; margin-left: auto; margin-right: auto;\"\u003e\u003cbr\u003e\n\u003cul class=\"features\"\u003e\n\u003cli\u003eThis is a multi-functional brush made of high-grade materials, which is \u003cspan style=\"color: #00aaff;\"\u003e\u003cstrong\u003edurable and easy to use.\u003c\/strong\u003e \u003c\/span\u003e\n\u003c\/li\u003e\n\u003c\/ul\u003e\n\u003cbr\u003e\n\u003cul class=\"features\"\u003e\n\u003cli\u003eIt is \u003cspan style=\"color: #ff8000;\"\u003e\u003cstrong\u003eflexible and has a non-slip curve with a comfortable grip that will not harm your hands.\u003c\/strong\u003e\u003c\/span\u003e It has a flexible shape, and even shaped vegetables and fruits can be easily brushed off.\u003c\/li\u003e\n\u003c\/ul\u003e\n\u003cimg src=\"https:\/\/cdn.shopifycdn.net\/s\/files\/1\/0026\/0928\/3181\/files\/61VIgUyhtJL._AC_SL1002_480x480.jpg?v=1594710522\" alt=\"\" style=\"display: block; margin-left: auto; margin-right: auto;\"\u003e\u003cbr\u003e\n\u003cul class=\"features\"\u003e\u003c\/ul\u003e\n\u003cbr\u003e\n\u003cul class=\"features\"\u003e\n\u003cli\u003eThe flexible vegetable brush has an ultra-soft but durable mane, which can \u003cspan style=\"color: #00aaff;\"\u003e\u003cstrong\u003eimmediately remove dirt, dust, and stains on fresh vegetables and fruits\u003c\/strong\u003e\u003c\/span\u003e to eliminate its healthy skin and nutrition.\u003c\/li\u003e\n\u003c\/ul\u003e\n\u003cbr\u003e\n\u003cul class=\"features\"\u003e\n\u003cli\u003eIt is for all types of fruits and vegetables (such as apples, potatoes, potatoes, radishes, carrots, beets, broccoli, etc.), and even those that can scrub hard skin \u003cspan style=\"color: #ff8000;\"\u003e\u003cstrong\u003eeffectively for storage and maintenance.\u003c\/strong\u003e\u003c\/span\u003e\n\u003c\/li\u003e\n\u003c\/ul\u003e\n\u003c\/div\u003e\n\u003c!-- END features --\u003e \u003c!-- BEGIN usage_scene --\u003e\n\u003cdiv class=\"listing-build-item\"\u003e\n\u003ch3\u003eUsage Scenarios\u003c\/h3\u003e\n\u003cul\u003e\n\u003cli\u003ePerfect for potatoes, carrots, beets, broccoli, and more. This flexible scrubber will follow the contours of the vegetable while the sturdy nubs dislodge dirt in nooks and crannies.\u003c\/li\u003e\n\u003c\/ul\u003e\n\u003cbr\u003e\n\u003cul\u003e\u003c\/ul\u003e\n\u003c\/div\u003e\n\u003c!-- END usage_scene --\u003e \u003c!-- BEGIN using_text --\u003e \u003c!-- END using_text --\u003e \u003c!-- BEGIN specification --\u003e\n\u003cdiv class=\"listing-build-item\"\u003e\n\u003ch3\u003eSpecification\u003c\/h3\u003e\n\u003ctable\u003e\n\u003c!-- BEGIN specification_material --\u003e\n\u003ctbody\u003e\n\u003ctr\u003e\n\u003cth scope=\"row\" class=\"specification-th\"\u003eMaterials\u003c\/th\u003e\n\u003ctd class=\"specification-td\"\u003e\n\u003cul\u003e\n\u003cli\u003eABS\u003c\/li\u003e\n\u003c\/ul\u003e\n\u003c\/td\u003e\n\u003c\/tr\u003e\n\u003c!-- END specification_material --\u003e \u003c!-- BEGIN specification_custom_attribute --\u003e \u003c!-- END specification_custom_attribute --\u003e \u003c!-- BEGIN specification_models --\u003e \u003c!-- END specification_models --\u003e \u003c!-- BEGIN specification_colors --\u003e \u003c!-- END specification_colors --\u003e \u003c!-- BEGIN specification_size --\u003e\n\u003ctr\u003e\n\u003cth scope=\"row\"\u003eProduct Size\u003c\/th\u003e\n\u003ctd\u003e\n\u003cul\u003e\n\u003cli\u003e14CM × 6CM × 2.1CM\u003c\/li\u003e\n\u003c\/ul\u003e\n\u003c\/td\u003e\n\u003c\/tr\u003e\n\u003c!-- END specification_size --\u003e \u003c!-- BEGIN specification_weight --\u003e \u003c!-- END specification_weight --\u003e \u003c!-- BEGIN specification_weight --\u003e \u003c!-- END specification_weight --\u003e \u003c!-- BEGIN specification_many_package --\u003e\n\u003ctr\u003e\n\u003cth scope=\"row\"\u003ePackage Contents\u003c\/th\u003e\n\u003ctd\u003e\n\u003cul\u003e\n\u003cli\u003eMintiml Kitchen Brush × 1\u003c\/li\u003e\n\u003c\/ul\u003e\n\u003c\/td\u003e\n\u003c\/tr\u003e\n\u003c!-- END specification_one_package --\u003e\n\u003c\/tbody\u003e\n\u003c\/table\u003e\n\u003c!-- BEGIN specification_size_img --\u003e \u003c!-- END specification_size_img --\u003e\n\u003c\/div\u003e\n\u003c!-- END specification --\u003e \u003c!-- BEGIN note --\u003e\n\u003cdiv class=\"listing-build-item\"\u003e\n\u003ch3\u003eNote\u003c\/h3\u003e\n\u003cul\u003e\n\u003c!-- END note_apply --\u003e \u003c!-- BEGIN note_other --\u003e\n\u003cli\u003eDue to the different display and lighting effects, the actual color of the item may be slightly different from the color displayed on the picture.\u003c\/li\u003e\n\u003c!-- END note_other --\u003e\n\u003c\/ul\u003e\n\u003c\/div\u003e\n\u003c!-- END note --\u003e"}
Mintiml Kitchen Brush
Product Description
Main Features
It is healthy to eat fruits and vegetables regularly, but it is healthier to wash fruits and vegetables properly before eating. We provide you with flexible vegetable brushes.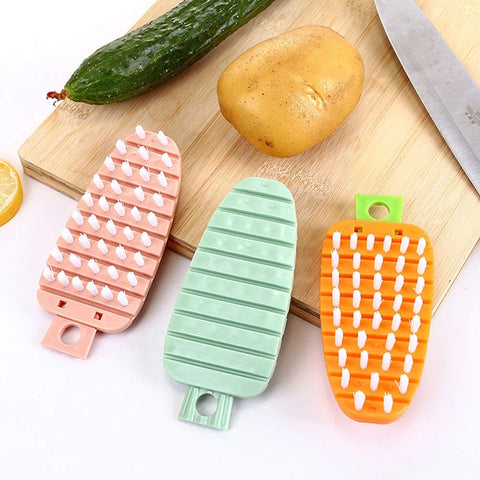 This is a multi-functional brush made of high-grade materials, which is durable and easy to use.
It is flexible and has a non-slip curve with a comfortable grip that will not harm your hands. It has a flexible shape, and even shaped vegetables and fruits can be easily brushed off.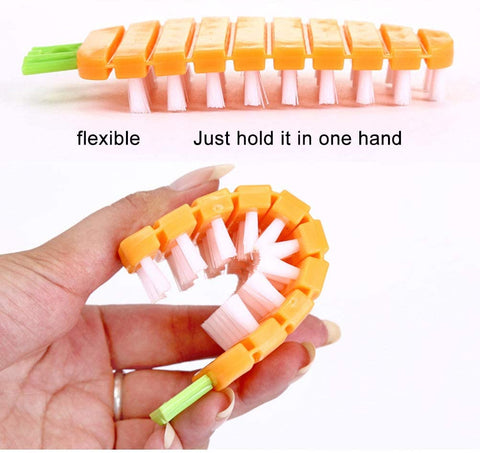 The flexible vegetable brush has an ultra-soft but durable mane, which can immediately remove dirt, dust, and stains on fresh vegetables and fruits to eliminate its healthy skin and nutrition.
It is for all types of fruits and vegetables (such as apples, potatoes, potatoes, radishes, carrots, beets, broccoli, etc.), and even those that can scrub hard skin effectively for storage and maintenance.
Usage Scenarios
Perfect for potatoes, carrots, beets, broccoli, and more. This flexible scrubber will follow the contours of the vegetable while the sturdy nubs dislodge dirt in nooks and crannies.
Specification
| | |
| --- | --- |
| Materials | |
| Product Size | |
| Package Contents | Mintiml Kitchen Brush × 1 |
Note
Due to the different display and lighting effects, the actual color of the item may be slightly different from the color displayed on the picture.
Shipping:
We processes orders between Monday and Friday. Orders will be processed within 7 business days of ordering and shipped out the next day after the processing day. We don't ship on weekends.