{"id":5921884176548,"title":"U-shaped Edge Sealer","handle":"ushape","description":"\u003c!-- Build time: 2020-12-11 12:26:00 --\u003e\n\u003cstyle\u003e\u003c!--\n.listing-build-item table {\n width: 100% !important;\n margin: 5px 0 !important;\n border-collapse: collapse !important;\n table-layout: initial !important;\n }\n\n .listing-build-item table ul li,\n .listing-build-item table dl dd,\n .listing-build-item table dl dt {\n list-style:outside none !important;\n margin:0 !important;\n }\n\n .listing-build-item table ul,\n .listing-build-item table dl {\n margin-left: 0 !important;\n }\n\n .listing-build-item table tr\u003etd,\n .listing-build-item table tr\u003eth {\n padding: 10px 14px !important;\n font-size: 14px !important;\n border: 1px solid #cbcbcb !important;\n background-clip: padding-box !important;\n position: relative !important;\n letter-spacing:initial !important;\n text-align: left !important;\n }\n\n .listing-build-item table tr\u003eth {\n font-weight: 600 !important;\n }\n\n .listing-build-item h3 {\n color: #000 !important;\n font-size: 20px !important;\n font-weight: 600 !important;\n margin: 0 !important;\n padding: 10px 0 !important;\n text-align: left !important;\n }\n .listing-build-item table th,.listing-build-item h5{\n color:#000 !important;\n }\n\n .listing-build-item {\n margin-bottom: 30px !important;\n word-break: break-word !important;\n }\n\n .listing-build-item ul,\n .listing-build-item dl {\n margin: 0 !important;\n padding:0 !important;\n list-style:outside none !important\n }\n\n .listing-build-item .img-box {\n margin: 10px 0 !important;\n }\n\n .listing-build-item .img-box img {\n height: auto !important;\n max-width: 100% !important;\n margin: 0 auto !important;\n padding: 0 !important;\n display: block !important;\n }\n @media screen and (min-width: 992px){\n .listing-build-item table tr\u003eth {\n width: 180px !important;\n }\n }\n @media screen and (max-width: 750px){\n .listing-build-item table tr\u003eth {\n width: 100px !important;\n }\n }\n\n .listing-build-item tr:first-child th:after,\n .listing-build-item tr:first-child td:after {\n border: initial !important;\n }\n\n .listing-build-item ul\u003eli:last-child,\n .listing-build-item ul.features\u003eli:last-child,\n .listing-build-item ul\u003eli.package-row:last-child {\n margin-bottom: 0 !important;\n }\n .listing-build-item ul.features li,.listing-build-item ul li.package-row{\n margin-bottom:7px !important;\n }\n .listing-build-item h5{\n margin: 20px 0 5px 0 !important;\n font-weight: 600 !important;\n text-align: left !important;\n }\n .listing-build-item strong{\n font-weight: 600 !important;\n }\n--\u003e\u003c\/style\u003e\n\u003c!-- BEGIN Descriptions --\u003e\n\u003cdiv class=\"listing-build-item\" style=\"text-align: start;\"\u003eThe \u003cspan style=\"color: #ff8000;\"\u003e\u003cem\u003e\u003cstrong\u003ebroken edges of the wardrobe and the sharp furniture corners\u003c\/strong\u003e \u003c\/em\u003e\u003c\/span\u003eare not beautiful, and they are easy to hurt the elderly and children in the family. Our U-shaped Edge Sealer is a good way to solve such problems.\u003cbr\u003e\u003cbr\u003e\u003cimg src=\"https:\/\/cdn.shopifycdn.net\/s\/files\/1\/0082\/9148\/3738\/files\/3_6f0e9980-8f66-4ef5-add4-65cf437b2ae9_480x480.gif?v=1607670750\" style=\"margin-right: auto; margin-left: auto; float: none; display: block;\" width=\"240x240\" height=\"240x240\" data-mce-src=\"https:\/\/cdn.shopifycdn.net\/s\/files\/1\/0082\/9148\/3738\/files\/3_6f0e9980-8f66-4ef5-add4-65cf437b2ae9_480x480.gif?v=1607670750\" data-mce-fragment=\"1\"\u003e\u003cbr\u003eThe \u003cspan style=\"color: #ff8000;\"\u003e\u003cem\u003e\u003cstrong\u003eself-adhesive sealing strip\u003c\/strong\u003e\u003c\/em\u003e\u003c\/span\u003e is extremely viscous and can \u003cspan style=\"color: #ff8000;\"\u003e\u003cem\u003e\u003cstrong\u003eadapt to the edges of objects of various shapes.\u003c\/strong\u003e \u003c\/em\u003e\u003c\/span\u003eIt is non-slip, wear-resistant, and has no odor, which can make your home more beautiful and safe.\u003cbr\u003e\n\u003c\/div\u003e\n\u003c!-- END Descriptions --\u003e \u003c!-- BEGIN features --\u003e\n\u003cdiv class=\"listing-build-item\"\u003e\n\u003ch3\u003eMain Features\u003c\/h3\u003e\n\u003c\/div\u003e\n\u003cul class=\"features\"\u003e\n\u003cli\u003e\n\u003cp\u003e\u003cspan style=\"color: #ff8000;\"\u003e\u003cstrong\u003e[Excellent Edge Protection] \u003c\/strong\u003e\u003c\/span\u003eThe sealing strip effectively \u003cstrong\u003eprevents the elderly\/children\/pets\u003c\/strong\u003e in the family from being injured by the sharp edges of the cabinet and prolongs the service life of the cabinet.\u003c\/p\u003e\n\u003c\/li\u003e\n\u003cli\u003e\n\u003cp\u003e\u003cstrong\u003e\u003cspan style=\"color: #ff8000;\"\u003e[Self-adhesive Edge Banding]\u003c\/span\u003e \u003c\/strong\u003eThe back of the seal comes with \u003cstrong\u003edouble-sided tape,\u003c\/strong\u003e just tear off the protective film, and then paste it to the edge of the cabinet. Suitable for \u003cstrong\u003edry\/humid environment.\u003c\/strong\u003e\u003c\/p\u003e\n\u003cdiv style=\"text-align: start;\"\u003e\u003cimg style=\"margin-right: auto; margin-left: auto; float: none; display: block;\" alt=\"\" src=\"https:\/\/cdn.shopifycdn.net\/s\/files\/1\/0082\/9148\/3738\/files\/1_ff1a3782-9f83-48f8-8855-63fc737822ad_240x240.gif?v=1607670797\"\u003e\u003c\/div\u003e\n\u003cbr\u003e\n\u003c\/li\u003e\n\u003cli\u003e\n\u003cp\u003e\u003cstrong\u003e\u003cspan style=\"color: #ff8000;\"\u003e[Super Soft Material]\u003c\/span\u003e \u003c\/strong\u003eThe U-shaped sealing strip made of \u003cstrong\u003ehigh-quality PVC\u003c\/strong\u003e material is extremely flexible and can be cut to adapt to right-angle installation without leaving traces. \u003cstrong\u003eNo odor, non-slip, abrasion resistance, and noise reduction.\u003c\/strong\u003e\u003c\/p\u003e\n\u003cdiv style=\"text-align: start;\"\u003e\u003cimg style=\"float: none; display: block; margin-left: auto; margin-right: auto;\" alt=\"\" src=\"https:\/\/cdn.shopifycdn.net\/s\/files\/1\/0082\/9148\/3738\/files\/2_6e4eaf34-d1bf-4db0-8621-12b02eaf1b78_240x240.gif?v=1607670865\"\u003e\u003c\/div\u003e\n\u003cbr\u003e\n\u003c\/li\u003e\n\u003cli\u003e\n\u003cp\u003e\u003cstrong\u003e\u003cspan style=\"color: #ff8000;\"\u003e[Rich Choices]\u003c\/span\u003e \u003c\/strong\u003eWe provide \u003cstrong\u003efour colors\u003c\/strong\u003e of black, brown, white, and gray, 16mm and 18mm respectively, and there are \u003cstrong\u003etwo sizes\u003c\/strong\u003e to choose from. The versatile color is suitable for all types of wardrobes\/cabinets without spoiling the beauty.\u003c\/p\u003e\n\u003c\/li\u003e\n\u003c\/ul\u003e\n\u003c!-- END features --\u003e \u003c!-- BEGIN Using Method --\u003e\n\u003cdiv class=\"listing-build-item\" style=\"text-align: start;\"\u003e\n\u003ch3\u003eUsing Methods\u003c\/h3\u003e\n\u003cp class=\"img-box\"\u003e\u003cimg alt=\"\" src=\"https:\/\/cdn.shopifycdn.net\/s\/files\/1\/0082\/9148\/3738\/files\/U-shaped-edge-sealer_07_480x480.jpg?v=1607674327\"\u003e\u003c\/p\u003e\n\u003c\/div\u003e\n\u003c!-- END Using Method --\u003e \u003c!-- BEGIN usage_scene --\u003e \u003c!-- END usage_scene --\u003e \u003c!-- BEGIN specification --\u003e\n\u003cdiv class=\"listing-build-item\"\u003e\n\u003ch3\u003eSpecifications\u003c\/h3\u003e\n\u003ctable\u003e\n\u003c!-- BEGIN specification_material --\u003e\n\u003ctbody\u003e\n\u003ctr\u003e\n\u003cth class=\"specification-th\" scope=\"row\"\u003eMaterials\u003c\/th\u003e\n\u003ctd class=\"specification-td\"\u003e\n\u003cul\u003e\n\u003cli\u003ePVC\u003c\/li\u003e\n\u003c\/ul\u003e\n\u003c\/td\u003e\n\u003c\/tr\u003e\n\u003c!-- END specification_material --\u003e \u003c!-- BEGIN specification_weight --\u003e\n\u003ctr\u003e\n\u003cth scope=\"row\"\u003eProduct Weight\u003c\/th\u003e\n\u003ctd\u003e\n\u003cul\u003e\n\u003cli\u003e2M: 234G\u003c\/li\u003e\n\u003cli\u003e5M: 569G\u003c\/li\u003e\n\u003c\/ul\u003e\n\u003c\/td\u003e\n\u003c\/tr\u003e\n\u003c!-- END specification_weight --\u003e \u003c!-- BEGIN specification_size --\u003e\n\u003ctr\u003e\n\u003cth scope=\"row\"\u003eProduct Size\u003cbr\u003e (L x W x H)\u003c\/th\u003e\n\u003ctd\u003e\n\u003cul\u003e\n\u003cli\u003eNet Size:Length: 2M \u003cspan data-mce-fragment=\"1\"\u003e\/ 5M\u003c\/span\u003e\n\u003c\/li\u003e\n\u003cli\u003e\u003cspan data-mce-fragment=\"1\"\u003eWidth:16mm \/ 18mm\u003c\/span\u003e\u003c\/li\u003e\n\u003cli\u003ePackage Size: 18 × 15 × 2cm \/ 7.1 × 5.9 × 0.8inches\u003c\/li\u003e\n\u003c\/ul\u003e\n\u003c\/td\u003e\n\u003c\/tr\u003e\n\u003c!-- END specification_size --\u003e \u003c!-- BEGIN specification_many_package --\u003e\n\u003ctr\u003e\n\u003cth scope=\"row\"\u003ePackage Contents\u003c\/th\u003e\n\u003ctd\u003e\n\u003cul\u003e\n\u003cli\u003eU-shaped Edge Sealer × 1\u003c\/li\u003e\n\u003c\/ul\u003e\n\u003c\/td\u003e\n\u003c\/tr\u003e\n\u003c!-- END specification_one_package --\u003e \u003c!-- BEGIN specification_custom_attribute --\u003e\n\u003ctr\u003e\n\u003cth scope=\"row\"\u003eColor\u003c\/th\u003e\n\u003ctd\u003eBlack\/White\/Brown\/Gray\u003c\/td\u003e\n\u003c\/tr\u003e\n\u003c!-- END specification_custom_attribute --\u003e\n\u003c\/tbody\u003e\n\u003c\/table\u003e\n\u003c!-- BEGIN specification_size_img --\u003e \u003c!-- END specification_size_img --\u003e\n\u003c\/div\u003e\n\u003c!-- END specification --\u003e \u003c!-- BEGIN note --\u003e\n\u003cdiv class=\"listing-build-item\"\u003e\n\u003ch3\u003eNote\u003c\/h3\u003e\n\u003cul\u003e\n\u003cli\u003eDue to the different display and lighting effects, the actual color of the item may be slightly different from the color displayed on the picture.\u003c\/li\u003e\n\u003c\/ul\u003e\n\u003c\/div\u003e\n\u003c!-- END note --\u003e","published_at":"2020-12-11T18:07:11+08:00","created_at":"2020-12-11T18:07:11+08:00","vendor":"solegg","type":"Hot produts","tags":[],"price":1899,"price_min":1899,"price_max":3299,"available":true,"price_varies":true,"compare_at_price":3798,"compare_at_price_min":3798,"compare_at_price_max":6598,"compare_at_price_varies":true,"variants":[{"id":37214033215652,"title":"2 M \/ 16 MM \/ BLACK","option1":"2 M","option2":"16 MM","option3":"BLACK","sku":"LE72043227HEI2MB","requires_shipping":true,"taxable":false,"featured_image":null,"available":true,"name":"U-shaped Edge Sealer - 2 M \/ 16 MM \/ BLACK","public_title":"2 M \/ 16 MM \/ BLACK","options":["2 M","16 MM","BLACK"],"price":1899,"weight":0,"compare_at_price":3798,"inventory_management":null,"barcode":null,"requires_selling_plan":false,"selling_plan_allocations":[]},{"id":37214033248420,"title":"2 M \/ 16 MM \/ WHITE","option1":"2 M","option2":"16 MM","option3":"WHITE","sku":"LE72043227BAI2MB","requires_shipping":true,"taxable":false,"featured_image":null,"available":true,"name":"U-shaped Edge Sealer - 2 M \/ 16 MM \/ WHITE","public_title":"2 M \/ 16 MM \/ WHITE","options":["2 M","16 MM","WHITE"],"price":1899,"weight":0,"compare_at_price":3798,"inventory_management":null,"barcode":null,"requires_selling_plan":false,"selling_plan_allocations":[]},{"id":37214033281188,"title":"2 M \/ 16 MM \/ BROWN","option1":"2 M","option2":"16 MM","option3":"BROWN","sku":"LE72043227ZGS2MB","requires_shipping":true,"taxable":false,"featured_image":null,"available":true,"name":"U-shaped Edge Sealer - 2 M \/ 16 MM \/ BROWN","public_title":"2 M \/ 16 MM \/ BROWN","options":["2 M","16 MM","BROWN"],"price":1899,"weight":0,"compare_at_price":3798,"inventory_management":null,"barcode":null,"requires_selling_plan":false,"selling_plan_allocations":[]},{"id":37214033313956,"title":"2 M \/ 16 MM \/ GRAY","option1":"2 M","option2":"16 MM","option3":"GRAY","sku":"LE72043227HUI2MB","requires_shipping":true,"taxable":false,"featured_image":null,"available":true,"name":"U-shaped Edge Sealer - 2 M \/ 16 MM \/ GRAY","public_title":"2 M \/ 16 MM \/ GRAY","options":["2 M","16 MM","GRAY"],"price":1899,"weight":0,"compare_at_price":3798,"inventory_management":null,"barcode":null,"requires_selling_plan":false,"selling_plan_allocations":[]},{"id":37214033346724,"title":"2 M \/ 18 MM \/ BLACK","option1":"2 M","option2":"18 MM","option3":"BLACK","sku":"LE72043227HEI2MA","requires_shipping":true,"taxable":false,"featured_image":null,"available":true,"name":"U-shaped Edge Sealer - 2 M \/ 18 MM \/ BLACK","public_title":"2 M \/ 18 MM \/ BLACK","options":["2 M","18 MM","BLACK"],"price":1899,"weight":0,"compare_at_price":3798,"inventory_management":null,"barcode":null,"requires_selling_plan":false,"selling_plan_allocations":[]},{"id":37214033379492,"title":"2 M \/ 18 MM \/ WHITE","option1":"2 M","option2":"18 MM","option3":"WHITE","sku":"LE72043227BAI2MA","requires_shipping":true,"taxable":false,"featured_image":null,"available":true,"name":"U-shaped Edge Sealer - 2 M \/ 18 MM \/ WHITE","public_title":"2 M \/ 18 MM \/ WHITE","options":["2 M","18 MM","WHITE"],"price":1899,"weight":0,"compare_at_price":3798,"inventory_management":null,"barcode":null,"requires_selling_plan":false,"selling_plan_allocations":[]},{"id":37214033412260,"title":"2 M \/ 18 MM \/ BROWN","option1":"2 M","option2":"18 MM","option3":"BROWN","sku":"LE72043227ZGS2MA","requires_shipping":true,"taxable":false,"featured_image":null,"available":true,"name":"U-shaped Edge Sealer - 2 M \/ 18 MM \/ BROWN","public_title":"2 M \/ 18 MM \/ BROWN","options":["2 M","18 MM","BROWN"],"price":1899,"weight":0,"compare_at_price":3798,"inventory_management":null,"barcode":null,"requires_selling_plan":false,"selling_plan_allocations":[]},{"id":37214033445028,"title":"2 M \/ 18 MM \/ GRAY","option1":"2 M","option2":"18 MM","option3":"GRAY","sku":"LE72043227HUI2MA","requires_shipping":true,"taxable":false,"featured_image":null,"available":true,"name":"U-shaped Edge Sealer - 2 M \/ 18 MM \/ GRAY","public_title":"2 M \/ 18 MM \/ GRAY","options":["2 M","18 MM","GRAY"],"price":1899,"weight":0,"compare_at_price":3798,"inventory_management":null,"barcode":null,"requires_selling_plan":false,"selling_plan_allocations":[]},{"id":37214033477796,"title":"5 M \/ 16 MM \/ BLACK","option1":"5 M","option2":"16 MM","option3":"BLACK","sku":"LE72043227HEI5MB","requires_shipping":true,"taxable":false,"featured_image":null,"available":true,"name":"U-shaped Edge Sealer - 5 M \/ 16 MM \/ BLACK","public_title":"5 M \/ 16 MM \/ BLACK","options":["5 M","16 MM","BLACK"],"price":3299,"weight":0,"compare_at_price":6598,"inventory_management":null,"barcode":null,"requires_selling_plan":false,"selling_plan_allocations":[]},{"id":37214033510564,"title":"5 M \/ 16 MM \/ WHITE","option1":"5 M","option2":"16 MM","option3":"WHITE","sku":"LE72043227BAI5MB","requires_shipping":true,"taxable":false,"featured_image":null,"available":true,"name":"U-shaped Edge Sealer - 5 M \/ 16 MM \/ WHITE","public_title":"5 M \/ 16 MM \/ WHITE","options":["5 M","16 MM","WHITE"],"price":3299,"weight":0,"compare_at_price":6598,"inventory_management":null,"barcode":null,"requires_selling_plan":false,"selling_plan_allocations":[]},{"id":37214033543332,"title":"5 M \/ 16 MM \/ BROWN","option1":"5 M","option2":"16 MM","option3":"BROWN","sku":"LE72043227ZGS5MB","requires_shipping":true,"taxable":false,"featured_image":null,"available":true,"name":"U-shaped Edge Sealer - 5 M \/ 16 MM \/ BROWN","public_title":"5 M \/ 16 MM \/ BROWN","options":["5 M","16 MM","BROWN"],"price":3299,"weight":0,"compare_at_price":6598,"inventory_management":null,"barcode":null,"requires_selling_plan":false,"selling_plan_allocations":[]},{"id":37214033576100,"title":"5 M \/ 16 MM \/ GRAY","option1":"5 M","option2":"16 MM","option3":"GRAY","sku":"LE72043227HUI5MB","requires_shipping":true,"taxable":false,"featured_image":null,"available":true,"name":"U-shaped Edge Sealer - 5 M \/ 16 MM \/ GRAY","public_title":"5 M \/ 16 MM \/ GRAY","options":["5 M","16 MM","GRAY"],"price":3299,"weight":0,"compare_at_price":6598,"inventory_management":null,"barcode":null,"requires_selling_plan":false,"selling_plan_allocations":[]},{"id":37214033608868,"title":"5 M \/ 18 MM \/ BLACK","option1":"5 M","option2":"18 MM","option3":"BLACK","sku":"LE72043227HEI5MA","requires_shipping":true,"taxable":false,"featured_image":null,"available":true,"name":"U-shaped Edge Sealer - 5 M \/ 18 MM \/ BLACK","public_title":"5 M \/ 18 MM \/ BLACK","options":["5 M","18 MM","BLACK"],"price":3299,"weight":0,"compare_at_price":6598,"inventory_management":null,"barcode":null,"requires_selling_plan":false,"selling_plan_allocations":[]},{"id":37214033641636,"title":"5 M \/ 18 MM \/ WHITE","option1":"5 M","option2":"18 MM","option3":"WHITE","sku":"LE72043227BAI5MA","requires_shipping":true,"taxable":false,"featured_image":null,"available":true,"name":"U-shaped Edge Sealer - 5 M \/ 18 MM \/ WHITE","public_title":"5 M \/ 18 MM \/ WHITE","options":["5 M","18 MM","WHITE"],"price":3299,"weight":0,"compare_at_price":6598,"inventory_management":null,"barcode":null,"requires_selling_plan":false,"selling_plan_allocations":[]},{"id":37214033674404,"title":"5 M \/ 18 MM \/ BROWN","option1":"5 M","option2":"18 MM","option3":"BROWN","sku":"LE72043227ZGS5MA","requires_shipping":true,"taxable":false,"featured_image":null,"available":true,"name":"U-shaped Edge Sealer - 5 M \/ 18 MM \/ BROWN","public_title":"5 M \/ 18 MM \/ BROWN","options":["5 M","18 MM","BROWN"],"price":3299,"weight":0,"compare_at_price":6598,"inventory_management":null,"barcode":null,"requires_selling_plan":false,"selling_plan_allocations":[]},{"id":37214033707172,"title":"5 M \/ 18 MM \/ GRAY","option1":"5 M","option2":"18 MM","option3":"GRAY","sku":"LE72043227HUI5MA","requires_shipping":true,"taxable":false,"featured_image":null,"available":true,"name":"U-shaped Edge Sealer - 5 M \/ 18 MM \/ GRAY","public_title":"5 M \/ 18 MM \/ GRAY","options":["5 M","18 MM","GRAY"],"price":3299,"weight":0,"compare_at_price":6598,"inventory_management":null,"barcode":null,"requires_selling_plan":false,"selling_plan_allocations":[]}],"images":["\/\/cdn.shopify.com\/s\/files\/1\/0508\/2592\/0676\/products\/1_1fe2b871-a18c-448c-a4bb-aa44f44e24f1.gif?v=1607681231","\/\/cdn.shopify.com\/s\/files\/1\/0508\/2592\/0676\/products\/U-shaped-edge-sealer_02.jpg?v=1607681231","\/\/cdn.shopify.com\/s\/files\/1\/0508\/2592\/0676\/products\/U-shaped-edge-sealer_03.jpg?v=1607681231","\/\/cdn.shopify.com\/s\/files\/1\/0508\/2592\/0676\/products\/U-shaped-edge-sealer_04.jpg?v=1607681231","\/\/cdn.shopify.com\/s\/files\/1\/0508\/2592\/0676\/products\/U-shaped-edge-sealer_05.jpg?v=1607681231","\/\/cdn.shopify.com\/s\/files\/1\/0508\/2592\/0676\/products\/U-shaped-edge-sealer_06.jpg?v=1607681231","\/\/cdn.shopify.com\/s\/files\/1\/0508\/2592\/0676\/products\/U-shaped-edge-sealer_07.jpg?v=1607681231","\/\/cdn.shopify.com\/s\/files\/1\/0508\/2592\/0676\/products\/U-shaped-edge-sealer_08.jpg?v=1607681231"],"featured_image":"\/\/cdn.shopify.com\/s\/files\/1\/0508\/2592\/0676\/products\/1_1fe2b871-a18c-448c-a4bb-aa44f44e24f1.gif?v=1607681231","options":["Length","Width","Color"],"media":[{"alt":null,"id":13330606620836,"position":1,"preview_image":{"aspect_ratio":1.0,"height":600,"width":600,"src":"https:\/\/cdn.shopify.com\/s\/files\/1\/0508\/2592\/0676\/products\/1_1fe2b871-a18c-448c-a4bb-aa44f44e24f1.gif?v=1607681231"},"aspect_ratio":1.0,"height":600,"media_type":"image","src":"https:\/\/cdn.shopify.com\/s\/files\/1\/0508\/2592\/0676\/products\/1_1fe2b871-a18c-448c-a4bb-aa44f44e24f1.gif?v=1607681231","width":600},{"alt":null,"id":13330606653604,"position":2,"preview_image":{"aspect_ratio":1.0,"height":800,"width":800,"src":"https:\/\/cdn.shopify.com\/s\/files\/1\/0508\/2592\/0676\/products\/U-shaped-edge-sealer_02.jpg?v=1607681231"},"aspect_ratio":1.0,"height":800,"media_type":"image","src":"https:\/\/cdn.shopify.com\/s\/files\/1\/0508\/2592\/0676\/products\/U-shaped-edge-sealer_02.jpg?v=1607681231","width":800},{"alt":null,"id":13330606686372,"position":3,"preview_image":{"aspect_ratio":1.0,"height":800,"width":800,"src":"https:\/\/cdn.shopify.com\/s\/files\/1\/0508\/2592\/0676\/products\/U-shaped-edge-sealer_03.jpg?v=1607681231"},"aspect_ratio":1.0,"height":800,"media_type":"image","src":"https:\/\/cdn.shopify.com\/s\/files\/1\/0508\/2592\/0676\/products\/U-shaped-edge-sealer_03.jpg?v=1607681231","width":800},{"alt":null,"id":13330606719140,"position":4,"preview_image":{"aspect_ratio":1.0,"height":800,"width":800,"src":"https:\/\/cdn.shopify.com\/s\/files\/1\/0508\/2592\/0676\/products\/U-shaped-edge-sealer_04.jpg?v=1607681231"},"aspect_ratio":1.0,"height":800,"media_type":"image","src":"https:\/\/cdn.shopify.com\/s\/files\/1\/0508\/2592\/0676\/products\/U-shaped-edge-sealer_04.jpg?v=1607681231","width":800},{"alt":null,"id":13330606751908,"position":5,"preview_image":{"aspect_ratio":1.0,"height":800,"width":800,"src":"https:\/\/cdn.shopify.com\/s\/files\/1\/0508\/2592\/0676\/products\/U-shaped-edge-sealer_05.jpg?v=1607681231"},"aspect_ratio":1.0,"height":800,"media_type":"image","src":"https:\/\/cdn.shopify.com\/s\/files\/1\/0508\/2592\/0676\/products\/U-shaped-edge-sealer_05.jpg?v=1607681231","width":800},{"alt":null,"id":13330606784676,"position":6,"preview_image":{"aspect_ratio":1.0,"height":800,"width":800,"src":"https:\/\/cdn.shopify.com\/s\/files\/1\/0508\/2592\/0676\/products\/U-shaped-edge-sealer_06.jpg?v=1607681231"},"aspect_ratio":1.0,"height":800,"media_type":"image","src":"https:\/\/cdn.shopify.com\/s\/files\/1\/0508\/2592\/0676\/products\/U-shaped-edge-sealer_06.jpg?v=1607681231","width":800},{"alt":null,"id":13330606817444,"position":7,"preview_image":{"aspect_ratio":1.0,"height":800,"width":800,"src":"https:\/\/cdn.shopify.com\/s\/files\/1\/0508\/2592\/0676\/products\/U-shaped-edge-sealer_07.jpg?v=1607681231"},"aspect_ratio":1.0,"height":800,"media_type":"image","src":"https:\/\/cdn.shopify.com\/s\/files\/1\/0508\/2592\/0676\/products\/U-shaped-edge-sealer_07.jpg?v=1607681231","width":800},{"alt":null,"id":13330606850212,"position":8,"preview_image":{"aspect_ratio":1.0,"height":800,"width":800,"src":"https:\/\/cdn.shopify.com\/s\/files\/1\/0508\/2592\/0676\/products\/U-shaped-edge-sealer_08.jpg?v=1607681231"},"aspect_ratio":1.0,"height":800,"media_type":"image","src":"https:\/\/cdn.shopify.com\/s\/files\/1\/0508\/2592\/0676\/products\/U-shaped-edge-sealer_08.jpg?v=1607681231","width":800}],"requires_selling_plan":false,"selling_plan_groups":[],"content":"\u003c!-- Build time: 2020-12-11 12:26:00 --\u003e\n\u003cstyle\u003e\u003c!--\n.listing-build-item table {\n width: 100% !important;\n margin: 5px 0 !important;\n border-collapse: collapse !important;\n table-layout: initial !important;\n }\n\n .listing-build-item table ul li,\n .listing-build-item table dl dd,\n .listing-build-item table dl dt {\n list-style:outside none !important;\n margin:0 !important;\n }\n\n .listing-build-item table ul,\n .listing-build-item table dl {\n margin-left: 0 !important;\n }\n\n .listing-build-item table tr\u003etd,\n .listing-build-item table tr\u003eth {\n padding: 10px 14px !important;\n font-size: 14px !important;\n border: 1px solid #cbcbcb !important;\n background-clip: padding-box !important;\n position: relative !important;\n letter-spacing:initial !important;\n text-align: left !important;\n }\n\n .listing-build-item table tr\u003eth {\n font-weight: 600 !important;\n }\n\n .listing-build-item h3 {\n color: #000 !important;\n font-size: 20px !important;\n font-weight: 600 !important;\n margin: 0 !important;\n padding: 10px 0 !important;\n text-align: left !important;\n }\n .listing-build-item table th,.listing-build-item h5{\n color:#000 !important;\n }\n\n .listing-build-item {\n margin-bottom: 30px !important;\n word-break: break-word !important;\n }\n\n .listing-build-item ul,\n .listing-build-item dl {\n margin: 0 !important;\n padding:0 !important;\n list-style:outside none !important\n }\n\n .listing-build-item .img-box {\n margin: 10px 0 !important;\n }\n\n .listing-build-item .img-box img {\n height: auto !important;\n max-width: 100% !important;\n margin: 0 auto !important;\n padding: 0 !important;\n display: block !important;\n }\n @media screen and (min-width: 992px){\n .listing-build-item table tr\u003eth {\n width: 180px !important;\n }\n }\n @media screen and (max-width: 750px){\n .listing-build-item table tr\u003eth {\n width: 100px !important;\n }\n }\n\n .listing-build-item tr:first-child th:after,\n .listing-build-item tr:first-child td:after {\n border: initial !important;\n }\n\n .listing-build-item ul\u003eli:last-child,\n .listing-build-item ul.features\u003eli:last-child,\n .listing-build-item ul\u003eli.package-row:last-child {\n margin-bottom: 0 !important;\n }\n .listing-build-item ul.features li,.listing-build-item ul li.package-row{\n margin-bottom:7px !important;\n }\n .listing-build-item h5{\n margin: 20px 0 5px 0 !important;\n font-weight: 600 !important;\n text-align: left !important;\n }\n .listing-build-item strong{\n font-weight: 600 !important;\n }\n--\u003e\u003c\/style\u003e\n\u003c!-- BEGIN Descriptions --\u003e\n\u003cdiv class=\"listing-build-item\" style=\"text-align: start;\"\u003eThe \u003cspan style=\"color: #ff8000;\"\u003e\u003cem\u003e\u003cstrong\u003ebroken edges of the wardrobe and the sharp furniture corners\u003c\/strong\u003e \u003c\/em\u003e\u003c\/span\u003eare not beautiful, and they are easy to hurt the elderly and children in the family. Our U-shaped Edge Sealer is a good way to solve such problems.\u003cbr\u003e\u003cbr\u003e\u003cimg src=\"https:\/\/cdn.shopifycdn.net\/s\/files\/1\/0082\/9148\/3738\/files\/3_6f0e9980-8f66-4ef5-add4-65cf437b2ae9_480x480.gif?v=1607670750\" style=\"margin-right: auto; margin-left: auto; float: none; display: block;\" width=\"240x240\" height=\"240x240\" data-mce-src=\"https:\/\/cdn.shopifycdn.net\/s\/files\/1\/0082\/9148\/3738\/files\/3_6f0e9980-8f66-4ef5-add4-65cf437b2ae9_480x480.gif?v=1607670750\" data-mce-fragment=\"1\"\u003e\u003cbr\u003eThe \u003cspan style=\"color: #ff8000;\"\u003e\u003cem\u003e\u003cstrong\u003eself-adhesive sealing strip\u003c\/strong\u003e\u003c\/em\u003e\u003c\/span\u003e is extremely viscous and can \u003cspan style=\"color: #ff8000;\"\u003e\u003cem\u003e\u003cstrong\u003eadapt to the edges of objects of various shapes.\u003c\/strong\u003e \u003c\/em\u003e\u003c\/span\u003eIt is non-slip, wear-resistant, and has no odor, which can make your home more beautiful and safe.\u003cbr\u003e\n\u003c\/div\u003e\n\u003c!-- END Descriptions --\u003e \u003c!-- BEGIN features --\u003e\n\u003cdiv class=\"listing-build-item\"\u003e\n\u003ch3\u003eMain Features\u003c\/h3\u003e\n\u003c\/div\u003e\n\u003cul class=\"features\"\u003e\n\u003cli\u003e\n\u003cp\u003e\u003cspan style=\"color: #ff8000;\"\u003e\u003cstrong\u003e[Excellent Edge Protection] \u003c\/strong\u003e\u003c\/span\u003eThe sealing strip effectively \u003cstrong\u003eprevents the elderly\/children\/pets\u003c\/strong\u003e in the family from being injured by the sharp edges of the cabinet and prolongs the service life of the cabinet.\u003c\/p\u003e\n\u003c\/li\u003e\n\u003cli\u003e\n\u003cp\u003e\u003cstrong\u003e\u003cspan style=\"color: #ff8000;\"\u003e[Self-adhesive Edge Banding]\u003c\/span\u003e \u003c\/strong\u003eThe back of the seal comes with \u003cstrong\u003edouble-sided tape,\u003c\/strong\u003e just tear off the protective film, and then paste it to the edge of the cabinet. Suitable for \u003cstrong\u003edry\/humid environment.\u003c\/strong\u003e\u003c\/p\u003e\n\u003cdiv style=\"text-align: start;\"\u003e\u003cimg style=\"margin-right: auto; margin-left: auto; float: none; display: block;\" alt=\"\" src=\"https:\/\/cdn.shopifycdn.net\/s\/files\/1\/0082\/9148\/3738\/files\/1_ff1a3782-9f83-48f8-8855-63fc737822ad_240x240.gif?v=1607670797\"\u003e\u003c\/div\u003e\n\u003cbr\u003e\n\u003c\/li\u003e\n\u003cli\u003e\n\u003cp\u003e\u003cstrong\u003e\u003cspan style=\"color: #ff8000;\"\u003e[Super Soft Material]\u003c\/span\u003e \u003c\/strong\u003eThe U-shaped sealing strip made of \u003cstrong\u003ehigh-quality PVC\u003c\/strong\u003e material is extremely flexible and can be cut to adapt to right-angle installation without leaving traces. \u003cstrong\u003eNo odor, non-slip, abrasion resistance, and noise reduction.\u003c\/strong\u003e\u003c\/p\u003e\n\u003cdiv style=\"text-align: start;\"\u003e\u003cimg style=\"float: none; display: block; margin-left: auto; margin-right: auto;\" alt=\"\" src=\"https:\/\/cdn.shopifycdn.net\/s\/files\/1\/0082\/9148\/3738\/files\/2_6e4eaf34-d1bf-4db0-8621-12b02eaf1b78_240x240.gif?v=1607670865\"\u003e\u003c\/div\u003e\n\u003cbr\u003e\n\u003c\/li\u003e\n\u003cli\u003e\n\u003cp\u003e\u003cstrong\u003e\u003cspan style=\"color: #ff8000;\"\u003e[Rich Choices]\u003c\/span\u003e \u003c\/strong\u003eWe provide \u003cstrong\u003efour colors\u003c\/strong\u003e of black, brown, white, and gray, 16mm and 18mm respectively, and there are \u003cstrong\u003etwo sizes\u003c\/strong\u003e to choose from. The versatile color is suitable for all types of wardrobes\/cabinets without spoiling the beauty.\u003c\/p\u003e\n\u003c\/li\u003e\n\u003c\/ul\u003e\n\u003c!-- END features --\u003e \u003c!-- BEGIN Using Method --\u003e\n\u003cdiv class=\"listing-build-item\" style=\"text-align: start;\"\u003e\n\u003ch3\u003eUsing Methods\u003c\/h3\u003e\n\u003cp class=\"img-box\"\u003e\u003cimg alt=\"\" src=\"https:\/\/cdn.shopifycdn.net\/s\/files\/1\/0082\/9148\/3738\/files\/U-shaped-edge-sealer_07_480x480.jpg?v=1607674327\"\u003e\u003c\/p\u003e\n\u003c\/div\u003e\n\u003c!-- END Using Method --\u003e \u003c!-- BEGIN usage_scene --\u003e \u003c!-- END usage_scene --\u003e \u003c!-- BEGIN specification --\u003e\n\u003cdiv class=\"listing-build-item\"\u003e\n\u003ch3\u003eSpecifications\u003c\/h3\u003e\n\u003ctable\u003e\n\u003c!-- BEGIN specification_material --\u003e\n\u003ctbody\u003e\n\u003ctr\u003e\n\u003cth class=\"specification-th\" scope=\"row\"\u003eMaterials\u003c\/th\u003e\n\u003ctd class=\"specification-td\"\u003e\n\u003cul\u003e\n\u003cli\u003ePVC\u003c\/li\u003e\n\u003c\/ul\u003e\n\u003c\/td\u003e\n\u003c\/tr\u003e\n\u003c!-- END specification_material --\u003e \u003c!-- BEGIN specification_weight --\u003e\n\u003ctr\u003e\n\u003cth scope=\"row\"\u003eProduct Weight\u003c\/th\u003e\n\u003ctd\u003e\n\u003cul\u003e\n\u003cli\u003e2M: 234G\u003c\/li\u003e\n\u003cli\u003e5M: 569G\u003c\/li\u003e\n\u003c\/ul\u003e\n\u003c\/td\u003e\n\u003c\/tr\u003e\n\u003c!-- END specification_weight --\u003e \u003c!-- BEGIN specification_size --\u003e\n\u003ctr\u003e\n\u003cth scope=\"row\"\u003eProduct Size\u003cbr\u003e (L x W x H)\u003c\/th\u003e\n\u003ctd\u003e\n\u003cul\u003e\n\u003cli\u003eNet Size:Length: 2M \u003cspan data-mce-fragment=\"1\"\u003e\/ 5M\u003c\/span\u003e\n\u003c\/li\u003e\n\u003cli\u003e\u003cspan data-mce-fragment=\"1\"\u003eWidth:16mm \/ 18mm\u003c\/span\u003e\u003c\/li\u003e\n\u003cli\u003ePackage Size: 18 × 15 × 2cm \/ 7.1 × 5.9 × 0.8inches\u003c\/li\u003e\n\u003c\/ul\u003e\n\u003c\/td\u003e\n\u003c\/tr\u003e\n\u003c!-- END specification_size --\u003e \u003c!-- BEGIN specification_many_package --\u003e\n\u003ctr\u003e\n\u003cth scope=\"row\"\u003ePackage Contents\u003c\/th\u003e\n\u003ctd\u003e\n\u003cul\u003e\n\u003cli\u003eU-shaped Edge Sealer × 1\u003c\/li\u003e\n\u003c\/ul\u003e\n\u003c\/td\u003e\n\u003c\/tr\u003e\n\u003c!-- END specification_one_package --\u003e \u003c!-- BEGIN specification_custom_attribute --\u003e\n\u003ctr\u003e\n\u003cth scope=\"row\"\u003eColor\u003c\/th\u003e\n\u003ctd\u003eBlack\/White\/Brown\/Gray\u003c\/td\u003e\n\u003c\/tr\u003e\n\u003c!-- END specification_custom_attribute --\u003e\n\u003c\/tbody\u003e\n\u003c\/table\u003e\n\u003c!-- BEGIN specification_size_img --\u003e \u003c!-- END specification_size_img --\u003e\n\u003c\/div\u003e\n\u003c!-- END specification --\u003e \u003c!-- BEGIN note --\u003e\n\u003cdiv class=\"listing-build-item\"\u003e\n\u003ch3\u003eNote\u003c\/h3\u003e\n\u003cul\u003e\n\u003cli\u003eDue to the different display and lighting effects, the actual color of the item may be slightly different from the color displayed on the picture.\u003c\/li\u003e\n\u003c\/ul\u003e\n\u003c\/div\u003e\n\u003c!-- END note --\u003e"}
U-shaped Edge Sealer
Product Description
The
broken edges of the wardrobe and the sharp furniture corners
are not beautiful, and they are easy to hurt the elderly and children in the family. Our U-shaped Edge Sealer is a good way to solve such problems.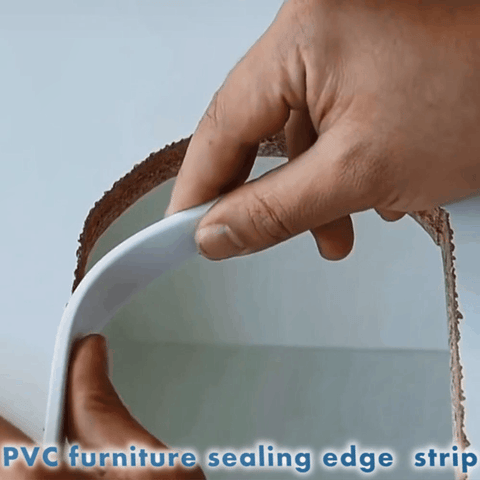 The
self-adhesive sealing strip
is extremely viscous and can
adapt to the edges of objects of various shapes.
It is non-slip, wear-resistant, and has no odor, which can make your home more beautiful and safe.
Main Features
[Excellent Edge Protection] The sealing strip effectively prevents the elderly/children/pets in the family from being injured by the sharp edges of the cabinet and prolongs the service life of the cabinet.

[Self-adhesive Edge Banding] The back of the seal comes with double-sided tape, just tear off the protective film, and then paste it to the edge of the cabinet. Suitable for dry/humid environment.




[Super Soft Material] The U-shaped sealing strip made of high-quality PVC material is extremely flexible and can be cut to adapt to right-angle installation without leaving traces. No odor, non-slip, abrasion resistance, and noise reduction.




[Rich Choices] We provide four colors of black, brown, white, and gray, 16mm and 18mm respectively, and there are two sizes to choose from. The versatile color is suitable for all types of wardrobes/cabinets without spoiling the beauty.
Using Methods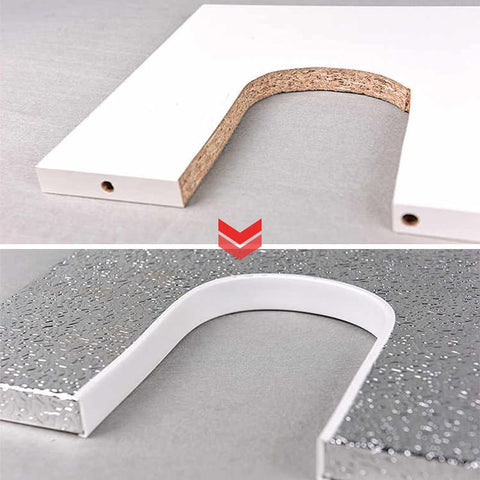 Specifications
Materials
Product Weight
Product Size
(L x W x H)

Net Size:Length: 2M 

/ 5M

Width:16mm / 18mm

Package Size: 18 × 15 × 2cm / 7.1 × 5.9 × 0.8inches

Package Contents
Color
Black/White/Brown/Gray
Note
Due to the different display and lighting effects, the actual color of the item may be slightly different from the color displayed on the picture.
Shipping:
We processes orders between Monday and Friday. Orders will be processed within 7 business days of ordering and shipped out the next day after the processing day. We don't ship on weekends.