{"id":5897238479012,"title":"?Christmas Sale 50% OFF?Car Multifunctional Main Driver Card Table","handle":"table","description":"\u003cp style=\"text-align: center;\" data-mce-fragment=\"1\" data-mce-style=\"text-align: center;\"\u003e\u003cspan data-mce-fragment=\"1\"\u003e\u003cstrong data-mce-fragment=\"1\"\u003eWaiting in your car is a hard thing to do especially if you need that time to do something important like working and eating.\u003c\/strong\u003e\u003c\/span\u003e\u003c\/p\u003e\n\u003cp data-mce-fragment=\"1\"\u003e\u003cimg src=\"https:\/\/cdn.shopify.com\/s\/files\/1\/0423\/2305\/0650\/files\/1_4539d2e4-8ec2-4321-8ae0-1bfae9e2796f_480x480.gif?v=1606725248\" alt=\"\" style=\"display: block; margin-left: auto; margin-right: auto;\" data-mce-style=\"display: block; margin-left: auto; margin-right: auto;\" data-mce-fragment=\"1\" data-mce-src=\"https:\/\/cdn.shopify.com\/s\/files\/1\/0423\/2305\/0650\/files\/1_4539d2e4-8ec2-4321-8ae0-1bfae9e2796f_480x480.gif?v=1606725248\"\u003e\u003c\/p\u003e\n\u003cp data-mce-fragment=\"1\"\u003e With The Car Multifunctional Main Driver Card Table,\u003cspan data-mce-fragment=\"1\"\u003e \u003c\/span\u003e\u003cspan data-mce-fragment=\"1\"\u003e\u003cstrong data-mce-fragment=\"1\"\u003eyou can now use your laptop and get work done while waiting for someone or eat a snack or lunch  just moments after it arrives through the  window\u003c\/strong\u003e\u003c\/span\u003e\u003c\/p\u003e\n\u003cp data-mce-fragment=\"1\"\u003e\u003cimg src=\"https:\/\/cdn.shopify.com\/s\/files\/1\/0423\/2305\/0650\/files\/Work_From_Car_480x480.jpg?v=1606725295\" alt=\"\" style=\"display: block; margin-left: auto; margin-right: auto;\" data-mce-style=\"display: block; margin-left: auto; margin-right: auto;\" data-mce-fragment=\"1\" data-mce-src=\"https:\/\/cdn.shopify.com\/s\/files\/1\/0423\/2305\/0650\/files\/Work_From_Car_480x480.jpg?v=1606725295\"\u003e\u003cspan data-mce-fragment=\"1\"\u003e\u003cstrong data-mce-fragment=\"1\"\u003eConstructed with cup holders for eating and a flat surface for working. It's the most convenient and practical tray with multifunctional uses.\u003c\/strong\u003e\u003c\/span\u003e\u003cspan data-mce-fragment=\"1\"\u003e \u003c\/span\u003eWaiting in your car is not an issue anymore.\u003cbr data-mce-fragment=\"1\"\u003e\u003cspan data-mce-fragment=\"1\"\u003e\u003cimg src=\"https:\/\/cdn.shopify.com\/s\/files\/1\/0423\/2305\/0650\/files\/2_2a7525f8-c5c0-4f52-845c-55a943521491_480x480.gif?v=1606725263\" alt=\"\" style=\"display: block; margin-left: auto; margin-right: auto;\" data-mce-style=\"display: block; margin-left: auto; margin-right: auto;\" data-mce-fragment=\"1\" data-mce-src=\"https:\/\/cdn.shopify.com\/s\/files\/1\/0423\/2305\/0650\/files\/2_2a7525f8-c5c0-4f52-845c-55a943521491_480x480.gif?v=1606725263\"\u003e\u003c\/span\u003e\u003c\/p\u003e\n\u003ch3\u003e\u003cspan data-mce-fragment=\"1\"\u003eFeatures:\u003c\/span\u003e\u003c\/h3\u003e\n\u003cul\u003e\n\u003cli\u003e\u003cspan data-mce-fragment=\"1\"\u003e\u003cspan style=\"color: #ff2a00;\"\u003e\u003cstrong\u003eMULTI-FUNCTIONAL:\u003c\/strong\u003e\u003c\/span\u003e\u003cbr data-mce-fragment=\"1\"\u003eCar Multifunctional Main Driver Card Table \u003cstrong\u003edesign to be mounted on the steering wheel. This portable back-to-back car tray is used as a food tray and a laptop table\u003c\/strong\u003e providing your car with a convenient place to eat and work.\u003cbr data-mce-fragment=\"1\"\u003e\u003cstrong\u003e\u003cimg src=\"https:\/\/cdn.shopify.com\/s\/files\/1\/0423\/2305\/0650\/files\/Back_to_Back_da07a9a3-69bf-40e2-9c0a-63bc872e0f7c_480x480.jpg?v=1606727127\" alt=\"\" data-mce-src=\"https:\/\/cdn.shopify.com\/s\/files\/1\/0423\/2305\/0650\/files\/Back_to_Back_da07a9a3-69bf-40e2-9c0a-63bc872e0f7c_480x480.jpg?v=1606727127\" data-mce-fragment=\"1\"\u003e\u003c\/strong\u003e\u003c\/span\u003e\u003c\/li\u003e\n\u003cli\u003e\u003cspan data-mce-fragment=\"1\"\u003e\u003cstrong\u003e\u003cspan style=\"color: #ff2a00;\"\u003ePORTABLE TABLE:\u003c\/span\u003e\u003cbr data-mce-fragment=\"1\"\u003e\u003c\/strong\u003eThis Car Multifunctional Main Driver Card Table is ideal for car travel, especially with family and colleagues. and its easily store in the back seat pocket while not in use.\u003cstrong\u003e\u003cbr data-mce-fragment=\"1\"\u003e\u003cimg alt=\"\" src=\"https:\/\/cdn.shopify.com\/s\/files\/1\/0423\/2305\/0650\/files\/Portable_480x480.jpg?v=1606725341\" data-mce-src=\"https:\/\/cdn.shopify.com\/s\/files\/1\/0423\/2305\/0650\/files\/Portable_480x480.jpg?v=1606725341\" data-mce-fragment=\"1\"\u003e\u003c\/strong\u003e\u003c\/span\u003e\u003c\/li\u003e\n\u003cli\u003e\n\u003cp\u003e\u003cspan data-mce-fragment=\"1\"\u003e\u003cstrong\u003e\u003cspan style=\"color: #ff2a00;\"\u003ePREMIUM QUALITY:\u003c\/span\u003e\u003cbr data-mce-fragment=\"1\"\u003e\u003c\/strong\u003eCar Multifunctional Main Driver Card Table is made of premium quality heat resistant ABS material to ensure durability that will surely last long.\u003c\/span\u003e\u003c\/p\u003e\n\u003c\/li\u003e\n\u003cli\u003e\n\u003cp\u003e\u003cspan data-mce-fragment=\"1\"\u003e\u003cstrong\u003e\u003cspan style=\"color: #ff2a00;\"\u003eEASY INSTALLATION:\u003c\/span\u003e\u003cbr data-mce-fragment=\"1\"\u003e\u003c\/strong\u003eSimply hook the Car Multifunctional Main Driver Card Table to your steering wheel. just remember to rotate your steering wheel by 180 degrees if in case it doesn't fit.\u003c\/span\u003e\u003c\/p\u003e\n\u003c\/li\u003e\n\u003cli\u003e\n\u003cp\u003e\u003cspan data-mce-fragment=\"1\"\u003e\u003cstrong\u003e\u003cspan style=\"color: #ff2a00;\"\u003eCOMPATIBLE WITH:\u003c\/span\u003e\u003cbr data-mce-fragment=\"1\"\u003e\u003c\/strong\u003eCar Multifunctional Main Driver Card Table is compatible with any steering wheel and will benefit most, Sales Rep, Law enforcers, Tour Drivers, News Van, Mobile Patrols, Production Crews, and many more jobs related on-field.\u003c\/span\u003e\u003c\/p\u003e\n\u003c\/li\u003e\n\u003cli\u003e\n\u003cp\u003e\u003cspan data-mce-fragment=\"1\"\u003e\u003cstrong\u003e\u003cspan style=\"color: #ff2a00;\"\u003eGIFT ME:\u003c\/span\u003e\u003cbr data-mce-fragment=\"1\"\u003e\u003c\/strong\u003eThis potable steering wheel table makes it more comfortable to work and eat on the road, a perfect gift for your family and colleagues!\u003c\/span\u003e\u003c\/p\u003e\n\u003c\/li\u003e\n\u003c\/ul\u003e\n\u003ch3\u003eSpecifications:\u003c\/h3\u003e\n\u003cul\u003e\n\u003cli\u003e\n\u003cstrong\u003e\u003cspan\u003eMaterials:\u003c\/span\u003e\u003c\/strong\u003e\u003cspan\u003e High-Quality Heat Resistant ABS\u003c\/span\u003e\n\u003c\/li\u003e\n\u003cli\u003e\n\u003cspan\u003e\u003cstrong\u003eCompatibility:\u003c\/strong\u003e \u003c\/span\u003e\u003cspan\u003eStandard Size Steering Wheel\u003c\/span\u003e\n\u003c\/li\u003e\n\u003cli\u003e\n\u003cspan\u003e\u003cstrong\u003eSize:\u003c\/strong\u003e \u003c\/span\u003e\u003cspan\u003e28cm x 42cm (Perfectly fits with 10cm circumference handle)\u003c\/span\u003e\n\u003c\/li\u003e\n\u003cli\u003e\n\u003cspan\u003e\u003cstrong\u003eColor:\u003c\/strong\u003e\u003c\/span\u003e\u003cspan\u003e Black, Gray\u003c\/span\u003e\n\u003c\/li\u003e\n\u003c\/ul\u003e\n\u003cdiv\u003e\u003cimg src=\"https:\/\/cdn.shopifycdn.net\/s\/files\/1\/0082\/9148\/3738\/files\/AvailableColors_1024x1024_2x_fed48d27-2a6c-4ebf-90e4-22f65c5a6487_480x480.jpg?v=1606795293\" alt=\"\" style=\"display: block; margin-left: auto; margin-right: auto;\" data-mce-fragment=\"1\" data-mce-src=\"https:\/\/cdn.shopifycdn.net\/s\/files\/1\/0082\/9148\/3738\/files\/AvailableColors_1024x1024_2x_fed48d27-2a6c-4ebf-90e4-22f65c5a6487_480x480.jpg?v=1606795293\"\u003e\u003c\/div\u003e\n\u003ch3 data-mce-fragment=\"1\"\u003e\u003cspan color=\"#000000\" data-mce-fragment=\"1\"\u003ePackage Include:\u003c\/span\u003e\u003c\/h3\u003e\n\u003cul data-mce-fragment=\"1\"\u003e\n\u003cli data-mce-fragment=\"1\"\u003e\u003cspan color=\"#000000\" data-mce-fragment=\"1\"\u003e1 x Car Multifunctional Table\u003c\/span\u003e\u003c\/li\u003e\n\u003c\/ul\u003e\n\u003ch3 data-mce-fragment=\"1\"\u003e\u003cspan color=\"#000000\" data-mce-fragment=\"1\"\u003eNote:\u003c\/span\u003e\u003c\/h3\u003e\n\u003cul data-mce-fragment=\"1\"\u003e\n\u003cli data-mce-fragment=\"1\"\u003e\u003cspan color=\"#000000\" data-mce-fragment=\"1\"\u003eDue to manual measurements, please allow slight measurement deviations.\u003c\/span\u003e\u003c\/li\u003e\n\u003cli data-mce-fragment=\"1\"\u003e\u003cspan color=\"#000000\" data-mce-fragment=\"1\"\u003eDue to the different display and lighting effects, the actual color of the item may be slightly different from the color displayed on the picture.\u003c\/span\u003e\u003c\/li\u003e\n\u003c\/ul\u003e\n\u003cbr\u003e","published_at":"2020-12-01T17:28:03+08:00","created_at":"2020-12-01T17:28:03+08:00","vendor":"solegg","type":"Car Accessories","tags":[],"price":3699,"price_min":3699,"price_max":3699,"available":true,"price_varies":false,"compare_at_price":7999,"compare_at_price_min":7999,"compare_at_price_max":7999,"compare_at_price_varies":false,"variants":[{"id":37127317258404,"title":"Black","option1":"Black","option2":null,"option3":null,"sku":"LN52018477HEI","requires_shipping":true,"taxable":false,"featured_image":null,"available":true,"name":"?Christmas Sale 50% OFF?Car Multifunctional Main Driver Card Table - Black","public_title":"Black","options":["Black"],"price":3699,"weight":0,"compare_at_price":7999,"inventory_management":null,"barcode":null,"requires_selling_plan":false,"selling_plan_allocations":[]},{"id":37127317291172,"title":"Gray","option1":"Gray","option2":null,"option3":null,"sku":"LN52018477HUI","requires_shipping":true,"taxable":false,"featured_image":null,"available":true,"name":"?Christmas Sale 50% OFF?Car Multifunctional Main Driver Card Table - Gray","public_title":"Gray","options":["Gray"],"price":3699,"weight":0,"compare_at_price":7999,"inventory_management":null,"barcode":null,"requires_selling_plan":false,"selling_plan_allocations":[]}],"images":["\/\/cdn.shopify.com\/s\/files\/1\/0508\/2592\/0676\/products\/Skype_Picture_2020_12_01T02_16_12_304Z_1024x1024_2x_afa3aa6f-de4a-4c31-ae31-6bb7b6219794.gif?v=1606814884","\/\/cdn.shopify.com\/s\/files\/1\/0508\/2592\/0676\/products\/WorkFromCar_1024x1024_2x_53b5dcf7-1b45-4d4c-abf0-a8f0e812d508.jpg?v=1606814884","\/\/cdn.shopify.com\/s\/files\/1\/0508\/2592\/0676\/products\/Installation_1024x1024_2x_cbd07ef6-eed7-4199-bc05-1d43b032779a.jpg?v=1606814884","\/\/cdn.shopify.com\/s\/files\/1\/0508\/2592\/0676\/products\/BacktoBack_1024x1024_2x_cdec6993-fe1d-4a34-b333-447b2eb83b57.jpg?v=1606814884","\/\/cdn.shopify.com\/s\/files\/1\/0508\/2592\/0676\/products\/Portable_1024x1024_2x_1d157ba3-0dcd-4b19-ae65-914ba0d4591f.jpg?v=1606814884","\/\/cdn.shopify.com\/s\/files\/1\/0508\/2592\/0676\/products\/OneSize_1024x1024_2x_487d1599-6cc0-42b1-af36-e2129059e2c6.jpg?v=1606814884","\/\/cdn.shopify.com\/s\/files\/1\/0508\/2592\/0676\/products\/PremiumQuality_1024x1024_2x_43316695-f53b-4918-b71b-23299275ccf5.jpg?v=1606814884","\/\/cdn.shopify.com\/s\/files\/1\/0508\/2592\/0676\/products\/PerfectGift_1024x1024_2x_ca806e44-5ef8-42bf-b4a2-8d0f520ff703.jpg?v=1606814884"],"featured_image":"\/\/cdn.shopify.com\/s\/files\/1\/0508\/2592\/0676\/products\/Skype_Picture_2020_12_01T02_16_12_304Z_1024x1024_2x_afa3aa6f-de4a-4c31-ae31-6bb7b6219794.gif?v=1606814884","options":["Color"],"media":[{"alt":null,"id":13126802636964,"position":1,"preview_image":{"aspect_ratio":1.0,"height":720,"width":720,"src":"https:\/\/cdn.shopify.com\/s\/files\/1\/0508\/2592\/0676\/products\/Skype_Picture_2020_12_01T02_16_12_304Z_1024x1024_2x_afa3aa6f-de4a-4c31-ae31-6bb7b6219794.gif?v=1606814884"},"aspect_ratio":1.0,"height":720,"media_type":"image","src":"https:\/\/cdn.shopify.com\/s\/files\/1\/0508\/2592\/0676\/products\/Skype_Picture_2020_12_01T02_16_12_304Z_1024x1024_2x_afa3aa6f-de4a-4c31-ae31-6bb7b6219794.gif?v=1606814884","width":720},{"alt":null,"id":13126802669732,"position":2,"preview_image":{"aspect_ratio":1.0,"height":720,"width":720,"src":"https:\/\/cdn.shopify.com\/s\/files\/1\/0508\/2592\/0676\/products\/WorkFromCar_1024x1024_2x_53b5dcf7-1b45-4d4c-abf0-a8f0e812d508.jpg?v=1606814884"},"aspect_ratio":1.0,"height":720,"media_type":"image","src":"https:\/\/cdn.shopify.com\/s\/files\/1\/0508\/2592\/0676\/products\/WorkFromCar_1024x1024_2x_53b5dcf7-1b45-4d4c-abf0-a8f0e812d508.jpg?v=1606814884","width":720},{"alt":null,"id":13126802702500,"position":3,"preview_image":{"aspect_ratio":1.0,"height":720,"width":720,"src":"https:\/\/cdn.shopify.com\/s\/files\/1\/0508\/2592\/0676\/products\/Installation_1024x1024_2x_cbd07ef6-eed7-4199-bc05-1d43b032779a.jpg?v=1606814884"},"aspect_ratio":1.0,"height":720,"media_type":"image","src":"https:\/\/cdn.shopify.com\/s\/files\/1\/0508\/2592\/0676\/products\/Installation_1024x1024_2x_cbd07ef6-eed7-4199-bc05-1d43b032779a.jpg?v=1606814884","width":720},{"alt":null,"id":13126802735268,"position":4,"preview_image":{"aspect_ratio":1.0,"height":720,"width":720,"src":"https:\/\/cdn.shopify.com\/s\/files\/1\/0508\/2592\/0676\/products\/BacktoBack_1024x1024_2x_cdec6993-fe1d-4a34-b333-447b2eb83b57.jpg?v=1606814884"},"aspect_ratio":1.0,"height":720,"media_type":"image","src":"https:\/\/cdn.shopify.com\/s\/files\/1\/0508\/2592\/0676\/products\/BacktoBack_1024x1024_2x_cdec6993-fe1d-4a34-b333-447b2eb83b57.jpg?v=1606814884","width":720},{"alt":null,"id":13126802768036,"position":5,"preview_image":{"aspect_ratio":1.0,"height":720,"width":720,"src":"https:\/\/cdn.shopify.com\/s\/files\/1\/0508\/2592\/0676\/products\/Portable_1024x1024_2x_1d157ba3-0dcd-4b19-ae65-914ba0d4591f.jpg?v=1606814884"},"aspect_ratio":1.0,"height":720,"media_type":"image","src":"https:\/\/cdn.shopify.com\/s\/files\/1\/0508\/2592\/0676\/products\/Portable_1024x1024_2x_1d157ba3-0dcd-4b19-ae65-914ba0d4591f.jpg?v=1606814884","width":720},{"alt":null,"id":13126802800804,"position":6,"preview_image":{"aspect_ratio":1.0,"height":720,"width":720,"src":"https:\/\/cdn.shopify.com\/s\/files\/1\/0508\/2592\/0676\/products\/OneSize_1024x1024_2x_487d1599-6cc0-42b1-af36-e2129059e2c6.jpg?v=1606814884"},"aspect_ratio":1.0,"height":720,"media_type":"image","src":"https:\/\/cdn.shopify.com\/s\/files\/1\/0508\/2592\/0676\/products\/OneSize_1024x1024_2x_487d1599-6cc0-42b1-af36-e2129059e2c6.jpg?v=1606814884","width":720},{"alt":null,"id":13126802833572,"position":7,"preview_image":{"aspect_ratio":1.0,"height":720,"width":720,"src":"https:\/\/cdn.shopify.com\/s\/files\/1\/0508\/2592\/0676\/products\/PremiumQuality_1024x1024_2x_43316695-f53b-4918-b71b-23299275ccf5.jpg?v=1606814884"},"aspect_ratio":1.0,"height":720,"media_type":"image","src":"https:\/\/cdn.shopify.com\/s\/files\/1\/0508\/2592\/0676\/products\/PremiumQuality_1024x1024_2x_43316695-f53b-4918-b71b-23299275ccf5.jpg?v=1606814884","width":720},{"alt":null,"id":13126802866340,"position":8,"preview_image":{"aspect_ratio":1.0,"height":720,"width":720,"src":"https:\/\/cdn.shopify.com\/s\/files\/1\/0508\/2592\/0676\/products\/PerfectGift_1024x1024_2x_ca806e44-5ef8-42bf-b4a2-8d0f520ff703.jpg?v=1606814884"},"aspect_ratio":1.0,"height":720,"media_type":"image","src":"https:\/\/cdn.shopify.com\/s\/files\/1\/0508\/2592\/0676\/products\/PerfectGift_1024x1024_2x_ca806e44-5ef8-42bf-b4a2-8d0f520ff703.jpg?v=1606814884","width":720}],"requires_selling_plan":false,"selling_plan_groups":[],"content":"\u003cp style=\"text-align: center;\" data-mce-fragment=\"1\" data-mce-style=\"text-align: center;\"\u003e\u003cspan data-mce-fragment=\"1\"\u003e\u003cstrong data-mce-fragment=\"1\"\u003eWaiting in your car is a hard thing to do especially if you need that time to do something important like working and eating.\u003c\/strong\u003e\u003c\/span\u003e\u003c\/p\u003e\n\u003cp data-mce-fragment=\"1\"\u003e\u003cimg src=\"https:\/\/cdn.shopify.com\/s\/files\/1\/0423\/2305\/0650\/files\/1_4539d2e4-8ec2-4321-8ae0-1bfae9e2796f_480x480.gif?v=1606725248\" alt=\"\" style=\"display: block; margin-left: auto; margin-right: auto;\" data-mce-style=\"display: block; margin-left: auto; margin-right: auto;\" data-mce-fragment=\"1\" data-mce-src=\"https:\/\/cdn.shopify.com\/s\/files\/1\/0423\/2305\/0650\/files\/1_4539d2e4-8ec2-4321-8ae0-1bfae9e2796f_480x480.gif?v=1606725248\"\u003e\u003c\/p\u003e\n\u003cp data-mce-fragment=\"1\"\u003e With The Car Multifunctional Main Driver Card Table,\u003cspan data-mce-fragment=\"1\"\u003e \u003c\/span\u003e\u003cspan data-mce-fragment=\"1\"\u003e\u003cstrong data-mce-fragment=\"1\"\u003eyou can now use your laptop and get work done while waiting for someone or eat a snack or lunch  just moments after it arrives through the  window\u003c\/strong\u003e\u003c\/span\u003e\u003c\/p\u003e\n\u003cp data-mce-fragment=\"1\"\u003e\u003cimg src=\"https:\/\/cdn.shopify.com\/s\/files\/1\/0423\/2305\/0650\/files\/Work_From_Car_480x480.jpg?v=1606725295\" alt=\"\" style=\"display: block; margin-left: auto; margin-right: auto;\" data-mce-style=\"display: block; margin-left: auto; margin-right: auto;\" data-mce-fragment=\"1\" data-mce-src=\"https:\/\/cdn.shopify.com\/s\/files\/1\/0423\/2305\/0650\/files\/Work_From_Car_480x480.jpg?v=1606725295\"\u003e\u003cspan data-mce-fragment=\"1\"\u003e\u003cstrong data-mce-fragment=\"1\"\u003eConstructed with cup holders for eating and a flat surface for working. It's the most convenient and practical tray with multifunctional uses.\u003c\/strong\u003e\u003c\/span\u003e\u003cspan data-mce-fragment=\"1\"\u003e \u003c\/span\u003eWaiting in your car is not an issue anymore.\u003cbr data-mce-fragment=\"1\"\u003e\u003cspan data-mce-fragment=\"1\"\u003e\u003cimg src=\"https:\/\/cdn.shopify.com\/s\/files\/1\/0423\/2305\/0650\/files\/2_2a7525f8-c5c0-4f52-845c-55a943521491_480x480.gif?v=1606725263\" alt=\"\" style=\"display: block; margin-left: auto; margin-right: auto;\" data-mce-style=\"display: block; margin-left: auto; margin-right: auto;\" data-mce-fragment=\"1\" data-mce-src=\"https:\/\/cdn.shopify.com\/s\/files\/1\/0423\/2305\/0650\/files\/2_2a7525f8-c5c0-4f52-845c-55a943521491_480x480.gif?v=1606725263\"\u003e\u003c\/span\u003e\u003c\/p\u003e\n\u003ch3\u003e\u003cspan data-mce-fragment=\"1\"\u003eFeatures:\u003c\/span\u003e\u003c\/h3\u003e\n\u003cul\u003e\n\u003cli\u003e\u003cspan data-mce-fragment=\"1\"\u003e\u003cspan style=\"color: #ff2a00;\"\u003e\u003cstrong\u003eMULTI-FUNCTIONAL:\u003c\/strong\u003e\u003c\/span\u003e\u003cbr data-mce-fragment=\"1\"\u003eCar Multifunctional Main Driver Card Table \u003cstrong\u003edesign to be mounted on the steering wheel. This portable back-to-back car tray is used as a food tray and a laptop table\u003c\/strong\u003e providing your car with a convenient place to eat and work.\u003cbr data-mce-fragment=\"1\"\u003e\u003cstrong\u003e\u003cimg src=\"https:\/\/cdn.shopify.com\/s\/files\/1\/0423\/2305\/0650\/files\/Back_to_Back_da07a9a3-69bf-40e2-9c0a-63bc872e0f7c_480x480.jpg?v=1606727127\" alt=\"\" data-mce-src=\"https:\/\/cdn.shopify.com\/s\/files\/1\/0423\/2305\/0650\/files\/Back_to_Back_da07a9a3-69bf-40e2-9c0a-63bc872e0f7c_480x480.jpg?v=1606727127\" data-mce-fragment=\"1\"\u003e\u003c\/strong\u003e\u003c\/span\u003e\u003c\/li\u003e\n\u003cli\u003e\u003cspan data-mce-fragment=\"1\"\u003e\u003cstrong\u003e\u003cspan style=\"color: #ff2a00;\"\u003ePORTABLE TABLE:\u003c\/span\u003e\u003cbr data-mce-fragment=\"1\"\u003e\u003c\/strong\u003eThis Car Multifunctional Main Driver Card Table is ideal for car travel, especially with family and colleagues. and its easily store in the back seat pocket while not in use.\u003cstrong\u003e\u003cbr data-mce-fragment=\"1\"\u003e\u003cimg alt=\"\" src=\"https:\/\/cdn.shopify.com\/s\/files\/1\/0423\/2305\/0650\/files\/Portable_480x480.jpg?v=1606725341\" data-mce-src=\"https:\/\/cdn.shopify.com\/s\/files\/1\/0423\/2305\/0650\/files\/Portable_480x480.jpg?v=1606725341\" data-mce-fragment=\"1\"\u003e\u003c\/strong\u003e\u003c\/span\u003e\u003c\/li\u003e\n\u003cli\u003e\n\u003cp\u003e\u003cspan data-mce-fragment=\"1\"\u003e\u003cstrong\u003e\u003cspan style=\"color: #ff2a00;\"\u003ePREMIUM QUALITY:\u003c\/span\u003e\u003cbr data-mce-fragment=\"1\"\u003e\u003c\/strong\u003eCar Multifunctional Main Driver Card Table is made of premium quality heat resistant ABS material to ensure durability that will surely last long.\u003c\/span\u003e\u003c\/p\u003e\n\u003c\/li\u003e\n\u003cli\u003e\n\u003cp\u003e\u003cspan data-mce-fragment=\"1\"\u003e\u003cstrong\u003e\u003cspan style=\"color: #ff2a00;\"\u003eEASY INSTALLATION:\u003c\/span\u003e\u003cbr data-mce-fragment=\"1\"\u003e\u003c\/strong\u003eSimply hook the Car Multifunctional Main Driver Card Table to your steering wheel. just remember to rotate your steering wheel by 180 degrees if in case it doesn't fit.\u003c\/span\u003e\u003c\/p\u003e\n\u003c\/li\u003e\n\u003cli\u003e\n\u003cp\u003e\u003cspan data-mce-fragment=\"1\"\u003e\u003cstrong\u003e\u003cspan style=\"color: #ff2a00;\"\u003eCOMPATIBLE WITH:\u003c\/span\u003e\u003cbr data-mce-fragment=\"1\"\u003e\u003c\/strong\u003eCar Multifunctional Main Driver Card Table is compatible with any steering wheel and will benefit most, Sales Rep, Law enforcers, Tour Drivers, News Van, Mobile Patrols, Production Crews, and many more jobs related on-field.\u003c\/span\u003e\u003c\/p\u003e\n\u003c\/li\u003e\n\u003cli\u003e\n\u003cp\u003e\u003cspan data-mce-fragment=\"1\"\u003e\u003cstrong\u003e\u003cspan style=\"color: #ff2a00;\"\u003eGIFT ME:\u003c\/span\u003e\u003cbr data-mce-fragment=\"1\"\u003e\u003c\/strong\u003eThis potable steering wheel table makes it more comfortable to work and eat on the road, a perfect gift for your family and colleagues!\u003c\/span\u003e\u003c\/p\u003e\n\u003c\/li\u003e\n\u003c\/ul\u003e\n\u003ch3\u003eSpecifications:\u003c\/h3\u003e\n\u003cul\u003e\n\u003cli\u003e\n\u003cstrong\u003e\u003cspan\u003eMaterials:\u003c\/span\u003e\u003c\/strong\u003e\u003cspan\u003e High-Quality Heat Resistant ABS\u003c\/span\u003e\n\u003c\/li\u003e\n\u003cli\u003e\n\u003cspan\u003e\u003cstrong\u003eCompatibility:\u003c\/strong\u003e \u003c\/span\u003e\u003cspan\u003eStandard Size Steering Wheel\u003c\/span\u003e\n\u003c\/li\u003e\n\u003cli\u003e\n\u003cspan\u003e\u003cstrong\u003eSize:\u003c\/strong\u003e \u003c\/span\u003e\u003cspan\u003e28cm x 42cm (Perfectly fits with 10cm circumference handle)\u003c\/span\u003e\n\u003c\/li\u003e\n\u003cli\u003e\n\u003cspan\u003e\u003cstrong\u003eColor:\u003c\/strong\u003e\u003c\/span\u003e\u003cspan\u003e Black, Gray\u003c\/span\u003e\n\u003c\/li\u003e\n\u003c\/ul\u003e\n\u003cdiv\u003e\u003cimg src=\"https:\/\/cdn.shopifycdn.net\/s\/files\/1\/0082\/9148\/3738\/files\/AvailableColors_1024x1024_2x_fed48d27-2a6c-4ebf-90e4-22f65c5a6487_480x480.jpg?v=1606795293\" alt=\"\" style=\"display: block; margin-left: auto; margin-right: auto;\" data-mce-fragment=\"1\" data-mce-src=\"https:\/\/cdn.shopifycdn.net\/s\/files\/1\/0082\/9148\/3738\/files\/AvailableColors_1024x1024_2x_fed48d27-2a6c-4ebf-90e4-22f65c5a6487_480x480.jpg?v=1606795293\"\u003e\u003c\/div\u003e\n\u003ch3 data-mce-fragment=\"1\"\u003e\u003cspan color=\"#000000\" data-mce-fragment=\"1\"\u003ePackage Include:\u003c\/span\u003e\u003c\/h3\u003e\n\u003cul data-mce-fragment=\"1\"\u003e\n\u003cli data-mce-fragment=\"1\"\u003e\u003cspan color=\"#000000\" data-mce-fragment=\"1\"\u003e1 x Car Multifunctional Table\u003c\/span\u003e\u003c\/li\u003e\n\u003c\/ul\u003e\n\u003ch3 data-mce-fragment=\"1\"\u003e\u003cspan color=\"#000000\" data-mce-fragment=\"1\"\u003eNote:\u003c\/span\u003e\u003c\/h3\u003e\n\u003cul data-mce-fragment=\"1\"\u003e\n\u003cli data-mce-fragment=\"1\"\u003e\u003cspan color=\"#000000\" data-mce-fragment=\"1\"\u003eDue to manual measurements, please allow slight measurement deviations.\u003c\/span\u003e\u003c\/li\u003e\n\u003cli data-mce-fragment=\"1\"\u003e\u003cspan color=\"#000000\" data-mce-fragment=\"1\"\u003eDue to the different display and lighting effects, the actual color of the item may be slightly different from the color displayed on the picture.\u003c\/span\u003e\u003c\/li\u003e\n\u003c\/ul\u003e\n\u003cbr\u003e"}
?Christmas Sale 50% OFF?Car Multifunctional Main Driver Card Table
Product Description
Waiting in your car is a hard thing to do especially if you need that time to do something important like working and eating.
 With The Car Multifunctional Main Driver Card Table, you can now use your laptop and get work done while waiting for someone or eat a snack or lunch  just moments after it arrives through the  window
Constructed with cup holders for eating and a flat surface for working. It's the most convenient and practical tray with multifunctional uses. Waiting in your car is not an issue anymore.

Features:
MULTI-FUNCTIONAL:
Car Multifunctional Main Driver Card Table design to be mounted on the steering wheel. This portable back-to-back car tray is used as a food tray and a laptop table providing your car with a convenient place to eat and work.


PORTABLE TABLE:


This Car Multifunctional Main Driver Card Table is ideal for car travel, especially with family and colleagues. and its easily store in the back seat pocket while not in use.


PREMIUM QUALITY:
Car Multifunctional Main Driver Card Table is made of premium quality heat resistant ABS material to ensure durability that will surely last long.

EASY INSTALLATION:
Simply hook the Car Multifunctional Main Driver Card Table to your steering wheel. just remember to rotate your steering wheel by 180 degrees if in case it doesn't fit.

COMPATIBLE WITH:
Car Multifunctional Main Driver Card Table is compatible with any steering wheel and will benefit most, Sales Rep, Law enforcers, Tour Drivers, News Van, Mobile Patrols, Production Crews, and many more jobs related on-field.

GIFT ME:
This potable steering wheel table makes it more comfortable to work and eat on the road, a perfect gift for your family and colleagues!
Specifications:
Materials:

 High-Quality Heat Resistant ABS

Compatibility: 

Standard Size Steering Wheel

Size: 

28cm x 42cm (Perfectly fits with 10cm circumference handle)

Color:

 Black, Gray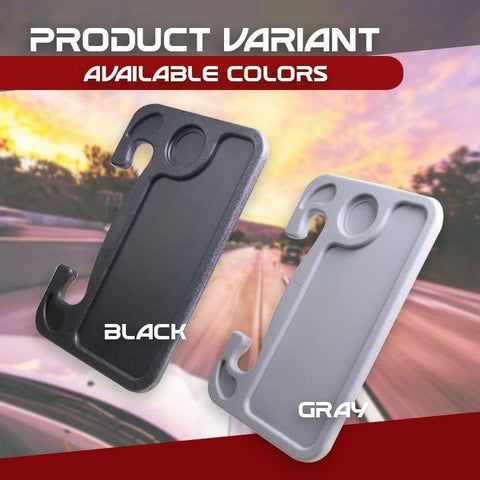 Package Include:
1 x Car Multifunctional Table
Note:
Due to manual measurements, please allow slight measurement deviations.

Due to the different display and lighting effects, the actual color of the item may be slightly different from the color displayed on the picture.
Shipping:
We processes orders between Monday and Friday. Orders will be processed within 7 business days of ordering and shipped out the next day after the processing day. We don't ship on weekends.