{"id":7515039138013,"title":"✨Hot Sale✨Soft And Comfortable Bra(50% OFF)","handle":"soft","description":"\u003cp data-mce-fragment=\"1\"\u003e\u003cspan style=\"color: #ce5988;\" data-mce-style=\"color: #ce5988;\"\u003e\u003cstrong data-mce-fragment=\"1\"\u003eSpecification:\u003c\/strong\u003e\u003c\/span\u003e\u003c\/p\u003e\n\u003cul data-mce-fragment=\"1\"\u003e\n\u003cli data-mce-fragment=\"1\"\u003eFabric: Cotton, Spandex\u003c\/li\u003e\n\u003cli data-mce-fragment=\"1\"\u003eThe content of the main fabric composition: Cotton 85 (%),\u003cspan data-mce-fragment=\"1\"\u003eSpandex 15 (%)\u003c\/span\u003e\n\u003c\/li\u003e\n\u003cli data-mce-fragment=\"1\"\u003eMold Cup Type: Thin Mold Cup\u003cimg data-mce-fragment=\"1\" src=\"https:\/\/cdn.shopify.com\/s\/files\/1\/0268\/8634\/0680\/files\/1_79e6b3ff-996c-4ba8-b31e-674bb5563192_480x480.gif?v=1637135565\" alt=\"\" style=\"display: block; margin-left: auto; margin-right: auto;\" width=\"335\" height=\"335\" data-mce-src=\"https:\/\/cdn.shopify.com\/s\/files\/1\/0268\/8634\/0680\/files\/1_79e6b3ff-996c-4ba8-b31e-674bb5563192_480x480.gif?v=1637135565\" data-mce-style=\"display: block; margin-left: auto; margin-right: auto;\"\u003e\n\u003c\/li\u003e\n\u003c\/ul\u003e\n\u003cp\u003e\u003cspan style=\"color: #ce5988;\" data-mce-style=\"color: #ce5988;\"\u003e\u003cstrong data-mce-fragment=\"1\"\u003eFeatured bra without steel ring:\u003c\/strong\u003e\u003c\/span\u003e\u003cspan data-mce-fragment=\"1\"\u003e\u003cspan style=\"color: #ce5988;\" data-mce-style=\"color: #ce5988;\"\u003e \u003c\/span\u003e\u003c\/span\u003e\u003c\/p\u003e\n\u003cp\u003e\u003cspan data-mce-fragment=\"1\"\u003eSolve the pain and discomfort caused by skin damage caused by steel ring and insufficient chest support. It will bring you\u003c\/span\u003e\u003cstrong data-mce-fragment=\"1\"\u003e\u003cspan data-mce-fragment=\"1\"\u003e \u003c\/span\u003egood support and improve, shape, and support a perfect chest shape.\u003c\/strong\u003e\u003cspan data-mce-fragment=\"1\"\u003e\u003c\/span\u003e\u003cspan data-mce-fragment=\"1\"\u003e\u003c\/span\u003e\u003cspan data-mce-fragment=\"1\"\u003e\u003c\/span\u003e\u003c\/p\u003e\n\u003cdiv data-mce-fragment=\"1\"\u003e\u003cimg data-mce-fragment=\"1\" alt=\"\" src=\"https:\/\/cdn.shopify.com\/s\/files\/1\/0531\/4314\/2564\/files\/1_45d7f4c7-eaec-4e95-a56f-00f427155264_480x480.gif?v=1624440118\" style=\"display: block; margin-left: auto; margin-right: auto;\" data-mce-style=\"display: block; margin-left: auto; margin-right: auto;\" data-mce-src=\"https:\/\/cdn.shopify.com\/s\/files\/1\/0531\/4314\/2564\/files\/1_45d7f4c7-eaec-4e95-a56f-00f427155264_480x480.gif?v=1624440118\"\u003e\u003c\/div\u003e\n\u003cdiv data-mce-fragment=\"1\"\u003e\n\u003cp data-mce-fragment=\"1\"\u003e\u003cspan style=\"color: #ce5988;\" data-mce-style=\"color: #ce5988;\"\u003e\u003cstrong data-mce-fragment=\"1\"\u003eAdjustable function:\u003c\/strong\u003e\u003c\/span\u003e\u003cspan data-mce-fragment=\"1\"\u003e \u003c\/span\u003eThe elastic band can be adjusted at will, and the back buckle is easy to put on and take off. It shows your graceful posture and shows your elegance and sexy. elegance and sexy.\u003cimg data-mce-fragment=\"1\" src=\"https:\/\/cdn.shopify.com\/s\/files\/1\/0591\/2382\/6846\/files\/2_d84b27c5-4b53-4c7d-9356-bae67b9b660e_480x480.gif?v=1633942101\" alt=\"\" style=\"display: block; margin-left: auto; margin-right: auto;\" data-mce-src=\"https:\/\/cdn.shopify.com\/s\/files\/1\/0591\/2382\/6846\/files\/2_d84b27c5-4b53-4c7d-9356-bae67b9b660e_480x480.gif?v=1633942101\" data-mce-style=\"display: block; margin-left: auto; margin-right: auto;\"\u003e\u003c\/p\u003e\n\u003cp data-mce-fragment=\"1\" style=\"text-align: left;\" data-mce-style=\"text-align: left;\"\u003eUse the 3D three-dimensional cushion to massage, promote blood circulation, relieve fatigue, you deserve it.\u003cimg data-mce-fragment=\"1\" src=\"https:\/\/cdn.shopify.com\/s\/files\/1\/0268\/8634\/0680\/files\/2_527d4b35-6fed-4f2c-bd11-67f199c0fcec_480x480.gif?v=1637135598\" alt=\"\" data-mce-src=\"https:\/\/cdn.shopify.com\/s\/files\/1\/0268\/8634\/0680\/files\/2_527d4b35-6fed-4f2c-bd11-67f199c0fcec_480x480.gif?v=1637135598\"\u003e\u003cbr data-mce-fragment=\"1\"\u003e\u003c\/p\u003e\n\u003cp data-mce-fragment=\"1\"\u003e\u003cspan style=\"color: #ce5988;\" data-mce-style=\"color: #ce5988;\"\u003e\u003cstrong data-mce-fragment=\"1\"\u003eSTRETCHABLE \u0026amp; BREATHABLE:\u003c\/strong\u003e\u003c\/span\u003e\u003cspan data-mce-fragment=\"1\"\u003e \u003c\/span\u003e\u003c\/p\u003e\n\u003cp data-mce-fragment=\"1\"\u003e\u003cspan data-mce-fragment=\"1\"\u003eMade of high-quality nylon and spandex material making it super stretchable, seamless, and breathable to use.\u003c\/span\u003e\u003cbr\u003e\u003cimg data-mce-fragment=\"1\" src=\"https:\/\/cdn.shopify.com\/s\/files\/1\/0531\/4314\/2564\/files\/4_66ca6a92-532c-43c3-ad18-59d7093caeaa_480x480.gif?v=1625277657\" alt=\"\" style=\"display: block; margin-left: auto; margin-right: auto;\" data-mce-style=\"display: block; margin-left: auto; margin-right: auto;\" data-mce-src=\"https:\/\/cdn.shopify.com\/s\/files\/1\/0531\/4314\/2564\/files\/4_66ca6a92-532c-43c3-ad18-59d7093caeaa_480x480.gif?v=1625277657\"\u003e\u003cspan data-mce-fragment=\"1\"\u003e\u003cimg data-mce-fragment=\"1\" style=\"display: block; margin-left: auto; margin-right: auto;\" src=\"https:\/\/cdn.shopify.com\/s\/files\/1\/0268\/8634\/0680\/files\/3_70fe3861-0c29-4d61-977e-c76e5117d85d_480x480.gif?v=1637135631\" alt=\"\" data-mce-src=\"https:\/\/cdn.shopify.com\/s\/files\/1\/0268\/8634\/0680\/files\/3_70fe3861-0c29-4d61-977e-c76e5117d85d_480x480.gif?v=1637135631\" data-mce-style=\"display: block; margin-left: auto; margin-right: auto;\"\u003e\u003c\/span\u003e\u003c\/p\u003e\n\u003c\/div\u003e\n\u003cdiv data-mce-fragment=\"1\"\u003e\n\u003cspan style=\"color: #ce5988;\" data-mce-style=\"color: #ce5988;\"\u003e \u003cstrong data-mce-fragment=\"1\"\u003eCotton bra:\u003c\/strong\u003e \u003cstrong data-mce-fragment=\"1\"\u003esoft, comfortable and elastic,\u003c\/strong\u003e \u003c\/span\u003eclose to your chest and will not move. Wearing this bra will show your elegant side.\u003cimg data-mce-fragment=\"1\" alt=\"\" src=\"https:\/\/cdn.shopify.com\/s\/files\/1\/0531\/4314\/2564\/files\/1_def3af7b-1c30-4b73-858d-e959f1f350c9_480x480.jpg?v=1625132976\" width=\"473\" height=\"473\" style=\"display: block; margin-left: auto; margin-right: auto;\" data-mce-style=\"display: block; margin-left: auto; margin-right: auto;\" data-mce-src=\"https:\/\/cdn.shopify.com\/s\/files\/1\/0531\/4314\/2564\/files\/1_def3af7b-1c30-4b73-858d-e959f1f350c9_480x480.jpg?v=1625132976\"\u003e\u003cimg data-mce-fragment=\"1\" src=\"https:\/\/cdn.shopify.com\/s\/files\/1\/0268\/8634\/0680\/files\/4_fd701bd1-307e-4926-9f05-b79eb719a5e5_480x480.gif?v=1637135641\" alt=\"\" style=\"display: block; margin-left: auto; margin-right: auto;\" data-mce-src=\"https:\/\/cdn.shopify.com\/s\/files\/1\/0268\/8634\/0680\/files\/4_fd701bd1-307e-4926-9f05-b79eb719a5e5_480x480.gif?v=1637135641\" data-mce-style=\"display: block; margin-left: auto; margin-right: auto;\"\u003e\n\u003c\/div\u003e\n\u003cdiv data-mce-fragment=\"1\"\u003e\n\u003cspan data-mce-fragment=\"1\"\u003eUse \u003c\/span\u003e\u003cstrong data-mce-fragment=\"1\"\u003esafe and non-toxic\u003c\/strong\u003e\u003cspan data-mce-fragment=\"1\"\u003e materials, soak the hand wash and rub it hard \u003c\/span\u003e\u003cstrong data-mce-fragment=\"1\"\u003ewithout fading and no deformation.\u003cimg data-mce-fragment=\"1\" src=\"https:\/\/cdn.shopify.com\/s\/files\/1\/0531\/4314\/2564\/files\/8_80c58628-5f24-49ca-8337-7d6e44bf58d9_480x480.gif?v=1626339511\" alt=\"\" style=\"display: block; margin-left: auto; margin-right: auto;\" data-mce-style=\"display: block; margin-left: auto; margin-right: auto;\" data-mce-src=\"https:\/\/cdn.shopify.com\/s\/files\/1\/0531\/4314\/2564\/files\/8_80c58628-5f24-49ca-8337-7d6e44bf58d9_480x480.gif?v=1626339511\"\u003e\u003cimg data-mce-fragment=\"1\" src=\"https:\/\/cdn.shopify.com\/s\/files\/1\/0268\/8634\/0680\/files\/5_8ffb7aa4-71e2-4ae5-979b-05b8c6ac142b_480x480.gif?v=1637135676\" alt=\"\" style=\"display: block; margin-left: auto; margin-right: auto;\" data-mce-src=\"https:\/\/cdn.shopify.com\/s\/files\/1\/0268\/8634\/0680\/files\/5_8ffb7aa4-71e2-4ae5-979b-05b8c6ac142b_480x480.gif?v=1637135676\" data-mce-style=\"display: block; margin-left: auto; margin-right: auto;\"\u003e\u003cbr data-mce-fragment=\"1\"\u003e\u003c\/strong\u003e\n\u003c\/div\u003e\n\u003cdiv data-mce-fragment=\"1\"\u003e\n\u003cp data-mce-fragment=\"1\"\u003e\u003cspan style=\"color: #ce5988;\" data-mce-style=\"color: #ce5988;\"\u003e\u003cstrong data-mce-fragment=\"1\"\u003eFeatures:\u003c\/strong\u003e\u003c\/span\u003e\u003c\/p\u003e\n\u003cul data-mce-fragment=\"1\"\u003e\n\u003cli data-mce-fragment=\"1\"\u003e\n\u003cstrong data-mce-fragment=\"1\"\u003eSeamless\u003c\/strong\u003e cut for \u003cstrong data-mce-fragment=\"1\"\u003emaximum comfort\u003c\/strong\u003e \u0026amp; centering support\u003c\/li\u003e\n\u003cli data-mce-fragment=\"1\"\u003e\n\u003cstrong data-mce-fragment=\"1\"\u003eAnti-saggy\u003c\/strong\u003e \u0026amp;\u003cstrong data-mce-fragment=\"1\"\u003e east-west\u003c\/strong\u003e breast\u003c\/li\u003e\n\u003cli data-mce-fragment=\"1\"\u003eReduces\u003cstrong data-mce-fragment=\"1\"\u003e side breast fat\u003c\/strong\u003e by centralizing \u0026amp; full coverage\u003c\/li\u003e\n\u003cli data-mce-fragment=\"1\"\u003eNo more\u003cstrong data-mce-fragment=\"1\"\u003e skin marks\u003c\/strong\u003e \u0026amp; boob slippage\u003c\/li\u003e\n\u003cli data-mce-fragment=\"1\"\u003e\n\u003cstrong data-mce-fragment=\"1\"\u003eBra-free sensation\u003c\/strong\u003e \u0026amp;\u003cstrong data-mce-fragment=\"1\"\u003e Ultra-comfortable\u003c\/strong\u003e wearing\u003cimg data-mce-fragment=\"1\" alt=\"\" src=\"https:\/\/cdn.shopify.com\/s\/files\/1\/0531\/4314\/2564\/files\/10_ebda6330-77c3-4598-a19b-7892ffb69637_480x480.jpg?v=1625133265\" data-mce-src=\"https:\/\/cdn.shopify.com\/s\/files\/1\/0531\/4314\/2564\/files\/10_ebda6330-77c3-4598-a19b-7892ffb69637_480x480.jpg?v=1625133265\"\u003e\u003cimg data-mce-fragment=\"1\" alt=\"\" src=\"https:\/\/cdn.shopify.com\/s\/files\/1\/0531\/4314\/2564\/files\/7_e8b0ded1-930a-41fc-a7b2-c5040b4bf5e6_480x480.jpg?v=1625133442\" data-mce-src=\"https:\/\/cdn.shopify.com\/s\/files\/1\/0531\/4314\/2564\/files\/7_e8b0ded1-930a-41fc-a7b2-c5040b4bf5e6_480x480.jpg?v=1625133442\"\u003e\n\u003c\/li\u003e\n\u003cli data-mce-fragment=\"1\"\u003ePackage contains: 1\/2\/3 * Comfort BRA (s)\u003c\/li\u003e\n\u003c\/ul\u003e\n\u003cspan style=\"color: #ce5988;\" data-mce-style=\"color: #ce5988;\"\u003e\u003cstrong\u003eSize:\u003c\/strong\u003e\u003c\/span\u003e\n\u003cul data-mce-fragment=\"1\"\u003e\u003c\/ul\u003e\n\u003cul data-mce-fragment=\"1\"\u003e\u003c\/ul\u003e\n\u003c\/div\u003e\n\u003cdiv data-mce-fragment=\"1\"\u003e\n\u003cul\u003e\n\u003cli\u003e\u003cspan style=\"color: #ce5988;\" data-mce-style=\"color: #ce5988;\"\u003e\u003cstrong\u003eS, M--36\/Suitable for 70A, 70B, 70C\u003c\/strong\u003e\u003c\/span\u003e\u003c\/li\u003e\n\u003cli\u003e\u003cspan style=\"color: #ce5988;\" data-mce-style=\"color: #ce5988;\"\u003e\u003cstrong\u003eL, XL--38\/Suitable for 75A, 75B, 75C\u003c\/strong\u003e\u003c\/span\u003e\u003c\/li\u003e\n\u003cli\u003e\u003cspan style=\"color: #ce5988;\" data-mce-style=\"color: #ce5988;\"\u003e\u003cstrong\u003e2XL, 3XL--40\/Suitable for 80A, 80B, 80C\u003c\/strong\u003e\u003c\/span\u003e\u003c\/li\u003e\n\u003cli\u003e\u003cspan style=\"color: #ce5988;\" data-mce-style=\"color: #ce5988;\"\u003e\u003cstrong\u003e4XL, 5XL--42\/Suitable for\u003cspan data-mce-fragment=\"1\"\u003e \u003c\/span\u003e85A,\u003cspan data-mce-fragment=\"1\"\u003e \u003c\/span\u003e85B,\u003cspan data-mce-fragment=\"1\"\u003e \u003c\/span\u003e85C\u003c\/strong\u003e\u003c\/span\u003e\u003c\/li\u003e\n\u003c\/ul\u003e\n\u003c\/div\u003e\n\u003cdiv data-mce-fragment=\"1\"\u003e\u003cspan style=\"color: #ce5988;\" data-mce-style=\"color: #ce5988;\"\u003e\u003cstrong\u003e\u003cimg style=\"display: block; margin-left: auto; margin-right: auto;\" src=\"https:\/\/cdn.shopifycdn.net\/s\/files\/1\/0593\/0604\/9688\/files\/9289029e14071cba7521e2d605e7dba4_480x480.jpg?v=1643161781\" alt=\"\"\u003e\u003c\/strong\u003e\u003c\/span\u003e\u003c\/div\u003e","published_at":"2021-12-23T16:27:31+08:00","created_at":"2021-12-23T16:27:31+08:00","vendor":"solegg","type":"Hot produts","tags":[],"price":1299,"price_min":1299,"price_max":2999,"available":true,"price_varies":true,"compare_at_price":1299,"compare_at_price_min":1299,"compare_at_price_max":3399,"compare_at_price_varies":true,"variants":[{"id":42224542548189,"title":"Pink \/ S","option1":"Pink","option2":"S","option3":null,"sku":"LF32149506FEN-1","requires_shipping":true,"taxable":false,"featured_image":null,"available":true,"name":"✨Hot Sale✨Soft And Comfortable Bra(50% OFF) - Pink \/ S","public_title":"Pink \/ S","options":["Pink","S"],"price":1299,"weight":0,"compare_at_price":1299,"inventory_management":null,"barcode":null,"requires_selling_plan":false,"selling_plan_allocations":[]},{"id":42224542580957,"title":"Pink \/ M","option1":"Pink","option2":"M","option3":null,"sku":"LF32149506FEN-1","requires_shipping":true,"taxable":false,"featured_image":null,"available":true,"name":"✨Hot Sale✨Soft And Comfortable Bra(50% OFF) - Pink \/ M","public_title":"Pink \/ M","options":["Pink","M"],"price":1299,"weight":0,"compare_at_price":1299,"inventory_management":null,"barcode":null,"requires_selling_plan":false,"selling_plan_allocations":[]},{"id":42224542613725,"title":"Pink \/ L","option1":"Pink","option2":"L","option3":null,"sku":"LF32149506FEN-2","requires_shipping":true,"taxable":false,"featured_image":null,"available":true,"name":"✨Hot Sale✨Soft And Comfortable Bra(50% OFF) - Pink \/ L","public_title":"Pink \/ L","options":["Pink","L"],"price":1299,"weight":0,"compare_at_price":1299,"inventory_management":null,"barcode":null,"requires_selling_plan":false,"selling_plan_allocations":[]},{"id":42224542646493,"title":"Pink \/ XL","option1":"Pink","option2":"XL","option3":null,"sku":"LF32149506FEN-2","requires_shipping":true,"taxable":false,"featured_image":null,"available":true,"name":"✨Hot Sale✨Soft And Comfortable Bra(50% OFF) - Pink \/ XL","public_title":"Pink \/ XL","options":["Pink","XL"],"price":1299,"weight":0,"compare_at_price":1299,"inventory_management":null,"barcode":null,"requires_selling_plan":false,"selling_plan_allocations":[]},{"id":42224542679261,"title":"Pink \/ 2XL","option1":"Pink","option2":"2XL","option3":null,"sku":"LF32149506FEN-3","requires_shipping":true,"taxable":false,"featured_image":null,"available":true,"name":"✨Hot Sale✨Soft And Comfortable Bra(50% OFF) - Pink \/ 2XL","public_title":"Pink \/ 2XL","options":["Pink","2XL"],"price":1299,"weight":0,"compare_at_price":1299,"inventory_management":null,"barcode":null,"requires_selling_plan":false,"selling_plan_allocations":[]},{"id":42224542712029,"title":"Pink \/ 3XL","option1":"Pink","option2":"3XL","option3":null,"sku":"LF32149506FEN-3","requires_shipping":true,"taxable":false,"featured_image":null,"available":true,"name":"✨Hot Sale✨Soft And Comfortable Bra(50% OFF) - Pink \/ 3XL","public_title":"Pink \/ 3XL","options":["Pink","3XL"],"price":1299,"weight":0,"compare_at_price":1299,"inventory_management":null,"barcode":null,"requires_selling_plan":false,"selling_plan_allocations":[]},{"id":42224542744797,"title":"Pink \/ 4XL","option1":"Pink","option2":"4XL","option3":null,"sku":"LF32149506FEN-4","requires_shipping":true,"taxable":false,"featured_image":null,"available":true,"name":"✨Hot Sale✨Soft And Comfortable Bra(50% OFF) - Pink \/ 4XL","public_title":"Pink \/ 4XL","options":["Pink","4XL"],"price":1299,"weight":0,"compare_at_price":1299,"inventory_management":null,"barcode":null,"requires_selling_plan":false,"selling_plan_allocations":[]},{"id":42224542777565,"title":"Pink \/ 5XL","option1":"Pink","option2":"5XL","option3":null,"sku":"LF32149506FEN-4","requires_shipping":true,"taxable":false,"featured_image":null,"available":true,"name":"✨Hot Sale✨Soft And Comfortable Bra(50% OFF) - Pink \/ 5XL","public_title":"Pink \/ 5XL","options":["Pink","5XL"],"price":1299,"weight":0,"compare_at_price":1299,"inventory_management":null,"barcode":null,"requires_selling_plan":false,"selling_plan_allocations":[]},{"id":42224542810333,"title":"Black \/ S","option1":"Black","option2":"S","option3":null,"sku":"LF32149506HEI-1","requires_shipping":true,"taxable":false,"featured_image":null,"available":true,"name":"✨Hot Sale✨Soft And Comfortable Bra(50% OFF) - Black \/ S","public_title":"Black \/ S","options":["Black","S"],"price":1299,"weight":0,"compare_at_price":1299,"inventory_management":null,"barcode":null,"requires_selling_plan":false,"selling_plan_allocations":[]},{"id":42224542843101,"title":"Black \/ M","option1":"Black","option2":"M","option3":null,"sku":"LF32149506HEI-1","requires_shipping":true,"taxable":false,"featured_image":null,"available":true,"name":"✨Hot Sale✨Soft And Comfortable Bra(50% OFF) - Black \/ M","public_title":"Black \/ M","options":["Black","M"],"price":1299,"weight":0,"compare_at_price":1299,"inventory_management":null,"barcode":null,"requires_selling_plan":false,"selling_plan_allocations":[]},{"id":42224542875869,"title":"Black \/ L","option1":"Black","option2":"L","option3":null,"sku":"LF32149506HEI-2","requires_shipping":true,"taxable":false,"featured_image":null,"available":true,"name":"✨Hot Sale✨Soft And Comfortable Bra(50% OFF) - Black \/ L","public_title":"Black \/ L","options":["Black","L"],"price":1299,"weight":0,"compare_at_price":1299,"inventory_management":null,"barcode":null,"requires_selling_plan":false,"selling_plan_allocations":[]},{"id":42224542908637,"title":"Black \/ XL","option1":"Black","option2":"XL","option3":null,"sku":"LF32149506HEI-2","requires_shipping":true,"taxable":false,"featured_image":null,"available":true,"name":"✨Hot Sale✨Soft And Comfortable Bra(50% OFF) - Black \/ XL","public_title":"Black \/ XL","options":["Black","XL"],"price":1299,"weight":0,"compare_at_price":1299,"inventory_management":null,"barcode":null,"requires_selling_plan":false,"selling_plan_allocations":[]},{"id":42224542941405,"title":"Black \/ 2XL","option1":"Black","option2":"2XL","option3":null,"sku":"LF32149506HEI-3","requires_shipping":true,"taxable":false,"featured_image":null,"available":true,"name":"✨Hot Sale✨Soft And Comfortable Bra(50% OFF) - Black \/ 2XL","public_title":"Black \/ 2XL","options":["Black","2XL"],"price":1299,"weight":0,"compare_at_price":1299,"inventory_management":null,"barcode":null,"requires_selling_plan":false,"selling_plan_allocations":[]},{"id":42224542974173,"title":"Black \/ 3XL","option1":"Black","option2":"3XL","option3":null,"sku":"LF32149506HEI-3","requires_shipping":true,"taxable":false,"featured_image":null,"available":true,"name":"✨Hot Sale✨Soft And Comfortable Bra(50% OFF) - Black \/ 3XL","public_title":"Black \/ 3XL","options":["Black","3XL"],"price":1299,"weight":0,"compare_at_price":1299,"inventory_management":null,"barcode":null,"requires_selling_plan":false,"selling_plan_allocations":[]},{"id":42224543006941,"title":"Black \/ 4XL","option1":"Black","option2":"4XL","option3":null,"sku":"LF32149506HEI-4","requires_shipping":true,"taxable":false,"featured_image":null,"available":true,"name":"✨Hot Sale✨Soft And Comfortable Bra(50% OFF) - Black \/ 4XL","public_title":"Black \/ 4XL","options":["Black","4XL"],"price":1299,"weight":0,"compare_at_price":1299,"inventory_management":null,"barcode":null,"requires_selling_plan":false,"selling_plan_allocations":[]},{"id":42224543039709,"title":"Black \/ 5XL","option1":"Black","option2":"5XL","option3":null,"sku":"LF32149506HEI-4","requires_shipping":true,"taxable":false,"featured_image":null,"available":true,"name":"✨Hot Sale✨Soft And Comfortable Bra(50% OFF) - Black \/ 5XL","public_title":"Black \/ 5XL","options":["Black","5XL"],"price":1299,"weight":0,"compare_at_price":1299,"inventory_management":null,"barcode":null,"requires_selling_plan":false,"selling_plan_allocations":[]},{"id":42224543072477,"title":"Dark Brown \/ S","option1":"Dark Brown","option2":"S","option3":null,"sku":"LF32149506SKF-1","requires_shipping":true,"taxable":false,"featured_image":null,"available":true,"name":"✨Hot Sale✨Soft And Comfortable Bra(50% OFF) - Dark Brown \/ S","public_title":"Dark Brown \/ S","options":["Dark Brown","S"],"price":1299,"weight":0,"compare_at_price":1299,"inventory_management":null,"barcode":null,"requires_selling_plan":false,"selling_plan_allocations":[]},{"id":42224543105245,"title":"Dark Brown \/ M","option1":"Dark Brown","option2":"M","option3":null,"sku":"LF32149506SKF-1","requires_shipping":true,"taxable":false,"featured_image":null,"available":true,"name":"✨Hot Sale✨Soft And Comfortable Bra(50% OFF) - Dark Brown \/ M","public_title":"Dark Brown \/ M","options":["Dark Brown","M"],"price":1299,"weight":0,"compare_at_price":1299,"inventory_management":null,"barcode":null,"requires_selling_plan":false,"selling_plan_allocations":[]},{"id":42224543138013,"title":"Dark Brown \/ L","option1":"Dark Brown","option2":"L","option3":null,"sku":"LF32149506SKF-2","requires_shipping":true,"taxable":false,"featured_image":null,"available":true,"name":"✨Hot Sale✨Soft And Comfortable Bra(50% OFF) - Dark Brown \/ L","public_title":"Dark Brown \/ L","options":["Dark Brown","L"],"price":1299,"weight":0,"compare_at_price":1299,"inventory_management":null,"barcode":null,"requires_selling_plan":false,"selling_plan_allocations":[]},{"id":42224543170781,"title":"Dark Brown \/ XL","option1":"Dark Brown","option2":"XL","option3":null,"sku":"LF32149506SKF-2","requires_shipping":true,"taxable":false,"featured_image":null,"available":true,"name":"✨Hot Sale✨Soft And Comfortable Bra(50% OFF) - Dark Brown \/ XL","public_title":"Dark Brown \/ XL","options":["Dark Brown","XL"],"price":1299,"weight":0,"compare_at_price":1299,"inventory_management":null,"barcode":null,"requires_selling_plan":false,"selling_plan_allocations":[]},{"id":42224543203549,"title":"Dark Brown \/ 2XL","option1":"Dark Brown","option2":"2XL","option3":null,"sku":"LF32149506SKF-3","requires_shipping":true,"taxable":false,"featured_image":null,"available":true,"name":"✨Hot Sale✨Soft And Comfortable Bra(50% OFF) - Dark Brown \/ 2XL","public_title":"Dark Brown \/ 2XL","options":["Dark Brown","2XL"],"price":1299,"weight":0,"compare_at_price":1299,"inventory_management":null,"barcode":null,"requires_selling_plan":false,"selling_plan_allocations":[]},{"id":42224543236317,"title":"Dark Brown \/ 3XL","option1":"Dark Brown","option2":"3XL","option3":null,"sku":"LF32149506SKF-3","requires_shipping":true,"taxable":false,"featured_image":null,"available":true,"name":"✨Hot Sale✨Soft And Comfortable Bra(50% OFF) - Dark Brown \/ 3XL","public_title":"Dark Brown \/ 3XL","options":["Dark Brown","3XL"],"price":1299,"weight":0,"compare_at_price":1299,"inventory_management":null,"barcode":null,"requires_selling_plan":false,"selling_plan_allocations":[]},{"id":42224543269085,"title":"Dark Brown \/ 4XL","option1":"Dark Brown","option2":"4XL","option3":null,"sku":"LF32149506SKF-4","requires_shipping":true,"taxable":false,"featured_image":null,"available":true,"name":"✨Hot Sale✨Soft And Comfortable Bra(50% OFF) - Dark Brown \/ 4XL","public_title":"Dark Brown \/ 4XL","options":["Dark Brown","4XL"],"price":1299,"weight":0,"compare_at_price":1299,"inventory_management":null,"barcode":null,"requires_selling_plan":false,"selling_plan_allocations":[]},{"id":42224543301853,"title":"Dark Brown \/ 5XL","option1":"Dark Brown","option2":"5XL","option3":null,"sku":"LF32149506SKF-4","requires_shipping":true,"taxable":false,"featured_image":null,"available":true,"name":"✨Hot Sale✨Soft And Comfortable Bra(50% OFF) - Dark Brown \/ 5XL","public_title":"Dark Brown \/ 5XL","options":["Dark Brown","5XL"],"price":1299,"weight":0,"compare_at_price":1299,"inventory_management":null,"barcode":null,"requires_selling_plan":false,"selling_plan_allocations":[]},{"id":42224543334621,"title":"Skin \/ S","option1":"Skin","option2":"S","option3":null,"sku":"LF32149506FUS-1","requires_shipping":true,"taxable":false,"featured_image":null,"available":true,"name":"✨Hot Sale✨Soft And Comfortable Bra(50% OFF) - Skin \/ S","public_title":"Skin \/ S","options":["Skin","S"],"price":1299,"weight":0,"compare_at_price":1299,"inventory_management":null,"barcode":null,"requires_selling_plan":false,"selling_plan_allocations":[]},{"id":42224543367389,"title":"Skin \/ M","option1":"Skin","option2":"M","option3":null,"sku":"LF32149506FUS-1","requires_shipping":true,"taxable":false,"featured_image":null,"available":true,"name":"✨Hot Sale✨Soft And Comfortable Bra(50% OFF) - Skin \/ M","public_title":"Skin \/ M","options":["Skin","M"],"price":1299,"weight":0,"compare_at_price":1299,"inventory_management":null,"barcode":null,"requires_selling_plan":false,"selling_plan_allocations":[]},{"id":42224543400157,"title":"Skin \/ L","option1":"Skin","option2":"L","option3":null,"sku":"LF32149506FUS-2","requires_shipping":true,"taxable":false,"featured_image":null,"available":true,"name":"✨Hot Sale✨Soft And Comfortable Bra(50% OFF) - Skin \/ L","public_title":"Skin \/ L","options":["Skin","L"],"price":1299,"weight":0,"compare_at_price":1299,"inventory_management":null,"barcode":null,"requires_selling_plan":false,"selling_plan_allocations":[]},{"id":42224543432925,"title":"Skin \/ XL","option1":"Skin","option2":"XL","option3":null,"sku":"LF32149506FUS-2","requires_shipping":true,"taxable":false,"featured_image":null,"available":true,"name":"✨Hot Sale✨Soft And Comfortable Bra(50% OFF) - Skin \/ XL","public_title":"Skin \/ XL","options":["Skin","XL"],"price":1299,"weight":0,"compare_at_price":1299,"inventory_management":null,"barcode":null,"requires_selling_plan":false,"selling_plan_allocations":[]},{"id":42224543465693,"title":"Skin \/ 2XL","option1":"Skin","option2":"2XL","option3":null,"sku":"LF32149506FUS-3","requires_shipping":true,"taxable":false,"featured_image":null,"available":true,"name":"✨Hot Sale✨Soft And Comfortable Bra(50% OFF) - Skin \/ 2XL","public_title":"Skin \/ 2XL","options":["Skin","2XL"],"price":1299,"weight":0,"compare_at_price":1299,"inventory_management":null,"barcode":null,"requires_selling_plan":false,"selling_plan_allocations":[]},{"id":42224543498461,"title":"Skin \/ 3XL","option1":"Skin","option2":"3XL","option3":null,"sku":"LF32149506FUS-3","requires_shipping":true,"taxable":false,"featured_image":null,"available":true,"name":"✨Hot Sale✨Soft And Comfortable Bra(50% OFF) - Skin \/ 3XL","public_title":"Skin \/ 3XL","options":["Skin","3XL"],"price":1299,"weight":0,"compare_at_price":1299,"inventory_management":null,"barcode":null,"requires_selling_plan":false,"selling_plan_allocations":[]},{"id":42224543531229,"title":"Skin \/ 4XL","option1":"Skin","option2":"4XL","option3":null,"sku":"LF32149506FUS-4","requires_shipping":true,"taxable":false,"featured_image":null,"available":true,"name":"✨Hot Sale✨Soft And Comfortable Bra(50% OFF) - Skin \/ 4XL","public_title":"Skin \/ 4XL","options":["Skin","4XL"],"price":1299,"weight":0,"compare_at_price":1299,"inventory_management":null,"barcode":null,"requires_selling_plan":false,"selling_plan_allocations":[]},{"id":42224543563997,"title":"Skin \/ 5XL","option1":"Skin","option2":"5XL","option3":null,"sku":"LF32149506FUS-4","requires_shipping":true,"taxable":false,"featured_image":null,"available":true,"name":"✨Hot Sale✨Soft And Comfortable Bra(50% OFF) - Skin \/ 5XL","public_title":"Skin \/ 5XL","options":["Skin","5XL"],"price":1299,"weight":0,"compare_at_price":1299,"inventory_management":null,"barcode":null,"requires_selling_plan":false,"selling_plan_allocations":[]},{"id":42224543596765,"title":"Purple \/ S","option1":"Purple","option2":"S","option3":null,"sku":"LF32149506DSS-1","requires_shipping":true,"taxable":false,"featured_image":null,"available":true,"name":"✨Hot Sale✨Soft And Comfortable Bra(50% OFF) - Purple \/ S","public_title":"Purple \/ S","options":["Purple","S"],"price":1299,"weight":0,"compare_at_price":1299,"inventory_management":null,"barcode":null,"requires_selling_plan":false,"selling_plan_allocations":[]},{"id":42224543629533,"title":"Purple \/ M","option1":"Purple","option2":"M","option3":null,"sku":"LF32149506DSS-1","requires_shipping":true,"taxable":false,"featured_image":null,"available":true,"name":"✨Hot Sale✨Soft And Comfortable Bra(50% OFF) - Purple \/ M","public_title":"Purple \/ M","options":["Purple","M"],"price":1299,"weight":0,"compare_at_price":1299,"inventory_management":null,"barcode":null,"requires_selling_plan":false,"selling_plan_allocations":[]},{"id":42224543662301,"title":"Purple \/ L","option1":"Purple","option2":"L","option3":null,"sku":"LF32149506DSS-2","requires_shipping":true,"taxable":false,"featured_image":null,"available":true,"name":"✨Hot Sale✨Soft And Comfortable Bra(50% OFF) - Purple \/ L","public_title":"Purple \/ L","options":["Purple","L"],"price":1299,"weight":0,"compare_at_price":1299,"inventory_management":null,"barcode":null,"requires_selling_plan":false,"selling_plan_allocations":[]},{"id":42224543695069,"title":"Purple \/ XL","option1":"Purple","option2":"XL","option3":null,"sku":"LF32149506DSS-2","requires_shipping":true,"taxable":false,"featured_image":null,"available":true,"name":"✨Hot Sale✨Soft And Comfortable Bra(50% OFF) - Purple \/ XL","public_title":"Purple \/ XL","options":["Purple","XL"],"price":1299,"weight":0,"compare_at_price":1299,"inventory_management":null,"barcode":null,"requires_selling_plan":false,"selling_plan_allocations":[]},{"id":42224543727837,"title":"Purple \/ 2XL","option1":"Purple","option2":"2XL","option3":null,"sku":"LF32149506DSS-3","requires_shipping":true,"taxable":false,"featured_image":null,"available":true,"name":"✨Hot Sale✨Soft And Comfortable Bra(50% OFF) - Purple \/ 2XL","public_title":"Purple \/ 2XL","options":["Purple","2XL"],"price":1299,"weight":0,"compare_at_price":1299,"inventory_management":null,"barcode":null,"requires_selling_plan":false,"selling_plan_allocations":[]},{"id":42224543760605,"title":"Purple \/ 3XL","option1":"Purple","option2":"3XL","option3":null,"sku":"LF32149506DSS-3","requires_shipping":true,"taxable":false,"featured_image":null,"available":true,"name":"✨Hot Sale✨Soft And Comfortable Bra(50% OFF) - Purple \/ 3XL","public_title":"Purple \/ 3XL","options":["Purple","3XL"],"price":1299,"weight":0,"compare_at_price":1299,"inventory_management":null,"barcode":null,"requires_selling_plan":false,"selling_plan_allocations":[]},{"id":42224543793373,"title":"Purple \/ 4XL","option1":"Purple","option2":"4XL","option3":null,"sku":"LF32149506DSS-4","requires_shipping":true,"taxable":false,"featured_image":null,"available":true,"name":"✨Hot Sale✨Soft And Comfortable Bra(50% OFF) - Purple \/ 4XL","public_title":"Purple \/ 4XL","options":["Purple","4XL"],"price":1299,"weight":0,"compare_at_price":1299,"inventory_management":null,"barcode":null,"requires_selling_plan":false,"selling_plan_allocations":[]},{"id":42224543826141,"title":"Purple \/ 5XL","option1":"Purple","option2":"5XL","option3":null,"sku":"LF32149506DSS-4","requires_shipping":true,"taxable":false,"featured_image":null,"available":true,"name":"✨Hot Sale✨Soft And Comfortable Bra(50% OFF) - Purple \/ 5XL","public_title":"Purple \/ 5XL","options":["Purple","5XL"],"price":1299,"weight":0,"compare_at_price":1299,"inventory_management":null,"barcode":null,"requires_selling_plan":false,"selling_plan_allocations":[]},{"id":42224543858909,"title":"2PCS(Pink+Black) \/ S","option1":"2PCS(Pink+Black)","option2":"S","option3":null,"sku":"LF32149506FEN-1*1+LF32149506HEI-1*1","requires_shipping":true,"taxable":false,"featured_image":null,"available":true,"name":"✨Hot Sale✨Soft And Comfortable Bra(50% OFF) - 2PCS(Pink+Black) \/ S","public_title":"2PCS(Pink+Black) \/ S","options":["2PCS(Pink+Black)","S"],"price":2199,"weight":0,"compare_at_price":2299,"inventory_management":null,"barcode":null,"requires_selling_plan":false,"selling_plan_allocations":[]},{"id":42224543891677,"title":"2PCS(Pink+Black) \/ M","option1":"2PCS(Pink+Black)","option2":"M","option3":null,"sku":"LF32149506FEN-1*1+LF32149506HEI-1*1","requires_shipping":true,"taxable":false,"featured_image":null,"available":true,"name":"✨Hot Sale✨Soft And Comfortable Bra(50% OFF) - 2PCS(Pink+Black) \/ M","public_title":"2PCS(Pink+Black) \/ M","options":["2PCS(Pink+Black)","M"],"price":2199,"weight":0,"compare_at_price":2299,"inventory_management":null,"barcode":null,"requires_selling_plan":false,"selling_plan_allocations":[]},{"id":42224543924445,"title":"2PCS(Pink+Black) \/ L","option1":"2PCS(Pink+Black)","option2":"L","option3":null,"sku":"LF32149506FEN-2*1+LF32149506HEI-2*1","requires_shipping":true,"taxable":false,"featured_image":null,"available":true,"name":"✨Hot Sale✨Soft And Comfortable Bra(50% OFF) - 2PCS(Pink+Black) \/ L","public_title":"2PCS(Pink+Black) \/ L","options":["2PCS(Pink+Black)","L"],"price":2199,"weight":0,"compare_at_price":2299,"inventory_management":null,"barcode":null,"requires_selling_plan":false,"selling_plan_allocations":[]},{"id":42224543957213,"title":"2PCS(Pink+Black) \/ XL","option1":"2PCS(Pink+Black)","option2":"XL","option3":null,"sku":"LF32149506FEN-2*1+LF32149506HEI-2*1","requires_shipping":true,"taxable":false,"featured_image":null,"available":true,"name":"✨Hot Sale✨Soft And Comfortable Bra(50% OFF) - 2PCS(Pink+Black) \/ XL","public_title":"2PCS(Pink+Black) \/ XL","options":["2PCS(Pink+Black)","XL"],"price":2199,"weight":0,"compare_at_price":2299,"inventory_management":null,"barcode":null,"requires_selling_plan":false,"selling_plan_allocations":[]},{"id":42224543989981,"title":"2PCS(Pink+Black) \/ 2XL","option1":"2PCS(Pink+Black)","option2":"2XL","option3":null,"sku":"LF32149506FEN-3*1+LF32149506HEI-3*1","requires_shipping":true,"taxable":false,"featured_image":null,"available":true,"name":"✨Hot Sale✨Soft And Comfortable Bra(50% OFF) - 2PCS(Pink+Black) \/ 2XL","public_title":"2PCS(Pink+Black) \/ 2XL","options":["2PCS(Pink+Black)","2XL"],"price":2199,"weight":0,"compare_at_price":2299,"inventory_management":null,"barcode":null,"requires_selling_plan":false,"selling_plan_allocations":[]},{"id":42224544022749,"title":"2PCS(Pink+Black) \/ 3XL","option1":"2PCS(Pink+Black)","option2":"3XL","option3":null,"sku":"LF32149506FEN-3*1+LF32149506HEI-3*1","requires_shipping":true,"taxable":false,"featured_image":null,"available":true,"name":"✨Hot Sale✨Soft And Comfortable Bra(50% OFF) - 2PCS(Pink+Black) \/ 3XL","public_title":"2PCS(Pink+Black) \/ 3XL","options":["2PCS(Pink+Black)","3XL"],"price":2199,"weight":0,"compare_at_price":2299,"inventory_management":null,"barcode":null,"requires_selling_plan":false,"selling_plan_allocations":[]},{"id":42224544055517,"title":"2PCS(Pink+Black) \/ 4XL","option1":"2PCS(Pink+Black)","option2":"4XL","option3":null,"sku":"LF32149506FEN-4*1+LF32149506HEI-4*1","requires_shipping":true,"taxable":false,"featured_image":null,"available":true,"name":"✨Hot Sale✨Soft And Comfortable Bra(50% OFF) - 2PCS(Pink+Black) \/ 4XL","public_title":"2PCS(Pink+Black) \/ 4XL","options":["2PCS(Pink+Black)","4XL"],"price":2199,"weight":0,"compare_at_price":2299,"inventory_management":null,"barcode":null,"requires_selling_plan":false,"selling_plan_allocations":[]},{"id":42224544088285,"title":"2PCS(Pink+Black) \/ 5XL","option1":"2PCS(Pink+Black)","option2":"5XL","option3":null,"sku":"LF32149506FEN-4*1+LF32149506HEI-4*1","requires_shipping":true,"taxable":false,"featured_image":null,"available":true,"name":"✨Hot Sale✨Soft And Comfortable Bra(50% OFF) - 2PCS(Pink+Black) \/ 5XL","public_title":"2PCS(Pink+Black) \/ 5XL","options":["2PCS(Pink+Black)","5XL"],"price":2199,"weight":0,"compare_at_price":2299,"inventory_management":null,"barcode":null,"requires_selling_plan":false,"selling_plan_allocations":[]},{"id":42224544121053,"title":"2PCS(Skin+Purple) \/ S","option1":"2PCS(Skin+Purple)","option2":"S","option3":null,"sku":"LF32149506FUS-1*1+LF32149506DSS-1*1","requires_shipping":true,"taxable":false,"featured_image":null,"available":true,"name":"✨Hot Sale✨Soft And Comfortable Bra(50% OFF) - 2PCS(Skin+Purple) \/ S","public_title":"2PCS(Skin+Purple) \/ S","options":["2PCS(Skin+Purple)","S"],"price":2199,"weight":0,"compare_at_price":2299,"inventory_management":null,"barcode":null,"requires_selling_plan":false,"selling_plan_allocations":[]},{"id":42224544153821,"title":"2PCS(Skin+Purple) \/ M","option1":"2PCS(Skin+Purple)","option2":"M","option3":null,"sku":"LF32149506FUS-1*1+LF32149506DSS-1*1","requires_shipping":true,"taxable":false,"featured_image":null,"available":true,"name":"✨Hot Sale✨Soft And Comfortable Bra(50% OFF) - 2PCS(Skin+Purple) \/ M","public_title":"2PCS(Skin+Purple) \/ M","options":["2PCS(Skin+Purple)","M"],"price":2199,"weight":0,"compare_at_price":2299,"inventory_management":null,"barcode":null,"requires_selling_plan":false,"selling_plan_allocations":[]},{"id":42224544186589,"title":"2PCS(Skin+Purple) \/ L","option1":"2PCS(Skin+Purple)","option2":"L","option3":null,"sku":"LF32149506FUS-2*1+LF32149506DSS-2*1","requires_shipping":true,"taxable":false,"featured_image":null,"available":true,"name":"✨Hot Sale✨Soft And Comfortable Bra(50% OFF) - 2PCS(Skin+Purple) \/ L","public_title":"2PCS(Skin+Purple) \/ L","options":["2PCS(Skin+Purple)","L"],"price":2199,"weight":0,"compare_at_price":2299,"inventory_management":null,"barcode":null,"requires_selling_plan":false,"selling_plan_allocations":[]},{"id":42224544219357,"title":"2PCS(Skin+Purple) \/ XL","option1":"2PCS(Skin+Purple)","option2":"XL","option3":null,"sku":"LF32149506FUS-2*1+LF32149506DSS-2*1","requires_shipping":true,"taxable":false,"featured_image":null,"available":true,"name":"✨Hot Sale✨Soft And Comfortable Bra(50% OFF) - 2PCS(Skin+Purple) \/ XL","public_title":"2PCS(Skin+Purple) \/ XL","options":["2PCS(Skin+Purple)","XL"],"price":2199,"weight":0,"compare_at_price":2299,"inventory_management":null,"barcode":null,"requires_selling_plan":false,"selling_plan_allocations":[]},{"id":42224544252125,"title":"2PCS(Skin+Purple) \/ 2XL","option1":"2PCS(Skin+Purple)","option2":"2XL","option3":null,"sku":"LF32149506FUS-3*1+LF32149506DSS-3*1","requires_shipping":true,"taxable":false,"featured_image":null,"available":true,"name":"✨Hot Sale✨Soft And Comfortable Bra(50% OFF) - 2PCS(Skin+Purple) \/ 2XL","public_title":"2PCS(Skin+Purple) \/ 2XL","options":["2PCS(Skin+Purple)","2XL"],"price":2199,"weight":0,"compare_at_price":2299,"inventory_management":null,"barcode":null,"requires_selling_plan":false,"selling_plan_allocations":[]},{"id":42224544284893,"title":"2PCS(Skin+Purple) \/ 3XL","option1":"2PCS(Skin+Purple)","option2":"3XL","option3":null,"sku":"LF32149506FUS-3*1+LF32149506DSS-3*1","requires_shipping":true,"taxable":false,"featured_image":null,"available":true,"name":"✨Hot Sale✨Soft And Comfortable Bra(50% OFF) - 2PCS(Skin+Purple) \/ 3XL","public_title":"2PCS(Skin+Purple) \/ 3XL","options":["2PCS(Skin+Purple)","3XL"],"price":2199,"weight":0,"compare_at_price":2299,"inventory_management":null,"barcode":null,"requires_selling_plan":false,"selling_plan_allocations":[]},{"id":42224544317661,"title":"2PCS(Skin+Purple) \/ 4XL","option1":"2PCS(Skin+Purple)","option2":"4XL","option3":null,"sku":"LF32149506FUS-4*1+LF32149506DSS-4*1","requires_shipping":true,"taxable":false,"featured_image":null,"available":true,"name":"✨Hot Sale✨Soft And Comfortable Bra(50% OFF) - 2PCS(Skin+Purple) \/ 4XL","public_title":"2PCS(Skin+Purple) \/ 4XL","options":["2PCS(Skin+Purple)","4XL"],"price":2199,"weight":0,"compare_at_price":2299,"inventory_management":null,"barcode":null,"requires_selling_plan":false,"selling_plan_allocations":[]},{"id":42224544350429,"title":"2PCS(Skin+Purple) \/ 5XL","option1":"2PCS(Skin+Purple)","option2":"5XL","option3":null,"sku":"LF32149506FUS-4*1+LF32149506DSS-4*1","requires_shipping":true,"taxable":false,"featured_image":null,"available":true,"name":"✨Hot Sale✨Soft And Comfortable Bra(50% OFF) - 2PCS(Skin+Purple) \/ 5XL","public_title":"2PCS(Skin+Purple) \/ 5XL","options":["2PCS(Skin+Purple)","5XL"],"price":2199,"weight":0,"compare_at_price":2299,"inventory_management":null,"barcode":null,"requires_selling_plan":false,"selling_plan_allocations":[]},{"id":42224544383197,"title":"2PCS(Dark Brown+Skin) \/ S","option1":"2PCS(Dark Brown+Skin)","option2":"S","option3":null,"sku":"LF32149506SKF-1*1+LF32149506FUS-1*1","requires_shipping":true,"taxable":false,"featured_image":null,"available":true,"name":"✨Hot Sale✨Soft And Comfortable Bra(50% OFF) - 2PCS(Dark Brown+Skin) \/ S","public_title":"2PCS(Dark Brown+Skin) \/ S","options":["2PCS(Dark Brown+Skin)","S"],"price":2199,"weight":0,"compare_at_price":2299,"inventory_management":null,"barcode":null,"requires_selling_plan":false,"selling_plan_allocations":[]},{"id":42224544415965,"title":"2PCS(Dark Brown+Skin) \/ M","option1":"2PCS(Dark Brown+Skin)","option2":"M","option3":null,"sku":"LF32149506SKF-1*1+LF32149506FUS-1*1","requires_shipping":true,"taxable":false,"featured_image":null,"available":true,"name":"✨Hot Sale✨Soft And Comfortable Bra(50% OFF) - 2PCS(Dark Brown+Skin) \/ M","public_title":"2PCS(Dark Brown+Skin) \/ M","options":["2PCS(Dark Brown+Skin)","M"],"price":2199,"weight":0,"compare_at_price":2299,"inventory_management":null,"barcode":null,"requires_selling_plan":false,"selling_plan_allocations":[]},{"id":42224544448733,"title":"2PCS(Dark Brown+Skin) \/ L","option1":"2PCS(Dark Brown+Skin)","option2":"L","option3":null,"sku":"LF32149506SKF-2*1+LF32149506FUS-2*1","requires_shipping":true,"taxable":false,"featured_image":null,"available":true,"name":"✨Hot Sale✨Soft And Comfortable Bra(50% OFF) - 2PCS(Dark Brown+Skin) \/ L","public_title":"2PCS(Dark Brown+Skin) \/ L","options":["2PCS(Dark Brown+Skin)","L"],"price":2199,"weight":0,"compare_at_price":2299,"inventory_management":null,"barcode":null,"requires_selling_plan":false,"selling_plan_allocations":[]},{"id":42224544481501,"title":"2PCS(Dark Brown+Skin) \/ XL","option1":"2PCS(Dark Brown+Skin)","option2":"XL","option3":null,"sku":"LF32149506SKF-2*1+LF32149506FUS-2*1","requires_shipping":true,"taxable":false,"featured_image":null,"available":true,"name":"✨Hot Sale✨Soft And Comfortable Bra(50% OFF) - 2PCS(Dark Brown+Skin) \/ XL","public_title":"2PCS(Dark Brown+Skin) \/ XL","options":["2PCS(Dark Brown+Skin)","XL"],"price":2199,"weight":0,"compare_at_price":2299,"inventory_management":null,"barcode":null,"requires_selling_plan":false,"selling_plan_allocations":[]},{"id":42224544514269,"title":"2PCS(Dark Brown+Skin) \/ 2XL","option1":"2PCS(Dark Brown+Skin)","option2":"2XL","option3":null,"sku":"LF32149506SKF-3*1+LF32149506FUS-3*1","requires_shipping":true,"taxable":false,"featured_image":null,"available":true,"name":"✨Hot Sale✨Soft And Comfortable Bra(50% OFF) - 2PCS(Dark Brown+Skin) \/ 2XL","public_title":"2PCS(Dark Brown+Skin) \/ 2XL","options":["2PCS(Dark Brown+Skin)","2XL"],"price":2199,"weight":0,"compare_at_price":2299,"inventory_management":null,"barcode":null,"requires_selling_plan":false,"selling_plan_allocations":[]},{"id":42224544547037,"title":"2PCS(Dark Brown+Skin) \/ 3XL","option1":"2PCS(Dark Brown+Skin)","option2":"3XL","option3":null,"sku":"LF32149506SKF-3*1+LF32149506FUS-3*1","requires_shipping":true,"taxable":false,"featured_image":null,"available":true,"name":"✨Hot Sale✨Soft And Comfortable Bra(50% OFF) - 2PCS(Dark Brown+Skin) \/ 3XL","public_title":"2PCS(Dark Brown+Skin) \/ 3XL","options":["2PCS(Dark Brown+Skin)","3XL"],"price":2199,"weight":0,"compare_at_price":2299,"inventory_management":null,"barcode":null,"requires_selling_plan":false,"selling_plan_allocations":[]},{"id":42224544579805,"title":"2PCS(Dark Brown+Skin) \/ 4XL","option1":"2PCS(Dark Brown+Skin)","option2":"4XL","option3":null,"sku":"LF32149506SKF-4*1+LF32149506FUS-4*1","requires_shipping":true,"taxable":false,"featured_image":null,"available":true,"name":"✨Hot Sale✨Soft And Comfortable Bra(50% OFF) - 2PCS(Dark Brown+Skin) \/ 4XL","public_title":"2PCS(Dark Brown+Skin) \/ 4XL","options":["2PCS(Dark Brown+Skin)","4XL"],"price":2199,"weight":0,"compare_at_price":2299,"inventory_management":null,"barcode":null,"requires_selling_plan":false,"selling_plan_allocations":[]},{"id":42224544612573,"title":"2PCS(Dark Brown+Skin) \/ 5XL","option1":"2PCS(Dark Brown+Skin)","option2":"5XL","option3":null,"sku":"LF32149506SKF-4*1+LF32149506FUS-4*1","requires_shipping":true,"taxable":false,"featured_image":null,"available":true,"name":"✨Hot Sale✨Soft And Comfortable Bra(50% OFF) - 2PCS(Dark Brown+Skin) \/ 5XL","public_title":"2PCS(Dark Brown+Skin) \/ 5XL","options":["2PCS(Dark Brown+Skin)","5XL"],"price":2199,"weight":0,"compare_at_price":2299,"inventory_management":null,"barcode":null,"requires_selling_plan":false,"selling_plan_allocations":[]},{"id":42224544645341,"title":"3PCS(Pink+Black+Dark Brown) \/ S","option1":"3PCS(Pink+Black+Dark Brown)","option2":"S","option3":null,"sku":"LF32149506FEN-1*1+LF32149506HEI-1*1+LF32149506SKF-1*1","requires_shipping":true,"taxable":false,"featured_image":null,"available":true,"name":"✨Hot Sale✨Soft And Comfortable Bra(50% OFF) - 3PCS(Pink+Black+Dark Brown) \/ S","public_title":"3PCS(Pink+Black+Dark Brown) \/ S","options":["3PCS(Pink+Black+Dark Brown)","S"],"price":2999,"weight":0,"compare_at_price":3399,"inventory_management":null,"barcode":null,"requires_selling_plan":false,"selling_plan_allocations":[]},{"id":42224544678109,"title":"3PCS(Pink+Black+Dark Brown) \/ M","option1":"3PCS(Pink+Black+Dark Brown)","option2":"M","option3":null,"sku":"LF32149506FEN-1*1+LF32149506HEI-1*1+LF32149506SKF-1*1","requires_shipping":true,"taxable":false,"featured_image":null,"available":true,"name":"✨Hot Sale✨Soft And Comfortable Bra(50% OFF) - 3PCS(Pink+Black+Dark Brown) \/ M","public_title":"3PCS(Pink+Black+Dark Brown) \/ M","options":["3PCS(Pink+Black+Dark Brown)","M"],"price":2999,"weight":0,"compare_at_price":3399,"inventory_management":null,"barcode":null,"requires_selling_plan":false,"selling_plan_allocations":[]},{"id":42224544710877,"title":"3PCS(Pink+Black+Dark Brown) \/ L","option1":"3PCS(Pink+Black+Dark Brown)","option2":"L","option3":null,"sku":"LF32149506FEN-2*1+LF32149506HEI-2*1+LF32149506SKF-2*1","requires_shipping":true,"taxable":false,"featured_image":null,"available":true,"name":"✨Hot Sale✨Soft And Comfortable Bra(50% OFF) - 3PCS(Pink+Black+Dark Brown) \/ L","public_title":"3PCS(Pink+Black+Dark Brown) \/ L","options":["3PCS(Pink+Black+Dark Brown)","L"],"price":2999,"weight":0,"compare_at_price":3399,"inventory_management":null,"barcode":null,"requires_selling_plan":false,"selling_plan_allocations":[]},{"id":42224544743645,"title":"3PCS(Pink+Black+Dark Brown) \/ XL","option1":"3PCS(Pink+Black+Dark Brown)","option2":"XL","option3":null,"sku":"LF32149506FEN-2*1+LF32149506HEI-2*1+LF32149506SKF-2*1","requires_shipping":true,"taxable":false,"featured_image":null,"available":true,"name":"✨Hot Sale✨Soft And Comfortable Bra(50% OFF) - 3PCS(Pink+Black+Dark Brown) \/ XL","public_title":"3PCS(Pink+Black+Dark Brown) \/ XL","options":["3PCS(Pink+Black+Dark Brown)","XL"],"price":2999,"weight":0,"compare_at_price":3399,"inventory_management":null,"barcode":null,"requires_selling_plan":false,"selling_plan_allocations":[]},{"id":42224544776413,"title":"3PCS(Pink+Black+Dark Brown) \/ 2XL","option1":"3PCS(Pink+Black+Dark Brown)","option2":"2XL","option3":null,"sku":"LF32149506FEN-3*1+LF32149506HEI-3*1+LF32149506SKF-3*1","requires_shipping":true,"taxable":false,"featured_image":null,"available":true,"name":"✨Hot Sale✨Soft And Comfortable Bra(50% OFF) - 3PCS(Pink+Black+Dark Brown) \/ 2XL","public_title":"3PCS(Pink+Black+Dark Brown) \/ 2XL","options":["3PCS(Pink+Black+Dark Brown)","2XL"],"price":2999,"weight":0,"compare_at_price":3399,"inventory_management":null,"barcode":null,"requires_selling_plan":false,"selling_plan_allocations":[]},{"id":42224544809181,"title":"3PCS(Pink+Black+Dark Brown) \/ 3XL","option1":"3PCS(Pink+Black+Dark Brown)","option2":"3XL","option3":null,"sku":"LF32149506FEN-3*1+LF32149506HEI-3*1+LF32149506SKF-3*1","requires_shipping":true,"taxable":false,"featured_image":null,"available":true,"name":"✨Hot Sale✨Soft And Comfortable Bra(50% OFF) - 3PCS(Pink+Black+Dark Brown) \/ 3XL","public_title":"3PCS(Pink+Black+Dark Brown) \/ 3XL","options":["3PCS(Pink+Black+Dark Brown)","3XL"],"price":2999,"weight":0,"compare_at_price":3399,"inventory_management":null,"barcode":null,"requires_selling_plan":false,"selling_plan_allocations":[]},{"id":42224544841949,"title":"3PCS(Pink+Black+Dark Brown) \/ 4XL","option1":"3PCS(Pink+Black+Dark Brown)","option2":"4XL","option3":null,"sku":"LF32149506FEN-4*1+LF32149506HEI-4*1+LF32149506SKF-4*1","requires_shipping":true,"taxable":false,"featured_image":null,"available":true,"name":"✨Hot Sale✨Soft And Comfortable Bra(50% OFF) - 3PCS(Pink+Black+Dark Brown) \/ 4XL","public_title":"3PCS(Pink+Black+Dark Brown) \/ 4XL","options":["3PCS(Pink+Black+Dark Brown)","4XL"],"price":2999,"weight":0,"compare_at_price":3399,"inventory_management":null,"barcode":null,"requires_selling_plan":false,"selling_plan_allocations":[]},{"id":42224544874717,"title":"3PCS(Pink+Black+Dark Brown) \/ 5XL","option1":"3PCS(Pink+Black+Dark Brown)","option2":"5XL","option3":null,"sku":"LF32149506FEN-4*1+LF32149506HEI-4*1+LF32149506SKF-4*1","requires_shipping":true,"taxable":false,"featured_image":null,"available":true,"name":"✨Hot Sale✨Soft And Comfortable Bra(50% OFF) - 3PCS(Pink+Black+Dark Brown) \/ 5XL","public_title":"3PCS(Pink+Black+Dark Brown) \/ 5XL","options":["3PCS(Pink+Black+Dark Brown)","5XL"],"price":2999,"weight":0,"compare_at_price":3399,"inventory_management":null,"barcode":null,"requires_selling_plan":false,"selling_plan_allocations":[]},{"id":42224544907485,"title":"3PCS(Dark Brown+Skin+Purple) \/ S","option1":"3PCS(Dark Brown+Skin+Purple)","option2":"S","option3":null,"sku":"LF32149506SKF-1*1+LF32149506FUS-1*1+LF32149506DSS-1*1","requires_shipping":true,"taxable":false,"featured_image":null,"available":true,"name":"✨Hot Sale✨Soft And Comfortable Bra(50% OFF) - 3PCS(Dark Brown+Skin+Purple) \/ S","public_title":"3PCS(Dark Brown+Skin+Purple) \/ S","options":["3PCS(Dark Brown+Skin+Purple)","S"],"price":2999,"weight":0,"compare_at_price":3399,"inventory_management":null,"barcode":null,"requires_selling_plan":false,"selling_plan_allocations":[]},{"id":42224544940253,"title":"3PCS(Dark Brown+Skin+Purple) \/ M","option1":"3PCS(Dark Brown+Skin+Purple)","option2":"M","option3":null,"sku":"LF32149506SKF-1*1+LF32149506FUS-1*1+LF32149506DSS-1*1","requires_shipping":true,"taxable":false,"featured_image":null,"available":true,"name":"✨Hot Sale✨Soft And Comfortable Bra(50% OFF) - 3PCS(Dark Brown+Skin+Purple) \/ M","public_title":"3PCS(Dark Brown+Skin+Purple) \/ M","options":["3PCS(Dark Brown+Skin+Purple)","M"],"price":2999,"weight":0,"compare_at_price":3399,"inventory_management":null,"barcode":null,"requires_selling_plan":false,"selling_plan_allocations":[]},{"id":42224544973021,"title":"3PCS(Dark Brown+Skin+Purple) \/ L","option1":"3PCS(Dark Brown+Skin+Purple)","option2":"L","option3":null,"sku":"LF32149506SKF-2*1+LF32149506FUS-2*1+LF32149506DSS-2*1","requires_shipping":true,"taxable":false,"featured_image":null,"available":true,"name":"✨Hot Sale✨Soft And Comfortable Bra(50% OFF) - 3PCS(Dark Brown+Skin+Purple) \/ L","public_title":"3PCS(Dark Brown+Skin+Purple) \/ L","options":["3PCS(Dark Brown+Skin+Purple)","L"],"price":2999,"weight":0,"compare_at_price":3399,"inventory_management":null,"barcode":null,"requires_selling_plan":false,"selling_plan_allocations":[]},{"id":42224545005789,"title":"3PCS(Dark Brown+Skin+Purple) \/ XL","option1":"3PCS(Dark Brown+Skin+Purple)","option2":"XL","option3":null,"sku":"LF32149506SKF-2*1+LF32149506FUS-2*1+LF32149506DSS-2*1","requires_shipping":true,"taxable":false,"featured_image":null,"available":true,"name":"✨Hot Sale✨Soft And Comfortable Bra(50% OFF) - 3PCS(Dark Brown+Skin+Purple) \/ XL","public_title":"3PCS(Dark Brown+Skin+Purple) \/ XL","options":["3PCS(Dark Brown+Skin+Purple)","XL"],"price":2999,"weight":0,"compare_at_price":3399,"inventory_management":null,"barcode":null,"requires_selling_plan":false,"selling_plan_allocations":[]},{"id":42224545038557,"title":"3PCS(Dark Brown+Skin+Purple) \/ 2XL","option1":"3PCS(Dark Brown+Skin+Purple)","option2":"2XL","option3":null,"sku":"LF32149506SKF-3*1+LF32149506FUS-3*1+LF32149506DSS-3*1","requires_shipping":true,"taxable":false,"featured_image":null,"available":true,"name":"✨Hot Sale✨Soft And Comfortable Bra(50% OFF) - 3PCS(Dark Brown+Skin+Purple) \/ 2XL","public_title":"3PCS(Dark Brown+Skin+Purple) \/ 2XL","options":["3PCS(Dark Brown+Skin+Purple)","2XL"],"price":2999,"weight":0,"compare_at_price":3399,"inventory_management":null,"barcode":null,"requires_selling_plan":false,"selling_plan_allocations":[]},{"id":42224545071325,"title":"3PCS(Dark Brown+Skin+Purple) \/ 3XL","option1":"3PCS(Dark Brown+Skin+Purple)","option2":"3XL","option3":null,"sku":"LF32149506SKF-3*1+LF32149506FUS-3*1+LF32149506DSS-3*1","requires_shipping":true,"taxable":false,"featured_image":null,"available":true,"name":"✨Hot Sale✨Soft And Comfortable Bra(50% OFF) - 3PCS(Dark Brown+Skin+Purple) \/ 3XL","public_title":"3PCS(Dark Brown+Skin+Purple) \/ 3XL","options":["3PCS(Dark Brown+Skin+Purple)","3XL"],"price":2999,"weight":0,"compare_at_price":3399,"inventory_management":null,"barcode":null,"requires_selling_plan":false,"selling_plan_allocations":[]},{"id":42224545104093,"title":"3PCS(Dark Brown+Skin+Purple) \/ 4XL","option1":"3PCS(Dark Brown+Skin+Purple)","option2":"4XL","option3":null,"sku":"LF32149506SKF-4*1+LF32149506FUS-4*1+LF32149506DSS-4*1","requires_shipping":true,"taxable":false,"featured_image":null,"available":true,"name":"✨Hot Sale✨Soft And Comfortable Bra(50% OFF) - 3PCS(Dark Brown+Skin+Purple) \/ 4XL","public_title":"3PCS(Dark Brown+Skin+Purple) \/ 4XL","options":["3PCS(Dark Brown+Skin+Purple)","4XL"],"price":2999,"weight":0,"compare_at_price":3399,"inventory_management":null,"barcode":null,"requires_selling_plan":false,"selling_plan_allocations":[]},{"id":42224545136861,"title":"3PCS(Dark Brown+Skin+Purple) \/ 5XL","option1":"3PCS(Dark Brown+Skin+Purple)","option2":"5XL","option3":null,"sku":"LF32149506SKF-4*1+LF32149506FUS-4*1+LF32149506DSS-4*1","requires_shipping":true,"taxable":false,"featured_image":null,"available":true,"name":"✨Hot Sale✨Soft And Comfortable Bra(50% OFF) - 3PCS(Dark Brown+Skin+Purple) \/ 5XL","public_title":"3PCS(Dark Brown+Skin+Purple) \/ 5XL","options":["3PCS(Dark Brown+Skin+Purple)","5XL"],"price":2999,"weight":0,"compare_at_price":3399,"inventory_management":null,"barcode":null,"requires_selling_plan":false,"selling_plan_allocations":[]}],"images":["\/\/cdn.shopify.com\/s\/files\/1\/0508\/2592\/0676\/products\/1643162235847.jpg?v=1643167349","\/\/cdn.shopify.com\/s\/files\/1\/0508\/2592\/0676\/products\/1643162245693.jpg?v=1643167349","\/\/cdn.shopify.com\/s\/files\/1\/0508\/2592\/0676\/products\/1643162249343.jpg?v=1643167349","\/\/cdn.shopify.com\/s\/files\/1\/0508\/2592\/0676\/products\/1643162254008.jpg?v=1643167349","\/\/cdn.shopify.com\/s\/files\/1\/0508\/2592\/0676\/products\/1643162258562.jpg?v=1643167349","\/\/cdn.shopify.com\/s\/files\/1\/0508\/2592\/0676\/products\/1643162264563.jpg?v=1643167349","\/\/cdn.shopify.com\/s\/files\/1\/0508\/2592\/0676\/products\/1643162271273.jpg?v=1643167349","\/\/cdn.shopify.com\/s\/files\/1\/0508\/2592\/0676\/products\/1643162274809.jpg?v=1643167349","\/\/cdn.shopify.com\/s\/files\/1\/0508\/2592\/0676\/products\/1643162279855.jpg?v=1643167349","\/\/cdn.shopify.com\/s\/files\/1\/0508\/2592\/0676\/products\/1643162284109.jpg?v=1643167349","\/\/cdn.shopify.com\/s\/files\/1\/0508\/2592\/0676\/products\/1643162289890.jpg?v=1643167349","\/\/cdn.shopify.com\/s\/files\/1\/0508\/2592\/0676\/products\/1643162294982.jpg?v=1643167349","\/\/cdn.shopify.com\/s\/files\/1\/0508\/2592\/0676\/products\/1643162316027.jpg?v=1643167349","\/\/cdn.shopify.com\/s\/files\/1\/0508\/2592\/0676\/products\/1643162323924.jpg?v=1643167349"],"featured_image":"\/\/cdn.shopify.com\/s\/files\/1\/0508\/2592\/0676\/products\/1643162235847.jpg?v=1643167349","options":["Color","Size"],"media":[{"alt":null,"id":29094113640669,"position":1,"preview_image":{"aspect_ratio":1.0,"height":800,"width":800,"src":"https:\/\/cdn.shopify.com\/s\/files\/1\/0508\/2592\/0676\/products\/1643162235847.jpg?v=1643167349"},"aspect_ratio":1.0,"height":800,"media_type":"image","src":"https:\/\/cdn.shopify.com\/s\/files\/1\/0508\/2592\/0676\/products\/1643162235847.jpg?v=1643167349","width":800},{"alt":null,"id":29094113673437,"position":2,"preview_image":{"aspect_ratio":1.0,"height":800,"width":800,"src":"https:\/\/cdn.shopify.com\/s\/files\/1\/0508\/2592\/0676\/products\/1643162245693.jpg?v=1643167349"},"aspect_ratio":1.0,"height":800,"media_type":"image","src":"https:\/\/cdn.shopify.com\/s\/files\/1\/0508\/2592\/0676\/products\/1643162245693.jpg?v=1643167349","width":800},{"alt":null,"id":29094113706205,"position":3,"preview_image":{"aspect_ratio":1.0,"height":800,"width":800,"src":"https:\/\/cdn.shopify.com\/s\/files\/1\/0508\/2592\/0676\/products\/1643162249343.jpg?v=1643167349"},"aspect_ratio":1.0,"height":800,"media_type":"image","src":"https:\/\/cdn.shopify.com\/s\/files\/1\/0508\/2592\/0676\/products\/1643162249343.jpg?v=1643167349","width":800},{"alt":null,"id":29094113738973,"position":4,"preview_image":{"aspect_ratio":1.0,"height":800,"width":800,"src":"https:\/\/cdn.shopify.com\/s\/files\/1\/0508\/2592\/0676\/products\/1643162254008.jpg?v=1643167349"},"aspect_ratio":1.0,"height":800,"media_type":"image","src":"https:\/\/cdn.shopify.com\/s\/files\/1\/0508\/2592\/0676\/products\/1643162254008.jpg?v=1643167349","width":800},{"alt":null,"id":29094113771741,"position":5,"preview_image":{"aspect_ratio":1.0,"height":800,"width":800,"src":"https:\/\/cdn.shopify.com\/s\/files\/1\/0508\/2592\/0676\/products\/1643162258562.jpg?v=1643167349"},"aspect_ratio":1.0,"height":800,"media_type":"image","src":"https:\/\/cdn.shopify.com\/s\/files\/1\/0508\/2592\/0676\/products\/1643162258562.jpg?v=1643167349","width":800},{"alt":null,"id":29094113804509,"position":6,"preview_image":{"aspect_ratio":1.0,"height":800,"width":800,"src":"https:\/\/cdn.shopify.com\/s\/files\/1\/0508\/2592\/0676\/products\/1643162264563.jpg?v=1643167349"},"aspect_ratio":1.0,"height":800,"media_type":"image","src":"https:\/\/cdn.shopify.com\/s\/files\/1\/0508\/2592\/0676\/products\/1643162264563.jpg?v=1643167349","width":800},{"alt":null,"id":29094113837277,"position":7,"preview_image":{"aspect_ratio":1.0,"height":800,"width":800,"src":"https:\/\/cdn.shopify.com\/s\/files\/1\/0508\/2592\/0676\/products\/1643162271273.jpg?v=1643167349"},"aspect_ratio":1.0,"height":800,"media_type":"image","src":"https:\/\/cdn.shopify.com\/s\/files\/1\/0508\/2592\/0676\/products\/1643162271273.jpg?v=1643167349","width":800},{"alt":null,"id":29094113870045,"position":8,"preview_image":{"aspect_ratio":1.0,"height":800,"width":800,"src":"https:\/\/cdn.shopify.com\/s\/files\/1\/0508\/2592\/0676\/products\/1643162274809.jpg?v=1643167349"},"aspect_ratio":1.0,"height":800,"media_type":"image","src":"https:\/\/cdn.shopify.com\/s\/files\/1\/0508\/2592\/0676\/products\/1643162274809.jpg?v=1643167349","width":800},{"alt":null,"id":29094113902813,"position":9,"preview_image":{"aspect_ratio":1.0,"height":800,"width":800,"src":"https:\/\/cdn.shopify.com\/s\/files\/1\/0508\/2592\/0676\/products\/1643162279855.jpg?v=1643167349"},"aspect_ratio":1.0,"height":800,"media_type":"image","src":"https:\/\/cdn.shopify.com\/s\/files\/1\/0508\/2592\/0676\/products\/1643162279855.jpg?v=1643167349","width":800},{"alt":null,"id":29094113935581,"position":10,"preview_image":{"aspect_ratio":1.0,"height":800,"width":800,"src":"https:\/\/cdn.shopify.com\/s\/files\/1\/0508\/2592\/0676\/products\/1643162284109.jpg?v=1643167349"},"aspect_ratio":1.0,"height":800,"media_type":"image","src":"https:\/\/cdn.shopify.com\/s\/files\/1\/0508\/2592\/0676\/products\/1643162284109.jpg?v=1643167349","width":800},{"alt":null,"id":29094113968349,"position":11,"preview_image":{"aspect_ratio":1.0,"height":800,"width":800,"src":"https:\/\/cdn.shopify.com\/s\/files\/1\/0508\/2592\/0676\/products\/1643162289890.jpg?v=1643167349"},"aspect_ratio":1.0,"height":800,"media_type":"image","src":"https:\/\/cdn.shopify.com\/s\/files\/1\/0508\/2592\/0676\/products\/1643162289890.jpg?v=1643167349","width":800},{"alt":null,"id":29094114001117,"position":12,"preview_image":{"aspect_ratio":1.0,"height":800,"width":800,"src":"https:\/\/cdn.shopify.com\/s\/files\/1\/0508\/2592\/0676\/products\/1643162294982.jpg?v=1643167349"},"aspect_ratio":1.0,"height":800,"media_type":"image","src":"https:\/\/cdn.shopify.com\/s\/files\/1\/0508\/2592\/0676\/products\/1643162294982.jpg?v=1643167349","width":800},{"alt":null,"id":29094114033885,"position":13,"preview_image":{"aspect_ratio":1.0,"height":800,"width":800,"src":"https:\/\/cdn.shopify.com\/s\/files\/1\/0508\/2592\/0676\/products\/1643162316027.jpg?v=1643167349"},"aspect_ratio":1.0,"height":800,"media_type":"image","src":"https:\/\/cdn.shopify.com\/s\/files\/1\/0508\/2592\/0676\/products\/1643162316027.jpg?v=1643167349","width":800},{"alt":null,"id":29094114066653,"position":14,"preview_image":{"aspect_ratio":1.0,"height":800,"width":800,"src":"https:\/\/cdn.shopify.com\/s\/files\/1\/0508\/2592\/0676\/products\/1643162323924.jpg?v=1643167349"},"aspect_ratio":1.0,"height":800,"media_type":"image","src":"https:\/\/cdn.shopify.com\/s\/files\/1\/0508\/2592\/0676\/products\/1643162323924.jpg?v=1643167349","width":800}],"requires_selling_plan":false,"selling_plan_groups":[],"content":"\u003cp data-mce-fragment=\"1\"\u003e\u003cspan style=\"color: #ce5988;\" data-mce-style=\"color: #ce5988;\"\u003e\u003cstrong data-mce-fragment=\"1\"\u003eSpecification:\u003c\/strong\u003e\u003c\/span\u003e\u003c\/p\u003e\n\u003cul data-mce-fragment=\"1\"\u003e\n\u003cli data-mce-fragment=\"1\"\u003eFabric: Cotton, Spandex\u003c\/li\u003e\n\u003cli data-mce-fragment=\"1\"\u003eThe content of the main fabric composition: Cotton 85 (%),\u003cspan data-mce-fragment=\"1\"\u003eSpandex 15 (%)\u003c\/span\u003e\n\u003c\/li\u003e\n\u003cli data-mce-fragment=\"1\"\u003eMold Cup Type: Thin Mold Cup\u003cimg data-mce-fragment=\"1\" src=\"https:\/\/cdn.shopify.com\/s\/files\/1\/0268\/8634\/0680\/files\/1_79e6b3ff-996c-4ba8-b31e-674bb5563192_480x480.gif?v=1637135565\" alt=\"\" style=\"display: block; margin-left: auto; margin-right: auto;\" width=\"335\" height=\"335\" data-mce-src=\"https:\/\/cdn.shopify.com\/s\/files\/1\/0268\/8634\/0680\/files\/1_79e6b3ff-996c-4ba8-b31e-674bb5563192_480x480.gif?v=1637135565\" data-mce-style=\"display: block; margin-left: auto; margin-right: auto;\"\u003e\n\u003c\/li\u003e\n\u003c\/ul\u003e\n\u003cp\u003e\u003cspan style=\"color: #ce5988;\" data-mce-style=\"color: #ce5988;\"\u003e\u003cstrong data-mce-fragment=\"1\"\u003eFeatured bra without steel ring:\u003c\/strong\u003e\u003c\/span\u003e\u003cspan data-mce-fragment=\"1\"\u003e\u003cspan style=\"color: #ce5988;\" data-mce-style=\"color: #ce5988;\"\u003e \u003c\/span\u003e\u003c\/span\u003e\u003c\/p\u003e\n\u003cp\u003e\u003cspan data-mce-fragment=\"1\"\u003eSolve the pain and discomfort caused by skin damage caused by steel ring and insufficient chest support. It will bring you\u003c\/span\u003e\u003cstrong data-mce-fragment=\"1\"\u003e\u003cspan data-mce-fragment=\"1\"\u003e \u003c\/span\u003egood support and improve, shape, and support a perfect chest shape.\u003c\/strong\u003e\u003cspan data-mce-fragment=\"1\"\u003e\u003c\/span\u003e\u003cspan data-mce-fragment=\"1\"\u003e\u003c\/span\u003e\u003cspan data-mce-fragment=\"1\"\u003e\u003c\/span\u003e\u003c\/p\u003e\n\u003cdiv data-mce-fragment=\"1\"\u003e\u003cimg data-mce-fragment=\"1\" alt=\"\" src=\"https:\/\/cdn.shopify.com\/s\/files\/1\/0531\/4314\/2564\/files\/1_45d7f4c7-eaec-4e95-a56f-00f427155264_480x480.gif?v=1624440118\" style=\"display: block; margin-left: auto; margin-right: auto;\" data-mce-style=\"display: block; margin-left: auto; margin-right: auto;\" data-mce-src=\"https:\/\/cdn.shopify.com\/s\/files\/1\/0531\/4314\/2564\/files\/1_45d7f4c7-eaec-4e95-a56f-00f427155264_480x480.gif?v=1624440118\"\u003e\u003c\/div\u003e\n\u003cdiv data-mce-fragment=\"1\"\u003e\n\u003cp data-mce-fragment=\"1\"\u003e\u003cspan style=\"color: #ce5988;\" data-mce-style=\"color: #ce5988;\"\u003e\u003cstrong data-mce-fragment=\"1\"\u003eAdjustable function:\u003c\/strong\u003e\u003c\/span\u003e\u003cspan data-mce-fragment=\"1\"\u003e \u003c\/span\u003eThe elastic band can be adjusted at will, and the back buckle is easy to put on and take off. It shows your graceful posture and shows your elegance and sexy. elegance and sexy.\u003cimg data-mce-fragment=\"1\" src=\"https:\/\/cdn.shopify.com\/s\/files\/1\/0591\/2382\/6846\/files\/2_d84b27c5-4b53-4c7d-9356-bae67b9b660e_480x480.gif?v=1633942101\" alt=\"\" style=\"display: block; margin-left: auto; margin-right: auto;\" data-mce-src=\"https:\/\/cdn.shopify.com\/s\/files\/1\/0591\/2382\/6846\/files\/2_d84b27c5-4b53-4c7d-9356-bae67b9b660e_480x480.gif?v=1633942101\" data-mce-style=\"display: block; margin-left: auto; margin-right: auto;\"\u003e\u003c\/p\u003e\n\u003cp data-mce-fragment=\"1\" style=\"text-align: left;\" data-mce-style=\"text-align: left;\"\u003eUse the 3D three-dimensional cushion to massage, promote blood circulation, relieve fatigue, you deserve it.\u003cimg data-mce-fragment=\"1\" src=\"https:\/\/cdn.shopify.com\/s\/files\/1\/0268\/8634\/0680\/files\/2_527d4b35-6fed-4f2c-bd11-67f199c0fcec_480x480.gif?v=1637135598\" alt=\"\" data-mce-src=\"https:\/\/cdn.shopify.com\/s\/files\/1\/0268\/8634\/0680\/files\/2_527d4b35-6fed-4f2c-bd11-67f199c0fcec_480x480.gif?v=1637135598\"\u003e\u003cbr data-mce-fragment=\"1\"\u003e\u003c\/p\u003e\n\u003cp data-mce-fragment=\"1\"\u003e\u003cspan style=\"color: #ce5988;\" data-mce-style=\"color: #ce5988;\"\u003e\u003cstrong data-mce-fragment=\"1\"\u003eSTRETCHABLE \u0026amp; BREATHABLE:\u003c\/strong\u003e\u003c\/span\u003e\u003cspan data-mce-fragment=\"1\"\u003e \u003c\/span\u003e\u003c\/p\u003e\n\u003cp data-mce-fragment=\"1\"\u003e\u003cspan data-mce-fragment=\"1\"\u003eMade of high-quality nylon and spandex material making it super stretchable, seamless, and breathable to use.\u003c\/span\u003e\u003cbr\u003e\u003cimg data-mce-fragment=\"1\" src=\"https:\/\/cdn.shopify.com\/s\/files\/1\/0531\/4314\/2564\/files\/4_66ca6a92-532c-43c3-ad18-59d7093caeaa_480x480.gif?v=1625277657\" alt=\"\" style=\"display: block; margin-left: auto; margin-right: auto;\" data-mce-style=\"display: block; margin-left: auto; margin-right: auto;\" data-mce-src=\"https:\/\/cdn.shopify.com\/s\/files\/1\/0531\/4314\/2564\/files\/4_66ca6a92-532c-43c3-ad18-59d7093caeaa_480x480.gif?v=1625277657\"\u003e\u003cspan data-mce-fragment=\"1\"\u003e\u003cimg data-mce-fragment=\"1\" style=\"display: block; margin-left: auto; margin-right: auto;\" src=\"https:\/\/cdn.shopify.com\/s\/files\/1\/0268\/8634\/0680\/files\/3_70fe3861-0c29-4d61-977e-c76e5117d85d_480x480.gif?v=1637135631\" alt=\"\" data-mce-src=\"https:\/\/cdn.shopify.com\/s\/files\/1\/0268\/8634\/0680\/files\/3_70fe3861-0c29-4d61-977e-c76e5117d85d_480x480.gif?v=1637135631\" data-mce-style=\"display: block; margin-left: auto; margin-right: auto;\"\u003e\u003c\/span\u003e\u003c\/p\u003e\n\u003c\/div\u003e\n\u003cdiv data-mce-fragment=\"1\"\u003e\n\u003cspan style=\"color: #ce5988;\" data-mce-style=\"color: #ce5988;\"\u003e \u003cstrong data-mce-fragment=\"1\"\u003eCotton bra:\u003c\/strong\u003e \u003cstrong data-mce-fragment=\"1\"\u003esoft, comfortable and elastic,\u003c\/strong\u003e \u003c\/span\u003eclose to your chest and will not move. Wearing this bra will show your elegant side.\u003cimg data-mce-fragment=\"1\" alt=\"\" src=\"https:\/\/cdn.shopify.com\/s\/files\/1\/0531\/4314\/2564\/files\/1_def3af7b-1c30-4b73-858d-e959f1f350c9_480x480.jpg?v=1625132976\" width=\"473\" height=\"473\" style=\"display: block; margin-left: auto; margin-right: auto;\" data-mce-style=\"display: block; margin-left: auto; margin-right: auto;\" data-mce-src=\"https:\/\/cdn.shopify.com\/s\/files\/1\/0531\/4314\/2564\/files\/1_def3af7b-1c30-4b73-858d-e959f1f350c9_480x480.jpg?v=1625132976\"\u003e\u003cimg data-mce-fragment=\"1\" src=\"https:\/\/cdn.shopify.com\/s\/files\/1\/0268\/8634\/0680\/files\/4_fd701bd1-307e-4926-9f05-b79eb719a5e5_480x480.gif?v=1637135641\" alt=\"\" style=\"display: block; margin-left: auto; margin-right: auto;\" data-mce-src=\"https:\/\/cdn.shopify.com\/s\/files\/1\/0268\/8634\/0680\/files\/4_fd701bd1-307e-4926-9f05-b79eb719a5e5_480x480.gif?v=1637135641\" data-mce-style=\"display: block; margin-left: auto; margin-right: auto;\"\u003e\n\u003c\/div\u003e\n\u003cdiv data-mce-fragment=\"1\"\u003e\n\u003cspan data-mce-fragment=\"1\"\u003eUse \u003c\/span\u003e\u003cstrong data-mce-fragment=\"1\"\u003esafe and non-toxic\u003c\/strong\u003e\u003cspan data-mce-fragment=\"1\"\u003e materials, soak the hand wash and rub it hard \u003c\/span\u003e\u003cstrong data-mce-fragment=\"1\"\u003ewithout fading and no deformation.\u003cimg data-mce-fragment=\"1\" src=\"https:\/\/cdn.shopify.com\/s\/files\/1\/0531\/4314\/2564\/files\/8_80c58628-5f24-49ca-8337-7d6e44bf58d9_480x480.gif?v=1626339511\" alt=\"\" style=\"display: block; margin-left: auto; margin-right: auto;\" data-mce-style=\"display: block; margin-left: auto; margin-right: auto;\" data-mce-src=\"https:\/\/cdn.shopify.com\/s\/files\/1\/0531\/4314\/2564\/files\/8_80c58628-5f24-49ca-8337-7d6e44bf58d9_480x480.gif?v=1626339511\"\u003e\u003cimg data-mce-fragment=\"1\" src=\"https:\/\/cdn.shopify.com\/s\/files\/1\/0268\/8634\/0680\/files\/5_8ffb7aa4-71e2-4ae5-979b-05b8c6ac142b_480x480.gif?v=1637135676\" alt=\"\" style=\"display: block; margin-left: auto; margin-right: auto;\" data-mce-src=\"https:\/\/cdn.shopify.com\/s\/files\/1\/0268\/8634\/0680\/files\/5_8ffb7aa4-71e2-4ae5-979b-05b8c6ac142b_480x480.gif?v=1637135676\" data-mce-style=\"display: block; margin-left: auto; margin-right: auto;\"\u003e\u003cbr data-mce-fragment=\"1\"\u003e\u003c\/strong\u003e\n\u003c\/div\u003e\n\u003cdiv data-mce-fragment=\"1\"\u003e\n\u003cp data-mce-fragment=\"1\"\u003e\u003cspan style=\"color: #ce5988;\" data-mce-style=\"color: #ce5988;\"\u003e\u003cstrong data-mce-fragment=\"1\"\u003eFeatures:\u003c\/strong\u003e\u003c\/span\u003e\u003c\/p\u003e\n\u003cul data-mce-fragment=\"1\"\u003e\n\u003cli data-mce-fragment=\"1\"\u003e\n\u003cstrong data-mce-fragment=\"1\"\u003eSeamless\u003c\/strong\u003e cut for \u003cstrong data-mce-fragment=\"1\"\u003emaximum comfort\u003c\/strong\u003e \u0026amp; centering support\u003c\/li\u003e\n\u003cli data-mce-fragment=\"1\"\u003e\n\u003cstrong data-mce-fragment=\"1\"\u003eAnti-saggy\u003c\/strong\u003e \u0026amp;\u003cstrong data-mce-fragment=\"1\"\u003e east-west\u003c\/strong\u003e breast\u003c\/li\u003e\n\u003cli data-mce-fragment=\"1\"\u003eReduces\u003cstrong data-mce-fragment=\"1\"\u003e side breast fat\u003c\/strong\u003e by centralizing \u0026amp; full coverage\u003c\/li\u003e\n\u003cli data-mce-fragment=\"1\"\u003eNo more\u003cstrong data-mce-fragment=\"1\"\u003e skin marks\u003c\/strong\u003e \u0026amp; boob slippage\u003c\/li\u003e\n\u003cli data-mce-fragment=\"1\"\u003e\n\u003cstrong data-mce-fragment=\"1\"\u003eBra-free sensation\u003c\/strong\u003e \u0026amp;\u003cstrong data-mce-fragment=\"1\"\u003e Ultra-comfortable\u003c\/strong\u003e wearing\u003cimg data-mce-fragment=\"1\" alt=\"\" src=\"https:\/\/cdn.shopify.com\/s\/files\/1\/0531\/4314\/2564\/files\/10_ebda6330-77c3-4598-a19b-7892ffb69637_480x480.jpg?v=1625133265\" data-mce-src=\"https:\/\/cdn.shopify.com\/s\/files\/1\/0531\/4314\/2564\/files\/10_ebda6330-77c3-4598-a19b-7892ffb69637_480x480.jpg?v=1625133265\"\u003e\u003cimg data-mce-fragment=\"1\" alt=\"\" src=\"https:\/\/cdn.shopify.com\/s\/files\/1\/0531\/4314\/2564\/files\/7_e8b0ded1-930a-41fc-a7b2-c5040b4bf5e6_480x480.jpg?v=1625133442\" data-mce-src=\"https:\/\/cdn.shopify.com\/s\/files\/1\/0531\/4314\/2564\/files\/7_e8b0ded1-930a-41fc-a7b2-c5040b4bf5e6_480x480.jpg?v=1625133442\"\u003e\n\u003c\/li\u003e\n\u003cli data-mce-fragment=\"1\"\u003ePackage contains: 1\/2\/3 * Comfort BRA (s)\u003c\/li\u003e\n\u003c\/ul\u003e\n\u003cspan style=\"color: #ce5988;\" data-mce-style=\"color: #ce5988;\"\u003e\u003cstrong\u003eSize:\u003c\/strong\u003e\u003c\/span\u003e\n\u003cul data-mce-fragment=\"1\"\u003e\u003c\/ul\u003e\n\u003cul data-mce-fragment=\"1\"\u003e\u003c\/ul\u003e\n\u003c\/div\u003e\n\u003cdiv data-mce-fragment=\"1\"\u003e\n\u003cul\u003e\n\u003cli\u003e\u003cspan style=\"color: #ce5988;\" data-mce-style=\"color: #ce5988;\"\u003e\u003cstrong\u003eS, M--36\/Suitable for 70A, 70B, 70C\u003c\/strong\u003e\u003c\/span\u003e\u003c\/li\u003e\n\u003cli\u003e\u003cspan style=\"color: #ce5988;\" data-mce-style=\"color: #ce5988;\"\u003e\u003cstrong\u003eL, XL--38\/Suitable for 75A, 75B, 75C\u003c\/strong\u003e\u003c\/span\u003e\u003c\/li\u003e\n\u003cli\u003e\u003cspan style=\"color: #ce5988;\" data-mce-style=\"color: #ce5988;\"\u003e\u003cstrong\u003e2XL, 3XL--40\/Suitable for 80A, 80B, 80C\u003c\/strong\u003e\u003c\/span\u003e\u003c\/li\u003e\n\u003cli\u003e\u003cspan style=\"color: #ce5988;\" data-mce-style=\"color: #ce5988;\"\u003e\u003cstrong\u003e4XL, 5XL--42\/Suitable for\u003cspan data-mce-fragment=\"1\"\u003e \u003c\/span\u003e85A,\u003cspan data-mce-fragment=\"1\"\u003e \u003c\/span\u003e85B,\u003cspan data-mce-fragment=\"1\"\u003e \u003c\/span\u003e85C\u003c\/strong\u003e\u003c\/span\u003e\u003c\/li\u003e\n\u003c\/ul\u003e\n\u003c\/div\u003e\n\u003cdiv data-mce-fragment=\"1\"\u003e\u003cspan style=\"color: #ce5988;\" data-mce-style=\"color: #ce5988;\"\u003e\u003cstrong\u003e\u003cimg style=\"display: block; margin-left: auto; margin-right: auto;\" src=\"https:\/\/cdn.shopifycdn.net\/s\/files\/1\/0593\/0604\/9688\/files\/9289029e14071cba7521e2d605e7dba4_480x480.jpg?v=1643161781\" alt=\"\"\u003e\u003c\/strong\u003e\u003c\/span\u003e\u003c\/div\u003e"}
✨Hot Sale✨Soft And Comfortable Bra(50% OFF)
Product Description
Specification:
Fabric: Cotton, Spandex
The content of the main fabric composition: Cotton 85 (%),

Spandex 15 (%)

Mold Cup Type: Thin Mold Cup
Featured bra without steel ring: 
Solve the pain and discomfort caused by skin damage caused by steel ring and insufficient chest support. It will bring you good support and improve, shape, and support a perfect chest shape.
Adjustable function: The elastic band can be adjusted at will, and the back buckle is easy to put on and take off. It shows your graceful posture and shows your elegance and sexy. elegance and sexy.
Use the 3D three-dimensional cushion to massage, promote blood circulation, relieve fatigue, you deserve it.
STRETCHABLE & BREATHABLE: 
Made of high-quality nylon and spandex material making it super stretchable, seamless, and breathable to use.

Cotton bra:
soft, comfortable and elastic,
close to your chest and will not move. Wearing this bra will show your elegant side.
Use 
safe and non-toxic
 materials, soak the hand wash and rub it hard 
without fading and no deformation.
Features:
Seamless cut for maximum comfort & centering support
Anti-saggy & east-west breast
Reduces side breast fat by centralizing & full coverage
No more skin marks & boob slippage
Bra-free sensation & Ultra-comfortable wearing
Package contains: 1/2/3 * Comfort BRA (s)
Size:
S, M--36/Suitable for 70A, 70B, 70C
L, XL--38/Suitable for 75A, 75B, 75C
2XL, 3XL--40/Suitable for 80A, 80B, 80C
4XL, 5XL--42/Suitable for

 

85A,

 

85B,

 

85C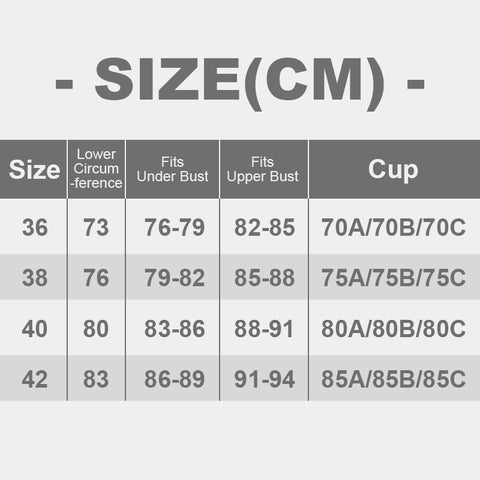 Shipping:
We processes orders between Monday and Friday. Orders will be processed within 7 business days of ordering and shipped out the next day after the processing day. We don't ship on weekends.