{"id":6783445467300,"title":"Seam edge guidance","handle":"sewing-machine-airplane-ruler","description":"\u003cp style=\"text-align: center;\" data-mce-style=\"text-align: center;\"\u003e\u003cspan style=\"color: #00aaff;\" data-mce-style=\"color: #00aaff;\"\u003e\u003cstrong\u003eCreate Perfect \u0026amp; Beautiful Decorative Stitching Easily!\u003c\/strong\u003e\u003c\/span\u003e\u003c\/p\u003e\n\u003cp\u003e\u003cstrong\u003e\u003cimg alt=\"\" src=\"https:\/\/cdn.shopifycdn.net\/s\/files\/1\/0502\/3681\/7574\/files\/lAHPBFuNdfDnbgnNASzNASw_300_300_480x480.gif?v=1619423599\" style=\"display: block; margin-left: auto; margin-right: auto;\"\u003e\u003c\/strong\u003e\u003c\/p\u003e\n\u003cp\u003eAre you having difficulty creating uniform seams on a certain size? Well, use our premium airplane style ruler and create the ideal ideal seam every time!\u003cbr\u003e\u003cbr\u003eOur \u003cspan style=\"color: #cf1212;\"\u003eSeam edge guidance\u003c\/span\u003e\u003cspan style=\"color: #c11818;\" data-mce-style=\"color: #c11818;\"\u003e \u003c\/span\u003eis ideal for any sewing machine or project that requires continuous sewing. Install the ruler on the machine to help you press out the perfect sewing line! It is designed to fit any low-handle snap-on sewing machine to ensure that you can use it without any trouble or compatibility issues. Start sewing with our high-quality \u003cspan style=\"color: #ce1212;\"\u003eSeam edge guidance\u003c\/span\u003e, and you will immediately sew beautiful stitches!\u003cimg src=\"https:\/\/cdn.shopifycdn.net\/s\/files\/1\/0502\/3681\/7574\/files\/Sewing-machine-airplane-ruler_04_480x480.jpg?v=1619421399\" alt=\"\" style=\"display: block; margin-left: auto; margin-right: auto;\" data-mce-fragment=\"1\" data-mce-src=\"https:\/\/cdn.shopifycdn.net\/s\/files\/1\/0502\/3681\/7574\/files\/Sewing-machine-airplane-ruler_04_480x480.jpg?v=1619421399\"\u003e\u003c\/p\u003e\n\u003cp\u003e\u003cbr\u003e\u003c\/p\u003e\n\u003cp\u003e\u003cstrong\u003eFEATURES:\u003c\/strong\u003e\u003c\/p\u003e\n\u003cul\u003e\n\u003cli\u003eThe regulation is used for the cut-off when sewing garments, which can greatly\u003cstrong\u003e \u003cspan style=\"color: #ff8000;\" data-mce-style=\"color: #ff8000;\"\u003eimprove product quality and work efficiency.\u003c\/span\u003e\u003c\/strong\u003e\n\u003c\/li\u003e\n\u003cli\u003eIt helps guide you to perfect the topstitch sewing and decorative sewing.\u003c\/li\u003e\n\u003cli style=\"text-align: left;\"\u003eAfter stable installation,\u003cspan style=\"color: #00aaff;\" data-mce-style=\"color: #00aaff;\"\u003e\u003cstrong\u003e it is not easy to fall off,\u003c\/strong\u003e\u003c\/span\u003e the operation is convenient and simple, and it can be replaced at any time.\u003cimg alt=\"\" src=\"https:\/\/cdn.shopifycdn.net\/s\/files\/1\/0502\/3681\/7574\/files\/lAHPBGKoczp0DHrNASzNASw_300_300_480x480.gif?v=1619423675\" style=\"display: block; margin-left: auto; margin-right: auto;\"\u003e\n\u003c\/li\u003e\n\u003cli\u003eMade of \u003cspan style=\"color: #c725c7;\" data-mce-style=\"color: #c725c7;\"\u003e\u003cstrong\u003ehigh-quality stainless steel and reasonable specifications\u003c\/strong\u003e\u003c\/span\u003e, most sewing machines can be installed and used smoothly.\u003c\/li\u003e\n\u003cli\u003e\n\u003cspan style=\"color: #7cc435;\"\u003e\u003cstrong\u003eThis is a suitable gift!\u003c\/strong\u003e\u003c\/span\u003e When your family or friends are handmade sewing and DIY lovers, this airplane-shaped ruler is the best choice for gifts!\u003c\/li\u003e\n\u003c\/ul\u003e\n\u003cp\u003e\u003cimg alt=\"\" src=\"https:\/\/cdn.shopifycdn.net\/s\/files\/1\/0502\/3681\/7574\/files\/Sewing-machine-airplane-ruler_02_480x480.jpg?v=1619421442\" style=\"display: block; margin-left: auto; margin-right: auto;\"\u003e\u003c\/p\u003e\n\u003cp\u003e\u003cstrong\u003eSPECIFICATIONS:\u003c\/strong\u003e\u003c\/p\u003e\n\u003cul\u003e\n\u003cli\u003e\n\u003cstrong\u003eMaterial:\u003c\/strong\u003e\u003cspan\u003e Stainless Steel\u003c\/span\u003e\n\u003c\/li\u003e\n\u003cli\u003e\n\u003cstrong\u003eSize:\u003c\/strong\u003e\u003cspan\u003e 10\u003c\/span\u003ecm x 5cm x 2cm\u003c\/li\u003e\n\u003c\/ul\u003e\n\u003cp\u003e\u003cbr\u003e\u003c\/p\u003e\n\u003cp\u003e\u003cstrong\u003ePACKAGE INCLUDES:\u003c\/strong\u003e\u003c\/p\u003e\n\u003cul\u003e\n\u003cli\u003eSeam edge guidance*1\u003c\/li\u003e\n\u003c\/ul\u003e","published_at":"2021-06-25T16:54:17+08:00","created_at":"2021-06-25T16:54:17+08:00","vendor":"solegg","type":"Houseware \u0026 Kitchen","tags":[],"price":999,"price_min":999,"price_max":999,"available":true,"price_varies":false,"compare_at_price":0,"compare_at_price_min":0,"compare_at_price_max":0,"compare_at_price_varies":false,"variants":[{"id":40210158977188,"title":"Default Title","option1":"Default Title","option2":null,"option3":null,"sku":"LE32144831","requires_shipping":true,"taxable":false,"featured_image":null,"available":true,"name":"Seam edge guidance","public_title":null,"options":["Default Title"],"price":999,"weight":0,"compare_at_price":0,"inventory_management":null,"barcode":null,"requires_selling_plan":false,"selling_plan_allocations":[]}],"images":["\/\/cdn.shopify.com\/s\/files\/1\/0508\/2592\/0676\/products\/Sewing-machine-airplane-ruler_01.jpg?v=1624611257","\/\/cdn.shopify.com\/s\/files\/1\/0508\/2592\/0676\/products\/Sewing-machine-airplane-ruler_02.jpg?v=1624611257","\/\/cdn.shopify.com\/s\/files\/1\/0508\/2592\/0676\/products\/Sewing-machine-airplane-ruler_03.jpg?v=1624611257","\/\/cdn.shopify.com\/s\/files\/1\/0508\/2592\/0676\/products\/Sewing-machine-airplane-ruler_04.jpg?v=1624611257","\/\/cdn.shopify.com\/s\/files\/1\/0508\/2592\/0676\/products\/Sewing-machine-airplane-ruler_05.jpg?v=1624611257","\/\/cdn.shopify.com\/s\/files\/1\/0508\/2592\/0676\/products\/Sewing-machine-airplane-ruler_06.jpg?v=1624611257","\/\/cdn.shopify.com\/s\/files\/1\/0508\/2592\/0676\/products\/Sewing-machine-airplane-ruler_07.jpg?v=1624611257","\/\/cdn.shopify.com\/s\/files\/1\/0508\/2592\/0676\/products\/Sewing-machine-airplane-ruler_08.jpg?v=1624611257"],"featured_image":"\/\/cdn.shopify.com\/s\/files\/1\/0508\/2592\/0676\/products\/Sewing-machine-airplane-ruler_01.jpg?v=1624611257","options":["Title"],"media":[{"alt":null,"id":22099120357540,"position":1,"preview_image":{"aspect_ratio":1.0,"height":800,"width":800,"src":"https:\/\/cdn.shopify.com\/s\/files\/1\/0508\/2592\/0676\/products\/Sewing-machine-airplane-ruler_01.jpg?v=1624611257"},"aspect_ratio":1.0,"height":800,"media_type":"image","src":"https:\/\/cdn.shopify.com\/s\/files\/1\/0508\/2592\/0676\/products\/Sewing-machine-airplane-ruler_01.jpg?v=1624611257","width":800},{"alt":null,"id":22099120390308,"position":2,"preview_image":{"aspect_ratio":1.0,"height":800,"width":800,"src":"https:\/\/cdn.shopify.com\/s\/files\/1\/0508\/2592\/0676\/products\/Sewing-machine-airplane-ruler_02.jpg?v=1624611257"},"aspect_ratio":1.0,"height":800,"media_type":"image","src":"https:\/\/cdn.shopify.com\/s\/files\/1\/0508\/2592\/0676\/products\/Sewing-machine-airplane-ruler_02.jpg?v=1624611257","width":800},{"alt":null,"id":22099120423076,"position":3,"preview_image":{"aspect_ratio":1.0,"height":800,"width":800,"src":"https:\/\/cdn.shopify.com\/s\/files\/1\/0508\/2592\/0676\/products\/Sewing-machine-airplane-ruler_03.jpg?v=1624611257"},"aspect_ratio":1.0,"height":800,"media_type":"image","src":"https:\/\/cdn.shopify.com\/s\/files\/1\/0508\/2592\/0676\/products\/Sewing-machine-airplane-ruler_03.jpg?v=1624611257","width":800},{"alt":null,"id":22099120455844,"position":4,"preview_image":{"aspect_ratio":1.0,"height":800,"width":800,"src":"https:\/\/cdn.shopify.com\/s\/files\/1\/0508\/2592\/0676\/products\/Sewing-machine-airplane-ruler_04.jpg?v=1624611257"},"aspect_ratio":1.0,"height":800,"media_type":"image","src":"https:\/\/cdn.shopify.com\/s\/files\/1\/0508\/2592\/0676\/products\/Sewing-machine-airplane-ruler_04.jpg?v=1624611257","width":800},{"alt":null,"id":22099120488612,"position":5,"preview_image":{"aspect_ratio":1.0,"height":800,"width":800,"src":"https:\/\/cdn.shopify.com\/s\/files\/1\/0508\/2592\/0676\/products\/Sewing-machine-airplane-ruler_05.jpg?v=1624611257"},"aspect_ratio":1.0,"height":800,"media_type":"image","src":"https:\/\/cdn.shopify.com\/s\/files\/1\/0508\/2592\/0676\/products\/Sewing-machine-airplane-ruler_05.jpg?v=1624611257","width":800},{"alt":null,"id":22099120521380,"position":6,"preview_image":{"aspect_ratio":1.0,"height":800,"width":800,"src":"https:\/\/cdn.shopify.com\/s\/files\/1\/0508\/2592\/0676\/products\/Sewing-machine-airplane-ruler_06.jpg?v=1624611257"},"aspect_ratio":1.0,"height":800,"media_type":"image","src":"https:\/\/cdn.shopify.com\/s\/files\/1\/0508\/2592\/0676\/products\/Sewing-machine-airplane-ruler_06.jpg?v=1624611257","width":800},{"alt":null,"id":22099120554148,"position":7,"preview_image":{"aspect_ratio":1.0,"height":800,"width":800,"src":"https:\/\/cdn.shopify.com\/s\/files\/1\/0508\/2592\/0676\/products\/Sewing-machine-airplane-ruler_07.jpg?v=1624611257"},"aspect_ratio":1.0,"height":800,"media_type":"image","src":"https:\/\/cdn.shopify.com\/s\/files\/1\/0508\/2592\/0676\/products\/Sewing-machine-airplane-ruler_07.jpg?v=1624611257","width":800},{"alt":null,"id":22099120586916,"position":8,"preview_image":{"aspect_ratio":1.0,"height":800,"width":800,"src":"https:\/\/cdn.shopify.com\/s\/files\/1\/0508\/2592\/0676\/products\/Sewing-machine-airplane-ruler_08.jpg?v=1624611257"},"aspect_ratio":1.0,"height":800,"media_type":"image","src":"https:\/\/cdn.shopify.com\/s\/files\/1\/0508\/2592\/0676\/products\/Sewing-machine-airplane-ruler_08.jpg?v=1624611257","width":800}],"requires_selling_plan":false,"selling_plan_groups":[],"content":"\u003cp style=\"text-align: center;\" data-mce-style=\"text-align: center;\"\u003e\u003cspan style=\"color: #00aaff;\" data-mce-style=\"color: #00aaff;\"\u003e\u003cstrong\u003eCreate Perfect \u0026amp; Beautiful Decorative Stitching Easily!\u003c\/strong\u003e\u003c\/span\u003e\u003c\/p\u003e\n\u003cp\u003e\u003cstrong\u003e\u003cimg alt=\"\" src=\"https:\/\/cdn.shopifycdn.net\/s\/files\/1\/0502\/3681\/7574\/files\/lAHPBFuNdfDnbgnNASzNASw_300_300_480x480.gif?v=1619423599\" style=\"display: block; margin-left: auto; margin-right: auto;\"\u003e\u003c\/strong\u003e\u003c\/p\u003e\n\u003cp\u003eAre you having difficulty creating uniform seams on a certain size? Well, use our premium airplane style ruler and create the ideal ideal seam every time!\u003cbr\u003e\u003cbr\u003eOur \u003cspan style=\"color: #cf1212;\"\u003eSeam edge guidance\u003c\/span\u003e\u003cspan style=\"color: #c11818;\" data-mce-style=\"color: #c11818;\"\u003e \u003c\/span\u003eis ideal for any sewing machine or project that requires continuous sewing. Install the ruler on the machine to help you press out the perfect sewing line! It is designed to fit any low-handle snap-on sewing machine to ensure that you can use it without any trouble or compatibility issues. Start sewing with our high-quality \u003cspan style=\"color: #ce1212;\"\u003eSeam edge guidance\u003c\/span\u003e, and you will immediately sew beautiful stitches!\u003cimg src=\"https:\/\/cdn.shopifycdn.net\/s\/files\/1\/0502\/3681\/7574\/files\/Sewing-machine-airplane-ruler_04_480x480.jpg?v=1619421399\" alt=\"\" style=\"display: block; margin-left: auto; margin-right: auto;\" data-mce-fragment=\"1\" data-mce-src=\"https:\/\/cdn.shopifycdn.net\/s\/files\/1\/0502\/3681\/7574\/files\/Sewing-machine-airplane-ruler_04_480x480.jpg?v=1619421399\"\u003e\u003c\/p\u003e\n\u003cp\u003e\u003cbr\u003e\u003c\/p\u003e\n\u003cp\u003e\u003cstrong\u003eFEATURES:\u003c\/strong\u003e\u003c\/p\u003e\n\u003cul\u003e\n\u003cli\u003eThe regulation is used for the cut-off when sewing garments, which can greatly\u003cstrong\u003e \u003cspan style=\"color: #ff8000;\" data-mce-style=\"color: #ff8000;\"\u003eimprove product quality and work efficiency.\u003c\/span\u003e\u003c\/strong\u003e\n\u003c\/li\u003e\n\u003cli\u003eIt helps guide you to perfect the topstitch sewing and decorative sewing.\u003c\/li\u003e\n\u003cli style=\"text-align: left;\"\u003eAfter stable installation,\u003cspan style=\"color: #00aaff;\" data-mce-style=\"color: #00aaff;\"\u003e\u003cstrong\u003e it is not easy to fall off,\u003c\/strong\u003e\u003c\/span\u003e the operation is convenient and simple, and it can be replaced at any time.\u003cimg alt=\"\" src=\"https:\/\/cdn.shopifycdn.net\/s\/files\/1\/0502\/3681\/7574\/files\/lAHPBGKoczp0DHrNASzNASw_300_300_480x480.gif?v=1619423675\" style=\"display: block; margin-left: auto; margin-right: auto;\"\u003e\n\u003c\/li\u003e\n\u003cli\u003eMade of \u003cspan style=\"color: #c725c7;\" data-mce-style=\"color: #c725c7;\"\u003e\u003cstrong\u003ehigh-quality stainless steel and reasonable specifications\u003c\/strong\u003e\u003c\/span\u003e, most sewing machines can be installed and used smoothly.\u003c\/li\u003e\n\u003cli\u003e\n\u003cspan style=\"color: #7cc435;\"\u003e\u003cstrong\u003eThis is a suitable gift!\u003c\/strong\u003e\u003c\/span\u003e When your family or friends are handmade sewing and DIY lovers, this airplane-shaped ruler is the best choice for gifts!\u003c\/li\u003e\n\u003c\/ul\u003e\n\u003cp\u003e\u003cimg alt=\"\" src=\"https:\/\/cdn.shopifycdn.net\/s\/files\/1\/0502\/3681\/7574\/files\/Sewing-machine-airplane-ruler_02_480x480.jpg?v=1619421442\" style=\"display: block; margin-left: auto; margin-right: auto;\"\u003e\u003c\/p\u003e\n\u003cp\u003e\u003cstrong\u003eSPECIFICATIONS:\u003c\/strong\u003e\u003c\/p\u003e\n\u003cul\u003e\n\u003cli\u003e\n\u003cstrong\u003eMaterial:\u003c\/strong\u003e\u003cspan\u003e Stainless Steel\u003c\/span\u003e\n\u003c\/li\u003e\n\u003cli\u003e\n\u003cstrong\u003eSize:\u003c\/strong\u003e\u003cspan\u003e 10\u003c\/span\u003ecm x 5cm x 2cm\u003c\/li\u003e\n\u003c\/ul\u003e\n\u003cp\u003e\u003cbr\u003e\u003c\/p\u003e\n\u003cp\u003e\u003cstrong\u003ePACKAGE INCLUDES:\u003c\/strong\u003e\u003c\/p\u003e\n\u003cul\u003e\n\u003cli\u003eSeam edge guidance*1\u003c\/li\u003e\n\u003c\/ul\u003e"}
Seam edge guidance
Product Description
Create Perfect & Beautiful Decorative Stitching Easily!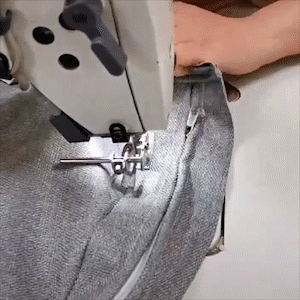 Are you having difficulty creating uniform seams on a certain size? Well, use our premium airplane style ruler and create the ideal ideal seam every time!

Our Seam edge guidance is ideal for any sewing machine or project that requires continuous sewing. Install the ruler on the machine to help you press out the perfect sewing line! It is designed to fit any low-handle snap-on sewing machine to ensure that you can use it without any trouble or compatibility issues. Start sewing with our high-quality Seam edge guidance, and you will immediately sew beautiful stitches!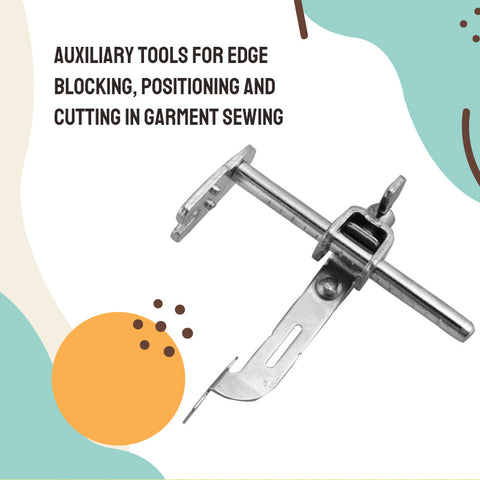 FEATURES:
The regulation is used for the cut-off when sewing garments, which can greatly

improve product quality and work efficiency.

It helps guide you to perfect the topstitch sewing and decorative sewing.
After stable installation, it is not easy to fall off, the operation is convenient and simple, and it can be replaced at any time.
Made of high-quality stainless steel and reasonable specifications, most sewing machines can be installed and used smoothly.
This is a suitable gift! When your family or friends are handmade sewing and DIY lovers, this airplane-shaped ruler is the best choice for gifts!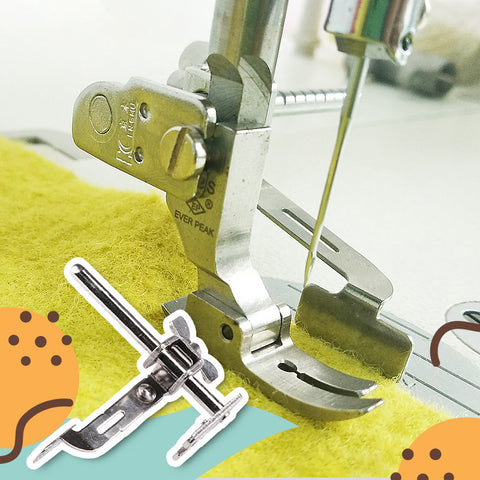 SPECIFICATIONS:
Material:

 Stainless Steel

Size:

 10

cm x 5cm x 2cm
PACKAGE INCLUDES:
Shipping:
We processes orders between Monday and Friday. Orders will be processed within 7 business days of ordering and shipped out the next day after the processing day. We don't ship on weekends.