{"id":7434570170589,"title":"Rhinestone butterfly four-tooth hairpin","handle":"rhinestone","description":"\u003cp style=\"text-align: center;\" data-mce-fragment=\"1\" data-mce-style=\"text-align: center;\"\u003e\u003cspan style=\"color: #d78b4d;\" data-mce-style=\"color: #d78b4d;\"\u003e\u003cstrong data-mce-fragment=\"1\"\u003e\u003cb data-mce-fragment=\"1\"\u003eWho wouldn't want to sparkle with a hand-crafted butterfly and diamond hair accessory this winter?\u003c\/b\u003e\u003c\/strong\u003e\u003c\/span\u003e\u003cstrong data-mce-fragment=\"1\"\u003e\u003cb data-mce-fragment=\"1\"\u003e\u003cbr data-mce-fragment=\"1\"\u003e\u003c\/b\u003e\u003c\/strong\u003e\u003cspan style=\"color: #8b7b6f;\"\u003e\u003cstrong data-mce-fragment=\"1\"\u003e\u003cb data-mce-fragment=\"1\"\u003eThe high-end hand-made butterfly sparkling rhinestone hair comb creates an elegant romance that belongs to you alone\u003c\/b\u003e\u003c\/strong\u003e\u003cstrong data-mce-fragment=\"1\"\u003e\u003cb data-mce-fragment=\"1\"\u003e.\u003c\/b\u003e\u003c\/strong\u003e\u003c\/span\u003e\u003c\/p\u003e\n\u003cp data-mce-fragment=\"1\"\u003e\u003cstrong data-mce-fragment=\"1\"\u003e\u003cb data-mce-fragment=\"1\"\u003e\u003cimg alt=\"\" src=\"https:\/\/cdn.shopifycdn.net\/s\/files\/1\/0589\/1440\/6575\/files\/01_1_480x480.gif?v=1636010728\" style=\"display: block; margin-left: auto; margin-right: auto;\" data-mce-src=\"https:\/\/cdn.shopifycdn.net\/s\/files\/1\/0589\/1440\/6575\/files\/01_1_480x480.gif?v=1636010728\" data-mce-style=\"display: block; margin-left: auto; margin-right: auto;\"\u003e\u003c\/b\u003e\u003c\/strong\u003e\u003c\/p\u003e\n\u003cspan style=\"font-size: 1.4em; color: #8b7b6f;\"\u003e\u003cstrong\u003eProduct description\u003c\/strong\u003e\u003c\/span\u003e\u003cbr\u003e\n\u003cul\u003e\n\u003cli\u003e\u003cspan style=\"color: #d78b4d;\" data-mce-style=\"color: #d78b4d;\"\u003e\u003cstrong\u003e\u003cb\u003eElegance never goes out of style\u003c\/b\u003e\u003c\/strong\u003e\u003c\/span\u003e\u003c\/li\u003e\n\u003c\/ul\u003e\n\u003cp\u003e\u003cstrong\u003e\u003cb\u003eThe high-end water drill that manual enchase, shining broken drill is all around\u003c\/b\u003e\u003c\/strong\u003e, combine clever butterfly\u003cstrong\u003e\u003cb\u003e with\u003c\/b\u003e\u003c\/strong\u003e\u003cstrong\u003e\u003cb\u003e that is shape with natural butterfly is acted the role of to bring you never outdated elegant romance. \u003c\/b\u003e\u003c\/strong\u003eColorful rhinestones of different colors sparkle under the lights to make you stand out from the crowd.\u003c\/p\u003e\n\u003cp\u003e\u003cimg alt=\"\" src=\"https:\/\/cdn.shopifycdn.net\/s\/files\/1\/0589\/1440\/6575\/files\/0133_480x480.gif?v=1636010961\" style=\"display: block; margin-left: auto; margin-right: auto;\"\u003e\u003c\/p\u003e\n\u003cul\u003e\n\u003cli\u003e\u003cspan style=\"color: #d78b4d;\" data-mce-style=\"color: #d78b4d;\"\u003e\u003cstrong\u003e\u003cb\u003eDIY all sorts of modelling at will\u003c\/b\u003e\u003c\/strong\u003e\u003c\/span\u003e\u003c\/li\u003e\n\u003c\/ul\u003e\n\u003cp\u003eIf you \u003cstrong\u003e\u003cb\u003euse it in complicated hairstyles\u003c\/b\u003e\u003c\/strong\u003e, that can \u003cstrong\u003e\u003cb\u003emake you look more glamorous,\u003c\/b\u003e\u003c\/strong\u003e and if you \u003cstrong\u003e\u003cb\u003esimply use it in a twist\u003c\/b\u003e\u003c\/strong\u003e, that can \u003cstrong\u003e\u003cb\u003emake you look elegant and casual\u003c\/b\u003e\u003c\/strong\u003e. It's easy to put hair in and out, but use extra pins to hold it in place just in case.\u003c\/p\u003e\n\u003cp\u003e\u003cimg alt=\"\" src=\"https:\/\/cdn.shopifycdn.net\/s\/files\/1\/0589\/1440\/6575\/files\/01_7bab9817-b9cf-4bae-ba99-f50f52d0f631_480x480.gif?v=1636011013\" style=\"display: block; margin-left: auto; margin-right: auto;\"\u003e\u003c\/p\u003e\n\u003cul\u003e\n\u003cli\u003e\u003cspan style=\"color: #d78b4d;\" data-mce-style=\"color: #d78b4d;\"\u003e\u003cstrong\u003e\u003cb\u003eExpensive raw materials, made with heart\u003c\/b\u003e\u003c\/strong\u003e\u003c\/span\u003e\u003c\/li\u003e\n\u003c\/ul\u003e\n\u003cp\u003e\u003cstrong\u003e\u003cb\u003eEach rhinestone is carefully selected\u003c\/b\u003e\u003c\/strong\u003e, with many facets, strong sense of refraction, and more shiny and dazzling.\u003cstrong\u003e\u003cb\u003e Artificial careful production for many times\u003c\/b\u003e\u003c\/strong\u003e, reduce the degree of defects, \u003cstrong\u003e\u003cb\u003ethe use of artificial polishing\u003c\/b\u003e\u003c\/strong\u003e, smoother surface, stronger texture.\u003c\/p\u003e\n\u003cp\u003e\u003cimg alt=\"\" src=\"https:\/\/cdn.shopifycdn.net\/s\/files\/1\/0589\/1440\/6575\/files\/ia_300000016_480x480.jpg?v=1636011106\" style=\"display: block; margin-left: auto; margin-right: auto;\"\u003e\u003c\/p\u003e\n\u003cul\u003e\n\u003cli\u003e\u003cspan style=\"color: #d78b4d;\" data-mce-style=\"color: #d78b4d;\"\u003e\u003cstrong\u003e\u003cb\u003eEasy to use\u003c\/b\u003e\u003c\/strong\u003e\u003c\/span\u003e\u003c\/li\u003e\n\u003c\/ul\u003e\n\u003cp\u003e\u003cstrong\u003e\u003cb\u003eDo not need the rubber band can easily twist the hair\u003c\/b\u003e\u003c\/strong\u003e, pull the hair, can very well fix the hair, \u003cstrong\u003e\u003cb\u003edo not damage the hair, scalp, also will not slip. Suitable for all hairstyles\u003c\/b\u003e\u003c\/strong\u003e. It can be used to anchor thin or thick hair and add a touch to your look.\u003c\/p\u003e\n\u003cp\u003e\u003cimg alt=\"\" src=\"https:\/\/cdn.shopifycdn.net\/s\/files\/1\/0589\/1440\/6575\/files\/ia_300000011_480x480.jpg?v=1636011155\" style=\"display: block; margin-left: auto; margin-right: auto;\"\u003e\u003c\/p\u003e\n\u003cul\u003e\n\u003cli\u003e\u003cspan style=\"color: #d78b4d;\" data-mce-style=\"color: #d78b4d;\"\u003e\u003cstrong\u003e\u003cb\u003eThe perfect gift for any occasion\u003c\/b\u003e\u003c\/strong\u003e\u003c\/span\u003e\u003c\/li\u003e\n\u003c\/ul\u003e\n\u003cp\u003eThis hair pin is a perfect decorative hair accessory. The simple but exquisite design makes it charming and elegant, \u003cstrong\u003e\u003cb\u003esuitable for daily wear, party, etc., easy to matching many styles of clothes\u003c\/b\u003e\u003c\/strong\u003e. It is also a great gift for your mother, daughter, girlfriend, etc. in special moment and occasions.\u003c\/p\u003e\n\u003cp\u003e\u003cimg alt=\"\" src=\"https:\/\/cdn.shopifycdn.net\/s\/files\/1\/0589\/1440\/6575\/files\/ia_300000012_480x480.jpg?v=1636011184\" style=\"display: block; margin-left: auto; margin-right: auto;\"\u003e\u003c\/p\u003e\n\u003cp\u003e\u003cspan style=\"color: #8b7b6f;\"\u003e\u003cstrong\u003e\u003cb\u003eNoble and elegant teaching\u003c\/b\u003e\u003c\/strong\u003e\u003c\/span\u003e\u003cbr\u003e1. Tie all hair together and tie it with a piece of string\u003cbr\u003ePull your hair up and to the right\u003cbr\u003e3. Twist hair clockwise into a bun shape\u003cbr\u003e4. Tuck the ends into the cord and secure\u003cbr\u003e5. Hold your hair with your left hand and secure it with your right hand\u003cbr\u003e6. Plug in your butterfly comb\u003c\/p\u003e\n\u003cp\u003e\u003cimg alt=\"\" src=\"https:\/\/cdn.shopifycdn.net\/s\/files\/1\/0589\/1440\/6575\/files\/5_58264eff-a04d-49b5-97bf-6ae897904dd3_480x480.jpg?v=1636011209\" style=\"display: block; margin-left: auto; margin-right: auto;\"\u003e\u003c\/p\u003e\n\u003cul\u003e\n\u003cli\u003e\n\u003cb\u003e\u003cspan\u003e\u003c\/span\u003e\u003c\/b\u003e\u003cspan style=\"color: #d78b4d;\"\u003e\u003cstrong\u003e\u003cb\u003eFeatures\u003c\/b\u003e\u003c\/strong\u003e\u003c\/span\u003e\u003cbr\u003e\u003cbr\u003e- Color: Blue.Champagne, Violet, Gray, Colours\u003cbr\u003e- Material: Rhinestone \u0026amp; Alloy.\u003cbr\u003e- Size: About5 * 9.3 cm.\u003c\/li\u003e\n\u003cli\u003e\u003cspan style=\"color: #b37547;\"\u003e\u003cstrong\u003eReal PICS\u003c\/strong\u003e\u003c\/span\u003e\u003c\/li\u003e\n\u003c\/ul\u003e\n\u003cstrong style=\"color: #b37547; font-size: 1.4em;\"\u003e\u003cimg alt=\"\" src=\"https:\/\/cdn.shopifycdn.net\/s\/files\/1\/0589\/1440\/6575\/files\/B4FE411C-486F-465d-9BD8-1333BA1AF977_480x480.jpg?v=1636012467\" style=\"display: block; margin-left: auto; margin-right: auto;\"\u003e\u003c\/strong\u003e\n\u003cul\u003e\u003c\/ul\u003e\n\u003cp\u003e\u003cspan style=\"color: #8b7b6f;\"\u003e\u003cstrong\u003e\u003cb\u003ePackage Including\u003c\/b\u003e\u003c\/strong\u003e\u003c\/span\u003e\u003cbr\u003e1 x hair pin\u003c\/p\u003e\n\u003cp\u003e\u003cspan style=\"color: #8b7b6f;\"\u003e\u003cstrong\u003e\u003cb\u003eWarm Tip:\u003c\/b\u003e\u003c\/strong\u003e\u003c\/span\u003e\u003c\/p\u003e\n\u003cp\u003eDear buyer, due to lighting effect, monitor's brightness, manual measurement, etc., there could be some slight differences in the color and size between the photo and the actual item. Sincerely hope that you can understand! Thank you!\u003c\/p\u003e\n\u003cp\u003e \u003c\/p\u003e\n\u003cp data-mce-fragment=\"1\"\u003e\u003cstrong data-mce-fragment=\"1\"\u003e\u003cbr\u003e\u003c\/strong\u003e\u003c\/p\u003e","published_at":"2021-11-05T16:55:46+08:00","created_at":"2021-11-05T16:55:46+08:00","vendor":"solegg","type":"Houseware \u0026 Kitchen","tags":[],"price":999,"price_min":999,"price_max":999,"available":true,"price_varies":false,"compare_at_price":0,"compare_at_price_min":0,"compare_at_price_max":0,"compare_at_price_varies":false,"variants":[{"id":42006012297437,"title":"Champagne","option1":"Champagne","option2":null,"option3":null,"sku":"LG22148568XBJ","requires_shipping":true,"taxable":false,"featured_image":{"id":33436019359965,"product_id":7434570170589,"position":1,"created_at":"2021-11-05T16:55:46+08:00","updated_at":"2021-11-05T16:55:46+08:00","alt":null,"width":700,"height":700,"src":"https:\/\/cdn.shopify.com\/s\/files\/1\/0508\/2592\/0676\/products\/01_5627a448-fc95-4a94-ac13-17eebb2370ae.gif?v=1636102546","variant_ids":[42006012297437]},"available":true,"name":"Rhinestone butterfly four-tooth hairpin - Champagne","public_title":"Champagne","options":["Champagne"],"price":999,"weight":0,"compare_at_price":0,"inventory_management":null,"barcode":null,"featured_media":{"alt":null,"id":25720709644509,"position":1,"preview_image":{"aspect_ratio":1.0,"height":700,"width":700,"src":"https:\/\/cdn.shopify.com\/s\/files\/1\/0508\/2592\/0676\/products\/01_5627a448-fc95-4a94-ac13-17eebb2370ae.gif?v=1636102546"}},"requires_selling_plan":false,"selling_plan_allocations":[]},{"id":42006012330205,"title":"Violet","option1":"Violet","option2":null,"option3":null,"sku":"LG22148568ZIS","requires_shipping":true,"taxable":false,"featured_image":{"id":33436019589341,"product_id":7434570170589,"position":8,"created_at":"2021-11-05T16:55:46+08:00","updated_at":"2021-11-05T16:55:46+08:00","alt":null,"width":800,"height":800,"src":"https:\/\/cdn.shopify.com\/s\/files\/1\/0508\/2592\/0676\/products\/8_3cbf3156-1c1c-4b9a-98f8-339adee5a713.jpg?v=1636102546","variant_ids":[42006012330205,42006012362973,42006012395741,42006012428509]},"available":true,"name":"Rhinestone butterfly four-tooth hairpin - Violet","public_title":"Violet","options":["Violet"],"price":999,"weight":0,"compare_at_price":0,"inventory_management":null,"barcode":null,"featured_media":{"alt":null,"id":25720709873885,"position":8,"preview_image":{"aspect_ratio":1.0,"height":800,"width":800,"src":"https:\/\/cdn.shopify.com\/s\/files\/1\/0508\/2592\/0676\/products\/8_3cbf3156-1c1c-4b9a-98f8-339adee5a713.jpg?v=1636102546"}},"requires_selling_plan":false,"selling_plan_allocations":[]},{"id":42006012362973,"title":"Blue","option1":"Blue","option2":null,"option3":null,"sku":"LG22148568LAN","requires_shipping":true,"taxable":false,"featured_image":{"id":33436019589341,"product_id":7434570170589,"position":8,"created_at":"2021-11-05T16:55:46+08:00","updated_at":"2021-11-05T16:55:46+08:00","alt":null,"width":800,"height":800,"src":"https:\/\/cdn.shopify.com\/s\/files\/1\/0508\/2592\/0676\/products\/8_3cbf3156-1c1c-4b9a-98f8-339adee5a713.jpg?v=1636102546","variant_ids":[42006012330205,42006012362973,42006012395741,42006012428509]},"available":true,"name":"Rhinestone butterfly four-tooth hairpin - Blue","public_title":"Blue","options":["Blue"],"price":999,"weight":0,"compare_at_price":0,"inventory_management":null,"barcode":null,"featured_media":{"alt":null,"id":25720709873885,"position":8,"preview_image":{"aspect_ratio":1.0,"height":800,"width":800,"src":"https:\/\/cdn.shopify.com\/s\/files\/1\/0508\/2592\/0676\/products\/8_3cbf3156-1c1c-4b9a-98f8-339adee5a713.jpg?v=1636102546"}},"requires_selling_plan":false,"selling_plan_allocations":[]},{"id":42006012395741,"title":"Gray","option1":"Gray","option2":null,"option3":null,"sku":"LG22148568HUI","requires_shipping":true,"taxable":false,"featured_image":{"id":33436019589341,"product_id":7434570170589,"position":8,"created_at":"2021-11-05T16:55:46+08:00","updated_at":"2021-11-05T16:55:46+08:00","alt":null,"width":800,"height":800,"src":"https:\/\/cdn.shopify.com\/s\/files\/1\/0508\/2592\/0676\/products\/8_3cbf3156-1c1c-4b9a-98f8-339adee5a713.jpg?v=1636102546","variant_ids":[42006012330205,42006012362973,42006012395741,42006012428509]},"available":true,"name":"Rhinestone butterfly four-tooth hairpin - Gray","public_title":"Gray","options":["Gray"],"price":999,"weight":0,"compare_at_price":0,"inventory_management":null,"barcode":null,"featured_media":{"alt":null,"id":25720709873885,"position":8,"preview_image":{"aspect_ratio":1.0,"height":800,"width":800,"src":"https:\/\/cdn.shopify.com\/s\/files\/1\/0508\/2592\/0676\/products\/8_3cbf3156-1c1c-4b9a-98f8-339adee5a713.jpg?v=1636102546"}},"requires_selling_plan":false,"selling_plan_allocations":[]},{"id":42006012428509,"title":"Colours","option1":"Colours","option2":null,"option3":null,"sku":"LG22148568XCS","requires_shipping":true,"taxable":false,"featured_image":{"id":33436019589341,"product_id":7434570170589,"position":8,"created_at":"2021-11-05T16:55:46+08:00","updated_at":"2021-11-05T16:55:46+08:00","alt":null,"width":800,"height":800,"src":"https:\/\/cdn.shopify.com\/s\/files\/1\/0508\/2592\/0676\/products\/8_3cbf3156-1c1c-4b9a-98f8-339adee5a713.jpg?v=1636102546","variant_ids":[42006012330205,42006012362973,42006012395741,42006012428509]},"available":true,"name":"Rhinestone butterfly four-tooth hairpin - Colours","public_title":"Colours","options":["Colours"],"price":999,"weight":0,"compare_at_price":0,"inventory_management":null,"barcode":null,"featured_media":{"alt":null,"id":25720709873885,"position":8,"preview_image":{"aspect_ratio":1.0,"height":800,"width":800,"src":"https:\/\/cdn.shopify.com\/s\/files\/1\/0508\/2592\/0676\/products\/8_3cbf3156-1c1c-4b9a-98f8-339adee5a713.jpg?v=1636102546"}},"requires_selling_plan":false,"selling_plan_allocations":[]}],"images":["\/\/cdn.shopify.com\/s\/files\/1\/0508\/2592\/0676\/products\/01_5627a448-fc95-4a94-ac13-17eebb2370ae.gif?v=1636102546","\/\/cdn.shopify.com\/s\/files\/1\/0508\/2592\/0676\/products\/2_496294d0-c8ae-4aff-bdef-4b00e4c63408.jpg?v=1636102546","\/\/cdn.shopify.com\/s\/files\/1\/0508\/2592\/0676\/products\/4-1_4b132b68-f428-402a-b0f4-ac5ce010d615.jpg?v=1636102546","\/\/cdn.shopify.com\/s\/files\/1\/0508\/2592\/0676\/products\/3_c404d865-569e-45ab-bacd-23ba3e0cb740.jpg?v=1636102546","\/\/cdn.shopify.com\/s\/files\/1\/0508\/2592\/0676\/products\/5_5baa040b-d5ac-438c-a26b-46d6018a391d.jpg?v=1636102546","\/\/cdn.shopify.com\/s\/files\/1\/0508\/2592\/0676\/products\/7_6fb9c869-308a-48c4-a072-d9ab795670ed.jpg?v=1636102546","\/\/cdn.shopify.com\/s\/files\/1\/0508\/2592\/0676\/products\/ia_300000005.jpg?v=1636102546","\/\/cdn.shopify.com\/s\/files\/1\/0508\/2592\/0676\/products\/8_3cbf3156-1c1c-4b9a-98f8-339adee5a713.jpg?v=1636102546","\/\/cdn.shopify.com\/s\/files\/1\/0508\/2592\/0676\/products\/6_edeedc32-9e50-47d0-a6ff-56b60679bfcf.jpg?v=1636102546"],"featured_image":"\/\/cdn.shopify.com\/s\/files\/1\/0508\/2592\/0676\/products\/01_5627a448-fc95-4a94-ac13-17eebb2370ae.gif?v=1636102546","options":["Color"],"media":[{"alt":null,"id":25720709644509,"position":1,"preview_image":{"aspect_ratio":1.0,"height":700,"width":700,"src":"https:\/\/cdn.shopify.com\/s\/files\/1\/0508\/2592\/0676\/products\/01_5627a448-fc95-4a94-ac13-17eebb2370ae.gif?v=1636102546"},"aspect_ratio":1.0,"height":700,"media_type":"image","src":"https:\/\/cdn.shopify.com\/s\/files\/1\/0508\/2592\/0676\/products\/01_5627a448-fc95-4a94-ac13-17eebb2370ae.gif?v=1636102546","width":700},{"alt":null,"id":25720709677277,"position":2,"preview_image":{"aspect_ratio":1.0,"height":800,"width":800,"src":"https:\/\/cdn.shopify.com\/s\/files\/1\/0508\/2592\/0676\/products\/2_496294d0-c8ae-4aff-bdef-4b00e4c63408.jpg?v=1636102546"},"aspect_ratio":1.0,"height":800,"media_type":"image","src":"https:\/\/cdn.shopify.com\/s\/files\/1\/0508\/2592\/0676\/products\/2_496294d0-c8ae-4aff-bdef-4b00e4c63408.jpg?v=1636102546","width":800},{"alt":null,"id":25720709710045,"position":3,"preview_image":{"aspect_ratio":1.0,"height":800,"width":800,"src":"https:\/\/cdn.shopify.com\/s\/files\/1\/0508\/2592\/0676\/products\/4-1_4b132b68-f428-402a-b0f4-ac5ce010d615.jpg?v=1636102546"},"aspect_ratio":1.0,"height":800,"media_type":"image","src":"https:\/\/cdn.shopify.com\/s\/files\/1\/0508\/2592\/0676\/products\/4-1_4b132b68-f428-402a-b0f4-ac5ce010d615.jpg?v=1636102546","width":800},{"alt":null,"id":25720709742813,"position":4,"preview_image":{"aspect_ratio":1.0,"height":800,"width":800,"src":"https:\/\/cdn.shopify.com\/s\/files\/1\/0508\/2592\/0676\/products\/3_c404d865-569e-45ab-bacd-23ba3e0cb740.jpg?v=1636102546"},"aspect_ratio":1.0,"height":800,"media_type":"image","src":"https:\/\/cdn.shopify.com\/s\/files\/1\/0508\/2592\/0676\/products\/3_c404d865-569e-45ab-bacd-23ba3e0cb740.jpg?v=1636102546","width":800},{"alt":null,"id":25720709775581,"position":5,"preview_image":{"aspect_ratio":1.0,"height":800,"width":800,"src":"https:\/\/cdn.shopify.com\/s\/files\/1\/0508\/2592\/0676\/products\/5_5baa040b-d5ac-438c-a26b-46d6018a391d.jpg?v=1636102546"},"aspect_ratio":1.0,"height":800,"media_type":"image","src":"https:\/\/cdn.shopify.com\/s\/files\/1\/0508\/2592\/0676\/products\/5_5baa040b-d5ac-438c-a26b-46d6018a391d.jpg?v=1636102546","width":800},{"alt":null,"id":25720709808349,"position":6,"preview_image":{"aspect_ratio":1.0,"height":800,"width":800,"src":"https:\/\/cdn.shopify.com\/s\/files\/1\/0508\/2592\/0676\/products\/7_6fb9c869-308a-48c4-a072-d9ab795670ed.jpg?v=1636102546"},"aspect_ratio":1.0,"height":800,"media_type":"image","src":"https:\/\/cdn.shopify.com\/s\/files\/1\/0508\/2592\/0676\/products\/7_6fb9c869-308a-48c4-a072-d9ab795670ed.jpg?v=1636102546","width":800},{"alt":null,"id":25720709841117,"position":7,"preview_image":{"aspect_ratio":1.0,"height":800,"width":800,"src":"https:\/\/cdn.shopify.com\/s\/files\/1\/0508\/2592\/0676\/products\/ia_300000005.jpg?v=1636102546"},"aspect_ratio":1.0,"height":800,"media_type":"image","src":"https:\/\/cdn.shopify.com\/s\/files\/1\/0508\/2592\/0676\/products\/ia_300000005.jpg?v=1636102546","width":800},{"alt":null,"id":25720709873885,"position":8,"preview_image":{"aspect_ratio":1.0,"height":800,"width":800,"src":"https:\/\/cdn.shopify.com\/s\/files\/1\/0508\/2592\/0676\/products\/8_3cbf3156-1c1c-4b9a-98f8-339adee5a713.jpg?v=1636102546"},"aspect_ratio":1.0,"height":800,"media_type":"image","src":"https:\/\/cdn.shopify.com\/s\/files\/1\/0508\/2592\/0676\/products\/8_3cbf3156-1c1c-4b9a-98f8-339adee5a713.jpg?v=1636102546","width":800},{"alt":null,"id":25720709906653,"position":9,"preview_image":{"aspect_ratio":1.0,"height":800,"width":800,"src":"https:\/\/cdn.shopify.com\/s\/files\/1\/0508\/2592\/0676\/products\/6_edeedc32-9e50-47d0-a6ff-56b60679bfcf.jpg?v=1636102546"},"aspect_ratio":1.0,"height":800,"media_type":"image","src":"https:\/\/cdn.shopify.com\/s\/files\/1\/0508\/2592\/0676\/products\/6_edeedc32-9e50-47d0-a6ff-56b60679bfcf.jpg?v=1636102546","width":800}],"requires_selling_plan":false,"selling_plan_groups":[],"content":"\u003cp style=\"text-align: center;\" data-mce-fragment=\"1\" data-mce-style=\"text-align: center;\"\u003e\u003cspan style=\"color: #d78b4d;\" data-mce-style=\"color: #d78b4d;\"\u003e\u003cstrong data-mce-fragment=\"1\"\u003e\u003cb data-mce-fragment=\"1\"\u003eWho wouldn't want to sparkle with a hand-crafted butterfly and diamond hair accessory this winter?\u003c\/b\u003e\u003c\/strong\u003e\u003c\/span\u003e\u003cstrong data-mce-fragment=\"1\"\u003e\u003cb data-mce-fragment=\"1\"\u003e\u003cbr data-mce-fragment=\"1\"\u003e\u003c\/b\u003e\u003c\/strong\u003e\u003cspan style=\"color: #8b7b6f;\"\u003e\u003cstrong data-mce-fragment=\"1\"\u003e\u003cb data-mce-fragment=\"1\"\u003eThe high-end hand-made butterfly sparkling rhinestone hair comb creates an elegant romance that belongs to you alone\u003c\/b\u003e\u003c\/strong\u003e\u003cstrong data-mce-fragment=\"1\"\u003e\u003cb data-mce-fragment=\"1\"\u003e.\u003c\/b\u003e\u003c\/strong\u003e\u003c\/span\u003e\u003c\/p\u003e\n\u003cp data-mce-fragment=\"1\"\u003e\u003cstrong data-mce-fragment=\"1\"\u003e\u003cb data-mce-fragment=\"1\"\u003e\u003cimg alt=\"\" src=\"https:\/\/cdn.shopifycdn.net\/s\/files\/1\/0589\/1440\/6575\/files\/01_1_480x480.gif?v=1636010728\" style=\"display: block; margin-left: auto; margin-right: auto;\" data-mce-src=\"https:\/\/cdn.shopifycdn.net\/s\/files\/1\/0589\/1440\/6575\/files\/01_1_480x480.gif?v=1636010728\" data-mce-style=\"display: block; margin-left: auto; margin-right: auto;\"\u003e\u003c\/b\u003e\u003c\/strong\u003e\u003c\/p\u003e\n\u003cspan style=\"font-size: 1.4em; color: #8b7b6f;\"\u003e\u003cstrong\u003eProduct description\u003c\/strong\u003e\u003c\/span\u003e\u003cbr\u003e\n\u003cul\u003e\n\u003cli\u003e\u003cspan style=\"color: #d78b4d;\" data-mce-style=\"color: #d78b4d;\"\u003e\u003cstrong\u003e\u003cb\u003eElegance never goes out of style\u003c\/b\u003e\u003c\/strong\u003e\u003c\/span\u003e\u003c\/li\u003e\n\u003c\/ul\u003e\n\u003cp\u003e\u003cstrong\u003e\u003cb\u003eThe high-end water drill that manual enchase, shining broken drill is all around\u003c\/b\u003e\u003c\/strong\u003e, combine clever butterfly\u003cstrong\u003e\u003cb\u003e with\u003c\/b\u003e\u003c\/strong\u003e\u003cstrong\u003e\u003cb\u003e that is shape with natural butterfly is acted the role of to bring you never outdated elegant romance. \u003c\/b\u003e\u003c\/strong\u003eColorful rhinestones of different colors sparkle under the lights to make you stand out from the crowd.\u003c\/p\u003e\n\u003cp\u003e\u003cimg alt=\"\" src=\"https:\/\/cdn.shopifycdn.net\/s\/files\/1\/0589\/1440\/6575\/files\/0133_480x480.gif?v=1636010961\" style=\"display: block; margin-left: auto; margin-right: auto;\"\u003e\u003c\/p\u003e\n\u003cul\u003e\n\u003cli\u003e\u003cspan style=\"color: #d78b4d;\" data-mce-style=\"color: #d78b4d;\"\u003e\u003cstrong\u003e\u003cb\u003eDIY all sorts of modelling at will\u003c\/b\u003e\u003c\/strong\u003e\u003c\/span\u003e\u003c\/li\u003e\n\u003c\/ul\u003e\n\u003cp\u003eIf you \u003cstrong\u003e\u003cb\u003euse it in complicated hairstyles\u003c\/b\u003e\u003c\/strong\u003e, that can \u003cstrong\u003e\u003cb\u003emake you look more glamorous,\u003c\/b\u003e\u003c\/strong\u003e and if you \u003cstrong\u003e\u003cb\u003esimply use it in a twist\u003c\/b\u003e\u003c\/strong\u003e, that can \u003cstrong\u003e\u003cb\u003emake you look elegant and casual\u003c\/b\u003e\u003c\/strong\u003e. It's easy to put hair in and out, but use extra pins to hold it in place just in case.\u003c\/p\u003e\n\u003cp\u003e\u003cimg alt=\"\" src=\"https:\/\/cdn.shopifycdn.net\/s\/files\/1\/0589\/1440\/6575\/files\/01_7bab9817-b9cf-4bae-ba99-f50f52d0f631_480x480.gif?v=1636011013\" style=\"display: block; margin-left: auto; margin-right: auto;\"\u003e\u003c\/p\u003e\n\u003cul\u003e\n\u003cli\u003e\u003cspan style=\"color: #d78b4d;\" data-mce-style=\"color: #d78b4d;\"\u003e\u003cstrong\u003e\u003cb\u003eExpensive raw materials, made with heart\u003c\/b\u003e\u003c\/strong\u003e\u003c\/span\u003e\u003c\/li\u003e\n\u003c\/ul\u003e\n\u003cp\u003e\u003cstrong\u003e\u003cb\u003eEach rhinestone is carefully selected\u003c\/b\u003e\u003c\/strong\u003e, with many facets, strong sense of refraction, and more shiny and dazzling.\u003cstrong\u003e\u003cb\u003e Artificial careful production for many times\u003c\/b\u003e\u003c\/strong\u003e, reduce the degree of defects, \u003cstrong\u003e\u003cb\u003ethe use of artificial polishing\u003c\/b\u003e\u003c\/strong\u003e, smoother surface, stronger texture.\u003c\/p\u003e\n\u003cp\u003e\u003cimg alt=\"\" src=\"https:\/\/cdn.shopifycdn.net\/s\/files\/1\/0589\/1440\/6575\/files\/ia_300000016_480x480.jpg?v=1636011106\" style=\"display: block; margin-left: auto; margin-right: auto;\"\u003e\u003c\/p\u003e\n\u003cul\u003e\n\u003cli\u003e\u003cspan style=\"color: #d78b4d;\" data-mce-style=\"color: #d78b4d;\"\u003e\u003cstrong\u003e\u003cb\u003eEasy to use\u003c\/b\u003e\u003c\/strong\u003e\u003c\/span\u003e\u003c\/li\u003e\n\u003c\/ul\u003e\n\u003cp\u003e\u003cstrong\u003e\u003cb\u003eDo not need the rubber band can easily twist the hair\u003c\/b\u003e\u003c\/strong\u003e, pull the hair, can very well fix the hair, \u003cstrong\u003e\u003cb\u003edo not damage the hair, scalp, also will not slip. Suitable for all hairstyles\u003c\/b\u003e\u003c\/strong\u003e. It can be used to anchor thin or thick hair and add a touch to your look.\u003c\/p\u003e\n\u003cp\u003e\u003cimg alt=\"\" src=\"https:\/\/cdn.shopifycdn.net\/s\/files\/1\/0589\/1440\/6575\/files\/ia_300000011_480x480.jpg?v=1636011155\" style=\"display: block; margin-left: auto; margin-right: auto;\"\u003e\u003c\/p\u003e\n\u003cul\u003e\n\u003cli\u003e\u003cspan style=\"color: #d78b4d;\" data-mce-style=\"color: #d78b4d;\"\u003e\u003cstrong\u003e\u003cb\u003eThe perfect gift for any occasion\u003c\/b\u003e\u003c\/strong\u003e\u003c\/span\u003e\u003c\/li\u003e\n\u003c\/ul\u003e\n\u003cp\u003eThis hair pin is a perfect decorative hair accessory. The simple but exquisite design makes it charming and elegant, \u003cstrong\u003e\u003cb\u003esuitable for daily wear, party, etc., easy to matching many styles of clothes\u003c\/b\u003e\u003c\/strong\u003e. It is also a great gift for your mother, daughter, girlfriend, etc. in special moment and occasions.\u003c\/p\u003e\n\u003cp\u003e\u003cimg alt=\"\" src=\"https:\/\/cdn.shopifycdn.net\/s\/files\/1\/0589\/1440\/6575\/files\/ia_300000012_480x480.jpg?v=1636011184\" style=\"display: block; margin-left: auto; margin-right: auto;\"\u003e\u003c\/p\u003e\n\u003cp\u003e\u003cspan style=\"color: #8b7b6f;\"\u003e\u003cstrong\u003e\u003cb\u003eNoble and elegant teaching\u003c\/b\u003e\u003c\/strong\u003e\u003c\/span\u003e\u003cbr\u003e1. Tie all hair together and tie it with a piece of string\u003cbr\u003ePull your hair up and to the right\u003cbr\u003e3. Twist hair clockwise into a bun shape\u003cbr\u003e4. Tuck the ends into the cord and secure\u003cbr\u003e5. Hold your hair with your left hand and secure it with your right hand\u003cbr\u003e6. Plug in your butterfly comb\u003c\/p\u003e\n\u003cp\u003e\u003cimg alt=\"\" src=\"https:\/\/cdn.shopifycdn.net\/s\/files\/1\/0589\/1440\/6575\/files\/5_58264eff-a04d-49b5-97bf-6ae897904dd3_480x480.jpg?v=1636011209\" style=\"display: block; margin-left: auto; margin-right: auto;\"\u003e\u003c\/p\u003e\n\u003cul\u003e\n\u003cli\u003e\n\u003cb\u003e\u003cspan\u003e\u003c\/span\u003e\u003c\/b\u003e\u003cspan style=\"color: #d78b4d;\"\u003e\u003cstrong\u003e\u003cb\u003eFeatures\u003c\/b\u003e\u003c\/strong\u003e\u003c\/span\u003e\u003cbr\u003e\u003cbr\u003e- Color: Blue.Champagne, Violet, Gray, Colours\u003cbr\u003e- Material: Rhinestone \u0026amp; Alloy.\u003cbr\u003e- Size: About5 * 9.3 cm.\u003c\/li\u003e\n\u003cli\u003e\u003cspan style=\"color: #b37547;\"\u003e\u003cstrong\u003eReal PICS\u003c\/strong\u003e\u003c\/span\u003e\u003c\/li\u003e\n\u003c\/ul\u003e\n\u003cstrong style=\"color: #b37547; font-size: 1.4em;\"\u003e\u003cimg alt=\"\" src=\"https:\/\/cdn.shopifycdn.net\/s\/files\/1\/0589\/1440\/6575\/files\/B4FE411C-486F-465d-9BD8-1333BA1AF977_480x480.jpg?v=1636012467\" style=\"display: block; margin-left: auto; margin-right: auto;\"\u003e\u003c\/strong\u003e\n\u003cul\u003e\u003c\/ul\u003e\n\u003cp\u003e\u003cspan style=\"color: #8b7b6f;\"\u003e\u003cstrong\u003e\u003cb\u003ePackage Including\u003c\/b\u003e\u003c\/strong\u003e\u003c\/span\u003e\u003cbr\u003e1 x hair pin\u003c\/p\u003e\n\u003cp\u003e\u003cspan style=\"color: #8b7b6f;\"\u003e\u003cstrong\u003e\u003cb\u003eWarm Tip:\u003c\/b\u003e\u003c\/strong\u003e\u003c\/span\u003e\u003c\/p\u003e\n\u003cp\u003eDear buyer, due to lighting effect, monitor's brightness, manual measurement, etc., there could be some slight differences in the color and size between the photo and the actual item. Sincerely hope that you can understand! Thank you!\u003c\/p\u003e\n\u003cp\u003e \u003c\/p\u003e\n\u003cp data-mce-fragment=\"1\"\u003e\u003cstrong data-mce-fragment=\"1\"\u003e\u003cbr\u003e\u003c\/strong\u003e\u003c\/p\u003e"}
Rhinestone butterfly four-tooth hairpin
Product Description
Who wouldn't want to sparkle with a hand-crafted butterfly and diamond hair accessory this winter?
The high-end hand-made butterfly sparkling rhinestone hair comb creates an elegant romance that belongs to you alone.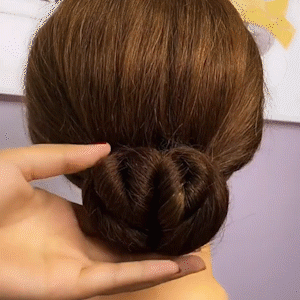 Product description
Elegance never goes out of style
The high-end water drill that manual enchase, shining broken drill is all around, combine clever butterfly with that is shape with natural butterfly is acted the role of to bring you never outdated elegant romance. Colorful rhinestones of different colors sparkle under the lights to make you stand out from the crowd.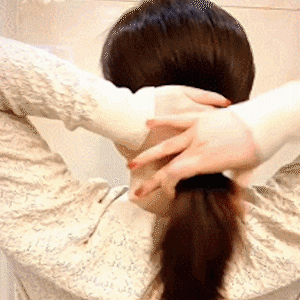 DIY all sorts of modelling at will
If you use it in complicated hairstyles, that can make you look more glamorous, and if you simply use it in a twist, that can make you look elegant and casual. It's easy to put hair in and out, but use extra pins to hold it in place just in case.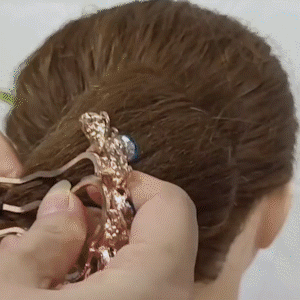 Expensive raw materials, made with heart
Each rhinestone is carefully selected, with many facets, strong sense of refraction, and more shiny and dazzling. Artificial careful production for many times, reduce the degree of defects, the use of artificial polishing, smoother surface, stronger texture.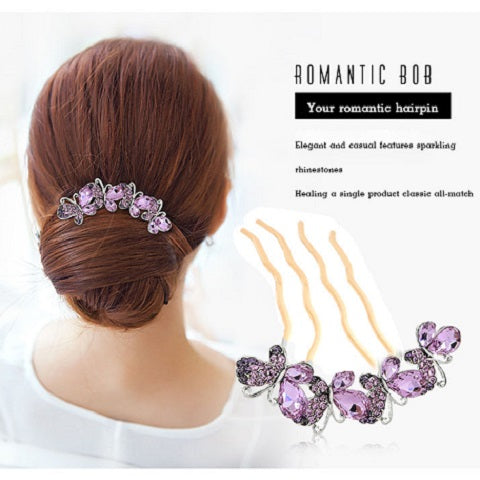 Do not need the rubber band can easily twist the hair, pull the hair, can very well fix the hair, do not damage the hair, scalp, also will not slip. Suitable for all hairstyles. It can be used to anchor thin or thick hair and add a touch to your look.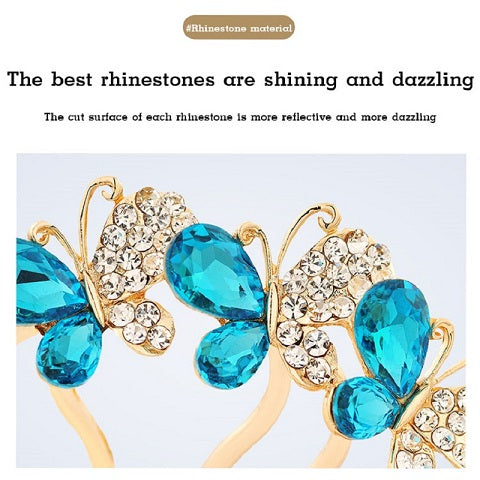 The perfect gift for any occasion
This hair pin is a perfect decorative hair accessory. The simple but exquisite design makes it charming and elegant, suitable for daily wear, party, etc., easy to matching many styles of clothes. It is also a great gift for your mother, daughter, girlfriend, etc. in special moment and occasions.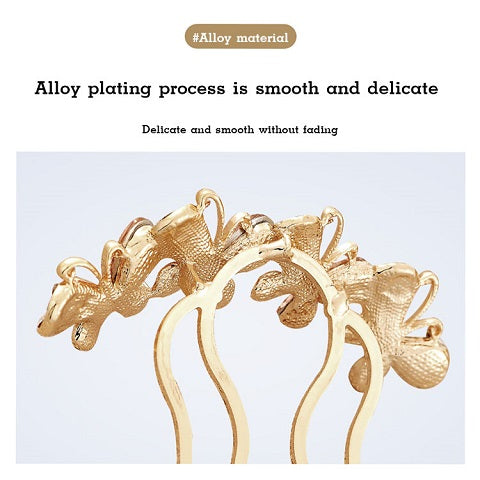 Noble and elegant teaching
1. Tie all hair together and tie it with a piece of string
Pull your hair up and to the right
3. Twist hair clockwise into a bun shape
4. Tuck the ends into the cord and secure
5. Hold your hair with your left hand and secure it with your right hand
6. Plug in your butterfly comb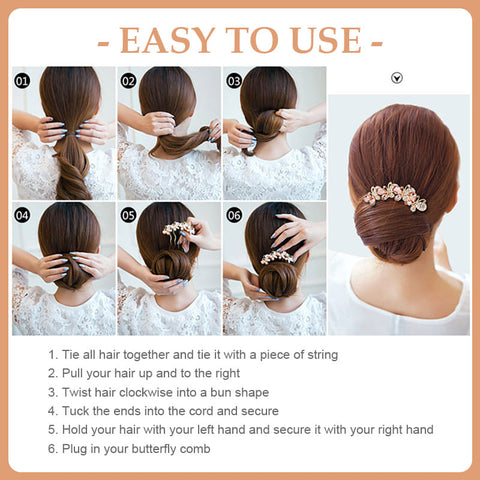 Features

- Color: Blue.Champagne, Violet, Gray, Colours
- Material: Rhinestone & Alloy.
- Size: About5 * 9.3 cm.
Real PICS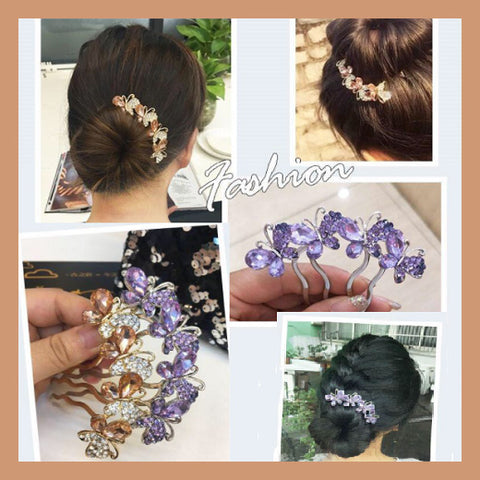 Package Including
1 x hair pin
Warm Tip:
Dear buyer, due to lighting effect, monitor's brightness, manual measurement, etc., there could be some slight differences in the color and size between the photo and the actual item. Sincerely hope that you can understand! Thank you!
Shipping:
We processes orders between Monday and Friday. Orders will be processed within 7 business days of ordering and shipped out the next day after the processing day. We don't ship on weekends.