{"id":5983418548388,"title":"Rotatable Chain Ring","handle":"rcr-1","description":"\u003c!-- Build time: 2021-01-13 17:22:40 --\u003e\n\u003cstyle\u003e\u003c!--\n.listing-build-item table {\n width: 100% !important;\n margin: 5px 0 !important;\n border-collapse: collapse !important;\n table-layout: initial !important;\n }\n\n .listing-build-item table ul li,\n .listing-build-item table dl dd,\n .listing-build-item table dl dt {\n list-style:outside none !important;\n margin:0 !important;\n }\n\n .listing-build-item table ul,\n .listing-build-item table dl {\n margin-left: 0 !important;\n }\n\n .listing-build-item table tr\u003etd,\n .listing-build-item table tr\u003eth {\n padding: 10px 14px !important;\n font-size: 14px !important;\n border: 1px solid #cbcbcb !important;\n background-clip: padding-box !important;\n position: relative !important;\n letter-spacing:initial !important;\n text-align: left !important;\n }\n\n .listing-build-item table tr\u003eth {\n font-weight: 600 !important;\n }\n\n .listing-build-item h3 {\n color: #000 !important;\n font-size: 20px !important;\n font-weight: 600 !important;\n margin: 0 !important;\n padding: 10px 0 !important;\n text-align: left !important;\n }\n .listing-build-item table th,.listing-build-item h5{\n color:#000 !important;\n }\n\n .listing-build-item {\n margin-bottom: 30px !important;\n word-break: break-word !important;\n }\n\n .listing-build-item ul,\n .listing-build-item dl {\n margin: 0 !important;\n padding:0 !important;\n list-style:outside none !important\n }\n\n .listing-build-item .img-box {\n margin: 10px 0 !important;\n }\n\n .listing-build-item .img-box img {\n height: auto !important;\n max-width: 100% !important;\n margin: 0 auto !important;\n padding: 0 !important;\n display: block !important;\n }\n @media screen and (min-width: 992px){\n .listing-build-item table tr\u003eth {\n width: 180px !important;\n }\n }\n @media screen and (max-width: 750px){\n .listing-build-item table tr\u003eth {\n width: 100px !important;\n }\n }\n\n .listing-build-item tr:first-child th:after,\n .listing-build-item tr:first-child td:after {\n border: initial !important;\n }\n\n .listing-build-item ul\u003eli:last-child,\n .listing-build-item ul.features\u003eli:last-child,\n .listing-build-item ul\u003eli.package-row:last-child {\n margin-bottom: 0 !important;\n }\n .listing-build-item ul.features li,.listing-build-item ul li.package-row{\n margin-bottom:7px !important;\n }\n .listing-build-item h5{\n margin: 20px 0 5px 0 !important;\n font-weight: 600 !important;\n text-align: left !important;\n }\n .listing-build-item strong{\n font-weight: 600 !important;\n }\n--\u003e\u003c\/style\u003e\n\u003c!-- BEGIN Descriptions --\u003e\n\u003cdiv style=\"text-align: center;\"\u003e\u003cstrong style=\"text-align: center; font-size: 1.4em;\"\u003eThe ring of fashion personality sparkles on your finger!\u003c\/strong\u003e\u003c\/div\u003e\n\u003cbr\u003e\n\u003cul\u003e\u003c\/ul\u003e\n\u003cdiv\u003e\u003cstrong style=\"text-align: center; font-size: 1.4em;\"\u003e\u003cimg alt=\"\" src=\"https:\/\/cdn.shopifycdn.net\/s\/files\/1\/0082\/9148\/3738\/files\/2_cf85d756-6523-4828-97ac-8369df7d8a7a_480x480.gif?v=1610530061\" style=\"display: block; margin-left: auto; margin-right: auto;\"\u003e\u003c\/strong\u003e\u003c\/div\u003e\n\u003cbr\u003e\n\u003cul\u003e\u003c\/ul\u003e\n\u003c!-- END Descriptions --\u003e \u003c!-- BEGIN features --\u003e\n\u003cdiv class=\"listing-build-item\"\u003e\n\u003ch3\u003eMain Features\u003c\/h3\u003e\n\u003cul class=\"features\"\u003e\n\u003cli\u003e\n\u003cstrong\u003eExquisite Design:\u003c\/strong\u003e\u003cbr\u003eLink design, exquisite craftsmanship, can avoid falling, very beautiful to wear on the finger. There are many rhinestones on it, which are very sparkling in the sun.\u003cimg src=\"https:\/\/cdn.shopifycdn.net\/s\/files\/1\/0082\/9148\/3738\/products\/5_03c21e4f-2ba4-48e6-9d69-b3fad7988fca_480x480.jpg?v=1610529893\" alt=\"\" style=\"display: block; margin-left: auto; margin-right: auto;\" width=\"321\" height=\"321\" data-mce-fragment=\"1\" data-mce-src=\"https:\/\/cdn.shopifycdn.net\/s\/files\/1\/0082\/9148\/3738\/products\/5_03c21e4f-2ba4-48e6-9d69-b3fad7988fca_480x480.jpg?v=1610529893\"\u003e\n\u003c\/li\u003e\n\u003cli\u003e\n\u003c\/li\u003e\n\u003cli\u003e\n\u003cstrong\u003eAdjustable Opening:\u003c\/strong\u003e\u003cbr\u003eThe ring can fit fingers of any size. The opening can be adjusted, and the width of the ring can be adjusted to fit the size of the finger.\u003c\/li\u003e\n\u003cli\u003e\n\u003c\/li\u003e\n\u003cli\u003e\n\u003cstrong\u003eHypoallergenic:\u003c\/strong\u003e\u003cbr\u003eThis ring is made of environmentally friendly copper materials and gold-plated processing technology. It is lead-free, nickel-free, and cadmium-free. It will not be allergic to the skin and will not harm your health.\u003c\/li\u003e\n\u003cli\u003e\n\u003c\/li\u003e\n\u003cli\u003e\n\u003cstrong\u003eIdeal Gift: \u003c\/strong\u003e\u003cbr\u003e\n\u003c\/li\u003e\n\u003cli\u003eThis ring is a perfect gift for a girlfriend, wife, mother on a birthday, wedding, anniversary, and other occasions.\u003cimg src=\"https:\/\/cdn.shopifycdn.net\/s\/files\/1\/0082\/9148\/3738\/products\/2_49122221-d3f1-4aa5-8271-b768b145935c_480x480.jpg?v=1610529893\" alt=\"\" style=\"display: block; margin-left: auto; margin-right: auto;\" width=\"332\" height=\"332\" data-mce-fragment=\"1\" data-mce-src=\"https:\/\/cdn.shopifycdn.net\/s\/files\/1\/0082\/9148\/3738\/products\/2_49122221-d3f1-4aa5-8271-b768b145935c_480x480.jpg?v=1610529893\"\u003e\n\u003c\/li\u003e\n\u003cli\u003e\n\u003c\/li\u003e\n\u003cli\u003e\n\u003cstrong\u003eEasy To Clean And Store:\u003c\/strong\u003e\u003cbr\u003eYou can gently wipe the handkerchief with alcohol and then put it back in a small bag when not wearing it to extend the life of the ring.\u003c\/li\u003e\n\u003c\/ul\u003e\n\u003c\/div\u003e\n\u003cdiv class=\"listing-build-item\"\u003e\n\u003cul\u003e\u003c\/ul\u003e\n\u003c\/div\u003e\n\u003c!-- END Using Method --\u003e \u003c!-- BEGIN usage_scene --\u003e \u003c!-- END usage_scene --\u003e \u003c!-- BEGIN specification --\u003e\n\u003cdiv class=\"listing-build-item\"\u003e\n\u003ch3\u003eSpecifications\u003c\/h3\u003e\n\u003cp\u003e\u003cimg alt=\"\" src=\"https:\/\/cdn.shopifycdn.net\/s\/files\/1\/0082\/9148\/3738\/files\/33674290-CFF6-4b8b-A03E-8E8F600668D5_480x480.png?v=1610530088\"\u003e\u003c\/p\u003e\n\u003ctable\u003e\n\u003c!-- BEGIN specification_material --\u003e \u003c!-- END specification_material --\u003e \u003c!-- BEGIN specification_weight --\u003e\n\u003ctbody\u003e\n\u003ctr\u003e\n\u003cth scope=\"row\"\u003e Weight\u003c\/th\u003e\n\u003ctd\u003e\n\u003cul\u003e\n\u003cli\u003eProduct Weight: 10G\u003c\/li\u003e\n\u003cli\u003ePackage Weight: 17G\u003c\/li\u003e\n\u003c\/ul\u003e\n\u003c\/td\u003e\n\u003c\/tr\u003e\n\u003c!-- END specification_weight --\u003e \u003c!-- BEGIN specification_size --\u003e\n\u003ctr\u003e\n\u003cth scope=\"row\"\u003eProduct Size\u003cbr\u003e (L x W x H)\u003c\/th\u003e\n\u003ctd\u003e\n\u003cul\u003e\n\u003cli\u003e5 × 5 × 2cm \/ 2 × 2 × 0.8inches\u003c\/li\u003e\n\u003c\/ul\u003e\n\u003c\/td\u003e\n\u003c\/tr\u003e\n\u003c!-- END specification_size --\u003e \u003c!-- BEGIN specification_many_package --\u003e\n\u003ctr\u003e\n\u003cth scope=\"row\"\u003ePackage Contents\u003c\/th\u003e\n\u003ctd\u003e\n\u003cul\u003e\n\u003cli\u003eRotatable Chain Ring × 1\u003c\/li\u003e\n\u003c\/ul\u003e\n\u003c\/td\u003e\n\u003c\/tr\u003e\n\u003c!-- END specification_one_package --\u003e \u003c!-- BEGIN specification_custom_attribute --\u003e\n\u003ctr\u003e\n\u003cth scope=\"row\"\u003eMaterial\u003c\/th\u003e\n\u003ctd\u003ecopper materials + gold-plated\u003c\/td\u003e\n\u003c\/tr\u003e\n\u003ctr\u003e\n\u003cth scope=\"row\"\u003e\u003cspan\u003eColor\u003c\/span\u003e\u003c\/th\u003e\n\u003ctd\u003e\u003cspan\u003eGolden\u003c\/span\u003e\u003c\/td\u003e\n\u003c\/tr\u003e\n\u003c!-- END specification_custom_attribute --\u003e\n\u003c\/tbody\u003e\n\u003c\/table\u003e\n\u003c!-- BEGIN specification_size_img --\u003e \u003c!-- END specification_size_img --\u003e\n\u003c\/div\u003e\n\u003c!-- END specification --\u003e \u003c!-- BEGIN note --\u003e\n\u003cdiv class=\"listing-build-item\"\u003e\n\u003ch3\u003eNote\u003c\/h3\u003e\n\u003cul\u003e\n\u003cli\u003eDue to manual measurements, please allow slight measurement deviations.\u003c\/li\u003e\n\u003cli\u003eDue to the different display and lighting effects, the actual color of the item may be slightly different from the color displayed on the picture.\u003c\/li\u003e\n\u003c\/ul\u003e\n\u003c\/div\u003e\n\u003c!-- END note --\u003e","published_at":"2021-01-14T16:53:53+08:00","created_at":"2021-01-14T16:53:53+08:00","vendor":"solegg","type":"Hot produts","tags":[],"price":1299,"price_min":1299,"price_max":1299,"available":true,"price_varies":false,"compare_at_price":3798,"compare_at_price_min":3798,"compare_at_price_max":3798,"compare_at_price_varies":false,"variants":[{"id":37452363497636,"title":"Default Title","option1":"Default Title","option2":null,"option3":null,"sku":"LJ22143634JIN","requires_shipping":true,"taxable":false,"featured_image":null,"available":true,"name":"Rotatable Chain Ring","public_title":null,"options":["Default Title"],"price":1299,"weight":0,"compare_at_price":3798,"inventory_management":null,"barcode":"","requires_selling_plan":false,"selling_plan_allocations":[]}],"images":["\/\/cdn.shopify.com\/s\/files\/1\/0508\/2592\/0676\/products\/1_3f2fe3a3-5638-43ed-823c-8bbf6443d02e.jpg?v=1610614433","\/\/cdn.shopify.com\/s\/files\/1\/0508\/2592\/0676\/products\/2_e8ed1d2e-ebe3-43e8-a28e-25f7fe482e39.jpg?v=1610614433","\/\/cdn.shopify.com\/s\/files\/1\/0508\/2592\/0676\/products\/3_ede7b2fa-308a-48ed-b6e1-301232ba40d2.jpg?v=1610614433","\/\/cdn.shopify.com\/s\/files\/1\/0508\/2592\/0676\/products\/4_c6ffc828-35ea-446e-bf11-2594ebbab31d.jpg?v=1610614433","\/\/cdn.shopify.com\/s\/files\/1\/0508\/2592\/0676\/products\/5_76833938-0f41-4733-bc1f-8d596bbe4d3a.jpg?v=1610614433","\/\/cdn.shopify.com\/s\/files\/1\/0508\/2592\/0676\/products\/6_2ba7be6c-a192-4da1-bfe0-4e81286be190.jpg?v=1610614433","\/\/cdn.shopify.com\/s\/files\/1\/0508\/2592\/0676\/products\/7_181a9fab-28ea-4cd5-a1a9-831cf2f27d91.jpg?v=1610614433","\/\/cdn.shopify.com\/s\/files\/1\/0508\/2592\/0676\/products\/8_2a823689-45c0-473f-8b2d-c9cfc0e717f1.jpg?v=1610614433"],"featured_image":"\/\/cdn.shopify.com\/s\/files\/1\/0508\/2592\/0676\/products\/1_3f2fe3a3-5638-43ed-823c-8bbf6443d02e.jpg?v=1610614433","options":["Title"],"media":[{"alt":null,"id":13827095691428,"position":1,"preview_image":{"aspect_ratio":1.0,"height":800,"width":800,"src":"https:\/\/cdn.shopify.com\/s\/files\/1\/0508\/2592\/0676\/products\/1_3f2fe3a3-5638-43ed-823c-8bbf6443d02e.jpg?v=1610614433"},"aspect_ratio":1.0,"height":800,"media_type":"image","src":"https:\/\/cdn.shopify.com\/s\/files\/1\/0508\/2592\/0676\/products\/1_3f2fe3a3-5638-43ed-823c-8bbf6443d02e.jpg?v=1610614433","width":800},{"alt":null,"id":13827095724196,"position":2,"preview_image":{"aspect_ratio":1.0,"height":800,"width":800,"src":"https:\/\/cdn.shopify.com\/s\/files\/1\/0508\/2592\/0676\/products\/2_e8ed1d2e-ebe3-43e8-a28e-25f7fe482e39.jpg?v=1610614433"},"aspect_ratio":1.0,"height":800,"media_type":"image","src":"https:\/\/cdn.shopify.com\/s\/files\/1\/0508\/2592\/0676\/products\/2_e8ed1d2e-ebe3-43e8-a28e-25f7fe482e39.jpg?v=1610614433","width":800},{"alt":null,"id":13827095756964,"position":3,"preview_image":{"aspect_ratio":1.0,"height":800,"width":800,"src":"https:\/\/cdn.shopify.com\/s\/files\/1\/0508\/2592\/0676\/products\/3_ede7b2fa-308a-48ed-b6e1-301232ba40d2.jpg?v=1610614433"},"aspect_ratio":1.0,"height":800,"media_type":"image","src":"https:\/\/cdn.shopify.com\/s\/files\/1\/0508\/2592\/0676\/products\/3_ede7b2fa-308a-48ed-b6e1-301232ba40d2.jpg?v=1610614433","width":800},{"alt":null,"id":13827095789732,"position":4,"preview_image":{"aspect_ratio":1.0,"height":800,"width":800,"src":"https:\/\/cdn.shopify.com\/s\/files\/1\/0508\/2592\/0676\/products\/4_c6ffc828-35ea-446e-bf11-2594ebbab31d.jpg?v=1610614433"},"aspect_ratio":1.0,"height":800,"media_type":"image","src":"https:\/\/cdn.shopify.com\/s\/files\/1\/0508\/2592\/0676\/products\/4_c6ffc828-35ea-446e-bf11-2594ebbab31d.jpg?v=1610614433","width":800},{"alt":null,"id":13827095822500,"position":5,"preview_image":{"aspect_ratio":1.0,"height":800,"width":800,"src":"https:\/\/cdn.shopify.com\/s\/files\/1\/0508\/2592\/0676\/products\/5_76833938-0f41-4733-bc1f-8d596bbe4d3a.jpg?v=1610614433"},"aspect_ratio":1.0,"height":800,"media_type":"image","src":"https:\/\/cdn.shopify.com\/s\/files\/1\/0508\/2592\/0676\/products\/5_76833938-0f41-4733-bc1f-8d596bbe4d3a.jpg?v=1610614433","width":800},{"alt":null,"id":13827095855268,"position":6,"preview_image":{"aspect_ratio":1.0,"height":800,"width":800,"src":"https:\/\/cdn.shopify.com\/s\/files\/1\/0508\/2592\/0676\/products\/6_2ba7be6c-a192-4da1-bfe0-4e81286be190.jpg?v=1610614433"},"aspect_ratio":1.0,"height":800,"media_type":"image","src":"https:\/\/cdn.shopify.com\/s\/files\/1\/0508\/2592\/0676\/products\/6_2ba7be6c-a192-4da1-bfe0-4e81286be190.jpg?v=1610614433","width":800},{"alt":null,"id":13827095888036,"position":7,"preview_image":{"aspect_ratio":1.0,"height":800,"width":800,"src":"https:\/\/cdn.shopify.com\/s\/files\/1\/0508\/2592\/0676\/products\/7_181a9fab-28ea-4cd5-a1a9-831cf2f27d91.jpg?v=1610614433"},"aspect_ratio":1.0,"height":800,"media_type":"image","src":"https:\/\/cdn.shopify.com\/s\/files\/1\/0508\/2592\/0676\/products\/7_181a9fab-28ea-4cd5-a1a9-831cf2f27d91.jpg?v=1610614433","width":800},{"alt":null,"id":13827095920804,"position":8,"preview_image":{"aspect_ratio":1.0,"height":800,"width":800,"src":"https:\/\/cdn.shopify.com\/s\/files\/1\/0508\/2592\/0676\/products\/8_2a823689-45c0-473f-8b2d-c9cfc0e717f1.jpg?v=1610614433"},"aspect_ratio":1.0,"height":800,"media_type":"image","src":"https:\/\/cdn.shopify.com\/s\/files\/1\/0508\/2592\/0676\/products\/8_2a823689-45c0-473f-8b2d-c9cfc0e717f1.jpg?v=1610614433","width":800}],"requires_selling_plan":false,"selling_plan_groups":[],"content":"\u003c!-- Build time: 2021-01-13 17:22:40 --\u003e\n\u003cstyle\u003e\u003c!--\n.listing-build-item table {\n width: 100% !important;\n margin: 5px 0 !important;\n border-collapse: collapse !important;\n table-layout: initial !important;\n }\n\n .listing-build-item table ul li,\n .listing-build-item table dl dd,\n .listing-build-item table dl dt {\n list-style:outside none !important;\n margin:0 !important;\n }\n\n .listing-build-item table ul,\n .listing-build-item table dl {\n margin-left: 0 !important;\n }\n\n .listing-build-item table tr\u003etd,\n .listing-build-item table tr\u003eth {\n padding: 10px 14px !important;\n font-size: 14px !important;\n border: 1px solid #cbcbcb !important;\n background-clip: padding-box !important;\n position: relative !important;\n letter-spacing:initial !important;\n text-align: left !important;\n }\n\n .listing-build-item table tr\u003eth {\n font-weight: 600 !important;\n }\n\n .listing-build-item h3 {\n color: #000 !important;\n font-size: 20px !important;\n font-weight: 600 !important;\n margin: 0 !important;\n padding: 10px 0 !important;\n text-align: left !important;\n }\n .listing-build-item table th,.listing-build-item h5{\n color:#000 !important;\n }\n\n .listing-build-item {\n margin-bottom: 30px !important;\n word-break: break-word !important;\n }\n\n .listing-build-item ul,\n .listing-build-item dl {\n margin: 0 !important;\n padding:0 !important;\n list-style:outside none !important\n }\n\n .listing-build-item .img-box {\n margin: 10px 0 !important;\n }\n\n .listing-build-item .img-box img {\n height: auto !important;\n max-width: 100% !important;\n margin: 0 auto !important;\n padding: 0 !important;\n display: block !important;\n }\n @media screen and (min-width: 992px){\n .listing-build-item table tr\u003eth {\n width: 180px !important;\n }\n }\n @media screen and (max-width: 750px){\n .listing-build-item table tr\u003eth {\n width: 100px !important;\n }\n }\n\n .listing-build-item tr:first-child th:after,\n .listing-build-item tr:first-child td:after {\n border: initial !important;\n }\n\n .listing-build-item ul\u003eli:last-child,\n .listing-build-item ul.features\u003eli:last-child,\n .listing-build-item ul\u003eli.package-row:last-child {\n margin-bottom: 0 !important;\n }\n .listing-build-item ul.features li,.listing-build-item ul li.package-row{\n margin-bottom:7px !important;\n }\n .listing-build-item h5{\n margin: 20px 0 5px 0 !important;\n font-weight: 600 !important;\n text-align: left !important;\n }\n .listing-build-item strong{\n font-weight: 600 !important;\n }\n--\u003e\u003c\/style\u003e\n\u003c!-- BEGIN Descriptions --\u003e\n\u003cdiv style=\"text-align: center;\"\u003e\u003cstrong style=\"text-align: center; font-size: 1.4em;\"\u003eThe ring of fashion personality sparkles on your finger!\u003c\/strong\u003e\u003c\/div\u003e\n\u003cbr\u003e\n\u003cul\u003e\u003c\/ul\u003e\n\u003cdiv\u003e\u003cstrong style=\"text-align: center; font-size: 1.4em;\"\u003e\u003cimg alt=\"\" src=\"https:\/\/cdn.shopifycdn.net\/s\/files\/1\/0082\/9148\/3738\/files\/2_cf85d756-6523-4828-97ac-8369df7d8a7a_480x480.gif?v=1610530061\" style=\"display: block; margin-left: auto; margin-right: auto;\"\u003e\u003c\/strong\u003e\u003c\/div\u003e\n\u003cbr\u003e\n\u003cul\u003e\u003c\/ul\u003e\n\u003c!-- END Descriptions --\u003e \u003c!-- BEGIN features --\u003e\n\u003cdiv class=\"listing-build-item\"\u003e\n\u003ch3\u003eMain Features\u003c\/h3\u003e\n\u003cul class=\"features\"\u003e\n\u003cli\u003e\n\u003cstrong\u003eExquisite Design:\u003c\/strong\u003e\u003cbr\u003eLink design, exquisite craftsmanship, can avoid falling, very beautiful to wear on the finger. There are many rhinestones on it, which are very sparkling in the sun.\u003cimg src=\"https:\/\/cdn.shopifycdn.net\/s\/files\/1\/0082\/9148\/3738\/products\/5_03c21e4f-2ba4-48e6-9d69-b3fad7988fca_480x480.jpg?v=1610529893\" alt=\"\" style=\"display: block; margin-left: auto; margin-right: auto;\" width=\"321\" height=\"321\" data-mce-fragment=\"1\" data-mce-src=\"https:\/\/cdn.shopifycdn.net\/s\/files\/1\/0082\/9148\/3738\/products\/5_03c21e4f-2ba4-48e6-9d69-b3fad7988fca_480x480.jpg?v=1610529893\"\u003e\n\u003c\/li\u003e\n\u003cli\u003e\n\u003c\/li\u003e\n\u003cli\u003e\n\u003cstrong\u003eAdjustable Opening:\u003c\/strong\u003e\u003cbr\u003eThe ring can fit fingers of any size. The opening can be adjusted, and the width of the ring can be adjusted to fit the size of the finger.\u003c\/li\u003e\n\u003cli\u003e\n\u003c\/li\u003e\n\u003cli\u003e\n\u003cstrong\u003eHypoallergenic:\u003c\/strong\u003e\u003cbr\u003eThis ring is made of environmentally friendly copper materials and gold-plated processing technology. It is lead-free, nickel-free, and cadmium-free. It will not be allergic to the skin and will not harm your health.\u003c\/li\u003e\n\u003cli\u003e\n\u003c\/li\u003e\n\u003cli\u003e\n\u003cstrong\u003eIdeal Gift: \u003c\/strong\u003e\u003cbr\u003e\n\u003c\/li\u003e\n\u003cli\u003eThis ring is a perfect gift for a girlfriend, wife, mother on a birthday, wedding, anniversary, and other occasions.\u003cimg src=\"https:\/\/cdn.shopifycdn.net\/s\/files\/1\/0082\/9148\/3738\/products\/2_49122221-d3f1-4aa5-8271-b768b145935c_480x480.jpg?v=1610529893\" alt=\"\" style=\"display: block; margin-left: auto; margin-right: auto;\" width=\"332\" height=\"332\" data-mce-fragment=\"1\" data-mce-src=\"https:\/\/cdn.shopifycdn.net\/s\/files\/1\/0082\/9148\/3738\/products\/2_49122221-d3f1-4aa5-8271-b768b145935c_480x480.jpg?v=1610529893\"\u003e\n\u003c\/li\u003e\n\u003cli\u003e\n\u003c\/li\u003e\n\u003cli\u003e\n\u003cstrong\u003eEasy To Clean And Store:\u003c\/strong\u003e\u003cbr\u003eYou can gently wipe the handkerchief with alcohol and then put it back in a small bag when not wearing it to extend the life of the ring.\u003c\/li\u003e\n\u003c\/ul\u003e\n\u003c\/div\u003e\n\u003cdiv class=\"listing-build-item\"\u003e\n\u003cul\u003e\u003c\/ul\u003e\n\u003c\/div\u003e\n\u003c!-- END Using Method --\u003e \u003c!-- BEGIN usage_scene --\u003e \u003c!-- END usage_scene --\u003e \u003c!-- BEGIN specification --\u003e\n\u003cdiv class=\"listing-build-item\"\u003e\n\u003ch3\u003eSpecifications\u003c\/h3\u003e\n\u003cp\u003e\u003cimg alt=\"\" src=\"https:\/\/cdn.shopifycdn.net\/s\/files\/1\/0082\/9148\/3738\/files\/33674290-CFF6-4b8b-A03E-8E8F600668D5_480x480.png?v=1610530088\"\u003e\u003c\/p\u003e\n\u003ctable\u003e\n\u003c!-- BEGIN specification_material --\u003e \u003c!-- END specification_material --\u003e \u003c!-- BEGIN specification_weight --\u003e\n\u003ctbody\u003e\n\u003ctr\u003e\n\u003cth scope=\"row\"\u003e Weight\u003c\/th\u003e\n\u003ctd\u003e\n\u003cul\u003e\n\u003cli\u003eProduct Weight: 10G\u003c\/li\u003e\n\u003cli\u003ePackage Weight: 17G\u003c\/li\u003e\n\u003c\/ul\u003e\n\u003c\/td\u003e\n\u003c\/tr\u003e\n\u003c!-- END specification_weight --\u003e \u003c!-- BEGIN specification_size --\u003e\n\u003ctr\u003e\n\u003cth scope=\"row\"\u003eProduct Size\u003cbr\u003e (L x W x H)\u003c\/th\u003e\n\u003ctd\u003e\n\u003cul\u003e\n\u003cli\u003e5 × 5 × 2cm \/ 2 × 2 × 0.8inches\u003c\/li\u003e\n\u003c\/ul\u003e\n\u003c\/td\u003e\n\u003c\/tr\u003e\n\u003c!-- END specification_size --\u003e \u003c!-- BEGIN specification_many_package --\u003e\n\u003ctr\u003e\n\u003cth scope=\"row\"\u003ePackage Contents\u003c\/th\u003e\n\u003ctd\u003e\n\u003cul\u003e\n\u003cli\u003eRotatable Chain Ring × 1\u003c\/li\u003e\n\u003c\/ul\u003e\n\u003c\/td\u003e\n\u003c\/tr\u003e\n\u003c!-- END specification_one_package --\u003e \u003c!-- BEGIN specification_custom_attribute --\u003e\n\u003ctr\u003e\n\u003cth scope=\"row\"\u003eMaterial\u003c\/th\u003e\n\u003ctd\u003ecopper materials + gold-plated\u003c\/td\u003e\n\u003c\/tr\u003e\n\u003ctr\u003e\n\u003cth scope=\"row\"\u003e\u003cspan\u003eColor\u003c\/span\u003e\u003c\/th\u003e\n\u003ctd\u003e\u003cspan\u003eGolden\u003c\/span\u003e\u003c\/td\u003e\n\u003c\/tr\u003e\n\u003c!-- END specification_custom_attribute --\u003e\n\u003c\/tbody\u003e\n\u003c\/table\u003e\n\u003c!-- BEGIN specification_size_img --\u003e \u003c!-- END specification_size_img --\u003e\n\u003c\/div\u003e\n\u003c!-- END specification --\u003e \u003c!-- BEGIN note --\u003e\n\u003cdiv class=\"listing-build-item\"\u003e\n\u003ch3\u003eNote\u003c\/h3\u003e\n\u003cul\u003e\n\u003cli\u003eDue to manual measurements, please allow slight measurement deviations.\u003c\/li\u003e\n\u003cli\u003eDue to the different display and lighting effects, the actual color of the item may be slightly different from the color displayed on the picture.\u003c\/li\u003e\n\u003c\/ul\u003e\n\u003c\/div\u003e\n\u003c!-- END note --\u003e"}
Rotatable Chain Ring
Product Description
The ring of fashion personality sparkles on your finger!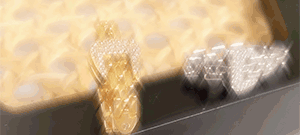 Main Features
Exquisite Design:
Link design, exquisite craftsmanship, can avoid falling, very beautiful to wear on the finger. There are many rhinestones on it, which are very sparkling in the sun.
Adjustable Opening:
The ring can fit fingers of any size. The opening can be adjusted, and the width of the ring can be adjusted to fit the size of the finger.
Hypoallergenic:
This ring is made of environmentally friendly copper materials and gold-plated processing technology. It is lead-free, nickel-free, and cadmium-free. It will not be allergic to the skin and will not harm your health.
Ideal Gift: 

This ring is a perfect gift for a girlfriend, wife, mother on a birthday, wedding, anniversary, and other occasions.
Easy To Clean And Store:
You can gently wipe the handkerchief with alcohol and then put it back in a small bag when not wearing it to extend the life of the ring.
Specifications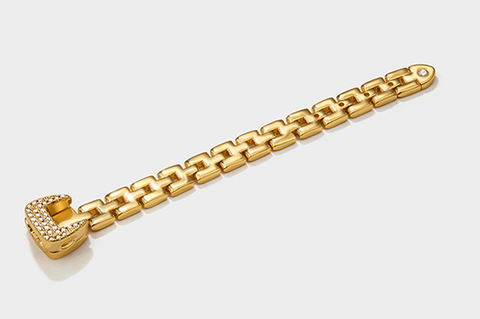 Weight

Product Weight: 10G
Package Weight: 17G

Product Size
(L x W x H)

5 × 5 × 2cm / 2 × 2 × 0.8inches

Package Contents
Material
copper materials + gold-plated

Color

Golden
Note
Due to manual measurements, please allow slight measurement deviations.
Due to the different display and lighting effects, the actual color of the item may be slightly different from the color displayed on the picture.
Shipping:
We processes orders between Monday and Friday. Orders will be processed within 7 business days of ordering and shipped out the next day after the processing day. We don't ship on weekends.