{"id":5956166451364,"title":"Removable Zipper Pull(4PCS)","handle":"pull-tab","description":"\u003c!-- Build time: 2020-11-25 14:12:23 --\u003e\n\u003cstyle\u003e\u003c!--\n.listing-build-item table {\n width: 100% !important;\n margin: 5px 0 !important;\n border-collapse: collapse !important;\n table-layout: initial !important;\n }\n\n .listing-build-item table ul li,\n .listing-build-item table dl dd,\n .listing-build-item table dl dt {\n list-style:outside none !important;\n margin:0 !important;\n }\n\n .listing-build-item table ul,\n .listing-build-item table dl {\n margin-left: 0 !important;\n }\n\n .listing-build-item table tr\u003etd,\n .listing-build-item table tr\u003eth {\n padding: 10px 14px !important;\n font-size: 14px !important;\n border: 1px solid #cbcbcb !important;\n background-clip: padding-box !important;\n position: relative !important;\n letter-spacing:initial !important;\n text-align: left !important;\n }\n\n .listing-build-item table tr\u003eth {\n font-weight: 600 !important;\n }\n\n .listing-build-item h3 {\n color: #000 !important;\n font-size: 20px !important;\n font-weight: 600 !important;\n margin: 0 !important;\n padding: 10px 0 !important;\n text-align: left !important;\n }\n .listing-build-item table th,.listing-build-item h5{\n color:#000 !important;\n }\n\n .listing-build-item {\n margin-bottom: 30px !important;\n word-break: break-word !important;\n }\n\n .listing-build-item ul,\n .listing-build-item dl {\n margin: 0 !important;\n padding:0 !important;\n list-style:outside none !important\n }\n\n .listing-build-item .img-box {\n margin: 10px 0 !important;\n }\n\n .listing-build-item .img-box img {\n height: auto !important;\n max-width: 100% !important;\n margin: 0 auto !important;\n padding: 0 !important;\n display: block !important;\n }\n @media screen and (min-width: 992px){\n .listing-build-item table tr\u003eth {\n width: 180px !important;\n }\n }\n @media screen and (max-width: 750px){\n .listing-build-item table tr\u003eth {\n width: 100px !important;\n }\n }\n\n .listing-build-item tr:first-child th:after,\n .listing-build-item tr:first-child td:after {\n border: initial !important;\n }\n\n .listing-build-item ul\u003eli:last-child,\n .listing-build-item ul.features\u003eli:last-child,\n .listing-build-item ul\u003eli.package-row:last-child {\n margin-bottom: 0 !important;\n }\n .listing-build-item ul.features li,.listing-build-item ul li.package-row{\n margin-bottom:7px !important;\n }\n .listing-build-item h5{\n margin: 20px 0 5px 0 !important;\n font-weight: 600 !important;\n text-align: left !important;\n }\n .listing-build-item strong{\n font-weight: 600 !important;\n }\n--\u003e\u003c\/style\u003e\n\u003c!-- BEGIN Descriptions --\u003e\n\u003cdiv class=\"listing-build-item\" style=\"text-align: center;\"\u003e\n\u003cspan style=\"text-align: center; font-size: 1.4em; color: #000000;\"\u003e\u003cstrong\u003eYou can easily hook the zippering point by pressing it, which perfectly solves the problem of zipper breakage and loss\u003c\/strong\u003e\u003c\/span\u003e\u003cspan style=\"text-align: center; font-size: 1.4em;\"\u003e.\u003c\/span\u003e\u003cbr\u003e \u003cimg style=\"font-size: 1.4em;\" alt=\"\" src=\"https:\/\/cdn.shopifycdn.net\/s\/files\/1\/0508\/7913\/5923\/products\/2-min_480x480.jpg?v=1606285161\" width=\"299\" height=\"299\"\u003e\u003cbr\u003e\n\u003cul\u003e\u003c\/ul\u003e\n\u003c\/div\u003e\n\u003cdiv style=\"text-align: left;\" class=\"listing-build-item\"\u003e\n\u003cul class=\"a-unordered-list a-vertical a-spacing-mini\"\u003e\n\u003cli\u003e\u003cspan class=\"a-list-item\"\u003eReplacement for broken and missing zipper pulls.\u003c\/span\u003e\u003c\/li\u003e\n\u003cli\u003e\u003cspan class=\"a-list-item\"\u003eSuitable for most zippers on handbag, backpack, suitcase and more.\u003c\/span\u003e\u003c\/li\u003e\n\u003cli\u003e\u003cspan class=\"a-list-item\"\u003eWorks as zipper pull replace, fix the zipper handles, solve the zipper tab problem.\u003c\/span\u003e\u003c\/li\u003e\n\u003c\/ul\u003e\n\u003c\/div\u003e\n\u003c!-- END Descriptions --\u003e \u003c!-- BEGIN features --\u003e\n\u003cdiv class=\"listing-build-item\"\u003e\n\u003ch3\u003eMain Features\u003c\/h3\u003e\n\u003cul class=\"features\"\u003e\n\u003cli\u003eThe zipper expander has a good smooth luster and can replace damaged zipper pieces. Push in and easy to hook into the zippering point, the metal zipper handle is made of zinc alloy.\u003c\/li\u003e\n\u003cli\u003e\n\u003cimg src=\"https:\/\/cdn.shopify.com\/s\/files\/1\/0082\/9148\/3738\/files\/1_ad3f87bd-30d1-4c64-a6b3-11437fe0c91e_480x480.jpg?v=1609400740\" alt=\"\" data-mce-fragment=\"1\" data-mce-src=\"https:\/\/cdn.shopify.com\/s\/files\/1\/0082\/9148\/3738\/files\/1_ad3f87bd-30d1-4c64-a6b3-11437fe0c91e_480x480.jpg?v=1609400740\"\u003e\u003cimg alt=\"\" src=\"https:\/\/cdn.shopify.com\/s\/files\/1\/0082\/9148\/3738\/files\/1_ad3f87bd-30d1-4c64-a6b3-11437fe0c91e_480x480.jpg?v=1609400740\"\u003e\n\u003c\/li\u003e\n\u003cli\u003eAn impressive alternative solution! Sturdy metal zipper, easy to install wallet tags, much better than replacing the entire wallet. It can also be used for twisted and broken winter jackets and suitcases.\u003c\/li\u003e\n\u003cli\u003eIdeal to replace zipper accessories for jeans, boots, suitcases, bags, etc. There is a loop at the end, and you can put on a rope for hanging accessories and so on.\u003c\/li\u003e\n\u003c\/ul\u003e\n\u003c\/div\u003e\n\u003c!-- END Using Method --\u003e \u003c!-- BEGIN usage_scene --\u003e \u003c!-- END usage_scene --\u003e \u003c!-- BEGIN specification --\u003e\n\u003cdiv class=\"listing-build-item\"\u003e\n\u003ch3\u003eSpecifications\u003c\/h3\u003e\n\u003ctable\u003e\n\u003c!-- BEGIN specification_material --\u003e \u003c!-- END specification_material --\u003e \u003c!-- BEGIN specification_weight --\u003e\n\u003ctbody\u003e\n\u003ctr\u003e\n\u003cth scope=\"row\"\u003eProduct Weight\u003c\/th\u003e\n\u003ctd\u003e\n\u003cul\u003e\n\u003cli\u003e28G\u003c\/li\u003e\n\u003c\/ul\u003e\n\u003c\/td\u003e\n\u003c\/tr\u003e\n\u003c!-- END specification_weight --\u003e \u003c!-- BEGIN specification_size --\u003e\n\u003ctr\u003e\n\u003cth scope=\"row\"\u003eProduct Size\u003cbr\u003e (L x W x H)\u003c\/th\u003e\n\u003ctd\u003e\n\u003cul\u003e\n\u003cli\u003e7 × 5 × 1cm \/ 2.8 × 2 × 0.4inches\u003c\/li\u003e\n\u003c\/ul\u003e\n\u003c\/td\u003e\n\u003c\/tr\u003e\n\u003c!-- END specification_size --\u003e \u003c!-- BEGIN specification_many_package --\u003e\n\u003ctr\u003e\n\u003cth scope=\"row\"\u003ePackage Contents\u003c\/th\u003e\n\u003ctd\u003e\n\u003cul\u003e\n\u003cli\u003ePractical Zipper Accessory Pull Tab × 4\u003c\/li\u003e\n\u003c\/ul\u003e\n\u003c\/td\u003e\n\u003c\/tr\u003e\n\u003c!-- END specification_one_package --\u003e \u003c!-- BEGIN specification_custom_attribute --\u003e\n\u003ctr\u003e\n\u003cth scope=\"row\"\u003eMaterial\u003c\/th\u003e\n\u003ctd\u003eZinc Alloy\u003c\/td\u003e\n\u003c\/tr\u003e\n\u003c!-- END specification_custom_attribute --\u003e\n\u003c\/tbody\u003e\n\u003c\/table\u003e\n\u003c!-- BEGIN specification_size_img --\u003e \u003c!-- END specification_size_img --\u003e\n\u003c\/div\u003e\n\u003c!-- END specification --\u003e \u003c!-- BEGIN note --\u003e\n\u003cdiv class=\"listing-build-item\"\u003e\n\u003ch3\u003eNote\u003c\/h3\u003e\n\u003cul\u003e\n\u003cli\u003eDue to manual measurements, please allow slight measurement deviations.\u003c\/li\u003e\n\u003cli\u003eDue to the different display and lighting effects, the actual color of the item may be slightly different from the color displayed on the picture.\u003c\/li\u003e\n\u003c\/ul\u003e\n\u003c\/div\u003e\n\u003c!-- END note --\u003e","published_at":"2020-12-31T19:01:37+08:00","created_at":"2020-12-31T19:01:37+08:00","vendor":"solegg","type":"Hot produts","tags":[],"price":1499,"price_min":1499,"price_max":1499,"available":true,"price_varies":false,"compare_at_price":1998,"compare_at_price_min":1998,"compare_at_price_max":1998,"compare_at_price_varies":false,"variants":[{"id":37347871129764,"title":"Black","option1":"Black","option2":null,"option3":null,"sku":"LF42042998HEI*4","requires_shipping":true,"taxable":false,"featured_image":{"id":21462495428772,"product_id":5956166451364,"position":8,"created_at":"2020-12-31T19:01:37+08:00","updated_at":"2020-12-31T19:01:37+08:00","alt":null,"width":800,"height":800,"src":"https:\/\/cdn.shopify.com\/s\/files\/1\/0508\/2592\/0676\/products\/30-5_1e6ddb85-29db-4a48-a66e-87271e768ea9.jpg?v=1609412497","variant_ids":[37347871129764]},"available":true,"name":"Removable Zipper Pull(4PCS) - Black","public_title":"Black","options":["Black"],"price":1499,"weight":0,"compare_at_price":1998,"inventory_management":null,"barcode":null,"featured_media":{"alt":null,"id":13638719897764,"position":8,"preview_image":{"aspect_ratio":1.0,"height":800,"width":800,"src":"https:\/\/cdn.shopify.com\/s\/files\/1\/0508\/2592\/0676\/products\/30-5_1e6ddb85-29db-4a48-a66e-87271e768ea9.jpg?v=1609412497"}},"requires_selling_plan":false,"selling_plan_allocations":[]},{"id":37347871162532,"title":"White Gold","option1":"White Gold","option2":null,"option3":null,"sku":"LF42042998BJS*4","requires_shipping":true,"taxable":false,"featured_image":{"id":21462495396004,"product_id":5956166451364,"position":7,"created_at":"2020-12-31T19:01:37+08:00","updated_at":"2020-12-31T19:01:37+08:00","alt":null,"width":800,"height":800,"src":"https:\/\/cdn.shopify.com\/s\/files\/1\/0508\/2592\/0676\/products\/30-3_5aa5c853-65c2-469d-90f2-75419ef6e4b4.jpg?v=1609412497","variant_ids":[37347871162532]},"available":true,"name":"Removable Zipper Pull(4PCS) - White Gold","public_title":"White Gold","options":["White Gold"],"price":1499,"weight":0,"compare_at_price":1998,"inventory_management":null,"barcode":null,"featured_media":{"alt":null,"id":13638719864996,"position":7,"preview_image":{"aspect_ratio":1.0,"height":800,"width":800,"src":"https:\/\/cdn.shopify.com\/s\/files\/1\/0508\/2592\/0676\/products\/30-3_5aa5c853-65c2-469d-90f2-75419ef6e4b4.jpg?v=1609412497"}},"requires_selling_plan":false,"selling_plan_allocations":[]},{"id":37347871195300,"title":"Gun Black","option1":"Gun Black","option2":null,"option3":null,"sku":"LF42042998HTS*4","requires_shipping":true,"taxable":false,"featured_image":{"id":21462495297700,"product_id":5956166451364,"position":5,"created_at":"2020-12-31T19:01:37+08:00","updated_at":"2020-12-31T19:01:37+08:00","alt":null,"width":800,"height":800,"src":"https:\/\/cdn.shopify.com\/s\/files\/1\/0508\/2592\/0676\/products\/30-2_29d9cab4-174c-4c4b-82b8-69b304fe6978.jpg?v=1609412497","variant_ids":[37347871195300]},"available":true,"name":"Removable Zipper Pull(4PCS) - Gun Black","public_title":"Gun Black","options":["Gun Black"],"price":1499,"weight":0,"compare_at_price":1998,"inventory_management":null,"barcode":null,"featured_media":{"alt":null,"id":13638719799460,"position":5,"preview_image":{"aspect_ratio":1.0,"height":800,"width":800,"src":"https:\/\/cdn.shopify.com\/s\/files\/1\/0508\/2592\/0676\/products\/30-2_29d9cab4-174c-4c4b-82b8-69b304fe6978.jpg?v=1609412497"}},"requires_selling_plan":false,"selling_plan_allocations":[]},{"id":37347871228068,"title":"Light Gold","option1":"Light Gold","option2":null,"option3":null,"sku":"LF42042998QJS*4","requires_shipping":true,"taxable":false,"featured_image":{"id":21462495330468,"product_id":5956166451364,"position":6,"created_at":"2020-12-31T19:01:37+08:00","updated_at":"2020-12-31T19:01:37+08:00","alt":null,"width":800,"height":800,"src":"https:\/\/cdn.shopify.com\/s\/files\/1\/0508\/2592\/0676\/products\/3-min_1c0085fc-2933-487d-923e-93102ae20860.jpg?v=1609412497","variant_ids":[37347871228068,37347871260836]},"available":true,"name":"Removable Zipper Pull(4PCS) - Light Gold","public_title":"Light Gold","options":["Light Gold"],"price":1499,"weight":0,"compare_at_price":1998,"inventory_management":null,"barcode":null,"featured_media":{"alt":null,"id":13638719832228,"position":6,"preview_image":{"aspect_ratio":1.0,"height":800,"width":800,"src":"https:\/\/cdn.shopify.com\/s\/files\/1\/0508\/2592\/0676\/products\/3-min_1c0085fc-2933-487d-923e-93102ae20860.jpg?v=1609412497"}},"requires_selling_plan":false,"selling_plan_allocations":[]},{"id":37347871260836,"title":"Green Bronze","option1":"Green Bronze","option2":null,"option3":null,"sku":"LF42042998GTS*4","requires_shipping":true,"taxable":false,"featured_image":{"id":21462495330468,"product_id":5956166451364,"position":6,"created_at":"2020-12-31T19:01:37+08:00","updated_at":"2020-12-31T19:01:37+08:00","alt":null,"width":800,"height":800,"src":"https:\/\/cdn.shopify.com\/s\/files\/1\/0508\/2592\/0676\/products\/3-min_1c0085fc-2933-487d-923e-93102ae20860.jpg?v=1609412497","variant_ids":[37347871228068,37347871260836]},"available":true,"name":"Removable Zipper Pull(4PCS) - Green Bronze","public_title":"Green Bronze","options":["Green Bronze"],"price":1499,"weight":0,"compare_at_price":1998,"inventory_management":null,"barcode":null,"featured_media":{"alt":null,"id":13638719832228,"position":6,"preview_image":{"aspect_ratio":1.0,"height":800,"width":800,"src":"https:\/\/cdn.shopify.com\/s\/files\/1\/0508\/2592\/0676\/products\/3-min_1c0085fc-2933-487d-923e-93102ae20860.jpg?v=1609412497"}},"requires_selling_plan":false,"selling_plan_allocations":[]}],"images":["\/\/cdn.shopify.com\/s\/files\/1\/0508\/2592\/0676\/products\/1-min_1ed216d1-6bde-41c5-9d6b-19884d99c3bb.jpg?v=1609412497","\/\/cdn.shopify.com\/s\/files\/1\/0508\/2592\/0676\/products\/2-min_ea6ecaa4-28c7-4c36-98a7-ffcd7239b4fe.jpg?v=1609412497","\/\/cdn.shopify.com\/s\/files\/1\/0508\/2592\/0676\/products\/5-min_0aebecaf-4314-4b19-934b-a349c547e7e6.jpg?v=1609412497","\/\/cdn.shopify.com\/s\/files\/1\/0508\/2592\/0676\/products\/30-1_625cc4f5-6327-40cc-80a9-ce676f87f048.jpg?v=1609412497","\/\/cdn.shopify.com\/s\/files\/1\/0508\/2592\/0676\/products\/30-2_29d9cab4-174c-4c4b-82b8-69b304fe6978.jpg?v=1609412497","\/\/cdn.shopify.com\/s\/files\/1\/0508\/2592\/0676\/products\/3-min_1c0085fc-2933-487d-923e-93102ae20860.jpg?v=1609412497","\/\/cdn.shopify.com\/s\/files\/1\/0508\/2592\/0676\/products\/30-3_5aa5c853-65c2-469d-90f2-75419ef6e4b4.jpg?v=1609412497","\/\/cdn.shopify.com\/s\/files\/1\/0508\/2592\/0676\/products\/30-5_1e6ddb85-29db-4a48-a66e-87271e768ea9.jpg?v=1609412497","\/\/cdn.shopify.com\/s\/files\/1\/0508\/2592\/0676\/products\/30-4_9dfd04bd-07dc-42dd-84d6-b29f1ec4a6de.jpg?v=1609412497"],"featured_image":"\/\/cdn.shopify.com\/s\/files\/1\/0508\/2592\/0676\/products\/1-min_1ed216d1-6bde-41c5-9d6b-19884d99c3bb.jpg?v=1609412497","options":["Color"],"media":[{"alt":null,"id":13638719668388,"position":1,"preview_image":{"aspect_ratio":1.0,"height":800,"width":800,"src":"https:\/\/cdn.shopify.com\/s\/files\/1\/0508\/2592\/0676\/products\/1-min_1ed216d1-6bde-41c5-9d6b-19884d99c3bb.jpg?v=1609412497"},"aspect_ratio":1.0,"height":800,"media_type":"image","src":"https:\/\/cdn.shopify.com\/s\/files\/1\/0508\/2592\/0676\/products\/1-min_1ed216d1-6bde-41c5-9d6b-19884d99c3bb.jpg?v=1609412497","width":800},{"alt":null,"id":13638719701156,"position":2,"preview_image":{"aspect_ratio":1.0,"height":800,"width":800,"src":"https:\/\/cdn.shopify.com\/s\/files\/1\/0508\/2592\/0676\/products\/2-min_ea6ecaa4-28c7-4c36-98a7-ffcd7239b4fe.jpg?v=1609412497"},"aspect_ratio":1.0,"height":800,"media_type":"image","src":"https:\/\/cdn.shopify.com\/s\/files\/1\/0508\/2592\/0676\/products\/2-min_ea6ecaa4-28c7-4c36-98a7-ffcd7239b4fe.jpg?v=1609412497","width":800},{"alt":null,"id":13638719733924,"position":3,"preview_image":{"aspect_ratio":1.0,"height":800,"width":800,"src":"https:\/\/cdn.shopify.com\/s\/files\/1\/0508\/2592\/0676\/products\/5-min_0aebecaf-4314-4b19-934b-a349c547e7e6.jpg?v=1609412497"},"aspect_ratio":1.0,"height":800,"media_type":"image","src":"https:\/\/cdn.shopify.com\/s\/files\/1\/0508\/2592\/0676\/products\/5-min_0aebecaf-4314-4b19-934b-a349c547e7e6.jpg?v=1609412497","width":800},{"alt":null,"id":13638719766692,"position":4,"preview_image":{"aspect_ratio":1.0,"height":800,"width":800,"src":"https:\/\/cdn.shopify.com\/s\/files\/1\/0508\/2592\/0676\/products\/30-1_625cc4f5-6327-40cc-80a9-ce676f87f048.jpg?v=1609412497"},"aspect_ratio":1.0,"height":800,"media_type":"image","src":"https:\/\/cdn.shopify.com\/s\/files\/1\/0508\/2592\/0676\/products\/30-1_625cc4f5-6327-40cc-80a9-ce676f87f048.jpg?v=1609412497","width":800},{"alt":null,"id":13638719799460,"position":5,"preview_image":{"aspect_ratio":1.0,"height":800,"width":800,"src":"https:\/\/cdn.shopify.com\/s\/files\/1\/0508\/2592\/0676\/products\/30-2_29d9cab4-174c-4c4b-82b8-69b304fe6978.jpg?v=1609412497"},"aspect_ratio":1.0,"height":800,"media_type":"image","src":"https:\/\/cdn.shopify.com\/s\/files\/1\/0508\/2592\/0676\/products\/30-2_29d9cab4-174c-4c4b-82b8-69b304fe6978.jpg?v=1609412497","width":800},{"alt":null,"id":13638719832228,"position":6,"preview_image":{"aspect_ratio":1.0,"height":800,"width":800,"src":"https:\/\/cdn.shopify.com\/s\/files\/1\/0508\/2592\/0676\/products\/3-min_1c0085fc-2933-487d-923e-93102ae20860.jpg?v=1609412497"},"aspect_ratio":1.0,"height":800,"media_type":"image","src":"https:\/\/cdn.shopify.com\/s\/files\/1\/0508\/2592\/0676\/products\/3-min_1c0085fc-2933-487d-923e-93102ae20860.jpg?v=1609412497","width":800},{"alt":null,"id":13638719864996,"position":7,"preview_image":{"aspect_ratio":1.0,"height":800,"width":800,"src":"https:\/\/cdn.shopify.com\/s\/files\/1\/0508\/2592\/0676\/products\/30-3_5aa5c853-65c2-469d-90f2-75419ef6e4b4.jpg?v=1609412497"},"aspect_ratio":1.0,"height":800,"media_type":"image","src":"https:\/\/cdn.shopify.com\/s\/files\/1\/0508\/2592\/0676\/products\/30-3_5aa5c853-65c2-469d-90f2-75419ef6e4b4.jpg?v=1609412497","width":800},{"alt":null,"id":13638719897764,"position":8,"preview_image":{"aspect_ratio":1.0,"height":800,"width":800,"src":"https:\/\/cdn.shopify.com\/s\/files\/1\/0508\/2592\/0676\/products\/30-5_1e6ddb85-29db-4a48-a66e-87271e768ea9.jpg?v=1609412497"},"aspect_ratio":1.0,"height":800,"media_type":"image","src":"https:\/\/cdn.shopify.com\/s\/files\/1\/0508\/2592\/0676\/products\/30-5_1e6ddb85-29db-4a48-a66e-87271e768ea9.jpg?v=1609412497","width":800},{"alt":null,"id":13638719930532,"position":9,"preview_image":{"aspect_ratio":1.0,"height":800,"width":800,"src":"https:\/\/cdn.shopify.com\/s\/files\/1\/0508\/2592\/0676\/products\/30-4_9dfd04bd-07dc-42dd-84d6-b29f1ec4a6de.jpg?v=1609412497"},"aspect_ratio":1.0,"height":800,"media_type":"image","src":"https:\/\/cdn.shopify.com\/s\/files\/1\/0508\/2592\/0676\/products\/30-4_9dfd04bd-07dc-42dd-84d6-b29f1ec4a6de.jpg?v=1609412497","width":800}],"requires_selling_plan":false,"selling_plan_groups":[],"content":"\u003c!-- Build time: 2020-11-25 14:12:23 --\u003e\n\u003cstyle\u003e\u003c!--\n.listing-build-item table {\n width: 100% !important;\n margin: 5px 0 !important;\n border-collapse: collapse !important;\n table-layout: initial !important;\n }\n\n .listing-build-item table ul li,\n .listing-build-item table dl dd,\n .listing-build-item table dl dt {\n list-style:outside none !important;\n margin:0 !important;\n }\n\n .listing-build-item table ul,\n .listing-build-item table dl {\n margin-left: 0 !important;\n }\n\n .listing-build-item table tr\u003etd,\n .listing-build-item table tr\u003eth {\n padding: 10px 14px !important;\n font-size: 14px !important;\n border: 1px solid #cbcbcb !important;\n background-clip: padding-box !important;\n position: relative !important;\n letter-spacing:initial !important;\n text-align: left !important;\n }\n\n .listing-build-item table tr\u003eth {\n font-weight: 600 !important;\n }\n\n .listing-build-item h3 {\n color: #000 !important;\n font-size: 20px !important;\n font-weight: 600 !important;\n margin: 0 !important;\n padding: 10px 0 !important;\n text-align: left !important;\n }\n .listing-build-item table th,.listing-build-item h5{\n color:#000 !important;\n }\n\n .listing-build-item {\n margin-bottom: 30px !important;\n word-break: break-word !important;\n }\n\n .listing-build-item ul,\n .listing-build-item dl {\n margin: 0 !important;\n padding:0 !important;\n list-style:outside none !important\n }\n\n .listing-build-item .img-box {\n margin: 10px 0 !important;\n }\n\n .listing-build-item .img-box img {\n height: auto !important;\n max-width: 100% !important;\n margin: 0 auto !important;\n padding: 0 !important;\n display: block !important;\n }\n @media screen and (min-width: 992px){\n .listing-build-item table tr\u003eth {\n width: 180px !important;\n }\n }\n @media screen and (max-width: 750px){\n .listing-build-item table tr\u003eth {\n width: 100px !important;\n }\n }\n\n .listing-build-item tr:first-child th:after,\n .listing-build-item tr:first-child td:after {\n border: initial !important;\n }\n\n .listing-build-item ul\u003eli:last-child,\n .listing-build-item ul.features\u003eli:last-child,\n .listing-build-item ul\u003eli.package-row:last-child {\n margin-bottom: 0 !important;\n }\n .listing-build-item ul.features li,.listing-build-item ul li.package-row{\n margin-bottom:7px !important;\n }\n .listing-build-item h5{\n margin: 20px 0 5px 0 !important;\n font-weight: 600 !important;\n text-align: left !important;\n }\n .listing-build-item strong{\n font-weight: 600 !important;\n }\n--\u003e\u003c\/style\u003e\n\u003c!-- BEGIN Descriptions --\u003e\n\u003cdiv class=\"listing-build-item\" style=\"text-align: center;\"\u003e\n\u003cspan style=\"text-align: center; font-size: 1.4em; color: #000000;\"\u003e\u003cstrong\u003eYou can easily hook the zippering point by pressing it, which perfectly solves the problem of zipper breakage and loss\u003c\/strong\u003e\u003c\/span\u003e\u003cspan style=\"text-align: center; font-size: 1.4em;\"\u003e.\u003c\/span\u003e\u003cbr\u003e \u003cimg style=\"font-size: 1.4em;\" alt=\"\" src=\"https:\/\/cdn.shopifycdn.net\/s\/files\/1\/0508\/7913\/5923\/products\/2-min_480x480.jpg?v=1606285161\" width=\"299\" height=\"299\"\u003e\u003cbr\u003e\n\u003cul\u003e\u003c\/ul\u003e\n\u003c\/div\u003e\n\u003cdiv style=\"text-align: left;\" class=\"listing-build-item\"\u003e\n\u003cul class=\"a-unordered-list a-vertical a-spacing-mini\"\u003e\n\u003cli\u003e\u003cspan class=\"a-list-item\"\u003eReplacement for broken and missing zipper pulls.\u003c\/span\u003e\u003c\/li\u003e\n\u003cli\u003e\u003cspan class=\"a-list-item\"\u003eSuitable for most zippers on handbag, backpack, suitcase and more.\u003c\/span\u003e\u003c\/li\u003e\n\u003cli\u003e\u003cspan class=\"a-list-item\"\u003eWorks as zipper pull replace, fix the zipper handles, solve the zipper tab problem.\u003c\/span\u003e\u003c\/li\u003e\n\u003c\/ul\u003e\n\u003c\/div\u003e\n\u003c!-- END Descriptions --\u003e \u003c!-- BEGIN features --\u003e\n\u003cdiv class=\"listing-build-item\"\u003e\n\u003ch3\u003eMain Features\u003c\/h3\u003e\n\u003cul class=\"features\"\u003e\n\u003cli\u003eThe zipper expander has a good smooth luster and can replace damaged zipper pieces. Push in and easy to hook into the zippering point, the metal zipper handle is made of zinc alloy.\u003c\/li\u003e\n\u003cli\u003e\n\u003cimg src=\"https:\/\/cdn.shopify.com\/s\/files\/1\/0082\/9148\/3738\/files\/1_ad3f87bd-30d1-4c64-a6b3-11437fe0c91e_480x480.jpg?v=1609400740\" alt=\"\" data-mce-fragment=\"1\" data-mce-src=\"https:\/\/cdn.shopify.com\/s\/files\/1\/0082\/9148\/3738\/files\/1_ad3f87bd-30d1-4c64-a6b3-11437fe0c91e_480x480.jpg?v=1609400740\"\u003e\u003cimg alt=\"\" src=\"https:\/\/cdn.shopify.com\/s\/files\/1\/0082\/9148\/3738\/files\/1_ad3f87bd-30d1-4c64-a6b3-11437fe0c91e_480x480.jpg?v=1609400740\"\u003e\n\u003c\/li\u003e\n\u003cli\u003eAn impressive alternative solution! Sturdy metal zipper, easy to install wallet tags, much better than replacing the entire wallet. It can also be used for twisted and broken winter jackets and suitcases.\u003c\/li\u003e\n\u003cli\u003eIdeal to replace zipper accessories for jeans, boots, suitcases, bags, etc. There is a loop at the end, and you can put on a rope for hanging accessories and so on.\u003c\/li\u003e\n\u003c\/ul\u003e\n\u003c\/div\u003e\n\u003c!-- END Using Method --\u003e \u003c!-- BEGIN usage_scene --\u003e \u003c!-- END usage_scene --\u003e \u003c!-- BEGIN specification --\u003e\n\u003cdiv class=\"listing-build-item\"\u003e\n\u003ch3\u003eSpecifications\u003c\/h3\u003e\n\u003ctable\u003e\n\u003c!-- BEGIN specification_material --\u003e \u003c!-- END specification_material --\u003e \u003c!-- BEGIN specification_weight --\u003e\n\u003ctbody\u003e\n\u003ctr\u003e\n\u003cth scope=\"row\"\u003eProduct Weight\u003c\/th\u003e\n\u003ctd\u003e\n\u003cul\u003e\n\u003cli\u003e28G\u003c\/li\u003e\n\u003c\/ul\u003e\n\u003c\/td\u003e\n\u003c\/tr\u003e\n\u003c!-- END specification_weight --\u003e \u003c!-- BEGIN specification_size --\u003e\n\u003ctr\u003e\n\u003cth scope=\"row\"\u003eProduct Size\u003cbr\u003e (L x W x H)\u003c\/th\u003e\n\u003ctd\u003e\n\u003cul\u003e\n\u003cli\u003e7 × 5 × 1cm \/ 2.8 × 2 × 0.4inches\u003c\/li\u003e\n\u003c\/ul\u003e\n\u003c\/td\u003e\n\u003c\/tr\u003e\n\u003c!-- END specification_size --\u003e \u003c!-- BEGIN specification_many_package --\u003e\n\u003ctr\u003e\n\u003cth scope=\"row\"\u003ePackage Contents\u003c\/th\u003e\n\u003ctd\u003e\n\u003cul\u003e\n\u003cli\u003ePractical Zipper Accessory Pull Tab × 4\u003c\/li\u003e\n\u003c\/ul\u003e\n\u003c\/td\u003e\n\u003c\/tr\u003e\n\u003c!-- END specification_one_package --\u003e \u003c!-- BEGIN specification_custom_attribute --\u003e\n\u003ctr\u003e\n\u003cth scope=\"row\"\u003eMaterial\u003c\/th\u003e\n\u003ctd\u003eZinc Alloy\u003c\/td\u003e\n\u003c\/tr\u003e\n\u003c!-- END specification_custom_attribute --\u003e\n\u003c\/tbody\u003e\n\u003c\/table\u003e\n\u003c!-- BEGIN specification_size_img --\u003e \u003c!-- END specification_size_img --\u003e\n\u003c\/div\u003e\n\u003c!-- END specification --\u003e \u003c!-- BEGIN note --\u003e\n\u003cdiv class=\"listing-build-item\"\u003e\n\u003ch3\u003eNote\u003c\/h3\u003e\n\u003cul\u003e\n\u003cli\u003eDue to manual measurements, please allow slight measurement deviations.\u003c\/li\u003e\n\u003cli\u003eDue to the different display and lighting effects, the actual color of the item may be slightly different from the color displayed on the picture.\u003c\/li\u003e\n\u003c\/ul\u003e\n\u003c\/div\u003e\n\u003c!-- END note --\u003e"}
Removable Zipper Pull(4PCS)
Product Description
You can easily hook the zippering point by pressing it, which perfectly solves the problem of zipper breakage and loss
.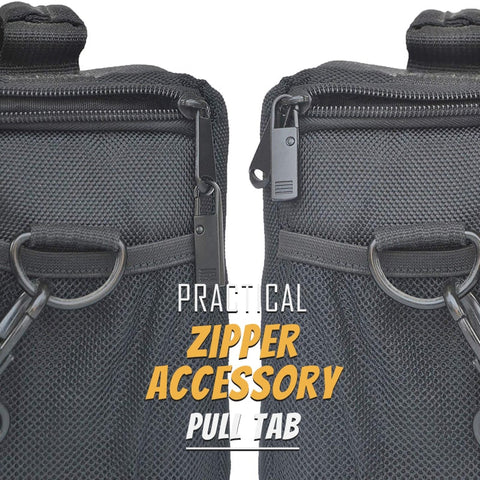 Replacement for broken and missing zipper pulls.

Suitable for most zippers on handbag, backpack, suitcase and more.

Works as zipper pull replace, fix the zipper handles, solve the zipper tab problem.
Main Features
The zipper expander has a good smooth luster and can replace damaged zipper pieces. Push in and easy to hook into the zippering point, the metal zipper handle is made of zinc alloy.
An impressive alternative solution! Sturdy metal zipper, easy to install wallet tags, much better than replacing the entire wallet. It can also be used for twisted and broken winter jackets and suitcases.
Ideal to replace zipper accessories for jeans, boots, suitcases, bags, etc. There is a loop at the end, and you can put on a rope for hanging accessories and so on.
Specifications
Product Weight
Product Size
(L x W x H)

7 × 5 × 1cm / 2.8 × 2 × 0.4inches

Package Contents

Practical Zipper Accessory Pull Tab × 4

Material
Zinc Alloy
Note
Due to manual measurements, please allow slight measurement deviations.
Due to the different display and lighting effects, the actual color of the item may be slightly different from the color displayed on the picture.
Shipping:
We processes orders between Monday and Friday. Orders will be processed within 7 business days of ordering and shipped out the next day after the processing day. We don't ship on weekends.