{"id":5871423815844,"title":"4 in 1 Electric Shoe Polisher","handle":"polish","description":"\u003ch4\u003e\u003cspan style=\"color: #ff8000;\"\u003e\u003cstrong\u003eThis Electric Polisher Will Save You From These Troubles:\u003c\/strong\u003e\u003c\/span\u003e\u003c\/h4\u003e\n\u003cp\u003e\u003cspan style=\"color: #91ab0e;\"\u003e\u003cstrong data-mce-fragment=\"1\"\u003e☹️\u003c\/strong\u003e\u003cstrong\u003eNeed to clean shoes when in a rush;\u003c\/strong\u003e\u003c\/span\u003e\u003cbr\u003e\u003cspan style=\"color: #91ab0e;\"\u003e\u003cstrong\u003e☹️Expensive pay for store shoes cleaning;\u003c\/strong\u003e\u003c\/span\u003e\u003cbr\u003e\u003cspan style=\"color: #91ab0e;\"\u003e\u003cstrong\u003e☹️The trouble with complex shoes clean routine;\u003c\/strong\u003e\u003c\/span\u003e\u003cbr\u003e\u003cspan style=\"color: #91ab0e;\"\u003e\u003cstrong\u003e☹️Dirty hands with hard-to-wash shoe polish after brushing.\u003c\/strong\u003e\u003c\/span\u003e\u003c\/p\u003e\n\u003cp style=\"text-align: center;\"\u003e\u003cspan style=\"color: #ff8000;\"\u003e\u003cstrong\u003e\u003cimg alt=\"\" src=\"https:\/\/cdn.shopifycdn.net\/s\/files\/1\/0068\/6879\/5480\/files\/1_94273928-bcc4-4b18-8a45-f5b253f34881_480x480.jpg?v=1594974671\"\u003e\u003c\/strong\u003e\u003c\/span\u003e\u003c\/p\u003e\n\u003cp\u003e\u003c!-- Build time: 2020-07-16 17:35:45 --\u003e \u003c!--\n * @Description: listing build template\n --\u003e\u003c\/p\u003e\n\u003cstyle\u003e\u003c!--\n.listing-build-item table {\n width: 100% !important;\n margin: 5px 0 !important;\n border-collapse: collapse !important;\n table-layout: initial !important;\n word-break: break-word !important;\n }\n\n .listing-build-item table ul li,\n .listing-build-item table dl dd,\n .listing-build-item table dl dt {\n list-style:outside none !important;\n margin:0 !important;\n }\n\n .listing-build-item table ul,\n .listing-build-item table dl {\n margin-left: 0 !important;\n }\n\n .listing-build-item table tr\u003etd,\n .listing-build-item table tr\u003eth {\n padding: 10px 14px !important;\n font-size: 14px !important;\n border: 1px solid #cbcbcb !important;\n background-clip: padding-box !important;\n position: relative !important;\n letter-spacing:initial !important;\n text-align: left !important;\n }\n\n .listing-build-item table tr\u003eth {\n font-weight: 600 !important;\n }\n\n .listing-build-item h3 {\n color: #000 !important;\n font-size: 20px !important;\n font-weight: 600 !important;\n margin: 0 !important;\n padding: 10px 0 !important;\n text-align: left !important;\n }\n .listing-build-item table th,.listing-build-item h5{\n color:#000 !important;\n }\n .listing-build-item ul li,\n .listing-build-item dl dd,\n .listing-build-item dl dt {\n list-style: disc outside !important;\n margin: 0 0 3px 18px !important;\n padding:0;\n }\n\n\n .listing-build-item {\n margin-bottom: 30px !important;\n word-break: break-word !important;\n }\n\n .listing-build-item ul,\n .listing-build-item dl {\n margin: 0 !important;\n padding:0 !important;\n list-style:outside none !important\n }\n\n .listing-build-item .img-box {\n margin: 10px 0 !important;\n }\n\n .listing-build-item .img-box img {\n height: auto !important;\n max-width: 100% !important;\n margin: 0 auto !important;\n padding: 0 !important;\n display: block !important;\n }\n @media screen and (min-width: 992px){\n .listing-build-item table tr\u003eth {\n width: 180px !important;\n }\n }\n @media screen and (max-width: 750px){\n .listing-build-item table tr\u003eth {\n width: 100px !important;\n }\n }\n\n .listing-build-item tr:first-child th:after,\n .listing-build-item tr:first-child td:after {\n border: initial !important;\n }\n\n .listing-build-item ul\u003eli:last-child,\n .listing-build-item ul.features\u003eli:last-child,\n .listing-build-item ul\u003eli.package-row:last-child {\n margin-bottom: 0 !important;\n }\n .listing-build-item ul.features li,.listing-build-item ul li.package-row{\n margin-bottom:7px !important;\n }\n .listing-build-item h5{\n margin: 20px 0 5px 0 !important;\n font-weight: 600 !important;\n text-align: left !important;\n }\n .listing-build-item strong{\n font-weight: 600 !important;\n }\n--\u003e\u003c\/style\u003e\n\u003cp\u003e\u003c!-- BEGIN features --\u003e\u003c\/p\u003e\n\u003ch3\u003eMain Features\u003c\/h3\u003e\n\u003cp\u003e\u003cspan style=\"color: #ff8000;\"\u003e\u003cstrong\u003eCONVENIENT SHOE CLEANER KIT\u003c\/strong\u003e\u003c\/span\u003e - Provide you a more convenient shoe cleaning and caring solutions. Whether you go to work, business visit, or even travel, it can be a great leather cleaner to make your shoes a shining new look.\u003c\/p\u003e\n\u003cp\u003e\u003cstrong\u003e\u003cspan style=\"color: #ff8000;\"\u003ePORTABLE DESIGN \u003cspan style=\"color: #000000;\"\u003e- \u003c\/span\u003e\u003c\/span\u003e\u003c\/strong\u003e\u003cspan style=\"color: #000000;\"\u003eL\u003c\/span\u003eightweight \u0026amp; Small in size, suitable for various use scenarios. It can be placed in the home shoe cabinet, put it in the office drawer, or carried on the trip.\u003c\/p\u003e\n\u003cp\u003e\u003cspan style=\"color: #ff8000;\"\u003e\u003cstrong\u003eWORKS ON ALL CLEANABLE SHOES(with detergent or polish)\u003c\/strong\u003e \u003c\/span\u003e- Suitable for all kinds of leathers, vinyl, nubuck, like leather shoes, bags, jackets, sofa, car mat and more.\u003c\/p\u003e\n\u003cp\u003e\u003cspan style=\"color: #ff8000;\"\u003e\u003cstrong\u003ePOWERED BY BATTERY\u003c\/strong\u003e\u003c\/span\u003e - High-performance motor and 2 AA lithium batteries ensure continuous 2-3 hours service life.  (not included, arrange attention to the positive and negative!).\u003c\/p\u003e\n\u003cp\u003e\u003cspan style=\"color: #ff8000;\"\u003e\u003cstrong\u003eWITH 4 REPLACEMENT BRUSH\u003c\/strong\u003e\u003c\/span\u003e - The package comes with one brightening brush, one oiling brush one polishing brush, and one dusting brush. It is easy for you to change the brush head when necessary. \u003cimg style=\"display: block; margin-left: auto; margin-right: auto;\" alt=\"\" src=\"https:\/\/cdn.shopifycdn.net\/s\/files\/1\/0068\/6879\/5480\/files\/2_76ab2f2d-0b02-4def-b40a-abf42323c250_480x480.jpg?v=1594974697\"\u003e\u003c\/p\u003e\n\u003cul class=\"features\"\u003e\u003c\/ul\u003e\n\u003c!-- END features --\u003e \u003c!-- BEGIN usage_scene --\u003e\n\u003cdiv class=\"listing-build-item\"\u003e\n\u003ch3\u003eUsage Scenarios\u003c\/h3\u003e\n\u003cul\u003e\n\u003cli\u003eWORKS ON ALL CLEANABLE SHOES. It can be placed in the home shoe cabinet, put it in the office drawer, or carried on the trip.\u003c\/li\u003e\n\u003c\/ul\u003e\n\u003c\/div\u003e\n\u003c!-- END usage_scene --\u003e \u003c!-- BEGIN using_text --\u003e \u003c!-- END using_text --\u003e \u003c!-- BEGIN specification --\u003e\n\u003cdiv class=\"listing-build-item\"\u003e\n\u003ch3\u003eSpecification\u003c\/h3\u003e\n\u003ctable style=\"width: 534px;\"\u003e\n\u003c!-- BEGIN specification_material --\u003e\n\u003ctbody\u003e\n\u003ctr style=\"height: 19px;\"\u003e\n\u003cth style=\"width: 251px; height: 19px;\" class=\"specification-th\" scope=\"row\"\u003eApplicable Materials\u003c\/th\u003e\n\u003ctd style=\"width: 224px; height: 19px;\" class=\"specification-td\"\u003e\n\u003cul\u003e\n\u003cli\u003eLeather\u003c\/li\u003e\n\u003c\/ul\u003e\n\u003c\/td\u003e\n\u003c\/tr\u003e\n\u003c!-- END specification_material --\u003e \u003c!-- BEGIN specification_custom_attribute --\u003e \u003c!-- END specification_custom_attribute --\u003e \u003c!-- BEGIN specification_models --\u003e \u003c!-- END specification_models --\u003e \u003c!-- BEGIN specification_colors --\u003e \u003c!-- END specification_colors --\u003e \u003c!-- BEGIN specification_size --\u003e\n\u003ctr style=\"height: 30px;\"\u003e\n\u003cth style=\"width: 251px; height: 30px;\" scope=\"row\"\u003eProduct Weight\u003c\/th\u003e\n\u003ctd style=\"width: 224px; height: 30px;\"\u003e\n\u003cul\u003e\n\u003cli\u003e210g\u003c\/li\u003e\n\u003c\/ul\u003e\n\u003c\/td\u003e\n\u003c\/tr\u003e\n\u003c!-- END specification_size --\u003e \u003c!-- BEGIN specification_weight --\u003e \u003c!-- END specification_weight --\u003e \u003c!-- BEGIN specification_weight --\u003e \u003c!-- END specification_weight --\u003e \u003c!-- BEGIN specification_many_package --\u003e\n\u003ctr style=\"height: 57px;\"\u003e\n\u003cth style=\"width: 251px; height: 57px;\" scope=\"row\"\u003ePackage Contents\u003c\/th\u003e\n\u003ctd style=\"width: 224px; height: 57px;\"\u003e\n\u003cul\u003e\n\u003cli\u003eHousehold Small Electric Shoe Polisher × 1+Brightening brush + oiling brush + polishing brush + dust removal brush\u003c\/li\u003e\n\u003c\/ul\u003e\n\u003c\/td\u003e\n\u003c\/tr\u003e\n\u003c!-- END specification_one_package --\u003e\n\u003c\/tbody\u003e\n\u003c\/table\u003e\n\u003c!-- BEGIN specification_size_img --\u003e \u003c!-- END specification_size_img --\u003e\n\u003c\/div\u003e\n\u003c!-- END specification --\u003e \u003c!-- BEGIN note --\u003e\n\u003cdiv class=\"listing-build-item\"\u003e\n\u003ch3\u003eNote\u003c\/h3\u003e\n\u003cul\u003e\n\u003c!-- END note_apply --\u003e \u003c!-- BEGIN note_other --\u003e\n\u003cli\u003eDue to the different display and lighting effects, the actual color of the item may be slightly different from the color displayed on the picture.\u003c\/li\u003e\n\u003c!-- END note_other --\u003e\n\u003c\/ul\u003e\n\u003c\/div\u003e\n\u003c!-- END note --\u003e","published_at":"2020-11-20T17:47:35+08:00","created_at":"2020-11-20T17:47:35+08:00","vendor":"solegg","type":"Houseware \u0026 Kitchen","tags":[],"price":999,"price_min":999,"price_max":999,"available":true,"price_varies":false,"compare_at_price":5598,"compare_at_price_min":5598,"compare_at_price_max":5598,"compare_at_price_varies":false,"variants":[{"id":37015075848356,"title":"1 PC","option1":"1 PC","option2":null,"option3":null,"sku":"LE32040817*1","requires_shipping":true,"taxable":false,"featured_image":null,"available":true,"name":"4 in 1 Electric Shoe Polisher - 1 PC","public_title":"1 PC","options":["1 PC"],"price":999,"weight":0,"compare_at_price":5598,"inventory_management":null,"barcode":null,"requires_selling_plan":false,"selling_plan_allocations":[]}],"images":["\/\/cdn.shopify.com\/s\/files\/1\/0508\/2592\/0676\/products\/4-in-1-Electric-Shoe-Polisher_01.gif?v=1605865655","\/\/cdn.shopify.com\/s\/files\/1\/0508\/2592\/0676\/products\/4-in-1-Electric-Shoe-Polisher_02.jpg?v=1605865655","\/\/cdn.shopify.com\/s\/files\/1\/0508\/2592\/0676\/products\/4-in-1-Electric-Shoe-Polisher_03.jpg?v=1605865655","\/\/cdn.shopify.com\/s\/files\/1\/0508\/2592\/0676\/products\/4-in-1-Electric-Shoe-Polisher_04.jpg?v=1605865655","\/\/cdn.shopify.com\/s\/files\/1\/0508\/2592\/0676\/products\/4-in-1-Electric-Shoe-Polisher_05.jpg?v=1605865655","\/\/cdn.shopify.com\/s\/files\/1\/0508\/2592\/0676\/products\/4-in-1-Electric-Shoe-Polisher_06.jpg?v=1605865655","\/\/cdn.shopify.com\/s\/files\/1\/0508\/2592\/0676\/products\/4-in-1-Electric-Shoe-Polisher_08.jpg?v=1605865655"],"featured_image":"\/\/cdn.shopify.com\/s\/files\/1\/0508\/2592\/0676\/products\/4-in-1-Electric-Shoe-Polisher_01.gif?v=1605865655","options":["Quantity"],"media":[{"alt":null,"id":12916507181220,"position":1,"preview_image":{"aspect_ratio":1.0,"height":600,"width":600,"src":"https:\/\/cdn.shopify.com\/s\/files\/1\/0508\/2592\/0676\/products\/4-in-1-Electric-Shoe-Polisher_01.gif?v=1605865655"},"aspect_ratio":1.0,"height":600,"media_type":"image","src":"https:\/\/cdn.shopify.com\/s\/files\/1\/0508\/2592\/0676\/products\/4-in-1-Electric-Shoe-Polisher_01.gif?v=1605865655","width":600},{"alt":null,"id":12916507213988,"position":2,"preview_image":{"aspect_ratio":1.0,"height":800,"width":800,"src":"https:\/\/cdn.shopify.com\/s\/files\/1\/0508\/2592\/0676\/products\/4-in-1-Electric-Shoe-Polisher_02.jpg?v=1605865655"},"aspect_ratio":1.0,"height":800,"media_type":"image","src":"https:\/\/cdn.shopify.com\/s\/files\/1\/0508\/2592\/0676\/products\/4-in-1-Electric-Shoe-Polisher_02.jpg?v=1605865655","width":800},{"alt":null,"id":12916507246756,"position":3,"preview_image":{"aspect_ratio":1.0,"height":800,"width":800,"src":"https:\/\/cdn.shopify.com\/s\/files\/1\/0508\/2592\/0676\/products\/4-in-1-Electric-Shoe-Polisher_03.jpg?v=1605865655"},"aspect_ratio":1.0,"height":800,"media_type":"image","src":"https:\/\/cdn.shopify.com\/s\/files\/1\/0508\/2592\/0676\/products\/4-in-1-Electric-Shoe-Polisher_03.jpg?v=1605865655","width":800},{"alt":null,"id":12916507279524,"position":4,"preview_image":{"aspect_ratio":1.0,"height":800,"width":800,"src":"https:\/\/cdn.shopify.com\/s\/files\/1\/0508\/2592\/0676\/products\/4-in-1-Electric-Shoe-Polisher_04.jpg?v=1605865655"},"aspect_ratio":1.0,"height":800,"media_type":"image","src":"https:\/\/cdn.shopify.com\/s\/files\/1\/0508\/2592\/0676\/products\/4-in-1-Electric-Shoe-Polisher_04.jpg?v=1605865655","width":800},{"alt":null,"id":12916507312292,"position":5,"preview_image":{"aspect_ratio":1.0,"height":800,"width":800,"src":"https:\/\/cdn.shopify.com\/s\/files\/1\/0508\/2592\/0676\/products\/4-in-1-Electric-Shoe-Polisher_05.jpg?v=1605865655"},"aspect_ratio":1.0,"height":800,"media_type":"image","src":"https:\/\/cdn.shopify.com\/s\/files\/1\/0508\/2592\/0676\/products\/4-in-1-Electric-Shoe-Polisher_05.jpg?v=1605865655","width":800},{"alt":null,"id":12916507345060,"position":6,"preview_image":{"aspect_ratio":1.0,"height":800,"width":800,"src":"https:\/\/cdn.shopify.com\/s\/files\/1\/0508\/2592\/0676\/products\/4-in-1-Electric-Shoe-Polisher_06.jpg?v=1605865655"},"aspect_ratio":1.0,"height":800,"media_type":"image","src":"https:\/\/cdn.shopify.com\/s\/files\/1\/0508\/2592\/0676\/products\/4-in-1-Electric-Shoe-Polisher_06.jpg?v=1605865655","width":800},{"alt":null,"id":12916507377828,"position":7,"preview_image":{"aspect_ratio":1.0,"height":800,"width":800,"src":"https:\/\/cdn.shopify.com\/s\/files\/1\/0508\/2592\/0676\/products\/4-in-1-Electric-Shoe-Polisher_08.jpg?v=1605865655"},"aspect_ratio":1.0,"height":800,"media_type":"image","src":"https:\/\/cdn.shopify.com\/s\/files\/1\/0508\/2592\/0676\/products\/4-in-1-Electric-Shoe-Polisher_08.jpg?v=1605865655","width":800}],"requires_selling_plan":false,"selling_plan_groups":[],"content":"\u003ch4\u003e\u003cspan style=\"color: #ff8000;\"\u003e\u003cstrong\u003eThis Electric Polisher Will Save You From These Troubles:\u003c\/strong\u003e\u003c\/span\u003e\u003c\/h4\u003e\n\u003cp\u003e\u003cspan style=\"color: #91ab0e;\"\u003e\u003cstrong data-mce-fragment=\"1\"\u003e☹️\u003c\/strong\u003e\u003cstrong\u003eNeed to clean shoes when in a rush;\u003c\/strong\u003e\u003c\/span\u003e\u003cbr\u003e\u003cspan style=\"color: #91ab0e;\"\u003e\u003cstrong\u003e☹️Expensive pay for store shoes cleaning;\u003c\/strong\u003e\u003c\/span\u003e\u003cbr\u003e\u003cspan style=\"color: #91ab0e;\"\u003e\u003cstrong\u003e☹️The trouble with complex shoes clean routine;\u003c\/strong\u003e\u003c\/span\u003e\u003cbr\u003e\u003cspan style=\"color: #91ab0e;\"\u003e\u003cstrong\u003e☹️Dirty hands with hard-to-wash shoe polish after brushing.\u003c\/strong\u003e\u003c\/span\u003e\u003c\/p\u003e\n\u003cp style=\"text-align: center;\"\u003e\u003cspan style=\"color: #ff8000;\"\u003e\u003cstrong\u003e\u003cimg alt=\"\" src=\"https:\/\/cdn.shopifycdn.net\/s\/files\/1\/0068\/6879\/5480\/files\/1_94273928-bcc4-4b18-8a45-f5b253f34881_480x480.jpg?v=1594974671\"\u003e\u003c\/strong\u003e\u003c\/span\u003e\u003c\/p\u003e\n\u003cp\u003e\u003c!-- Build time: 2020-07-16 17:35:45 --\u003e \u003c!--\n * @Description: listing build template\n --\u003e\u003c\/p\u003e\n\u003cstyle\u003e\u003c!--\n.listing-build-item table {\n width: 100% !important;\n margin: 5px 0 !important;\n border-collapse: collapse !important;\n table-layout: initial !important;\n word-break: break-word !important;\n }\n\n .listing-build-item table ul li,\n .listing-build-item table dl dd,\n .listing-build-item table dl dt {\n list-style:outside none !important;\n margin:0 !important;\n }\n\n .listing-build-item table ul,\n .listing-build-item table dl {\n margin-left: 0 !important;\n }\n\n .listing-build-item table tr\u003etd,\n .listing-build-item table tr\u003eth {\n padding: 10px 14px !important;\n font-size: 14px !important;\n border: 1px solid #cbcbcb !important;\n background-clip: padding-box !important;\n position: relative !important;\n letter-spacing:initial !important;\n text-align: left !important;\n }\n\n .listing-build-item table tr\u003eth {\n font-weight: 600 !important;\n }\n\n .listing-build-item h3 {\n color: #000 !important;\n font-size: 20px !important;\n font-weight: 600 !important;\n margin: 0 !important;\n padding: 10px 0 !important;\n text-align: left !important;\n }\n .listing-build-item table th,.listing-build-item h5{\n color:#000 !important;\n }\n .listing-build-item ul li,\n .listing-build-item dl dd,\n .listing-build-item dl dt {\n list-style: disc outside !important;\n margin: 0 0 3px 18px !important;\n padding:0;\n }\n\n\n .listing-build-item {\n margin-bottom: 30px !important;\n word-break: break-word !important;\n }\n\n .listing-build-item ul,\n .listing-build-item dl {\n margin: 0 !important;\n padding:0 !important;\n list-style:outside none !important\n }\n\n .listing-build-item .img-box {\n margin: 10px 0 !important;\n }\n\n .listing-build-item .img-box img {\n height: auto !important;\n max-width: 100% !important;\n margin: 0 auto !important;\n padding: 0 !important;\n display: block !important;\n }\n @media screen and (min-width: 992px){\n .listing-build-item table tr\u003eth {\n width: 180px !important;\n }\n }\n @media screen and (max-width: 750px){\n .listing-build-item table tr\u003eth {\n width: 100px !important;\n }\n }\n\n .listing-build-item tr:first-child th:after,\n .listing-build-item tr:first-child td:after {\n border: initial !important;\n }\n\n .listing-build-item ul\u003eli:last-child,\n .listing-build-item ul.features\u003eli:last-child,\n .listing-build-item ul\u003eli.package-row:last-child {\n margin-bottom: 0 !important;\n }\n .listing-build-item ul.features li,.listing-build-item ul li.package-row{\n margin-bottom:7px !important;\n }\n .listing-build-item h5{\n margin: 20px 0 5px 0 !important;\n font-weight: 600 !important;\n text-align: left !important;\n }\n .listing-build-item strong{\n font-weight: 600 !important;\n }\n--\u003e\u003c\/style\u003e\n\u003cp\u003e\u003c!-- BEGIN features --\u003e\u003c\/p\u003e\n\u003ch3\u003eMain Features\u003c\/h3\u003e\n\u003cp\u003e\u003cspan style=\"color: #ff8000;\"\u003e\u003cstrong\u003eCONVENIENT SHOE CLEANER KIT\u003c\/strong\u003e\u003c\/span\u003e - Provide you a more convenient shoe cleaning and caring solutions. Whether you go to work, business visit, or even travel, it can be a great leather cleaner to make your shoes a shining new look.\u003c\/p\u003e\n\u003cp\u003e\u003cstrong\u003e\u003cspan style=\"color: #ff8000;\"\u003ePORTABLE DESIGN \u003cspan style=\"color: #000000;\"\u003e- \u003c\/span\u003e\u003c\/span\u003e\u003c\/strong\u003e\u003cspan style=\"color: #000000;\"\u003eL\u003c\/span\u003eightweight \u0026amp; Small in size, suitable for various use scenarios. It can be placed in the home shoe cabinet, put it in the office drawer, or carried on the trip.\u003c\/p\u003e\n\u003cp\u003e\u003cspan style=\"color: #ff8000;\"\u003e\u003cstrong\u003eWORKS ON ALL CLEANABLE SHOES(with detergent or polish)\u003c\/strong\u003e \u003c\/span\u003e- Suitable for all kinds of leathers, vinyl, nubuck, like leather shoes, bags, jackets, sofa, car mat and more.\u003c\/p\u003e\n\u003cp\u003e\u003cspan style=\"color: #ff8000;\"\u003e\u003cstrong\u003ePOWERED BY BATTERY\u003c\/strong\u003e\u003c\/span\u003e - High-performance motor and 2 AA lithium batteries ensure continuous 2-3 hours service life.  (not included, arrange attention to the positive and negative!).\u003c\/p\u003e\n\u003cp\u003e\u003cspan style=\"color: #ff8000;\"\u003e\u003cstrong\u003eWITH 4 REPLACEMENT BRUSH\u003c\/strong\u003e\u003c\/span\u003e - The package comes with one brightening brush, one oiling brush one polishing brush, and one dusting brush. It is easy for you to change the brush head when necessary. \u003cimg style=\"display: block; margin-left: auto; margin-right: auto;\" alt=\"\" src=\"https:\/\/cdn.shopifycdn.net\/s\/files\/1\/0068\/6879\/5480\/files\/2_76ab2f2d-0b02-4def-b40a-abf42323c250_480x480.jpg?v=1594974697\"\u003e\u003c\/p\u003e\n\u003cul class=\"features\"\u003e\u003c\/ul\u003e\n\u003c!-- END features --\u003e \u003c!-- BEGIN usage_scene --\u003e\n\u003cdiv class=\"listing-build-item\"\u003e\n\u003ch3\u003eUsage Scenarios\u003c\/h3\u003e\n\u003cul\u003e\n\u003cli\u003eWORKS ON ALL CLEANABLE SHOES. It can be placed in the home shoe cabinet, put it in the office drawer, or carried on the trip.\u003c\/li\u003e\n\u003c\/ul\u003e\n\u003c\/div\u003e\n\u003c!-- END usage_scene --\u003e \u003c!-- BEGIN using_text --\u003e \u003c!-- END using_text --\u003e \u003c!-- BEGIN specification --\u003e\n\u003cdiv class=\"listing-build-item\"\u003e\n\u003ch3\u003eSpecification\u003c\/h3\u003e\n\u003ctable style=\"width: 534px;\"\u003e\n\u003c!-- BEGIN specification_material --\u003e\n\u003ctbody\u003e\n\u003ctr style=\"height: 19px;\"\u003e\n\u003cth style=\"width: 251px; height: 19px;\" class=\"specification-th\" scope=\"row\"\u003eApplicable Materials\u003c\/th\u003e\n\u003ctd style=\"width: 224px; height: 19px;\" class=\"specification-td\"\u003e\n\u003cul\u003e\n\u003cli\u003eLeather\u003c\/li\u003e\n\u003c\/ul\u003e\n\u003c\/td\u003e\n\u003c\/tr\u003e\n\u003c!-- END specification_material --\u003e \u003c!-- BEGIN specification_custom_attribute --\u003e \u003c!-- END specification_custom_attribute --\u003e \u003c!-- BEGIN specification_models --\u003e \u003c!-- END specification_models --\u003e \u003c!-- BEGIN specification_colors --\u003e \u003c!-- END specification_colors --\u003e \u003c!-- BEGIN specification_size --\u003e\n\u003ctr style=\"height: 30px;\"\u003e\n\u003cth style=\"width: 251px; height: 30px;\" scope=\"row\"\u003eProduct Weight\u003c\/th\u003e\n\u003ctd style=\"width: 224px; height: 30px;\"\u003e\n\u003cul\u003e\n\u003cli\u003e210g\u003c\/li\u003e\n\u003c\/ul\u003e\n\u003c\/td\u003e\n\u003c\/tr\u003e\n\u003c!-- END specification_size --\u003e \u003c!-- BEGIN specification_weight --\u003e \u003c!-- END specification_weight --\u003e \u003c!-- BEGIN specification_weight --\u003e \u003c!-- END specification_weight --\u003e \u003c!-- BEGIN specification_many_package --\u003e\n\u003ctr style=\"height: 57px;\"\u003e\n\u003cth style=\"width: 251px; height: 57px;\" scope=\"row\"\u003ePackage Contents\u003c\/th\u003e\n\u003ctd style=\"width: 224px; height: 57px;\"\u003e\n\u003cul\u003e\n\u003cli\u003eHousehold Small Electric Shoe Polisher × 1+Brightening brush + oiling brush + polishing brush + dust removal brush\u003c\/li\u003e\n\u003c\/ul\u003e\n\u003c\/td\u003e\n\u003c\/tr\u003e\n\u003c!-- END specification_one_package --\u003e\n\u003c\/tbody\u003e\n\u003c\/table\u003e\n\u003c!-- BEGIN specification_size_img --\u003e \u003c!-- END specification_size_img --\u003e\n\u003c\/div\u003e\n\u003c!-- END specification --\u003e \u003c!-- BEGIN note --\u003e\n\u003cdiv class=\"listing-build-item\"\u003e\n\u003ch3\u003eNote\u003c\/h3\u003e\n\u003cul\u003e\n\u003c!-- END note_apply --\u003e \u003c!-- BEGIN note_other --\u003e\n\u003cli\u003eDue to the different display and lighting effects, the actual color of the item may be slightly different from the color displayed on the picture.\u003c\/li\u003e\n\u003c!-- END note_other --\u003e\n\u003c\/ul\u003e\n\u003c\/div\u003e\n\u003c!-- END note --\u003e"}
4 in 1 Electric Shoe Polisher
Product Description
This Electric Polisher Will Save You From These Troubles:
☹️Need to clean shoes when in a rush;
☹️Expensive pay for store shoes cleaning;
☹️The trouble with complex shoes clean routine;
☹️Dirty hands with hard-to-wash shoe polish after brushing.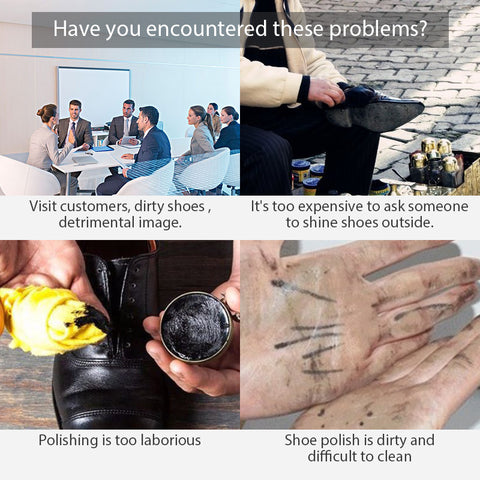 Main Features
CONVENIENT SHOE CLEANER KIT - Provide you a more convenient shoe cleaning and caring solutions. Whether you go to work, business visit, or even travel, it can be a great leather cleaner to make your shoes a shining new look.
PORTABLE DESIGN - Lightweight & Small in size, suitable for various use scenarios. It can be placed in the home shoe cabinet, put it in the office drawer, or carried on the trip.
WORKS ON ALL CLEANABLE SHOES(with detergent or polish) - Suitable for all kinds of leathers, vinyl, nubuck, like leather shoes, bags, jackets, sofa, car mat and more.
POWERED BY BATTERY - High-performance motor and 2 AA lithium batteries ensure continuous 2-3 hours service life.  (not included, arrange attention to the positive and negative!).
WITH 4 REPLACEMENT BRUSH - The package comes with one brightening brush, one oiling brush one polishing brush, and one dusting brush. It is easy for you to change the brush head when necessary.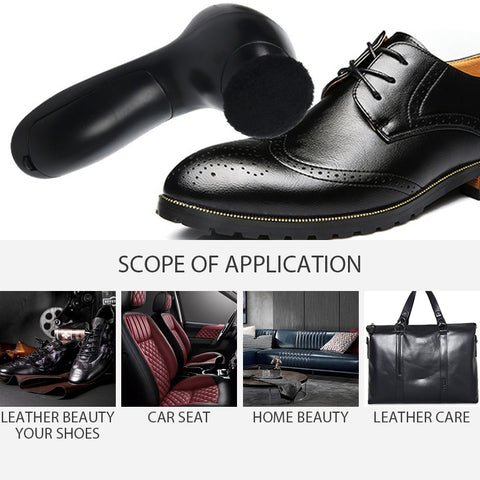 Usage Scenarios
WORKS ON ALL CLEANABLE SHOES. It can be placed in the home shoe cabinet, put it in the office drawer, or carried on the trip.
Specification
| | |
| --- | --- |
| Applicable Materials | |
| Product Weight | |
| Package Contents | Household Small Electric Shoe Polisher × 1+Brightening brush + oiling brush + polishing brush + dust removal brush |
Note
Due to the different display and lighting effects, the actual color of the item may be slightly different from the color displayed on the picture.
Shipping:
We processes orders between Monday and Friday. Orders will be processed within 7 business days of ordering and shipped out the next day after the processing day. We don't ship on weekends.