{"id":5931300225188,"title":"Mintiml Motionless Mug","handle":"motionless-mug","description":"\u003cp\u003e\u003cspan style=\"color: #cc6d0f;\"\u003e\u003cstrong\u003eNever again worry about accidentally knocking over the cup!!!\u003c\/strong\u003e\u003c\/span\u003e\u003c\/p\u003e\n\u003cp\u003e\u003cspan style=\"color: #cc6d0f;\"\u003e\u003cstrong\u003e\u003cimg alt=\"\" src=\"https:\/\/cdn.shopifycdn.net\/s\/files\/1\/0082\/9148\/3738\/files\/01_8c2009dc-775c-4246-adf4-99110f95a395_480x480.gif?v=1608190761\"\u003e\u003c\/strong\u003e\u003c\/span\u003e\u003c\/p\u003e\n\u003cp\u003e\u003c!-- Build time: 2020-12-17 15:26:58 --\u003e\u003c\/p\u003e\n\u003cstyle\u003e\u003c!--\n.listing-build-item table {\n width: 100% !important;\n margin: 5px 0 !important;\n border-collapse: collapse !important;\n table-layout: initial !important;\n }\n\n .listing-build-item table ul li,\n .listing-build-item table dl dd,\n .listing-build-item table dl dt {\n list-style:outside none !important;\n margin:0 !important;\n }\n\n .listing-build-item table ul,\n .listing-build-item table dl {\n margin-left: 0 !important;\n }\n\n .listing-build-item table tr\u003etd,\n .listing-build-item table tr\u003eth {\n padding: 10px 14px !important;\n font-size: 14px !important;\n border: 1px solid #cbcbcb !important;\n background-clip: padding-box !important;\n position: relative !important;\n letter-spacing:initial !important;\n text-align: left !important;\n }\n\n .listing-build-item table tr\u003eth {\n font-weight: 600 !important;\n }\n\n .listing-build-item h3 {\n color: #000 !important;\n font-size: 20px !important;\n font-weight: 600 !important;\n margin: 0 !important;\n padding: 10px 0 !important;\n text-align: left !important;\n }\n .listing-build-item table th,.listing-build-item h5{\n color:#000 !important;\n }\n\n .listing-build-item {\n margin-bottom: 30px !important;\n word-break: break-word !important;\n }\n\n .listing-build-item ul,\n .listing-build-item dl {\n margin: 0 !important;\n padding:0 !important;\n list-style:outside none !important\n }\n\n .listing-build-item .img-box {\n margin: 10px 0 !important;\n }\n\n .listing-build-item .img-box img {\n height: auto !important;\n max-width: 100% !important;\n margin: 0 auto !important;\n padding: 0 !important;\n display: block !important;\n }\n @media screen and (min-width: 992px){\n .listing-build-item table tr\u003eth {\n width: 180px !important;\n }\n }\n @media screen and (max-width: 750px){\n .listing-build-item table tr\u003eth {\n width: 100px !important;\n }\n }\n\n .listing-build-item tr:first-child th:after,\n .listing-build-item tr:first-child td:after {\n border: initial !important;\n }\n\n .listing-build-item ul\u003eli:last-child,\n .listing-build-item ul.features\u003eli:last-child,\n .listing-build-item ul\u003eli.package-row:last-child {\n margin-bottom: 0 !important;\n }\n .listing-build-item ul.features li,.listing-build-item ul li.package-row{\n margin-bottom:7px !important;\n }\n .listing-build-item h5{\n margin: 20px 0 5px 0 !important;\n font-weight: 600 !important;\n text-align: left !important;\n }\n .listing-build-item strong{\n font-weight: 600 !important;\n }\n--\u003e\u003c\/style\u003e\n\u003cp\u003e\u003c!-- BEGIN Descriptions --\u003e\u003c\/p\u003e\n\u003cdiv class=\"listing-build-item\"\u003e\n\u003cul\u003e\n\u003cli class=\"text\"\u003e\n\u003cstrong\u003eMinimalist classic appearance,\u003c\/strong\u003e \u003cspan style=\"color: #c16d19;\"\u003e\u003cstrong\u003especially designed for Office and children!\u003c\/strong\u003e\u003c\/span\u003e \u003cstrong\u003eStart your fashion life.\u003c\/strong\u003e\n\u003c\/li\u003e\n\u003cli class=\"text\"\u003e\n\u003c\/li\u003e\n\u003c\/ul\u003e\n\u003c\/div\u003e\n\u003c!-- END Descriptions --\u003e \u003c!-- BEGIN features --\u003e\n\u003cdiv class=\"listing-build-item\"\u003e\n\u003ch3\u003eMain Features\u003c\/h3\u003e\n\u003cul class=\"features\"\u003e\n\u003cli\u003e\n\u003cspan style=\"text-decoration: underline; color: #ce3719;\"\u003e \u003cstrong\u003e✔【Healthy and non-toxic】\u003c\/strong\u003e\u003c\/span\u003e——Different from other cheap metal cups, our cups are made of food-grade stainless steel + ABS, which means that no harmful paint or plastic will bring bad taste to your drink.\u003c\/li\u003e\n\u003cli\u003e\n\u003cspan style=\"text-decoration: underline; color: #ca3112;\"\u003e \u003cstrong\u003e✔【Tumbler Technology】\u003c\/strong\u003e\u003c\/span\u003e----The base adopts a vacuum suction cup design, Innovative aerodynamics principle, It can be sucked firmly from left to right and cannot be pushed down, but it can be easily taken up and down vertically. And can protect documents and laptops from coffee and water damage.\u003c\/li\u003e\n\u003cli\u003e\u003cimg src=\"https:\/\/cdn.shopifycdn.net\/s\/files\/1\/0082\/9148\/3738\/files\/92b1cabb0d5ae9e2babab83562e403db_480x480.gif?v=1608190710\" alt=\"\"\u003e\u003c\/li\u003e\n\u003cli\u003e\n\u003cspan style=\"text-decoration: underline; color: #cc3516;\"\u003e \u003cstrong\u003e✔【Unbreakable】\u003c\/strong\u003e\u003c\/span\u003e——These cups are very strong and completely shatterproof. Its lightweight function is suitable for children. Compared with glass or ceramic coffee cups, stainless steel cups are more durable and last longer.\u003c\/li\u003e\n\u003cli\u003e\u003cimg height=\"326\" width=\"326\" src=\"https:\/\/cdn.shopifycdn.net\/s\/files\/1\/0082\/9148\/3738\/files\/130815231513_0.webp_480x480.jpg?v=1608192914\" alt=\"\"\u003e\u003c\/li\u003e\n\u003cli\u003e\n\u003cspan style=\"text-decoration: underline; color: #ca3214;\"\u003e \u003cstrong\u003e✔【Exquisite design】\u003c\/strong\u003e\u003c\/span\u003e----The dust-proof cup lid has a semi-sealed ring to effectively prevent overflow and splashing caused by the shaking of the cup body, and also to prevent dust from falling into the cup. The double-layer cup body design creates a good thermal insulation environment to protect yourself and refuse to avoid burns.\u003c\/li\u003e\n\u003cli\u003e\u003cimg height=\"515\" width=\"343\" src=\"https:\/\/cdn.shopifycdn.net\/s\/files\/1\/0082\/9148\/3738\/files\/double-wall-lift-suction-mug-with-safely-coffee-cup-470ml-tumbler-white_480x480.png?v=1608192869\" alt=\"\"\u003e\u003c\/li\u003e\n\u003cli\u003e\n\u003cspan style=\"text-decoration: underline; color: #cf3618;\"\u003e \u003cstrong\u003e✔【Good gift】\u003c\/strong\u003e\u003c\/span\u003e----Suitable for drinking tea, coffee, beverages, water, etc. Take your cup home and use it in the office, traveling, indoor, or outdoor. You can also make gift ideas for Valentine's Day, Father's Day, Mother's Day, birthday party, wedding, graduation, Christmas, New Year, etc.\u003c\/li\u003e\n\u003c\/ul\u003e\n\u003c\/div\u003e\n\u003cdiv class=\"listing-build-item\"\u003e\n\u003cul\u003e\u003c\/ul\u003e\n\u003c\/div\u003e\n\u003c!-- END Using Method --\u003e \u003c!-- BEGIN usage_scene --\u003e \u003c!-- END usage_scene --\u003e \u003c!-- BEGIN specification --\u003e\n\u003cdiv class=\"listing-build-item\"\u003e\n\u003ch3\u003eSpecifications\u003c\/h3\u003e\n\u003cp\u003e\u003cimg src=\"https:\/\/cdn.shopifycdn.net\/s\/files\/1\/0082\/9148\/3738\/files\/6548A8F1-0333-4d0e-9D2A-1C0848C31D44_480x480.png?v=1608190582\" alt=\"\"\u003e\u003c\/p\u003e\n\u003ctable\u003e\n\u003c!-- BEGIN specification_material --\u003e \u003c!-- END specification_material --\u003e \u003c!-- BEGIN specification_weight --\u003e\n\u003ctbody\u003e\n\u003ctr\u003e\n\u003cth scope=\"row\"\u003eProduct Weight\u003c\/th\u003e\n\u003ctd\u003e\n\u003cul\u003e\n\u003cli\u003e417G\u003c\/li\u003e\n\u003c\/ul\u003e\n\u003c\/td\u003e\n\u003c\/tr\u003e\n\u003c!-- END specification_weight --\u003e \u003c!-- BEGIN specification_size --\u003e\n\u003ctr\u003e\n\u003cth scope=\"row\"\u003e\n\u003cspan data-mce-fragment=\"1\"\u003ePackage\u003c\/span\u003e Size\u003cbr\u003e (L x W x H)\u003c\/th\u003e\n\u003ctd\u003e\n\u003cul\u003e\n\u003cli\u003e18 × 15 × 2cm \/ 7.1 × 5.9 × 0.8inches\u003c\/li\u003e\n\u003c\/ul\u003e\n\u003c\/td\u003e\n\u003c\/tr\u003e\n\u003c!-- END specification_size --\u003e \u003c!-- BEGIN specification_many_package --\u003e\n\u003ctr\u003e\n\u003cth scope=\"row\"\u003ePackage Contents\u003c\/th\u003e\n\u003ctd\u003e\n\u003cul\u003e\n\u003cli\u003eStainless Steel Not Pour Cup × 1\u003c\/li\u003e\n\u003c\/ul\u003e\n\u003c\/td\u003e\n\u003c\/tr\u003e\n\u003c!-- END specification_one_package --\u003e \u003c!-- BEGIN specification_custom_attribute --\u003e\n\u003ctr\u003e\n\u003cth scope=\"row\"\u003eMaterial\u003c\/th\u003e\n\u003ctd\u003eStainless steel + ABS\u003c\/td\u003e\n\u003c\/tr\u003e\n\u003ctr\u003e\n\u003cth scope=\"row\"\u003e\u003cspan\u003eCapacity\u003c\/span\u003e\u003c\/th\u003e\n\u003ctd\u003e\u003cspan\u003e470 ml\u003c\/span\u003e\u003c\/td\u003e\n\u003c\/tr\u003e\n\u003c!-- END specification_custom_attribute --\u003e\n\u003c\/tbody\u003e\n\u003c\/table\u003e\n\u003c!-- BEGIN specification_size_img --\u003e \u003c!-- END specification_size_img --\u003e\n\u003c\/div\u003e\n\u003c!-- END specification --\u003e \u003c!-- BEGIN note --\u003e\n\u003cdiv class=\"listing-build-item\"\u003e\n\u003ch3\u003eNote\u003c\/h3\u003e\n\u003cul\u003e\n\u003cli\u003eDue to manual measurements, please allow slight measurement deviations.\u003c\/li\u003e\n\u003cli\u003eDue to the different display and lighting effects, the actual color of the item may be slightly different from the color displayed on the picture.\u003c\/li\u003e\n\u003c\/ul\u003e\n\u003c\/div\u003e\n\u003c!-- END note --\u003e","published_at":"2020-12-17T18:18:07+08:00","created_at":"2020-12-17T18:18:07+08:00","vendor":"solegg","type":"Hot produts","tags":[],"price":3599,"price_min":3599,"price_max":3599,"available":true,"price_varies":false,"compare_at_price":6998,"compare_at_price_min":6998,"compare_at_price_max":6998,"compare_at_price_varies":false,"variants":[{"id":37255177896100,"title":"White","option1":"White","option2":null,"option3":null,"sku":"LE32017982BAI","requires_shipping":true,"taxable":false,"featured_image":null,"available":true,"name":"Mintiml Motionless Mug - White","public_title":"White","options":["White"],"price":3599,"weight":0,"compare_at_price":6998,"inventory_management":null,"barcode":null,"requires_selling_plan":false,"selling_plan_allocations":[]},{"id":37255177928868,"title":"Black","option1":"Black","option2":null,"option3":null,"sku":"LE32017982HEI","requires_shipping":true,"taxable":false,"featured_image":null,"available":true,"name":"Mintiml Motionless Mug - Black","public_title":"Black","options":["Black"],"price":3599,"weight":0,"compare_at_price":6998,"inventory_management":null,"barcode":null,"requires_selling_plan":false,"selling_plan_allocations":[]},{"id":37255177961636,"title":"Red","option1":"Red","option2":null,"option3":null,"sku":"LE32017982RED","requires_shipping":true,"taxable":false,"featured_image":null,"available":true,"name":"Mintiml Motionless Mug - Red","public_title":"Red","options":["Red"],"price":3599,"weight":0,"compare_at_price":6998,"inventory_management":null,"barcode":null,"requires_selling_plan":false,"selling_plan_allocations":[]},{"id":37255177994404,"title":"Blue","option1":"Blue","option2":null,"option3":null,"sku":"LE32017982LAN","requires_shipping":true,"taxable":false,"featured_image":null,"available":true,"name":"Mintiml Motionless Mug - Blue","public_title":"Blue","options":["Blue"],"price":3599,"weight":0,"compare_at_price":6998,"inventory_management":null,"barcode":null,"requires_selling_plan":false,"selling_plan_allocations":[]}],"images":["\/\/cdn.shopify.com\/s\/files\/1\/0508\/2592\/0676\/products\/Mintiml-Motionless-Mug.gif?v=1608200287","\/\/cdn.shopify.com\/s\/files\/1\/0508\/2592\/0676\/products\/Mintiml-Motionless-Mug-02.jpg?v=1608200287","\/\/cdn.shopify.com\/s\/files\/1\/0508\/2592\/0676\/products\/Mintiml-Motionless-Mug-03.jpg?v=1608200287","\/\/cdn.shopify.com\/s\/files\/1\/0508\/2592\/0676\/products\/Mintiml-Motionless-Mug-04.jpg?v=1608200287","\/\/cdn.shopify.com\/s\/files\/1\/0508\/2592\/0676\/products\/Mintiml-Motionless-Mug-05.jpg?v=1608200287","\/\/cdn.shopify.com\/s\/files\/1\/0508\/2592\/0676\/products\/Mintiml-Motionless-Mug-06.jpg?v=1608200287","\/\/cdn.shopify.com\/s\/files\/1\/0508\/2592\/0676\/products\/Mintiml-Motionless-Mug-07.jpg?v=1608200287","\/\/cdn.shopify.com\/s\/files\/1\/0508\/2592\/0676\/products\/Mintiml-Motionless-Mug-08.jpg?v=1608200287"],"featured_image":"\/\/cdn.shopify.com\/s\/files\/1\/0508\/2592\/0676\/products\/Mintiml-Motionless-Mug.gif?v=1608200287","options":["Color"],"media":[{"alt":null,"id":13443102605476,"position":1,"preview_image":{"aspect_ratio":1.0,"height":800,"width":800,"src":"https:\/\/cdn.shopify.com\/s\/files\/1\/0508\/2592\/0676\/products\/Mintiml-Motionless-Mug.gif?v=1608200287"},"aspect_ratio":1.0,"height":800,"media_type":"image","src":"https:\/\/cdn.shopify.com\/s\/files\/1\/0508\/2592\/0676\/products\/Mintiml-Motionless-Mug.gif?v=1608200287","width":800},{"alt":null,"id":13443102638244,"position":2,"preview_image":{"aspect_ratio":1.0,"height":800,"width":800,"src":"https:\/\/cdn.shopify.com\/s\/files\/1\/0508\/2592\/0676\/products\/Mintiml-Motionless-Mug-02.jpg?v=1608200287"},"aspect_ratio":1.0,"height":800,"media_type":"image","src":"https:\/\/cdn.shopify.com\/s\/files\/1\/0508\/2592\/0676\/products\/Mintiml-Motionless-Mug-02.jpg?v=1608200287","width":800},{"alt":null,"id":13443102671012,"position":3,"preview_image":{"aspect_ratio":1.0,"height":800,"width":800,"src":"https:\/\/cdn.shopify.com\/s\/files\/1\/0508\/2592\/0676\/products\/Mintiml-Motionless-Mug-03.jpg?v=1608200287"},"aspect_ratio":1.0,"height":800,"media_type":"image","src":"https:\/\/cdn.shopify.com\/s\/files\/1\/0508\/2592\/0676\/products\/Mintiml-Motionless-Mug-03.jpg?v=1608200287","width":800},{"alt":null,"id":13443102703780,"position":4,"preview_image":{"aspect_ratio":1.0,"height":800,"width":800,"src":"https:\/\/cdn.shopify.com\/s\/files\/1\/0508\/2592\/0676\/products\/Mintiml-Motionless-Mug-04.jpg?v=1608200287"},"aspect_ratio":1.0,"height":800,"media_type":"image","src":"https:\/\/cdn.shopify.com\/s\/files\/1\/0508\/2592\/0676\/products\/Mintiml-Motionless-Mug-04.jpg?v=1608200287","width":800},{"alt":null,"id":13443102736548,"position":5,"preview_image":{"aspect_ratio":1.0,"height":800,"width":800,"src":"https:\/\/cdn.shopify.com\/s\/files\/1\/0508\/2592\/0676\/products\/Mintiml-Motionless-Mug-05.jpg?v=1608200287"},"aspect_ratio":1.0,"height":800,"media_type":"image","src":"https:\/\/cdn.shopify.com\/s\/files\/1\/0508\/2592\/0676\/products\/Mintiml-Motionless-Mug-05.jpg?v=1608200287","width":800},{"alt":null,"id":13443102769316,"position":6,"preview_image":{"aspect_ratio":1.0,"height":800,"width":800,"src":"https:\/\/cdn.shopify.com\/s\/files\/1\/0508\/2592\/0676\/products\/Mintiml-Motionless-Mug-06.jpg?v=1608200287"},"aspect_ratio":1.0,"height":800,"media_type":"image","src":"https:\/\/cdn.shopify.com\/s\/files\/1\/0508\/2592\/0676\/products\/Mintiml-Motionless-Mug-06.jpg?v=1608200287","width":800},{"alt":null,"id":13443102802084,"position":7,"preview_image":{"aspect_ratio":1.0,"height":800,"width":800,"src":"https:\/\/cdn.shopify.com\/s\/files\/1\/0508\/2592\/0676\/products\/Mintiml-Motionless-Mug-07.jpg?v=1608200287"},"aspect_ratio":1.0,"height":800,"media_type":"image","src":"https:\/\/cdn.shopify.com\/s\/files\/1\/0508\/2592\/0676\/products\/Mintiml-Motionless-Mug-07.jpg?v=1608200287","width":800},{"alt":null,"id":13443102834852,"position":8,"preview_image":{"aspect_ratio":1.0,"height":800,"width":800,"src":"https:\/\/cdn.shopify.com\/s\/files\/1\/0508\/2592\/0676\/products\/Mintiml-Motionless-Mug-08.jpg?v=1608200287"},"aspect_ratio":1.0,"height":800,"media_type":"image","src":"https:\/\/cdn.shopify.com\/s\/files\/1\/0508\/2592\/0676\/products\/Mintiml-Motionless-Mug-08.jpg?v=1608200287","width":800}],"requires_selling_plan":false,"selling_plan_groups":[],"content":"\u003cp\u003e\u003cspan style=\"color: #cc6d0f;\"\u003e\u003cstrong\u003eNever again worry about accidentally knocking over the cup!!!\u003c\/strong\u003e\u003c\/span\u003e\u003c\/p\u003e\n\u003cp\u003e\u003cspan style=\"color: #cc6d0f;\"\u003e\u003cstrong\u003e\u003cimg alt=\"\" src=\"https:\/\/cdn.shopifycdn.net\/s\/files\/1\/0082\/9148\/3738\/files\/01_8c2009dc-775c-4246-adf4-99110f95a395_480x480.gif?v=1608190761\"\u003e\u003c\/strong\u003e\u003c\/span\u003e\u003c\/p\u003e\n\u003cp\u003e\u003c!-- Build time: 2020-12-17 15:26:58 --\u003e\u003c\/p\u003e\n\u003cstyle\u003e\u003c!--\n.listing-build-item table {\n width: 100% !important;\n margin: 5px 0 !important;\n border-collapse: collapse !important;\n table-layout: initial !important;\n }\n\n .listing-build-item table ul li,\n .listing-build-item table dl dd,\n .listing-build-item table dl dt {\n list-style:outside none !important;\n margin:0 !important;\n }\n\n .listing-build-item table ul,\n .listing-build-item table dl {\n margin-left: 0 !important;\n }\n\n .listing-build-item table tr\u003etd,\n .listing-build-item table tr\u003eth {\n padding: 10px 14px !important;\n font-size: 14px !important;\n border: 1px solid #cbcbcb !important;\n background-clip: padding-box !important;\n position: relative !important;\n letter-spacing:initial !important;\n text-align: left !important;\n }\n\n .listing-build-item table tr\u003eth {\n font-weight: 600 !important;\n }\n\n .listing-build-item h3 {\n color: #000 !important;\n font-size: 20px !important;\n font-weight: 600 !important;\n margin: 0 !important;\n padding: 10px 0 !important;\n text-align: left !important;\n }\n .listing-build-item table th,.listing-build-item h5{\n color:#000 !important;\n }\n\n .listing-build-item {\n margin-bottom: 30px !important;\n word-break: break-word !important;\n }\n\n .listing-build-item ul,\n .listing-build-item dl {\n margin: 0 !important;\n padding:0 !important;\n list-style:outside none !important\n }\n\n .listing-build-item .img-box {\n margin: 10px 0 !important;\n }\n\n .listing-build-item .img-box img {\n height: auto !important;\n max-width: 100% !important;\n margin: 0 auto !important;\n padding: 0 !important;\n display: block !important;\n }\n @media screen and (min-width: 992px){\n .listing-build-item table tr\u003eth {\n width: 180px !important;\n }\n }\n @media screen and (max-width: 750px){\n .listing-build-item table tr\u003eth {\n width: 100px !important;\n }\n }\n\n .listing-build-item tr:first-child th:after,\n .listing-build-item tr:first-child td:after {\n border: initial !important;\n }\n\n .listing-build-item ul\u003eli:last-child,\n .listing-build-item ul.features\u003eli:last-child,\n .listing-build-item ul\u003eli.package-row:last-child {\n margin-bottom: 0 !important;\n }\n .listing-build-item ul.features li,.listing-build-item ul li.package-row{\n margin-bottom:7px !important;\n }\n .listing-build-item h5{\n margin: 20px 0 5px 0 !important;\n font-weight: 600 !important;\n text-align: left !important;\n }\n .listing-build-item strong{\n font-weight: 600 !important;\n }\n--\u003e\u003c\/style\u003e\n\u003cp\u003e\u003c!-- BEGIN Descriptions --\u003e\u003c\/p\u003e\n\u003cdiv class=\"listing-build-item\"\u003e\n\u003cul\u003e\n\u003cli class=\"text\"\u003e\n\u003cstrong\u003eMinimalist classic appearance,\u003c\/strong\u003e \u003cspan style=\"color: #c16d19;\"\u003e\u003cstrong\u003especially designed for Office and children!\u003c\/strong\u003e\u003c\/span\u003e \u003cstrong\u003eStart your fashion life.\u003c\/strong\u003e\n\u003c\/li\u003e\n\u003cli class=\"text\"\u003e\n\u003c\/li\u003e\n\u003c\/ul\u003e\n\u003c\/div\u003e\n\u003c!-- END Descriptions --\u003e \u003c!-- BEGIN features --\u003e\n\u003cdiv class=\"listing-build-item\"\u003e\n\u003ch3\u003eMain Features\u003c\/h3\u003e\n\u003cul class=\"features\"\u003e\n\u003cli\u003e\n\u003cspan style=\"text-decoration: underline; color: #ce3719;\"\u003e \u003cstrong\u003e✔【Healthy and non-toxic】\u003c\/strong\u003e\u003c\/span\u003e——Different from other cheap metal cups, our cups are made of food-grade stainless steel + ABS, which means that no harmful paint or plastic will bring bad taste to your drink.\u003c\/li\u003e\n\u003cli\u003e\n\u003cspan style=\"text-decoration: underline; color: #ca3112;\"\u003e \u003cstrong\u003e✔【Tumbler Technology】\u003c\/strong\u003e\u003c\/span\u003e----The base adopts a vacuum suction cup design, Innovative aerodynamics principle, It can be sucked firmly from left to right and cannot be pushed down, but it can be easily taken up and down vertically. And can protect documents and laptops from coffee and water damage.\u003c\/li\u003e\n\u003cli\u003e\u003cimg src=\"https:\/\/cdn.shopifycdn.net\/s\/files\/1\/0082\/9148\/3738\/files\/92b1cabb0d5ae9e2babab83562e403db_480x480.gif?v=1608190710\" alt=\"\"\u003e\u003c\/li\u003e\n\u003cli\u003e\n\u003cspan style=\"text-decoration: underline; color: #cc3516;\"\u003e \u003cstrong\u003e✔【Unbreakable】\u003c\/strong\u003e\u003c\/span\u003e——These cups are very strong and completely shatterproof. Its lightweight function is suitable for children. Compared with glass or ceramic coffee cups, stainless steel cups are more durable and last longer.\u003c\/li\u003e\n\u003cli\u003e\u003cimg height=\"326\" width=\"326\" src=\"https:\/\/cdn.shopifycdn.net\/s\/files\/1\/0082\/9148\/3738\/files\/130815231513_0.webp_480x480.jpg?v=1608192914\" alt=\"\"\u003e\u003c\/li\u003e\n\u003cli\u003e\n\u003cspan style=\"text-decoration: underline; color: #ca3214;\"\u003e \u003cstrong\u003e✔【Exquisite design】\u003c\/strong\u003e\u003c\/span\u003e----The dust-proof cup lid has a semi-sealed ring to effectively prevent overflow and splashing caused by the shaking of the cup body, and also to prevent dust from falling into the cup. The double-layer cup body design creates a good thermal insulation environment to protect yourself and refuse to avoid burns.\u003c\/li\u003e\n\u003cli\u003e\u003cimg height=\"515\" width=\"343\" src=\"https:\/\/cdn.shopifycdn.net\/s\/files\/1\/0082\/9148\/3738\/files\/double-wall-lift-suction-mug-with-safely-coffee-cup-470ml-tumbler-white_480x480.png?v=1608192869\" alt=\"\"\u003e\u003c\/li\u003e\n\u003cli\u003e\n\u003cspan style=\"text-decoration: underline; color: #cf3618;\"\u003e \u003cstrong\u003e✔【Good gift】\u003c\/strong\u003e\u003c\/span\u003e----Suitable for drinking tea, coffee, beverages, water, etc. Take your cup home and use it in the office, traveling, indoor, or outdoor. You can also make gift ideas for Valentine's Day, Father's Day, Mother's Day, birthday party, wedding, graduation, Christmas, New Year, etc.\u003c\/li\u003e\n\u003c\/ul\u003e\n\u003c\/div\u003e\n\u003cdiv class=\"listing-build-item\"\u003e\n\u003cul\u003e\u003c\/ul\u003e\n\u003c\/div\u003e\n\u003c!-- END Using Method --\u003e \u003c!-- BEGIN usage_scene --\u003e \u003c!-- END usage_scene --\u003e \u003c!-- BEGIN specification --\u003e\n\u003cdiv class=\"listing-build-item\"\u003e\n\u003ch3\u003eSpecifications\u003c\/h3\u003e\n\u003cp\u003e\u003cimg src=\"https:\/\/cdn.shopifycdn.net\/s\/files\/1\/0082\/9148\/3738\/files\/6548A8F1-0333-4d0e-9D2A-1C0848C31D44_480x480.png?v=1608190582\" alt=\"\"\u003e\u003c\/p\u003e\n\u003ctable\u003e\n\u003c!-- BEGIN specification_material --\u003e \u003c!-- END specification_material --\u003e \u003c!-- BEGIN specification_weight --\u003e\n\u003ctbody\u003e\n\u003ctr\u003e\n\u003cth scope=\"row\"\u003eProduct Weight\u003c\/th\u003e\n\u003ctd\u003e\n\u003cul\u003e\n\u003cli\u003e417G\u003c\/li\u003e\n\u003c\/ul\u003e\n\u003c\/td\u003e\n\u003c\/tr\u003e\n\u003c!-- END specification_weight --\u003e \u003c!-- BEGIN specification_size --\u003e\n\u003ctr\u003e\n\u003cth scope=\"row\"\u003e\n\u003cspan data-mce-fragment=\"1\"\u003ePackage\u003c\/span\u003e Size\u003cbr\u003e (L x W x H)\u003c\/th\u003e\n\u003ctd\u003e\n\u003cul\u003e\n\u003cli\u003e18 × 15 × 2cm \/ 7.1 × 5.9 × 0.8inches\u003c\/li\u003e\n\u003c\/ul\u003e\n\u003c\/td\u003e\n\u003c\/tr\u003e\n\u003c!-- END specification_size --\u003e \u003c!-- BEGIN specification_many_package --\u003e\n\u003ctr\u003e\n\u003cth scope=\"row\"\u003ePackage Contents\u003c\/th\u003e\n\u003ctd\u003e\n\u003cul\u003e\n\u003cli\u003eStainless Steel Not Pour Cup × 1\u003c\/li\u003e\n\u003c\/ul\u003e\n\u003c\/td\u003e\n\u003c\/tr\u003e\n\u003c!-- END specification_one_package --\u003e \u003c!-- BEGIN specification_custom_attribute --\u003e\n\u003ctr\u003e\n\u003cth scope=\"row\"\u003eMaterial\u003c\/th\u003e\n\u003ctd\u003eStainless steel + ABS\u003c\/td\u003e\n\u003c\/tr\u003e\n\u003ctr\u003e\n\u003cth scope=\"row\"\u003e\u003cspan\u003eCapacity\u003c\/span\u003e\u003c\/th\u003e\n\u003ctd\u003e\u003cspan\u003e470 ml\u003c\/span\u003e\u003c\/td\u003e\n\u003c\/tr\u003e\n\u003c!-- END specification_custom_attribute --\u003e\n\u003c\/tbody\u003e\n\u003c\/table\u003e\n\u003c!-- BEGIN specification_size_img --\u003e \u003c!-- END specification_size_img --\u003e\n\u003c\/div\u003e\n\u003c!-- END specification --\u003e \u003c!-- BEGIN note --\u003e\n\u003cdiv class=\"listing-build-item\"\u003e\n\u003ch3\u003eNote\u003c\/h3\u003e\n\u003cul\u003e\n\u003cli\u003eDue to manual measurements, please allow slight measurement deviations.\u003c\/li\u003e\n\u003cli\u003eDue to the different display and lighting effects, the actual color of the item may be slightly different from the color displayed on the picture.\u003c\/li\u003e\n\u003c\/ul\u003e\n\u003c\/div\u003e\n\u003c!-- END note --\u003e"}
Mintiml Motionless Mug
Product Description
Never again worry about accidentally knocking over the cup!!!
Minimalist classic appearance, specially designed for Office and children! Start your fashion life.
Main Features
✔【Healthy and non-toxic】——Different from other cheap metal cups, our cups are made of food-grade stainless steel + ABS, which means that no harmful paint or plastic will bring bad taste to your drink.
✔【Tumbler Technology】----The base adopts a vacuum suction cup design, Innovative aerodynamics principle, It can be sucked firmly from left to right and cannot be pushed down, but it can be easily taken up and down vertically. And can protect documents and laptops from coffee and water damage.
✔【Unbreakable】——These cups are very strong and completely shatterproof. Its lightweight function is suitable for children. Compared with glass or ceramic coffee cups, stainless steel cups are more durable and last longer.
✔【Exquisite design】----The dust-proof cup lid has a semi-sealed ring to effectively prevent overflow and splashing caused by the shaking of the cup body, and also to prevent dust from falling into the cup. The double-layer cup body design creates a good thermal insulation environment to protect yourself and refuse to avoid burns.
✔【Good gift】----Suitable for drinking tea, coffee, beverages, water, etc. Take your cup home and use it in the office, traveling, indoor, or outdoor. You can also make gift ideas for Valentine's Day, Father's Day, Mother's Day, birthday party, wedding, graduation, Christmas, New Year, etc.
Specifications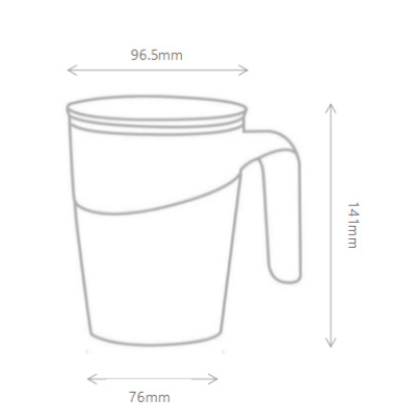 Product Weight

Package

 Size
(L x W x H)

18 × 15 × 2cm / 7.1 × 5.9 × 0.8inches

Package Contents

Stainless Steel Not Pour Cup × 1

Material
Stainless steel + ABS

Capacity

470 ml
Note
Due to manual measurements, please allow slight measurement deviations.
Due to the different display and lighting effects, the actual color of the item may be slightly different from the color displayed on the picture.
Shipping:
We processes orders between Monday and Friday. Orders will be processed within 7 business days of ordering and shipped out the next day after the processing day. We don't ship on weekends.