{"id":5908465877156,"title":"Mixer Scraper","handle":"m-2","description":"\u003c!-- Build time: 2020-05-13 16:17:18 --\u003e \u003c!--\n * @Description: listing build template\n --\u003e\n\u003cstyle\u003e\u003c!--\n.listing-build-item table {\n width: 100% !important;\n margin: 5px 0 !important;\n border-collapse: collapse !important;\n table-layout: initial !important;\n word-break: break-word !important;\n }\n\n .listing-build-item table ul li,\n .listing-build-item table dl dd,\n .listing-build-item table dl dt {\n list-style:outside none !important;\n margin:0 !important;\n }\n\n .listing-build-item table ul,\n .listing-build-item table dl {\n margin-left: 0 !important;\n }\n\n .listing-build-item table tr\u003etd,\n .listing-build-item table tr\u003eth {\n padding: 10px 14px !important;\n font-size: 14px !important;\n border: 1px solid #cbcbcb !important;\n background-clip: padding-box !important;\n position: relative !important;\n letter-spacing:initial !important;\n text-align: left !important;\n }\n\n .listing-build-item table tr\u003eth {\n font-weight: 600 !important;\n }\n\n .listing-build-item h3 {\n color: #000 !important;\n font-size: 20px !important;\n font-weight: 600 !important;\n margin: 0 !important;\n padding: 10px 0 !important;\n text-align: left !important;\n }\n .listing-build-item table th,.listing-build-item h5{\n color:#000 !important;\n }\n .listing-build-item ul li,\n .listing-build-item dl dd,\n .listing-build-item dl dt {\n list-style: disc outside !important;\n margin: 0 0 3px 18px !important;\n padding:0;\n }\n\n\n .listing-build-item {\n margin-bottom: 30px !important;\n word-break: break-word !important;\n }\n\n .listing-build-item ul,\n .listing-build-item dl {\n margin: 0 !important;\n padding:0 !important;\n list-style:outside none !important\n }\n\n .listing-build-item .img-box {\n margin: 10px 0 !important;\n }\n\n .listing-build-item .img-box img {\n height: auto !important;\n max-width: 100% !important;\n margin: 0 auto !important;\n padding: 0 !important;\n display: block !important;\n }\n @media screen and (min-width: 992px){\n .listing-build-item table tr\u003eth {\n width: 180px !important;\n }\n }\n @media screen and (max-width: 750px){\n .listing-build-item table tr\u003eth {\n width: 100px !important;\n }\n }\n\n .listing-build-item tr:first-child th:after,\n .listing-build-item tr:first-child td:after {\n border: initial !important;\n }\n\n .listing-build-item ul\u003eli:last-child,\n .listing-build-item ul.features\u003eli:last-child,\n .listing-build-item ul\u003eli.package-row:last-child {\n margin-bottom: 0 !important;\n }\n .listing-build-item ul.features li,.listing-build-item ul li.package-row{\n margin-bottom:7px !important;\n }\n .listing-build-item h5{\n margin: 20px 0 5px 0 !important;\n font-weight: 600 !important;\n text-align: left !important;\n }\n .listing-build-item strong{\n font-weight: 600 !important;\n }\n--\u003e\u003c\/style\u003e\n\u003c!-- BEGIN features --\u003e\n\u003cdiv class=\"listing-build-item\"\u003e\n\u003ch3\u003eMain Features\u003c\/h3\u003e\n\u003cul class=\"features\"\u003e\n\u003cli\u003e\n\u003cstrong\u003eTOOLS PROFESSIONAL TOOLS:\u003c\/strong\u003e\u003cbr\u003e This scraper is specially designed to mix drums to avoid food waste.\u003c\/li\u003e\n\u003c\/ul\u003e\n\u003cbr\u003e\n\u003cul class=\"features\"\u003e\n\u003cli\u003e\n\u003cstrong\u003eMATERIAL SAFETY EQUIPMENT: \u003c\/strong\u003e\u003cbr\u003eThis scraper is made from PP material for safe, healthy, and safe food use.\u003c\/li\u003e\n\u003c\/ul\u003e\n\u003cbr\u003e\n\u003cul class=\"features\"\u003e\n\u003cli\u003e\n\u003cstrong\u003eEASY TO CLEAN:\u003c\/strong\u003e\u003cbr\u003eSimply rinses with water or use a dishwasher. It is resistant to heat and wears.\u003c\/li\u003e\n\u003c\/ul\u003e\n\u003cbr\u003e\n\u003cul class=\"features\"\u003e\n\u003cli\u003e\n\u003cstrong\u003eREFINED DESIGN:\u003c\/strong\u003e\u003cbr\u003eThermomix TM6 \/ TM5 \/ TM31 rotary mixing trowel for mixing drums.\u003c\/li\u003e\n\u003c\/ul\u003e\n\u003c\/div\u003e\n\u003c!-- END features --\u003e \u003c!-- BEGIN usage_scene --\u003e\n\u003cdiv class=\"listing-build-item\"\u003e\n\u003ch3\u003eUsage Scenarios\u003c\/h3\u003e\n\u003cp\u003e\u003cimg src=\"https:\/\/cdn.shopify.cn\/s\/files\/1\/0253\/3611\/9344\/files\/7_03a6dfbe-b373-4038-ba12-64ebd9f48d3a_480x480.jpg?v=1589360731\" alt=\"\" style=\"display: block; margin-left: auto; margin-right: auto;\"\u003e\u003c\/p\u003e\n\u003c\/div\u003e\n\u003c!-- END usage_scene --\u003e \u003c!-- BEGIN using_text --\u003e \u003c!-- END using_text --\u003e \u003c!-- BEGIN specification --\u003e\n\u003cdiv class=\"listing-build-item\"\u003e\n\u003ch3\u003eSpecification\u003c\/h3\u003e\n\u003ctable\u003e\n\u003c!-- BEGIN specification_material --\u003e\n\u003ctbody\u003e\n\u003ctr\u003e\n\u003cth scope=\"row\" class=\"specification-th\"\u003eMaterials\u003c\/th\u003e\n\u003ctd class=\"specification-td\"\u003e\n\u003cul\u003e\n\u003cli\u003eOPP\u003c\/li\u003e\n\u003c\/ul\u003e\n\u003c\/td\u003e\n\u003c\/tr\u003e\n\u003c!-- END specification_material --\u003e \u003c!-- BEGIN specification_custom_attribute --\u003e \u003c!-- END specification_custom_attribute --\u003e \u003c!-- BEGIN specification_models --\u003e \u003c!-- END specification_models --\u003e \u003c!-- BEGIN specification_colors --\u003e \u003c!-- END specification_colors --\u003e \u003c!-- BEGIN specification_size --\u003e\n\u003ctr\u003e\n\u003cth scope=\"row\"\u003eProduct Size\u003c\/th\u003e\n\u003ctd\u003e\n\u003cul\u003e\n\u003cli\u003eMixer Scraper: 26CM × 9CM × 9CM\u003c\/li\u003e\n\u003c\/ul\u003e\n\u003c\/td\u003e\n\u003c\/tr\u003e\n\u003c!-- END specification_size --\u003e \u003c!-- BEGIN specification_weight --\u003e \u003c!-- END specification_weight --\u003e \u003c!-- BEGIN specification_weight --\u003e \u003c!-- END specification_weight --\u003e \u003c!-- BEGIN specification_many_package --\u003e\n\u003ctr\u003e\n\u003cth scope=\"row\"\u003ePackage Contents\u003c\/th\u003e\n\u003ctd\u003e\n\u003cul\u003e\n\u003cli\u003eMixer Scraper × 1\u003c\/li\u003e\n\u003c\/ul\u003e\n\u003c\/td\u003e\n\u003c\/tr\u003e\n\u003c!-- END specification_one_package --\u003e\n\u003c\/tbody\u003e\n\u003c\/table\u003e\n\u003c!-- BEGIN specification_size_img --\u003e \u003c!-- END specification_size_img --\u003e\n\u003c\/div\u003e\n\u003c!-- END specification --\u003e \u003c!-- BEGIN note --\u003e\n\u003cdiv class=\"listing-build-item\"\u003e\n\u003ch3\u003eNote\u003c\/h3\u003e\n\u003cul\u003e\n\u003c!-- END note_apply --\u003e \u003c!-- BEGIN note_other --\u003e\n\u003cli\u003eDue to the different display and lighting effects, the actual color of the item may be slightly different from the color displayed on the picture.\u003c\/li\u003e\n\u003c!-- END note_other --\u003e\n\u003c\/ul\u003e\n\u003c\/div\u003e\n\u003c!-- END note --\u003e","published_at":"2020-12-04T18:18:26+08:00","created_at":"2020-12-04T18:18:26+08:00","vendor":"solegg","type":"Hot produts","tags":[],"price":1499,"price_min":1499,"price_max":1499,"available":true,"price_varies":false,"compare_at_price":2998,"compare_at_price_min":2998,"compare_at_price_max":2998,"compare_at_price_varies":false,"variants":[{"id":37160201060516,"title":"BLACK","option1":"BLACK","option2":null,"option3":null,"sku":"LE12039737HEI","requires_shipping":true,"taxable":false,"featured_image":null,"available":true,"name":"Mixer Scraper - BLACK","public_title":"BLACK","options":["BLACK"],"price":1499,"weight":0,"compare_at_price":2998,"inventory_management":null,"barcode":null,"requires_selling_plan":false,"selling_plan_allocations":[]},{"id":37160201093284,"title":"BLUE","option1":"BLUE","option2":null,"option3":null,"sku":"LE12039737LAN","requires_shipping":true,"taxable":false,"featured_image":null,"available":true,"name":"Mixer Scraper - BLUE","public_title":"BLUE","options":["BLUE"],"price":1499,"weight":0,"compare_at_price":2998,"inventory_management":null,"barcode":null,"requires_selling_plan":false,"selling_plan_allocations":[]}],"images":["\/\/cdn.shopify.com\/s\/files\/1\/0508\/2592\/0676\/products\/1_0d78da00-cced-4187-8b59-439ed9368447.jpg?v=1607077107","\/\/cdn.shopify.com\/s\/files\/1\/0508\/2592\/0676\/products\/2_f449dfda-c48e-49b7-97f9-1381d7b5db37.jpg?v=1607077107","\/\/cdn.shopify.com\/s\/files\/1\/0508\/2592\/0676\/products\/3_29c9b3c8-503c-4cea-83b9-a00917b06216.jpg?v=1607077107","\/\/cdn.shopify.com\/s\/files\/1\/0508\/2592\/0676\/products\/4_eacaa56f-c7eb-4ad4-895c-4f9382135a1a.jpg?v=1607077107","\/\/cdn.shopify.com\/s\/files\/1\/0508\/2592\/0676\/products\/5_9f62ffcb-3b12-4d6a-baaf-2d3a04928281.jpg?v=1607077107","\/\/cdn.shopify.com\/s\/files\/1\/0508\/2592\/0676\/products\/6_fd69c06f-a0f3-4af4-97fe-9635336797a3.jpg?v=1607077107","\/\/cdn.shopify.com\/s\/files\/1\/0508\/2592\/0676\/products\/7_48cc3463-2a3e-4078-a373-e055ba0da1dd.jpg?v=1607077107","\/\/cdn.shopify.com\/s\/files\/1\/0508\/2592\/0676\/products\/8_6ed75ee6-abf1-4695-8973-80c1c36ca433.jpg?v=1607077107"],"featured_image":"\/\/cdn.shopify.com\/s\/files\/1\/0508\/2592\/0676\/products\/1_0d78da00-cced-4187-8b59-439ed9368447.jpg?v=1607077107","options":["Style"],"media":[{"alt":null,"id":13194935959716,"position":1,"preview_image":{"aspect_ratio":1.0,"height":800,"width":800,"src":"https:\/\/cdn.shopify.com\/s\/files\/1\/0508\/2592\/0676\/products\/1_0d78da00-cced-4187-8b59-439ed9368447.jpg?v=1607077107"},"aspect_ratio":1.0,"height":800,"media_type":"image","src":"https:\/\/cdn.shopify.com\/s\/files\/1\/0508\/2592\/0676\/products\/1_0d78da00-cced-4187-8b59-439ed9368447.jpg?v=1607077107","width":800},{"alt":null,"id":13194935992484,"position":2,"preview_image":{"aspect_ratio":1.0,"height":800,"width":800,"src":"https:\/\/cdn.shopify.com\/s\/files\/1\/0508\/2592\/0676\/products\/2_f449dfda-c48e-49b7-97f9-1381d7b5db37.jpg?v=1607077107"},"aspect_ratio":1.0,"height":800,"media_type":"image","src":"https:\/\/cdn.shopify.com\/s\/files\/1\/0508\/2592\/0676\/products\/2_f449dfda-c48e-49b7-97f9-1381d7b5db37.jpg?v=1607077107","width":800},{"alt":null,"id":13194936025252,"position":3,"preview_image":{"aspect_ratio":1.0,"height":800,"width":800,"src":"https:\/\/cdn.shopify.com\/s\/files\/1\/0508\/2592\/0676\/products\/3_29c9b3c8-503c-4cea-83b9-a00917b06216.jpg?v=1607077107"},"aspect_ratio":1.0,"height":800,"media_type":"image","src":"https:\/\/cdn.shopify.com\/s\/files\/1\/0508\/2592\/0676\/products\/3_29c9b3c8-503c-4cea-83b9-a00917b06216.jpg?v=1607077107","width":800},{"alt":null,"id":13194936058020,"position":4,"preview_image":{"aspect_ratio":1.0,"height":800,"width":800,"src":"https:\/\/cdn.shopify.com\/s\/files\/1\/0508\/2592\/0676\/products\/4_eacaa56f-c7eb-4ad4-895c-4f9382135a1a.jpg?v=1607077107"},"aspect_ratio":1.0,"height":800,"media_type":"image","src":"https:\/\/cdn.shopify.com\/s\/files\/1\/0508\/2592\/0676\/products\/4_eacaa56f-c7eb-4ad4-895c-4f9382135a1a.jpg?v=1607077107","width":800},{"alt":null,"id":13194936090788,"position":5,"preview_image":{"aspect_ratio":1.0,"height":800,"width":800,"src":"https:\/\/cdn.shopify.com\/s\/files\/1\/0508\/2592\/0676\/products\/5_9f62ffcb-3b12-4d6a-baaf-2d3a04928281.jpg?v=1607077107"},"aspect_ratio":1.0,"height":800,"media_type":"image","src":"https:\/\/cdn.shopify.com\/s\/files\/1\/0508\/2592\/0676\/products\/5_9f62ffcb-3b12-4d6a-baaf-2d3a04928281.jpg?v=1607077107","width":800},{"alt":null,"id":13194936123556,"position":6,"preview_image":{"aspect_ratio":1.0,"height":800,"width":800,"src":"https:\/\/cdn.shopify.com\/s\/files\/1\/0508\/2592\/0676\/products\/6_fd69c06f-a0f3-4af4-97fe-9635336797a3.jpg?v=1607077107"},"aspect_ratio":1.0,"height":800,"media_type":"image","src":"https:\/\/cdn.shopify.com\/s\/files\/1\/0508\/2592\/0676\/products\/6_fd69c06f-a0f3-4af4-97fe-9635336797a3.jpg?v=1607077107","width":800},{"alt":null,"id":13194936156324,"position":7,"preview_image":{"aspect_ratio":1.0,"height":800,"width":800,"src":"https:\/\/cdn.shopify.com\/s\/files\/1\/0508\/2592\/0676\/products\/7_48cc3463-2a3e-4078-a373-e055ba0da1dd.jpg?v=1607077107"},"aspect_ratio":1.0,"height":800,"media_type":"image","src":"https:\/\/cdn.shopify.com\/s\/files\/1\/0508\/2592\/0676\/products\/7_48cc3463-2a3e-4078-a373-e055ba0da1dd.jpg?v=1607077107","width":800},{"alt":null,"id":13194936189092,"position":8,"preview_image":{"aspect_ratio":1.0,"height":800,"width":800,"src":"https:\/\/cdn.shopify.com\/s\/files\/1\/0508\/2592\/0676\/products\/8_6ed75ee6-abf1-4695-8973-80c1c36ca433.jpg?v=1607077107"},"aspect_ratio":1.0,"height":800,"media_type":"image","src":"https:\/\/cdn.shopify.com\/s\/files\/1\/0508\/2592\/0676\/products\/8_6ed75ee6-abf1-4695-8973-80c1c36ca433.jpg?v=1607077107","width":800}],"requires_selling_plan":false,"selling_plan_groups":[],"content":"\u003c!-- Build time: 2020-05-13 16:17:18 --\u003e \u003c!--\n * @Description: listing build template\n --\u003e\n\u003cstyle\u003e\u003c!--\n.listing-build-item table {\n width: 100% !important;\n margin: 5px 0 !important;\n border-collapse: collapse !important;\n table-layout: initial !important;\n word-break: break-word !important;\n }\n\n .listing-build-item table ul li,\n .listing-build-item table dl dd,\n .listing-build-item table dl dt {\n list-style:outside none !important;\n margin:0 !important;\n }\n\n .listing-build-item table ul,\n .listing-build-item table dl {\n margin-left: 0 !important;\n }\n\n .listing-build-item table tr\u003etd,\n .listing-build-item table tr\u003eth {\n padding: 10px 14px !important;\n font-size: 14px !important;\n border: 1px solid #cbcbcb !important;\n background-clip: padding-box !important;\n position: relative !important;\n letter-spacing:initial !important;\n text-align: left !important;\n }\n\n .listing-build-item table tr\u003eth {\n font-weight: 600 !important;\n }\n\n .listing-build-item h3 {\n color: #000 !important;\n font-size: 20px !important;\n font-weight: 600 !important;\n margin: 0 !important;\n padding: 10px 0 !important;\n text-align: left !important;\n }\n .listing-build-item table th,.listing-build-item h5{\n color:#000 !important;\n }\n .listing-build-item ul li,\n .listing-build-item dl dd,\n .listing-build-item dl dt {\n list-style: disc outside !important;\n margin: 0 0 3px 18px !important;\n padding:0;\n }\n\n\n .listing-build-item {\n margin-bottom: 30px !important;\n word-break: break-word !important;\n }\n\n .listing-build-item ul,\n .listing-build-item dl {\n margin: 0 !important;\n padding:0 !important;\n list-style:outside none !important\n }\n\n .listing-build-item .img-box {\n margin: 10px 0 !important;\n }\n\n .listing-build-item .img-box img {\n height: auto !important;\n max-width: 100% !important;\n margin: 0 auto !important;\n padding: 0 !important;\n display: block !important;\n }\n @media screen and (min-width: 992px){\n .listing-build-item table tr\u003eth {\n width: 180px !important;\n }\n }\n @media screen and (max-width: 750px){\n .listing-build-item table tr\u003eth {\n width: 100px !important;\n }\n }\n\n .listing-build-item tr:first-child th:after,\n .listing-build-item tr:first-child td:after {\n border: initial !important;\n }\n\n .listing-build-item ul\u003eli:last-child,\n .listing-build-item ul.features\u003eli:last-child,\n .listing-build-item ul\u003eli.package-row:last-child {\n margin-bottom: 0 !important;\n }\n .listing-build-item ul.features li,.listing-build-item ul li.package-row{\n margin-bottom:7px !important;\n }\n .listing-build-item h5{\n margin: 20px 0 5px 0 !important;\n font-weight: 600 !important;\n text-align: left !important;\n }\n .listing-build-item strong{\n font-weight: 600 !important;\n }\n--\u003e\u003c\/style\u003e\n\u003c!-- BEGIN features --\u003e\n\u003cdiv class=\"listing-build-item\"\u003e\n\u003ch3\u003eMain Features\u003c\/h3\u003e\n\u003cul class=\"features\"\u003e\n\u003cli\u003e\n\u003cstrong\u003eTOOLS PROFESSIONAL TOOLS:\u003c\/strong\u003e\u003cbr\u003e This scraper is specially designed to mix drums to avoid food waste.\u003c\/li\u003e\n\u003c\/ul\u003e\n\u003cbr\u003e\n\u003cul class=\"features\"\u003e\n\u003cli\u003e\n\u003cstrong\u003eMATERIAL SAFETY EQUIPMENT: \u003c\/strong\u003e\u003cbr\u003eThis scraper is made from PP material for safe, healthy, and safe food use.\u003c\/li\u003e\n\u003c\/ul\u003e\n\u003cbr\u003e\n\u003cul class=\"features\"\u003e\n\u003cli\u003e\n\u003cstrong\u003eEASY TO CLEAN:\u003c\/strong\u003e\u003cbr\u003eSimply rinses with water or use a dishwasher. It is resistant to heat and wears.\u003c\/li\u003e\n\u003c\/ul\u003e\n\u003cbr\u003e\n\u003cul class=\"features\"\u003e\n\u003cli\u003e\n\u003cstrong\u003eREFINED DESIGN:\u003c\/strong\u003e\u003cbr\u003eThermomix TM6 \/ TM5 \/ TM31 rotary mixing trowel for mixing drums.\u003c\/li\u003e\n\u003c\/ul\u003e\n\u003c\/div\u003e\n\u003c!-- END features --\u003e \u003c!-- BEGIN usage_scene --\u003e\n\u003cdiv class=\"listing-build-item\"\u003e\n\u003ch3\u003eUsage Scenarios\u003c\/h3\u003e\n\u003cp\u003e\u003cimg src=\"https:\/\/cdn.shopify.cn\/s\/files\/1\/0253\/3611\/9344\/files\/7_03a6dfbe-b373-4038-ba12-64ebd9f48d3a_480x480.jpg?v=1589360731\" alt=\"\" style=\"display: block; margin-left: auto; margin-right: auto;\"\u003e\u003c\/p\u003e\n\u003c\/div\u003e\n\u003c!-- END usage_scene --\u003e \u003c!-- BEGIN using_text --\u003e \u003c!-- END using_text --\u003e \u003c!-- BEGIN specification --\u003e\n\u003cdiv class=\"listing-build-item\"\u003e\n\u003ch3\u003eSpecification\u003c\/h3\u003e\n\u003ctable\u003e\n\u003c!-- BEGIN specification_material --\u003e\n\u003ctbody\u003e\n\u003ctr\u003e\n\u003cth scope=\"row\" class=\"specification-th\"\u003eMaterials\u003c\/th\u003e\n\u003ctd class=\"specification-td\"\u003e\n\u003cul\u003e\n\u003cli\u003eOPP\u003c\/li\u003e\n\u003c\/ul\u003e\n\u003c\/td\u003e\n\u003c\/tr\u003e\n\u003c!-- END specification_material --\u003e \u003c!-- BEGIN specification_custom_attribute --\u003e \u003c!-- END specification_custom_attribute --\u003e \u003c!-- BEGIN specification_models --\u003e \u003c!-- END specification_models --\u003e \u003c!-- BEGIN specification_colors --\u003e \u003c!-- END specification_colors --\u003e \u003c!-- BEGIN specification_size --\u003e\n\u003ctr\u003e\n\u003cth scope=\"row\"\u003eProduct Size\u003c\/th\u003e\n\u003ctd\u003e\n\u003cul\u003e\n\u003cli\u003eMixer Scraper: 26CM × 9CM × 9CM\u003c\/li\u003e\n\u003c\/ul\u003e\n\u003c\/td\u003e\n\u003c\/tr\u003e\n\u003c!-- END specification_size --\u003e \u003c!-- BEGIN specification_weight --\u003e \u003c!-- END specification_weight --\u003e \u003c!-- BEGIN specification_weight --\u003e \u003c!-- END specification_weight --\u003e \u003c!-- BEGIN specification_many_package --\u003e\n\u003ctr\u003e\n\u003cth scope=\"row\"\u003ePackage Contents\u003c\/th\u003e\n\u003ctd\u003e\n\u003cul\u003e\n\u003cli\u003eMixer Scraper × 1\u003c\/li\u003e\n\u003c\/ul\u003e\n\u003c\/td\u003e\n\u003c\/tr\u003e\n\u003c!-- END specification_one_package --\u003e\n\u003c\/tbody\u003e\n\u003c\/table\u003e\n\u003c!-- BEGIN specification_size_img --\u003e \u003c!-- END specification_size_img --\u003e\n\u003c\/div\u003e\n\u003c!-- END specification --\u003e \u003c!-- BEGIN note --\u003e\n\u003cdiv class=\"listing-build-item\"\u003e\n\u003ch3\u003eNote\u003c\/h3\u003e\n\u003cul\u003e\n\u003c!-- END note_apply --\u003e \u003c!-- BEGIN note_other --\u003e\n\u003cli\u003eDue to the different display and lighting effects, the actual color of the item may be slightly different from the color displayed on the picture.\u003c\/li\u003e\n\u003c!-- END note_other --\u003e\n\u003c\/ul\u003e\n\u003c\/div\u003e\n\u003c!-- END note --\u003e"}
Mixer Scraper
Product Description
Main Features
TOOLS PROFESSIONAL TOOLS:
This scraper is specially designed to mix drums to avoid food waste.
MATERIAL SAFETY EQUIPMENT:
This scraper is made from PP material for safe, healthy, and safe food use.
EASY TO CLEAN:
Simply rinses with water or use a dishwasher. It is resistant to heat and wears.
REFINED DESIGN:
Thermomix TM6 / TM5 / TM31 rotary mixing trowel for mixing drums.
Usage Scenarios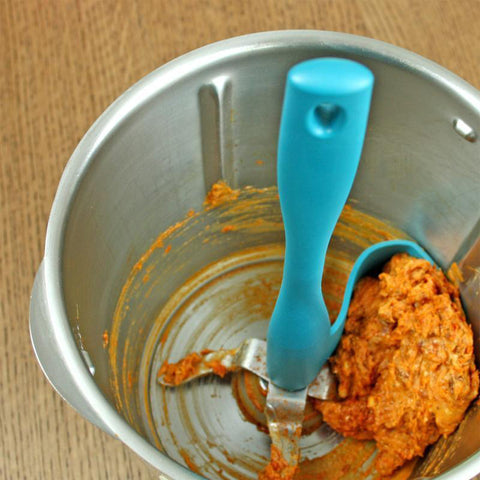 Specification
| | |
| --- | --- |
| Materials | |
| Product Size | Mixer Scraper: 26CM × 9CM × 9CM |
| Package Contents | |
Note
Due to the different display and lighting effects, the actual color of the item may be slightly different from the color displayed on the picture.
Shipping:
We processes orders between Monday and Friday. Orders will be processed within 7 business days of ordering and shipped out the next day after the processing day. We don't ship on weekends.