{"id":5926119407780,"title":"Warm Your Winter Handy Air Heater","handle":"heater","description":"\u003c!-- Build time: 2020-11-06 16:46:12 --\u003e\n\u003cstyle\u003e\u003c!--\n.listing-build-item table {\n width: 100% !important;\n margin: 5px 0 !important;\n border-collapse: collapse !important;\n table-layout: initial !important;\n }\n\n .listing-build-item table ul li,\n .listing-build-item table dl dd,\n .listing-build-item table dl dt {\n list-style:outside none !important;\n margin:0 !important;\n }\n\n .listing-build-item table ul,\n .listing-build-item table dl {\n margin-left: 0 !important;\n }\n\n .listing-build-item table tr\u003etd,\n .listing-build-item table tr\u003eth {\n padding: 10px 14px !important;\n font-size: 14px !important;\n border: 1px solid #cbcbcb !important;\n background-clip: padding-box !important;\n position: relative !important;\n letter-spacing:initial !important;\n text-align: left !important;\n }\n\n .listing-build-item table tr\u003eth {\n font-weight: 600 !important;\n }\n\n .listing-build-item h3 {\n color: #000 !important;\n font-size: 20px !important;\n font-weight: 600 !important;\n margin: 0 !important;\n padding: 10px 0 !important;\n text-align: left !important;\n }\n .listing-build-item table th,.listing-build-item h5{\n color:#000 !important;\n }\n\n .listing-build-item {\n margin-bottom: 30px !important;\n word-break: break-word !important;\n }\n\n .listing-build-item ul,\n .listing-build-item dl {\n margin: 0 !important;\n padding:0 !important;\n list-style:outside none !important\n }\n\n .listing-build-item .img-box {\n margin: 10px 0 !important;\n }\n\n .listing-build-item .img-box img {\n height: auto !important;\n max-width: 100% !important;\n margin: 0 auto !important;\n padding: 0 !important;\n display: block !important;\n }\n @media screen and (min-width: 992px){\n .listing-build-item table tr\u003eth {\n width: 180px !important;\n }\n }\n @media screen and (max-width: 750px){\n .listing-build-item table tr\u003eth {\n width: 100px !important;\n }\n }\n\n .listing-build-item tr:first-child th:after,\n .listing-build-item tr:first-child td:after {\n border: initial !important;\n }\n\n .listing-build-item ul\u003eli:last-child,\n .listing-build-item ul.features\u003eli:last-child,\n .listing-build-item ul\u003eli.package-row:last-child {\n margin-bottom: 0 !important;\n }\n .listing-build-item ul.features li,.listing-build-item ul li.package-row{\n margin-bottom:7px !important;\n }\n .listing-build-item h5{\n margin: 20px 0 5px 0 !important;\n font-weight: 600 !important;\n text-align: left !important;\n }\n .listing-build-item strong{\n font-weight: 600 !important;\n }\n--\u003e\u003c\/style\u003e\n\u003cdiv class=\"listing-build-item\"\u003e\n\u003ch3\u003e\u003cimg style=\"display: block; margin-left: auto; margin-right: auto;\" src=\"https:\/\/cdn.shopifycdn.net\/s\/files\/1\/0104\/2687\/5966\/files\/02d92803-c72a-4c49-897c-4cd5563f568a_480x480.png?v=1604653538\" alt=\"\"\u003e\u003c\/h3\u003e\n\u003ch3\u003eMain Features\u003c\/h3\u003e\n\u003cul class=\"features\"\u003e\n\u003cli\u003e\n\u003cspan style=\"color: #e1ad09;\" data-mce-style=\"color: #e1ad09;\"\u003e\u003cstrong\u003e▶ 400W PLUG-IN HEATER\u003c\/strong\u003e \u003c\/span\u003e- The powerful plug-in heater will heat up to 250 square feet thanks to its powerful ceramic heating element Measurements Height: 16cm Width: 12cm Depth: 8.5cm Weight: 0.4kg Voltage: 240V\/50Hz Power: 400W.\u003c\/li\u003e\n\u003cli\u003e\n\u003cspan style=\"color: #e0ae09;\" data-mce-style=\"color: #e0ae09;\"\u003e\u003cstrong\u003e▶ DIGITAL DISPLAY\u003c\/strong\u003e\u003c\/span\u003e – The plug-in heater features a digital display that allows you to control and set the temperature from 15-32ºC\/59-90ºF.\u003c\/li\u003e\n\u003cli\u003e\n\u003cspan style=\"color: #e0ae09;\" data-mce-style=\"color: #e0ae09;\"\u003e\u003cstrong\u003e▶ TIMER FUNCTION\u003c\/strong\u003e\u003c\/span\u003e – Also included is a timer function that is perfect for warming your bedroom whilst you sleep.\u003c\/li\u003e\n\u003cli\u003e\n\u003cspan style=\"color: #e0ae09;\" data-mce-style=\"color: #e0ae09;\"\u003e\u003cstrong\u003e▶ SAFETY MEASURES\u003c\/strong\u003e\u003c\/span\u003e – This powerful little unit heats up to 32ºC\/90ºF, but it stays cool to the touch and features a built-in cut off to prevent overheating.\u003c\/li\u003e\n\u003cli\u003e\n\u003cspan style=\"color: #e0ae09;\" data-mce-style=\"color: #e0ae09;\"\u003e\u003cstrong\u003e▶ PORTABLE\u003c\/strong\u003e\u003c\/span\u003e – The heating device will work at any mains terminal and is perfect for the home, garage, office, sheds, and many other small.\u003c\/li\u003e\n\u003c\/ul\u003e\n\u003c\/div\u003e\n\u003c!-- END features --\u003e \u003c!-- BEGIN Using Method --\u003e\n\u003cdiv class=\"listing-build-item\"\u003e\n\u003ch3\u003eUsing Methods\u003c\/h3\u003e\n\u003cp\u003e\u003cimg alt=\"\" src=\"https:\/\/cdn.shopifycdn.net\/s\/files\/1\/0104\/2687\/5966\/files\/9659437a-95d1-46ac-b75e-a0358bc88da2_480x480.png?v=1604653509\" style=\"display: block; margin-left: auto; margin-right: auto;\"\u003e\u003c\/p\u003e\n\u003cul\u003e\n\u003cli\u003e 1. Power on, heating, fan rotation, do not press any button default work 12 hours;\u003c\/li\u003e\n\u003cli\u003e2. Press the time button to switch to the timer settings;\u003c\/li\u003e\n\u003cli\u003e3. The initial display temperature of 20ºC\/68ºF, the temperature set by the up and down keys to set the temperature, the range of 15-32ºC\/59-90ºF; time setting under the time set 1 to 12 hours;\u003c\/li\u003e\n\u003cli\u003e4. Press the fan button to switch high (HH) low (LL) two stalls fan speed;\u003c\/li\u003e\n\u003cli\u003e5. To set the temperature, cut off the heating, the fan to stop working after 60 seconds, the screen shows OF, below the set temperature -1, reheating;\u003c\/li\u003e\n\u003cli\u003e6. The arrival time (not set the default is 12 hours), cut off the heating, the fan to stop working after 60 seconds, the screen shows off;\u003c\/li\u003e\n\u003cli\u003e7. After the end of the work, press any key to start work (not set time, the default 12 hours) ;\u003c\/li\u003e\n\u003c\/ul\u003e\n\u003c\/div\u003e\n\u003c!-- END Using Method --\u003e \u003c!-- BEGIN usage_scene --\u003e \u003c!-- END usage_scene --\u003e \u003c!-- BEGIN specification --\u003e\n\u003cdiv class=\"listing-build-item\"\u003e\n\u003ch3\u003eSpecifications\u003c\/h3\u003e\n\u003ctable style=\"width: 534px;\" data-mce-style=\"width: 534px;\"\u003e\n\u003c!-- BEGIN specification_material --\u003e \u003c!-- END specification_material --\u003e \u003c!-- BEGIN specification_weight --\u003e\n\u003ctbody\u003e\n\u003ctr\u003e\n\u003cth scope=\"row\" style=\"width: 286px;\" data-mce-style=\"width: 286px;\"\u003eProduct Weight\u003c\/th\u003e\n\u003ctd style=\"width: 189px;\" data-mce-style=\"width: 189px;\"\u003e\n\u003cul\u003e\n\u003cli\u003e590g\u003cbr\u003e\n\u003c\/li\u003e\n\u003c\/ul\u003e\n\u003c\/td\u003e\n\u003c\/tr\u003e\n\u003c!-- END specification_weight --\u003e \u003c!-- BEGIN specification_size --\u003e\n\u003ctr\u003e\n\u003cth scope=\"row\" style=\"width: 286px;\" data-mce-style=\"width: 286px;\"\u003ePower Supply\u003c\/th\u003e\n\u003ctd style=\"width: 189px;\" data-mce-style=\"width: 189px;\"\u003e\n\u003cul\u003e\n\u003cli\u003eAC110-240V; 50Hz\u003c\/li\u003e\n\u003c\/ul\u003e\n\u003c\/td\u003e\n\u003c\/tr\u003e\n\u003c!-- END specification_size --\u003e \u003c!-- BEGIN specification_many_package --\u003e\n\u003ctr\u003e\n\u003cth scope=\"row\" style=\"width: 286px;\" data-mce-style=\"width: 286px;\"\u003ePackage Contents\u003c\/th\u003e\n\u003ctd style=\"width: 189px;\" data-mce-style=\"width: 189px;\"\u003e\n\u003cul\u003e\n\u003cli\u003eWarm Your Winter Handy Air Heater × 1\u003c\/li\u003e\n\u003c\/ul\u003e\n\u003c\/td\u003e\n\u003c\/tr\u003e\n\u003c!-- END specification_one_package --\u003e \u003c!-- BEGIN specification_custom_attribute --\u003e\n\u003ctr\u003e\n\u003cth scope=\"row\" style=\"width: 286px;\" data-mce-style=\"width: 286px;\"\u003ePlug Standard\u003c\/th\u003e\n\u003ctd style=\"width: 189px;\" data-mce-style=\"width: 189px;\"\u003eEU\/US\/UK\u003c\/td\u003e\n\u003c\/tr\u003e\n\u003c!-- END specification_custom_attribute --\u003e\n\u003c\/tbody\u003e\n\u003c\/table\u003e\n\u003c!-- BEGIN specification_size_img --\u003e \u003c!-- END specification_size_img --\u003e\n\u003c\/div\u003e\n\u003c!-- END specification --\u003e \u003c!-- BEGIN note --\u003e\n\u003cdiv class=\"listing-build-item\"\u003e\n\u003ch3\u003eNote\u003c\/h3\u003e\n\u003cul\u003e\n\u003cli\u003eDue to manual measurements, please allow slight measurement deviations.\u003c\/li\u003e\n\u003cli\u003eDue to the different display and lighting effects, the actual color of the item may be slightly different from the color displayed on the picture.\u003c\/li\u003e\n\u003c\/ul\u003e\n\u003c\/div\u003e\n\u003c!-- END note --\u003e","published_at":"2020-12-14T17:44:06+08:00","created_at":"2020-12-14T17:44:06+08:00","vendor":"solegg","type":"Hot produts","tags":[],"price":4999,"price_min":4999,"price_max":4999,"available":true,"price_varies":false,"compare_at_price":0,"compare_at_price_min":0,"compare_at_price_max":0,"compare_at_price_varies":false,"variants":[{"id":37231676260516,"title":"EU Standard","option1":"EU Standard","option2":null,"option3":null,"sku":"LA72042696EU","requires_shipping":true,"taxable":false,"featured_image":null,"available":true,"name":"Warm Your Winter Handy Air Heater - EU Standard","public_title":"EU Standard","options":["EU Standard"],"price":4999,"weight":0,"compare_at_price":0,"inventory_management":null,"barcode":null,"requires_selling_plan":false,"selling_plan_allocations":[]},{"id":37231676293284,"title":"US Standard","option1":"US Standard","option2":null,"option3":null,"sku":"LA72042696US","requires_shipping":true,"taxable":false,"featured_image":null,"available":true,"name":"Warm Your Winter Handy Air Heater - US Standard","public_title":"US Standard","options":["US Standard"],"price":4999,"weight":0,"compare_at_price":0,"inventory_management":null,"barcode":null,"requires_selling_plan":false,"selling_plan_allocations":[]},{"id":37231676326052,"title":"UK Standard","option1":"UK Standard","option2":null,"option3":null,"sku":"LA72042696UK","requires_shipping":true,"taxable":false,"featured_image":null,"available":true,"name":"Warm Your Winter Handy Air Heater - UK Standard","public_title":"UK Standard","options":["UK Standard"],"price":4999,"weight":0,"compare_at_price":0,"inventory_management":null,"barcode":null,"requires_selling_plan":false,"selling_plan_allocations":[]}],"images":["\/\/cdn.shopify.com\/s\/files\/1\/0508\/2592\/0676\/products\/437f2292-f6b3-42ea-b9d6-916f513bdf7b.png?v=1607939046","\/\/cdn.shopify.com\/s\/files\/1\/0508\/2592\/0676\/products\/04fcf3a4-4742-4530-865d-aeea031f09ff.png?v=1607939047","\/\/cdn.shopify.com\/s\/files\/1\/0508\/2592\/0676\/products\/7e2382ae-5a7b-4e20-8bae-95a2a2def961.png?v=1607939047","\/\/cdn.shopify.com\/s\/files\/1\/0508\/2592\/0676\/products\/8e2a5eb9-b16e-4805-9e7f-6a6474041235.png?v=1607939047","\/\/cdn.shopify.com\/s\/files\/1\/0508\/2592\/0676\/products\/e0b6b2db-19c4-4ab0-8d3d-c0956da44a18.png?v=1607939047","\/\/cdn.shopify.com\/s\/files\/1\/0508\/2592\/0676\/products\/95a30004-10ae-4db6-9b00-df256f088566.png?v=1607939047","\/\/cdn.shopify.com\/s\/files\/1\/0508\/2592\/0676\/products\/426e7128-7443-467d-bee0-6eb136d9dd49.png?v=1607939047","\/\/cdn.shopify.com\/s\/files\/1\/0508\/2592\/0676\/products\/cf830f2d-4d86-49fb-8e17-b87bbcd67f58.png?v=1607939047"],"featured_image":"\/\/cdn.shopify.com\/s\/files\/1\/0508\/2592\/0676\/products\/437f2292-f6b3-42ea-b9d6-916f513bdf7b.png?v=1607939046","options":["Style"],"media":[{"alt":null,"id":13379146121380,"position":1,"preview_image":{"aspect_ratio":1.0,"height":800,"width":800,"src":"https:\/\/cdn.shopify.com\/s\/files\/1\/0508\/2592\/0676\/products\/437f2292-f6b3-42ea-b9d6-916f513bdf7b.png?v=1607939046"},"aspect_ratio":1.0,"height":800,"media_type":"image","src":"https:\/\/cdn.shopify.com\/s\/files\/1\/0508\/2592\/0676\/products\/437f2292-f6b3-42ea-b9d6-916f513bdf7b.png?v=1607939046","width":800},{"alt":null,"id":13379146154148,"position":2,"preview_image":{"aspect_ratio":1.0,"height":1200,"width":1200,"src":"https:\/\/cdn.shopify.com\/s\/files\/1\/0508\/2592\/0676\/products\/04fcf3a4-4742-4530-865d-aeea031f09ff.png?v=1607939047"},"aspect_ratio":1.0,"height":1200,"media_type":"image","src":"https:\/\/cdn.shopify.com\/s\/files\/1\/0508\/2592\/0676\/products\/04fcf3a4-4742-4530-865d-aeea031f09ff.png?v=1607939047","width":1200},{"alt":null,"id":13379146186916,"position":3,"preview_image":{"aspect_ratio":1.0,"height":1200,"width":1200,"src":"https:\/\/cdn.shopify.com\/s\/files\/1\/0508\/2592\/0676\/products\/7e2382ae-5a7b-4e20-8bae-95a2a2def961.png?v=1607939047"},"aspect_ratio":1.0,"height":1200,"media_type":"image","src":"https:\/\/cdn.shopify.com\/s\/files\/1\/0508\/2592\/0676\/products\/7e2382ae-5a7b-4e20-8bae-95a2a2def961.png?v=1607939047","width":1200},{"alt":null,"id":13379146219684,"position":4,"preview_image":{"aspect_ratio":0.914,"height":500,"width":457,"src":"https:\/\/cdn.shopify.com\/s\/files\/1\/0508\/2592\/0676\/products\/8e2a5eb9-b16e-4805-9e7f-6a6474041235.png?v=1607939047"},"aspect_ratio":0.914,"height":500,"media_type":"image","src":"https:\/\/cdn.shopify.com\/s\/files\/1\/0508\/2592\/0676\/products\/8e2a5eb9-b16e-4805-9e7f-6a6474041235.png?v=1607939047","width":457},{"alt":null,"id":13379146285220,"position":5,"preview_image":{"aspect_ratio":0.975,"height":1200,"width":1170,"src":"https:\/\/cdn.shopify.com\/s\/files\/1\/0508\/2592\/0676\/products\/e0b6b2db-19c4-4ab0-8d3d-c0956da44a18.png?v=1607939047"},"aspect_ratio":0.975,"height":1200,"media_type":"image","src":"https:\/\/cdn.shopify.com\/s\/files\/1\/0508\/2592\/0676\/products\/e0b6b2db-19c4-4ab0-8d3d-c0956da44a18.png?v=1607939047","width":1170},{"alt":null,"id":13379146317988,"position":6,"preview_image":{"aspect_ratio":1.0,"height":800,"width":800,"src":"https:\/\/cdn.shopify.com\/s\/files\/1\/0508\/2592\/0676\/products\/95a30004-10ae-4db6-9b00-df256f088566.png?v=1607939047"},"aspect_ratio":1.0,"height":800,"media_type":"image","src":"https:\/\/cdn.shopify.com\/s\/files\/1\/0508\/2592\/0676\/products\/95a30004-10ae-4db6-9b00-df256f088566.png?v=1607939047","width":800},{"alt":null,"id":13379146350756,"position":7,"preview_image":{"aspect_ratio":1.0,"height":1200,"width":1200,"src":"https:\/\/cdn.shopify.com\/s\/files\/1\/0508\/2592\/0676\/products\/426e7128-7443-467d-bee0-6eb136d9dd49.png?v=1607939047"},"aspect_ratio":1.0,"height":1200,"media_type":"image","src":"https:\/\/cdn.shopify.com\/s\/files\/1\/0508\/2592\/0676\/products\/426e7128-7443-467d-bee0-6eb136d9dd49.png?v=1607939047","width":1200},{"alt":null,"id":13379146383524,"position":8,"preview_image":{"aspect_ratio":1.0,"height":800,"width":800,"src":"https:\/\/cdn.shopify.com\/s\/files\/1\/0508\/2592\/0676\/products\/cf830f2d-4d86-49fb-8e17-b87bbcd67f58.png?v=1607939047"},"aspect_ratio":1.0,"height":800,"media_type":"image","src":"https:\/\/cdn.shopify.com\/s\/files\/1\/0508\/2592\/0676\/products\/cf830f2d-4d86-49fb-8e17-b87bbcd67f58.png?v=1607939047","width":800}],"requires_selling_plan":false,"selling_plan_groups":[],"content":"\u003c!-- Build time: 2020-11-06 16:46:12 --\u003e\n\u003cstyle\u003e\u003c!--\n.listing-build-item table {\n width: 100% !important;\n margin: 5px 0 !important;\n border-collapse: collapse !important;\n table-layout: initial !important;\n }\n\n .listing-build-item table ul li,\n .listing-build-item table dl dd,\n .listing-build-item table dl dt {\n list-style:outside none !important;\n margin:0 !important;\n }\n\n .listing-build-item table ul,\n .listing-build-item table dl {\n margin-left: 0 !important;\n }\n\n .listing-build-item table tr\u003etd,\n .listing-build-item table tr\u003eth {\n padding: 10px 14px !important;\n font-size: 14px !important;\n border: 1px solid #cbcbcb !important;\n background-clip: padding-box !important;\n position: relative !important;\n letter-spacing:initial !important;\n text-align: left !important;\n }\n\n .listing-build-item table tr\u003eth {\n font-weight: 600 !important;\n }\n\n .listing-build-item h3 {\n color: #000 !important;\n font-size: 20px !important;\n font-weight: 600 !important;\n margin: 0 !important;\n padding: 10px 0 !important;\n text-align: left !important;\n }\n .listing-build-item table th,.listing-build-item h5{\n color:#000 !important;\n }\n\n .listing-build-item {\n margin-bottom: 30px !important;\n word-break: break-word !important;\n }\n\n .listing-build-item ul,\n .listing-build-item dl {\n margin: 0 !important;\n padding:0 !important;\n list-style:outside none !important\n }\n\n .listing-build-item .img-box {\n margin: 10px 0 !important;\n }\n\n .listing-build-item .img-box img {\n height: auto !important;\n max-width: 100% !important;\n margin: 0 auto !important;\n padding: 0 !important;\n display: block !important;\n }\n @media screen and (min-width: 992px){\n .listing-build-item table tr\u003eth {\n width: 180px !important;\n }\n }\n @media screen and (max-width: 750px){\n .listing-build-item table tr\u003eth {\n width: 100px !important;\n }\n }\n\n .listing-build-item tr:first-child th:after,\n .listing-build-item tr:first-child td:after {\n border: initial !important;\n }\n\n .listing-build-item ul\u003eli:last-child,\n .listing-build-item ul.features\u003eli:last-child,\n .listing-build-item ul\u003eli.package-row:last-child {\n margin-bottom: 0 !important;\n }\n .listing-build-item ul.features li,.listing-build-item ul li.package-row{\n margin-bottom:7px !important;\n }\n .listing-build-item h5{\n margin: 20px 0 5px 0 !important;\n font-weight: 600 !important;\n text-align: left !important;\n }\n .listing-build-item strong{\n font-weight: 600 !important;\n }\n--\u003e\u003c\/style\u003e\n\u003cdiv class=\"listing-build-item\"\u003e\n\u003ch3\u003e\u003cimg style=\"display: block; margin-left: auto; margin-right: auto;\" src=\"https:\/\/cdn.shopifycdn.net\/s\/files\/1\/0104\/2687\/5966\/files\/02d92803-c72a-4c49-897c-4cd5563f568a_480x480.png?v=1604653538\" alt=\"\"\u003e\u003c\/h3\u003e\n\u003ch3\u003eMain Features\u003c\/h3\u003e\n\u003cul class=\"features\"\u003e\n\u003cli\u003e\n\u003cspan style=\"color: #e1ad09;\" data-mce-style=\"color: #e1ad09;\"\u003e\u003cstrong\u003e▶ 400W PLUG-IN HEATER\u003c\/strong\u003e \u003c\/span\u003e- The powerful plug-in heater will heat up to 250 square feet thanks to its powerful ceramic heating element Measurements Height: 16cm Width: 12cm Depth: 8.5cm Weight: 0.4kg Voltage: 240V\/50Hz Power: 400W.\u003c\/li\u003e\n\u003cli\u003e\n\u003cspan style=\"color: #e0ae09;\" data-mce-style=\"color: #e0ae09;\"\u003e\u003cstrong\u003e▶ DIGITAL DISPLAY\u003c\/strong\u003e\u003c\/span\u003e – The plug-in heater features a digital display that allows you to control and set the temperature from 15-32ºC\/59-90ºF.\u003c\/li\u003e\n\u003cli\u003e\n\u003cspan style=\"color: #e0ae09;\" data-mce-style=\"color: #e0ae09;\"\u003e\u003cstrong\u003e▶ TIMER FUNCTION\u003c\/strong\u003e\u003c\/span\u003e – Also included is a timer function that is perfect for warming your bedroom whilst you sleep.\u003c\/li\u003e\n\u003cli\u003e\n\u003cspan style=\"color: #e0ae09;\" data-mce-style=\"color: #e0ae09;\"\u003e\u003cstrong\u003e▶ SAFETY MEASURES\u003c\/strong\u003e\u003c\/span\u003e – This powerful little unit heats up to 32ºC\/90ºF, but it stays cool to the touch and features a built-in cut off to prevent overheating.\u003c\/li\u003e\n\u003cli\u003e\n\u003cspan style=\"color: #e0ae09;\" data-mce-style=\"color: #e0ae09;\"\u003e\u003cstrong\u003e▶ PORTABLE\u003c\/strong\u003e\u003c\/span\u003e – The heating device will work at any mains terminal and is perfect for the home, garage, office, sheds, and many other small.\u003c\/li\u003e\n\u003c\/ul\u003e\n\u003c\/div\u003e\n\u003c!-- END features --\u003e \u003c!-- BEGIN Using Method --\u003e\n\u003cdiv class=\"listing-build-item\"\u003e\n\u003ch3\u003eUsing Methods\u003c\/h3\u003e\n\u003cp\u003e\u003cimg alt=\"\" src=\"https:\/\/cdn.shopifycdn.net\/s\/files\/1\/0104\/2687\/5966\/files\/9659437a-95d1-46ac-b75e-a0358bc88da2_480x480.png?v=1604653509\" style=\"display: block; margin-left: auto; margin-right: auto;\"\u003e\u003c\/p\u003e\n\u003cul\u003e\n\u003cli\u003e 1. Power on, heating, fan rotation, do not press any button default work 12 hours;\u003c\/li\u003e\n\u003cli\u003e2. Press the time button to switch to the timer settings;\u003c\/li\u003e\n\u003cli\u003e3. The initial display temperature of 20ºC\/68ºF, the temperature set by the up and down keys to set the temperature, the range of 15-32ºC\/59-90ºF; time setting under the time set 1 to 12 hours;\u003c\/li\u003e\n\u003cli\u003e4. Press the fan button to switch high (HH) low (LL) two stalls fan speed;\u003c\/li\u003e\n\u003cli\u003e5. To set the temperature, cut off the heating, the fan to stop working after 60 seconds, the screen shows OF, below the set temperature -1, reheating;\u003c\/li\u003e\n\u003cli\u003e6. The arrival time (not set the default is 12 hours), cut off the heating, the fan to stop working after 60 seconds, the screen shows off;\u003c\/li\u003e\n\u003cli\u003e7. After the end of the work, press any key to start work (not set time, the default 12 hours) ;\u003c\/li\u003e\n\u003c\/ul\u003e\n\u003c\/div\u003e\n\u003c!-- END Using Method --\u003e \u003c!-- BEGIN usage_scene --\u003e \u003c!-- END usage_scene --\u003e \u003c!-- BEGIN specification --\u003e\n\u003cdiv class=\"listing-build-item\"\u003e\n\u003ch3\u003eSpecifications\u003c\/h3\u003e\n\u003ctable style=\"width: 534px;\" data-mce-style=\"width: 534px;\"\u003e\n\u003c!-- BEGIN specification_material --\u003e \u003c!-- END specification_material --\u003e \u003c!-- BEGIN specification_weight --\u003e\n\u003ctbody\u003e\n\u003ctr\u003e\n\u003cth scope=\"row\" style=\"width: 286px;\" data-mce-style=\"width: 286px;\"\u003eProduct Weight\u003c\/th\u003e\n\u003ctd style=\"width: 189px;\" data-mce-style=\"width: 189px;\"\u003e\n\u003cul\u003e\n\u003cli\u003e590g\u003cbr\u003e\n\u003c\/li\u003e\n\u003c\/ul\u003e\n\u003c\/td\u003e\n\u003c\/tr\u003e\n\u003c!-- END specification_weight --\u003e \u003c!-- BEGIN specification_size --\u003e\n\u003ctr\u003e\n\u003cth scope=\"row\" style=\"width: 286px;\" data-mce-style=\"width: 286px;\"\u003ePower Supply\u003c\/th\u003e\n\u003ctd style=\"width: 189px;\" data-mce-style=\"width: 189px;\"\u003e\n\u003cul\u003e\n\u003cli\u003eAC110-240V; 50Hz\u003c\/li\u003e\n\u003c\/ul\u003e\n\u003c\/td\u003e\n\u003c\/tr\u003e\n\u003c!-- END specification_size --\u003e \u003c!-- BEGIN specification_many_package --\u003e\n\u003ctr\u003e\n\u003cth scope=\"row\" style=\"width: 286px;\" data-mce-style=\"width: 286px;\"\u003ePackage Contents\u003c\/th\u003e\n\u003ctd style=\"width: 189px;\" data-mce-style=\"width: 189px;\"\u003e\n\u003cul\u003e\n\u003cli\u003eWarm Your Winter Handy Air Heater × 1\u003c\/li\u003e\n\u003c\/ul\u003e\n\u003c\/td\u003e\n\u003c\/tr\u003e\n\u003c!-- END specification_one_package --\u003e \u003c!-- BEGIN specification_custom_attribute --\u003e\n\u003ctr\u003e\n\u003cth scope=\"row\" style=\"width: 286px;\" data-mce-style=\"width: 286px;\"\u003ePlug Standard\u003c\/th\u003e\n\u003ctd style=\"width: 189px;\" data-mce-style=\"width: 189px;\"\u003eEU\/US\/UK\u003c\/td\u003e\n\u003c\/tr\u003e\n\u003c!-- END specification_custom_attribute --\u003e\n\u003c\/tbody\u003e\n\u003c\/table\u003e\n\u003c!-- BEGIN specification_size_img --\u003e \u003c!-- END specification_size_img --\u003e\n\u003c\/div\u003e\n\u003c!-- END specification --\u003e \u003c!-- BEGIN note --\u003e\n\u003cdiv class=\"listing-build-item\"\u003e\n\u003ch3\u003eNote\u003c\/h3\u003e\n\u003cul\u003e\n\u003cli\u003eDue to manual measurements, please allow slight measurement deviations.\u003c\/li\u003e\n\u003cli\u003eDue to the different display and lighting effects, the actual color of the item may be slightly different from the color displayed on the picture.\u003c\/li\u003e\n\u003c\/ul\u003e\n\u003c\/div\u003e\n\u003c!-- END note --\u003e"}
Warm Your Winter Handy Air Heater
Product Description

Main Features
▶ 400W PLUG-IN HEATER - The powerful plug-in heater will heat up to 250 square feet thanks to its powerful ceramic heating element Measurements Height: 16cm Width: 12cm Depth: 8.5cm Weight: 0.4kg Voltage: 240V/50Hz Power: 400W.
▶ DIGITAL DISPLAY – The plug-in heater features a digital display that allows you to control and set the temperature from 15-32ºC/59-90ºF.
▶ TIMER FUNCTION – Also included is a timer function that is perfect for warming your bedroom whilst you sleep.
▶ SAFETY MEASURES – This powerful little unit heats up to 32ºC/90ºF, but it stays cool to the touch and features a built-in cut off to prevent overheating.
▶ PORTABLE – The heating device will work at any mains terminal and is perfect for the home, garage, office, sheds, and many other small.
Using Methods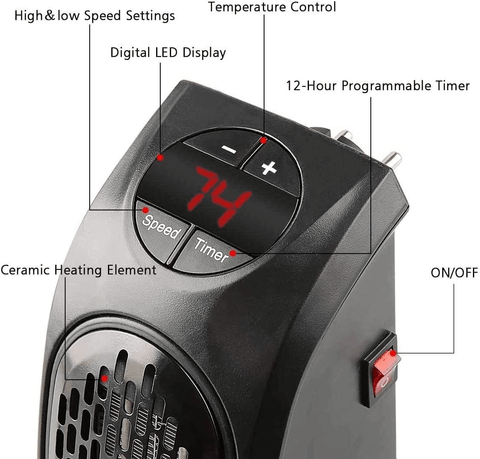 1. Power on, heating, fan rotation, do not press any button default work 12 hours;
2. Press the time button to switch to the timer settings;
3. The initial display temperature of 20ºC/68ºF, the temperature set by the up and down keys to set the temperature, the range of 15-32ºC/59-90ºF; time setting under the time set 1 to 12 hours;
4. Press the fan button to switch high (HH) low (LL) two stalls fan speed;
5. To set the temperature, cut off the heating, the fan to stop working after 60 seconds, the screen shows OF, below the set temperature -1, reheating;
6. The arrival time (not set the default is 12 hours), cut off the heating, the fan to stop working after 60 seconds, the screen shows off;
7. After the end of the work, press any key to start work (not set time, the default 12 hours) ;
Specifications
| | |
| --- | --- |
| Product Weight | |
| Power Supply | |
| Package Contents | Warm Your Winter Handy Air Heater × 1 |
| Plug Standard | EU/US/UK |
Note
Due to manual measurements, please allow slight measurement deviations.
Due to the different display and lighting effects, the actual color of the item may be slightly different from the color displayed on the picture.
Shipping:
We processes orders between Monday and Friday. Orders will be processed within 7 business days of ordering and shipped out the next day after the processing day. We don't ship on weekends.