{"id":5931319394468,"title":"Handle Type Garbage Bag Clip(2 PCS)","handle":"hand-1","description":"\u003c!-- Build time: 2020-12-17 14:34:40 --\u003e\n\u003cstyle\u003e\u003c!--\n.listing-build-item table {\n width: 100% !important;\n margin: 5px 0 !important;\n border-collapse: collapse !important;\n table-layout: initial !important;\n }\n\n .listing-build-item table ul li,\n .listing-build-item table dl dd,\n .listing-build-item table dl dt {\n list-style:outside none !important;\n margin:0 !important;\n }\n\n .listing-build-item table ul,\n .listing-build-item table dl {\n margin-left: 0 !important;\n }\n\n .listing-build-item table tr\u003etd,\n .listing-build-item table tr\u003eth {\n padding: 10px 14px !important;\n font-size: 14px !important;\n border: 1px solid #cbcbcb !important;\n background-clip: padding-box !important;\n position: relative !important;\n letter-spacing:initial !important;\n text-align: left !important;\n }\n\n .listing-build-item table tr\u003eth {\n font-weight: 600 !important;\n }\n\n .listing-build-item h3 {\n color: #000 !important;\n font-size: 20px !important;\n font-weight: 600 !important;\n margin: 0 !important;\n padding: 10px 0 !important;\n text-align: left !important;\n }\n .listing-build-item table th,.listing-build-item h5{\n color:#000 !important;\n }\n\n .listing-build-item {\n margin-bottom: 30px !important;\n word-break: break-word !important;\n }\n\n .listing-build-item ul,\n .listing-build-item dl {\n margin: 0 !important;\n padding:0 !important;\n list-style:outside none !important\n }\n\n .listing-build-item .img-box {\n margin: 10px 0 !important;\n }\n\n .listing-build-item .img-box img {\n height: auto !important;\n max-width: 100% !important;\n margin: 0 auto !important;\n padding: 0 !important;\n display: block !important;\n }\n @media screen and (min-width: 992px){\n .listing-build-item table tr\u003eth {\n width: 180px !important;\n }\n }\n @media screen and (max-width: 750px){\n .listing-build-item table tr\u003eth {\n width: 100px !important;\n }\n }\n\n .listing-build-item tr:first-child th:after,\n .listing-build-item tr:first-child td:after {\n border: initial !important;\n }\n\n .listing-build-item ul\u003eli:last-child,\n .listing-build-item ul.features\u003eli:last-child,\n .listing-build-item ul\u003eli.package-row:last-child {\n margin-bottom: 0 !important;\n }\n .listing-build-item ul.features li,.listing-build-item ul li.package-row{\n margin-bottom:7px !important;\n }\n .listing-build-item h5{\n margin: 20px 0 5px 0 !important;\n font-weight: 600 !important;\n text-align: left !important;\n }\n .listing-build-item strong{\n font-weight: 600 !important;\n }\n--\u003e\u003c\/style\u003e\n\u003c!-- BEGIN Descriptions --\u003e\n\u003cdiv class=\"listing-build-item\" style=\"text-align: center;\"\u003e\n\u003cstrong\u003e\u003cspan style=\"color: #ff8000;\"\u003e The trash bag non-slip fixing clip makes the trash bag tidier, a good helper for housework!\u003c\/span\u003e\u003c\/strong\u003e\u003cbr\u003e\n\u003cul\u003e\u003c\/ul\u003e\n\u003c\/div\u003e\n\u003cdiv class=\"listing-build-item\" style=\"text-align: center; padding-left: 30px;\"\u003e\u003cstrong\u003e\u003cspan style=\"color: #ff8000;\"\u003e\u003cimg alt=\"\" src=\"https:\/\/cdn.shopifycdn.net\/s\/files\/1\/0082\/9148\/3738\/files\/fd63cb5330a3e7fffe4ce5e15b1f035d_480x480.gif?v=1608198010\"\u003e\u003c\/span\u003e\u003c\/strong\u003e\u003c\/div\u003e\n\u003c!-- END Descriptions --\u003e \u003c!-- BEGIN features --\u003e\n\u003cdiv class=\"listing-build-item\"\u003e\n\u003ch3\u003eMain Features\u003c\/h3\u003e\n\u003cul class=\"features\"\u003e\n\u003cli\u003e\n\u003cspan style=\"color: #00aaff;\"\u003e \u003cstrong\u003e[Double Clip Design]\u003c\/strong\u003e\u003c\/span\u003ePP material double clamp, easy to fix, not easy to fall, more durable.\u003c\/li\u003e\n\u003c\/ul\u003e\n\u003cimg style=\"display: block; margin-left: auto; margin-right: auto;\" alt=\"\" src=\"https:\/\/cdn.shopifycdn.net\/s\/files\/1\/0082\/9148\/3738\/files\/6_b842c31a-d26d-43ba-8d12-88d411bd3da4_480x480.png?v=1608187424\" data-mce-fragment=\"1\" data-mce-src=\"https:\/\/cdn.shopifycdn.net\/s\/files\/1\/0082\/9148\/3738\/files\/6_b842c31a-d26d-43ba-8d12-88d411bd3da4_480x480.png?v=1608187424\"\u003e\u003cbr\u003e\n\u003cul class=\"features\"\u003e\u003c\/ul\u003e\n\u003cimg src=\"https:\/\/cdn.shopifycdn.net\/s\/files\/1\/0082\/9148\/3738\/files\/1_480x480.png?v=1608187117\" alt=\"\" style=\"display: block; margin-left: auto; margin-right: auto;\" data-mce-fragment=\"1\" data-mce-src=\"https:\/\/cdn.shopifycdn.net\/s\/files\/1\/0082\/9148\/3738\/files\/1_480x480.png?v=1608187117\"\u003e\u003cbr\u003e\n\u003cul class=\"features\"\u003e\n\u003cli\u003e\n\u003cspan style=\"color: #00aaff;\"\u003e \u003cstrong\u003e[Easy To Move]\u003c\/strong\u003e\u003c\/span\u003eWith anti-slip handle, easy to move, anti-slip handle design, more convenient to move.\u003c\/li\u003e\n\u003c\/ul\u003e\n\u003cimg style=\"display: block; margin-left: auto; margin-right: auto;\" alt=\"\" src=\"https:\/\/cdn.shopifycdn.net\/s\/files\/1\/0082\/9148\/3738\/files\/5_480x480.png?v=1608187463\" data-mce-fragment=\"1\" data-mce-src=\"https:\/\/cdn.shopifycdn.net\/s\/files\/1\/0082\/9148\/3738\/files\/5_480x480.png?v=1608187463\"\u003e\u003cbr\u003e\n\u003cul class=\"features\"\u003e\u003c\/ul\u003e\n\u003cimg src=\"https:\/\/cdn.shopifycdn.net\/s\/files\/1\/0082\/9148\/3738\/files\/2_480x480.png?v=1608187217\" alt=\"\" style=\"display: block; margin-left: auto; margin-right: auto;\" data-mce-fragment=\"1\" data-mce-src=\"https:\/\/cdn.shopifycdn.net\/s\/files\/1\/0082\/9148\/3738\/files\/2_480x480.png?v=1608187217\"\u003e\n\u003cul class=\"features\"\u003e\n\u003cli\u003e\n\u003cspan style=\"color: #00aaff;\"\u003e \u003cstrong\u003e[Practicality]\u003c\/strong\u003e\u003cspan style=\"color: #000000;\"\u003eNot easy to slip off\u003c\/span\u003e\u003c\/span\u003e\u003cspan style=\"color: #000000;\"\u003e \u003c\/span\u003ewhen throwing garbage.\u003c\/li\u003e\n\u003c\/ul\u003e\n\u003cimg src=\"https:\/\/cdn.shopifycdn.net\/s\/files\/1\/0082\/9148\/3738\/files\/3_5d7f2d9c-fd03-4ad9-ac19-9dd1b99c2b7b_480x480.png?v=1608187243\" alt=\"\" style=\"display: block; margin-left: auto; margin-right: auto;\" data-mce-fragment=\"1\" data-mce-src=\"https:\/\/cdn.shopifycdn.net\/s\/files\/1\/0082\/9148\/3738\/files\/3_5d7f2d9c-fd03-4ad9-ac19-9dd1b99c2b7b_480x480.png?v=1608187243\"\u003e\u003cbr\u003e\n\u003cul class=\"features\"\u003e\n\u003cli\u003e\n\u003cspan style=\"color: #00aaff;\"\u003e \u003cstrong\u003e[Simple To Installation]\u003c\/strong\u003e\u003c\/span\u003eInstallation is simple, just push the clip down along the edge of the trash can.\u003c\/li\u003e\n\u003c\/ul\u003e\n\u003cimg src=\"https:\/\/cdn.shopifycdn.net\/s\/files\/1\/0082\/9148\/3738\/files\/4_bd8ec88f-7dc6-4839-8b69-e029139bddb3_480x480.png?v=1608187279\" alt=\"\" style=\"display: block; margin-left: auto; margin-right: auto;\" data-mce-fragment=\"1\" data-mce-src=\"https:\/\/cdn.shopifycdn.net\/s\/files\/1\/0082\/9148\/3738\/files\/4_bd8ec88f-7dc6-4839-8b69-e029139bddb3_480x480.png?v=1608187279\"\u003e\u003cbr\u003e\n\u003cul class=\"features\"\u003e\u003c\/ul\u003e\n\u003c\/div\u003e\n\u003c!-- END features --\u003e \u003c!-- BEGIN Using Method --\u003e\n\u003cdiv class=\"listing-build-item\"\u003e\n\u003ch3\u003eUsing Methods\u003c\/h3\u003e\n\u003cimg style=\"display: block; margin-left: auto; margin-right: auto;\" alt=\"\" src=\"https:\/\/cdn.shopifycdn.net\/s\/files\/1\/0082\/9148\/3738\/files\/Handle-Type-Garbage-Bag-Clip_05_480x480.jpg?v=1608193006\" data-mce-fragment=\"1\" data-mce-src=\"https:\/\/cdn.shopifycdn.net\/s\/files\/1\/0082\/9148\/3738\/files\/Handle-Type-Garbage-Bag-Clip_05_480x480.jpg?v=1608193006\"\u003e\u003cbr\u003e\n\u003cul\u003e\u003c\/ul\u003e\n\u003c\/div\u003e\n\u003c!-- END Using Method --\u003e \u003c!-- BEGIN usage_scene --\u003e \u003c!-- END usage_scene --\u003e \u003c!-- BEGIN specification --\u003e\n\u003cdiv class=\"listing-build-item\"\u003e\n\u003ch3\u003eSpecifications\u003c\/h3\u003e\n\u003cp\u003e\u003cimg alt=\"\" src=\"https:\/\/cdn.shopifycdn.net\/s\/files\/1\/0082\/9148\/3738\/files\/B9142758-ABEC-451b-BC53-3FACB2C969F1_480x480.png?v=1608187367\" style=\"display: block; margin-left: auto; margin-right: auto;\"\u003e\u003c\/p\u003e\n\u003ctable\u003e\n\u003c!-- BEGIN specification_material --\u003e\n\u003ctbody\u003e\n\u003ctr\u003e\n\u003cth scope=\"row\" class=\"specification-th\"\u003eMaterials\u003c\/th\u003e\n\u003ctd class=\"specification-td\"\u003e\n\u003cul\u003e\n\u003cli\u003ePP\u003c\/li\u003e\n\u003c\/ul\u003e\n\u003c\/td\u003e\n\u003c\/tr\u003e\n\u003c!-- END specification_material --\u003e \u003c!-- BEGIN specification_weight --\u003e\n\u003ctr\u003e\n\u003cth scope=\"row\"\u003eProduct Weight\u003c\/th\u003e\n\u003ctd\u003e\n\u003cul\u003e\n\u003cli\u003eNet Weight: 70G\u003c\/li\u003e\n\u003cli\u003ePacking Weight: 84G\u003c\/li\u003e\n\u003c\/ul\u003e\n\u003c\/td\u003e\n\u003c\/tr\u003e\n\u003c!-- END specification_weight --\u003e \u003c!-- BEGIN specification_size --\u003e\n\u003ctr\u003e\n\u003cth scope=\"row\"\u003eProduct Size\u003cbr\u003e (L x W x H)\u003c\/th\u003e\n\u003ctd\u003e\n\u003cul\u003e\n\u003cli\u003eProduct Size : 10 × 10 × 2cm \/ 3.9 × 3.9 × 0.8inches\u003c\/li\u003e\n\u003cli\u003ePacking size : 18 × 15 × 2cm \/ 7.1 × 5.9 × 0.8inches\u003c\/li\u003e\n\u003c\/ul\u003e\n\u003c\/td\u003e\n\u003c\/tr\u003e\n\u003c!-- END specification_size --\u003e \u003c!-- BEGIN specification_many_package --\u003e\n\u003ctr\u003e\n\u003cth scope=\"row\"\u003ePackage Contents\u003c\/th\u003e\n\u003ctd\u003e\n\u003cul\u003e\n\u003cli\u003eHandle Type Garbage Bag Clip × 4 PCS\u003c\/li\u003e\n\u003c\/ul\u003e\n\u003c\/td\u003e\n\u003c\/tr\u003e\n\u003c!-- END specification_one_package --\u003e \u003c!-- BEGIN specification_custom_attribute --\u003e \u003c!-- END specification_custom_attribute --\u003e\n\u003c\/tbody\u003e\n\u003c\/table\u003e\n\u003c!-- BEGIN specification_size_img --\u003e \u003c!-- END specification_size_img --\u003e\n\u003c\/div\u003e\n\u003c!-- END specification --\u003e \u003c!-- BEGIN note --\u003e\n\u003cdiv class=\"listing-build-item\"\u003e\n\u003ch3\u003eNote\u003c\/h3\u003e\n\u003cul\u003e\n\u003cli\u003eDue to manual measurements, please allow slight measurement deviations.\u003c\/li\u003e\n\u003cli\u003eDue to the different display and lighting effects, the actual color of the item may be slightly different from the color displayed in the picture.\u003c\/li\u003e\n\u003c\/ul\u003e\n\u003c\/div\u003e\n\u003c!-- END note --\u003e","published_at":"2020-12-17T18:32:49+08:00","created_at":"2020-12-17T18:32:49+08:00","vendor":"solegg","type":"Hot produts","tags":[],"price":999,"price_min":999,"price_max":999,"available":true,"price_varies":false,"compare_at_price":0,"compare_at_price_min":0,"compare_at_price_max":0,"compare_at_price_varies":false,"variants":[{"id":37255254212772,"title":"Nordic Green 4PCS","option1":"Nordic Green 4PCS","option2":null,"option3":null,"sku":"LE32043294NEG2PCS*2","requires_shipping":true,"taxable":false,"featured_image":null,"available":true,"name":"Handle Type Garbage Bag Clip(2 PCS) - Nordic Green 4PCS","public_title":"Nordic Green 4PCS","options":["Nordic Green 4PCS"],"price":999,"weight":0,"compare_at_price":0,"inventory_management":null,"barcode":null,"requires_selling_plan":false,"selling_plan_allocations":[]},{"id":37255254245540,"title":"Nordic Pink 4PCS","option1":"Nordic Pink 4PCS","option2":null,"option3":null,"sku":"LE32043294NEP*2","requires_shipping":true,"taxable":false,"featured_image":null,"available":true,"name":"Handle Type Garbage Bag Clip(2 PCS) - Nordic Pink 4PCS","public_title":"Nordic Pink 4PCS","options":["Nordic Pink 4PCS"],"price":999,"weight":0,"compare_at_price":0,"inventory_management":null,"barcode":null,"requires_selling_plan":false,"selling_plan_allocations":[]},{"id":37255254278308,"title":"Nordic Beige 4PCS","option1":"Nordic Beige 4PCS","option2":null,"option3":null,"sku":"LE32043294NEM2PCS*2","requires_shipping":true,"taxable":false,"featured_image":null,"available":true,"name":"Handle Type Garbage Bag Clip(2 PCS) - Nordic Beige 4PCS","public_title":"Nordic Beige 4PCS","options":["Nordic Beige 4PCS"],"price":999,"weight":0,"compare_at_price":0,"inventory_management":null,"barcode":null,"requires_selling_plan":false,"selling_plan_allocations":[]}],"images":["\/\/cdn.shopify.com\/s\/files\/1\/0508\/2592\/0676\/products\/Handle-Type-Garbage-Bag-Clip_01.jpg?v=1608201169","\/\/cdn.shopify.com\/s\/files\/1\/0508\/2592\/0676\/products\/Handle-Type-Garbage-Bag-Clip_02.jpg?v=1608201169","\/\/cdn.shopify.com\/s\/files\/1\/0508\/2592\/0676\/products\/Handle-Type-Garbage-Bag-Clip_03.jpg?v=1608201169","\/\/cdn.shopify.com\/s\/files\/1\/0508\/2592\/0676\/products\/Handle-Type-Garbage-Bag-Clip_04.jpg?v=1608201169","\/\/cdn.shopify.com\/s\/files\/1\/0508\/2592\/0676\/products\/Handle-Type-Garbage-Bag-Clip_05.jpg?v=1608201169","\/\/cdn.shopify.com\/s\/files\/1\/0508\/2592\/0676\/products\/Handle-Type-Garbage-Bag-Clip_06.jpg?v=1608201169","\/\/cdn.shopify.com\/s\/files\/1\/0508\/2592\/0676\/products\/Handle-Type-Garbage-Bag-Clip_07.jpg?v=1608201169","\/\/cdn.shopify.com\/s\/files\/1\/0508\/2592\/0676\/products\/Handle-Type-Garbage-Bag-Clip_08.jpg?v=1608201169"],"featured_image":"\/\/cdn.shopify.com\/s\/files\/1\/0508\/2592\/0676\/products\/Handle-Type-Garbage-Bag-Clip_01.jpg?v=1608201169","options":["Color"],"media":[{"alt":null,"id":13443322577060,"position":1,"preview_image":{"aspect_ratio":1.0,"height":800,"width":800,"src":"https:\/\/cdn.shopify.com\/s\/files\/1\/0508\/2592\/0676\/products\/Handle-Type-Garbage-Bag-Clip_01.jpg?v=1608201169"},"aspect_ratio":1.0,"height":800,"media_type":"image","src":"https:\/\/cdn.shopify.com\/s\/files\/1\/0508\/2592\/0676\/products\/Handle-Type-Garbage-Bag-Clip_01.jpg?v=1608201169","width":800},{"alt":null,"id":13443322609828,"position":2,"preview_image":{"aspect_ratio":1.0,"height":800,"width":800,"src":"https:\/\/cdn.shopify.com\/s\/files\/1\/0508\/2592\/0676\/products\/Handle-Type-Garbage-Bag-Clip_02.jpg?v=1608201169"},"aspect_ratio":1.0,"height":800,"media_type":"image","src":"https:\/\/cdn.shopify.com\/s\/files\/1\/0508\/2592\/0676\/products\/Handle-Type-Garbage-Bag-Clip_02.jpg?v=1608201169","width":800},{"alt":null,"id":13443322642596,"position":3,"preview_image":{"aspect_ratio":1.0,"height":800,"width":800,"src":"https:\/\/cdn.shopify.com\/s\/files\/1\/0508\/2592\/0676\/products\/Handle-Type-Garbage-Bag-Clip_03.jpg?v=1608201169"},"aspect_ratio":1.0,"height":800,"media_type":"image","src":"https:\/\/cdn.shopify.com\/s\/files\/1\/0508\/2592\/0676\/products\/Handle-Type-Garbage-Bag-Clip_03.jpg?v=1608201169","width":800},{"alt":null,"id":13443322675364,"position":4,"preview_image":{"aspect_ratio":1.0,"height":800,"width":800,"src":"https:\/\/cdn.shopify.com\/s\/files\/1\/0508\/2592\/0676\/products\/Handle-Type-Garbage-Bag-Clip_04.jpg?v=1608201169"},"aspect_ratio":1.0,"height":800,"media_type":"image","src":"https:\/\/cdn.shopify.com\/s\/files\/1\/0508\/2592\/0676\/products\/Handle-Type-Garbage-Bag-Clip_04.jpg?v=1608201169","width":800},{"alt":null,"id":13443322708132,"position":5,"preview_image":{"aspect_ratio":1.0,"height":800,"width":800,"src":"https:\/\/cdn.shopify.com\/s\/files\/1\/0508\/2592\/0676\/products\/Handle-Type-Garbage-Bag-Clip_05.jpg?v=1608201169"},"aspect_ratio":1.0,"height":800,"media_type":"image","src":"https:\/\/cdn.shopify.com\/s\/files\/1\/0508\/2592\/0676\/products\/Handle-Type-Garbage-Bag-Clip_05.jpg?v=1608201169","width":800},{"alt":null,"id":13443322740900,"position":6,"preview_image":{"aspect_ratio":1.0,"height":800,"width":800,"src":"https:\/\/cdn.shopify.com\/s\/files\/1\/0508\/2592\/0676\/products\/Handle-Type-Garbage-Bag-Clip_06.jpg?v=1608201169"},"aspect_ratio":1.0,"height":800,"media_type":"image","src":"https:\/\/cdn.shopify.com\/s\/files\/1\/0508\/2592\/0676\/products\/Handle-Type-Garbage-Bag-Clip_06.jpg?v=1608201169","width":800},{"alt":null,"id":13443322773668,"position":7,"preview_image":{"aspect_ratio":1.0,"height":800,"width":800,"src":"https:\/\/cdn.shopify.com\/s\/files\/1\/0508\/2592\/0676\/products\/Handle-Type-Garbage-Bag-Clip_07.jpg?v=1608201169"},"aspect_ratio":1.0,"height":800,"media_type":"image","src":"https:\/\/cdn.shopify.com\/s\/files\/1\/0508\/2592\/0676\/products\/Handle-Type-Garbage-Bag-Clip_07.jpg?v=1608201169","width":800},{"alt":null,"id":13443322839204,"position":8,"preview_image":{"aspect_ratio":1.0,"height":800,"width":800,"src":"https:\/\/cdn.shopify.com\/s\/files\/1\/0508\/2592\/0676\/products\/Handle-Type-Garbage-Bag-Clip_08.jpg?v=1608201169"},"aspect_ratio":1.0,"height":800,"media_type":"image","src":"https:\/\/cdn.shopify.com\/s\/files\/1\/0508\/2592\/0676\/products\/Handle-Type-Garbage-Bag-Clip_08.jpg?v=1608201169","width":800}],"requires_selling_plan":false,"selling_plan_groups":[],"content":"\u003c!-- Build time: 2020-12-17 14:34:40 --\u003e\n\u003cstyle\u003e\u003c!--\n.listing-build-item table {\n width: 100% !important;\n margin: 5px 0 !important;\n border-collapse: collapse !important;\n table-layout: initial !important;\n }\n\n .listing-build-item table ul li,\n .listing-build-item table dl dd,\n .listing-build-item table dl dt {\n list-style:outside none !important;\n margin:0 !important;\n }\n\n .listing-build-item table ul,\n .listing-build-item table dl {\n margin-left: 0 !important;\n }\n\n .listing-build-item table tr\u003etd,\n .listing-build-item table tr\u003eth {\n padding: 10px 14px !important;\n font-size: 14px !important;\n border: 1px solid #cbcbcb !important;\n background-clip: padding-box !important;\n position: relative !important;\n letter-spacing:initial !important;\n text-align: left !important;\n }\n\n .listing-build-item table tr\u003eth {\n font-weight: 600 !important;\n }\n\n .listing-build-item h3 {\n color: #000 !important;\n font-size: 20px !important;\n font-weight: 600 !important;\n margin: 0 !important;\n padding: 10px 0 !important;\n text-align: left !important;\n }\n .listing-build-item table th,.listing-build-item h5{\n color:#000 !important;\n }\n\n .listing-build-item {\n margin-bottom: 30px !important;\n word-break: break-word !important;\n }\n\n .listing-build-item ul,\n .listing-build-item dl {\n margin: 0 !important;\n padding:0 !important;\n list-style:outside none !important\n }\n\n .listing-build-item .img-box {\n margin: 10px 0 !important;\n }\n\n .listing-build-item .img-box img {\n height: auto !important;\n max-width: 100% !important;\n margin: 0 auto !important;\n padding: 0 !important;\n display: block !important;\n }\n @media screen and (min-width: 992px){\n .listing-build-item table tr\u003eth {\n width: 180px !important;\n }\n }\n @media screen and (max-width: 750px){\n .listing-build-item table tr\u003eth {\n width: 100px !important;\n }\n }\n\n .listing-build-item tr:first-child th:after,\n .listing-build-item tr:first-child td:after {\n border: initial !important;\n }\n\n .listing-build-item ul\u003eli:last-child,\n .listing-build-item ul.features\u003eli:last-child,\n .listing-build-item ul\u003eli.package-row:last-child {\n margin-bottom: 0 !important;\n }\n .listing-build-item ul.features li,.listing-build-item ul li.package-row{\n margin-bottom:7px !important;\n }\n .listing-build-item h5{\n margin: 20px 0 5px 0 !important;\n font-weight: 600 !important;\n text-align: left !important;\n }\n .listing-build-item strong{\n font-weight: 600 !important;\n }\n--\u003e\u003c\/style\u003e\n\u003c!-- BEGIN Descriptions --\u003e\n\u003cdiv class=\"listing-build-item\" style=\"text-align: center;\"\u003e\n\u003cstrong\u003e\u003cspan style=\"color: #ff8000;\"\u003e The trash bag non-slip fixing clip makes the trash bag tidier, a good helper for housework!\u003c\/span\u003e\u003c\/strong\u003e\u003cbr\u003e\n\u003cul\u003e\u003c\/ul\u003e\n\u003c\/div\u003e\n\u003cdiv class=\"listing-build-item\" style=\"text-align: center; padding-left: 30px;\"\u003e\u003cstrong\u003e\u003cspan style=\"color: #ff8000;\"\u003e\u003cimg alt=\"\" src=\"https:\/\/cdn.shopifycdn.net\/s\/files\/1\/0082\/9148\/3738\/files\/fd63cb5330a3e7fffe4ce5e15b1f035d_480x480.gif?v=1608198010\"\u003e\u003c\/span\u003e\u003c\/strong\u003e\u003c\/div\u003e\n\u003c!-- END Descriptions --\u003e \u003c!-- BEGIN features --\u003e\n\u003cdiv class=\"listing-build-item\"\u003e\n\u003ch3\u003eMain Features\u003c\/h3\u003e\n\u003cul class=\"features\"\u003e\n\u003cli\u003e\n\u003cspan style=\"color: #00aaff;\"\u003e \u003cstrong\u003e[Double Clip Design]\u003c\/strong\u003e\u003c\/span\u003ePP material double clamp, easy to fix, not easy to fall, more durable.\u003c\/li\u003e\n\u003c\/ul\u003e\n\u003cimg style=\"display: block; margin-left: auto; margin-right: auto;\" alt=\"\" src=\"https:\/\/cdn.shopifycdn.net\/s\/files\/1\/0082\/9148\/3738\/files\/6_b842c31a-d26d-43ba-8d12-88d411bd3da4_480x480.png?v=1608187424\" data-mce-fragment=\"1\" data-mce-src=\"https:\/\/cdn.shopifycdn.net\/s\/files\/1\/0082\/9148\/3738\/files\/6_b842c31a-d26d-43ba-8d12-88d411bd3da4_480x480.png?v=1608187424\"\u003e\u003cbr\u003e\n\u003cul class=\"features\"\u003e\u003c\/ul\u003e\n\u003cimg src=\"https:\/\/cdn.shopifycdn.net\/s\/files\/1\/0082\/9148\/3738\/files\/1_480x480.png?v=1608187117\" alt=\"\" style=\"display: block; margin-left: auto; margin-right: auto;\" data-mce-fragment=\"1\" data-mce-src=\"https:\/\/cdn.shopifycdn.net\/s\/files\/1\/0082\/9148\/3738\/files\/1_480x480.png?v=1608187117\"\u003e\u003cbr\u003e\n\u003cul class=\"features\"\u003e\n\u003cli\u003e\n\u003cspan style=\"color: #00aaff;\"\u003e \u003cstrong\u003e[Easy To Move]\u003c\/strong\u003e\u003c\/span\u003eWith anti-slip handle, easy to move, anti-slip handle design, more convenient to move.\u003c\/li\u003e\n\u003c\/ul\u003e\n\u003cimg style=\"display: block; margin-left: auto; margin-right: auto;\" alt=\"\" src=\"https:\/\/cdn.shopifycdn.net\/s\/files\/1\/0082\/9148\/3738\/files\/5_480x480.png?v=1608187463\" data-mce-fragment=\"1\" data-mce-src=\"https:\/\/cdn.shopifycdn.net\/s\/files\/1\/0082\/9148\/3738\/files\/5_480x480.png?v=1608187463\"\u003e\u003cbr\u003e\n\u003cul class=\"features\"\u003e\u003c\/ul\u003e\n\u003cimg src=\"https:\/\/cdn.shopifycdn.net\/s\/files\/1\/0082\/9148\/3738\/files\/2_480x480.png?v=1608187217\" alt=\"\" style=\"display: block; margin-left: auto; margin-right: auto;\" data-mce-fragment=\"1\" data-mce-src=\"https:\/\/cdn.shopifycdn.net\/s\/files\/1\/0082\/9148\/3738\/files\/2_480x480.png?v=1608187217\"\u003e\n\u003cul class=\"features\"\u003e\n\u003cli\u003e\n\u003cspan style=\"color: #00aaff;\"\u003e \u003cstrong\u003e[Practicality]\u003c\/strong\u003e\u003cspan style=\"color: #000000;\"\u003eNot easy to slip off\u003c\/span\u003e\u003c\/span\u003e\u003cspan style=\"color: #000000;\"\u003e \u003c\/span\u003ewhen throwing garbage.\u003c\/li\u003e\n\u003c\/ul\u003e\n\u003cimg src=\"https:\/\/cdn.shopifycdn.net\/s\/files\/1\/0082\/9148\/3738\/files\/3_5d7f2d9c-fd03-4ad9-ac19-9dd1b99c2b7b_480x480.png?v=1608187243\" alt=\"\" style=\"display: block; margin-left: auto; margin-right: auto;\" data-mce-fragment=\"1\" data-mce-src=\"https:\/\/cdn.shopifycdn.net\/s\/files\/1\/0082\/9148\/3738\/files\/3_5d7f2d9c-fd03-4ad9-ac19-9dd1b99c2b7b_480x480.png?v=1608187243\"\u003e\u003cbr\u003e\n\u003cul class=\"features\"\u003e\n\u003cli\u003e\n\u003cspan style=\"color: #00aaff;\"\u003e \u003cstrong\u003e[Simple To Installation]\u003c\/strong\u003e\u003c\/span\u003eInstallation is simple, just push the clip down along the edge of the trash can.\u003c\/li\u003e\n\u003c\/ul\u003e\n\u003cimg src=\"https:\/\/cdn.shopifycdn.net\/s\/files\/1\/0082\/9148\/3738\/files\/4_bd8ec88f-7dc6-4839-8b69-e029139bddb3_480x480.png?v=1608187279\" alt=\"\" style=\"display: block; margin-left: auto; margin-right: auto;\" data-mce-fragment=\"1\" data-mce-src=\"https:\/\/cdn.shopifycdn.net\/s\/files\/1\/0082\/9148\/3738\/files\/4_bd8ec88f-7dc6-4839-8b69-e029139bddb3_480x480.png?v=1608187279\"\u003e\u003cbr\u003e\n\u003cul class=\"features\"\u003e\u003c\/ul\u003e\n\u003c\/div\u003e\n\u003c!-- END features --\u003e \u003c!-- BEGIN Using Method --\u003e\n\u003cdiv class=\"listing-build-item\"\u003e\n\u003ch3\u003eUsing Methods\u003c\/h3\u003e\n\u003cimg style=\"display: block; margin-left: auto; margin-right: auto;\" alt=\"\" src=\"https:\/\/cdn.shopifycdn.net\/s\/files\/1\/0082\/9148\/3738\/files\/Handle-Type-Garbage-Bag-Clip_05_480x480.jpg?v=1608193006\" data-mce-fragment=\"1\" data-mce-src=\"https:\/\/cdn.shopifycdn.net\/s\/files\/1\/0082\/9148\/3738\/files\/Handle-Type-Garbage-Bag-Clip_05_480x480.jpg?v=1608193006\"\u003e\u003cbr\u003e\n\u003cul\u003e\u003c\/ul\u003e\n\u003c\/div\u003e\n\u003c!-- END Using Method --\u003e \u003c!-- BEGIN usage_scene --\u003e \u003c!-- END usage_scene --\u003e \u003c!-- BEGIN specification --\u003e\n\u003cdiv class=\"listing-build-item\"\u003e\n\u003ch3\u003eSpecifications\u003c\/h3\u003e\n\u003cp\u003e\u003cimg alt=\"\" src=\"https:\/\/cdn.shopifycdn.net\/s\/files\/1\/0082\/9148\/3738\/files\/B9142758-ABEC-451b-BC53-3FACB2C969F1_480x480.png?v=1608187367\" style=\"display: block; margin-left: auto; margin-right: auto;\"\u003e\u003c\/p\u003e\n\u003ctable\u003e\n\u003c!-- BEGIN specification_material --\u003e\n\u003ctbody\u003e\n\u003ctr\u003e\n\u003cth scope=\"row\" class=\"specification-th\"\u003eMaterials\u003c\/th\u003e\n\u003ctd class=\"specification-td\"\u003e\n\u003cul\u003e\n\u003cli\u003ePP\u003c\/li\u003e\n\u003c\/ul\u003e\n\u003c\/td\u003e\n\u003c\/tr\u003e\n\u003c!-- END specification_material --\u003e \u003c!-- BEGIN specification_weight --\u003e\n\u003ctr\u003e\n\u003cth scope=\"row\"\u003eProduct Weight\u003c\/th\u003e\n\u003ctd\u003e\n\u003cul\u003e\n\u003cli\u003eNet Weight: 70G\u003c\/li\u003e\n\u003cli\u003ePacking Weight: 84G\u003c\/li\u003e\n\u003c\/ul\u003e\n\u003c\/td\u003e\n\u003c\/tr\u003e\n\u003c!-- END specification_weight --\u003e \u003c!-- BEGIN specification_size --\u003e\n\u003ctr\u003e\n\u003cth scope=\"row\"\u003eProduct Size\u003cbr\u003e (L x W x H)\u003c\/th\u003e\n\u003ctd\u003e\n\u003cul\u003e\n\u003cli\u003eProduct Size : 10 × 10 × 2cm \/ 3.9 × 3.9 × 0.8inches\u003c\/li\u003e\n\u003cli\u003ePacking size : 18 × 15 × 2cm \/ 7.1 × 5.9 × 0.8inches\u003c\/li\u003e\n\u003c\/ul\u003e\n\u003c\/td\u003e\n\u003c\/tr\u003e\n\u003c!-- END specification_size --\u003e \u003c!-- BEGIN specification_many_package --\u003e\n\u003ctr\u003e\n\u003cth scope=\"row\"\u003ePackage Contents\u003c\/th\u003e\n\u003ctd\u003e\n\u003cul\u003e\n\u003cli\u003eHandle Type Garbage Bag Clip × 4 PCS\u003c\/li\u003e\n\u003c\/ul\u003e\n\u003c\/td\u003e\n\u003c\/tr\u003e\n\u003c!-- END specification_one_package --\u003e \u003c!-- BEGIN specification_custom_attribute --\u003e \u003c!-- END specification_custom_attribute --\u003e\n\u003c\/tbody\u003e\n\u003c\/table\u003e\n\u003c!-- BEGIN specification_size_img --\u003e \u003c!-- END specification_size_img --\u003e\n\u003c\/div\u003e\n\u003c!-- END specification --\u003e \u003c!-- BEGIN note --\u003e\n\u003cdiv class=\"listing-build-item\"\u003e\n\u003ch3\u003eNote\u003c\/h3\u003e\n\u003cul\u003e\n\u003cli\u003eDue to manual measurements, please allow slight measurement deviations.\u003c\/li\u003e\n\u003cli\u003eDue to the different display and lighting effects, the actual color of the item may be slightly different from the color displayed in the picture.\u003c\/li\u003e\n\u003c\/ul\u003e\n\u003c\/div\u003e\n\u003c!-- END note --\u003e"}
Handle Type Garbage Bag Clip(2 PCS)
Product Description
The trash bag non-slip fixing clip makes the trash bag tidier, a good helper for housework!

Main Features
[Double Clip Design]PP material double clamp, easy to fix, not easy to fall, more durable.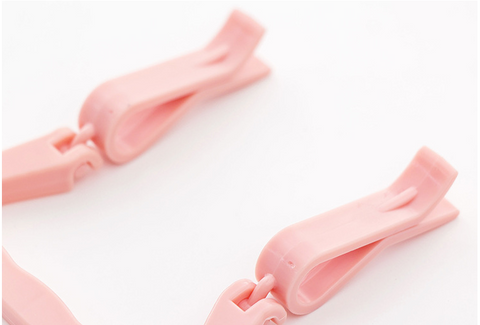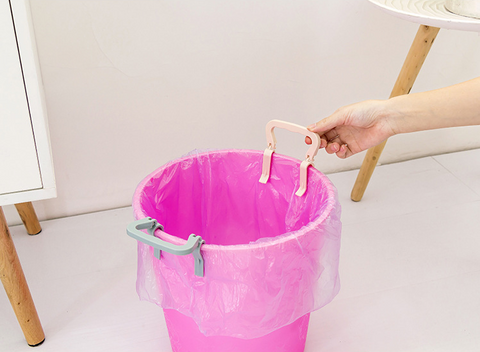 [Easy To Move]With anti-slip handle, easy to move, anti-slip handle design, more convenient to move.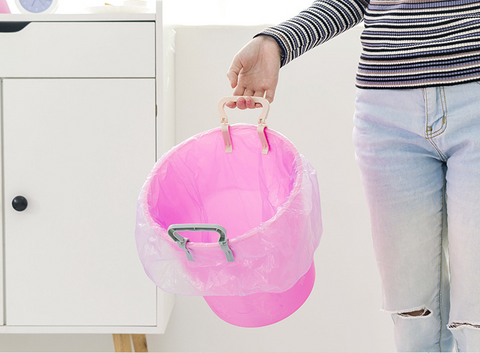 [Practicality]

Not easy to slip off

 

when throwing garbage.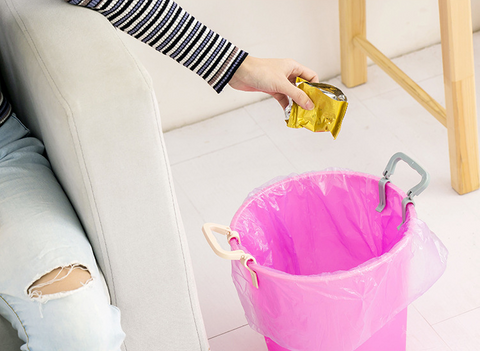 [Simple To Installation]Installation is simple, just push the clip down along the edge of the trash can.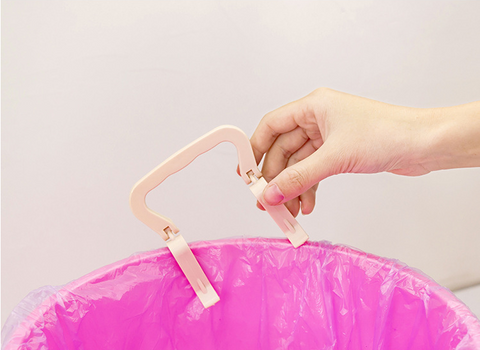 Using Methods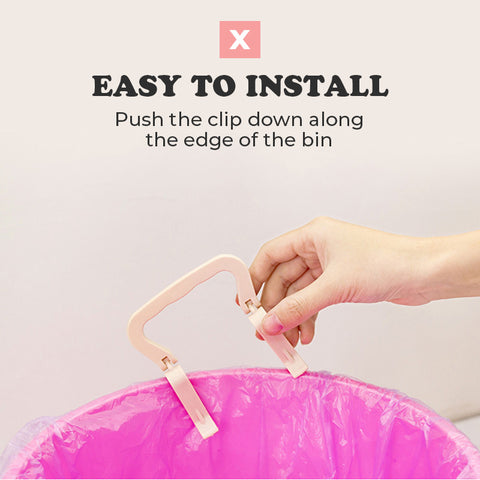 Specifications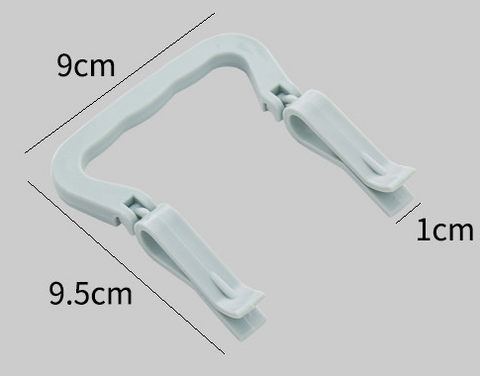 Materials
Product Weight

Net Weight: 70G
Packing Weight: 84G

Product Size
(L x W x H)

Product Size : 10 × 10 × 2cm / 3.9 × 3.9 × 0.8inches
Packing size : 18 × 15 × 2cm / 7.1 × 5.9 × 0.8inches

Package Contents

Handle Type Garbage Bag Clip × 4 PCS
Note
Due to manual measurements, please allow slight measurement deviations.
Due to the different display and lighting effects, the actual color of the item may be slightly different from the color displayed in the picture.
Shipping:
We processes orders between Monday and Friday. Orders will be processed within 7 business days of ordering and shipped out the next day after the processing day. We don't ship on weekends.