{"id":5966967046308,"title":"?New Year limited time offer?Limited edition Milky Way Roses","handle":"galaxy-rose","description":"\u003c!-- Build time: 2020-12-03 18:18:04 --\u003e\n\u003cstyle\u003e\u003c!--\n.listing-build-item table {\n width: 100% !important;\n margin: 5px 0 !important;\n border-collapse: collapse !important;\n table-layout: initial !important;\n }\n\n .listing-build-item table ul li,\n .listing-build-item table dl dd,\n .listing-build-item table dl dt {\n list-style:outside none !important;\n margin:0 !important;\n }\n\n .listing-build-item table ul,\n .listing-build-item table dl {\n margin-left: 0 !important;\n }\n\n .listing-build-item table tr\u003etd,\n .listing-build-item table tr\u003eth {\n padding: 10px 14px !important;\n font-size: 14px !important;\n border: 1px solid #cbcbcb !important;\n background-clip: padding-box !important;\n position: relative !important;\n letter-spacing:initial !important;\n text-align: left !important;\n }\n\n .listing-build-item table tr\u003eth {\n font-weight: 600 !important;\n }\n\n .listing-build-item h3 {\n color: #000 !important;\n font-size: 20px !important;\n font-weight: 600 !important;\n margin: 0 !important;\n padding: 10px 0 !important;\n text-align: left !important;\n }\n .listing-build-item table th,.listing-build-item h5{\n color:#000 !important;\n }\n\n .listing-build-item {\n margin-bottom: 30px !important;\n word-break: break-word !important;\n }\n\n .listing-build-item ul,\n .listing-build-item dl {\n margin: 0 !important;\n padding:0 !important;\n list-style:outside none !important\n }\n\n .listing-build-item .img-box {\n margin: 10px 0 !important;\n }\n\n .listing-build-item .img-box img {\n height: auto !important;\n max-width: 100% !important;\n margin: 0 auto !important;\n padding: 0 !important;\n display: block !important;\n }\n @media screen and (min-width: 992px){\n .listing-build-item table tr\u003eth {\n width: 180px !important;\n }\n }\n @media screen and (max-width: 750px){\n .listing-build-item table tr\u003eth {\n width: 100px !important;\n }\n }\n\n .listing-build-item tr:first-child th:after,\n .listing-build-item tr:first-child td:after {\n border: initial !important;\n }\n\n .listing-build-item ul\u003eli:last-child,\n .listing-build-item ul.features\u003eli:last-child,\n .listing-build-item ul\u003eli.package-row:last-child {\n margin-bottom: 0 !important;\n }\n .listing-build-item ul.features li,.listing-build-item ul li.package-row{\n margin-bottom:7px !important;\n }\n .listing-build-item h5{\n margin: 20px 0 5px 0 !important;\n font-weight: 600 !important;\n text-align: left !important;\n }\n .listing-build-item strong{\n font-weight: 600 !important;\n }\n--\u003e\u003c\/style\u003e\n\u003c!-- BEGIN Descriptions --\u003e\n\u003cul\u003e\n\u003cli\u003e\"... I bought these 3 roses for my wife, she loved them so much - they are beautiful. The best gift ever!\" ~ Sebastien Mayor - Lyon\u003c\/li\u003e\n\u003cul\u003e\n\u003cul\u003e\u003c\/ul\u003e\n\u003c\/ul\u003e\n\u003c\/ul\u003e\n\u003cp style=\"text-align: center;\"\u003e\u003cspan style=\"color: #ff8000;\"\u003e\u003cstrong\u003eMAKE THEM SMILE AND ORDER TODAY!\u003c\/strong\u003e\u003c\/span\u003e\u003c\/p\u003e\n\u003cimg style=\"display: block; margin-left: auto; margin-right: auto;\" src=\"https:\/\/cdn.shopify.com\/s\/files\/1\/0028\/5294\/6020\/products\/ezgif.com-video-to-gif_1_1080x_caedaa3d-151b-42c3-9992-fb5ea13e6629_1024x1024.gif?v=1550226315\" alt=\"Image result for galaxy rose gif\"\u003e\n\u003cp\u003eThere is no better way to say \"I love you\" than with a rose, the ultimate sign of universal love.\u003c\/p\u003e\n\u003cp\u003eShow your loved ones you love them to the end of the galaxy with this vibrant Galaxy Rose! It comes beautifully packaged and ready to give. Each beautiful rose is delicate and designed to last forever.\u003c\/p\u003e\n\u003cp\u003eEach rose is unique and designed to last a lifetime, so your loved one will remember how much they mean to you every day! Roses are made of PET plastic, not glass.\u003c\/p\u003e\n\u003cp\u003e\u003cimg style=\"display: block; margin-left: auto; margin-right: auto;\" src=\"https:\/\/i.imgflip.com\/2tskhc.gif\" alt=\"Related image\"\u003e\u003c\/p\u003e\n\u003cspan style=\"color: #ff8000;\"\u003e\u003cstrong\u003eComes with a superb gift box.\u003c\/strong\u003e\u003c\/span\u003e \u003cbr\u003e\u003cspan style=\"color: #ff8000;\"\u003e\u003cstrong\u003eEach rose is handmade to be both beautiful and realistic!\u003c\/strong\u003e\u003c\/span\u003e \u003cbr\u003e\u003cspan style=\"color: #ff8000;\"\u003e\u003cstrong\u003eA very unique and incomparable gift!\u003c\/strong\u003e\u003c\/span\u003e\n\u003cdiv class=\"listing-build-item\"\u003e\n\u003cul\u003e\u003c\/ul\u003e\n\u003c\/div\u003e\n\u003c!-- END Using Method --\u003e \u003c!-- BEGIN usage_scene --\u003e \u003c!-- END usage_scene --\u003e \u003c!-- BEGIN specification --\u003e\n\u003cdiv class=\"listing-build-item\"\u003e\n\u003ch3\u003eSpecifications\u003c\/h3\u003e\n\u003ctable style=\"width: 534px;\"\u003e\n\u003c!-- BEGIN specification_material --\u003e \u003c!-- END specification_material --\u003e \u003c!-- BEGIN specification_weight --\u003e\n\u003ctbody\u003e\n\u003ctr\u003e\n\u003cth scope=\"row\" style=\"width: 296px;\"\u003eMaterial\u003c\/th\u003e\n\u003ctd style=\"width: 179px;\"\u003ePET\u003c\/td\u003e\n\u003c\/tr\u003e\n\u003ctr\u003e\n\u003cth scope=\"row\" style=\"width: 296px;\"\u003eRose Length\u003c\/th\u003e\n\u003ctd style=\"width: 179px;\"\u003e\n\u003cul\u003e\n\u003cli\u003e16cm\u003c\/li\u003e\n\u003c\/ul\u003e\n\u003c\/td\u003e\n\u003c\/tr\u003e\n\u003c!-- END specification_weight --\u003e \u003c!-- BEGIN specification_size --\u003e\n\u003ctr\u003e\n\u003cth scope=\"row\" style=\"width: 296px;\"\u003ePackage Contents\u003c\/th\u003e\n\u003ctd style=\"width: 179px;\"\u003e\n\u003cul\u003e\n\u003cli\u003eRoses × 1\u003c\/li\u003e\n\u003cli\u003eAlbum Base\u003cspan data-mce-fragment=\"1\"\u003e × 1\u003c\/span\u003e\n\u003c\/li\u003e\n\u003c\/ul\u003e\n\u003c\/td\u003e\n\u003c\/tr\u003e\n\u003c!-- END specification_size --\u003e \u003c!-- BEGIN specification_many_package --\u003e \u003c!-- END specification_one_package --\u003e \u003c!-- BEGIN specification_custom_attribute --\u003e \u003c!-- END specification_custom_attribute --\u003e\n\u003c\/tbody\u003e\n\u003c\/table\u003e\n\u003c!-- BEGIN specification_size_img --\u003e \u003c!-- END specification_size_img --\u003e\n\u003c\/div\u003e\n\u003c!-- END specification --\u003e \u003c!-- BEGIN note --\u003e\n\u003cdiv class=\"listing-build-item\"\u003e\n\u003ch3\u003eNote\u003c\/h3\u003e\n\u003cul\u003e\n\u003cli\u003eDue to manual measurements, please allow slight measurement deviations.\u003c\/li\u003e\n\u003cli\u003eDue to the different display and lighting effects, the actual color of the item may be slightly different from the color displayed in the picture.\u003c\/li\u003e\n\u003c\/ul\u003e\n\u003c\/div\u003e\n\u003c!-- END note --\u003e","published_at":"2021-01-07T17:51:44+08:00","created_at":"2021-01-07T17:51:44+08:00","vendor":"solegg","type":"Toys, Kids \u0026 Gifts","tags":[],"price":1999,"price_min":1999,"price_max":1999,"available":true,"price_varies":false,"compare_at_price":0,"compare_at_price_min":0,"compare_at_price_max":0,"compare_at_price_varies":false,"variants":[{"id":37393204478116,"title":"Rose + Album base(COLORFUL)","option1":"Rose + Album base(COLORFUL)","option2":null,"option3":null,"sku":"LJ11936551QCS","requires_shipping":true,"taxable":false,"featured_image":null,"available":true,"name":"?New Year limited time offer?Limited edition Milky Way Roses - Rose + Album base(COLORFUL)","public_title":"Rose + Album base(COLORFUL)","options":["Rose + Album base(COLORFUL)"],"price":1999,"weight":0,"compare_at_price":0,"inventory_management":null,"barcode":null,"requires_selling_plan":false,"selling_plan_allocations":[]},{"id":37393204510884,"title":"Rose + Album base(GOLD)","option1":"Rose + Album base(GOLD)","option2":null,"option3":null,"sku":"LJ11936551JIN","requires_shipping":true,"taxable":false,"featured_image":null,"available":true,"name":"?New Year limited time offer?Limited edition Milky Way Roses - Rose + Album base(GOLD)","public_title":"Rose + Album base(GOLD)","options":["Rose + Album base(GOLD)"],"price":1999,"weight":0,"compare_at_price":0,"inventory_management":null,"barcode":null,"requires_selling_plan":false,"selling_plan_allocations":[]},{"id":37393204543652,"title":"Rose + Vibration Lamp(COLORFUL)","option1":"Rose + Vibration Lamp(COLORFUL)","option2":null,"option3":null,"sku":"LJ11936551ZIS","requires_shipping":true,"taxable":false,"featured_image":null,"available":true,"name":"?New Year limited time offer?Limited edition Milky Way Roses - Rose + Vibration Lamp(COLORFUL)","public_title":"Rose + Vibration Lamp(COLORFUL)","options":["Rose + Vibration Lamp(COLORFUL)"],"price":1999,"weight":0,"compare_at_price":0,"inventory_management":null,"barcode":null,"requires_selling_plan":false,"selling_plan_allocations":[]}],"images":["\/\/cdn.shopify.com\/s\/files\/1\/0508\/2592\/0676\/products\/1_770e70c0-d057-40e8-a5e4-dd81862a2fb4.jpg?v=1610013104","\/\/cdn.shopify.com\/s\/files\/1\/0508\/2592\/0676\/products\/2_1d96243a-4853-485c-ae81-05ca6090ed91.jpg?v=1610013104","\/\/cdn.shopify.com\/s\/files\/1\/0508\/2592\/0676\/products\/03_58e08fac-e0a5-4073-963b-0f990c83a421.jpg?v=1610013104","\/\/cdn.shopify.com\/s\/files\/1\/0508\/2592\/0676\/products\/4_97f125dd-2d3c-4f36-80a9-1397de9f624e.jpg?v=1610013104","\/\/cdn.shopify.com\/s\/files\/1\/0508\/2592\/0676\/products\/5_9e50fc95-208c-48fd-a446-3885fa0f3105.jpg?v=1610013104","\/\/cdn.shopify.com\/s\/files\/1\/0508\/2592\/0676\/products\/6_55f7a3fe-c431-4587-94fd-ee1365778411.jpg?v=1610013104","\/\/cdn.shopify.com\/s\/files\/1\/0508\/2592\/0676\/products\/7_600614c4-1ca1-4ead-88dd-ea77fd1de860.jpg?v=1610013104","\/\/cdn.shopify.com\/s\/files\/1\/0508\/2592\/0676\/products\/8_b72edf09-a80a-4655-8e4b-d2801f72f24a.jpg?v=1610013104"],"featured_image":"\/\/cdn.shopify.com\/s\/files\/1\/0508\/2592\/0676\/products\/1_770e70c0-d057-40e8-a5e4-dd81862a2fb4.jpg?v=1610013104","options":["color"],"media":[{"alt":null,"id":13720189993124,"position":1,"preview_image":{"aspect_ratio":1.0,"height":800,"width":800,"src":"https:\/\/cdn.shopify.com\/s\/files\/1\/0508\/2592\/0676\/products\/1_770e70c0-d057-40e8-a5e4-dd81862a2fb4.jpg?v=1610013104"},"aspect_ratio":1.0,"height":800,"media_type":"image","src":"https:\/\/cdn.shopify.com\/s\/files\/1\/0508\/2592\/0676\/products\/1_770e70c0-d057-40e8-a5e4-dd81862a2fb4.jpg?v=1610013104","width":800},{"alt":null,"id":13720190025892,"position":2,"preview_image":{"aspect_ratio":1.0,"height":800,"width":800,"src":"https:\/\/cdn.shopify.com\/s\/files\/1\/0508\/2592\/0676\/products\/2_1d96243a-4853-485c-ae81-05ca6090ed91.jpg?v=1610013104"},"aspect_ratio":1.0,"height":800,"media_type":"image","src":"https:\/\/cdn.shopify.com\/s\/files\/1\/0508\/2592\/0676\/products\/2_1d96243a-4853-485c-ae81-05ca6090ed91.jpg?v=1610013104","width":800},{"alt":null,"id":13720190058660,"position":3,"preview_image":{"aspect_ratio":1.0,"height":800,"width":800,"src":"https:\/\/cdn.shopify.com\/s\/files\/1\/0508\/2592\/0676\/products\/03_58e08fac-e0a5-4073-963b-0f990c83a421.jpg?v=1610013104"},"aspect_ratio":1.0,"height":800,"media_type":"image","src":"https:\/\/cdn.shopify.com\/s\/files\/1\/0508\/2592\/0676\/products\/03_58e08fac-e0a5-4073-963b-0f990c83a421.jpg?v=1610013104","width":800},{"alt":null,"id":13720190091428,"position":4,"preview_image":{"aspect_ratio":1.0,"height":800,"width":800,"src":"https:\/\/cdn.shopify.com\/s\/files\/1\/0508\/2592\/0676\/products\/4_97f125dd-2d3c-4f36-80a9-1397de9f624e.jpg?v=1610013104"},"aspect_ratio":1.0,"height":800,"media_type":"image","src":"https:\/\/cdn.shopify.com\/s\/files\/1\/0508\/2592\/0676\/products\/4_97f125dd-2d3c-4f36-80a9-1397de9f624e.jpg?v=1610013104","width":800},{"alt":null,"id":13720190124196,"position":5,"preview_image":{"aspect_ratio":1.0,"height":800,"width":800,"src":"https:\/\/cdn.shopify.com\/s\/files\/1\/0508\/2592\/0676\/products\/5_9e50fc95-208c-48fd-a446-3885fa0f3105.jpg?v=1610013104"},"aspect_ratio":1.0,"height":800,"media_type":"image","src":"https:\/\/cdn.shopify.com\/s\/files\/1\/0508\/2592\/0676\/products\/5_9e50fc95-208c-48fd-a446-3885fa0f3105.jpg?v=1610013104","width":800},{"alt":null,"id":13720190156964,"position":6,"preview_image":{"aspect_ratio":1.0,"height":800,"width":800,"src":"https:\/\/cdn.shopify.com\/s\/files\/1\/0508\/2592\/0676\/products\/6_55f7a3fe-c431-4587-94fd-ee1365778411.jpg?v=1610013104"},"aspect_ratio":1.0,"height":800,"media_type":"image","src":"https:\/\/cdn.shopify.com\/s\/files\/1\/0508\/2592\/0676\/products\/6_55f7a3fe-c431-4587-94fd-ee1365778411.jpg?v=1610013104","width":800},{"alt":null,"id":13720190189732,"position":7,"preview_image":{"aspect_ratio":1.0,"height":800,"width":800,"src":"https:\/\/cdn.shopify.com\/s\/files\/1\/0508\/2592\/0676\/products\/7_600614c4-1ca1-4ead-88dd-ea77fd1de860.jpg?v=1610013104"},"aspect_ratio":1.0,"height":800,"media_type":"image","src":"https:\/\/cdn.shopify.com\/s\/files\/1\/0508\/2592\/0676\/products\/7_600614c4-1ca1-4ead-88dd-ea77fd1de860.jpg?v=1610013104","width":800},{"alt":null,"id":13720190222500,"position":8,"preview_image":{"aspect_ratio":1.0,"height":800,"width":800,"src":"https:\/\/cdn.shopify.com\/s\/files\/1\/0508\/2592\/0676\/products\/8_b72edf09-a80a-4655-8e4b-d2801f72f24a.jpg?v=1610013104"},"aspect_ratio":1.0,"height":800,"media_type":"image","src":"https:\/\/cdn.shopify.com\/s\/files\/1\/0508\/2592\/0676\/products\/8_b72edf09-a80a-4655-8e4b-d2801f72f24a.jpg?v=1610013104","width":800}],"requires_selling_plan":false,"selling_plan_groups":[],"content":"\u003c!-- Build time: 2020-12-03 18:18:04 --\u003e\n\u003cstyle\u003e\u003c!--\n.listing-build-item table {\n width: 100% !important;\n margin: 5px 0 !important;\n border-collapse: collapse !important;\n table-layout: initial !important;\n }\n\n .listing-build-item table ul li,\n .listing-build-item table dl dd,\n .listing-build-item table dl dt {\n list-style:outside none !important;\n margin:0 !important;\n }\n\n .listing-build-item table ul,\n .listing-build-item table dl {\n margin-left: 0 !important;\n }\n\n .listing-build-item table tr\u003etd,\n .listing-build-item table tr\u003eth {\n padding: 10px 14px !important;\n font-size: 14px !important;\n border: 1px solid #cbcbcb !important;\n background-clip: padding-box !important;\n position: relative !important;\n letter-spacing:initial !important;\n text-align: left !important;\n }\n\n .listing-build-item table tr\u003eth {\n font-weight: 600 !important;\n }\n\n .listing-build-item h3 {\n color: #000 !important;\n font-size: 20px !important;\n font-weight: 600 !important;\n margin: 0 !important;\n padding: 10px 0 !important;\n text-align: left !important;\n }\n .listing-build-item table th,.listing-build-item h5{\n color:#000 !important;\n }\n\n .listing-build-item {\n margin-bottom: 30px !important;\n word-break: break-word !important;\n }\n\n .listing-build-item ul,\n .listing-build-item dl {\n margin: 0 !important;\n padding:0 !important;\n list-style:outside none !important\n }\n\n .listing-build-item .img-box {\n margin: 10px 0 !important;\n }\n\n .listing-build-item .img-box img {\n height: auto !important;\n max-width: 100% !important;\n margin: 0 auto !important;\n padding: 0 !important;\n display: block !important;\n }\n @media screen and (min-width: 992px){\n .listing-build-item table tr\u003eth {\n width: 180px !important;\n }\n }\n @media screen and (max-width: 750px){\n .listing-build-item table tr\u003eth {\n width: 100px !important;\n }\n }\n\n .listing-build-item tr:first-child th:after,\n .listing-build-item tr:first-child td:after {\n border: initial !important;\n }\n\n .listing-build-item ul\u003eli:last-child,\n .listing-build-item ul.features\u003eli:last-child,\n .listing-build-item ul\u003eli.package-row:last-child {\n margin-bottom: 0 !important;\n }\n .listing-build-item ul.features li,.listing-build-item ul li.package-row{\n margin-bottom:7px !important;\n }\n .listing-build-item h5{\n margin: 20px 0 5px 0 !important;\n font-weight: 600 !important;\n text-align: left !important;\n }\n .listing-build-item strong{\n font-weight: 600 !important;\n }\n--\u003e\u003c\/style\u003e\n\u003c!-- BEGIN Descriptions --\u003e\n\u003cul\u003e\n\u003cli\u003e\"... I bought these 3 roses for my wife, she loved them so much - they are beautiful. The best gift ever!\" ~ Sebastien Mayor - Lyon\u003c\/li\u003e\n\u003cul\u003e\n\u003cul\u003e\u003c\/ul\u003e\n\u003c\/ul\u003e\n\u003c\/ul\u003e\n\u003cp style=\"text-align: center;\"\u003e\u003cspan style=\"color: #ff8000;\"\u003e\u003cstrong\u003eMAKE THEM SMILE AND ORDER TODAY!\u003c\/strong\u003e\u003c\/span\u003e\u003c\/p\u003e\n\u003cimg style=\"display: block; margin-left: auto; margin-right: auto;\" src=\"https:\/\/cdn.shopify.com\/s\/files\/1\/0028\/5294\/6020\/products\/ezgif.com-video-to-gif_1_1080x_caedaa3d-151b-42c3-9992-fb5ea13e6629_1024x1024.gif?v=1550226315\" alt=\"Image result for galaxy rose gif\"\u003e\n\u003cp\u003eThere is no better way to say \"I love you\" than with a rose, the ultimate sign of universal love.\u003c\/p\u003e\n\u003cp\u003eShow your loved ones you love them to the end of the galaxy with this vibrant Galaxy Rose! It comes beautifully packaged and ready to give. Each beautiful rose is delicate and designed to last forever.\u003c\/p\u003e\n\u003cp\u003eEach rose is unique and designed to last a lifetime, so your loved one will remember how much they mean to you every day! Roses are made of PET plastic, not glass.\u003c\/p\u003e\n\u003cp\u003e\u003cimg style=\"display: block; margin-left: auto; margin-right: auto;\" src=\"https:\/\/i.imgflip.com\/2tskhc.gif\" alt=\"Related image\"\u003e\u003c\/p\u003e\n\u003cspan style=\"color: #ff8000;\"\u003e\u003cstrong\u003eComes with a superb gift box.\u003c\/strong\u003e\u003c\/span\u003e \u003cbr\u003e\u003cspan style=\"color: #ff8000;\"\u003e\u003cstrong\u003eEach rose is handmade to be both beautiful and realistic!\u003c\/strong\u003e\u003c\/span\u003e \u003cbr\u003e\u003cspan style=\"color: #ff8000;\"\u003e\u003cstrong\u003eA very unique and incomparable gift!\u003c\/strong\u003e\u003c\/span\u003e\n\u003cdiv class=\"listing-build-item\"\u003e\n\u003cul\u003e\u003c\/ul\u003e\n\u003c\/div\u003e\n\u003c!-- END Using Method --\u003e \u003c!-- BEGIN usage_scene --\u003e \u003c!-- END usage_scene --\u003e \u003c!-- BEGIN specification --\u003e\n\u003cdiv class=\"listing-build-item\"\u003e\n\u003ch3\u003eSpecifications\u003c\/h3\u003e\n\u003ctable style=\"width: 534px;\"\u003e\n\u003c!-- BEGIN specification_material --\u003e \u003c!-- END specification_material --\u003e \u003c!-- BEGIN specification_weight --\u003e\n\u003ctbody\u003e\n\u003ctr\u003e\n\u003cth scope=\"row\" style=\"width: 296px;\"\u003eMaterial\u003c\/th\u003e\n\u003ctd style=\"width: 179px;\"\u003ePET\u003c\/td\u003e\n\u003c\/tr\u003e\n\u003ctr\u003e\n\u003cth scope=\"row\" style=\"width: 296px;\"\u003eRose Length\u003c\/th\u003e\n\u003ctd style=\"width: 179px;\"\u003e\n\u003cul\u003e\n\u003cli\u003e16cm\u003c\/li\u003e\n\u003c\/ul\u003e\n\u003c\/td\u003e\n\u003c\/tr\u003e\n\u003c!-- END specification_weight --\u003e \u003c!-- BEGIN specification_size --\u003e\n\u003ctr\u003e\n\u003cth scope=\"row\" style=\"width: 296px;\"\u003ePackage Contents\u003c\/th\u003e\n\u003ctd style=\"width: 179px;\"\u003e\n\u003cul\u003e\n\u003cli\u003eRoses × 1\u003c\/li\u003e\n\u003cli\u003eAlbum Base\u003cspan data-mce-fragment=\"1\"\u003e × 1\u003c\/span\u003e\n\u003c\/li\u003e\n\u003c\/ul\u003e\n\u003c\/td\u003e\n\u003c\/tr\u003e\n\u003c!-- END specification_size --\u003e \u003c!-- BEGIN specification_many_package --\u003e \u003c!-- END specification_one_package --\u003e \u003c!-- BEGIN specification_custom_attribute --\u003e \u003c!-- END specification_custom_attribute --\u003e\n\u003c\/tbody\u003e\n\u003c\/table\u003e\n\u003c!-- BEGIN specification_size_img --\u003e \u003c!-- END specification_size_img --\u003e\n\u003c\/div\u003e\n\u003c!-- END specification --\u003e \u003c!-- BEGIN note --\u003e\n\u003cdiv class=\"listing-build-item\"\u003e\n\u003ch3\u003eNote\u003c\/h3\u003e\n\u003cul\u003e\n\u003cli\u003eDue to manual measurements, please allow slight measurement deviations.\u003c\/li\u003e\n\u003cli\u003eDue to the different display and lighting effects, the actual color of the item may be slightly different from the color displayed in the picture.\u003c\/li\u003e\n\u003c\/ul\u003e\n\u003c\/div\u003e\n\u003c!-- END note --\u003e"}
?New Year limited time offer?Limited edition Milky Way Roses
Product Description
"... I bought these 3 roses for my wife, she loved them so much - they are beautiful. The best gift ever!" ~ Sebastien Mayor - Lyon
MAKE THEM SMILE AND ORDER TODAY!
There is no better way to say "I love you" than with a rose, the ultimate sign of universal love.
Show your loved ones you love them to the end of the galaxy with this vibrant Galaxy Rose! It comes beautifully packaged and ready to give. Each beautiful rose is delicate and designed to last forever.
Each rose is unique and designed to last a lifetime, so your loved one will remember how much they mean to you every day! Roses are made of PET plastic, not glass.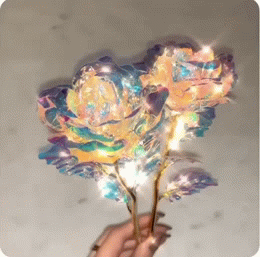 Comes with a superb gift box.
Each rose is handmade to be both beautiful and realistic!
A very unique and incomparable gift!
Specifications
| | |
| --- | --- |
| Material | PET |
| Rose Length | |
| Package Contents | |
Note
Due to manual measurements, please allow slight measurement deviations.
Due to the different display and lighting effects, the actual color of the item may be slightly different from the color displayed in the picture.
Shipping:
We processes orders between Monday and Friday. Orders will be processed within 7 business days of ordering and shipped out the next day after the processing day. We don't ship on weekends.