{"id":5894337036452,"title":"Pipeline Bamboo Forest","handle":"forest","description":"\u003c!-- Build time: 2020-11-19 11:40:49 --\u003e\n\u003cstyle\u003e\u003c!--\n.listing-build-item table {\n width: 100% !important;\n margin: 5px 0 !important;\n border-collapse: collapse !important;\n table-layout: initial !important;\n }\n\n .listing-build-item table ul li,\n .listing-build-item table dl dd,\n .listing-build-item table dl dt {\n list-style:outside none !important;\n margin:0 !important;\n }\n\n .listing-build-item table ul,\n .listing-build-item table dl {\n margin-left: 0 !important;\n }\n\n .listing-build-item table tr\u003etd,\n .listing-build-item table tr\u003eth {\n padding: 10px 14px !important;\n font-size: 14px !important;\n border: 1px solid #cbcbcb !important;\n background-clip: padding-box !important;\n position: relative !important;\n letter-spacing:initial !important;\n text-align: left !important;\n }\n\n .listing-build-item table tr\u003eth {\n font-weight: 600 !important;\n }\n\n .listing-build-item h3 {\n color: #000 !important;\n font-size: 20px !important;\n font-weight: 600 !important;\n margin: 0 !important;\n padding: 10px 0 !important;\n text-align: left !important;\n }\n .listing-build-item table th,.listing-build-item h5{\n color:#000 !important;\n }\n\n .listing-build-item {\n margin-bottom: 30px !important;\n word-break: break-word !important;\n }\n\n .listing-build-item ul,\n .listing-build-item dl {\n margin: 0 !important;\n padding:0 !important;\n list-style:outside none !important\n }\n\n .listing-build-item .img-box {\n margin: 10px 0 !important;\n }\n\n .listing-build-item .img-box img {\n height: auto !important;\n max-width: 100% !important;\n margin: 0 auto !important;\n padding: 0 !important;\n display: block !important;\n }\n @media screen and (min-width: 992px){\n .listing-build-item table tr\u003eth {\n width: 180px !important;\n }\n }\n @media screen and (max-width: 750px){\n .listing-build-item table tr\u003eth {\n width: 100px !important;\n }\n }\n\n .listing-build-item tr:first-child th:after,\n .listing-build-item tr:first-child td:after {\n border: initial !important;\n }\n\n .listing-build-item ul\u003eli:last-child,\n .listing-build-item ul.features\u003eli:last-child,\n .listing-build-item ul\u003eli.package-row:last-child {\n margin-bottom: 0 !important;\n }\n .listing-build-item ul.features li,.listing-build-item ul li.package-row{\n margin-bottom:7px !important;\n }\n .listing-build-item h5{\n margin: 20px 0 5px 0 !important;\n font-weight: 600 !important;\n text-align: left !important;\n }\n .listing-build-item strong{\n font-weight: 600 !important;\n }\n--\u003e\u003c\/style\u003e\n\u003c!-- BEGIN Descriptions --\u003e\n\u003cdiv class=\"listing-build-item\"\u003e\u003cspan style=\"color: #ff8000;\"\u003e\u003cstrong\u003e The bare pipes at home are unsafe and ugly. Now there is a quick and effective way to solve it! This waterproof, wear-resistant, realistic-looking simulated bamboo is an ideal pipe decoration. Practical and beautiful, make your home a different style!\u003c\/strong\u003e\u003c\/span\u003e\u003c\/div\u003e\n\u003cdiv class=\"listing-build-item\"\u003e\n\u003cspan style=\"color: #ff8000;\"\u003e\u003cstrong\u003e\u003cimg src=\"https:\/\/cdn.shopifycdn.net\/s\/files\/1\/0082\/9148\/3738\/files\/4_e6924f11-5c1d-4f64-b298-d2162dc3e3c4_480x480.jpg?v=1605758594\" alt=\"\" style=\"display: block; margin-left: auto; margin-right: auto;\" data-mce-fragment=\"1\" data-mce-src=\"https:\/\/cdn.shopifycdn.net\/s\/files\/1\/0082\/9148\/3738\/files\/4_e6924f11-5c1d-4f64-b298-d2162dc3e3c4_480x480.jpg?v=1605758594\"\u003e\u003c\/strong\u003e\u003c\/span\u003e\n\u003cul\u003e\u003c\/ul\u003e\n\u003c\/div\u003e\n\u003c!-- END Descriptions --\u003e \u003c!-- BEGIN features --\u003e\n\u003cdiv class=\"listing-build-item\"\u003e\n\u003ch3\u003eMain Features\u003c\/h3\u003e\n\u003c\/div\u003e\n\u003cul class=\"features\"\u003e\n\u003cli\u003e\n\u003cp\u003e\u003cstrong\u003e\u003cspan style=\"color: #ff8000;\"\u003e[Ideal Pipe Decoration]\u003c\/span\u003e \u003c\/strong\u003eExposed pipes will destroy the overall decoration. Using this bamboo to decorate the pipes will turn the pipes into dense bamboo forests, adding a different kind of scenery to the home.\u003c\/p\u003e\n\u003c\/li\u003e\n\u003cli\u003e\n\u003cp\u003e\u003cspan style=\"color: #ff8000;\"\u003e\u003cstrong\u003e[Beautiful And Practical] \u003c\/strong\u003e\u003c\/span\u003eIn addition to decoration, simulated bamboo can also play an excellent role in keeping the pipe warm. Excellent waterproof and abrasion resistance make it have a long service life.\u003c\/p\u003e\n\u003cp\u003e\u003cimg alt=\"\" src=\"https:\/\/cdn.shopifycdn.net\/s\/files\/1\/0082\/9148\/3738\/files\/7_dc9a6faa-3e2b-457a-9dd6-d62b2566777e_480x480.jpg?v=1605758629\" data-mce-src=\"https:\/\/cdn.shopifycdn.net\/s\/files\/1\/0082\/9148\/3738\/files\/7_dc9a6faa-3e2b-457a-9dd6-d62b2566777e_480x480.jpg?v=1605758629\" data-mce-fragment=\"1\"\u003e\u003c\/p\u003e\n\u003c\/li\u003e\n\u003cli\u003e\n\u003cp\u003e\u003cspan style=\"color: #ff8000;\"\u003e\u003cstrong\u003e[Realistic Details] \u003c\/strong\u003e\u003c\/span\u003eThe simulated bamboo is delicate and smooth, and the details are in place. You can also purchase simulated pandas and bamboo leaves together to make the family bamboo forest more realistic and full of vitality.\u003c\/p\u003e\n\u003c\/li\u003e\n\u003cli\u003e\n\u003cp\u003e\u003cstrong\u003e\u003cspan style=\"color: #ff8000;\"\u003e[Easy To Install]\u003c\/span\u003e \u003c\/strong\u003eYou only need to tear off the bamboo, wrap the tube, and fix it with tape to complete the installation. Exposed sewer pipes and air-conditioning pipes will no longer be your trouble.\u003c\/p\u003e\n\u003c\/li\u003e\n\u003c\/ul\u003e\n\u003c!-- END features --\u003e \u003c!-- BEGIN Using Method --\u003e\n\u003cdiv class=\"listing-build-item\"\u003e\n\u003ch3\u003eUsing Methods\u003c\/h3\u003e\n\u003cp class=\"img-box\"\u003e\u003cimg src=\"https:\/\/cdn.shopifycdn.net\/s\/files\/1\/0082\/9148\/3738\/files\/3_3c1d2833-288b-49ed-a115-b0b92e80a3c2_480x480.jpg?v=1605758062\" alt=\"\"\u003e\u003c\/p\u003e\n\u003c\/div\u003e\n\u003c!-- END Using Method --\u003e \u003c!-- BEGIN usage_scene --\u003e \u003c!-- END usage_scene --\u003e \u003c!-- BEGIN specification --\u003e\n\u003cdiv class=\"listing-build-item\"\u003e\n\u003ch3\u003eSpecifications\u003c\/h3\u003e\n\u003ctable\u003e\n\u003c!-- BEGIN specification_material --\u003e\n\u003ctbody\u003e\n\u003ctr\u003e\n\u003cth scope=\"row\" class=\"specification-th\"\u003eMaterials\u003c\/th\u003e\n\u003ctd class=\"specification-td\"\u003e\n\u003cul\u003e\n\u003cli\u003ePlastic\u003c\/li\u003e\n\u003c\/ul\u003e\n\u003c\/td\u003e\n\u003c\/tr\u003e\n\u003c!-- END specification_material --\u003e \u003c!-- BEGIN specification_weight --\u003e \u003c!-- END specification_weight --\u003e \u003c!-- BEGIN specification_size --\u003e \u003c!-- END specification_size --\u003e \u003c!-- BEGIN specification_many_package --\u003e\n\u003ctr\u003e\n\u003cth scope=\"row\"\u003ePackage Contents\u003c\/th\u003e\n\u003ctd\u003e\n\u003cul\u003e\n\u003cli\u003ePipe Bamboo Forest × 1\u003c\/li\u003e\n\u003c\/ul\u003e\n\u003c\/td\u003e\n\u003c\/tr\u003e\n\u003c!-- END specification_one_package --\u003e \u003c!-- BEGIN specification_custom_attribute --\u003e\n\u003ctr\u003e\n\u003cth scope=\"row\"\u003eMaterial\u003c\/th\u003e\n\u003ctd\u003ePlastic\u003c\/td\u003e\n\u003c\/tr\u003e\n\u003c!-- END specification_custom_attribute --\u003e\n\u003c\/tbody\u003e\n\u003c\/table\u003e\n\u003c!-- BEGIN specification_size_img --\u003e\n\u003ch5\u003eProduct Size\u003c\/h5\u003e\n\u003cp class=\"img-box\"\u003e\u003cimg alt=\"\" src=\"https:\/\/cdn.shopifycdn.net\/s\/files\/1\/0082\/9148\/3738\/files\/9_89213a6b-9827-4e87-b43f-c3308b6867e9_480x480.jpg?v=1605773390\"\u003e\u003c\/p\u003e\n\u003c!-- END specification_size_img --\u003e\n\u003c\/div\u003e\n\u003c!-- END specification --\u003e \u003c!-- BEGIN note --\u003e\n\u003cdiv class=\"listing-build-item\"\u003e\n\u003ch3\u003eNote\u003c\/h3\u003e\n\u003cul\u003e\n\u003cli\u003eDue to manual measurements, please allow slight measurement deviations.\u003c\/li\u003e\n\u003cli\u003eDue to the different display and lighting effects, the actual color of the item may be slightly different from the color displayed on the picture.\u003c\/li\u003e\n\u003c\/ul\u003e\n\u003c\/div\u003e\n\u003c!-- END note --\u003e","published_at":"2020-11-30T18:02:05+08:00","created_at":"2020-11-30T18:02:05+08:00","vendor":"solegg","type":"Household Cleaning Protections","tags":[],"price":1399,"price_min":1399,"price_max":3599,"available":true,"price_varies":true,"compare_at_price":1998,"compare_at_price_min":1998,"compare_at_price_max":4598,"compare_at_price_varies":true,"variants":[{"id":37117978017956,"title":"# 1 0.6IN(5PCS)","option1":"# 1 0.6IN(5PCS)","option2":null,"option3":null,"sku":"LE420429150D6IN","requires_shipping":true,"taxable":false,"featured_image":null,"available":true,"name":"Pipeline Bamboo Forest - # 1 0.6IN(5PCS)","public_title":"# 1 0.6IN(5PCS)","options":["# 1 0.6IN(5PCS)"],"price":2199,"weight":500,"compare_at_price":2898,"inventory_management":null,"barcode":null,"requires_selling_plan":false,"selling_plan_allocations":[]},{"id":37117978050724,"title":"# 2 1IN(5PCS)","option1":"# 2 1IN(5PCS)","option2":null,"option3":null,"sku":"LE420429151IN","requires_shipping":true,"taxable":false,"featured_image":null,"available":true,"name":"Pipeline Bamboo Forest - # 2 1IN(5PCS)","public_title":"# 2 1IN(5PCS)","options":["# 2 1IN(5PCS)"],"price":2599,"weight":500,"compare_at_price":3198,"inventory_management":null,"barcode":null,"requires_selling_plan":false,"selling_plan_allocations":[]},{"id":37117978083492,"title":"# 3 2IN(5PCS)","option1":"# 3 2IN(5PCS)","option2":null,"option3":null,"sku":"LE420429152IN","requires_shipping":true,"taxable":false,"featured_image":null,"available":true,"name":"Pipeline Bamboo Forest - # 3 2IN(5PCS)","public_title":"# 3 2IN(5PCS)","options":["# 3 2IN(5PCS)"],"price":2899,"weight":500,"compare_at_price":3998,"inventory_management":null,"barcode":null,"requires_selling_plan":false,"selling_plan_allocations":[]},{"id":37117978116260,"title":"# 4 3IN(5PCS)","option1":"# 4 3IN(5PCS)","option2":null,"option3":null,"sku":"LE420429153IN","requires_shipping":true,"taxable":false,"featured_image":null,"available":true,"name":"Pipeline Bamboo Forest - # 4 3IN(5PCS)","public_title":"# 4 3IN(5PCS)","options":["# 4 3IN(5PCS)"],"price":3199,"weight":500,"compare_at_price":4198,"inventory_management":null,"barcode":null,"requires_selling_plan":false,"selling_plan_allocations":[]},{"id":37117978149028,"title":"# 5 4IN(5PCS)","option1":"# 5 4IN(5PCS)","option2":null,"option3":null,"sku":"LE420429154IN","requires_shipping":true,"taxable":false,"featured_image":null,"available":true,"name":"Pipeline Bamboo Forest - # 5 4IN(5PCS)","public_title":"# 5 4IN(5PCS)","options":["# 5 4IN(5PCS)"],"price":3599,"weight":500,"compare_at_price":4598,"inventory_management":null,"barcode":null,"requires_selling_plan":false,"selling_plan_allocations":[]},{"id":37117978181796,"title":"Silk Cloth Bamboo Leaves(12PCS)","option1":"Silk Cloth Bamboo Leaves(12PCS)","option2":null,"option3":null,"sku":"LE42042915-12","requires_shipping":true,"taxable":false,"featured_image":null,"available":true,"name":"Pipeline Bamboo Forest - Silk Cloth Bamboo Leaves(12PCS)","public_title":"Silk Cloth Bamboo Leaves(12PCS)","options":["Silk Cloth Bamboo Leaves(12PCS)"],"price":2999,"weight":500,"compare_at_price":3998,"inventory_management":null,"barcode":null,"requires_selling_plan":false,"selling_plan_allocations":[]},{"id":37117978214564,"title":"Iron Wire(10PCS)","option1":"Iron Wire(10PCS)","option2":null,"option3":null,"sku":"LE42042915-10","requires_shipping":true,"taxable":false,"featured_image":null,"available":true,"name":"Pipeline Bamboo Forest - Iron Wire(10PCS)","public_title":"Iron Wire(10PCS)","options":["Iron Wire(10PCS)"],"price":1399,"weight":500,"compare_at_price":1998,"inventory_management":null,"barcode":null,"requires_selling_plan":false,"selling_plan_allocations":[]},{"id":37117978247332,"title":"Panda for Decoration","option1":"Panda for Decoration","option2":null,"option3":null,"sku":"LE42042915-1","requires_shipping":true,"taxable":false,"featured_image":null,"available":true,"name":"Pipeline Bamboo Forest - Panda for Decoration","public_title":"Panda for Decoration","options":["Panda for Decoration"],"price":1799,"weight":500,"compare_at_price":2998,"inventory_management":null,"barcode":null,"requires_selling_plan":false,"selling_plan_allocations":[]}],"images":["\/\/cdn.shopify.com\/s\/files\/1\/0508\/2592\/0676\/products\/1_0f6d310e-9f64-4fbe-b131-bdf0816114c2.jpg?v=1606730525","\/\/cdn.shopify.com\/s\/files\/1\/0508\/2592\/0676\/products\/2_f7317969-a60e-43e4-b484-dff6dda66fed.jpg?v=1606730525","\/\/cdn.shopify.com\/s\/files\/1\/0508\/2592\/0676\/products\/3_e920b5d3-de55-40c7-a5a0-4130310a640b.jpg?v=1606730525","\/\/cdn.shopify.com\/s\/files\/1\/0508\/2592\/0676\/products\/4_b6ec8798-9fa6-4ea2-a521-b55523093f1c.jpg?v=1606730525","\/\/cdn.shopify.com\/s\/files\/1\/0508\/2592\/0676\/products\/5_a5804dbe-0220-4e22-9a70-8aa26564145b.jpg?v=1606730525","\/\/cdn.shopify.com\/s\/files\/1\/0508\/2592\/0676\/products\/6_26269b12-b287-4332-a63f-5ab2e880a23d.jpg?v=1606730525","\/\/cdn.shopify.com\/s\/files\/1\/0508\/2592\/0676\/products\/7_8d6fb7d9-fc7f-4149-b923-cb6dbf802761.jpg?v=1606730525","\/\/cdn.shopify.com\/s\/files\/1\/0508\/2592\/0676\/products\/8_2049ec32-001e-4d29-9896-1dc23f9605f6.jpg?v=1606730525","\/\/cdn.shopify.com\/s\/files\/1\/0508\/2592\/0676\/products\/9_13b451ac-54a8-4a82-a532-63c204f88985.jpg?v=1606730525"],"featured_image":"\/\/cdn.shopify.com\/s\/files\/1\/0508\/2592\/0676\/products\/1_0f6d310e-9f64-4fbe-b131-bdf0816114c2.jpg?v=1606730525","options":["Style"],"media":[{"alt":null,"id":13107822395556,"position":1,"preview_image":{"aspect_ratio":1.0,"height":800,"width":800,"src":"https:\/\/cdn.shopify.com\/s\/files\/1\/0508\/2592\/0676\/products\/1_0f6d310e-9f64-4fbe-b131-bdf0816114c2.jpg?v=1606730525"},"aspect_ratio":1.0,"height":800,"media_type":"image","src":"https:\/\/cdn.shopify.com\/s\/files\/1\/0508\/2592\/0676\/products\/1_0f6d310e-9f64-4fbe-b131-bdf0816114c2.jpg?v=1606730525","width":800},{"alt":null,"id":13107822428324,"position":2,"preview_image":{"aspect_ratio":1.0,"height":800,"width":800,"src":"https:\/\/cdn.shopify.com\/s\/files\/1\/0508\/2592\/0676\/products\/2_f7317969-a60e-43e4-b484-dff6dda66fed.jpg?v=1606730525"},"aspect_ratio":1.0,"height":800,"media_type":"image","src":"https:\/\/cdn.shopify.com\/s\/files\/1\/0508\/2592\/0676\/products\/2_f7317969-a60e-43e4-b484-dff6dda66fed.jpg?v=1606730525","width":800},{"alt":null,"id":13107822461092,"position":3,"preview_image":{"aspect_ratio":1.0,"height":800,"width":800,"src":"https:\/\/cdn.shopify.com\/s\/files\/1\/0508\/2592\/0676\/products\/3_e920b5d3-de55-40c7-a5a0-4130310a640b.jpg?v=1606730525"},"aspect_ratio":1.0,"height":800,"media_type":"image","src":"https:\/\/cdn.shopify.com\/s\/files\/1\/0508\/2592\/0676\/products\/3_e920b5d3-de55-40c7-a5a0-4130310a640b.jpg?v=1606730525","width":800},{"alt":null,"id":13107822493860,"position":4,"preview_image":{"aspect_ratio":1.0,"height":800,"width":800,"src":"https:\/\/cdn.shopify.com\/s\/files\/1\/0508\/2592\/0676\/products\/4_b6ec8798-9fa6-4ea2-a521-b55523093f1c.jpg?v=1606730525"},"aspect_ratio":1.0,"height":800,"media_type":"image","src":"https:\/\/cdn.shopify.com\/s\/files\/1\/0508\/2592\/0676\/products\/4_b6ec8798-9fa6-4ea2-a521-b55523093f1c.jpg?v=1606730525","width":800},{"alt":null,"id":13107822526628,"position":5,"preview_image":{"aspect_ratio":1.0,"height":800,"width":800,"src":"https:\/\/cdn.shopify.com\/s\/files\/1\/0508\/2592\/0676\/products\/5_a5804dbe-0220-4e22-9a70-8aa26564145b.jpg?v=1606730525"},"aspect_ratio":1.0,"height":800,"media_type":"image","src":"https:\/\/cdn.shopify.com\/s\/files\/1\/0508\/2592\/0676\/products\/5_a5804dbe-0220-4e22-9a70-8aa26564145b.jpg?v=1606730525","width":800},{"alt":null,"id":13107822559396,"position":6,"preview_image":{"aspect_ratio":1.0,"height":800,"width":800,"src":"https:\/\/cdn.shopify.com\/s\/files\/1\/0508\/2592\/0676\/products\/6_26269b12-b287-4332-a63f-5ab2e880a23d.jpg?v=1606730525"},"aspect_ratio":1.0,"height":800,"media_type":"image","src":"https:\/\/cdn.shopify.com\/s\/files\/1\/0508\/2592\/0676\/products\/6_26269b12-b287-4332-a63f-5ab2e880a23d.jpg?v=1606730525","width":800},{"alt":null,"id":13107822592164,"position":7,"preview_image":{"aspect_ratio":1.0,"height":800,"width":800,"src":"https:\/\/cdn.shopify.com\/s\/files\/1\/0508\/2592\/0676\/products\/7_8d6fb7d9-fc7f-4149-b923-cb6dbf802761.jpg?v=1606730525"},"aspect_ratio":1.0,"height":800,"media_type":"image","src":"https:\/\/cdn.shopify.com\/s\/files\/1\/0508\/2592\/0676\/products\/7_8d6fb7d9-fc7f-4149-b923-cb6dbf802761.jpg?v=1606730525","width":800},{"alt":null,"id":13107822624932,"position":8,"preview_image":{"aspect_ratio":1.0,"height":800,"width":800,"src":"https:\/\/cdn.shopify.com\/s\/files\/1\/0508\/2592\/0676\/products\/8_2049ec32-001e-4d29-9896-1dc23f9605f6.jpg?v=1606730525"},"aspect_ratio":1.0,"height":800,"media_type":"image","src":"https:\/\/cdn.shopify.com\/s\/files\/1\/0508\/2592\/0676\/products\/8_2049ec32-001e-4d29-9896-1dc23f9605f6.jpg?v=1606730525","width":800},{"alt":null,"id":13107822657700,"position":9,"preview_image":{"aspect_ratio":1.0,"height":800,"width":800,"src":"https:\/\/cdn.shopify.com\/s\/files\/1\/0508\/2592\/0676\/products\/9_13b451ac-54a8-4a82-a532-63c204f88985.jpg?v=1606730525"},"aspect_ratio":1.0,"height":800,"media_type":"image","src":"https:\/\/cdn.shopify.com\/s\/files\/1\/0508\/2592\/0676\/products\/9_13b451ac-54a8-4a82-a532-63c204f88985.jpg?v=1606730525","width":800}],"requires_selling_plan":false,"selling_plan_groups":[],"content":"\u003c!-- Build time: 2020-11-19 11:40:49 --\u003e\n\u003cstyle\u003e\u003c!--\n.listing-build-item table {\n width: 100% !important;\n margin: 5px 0 !important;\n border-collapse: collapse !important;\n table-layout: initial !important;\n }\n\n .listing-build-item table ul li,\n .listing-build-item table dl dd,\n .listing-build-item table dl dt {\n list-style:outside none !important;\n margin:0 !important;\n }\n\n .listing-build-item table ul,\n .listing-build-item table dl {\n margin-left: 0 !important;\n }\n\n .listing-build-item table tr\u003etd,\n .listing-build-item table tr\u003eth {\n padding: 10px 14px !important;\n font-size: 14px !important;\n border: 1px solid #cbcbcb !important;\n background-clip: padding-box !important;\n position: relative !important;\n letter-spacing:initial !important;\n text-align: left !important;\n }\n\n .listing-build-item table tr\u003eth {\n font-weight: 600 !important;\n }\n\n .listing-build-item h3 {\n color: #000 !important;\n font-size: 20px !important;\n font-weight: 600 !important;\n margin: 0 !important;\n padding: 10px 0 !important;\n text-align: left !important;\n }\n .listing-build-item table th,.listing-build-item h5{\n color:#000 !important;\n }\n\n .listing-build-item {\n margin-bottom: 30px !important;\n word-break: break-word !important;\n }\n\n .listing-build-item ul,\n .listing-build-item dl {\n margin: 0 !important;\n padding:0 !important;\n list-style:outside none !important\n }\n\n .listing-build-item .img-box {\n margin: 10px 0 !important;\n }\n\n .listing-build-item .img-box img {\n height: auto !important;\n max-width: 100% !important;\n margin: 0 auto !important;\n padding: 0 !important;\n display: block !important;\n }\n @media screen and (min-width: 992px){\n .listing-build-item table tr\u003eth {\n width: 180px !important;\n }\n }\n @media screen and (max-width: 750px){\n .listing-build-item table tr\u003eth {\n width: 100px !important;\n }\n }\n\n .listing-build-item tr:first-child th:after,\n .listing-build-item tr:first-child td:after {\n border: initial !important;\n }\n\n .listing-build-item ul\u003eli:last-child,\n .listing-build-item ul.features\u003eli:last-child,\n .listing-build-item ul\u003eli.package-row:last-child {\n margin-bottom: 0 !important;\n }\n .listing-build-item ul.features li,.listing-build-item ul li.package-row{\n margin-bottom:7px !important;\n }\n .listing-build-item h5{\n margin: 20px 0 5px 0 !important;\n font-weight: 600 !important;\n text-align: left !important;\n }\n .listing-build-item strong{\n font-weight: 600 !important;\n }\n--\u003e\u003c\/style\u003e\n\u003c!-- BEGIN Descriptions --\u003e\n\u003cdiv class=\"listing-build-item\"\u003e\u003cspan style=\"color: #ff8000;\"\u003e\u003cstrong\u003e The bare pipes at home are unsafe and ugly. Now there is a quick and effective way to solve it! This waterproof, wear-resistant, realistic-looking simulated bamboo is an ideal pipe decoration. Practical and beautiful, make your home a different style!\u003c\/strong\u003e\u003c\/span\u003e\u003c\/div\u003e\n\u003cdiv class=\"listing-build-item\"\u003e\n\u003cspan style=\"color: #ff8000;\"\u003e\u003cstrong\u003e\u003cimg src=\"https:\/\/cdn.shopifycdn.net\/s\/files\/1\/0082\/9148\/3738\/files\/4_e6924f11-5c1d-4f64-b298-d2162dc3e3c4_480x480.jpg?v=1605758594\" alt=\"\" style=\"display: block; margin-left: auto; margin-right: auto;\" data-mce-fragment=\"1\" data-mce-src=\"https:\/\/cdn.shopifycdn.net\/s\/files\/1\/0082\/9148\/3738\/files\/4_e6924f11-5c1d-4f64-b298-d2162dc3e3c4_480x480.jpg?v=1605758594\"\u003e\u003c\/strong\u003e\u003c\/span\u003e\n\u003cul\u003e\u003c\/ul\u003e\n\u003c\/div\u003e\n\u003c!-- END Descriptions --\u003e \u003c!-- BEGIN features --\u003e\n\u003cdiv class=\"listing-build-item\"\u003e\n\u003ch3\u003eMain Features\u003c\/h3\u003e\n\u003c\/div\u003e\n\u003cul class=\"features\"\u003e\n\u003cli\u003e\n\u003cp\u003e\u003cstrong\u003e\u003cspan style=\"color: #ff8000;\"\u003e[Ideal Pipe Decoration]\u003c\/span\u003e \u003c\/strong\u003eExposed pipes will destroy the overall decoration. Using this bamboo to decorate the pipes will turn the pipes into dense bamboo forests, adding a different kind of scenery to the home.\u003c\/p\u003e\n\u003c\/li\u003e\n\u003cli\u003e\n\u003cp\u003e\u003cspan style=\"color: #ff8000;\"\u003e\u003cstrong\u003e[Beautiful And Practical] \u003c\/strong\u003e\u003c\/span\u003eIn addition to decoration, simulated bamboo can also play an excellent role in keeping the pipe warm. Excellent waterproof and abrasion resistance make it have a long service life.\u003c\/p\u003e\n\u003cp\u003e\u003cimg alt=\"\" src=\"https:\/\/cdn.shopifycdn.net\/s\/files\/1\/0082\/9148\/3738\/files\/7_dc9a6faa-3e2b-457a-9dd6-d62b2566777e_480x480.jpg?v=1605758629\" data-mce-src=\"https:\/\/cdn.shopifycdn.net\/s\/files\/1\/0082\/9148\/3738\/files\/7_dc9a6faa-3e2b-457a-9dd6-d62b2566777e_480x480.jpg?v=1605758629\" data-mce-fragment=\"1\"\u003e\u003c\/p\u003e\n\u003c\/li\u003e\n\u003cli\u003e\n\u003cp\u003e\u003cspan style=\"color: #ff8000;\"\u003e\u003cstrong\u003e[Realistic Details] \u003c\/strong\u003e\u003c\/span\u003eThe simulated bamboo is delicate and smooth, and the details are in place. You can also purchase simulated pandas and bamboo leaves together to make the family bamboo forest more realistic and full of vitality.\u003c\/p\u003e\n\u003c\/li\u003e\n\u003cli\u003e\n\u003cp\u003e\u003cstrong\u003e\u003cspan style=\"color: #ff8000;\"\u003e[Easy To Install]\u003c\/span\u003e \u003c\/strong\u003eYou only need to tear off the bamboo, wrap the tube, and fix it with tape to complete the installation. Exposed sewer pipes and air-conditioning pipes will no longer be your trouble.\u003c\/p\u003e\n\u003c\/li\u003e\n\u003c\/ul\u003e\n\u003c!-- END features --\u003e \u003c!-- BEGIN Using Method --\u003e\n\u003cdiv class=\"listing-build-item\"\u003e\n\u003ch3\u003eUsing Methods\u003c\/h3\u003e\n\u003cp class=\"img-box\"\u003e\u003cimg src=\"https:\/\/cdn.shopifycdn.net\/s\/files\/1\/0082\/9148\/3738\/files\/3_3c1d2833-288b-49ed-a115-b0b92e80a3c2_480x480.jpg?v=1605758062\" alt=\"\"\u003e\u003c\/p\u003e\n\u003c\/div\u003e\n\u003c!-- END Using Method --\u003e \u003c!-- BEGIN usage_scene --\u003e \u003c!-- END usage_scene --\u003e \u003c!-- BEGIN specification --\u003e\n\u003cdiv class=\"listing-build-item\"\u003e\n\u003ch3\u003eSpecifications\u003c\/h3\u003e\n\u003ctable\u003e\n\u003c!-- BEGIN specification_material --\u003e\n\u003ctbody\u003e\n\u003ctr\u003e\n\u003cth scope=\"row\" class=\"specification-th\"\u003eMaterials\u003c\/th\u003e\n\u003ctd class=\"specification-td\"\u003e\n\u003cul\u003e\n\u003cli\u003ePlastic\u003c\/li\u003e\n\u003c\/ul\u003e\n\u003c\/td\u003e\n\u003c\/tr\u003e\n\u003c!-- END specification_material --\u003e \u003c!-- BEGIN specification_weight --\u003e \u003c!-- END specification_weight --\u003e \u003c!-- BEGIN specification_size --\u003e \u003c!-- END specification_size --\u003e \u003c!-- BEGIN specification_many_package --\u003e\n\u003ctr\u003e\n\u003cth scope=\"row\"\u003ePackage Contents\u003c\/th\u003e\n\u003ctd\u003e\n\u003cul\u003e\n\u003cli\u003ePipe Bamboo Forest × 1\u003c\/li\u003e\n\u003c\/ul\u003e\n\u003c\/td\u003e\n\u003c\/tr\u003e\n\u003c!-- END specification_one_package --\u003e \u003c!-- BEGIN specification_custom_attribute --\u003e\n\u003ctr\u003e\n\u003cth scope=\"row\"\u003eMaterial\u003c\/th\u003e\n\u003ctd\u003ePlastic\u003c\/td\u003e\n\u003c\/tr\u003e\n\u003c!-- END specification_custom_attribute --\u003e\n\u003c\/tbody\u003e\n\u003c\/table\u003e\n\u003c!-- BEGIN specification_size_img --\u003e\n\u003ch5\u003eProduct Size\u003c\/h5\u003e\n\u003cp class=\"img-box\"\u003e\u003cimg alt=\"\" src=\"https:\/\/cdn.shopifycdn.net\/s\/files\/1\/0082\/9148\/3738\/files\/9_89213a6b-9827-4e87-b43f-c3308b6867e9_480x480.jpg?v=1605773390\"\u003e\u003c\/p\u003e\n\u003c!-- END specification_size_img --\u003e\n\u003c\/div\u003e\n\u003c!-- END specification --\u003e \u003c!-- BEGIN note --\u003e\n\u003cdiv class=\"listing-build-item\"\u003e\n\u003ch3\u003eNote\u003c\/h3\u003e\n\u003cul\u003e\n\u003cli\u003eDue to manual measurements, please allow slight measurement deviations.\u003c\/li\u003e\n\u003cli\u003eDue to the different display and lighting effects, the actual color of the item may be slightly different from the color displayed on the picture.\u003c\/li\u003e\n\u003c\/ul\u003e\n\u003c\/div\u003e\n\u003c!-- END note --\u003e"}
Pipeline Bamboo Forest
Product Description
The bare pipes at home are unsafe and ugly. Now there is a quick and effective way to solve it! This waterproof, wear-resistant, realistic-looking simulated bamboo is an ideal pipe decoration. Practical and beautiful, make your home a different style!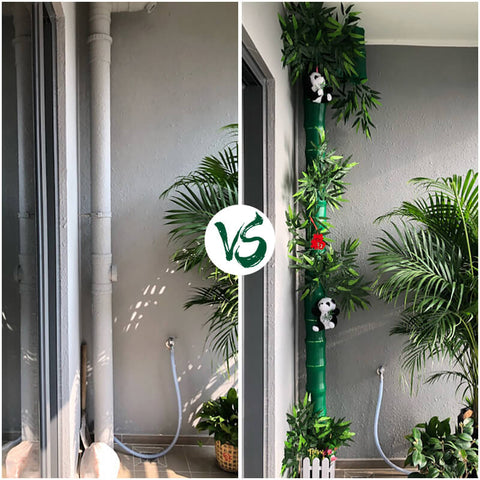 Main Features
[Ideal Pipe Decoration] Exposed pipes will destroy the overall decoration. Using this bamboo to decorate the pipes will turn the pipes into dense bamboo forests, adding a different kind of scenery to the home.

[Beautiful And Practical] In addition to decoration, simulated bamboo can also play an excellent role in keeping the pipe warm. Excellent waterproof and abrasion resistance make it have a long service life.

[Realistic Details] The simulated bamboo is delicate and smooth, and the details are in place. You can also purchase simulated pandas and bamboo leaves together to make the family bamboo forest more realistic and full of vitality.

[Easy To Install] You only need to tear off the bamboo, wrap the tube, and fix it with tape to complete the installation. Exposed sewer pipes and air-conditioning pipes will no longer be your trouble.
Using Methods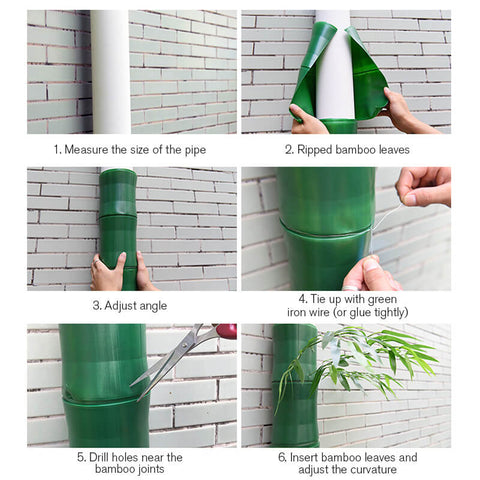 Specifications
| | |
| --- | --- |
| Materials | |
| Package Contents | |
| Material | Plastic |
Product Size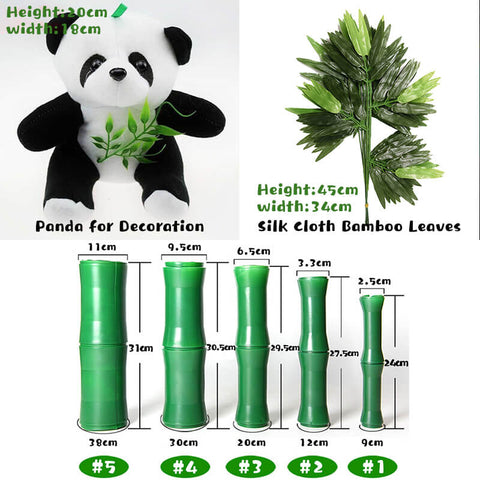 Note
Due to manual measurements, please allow slight measurement deviations.
Due to the different display and lighting effects, the actual color of the item may be slightly different from the color displayed on the picture.
Shipping:
We processes orders between Monday and Friday. Orders will be processed within 7 business days of ordering and shipped out the next day after the processing day. We don't ship on weekends.