{"id":5956166156452,"title":"Rotary Anti-clogging Sewer Filter","handle":"filter","description":"\u003c!-- Build time: 2020-12-31 15:33:24 --\u003e\n\u003cstyle\u003e\u003c!--\n.listing-build-item table {\n width: 100% !important;\n margin: 5px 0 !important;\n border-collapse: collapse !important;\n table-layout: initial !important;\n }\n\n .listing-build-item table ul li,\n .listing-build-item table dl dd,\n .listing-build-item table dl dt {\n list-style:outside none !important;\n margin:0 !important;\n }\n\n .listing-build-item table ul,\n .listing-build-item table dl {\n margin-left: 0 !important;\n }\n\n .listing-build-item table tr\u003etd,\n .listing-build-item table tr\u003eth {\n padding: 10px 14px !important;\n font-size: 14px !important;\n border: 1px solid #cbcbcb !important;\n background-clip: padding-box !important;\n position: relative !important;\n letter-spacing:initial !important;\n text-align: left !important;\n }\n\n .listing-build-item table tr\u003eth {\n font-weight: 600 !important;\n }\n\n .listing-build-item h3 {\n color: #000 !important;\n font-size: 20px !important;\n font-weight: 600 !important;\n margin: 0 !important;\n padding: 10px 0 !important;\n text-align: left !important;\n }\n .listing-build-item table th,.listing-build-item h5{\n color:#000 !important;\n }\n\n .listing-build-item {\n margin-bottom: 30px !important;\n word-break: break-word !important;\n }\n\n .listing-build-item ul,\n .listing-build-item dl {\n margin: 0 !important;\n padding:0 !important;\n list-style:outside none !important\n }\n\n .listing-build-item .img-box {\n margin: 10px 0 !important;\n }\n\n .listing-build-item .img-box img {\n height: auto !important;\n max-width: 100% !important;\n margin: 0 auto !important;\n padding: 0 !important;\n display: block !important;\n }\n @media screen and (min-width: 992px){\n .listing-build-item table tr\u003eth {\n width: 180px !important;\n }\n }\n @media screen and (max-width: 750px){\n .listing-build-item table tr\u003eth {\n width: 100px !important;\n }\n }\n\n .listing-build-item tr:first-child th:after,\n .listing-build-item tr:first-child td:after {\n border: initial !important;\n }\n\n .listing-build-item ul\u003eli:last-child,\n .listing-build-item ul.features\u003eli:last-child,\n .listing-build-item ul\u003eli.package-row:last-child {\n margin-bottom: 0 !important;\n }\n .listing-build-item ul.features li,.listing-build-item ul li.package-row{\n margin-bottom:7px !important;\n }\n .listing-build-item h5{\n margin: 20px 0 5px 0 !important;\n font-weight: 600 !important;\n text-align: left !important;\n }\n .listing-build-item strong{\n font-weight: 600 !important;\n }\n--\u003e\u003c\/style\u003e\n\u003c!-- BEGIN Descriptions --\u003e\n\u003cdiv class=\"listing-build-item\"\u003e\n\u003cul\u003e\n\u003cli class=\"text\"\u003eHave you ever had a smell of the sewer? Are you still worried about getting your hair to block by the sewer? Say goodbye to the stink and blockage with our \u003cspan style=\"color: #00aaff;\"\u003e\u003cem\u003e\u003cstrong\u003eSewer Filter!\u003c\/strong\u003e\u003c\/em\u003e\u003c\/span\u003e\n\u003c\/li\u003e\n\u003c\/ul\u003e\n\u003c\/div\u003e\n\u003c!-- END Descriptions --\u003e \u003c!-- BEGIN features --\u003e\n\u003ch3\u003e\u003cimg alt=\"\" src=\"https:\/\/cdn.shopifycdn.net\/s\/files\/1\/0082\/9148\/3738\/files\/D1_18f09e36-3496-4711-98fe-777960f8cf6c_480x480.gif?v=1609403849\" style=\"display: block; margin-left: auto; margin-right: auto;\"\u003e\u003c\/h3\u003e\n\u003ch3\u003eMain Features\u003c\/h3\u003e\n\u003cul class=\"features\"\u003e\n\u003cli\u003e\n\u003cp\u003e\u003cstrong\u003e\u003cspan style=\"color: #00aaff;\"\u003e[Anti-clogging \u0026amp; Insect Prevention]\u003c\/span\u003e \u003c\/strong\u003eThe sewer filter can block hair and other debris effectively while allowing water to drain rapidly. The design of this drain filter increases the drains flowing area and accelerate drainage. What's more, it can prevent the bad smell and insects out from sewer, give you a more clean home.\u003c\/p\u003e\n\u003c\/li\u003e\n\u003c\/ul\u003e\n\u003cp\u003e\u003cimg alt=\"\" src=\"https:\/\/cdn.shopifycdn.net\/s\/files\/1\/0082\/9148\/3738\/files\/C_480x480.jpg?v=1609404034\" style=\"display: block; margin-left: auto; margin-right: auto;\"\u003e\u003c\/p\u003e\n\u003cul class=\"features\"\u003e\n\u003cli\u003e\n\u003cp\u003e\u003cspan style=\"color: #00aaff;\"\u003e\u003cstrong\u003e[Rotary Lid] \u003c\/strong\u003e\u003c\/span\u003eUpgraded freely rotatable lid, you can control the water flow easily according to your needs, more practical use.\u003c\/p\u003e\n\u003c\/li\u003e\n\u003c\/ul\u003e\n\u003cp\u003e\u003cimg alt=\"\" src=\"https:\/\/cdn.shopifycdn.net\/s\/files\/1\/0082\/9148\/3738\/files\/D2_9f39b2bb-636c-4ab5-aec9-8bd2714b8146_480x480.gif?v=1609403879\" style=\"display: block; margin-left: auto; margin-right: auto;\"\u003e\u003c\/p\u003e\n\u003cul class=\"features\"\u003e\n\u003cli\u003e\n\u003cp\u003e\u003cspan style=\"color: #00aaff;\"\u003e\u003cstrong\u003e[Easy To Clean And Use] \u003c\/strong\u003e\u003c\/span\u003eRound holes design for easy cleaning of debris, it is recommended to regularly clean the hair and other debris on the shower hair trap to prevent blockage and ensure drainage speed.\u003c\/p\u003e\n\u003c\/li\u003e\n\u003cli\u003e\n\u003cp\u003e\u003cspan style=\"color: #00aaff;\"\u003e\u003cstrong\u003e[Wide Application] \u003c\/strong\u003e\u003c\/span\u003eSuitable for bathroom, laundry, bathtub, kitchen, and so on, just need to put the sewer filter in the corresponding sink.\u003c\/p\u003e\n\u003c\/li\u003e\n\u003cli\u003e\n\u003cp\u003e\u003cspan style=\"color: #00aaff;\"\u003e\u003cstrong\u003e[High Quality] \u003c\/strong\u003e\u003c\/span\u003eMade of flexible silicone material, non-slip, characterized by the resilience and abrasive resistance, extremely durable to use.\u003c\/p\u003e\n\u003c\/li\u003e\n\u003c\/ul\u003e\n\u003cdiv class=\"listing-build-item\"\u003e\n\u003cul\u003e\u003c\/ul\u003e\n\u003c\/div\u003e\n\u003c!-- END Using Method --\u003e \u003c!-- BEGIN usage_scene --\u003e \u003c!-- END usage_scene --\u003e \u003c!-- BEGIN specification --\u003e\n\u003cdiv class=\"listing-build-item\"\u003e\n\u003ch3\u003eSpecifications\u003c\/h3\u003e\n\u003ctable\u003e\n\u003c!-- BEGIN specification_material --\u003e \u003c!-- END specification_material --\u003e \u003c!-- BEGIN specification_weight --\u003e\n\u003ctbody\u003e\n\u003ctr\u003e\n\u003cth scope=\"row\"\u003eProduct Weight\u003c\/th\u003e\n\u003ctd\u003e\n\u003cul\u003e\n\u003cli\u003e35G\u003c\/li\u003e\n\u003c\/ul\u003e\n\u003c\/td\u003e\n\u003c\/tr\u003e\n\u003c!-- END specification_weight --\u003e \u003c!-- BEGIN specification_size --\u003e\n\u003ctr\u003e\n\u003cth scope=\"row\"\u003ePackage Size\u003cbr\u003e (L x W x H)\u003c\/th\u003e\n\u003ctd\u003e\n\u003cul\u003e\n\u003cli\u003e10 × 10 × 1CM\u003c\/li\u003e\n\u003c\/ul\u003e\n\u003c\/td\u003e\n\u003c\/tr\u003e\n\u003c!-- END specification_size --\u003e \u003c!-- BEGIN specification_many_package --\u003e\n\u003ctr\u003e\n\u003cth scope=\"row\"\u003ePackage Contents\u003c\/th\u003e\n\u003ctd\u003e\n\u003cul\u003e\n\u003cli\u003eSewer filter × 1\u003c\/li\u003e\n\u003c\/ul\u003e\n\u003c\/td\u003e\n\u003c\/tr\u003e\n\u003c!-- END specification_one_package --\u003e \u003c!-- BEGIN specification_custom_attribute --\u003e\n\u003ctr\u003e\n\u003cth scope=\"row\"\u003eColor\u003c\/th\u003e\n\u003ctd\u003ePink, green, blue, gray, white\u003c\/td\u003e\n\u003c\/tr\u003e\n\u003ctr\u003e\n\u003cth scope=\"row\"\u003eMaterial\u003c\/th\u003e\n\u003ctd\u003eSilicone\u003c\/td\u003e\n\u003c\/tr\u003e\n\u003c!-- END specification_custom_attribute --\u003e\n\u003c\/tbody\u003e\n\u003c\/table\u003e\n\u003c!-- BEGIN specification_size_img --\u003e \u003c!-- END specification_size_img --\u003e\n\u003c\/div\u003e\n\u003c!-- END specification --\u003e \u003c!-- BEGIN note --\u003e\n\u003ch3\u003eNote\u003c\/h3\u003e\n\u003cul\u003e\n\u003cli\u003eDue to the different display and lighting effects, the actual color of the item may be slightly different from the color displayed in the picture.\u003c\/li\u003e\n\u003cli\u003eDue to manual measurements, please allow slight measurement deviations.\u003c\/li\u003e\n\u003c\/ul\u003e\n\u003c!-- END note --\u003e","published_at":"2020-12-31T19:01:18+08:00","created_at":"2020-12-31T19:01:18+08:00","vendor":"solegg","type":"Hot produts","tags":[],"price":999,"price_min":999,"price_max":999,"available":true,"price_varies":false,"compare_at_price":0,"compare_at_price_min":0,"compare_at_price_max":0,"compare_at_price_varies":false,"variants":[{"id":37347868049572,"title":"Blue","option1":"Blue","option2":null,"option3":null,"sku":"LE32043422LAN","requires_shipping":true,"taxable":false,"featured_image":null,"available":true,"name":"Rotary Anti-clogging Sewer Filter - Blue","public_title":"Blue","options":["Blue"],"price":999,"weight":0,"compare_at_price":0,"inventory_management":null,"barcode":null,"requires_selling_plan":false,"selling_plan_allocations":[]},{"id":37347868082340,"title":"Pink","option1":"Pink","option2":null,"option3":null,"sku":"LE32043422FEN","requires_shipping":true,"taxable":false,"featured_image":null,"available":true,"name":"Rotary Anti-clogging Sewer Filter - Pink","public_title":"Pink","options":["Pink"],"price":999,"weight":0,"compare_at_price":0,"inventory_management":null,"barcode":null,"requires_selling_plan":false,"selling_plan_allocations":[]},{"id":37347868115108,"title":"Green","option1":"Green","option2":null,"option3":null,"sku":"LE32043422LVS","requires_shipping":true,"taxable":false,"featured_image":null,"available":true,"name":"Rotary Anti-clogging Sewer Filter - Green","public_title":"Green","options":["Green"],"price":999,"weight":0,"compare_at_price":0,"inventory_management":null,"barcode":null,"requires_selling_plan":false,"selling_plan_allocations":[]},{"id":37347868147876,"title":"Gray","option1":"Gray","option2":null,"option3":null,"sku":"LE32043422HUI","requires_shipping":true,"taxable":false,"featured_image":null,"available":true,"name":"Rotary Anti-clogging Sewer Filter - Gray","public_title":"Gray","options":["Gray"],"price":999,"weight":0,"compare_at_price":0,"inventory_management":null,"barcode":null,"requires_selling_plan":false,"selling_plan_allocations":[]},{"id":37347868180644,"title":"White","option1":"White","option2":null,"option3":null,"sku":"LE32043422BAI","requires_shipping":true,"taxable":false,"featured_image":null,"available":true,"name":"Rotary Anti-clogging Sewer Filter - White","public_title":"White","options":["White"],"price":999,"weight":0,"compare_at_price":0,"inventory_management":null,"barcode":null,"requires_selling_plan":false,"selling_plan_allocations":[]}],"images":["\/\/cdn.shopify.com\/s\/files\/1\/0508\/2592\/0676\/products\/3_2bbfdfe4-cdc7-47b1-a5df-e07eb9336201.jpg?v=1609412478","\/\/cdn.shopify.com\/s\/files\/1\/0508\/2592\/0676\/products\/1_5c6f8322-c420-4e18-9991-aea0786366a4.jpg?v=1609412478","\/\/cdn.shopify.com\/s\/files\/1\/0508\/2592\/0676\/products\/6_6944c599-8030-4a98-9690-1be7acc8dbc4.jpg?v=1609412478","\/\/cdn.shopify.com\/s\/files\/1\/0508\/2592\/0676\/products\/2_8b7833aa-db25-4b39-9c26-6c1822dcf7d1.jpg?v=1609412478","\/\/cdn.shopify.com\/s\/files\/1\/0508\/2592\/0676\/products\/4_415c9d5c-e4d8-496d-bdb5-27fc0e1b3720.jpg?v=1609412478","\/\/cdn.shopify.com\/s\/files\/1\/0508\/2592\/0676\/products\/5_b498f365-674e-490a-9901-f9b8a4673db7.jpg?v=1609412478","\/\/cdn.shopify.com\/s\/files\/1\/0508\/2592\/0676\/products\/7_55f255f2-6c49-46ab-9688-b5c7c3333eca.jpg?v=1609412478","\/\/cdn.shopify.com\/s\/files\/1\/0508\/2592\/0676\/products\/8_d690fe44-eac7-4eee-a3a3-cee9b0b00e33.jpg?v=1609412478"],"featured_image":"\/\/cdn.shopify.com\/s\/files\/1\/0508\/2592\/0676\/products\/3_2bbfdfe4-cdc7-47b1-a5df-e07eb9336201.jpg?v=1609412478","options":["Color"],"media":[{"alt":null,"id":13638713475236,"position":1,"preview_image":{"aspect_ratio":1.0,"height":800,"width":800,"src":"https:\/\/cdn.shopify.com\/s\/files\/1\/0508\/2592\/0676\/products\/3_2bbfdfe4-cdc7-47b1-a5df-e07eb9336201.jpg?v=1609412478"},"aspect_ratio":1.0,"height":800,"media_type":"image","src":"https:\/\/cdn.shopify.com\/s\/files\/1\/0508\/2592\/0676\/products\/3_2bbfdfe4-cdc7-47b1-a5df-e07eb9336201.jpg?v=1609412478","width":800},{"alt":null,"id":13638713508004,"position":2,"preview_image":{"aspect_ratio":1.0,"height":800,"width":800,"src":"https:\/\/cdn.shopify.com\/s\/files\/1\/0508\/2592\/0676\/products\/1_5c6f8322-c420-4e18-9991-aea0786366a4.jpg?v=1609412478"},"aspect_ratio":1.0,"height":800,"media_type":"image","src":"https:\/\/cdn.shopify.com\/s\/files\/1\/0508\/2592\/0676\/products\/1_5c6f8322-c420-4e18-9991-aea0786366a4.jpg?v=1609412478","width":800},{"alt":null,"id":13638713540772,"position":3,"preview_image":{"aspect_ratio":1.0,"height":800,"width":800,"src":"https:\/\/cdn.shopify.com\/s\/files\/1\/0508\/2592\/0676\/products\/6_6944c599-8030-4a98-9690-1be7acc8dbc4.jpg?v=1609412478"},"aspect_ratio":1.0,"height":800,"media_type":"image","src":"https:\/\/cdn.shopify.com\/s\/files\/1\/0508\/2592\/0676\/products\/6_6944c599-8030-4a98-9690-1be7acc8dbc4.jpg?v=1609412478","width":800},{"alt":null,"id":13638713573540,"position":4,"preview_image":{"aspect_ratio":1.0,"height":800,"width":800,"src":"https:\/\/cdn.shopify.com\/s\/files\/1\/0508\/2592\/0676\/products\/2_8b7833aa-db25-4b39-9c26-6c1822dcf7d1.jpg?v=1609412478"},"aspect_ratio":1.0,"height":800,"media_type":"image","src":"https:\/\/cdn.shopify.com\/s\/files\/1\/0508\/2592\/0676\/products\/2_8b7833aa-db25-4b39-9c26-6c1822dcf7d1.jpg?v=1609412478","width":800},{"alt":null,"id":13638713606308,"position":5,"preview_image":{"aspect_ratio":1.0,"height":800,"width":800,"src":"https:\/\/cdn.shopify.com\/s\/files\/1\/0508\/2592\/0676\/products\/4_415c9d5c-e4d8-496d-bdb5-27fc0e1b3720.jpg?v=1609412478"},"aspect_ratio":1.0,"height":800,"media_type":"image","src":"https:\/\/cdn.shopify.com\/s\/files\/1\/0508\/2592\/0676\/products\/4_415c9d5c-e4d8-496d-bdb5-27fc0e1b3720.jpg?v=1609412478","width":800},{"alt":null,"id":13638713639076,"position":6,"preview_image":{"aspect_ratio":1.0,"height":800,"width":800,"src":"https:\/\/cdn.shopify.com\/s\/files\/1\/0508\/2592\/0676\/products\/5_b498f365-674e-490a-9901-f9b8a4673db7.jpg?v=1609412478"},"aspect_ratio":1.0,"height":800,"media_type":"image","src":"https:\/\/cdn.shopify.com\/s\/files\/1\/0508\/2592\/0676\/products\/5_b498f365-674e-490a-9901-f9b8a4673db7.jpg?v=1609412478","width":800},{"alt":null,"id":13638713671844,"position":7,"preview_image":{"aspect_ratio":1.0,"height":800,"width":800,"src":"https:\/\/cdn.shopify.com\/s\/files\/1\/0508\/2592\/0676\/products\/7_55f255f2-6c49-46ab-9688-b5c7c3333eca.jpg?v=1609412478"},"aspect_ratio":1.0,"height":800,"media_type":"image","src":"https:\/\/cdn.shopify.com\/s\/files\/1\/0508\/2592\/0676\/products\/7_55f255f2-6c49-46ab-9688-b5c7c3333eca.jpg?v=1609412478","width":800},{"alt":null,"id":13638713704612,"position":8,"preview_image":{"aspect_ratio":1.0,"height":800,"width":800,"src":"https:\/\/cdn.shopify.com\/s\/files\/1\/0508\/2592\/0676\/products\/8_d690fe44-eac7-4eee-a3a3-cee9b0b00e33.jpg?v=1609412478"},"aspect_ratio":1.0,"height":800,"media_type":"image","src":"https:\/\/cdn.shopify.com\/s\/files\/1\/0508\/2592\/0676\/products\/8_d690fe44-eac7-4eee-a3a3-cee9b0b00e33.jpg?v=1609412478","width":800}],"requires_selling_plan":false,"selling_plan_groups":[],"content":"\u003c!-- Build time: 2020-12-31 15:33:24 --\u003e\n\u003cstyle\u003e\u003c!--\n.listing-build-item table {\n width: 100% !important;\n margin: 5px 0 !important;\n border-collapse: collapse !important;\n table-layout: initial !important;\n }\n\n .listing-build-item table ul li,\n .listing-build-item table dl dd,\n .listing-build-item table dl dt {\n list-style:outside none !important;\n margin:0 !important;\n }\n\n .listing-build-item table ul,\n .listing-build-item table dl {\n margin-left: 0 !important;\n }\n\n .listing-build-item table tr\u003etd,\n .listing-build-item table tr\u003eth {\n padding: 10px 14px !important;\n font-size: 14px !important;\n border: 1px solid #cbcbcb !important;\n background-clip: padding-box !important;\n position: relative !important;\n letter-spacing:initial !important;\n text-align: left !important;\n }\n\n .listing-build-item table tr\u003eth {\n font-weight: 600 !important;\n }\n\n .listing-build-item h3 {\n color: #000 !important;\n font-size: 20px !important;\n font-weight: 600 !important;\n margin: 0 !important;\n padding: 10px 0 !important;\n text-align: left !important;\n }\n .listing-build-item table th,.listing-build-item h5{\n color:#000 !important;\n }\n\n .listing-build-item {\n margin-bottom: 30px !important;\n word-break: break-word !important;\n }\n\n .listing-build-item ul,\n .listing-build-item dl {\n margin: 0 !important;\n padding:0 !important;\n list-style:outside none !important\n }\n\n .listing-build-item .img-box {\n margin: 10px 0 !important;\n }\n\n .listing-build-item .img-box img {\n height: auto !important;\n max-width: 100% !important;\n margin: 0 auto !important;\n padding: 0 !important;\n display: block !important;\n }\n @media screen and (min-width: 992px){\n .listing-build-item table tr\u003eth {\n width: 180px !important;\n }\n }\n @media screen and (max-width: 750px){\n .listing-build-item table tr\u003eth {\n width: 100px !important;\n }\n }\n\n .listing-build-item tr:first-child th:after,\n .listing-build-item tr:first-child td:after {\n border: initial !important;\n }\n\n .listing-build-item ul\u003eli:last-child,\n .listing-build-item ul.features\u003eli:last-child,\n .listing-build-item ul\u003eli.package-row:last-child {\n margin-bottom: 0 !important;\n }\n .listing-build-item ul.features li,.listing-build-item ul li.package-row{\n margin-bottom:7px !important;\n }\n .listing-build-item h5{\n margin: 20px 0 5px 0 !important;\n font-weight: 600 !important;\n text-align: left !important;\n }\n .listing-build-item strong{\n font-weight: 600 !important;\n }\n--\u003e\u003c\/style\u003e\n\u003c!-- BEGIN Descriptions --\u003e\n\u003cdiv class=\"listing-build-item\"\u003e\n\u003cul\u003e\n\u003cli class=\"text\"\u003eHave you ever had a smell of the sewer? Are you still worried about getting your hair to block by the sewer? Say goodbye to the stink and blockage with our \u003cspan style=\"color: #00aaff;\"\u003e\u003cem\u003e\u003cstrong\u003eSewer Filter!\u003c\/strong\u003e\u003c\/em\u003e\u003c\/span\u003e\n\u003c\/li\u003e\n\u003c\/ul\u003e\n\u003c\/div\u003e\n\u003c!-- END Descriptions --\u003e \u003c!-- BEGIN features --\u003e\n\u003ch3\u003e\u003cimg alt=\"\" src=\"https:\/\/cdn.shopifycdn.net\/s\/files\/1\/0082\/9148\/3738\/files\/D1_18f09e36-3496-4711-98fe-777960f8cf6c_480x480.gif?v=1609403849\" style=\"display: block; margin-left: auto; margin-right: auto;\"\u003e\u003c\/h3\u003e\n\u003ch3\u003eMain Features\u003c\/h3\u003e\n\u003cul class=\"features\"\u003e\n\u003cli\u003e\n\u003cp\u003e\u003cstrong\u003e\u003cspan style=\"color: #00aaff;\"\u003e[Anti-clogging \u0026amp; Insect Prevention]\u003c\/span\u003e \u003c\/strong\u003eThe sewer filter can block hair and other debris effectively while allowing water to drain rapidly. The design of this drain filter increases the drains flowing area and accelerate drainage. What's more, it can prevent the bad smell and insects out from sewer, give you a more clean home.\u003c\/p\u003e\n\u003c\/li\u003e\n\u003c\/ul\u003e\n\u003cp\u003e\u003cimg alt=\"\" src=\"https:\/\/cdn.shopifycdn.net\/s\/files\/1\/0082\/9148\/3738\/files\/C_480x480.jpg?v=1609404034\" style=\"display: block; margin-left: auto; margin-right: auto;\"\u003e\u003c\/p\u003e\n\u003cul class=\"features\"\u003e\n\u003cli\u003e\n\u003cp\u003e\u003cspan style=\"color: #00aaff;\"\u003e\u003cstrong\u003e[Rotary Lid] \u003c\/strong\u003e\u003c\/span\u003eUpgraded freely rotatable lid, you can control the water flow easily according to your needs, more practical use.\u003c\/p\u003e\n\u003c\/li\u003e\n\u003c\/ul\u003e\n\u003cp\u003e\u003cimg alt=\"\" src=\"https:\/\/cdn.shopifycdn.net\/s\/files\/1\/0082\/9148\/3738\/files\/D2_9f39b2bb-636c-4ab5-aec9-8bd2714b8146_480x480.gif?v=1609403879\" style=\"display: block; margin-left: auto; margin-right: auto;\"\u003e\u003c\/p\u003e\n\u003cul class=\"features\"\u003e\n\u003cli\u003e\n\u003cp\u003e\u003cspan style=\"color: #00aaff;\"\u003e\u003cstrong\u003e[Easy To Clean And Use] \u003c\/strong\u003e\u003c\/span\u003eRound holes design for easy cleaning of debris, it is recommended to regularly clean the hair and other debris on the shower hair trap to prevent blockage and ensure drainage speed.\u003c\/p\u003e\n\u003c\/li\u003e\n\u003cli\u003e\n\u003cp\u003e\u003cspan style=\"color: #00aaff;\"\u003e\u003cstrong\u003e[Wide Application] \u003c\/strong\u003e\u003c\/span\u003eSuitable for bathroom, laundry, bathtub, kitchen, and so on, just need to put the sewer filter in the corresponding sink.\u003c\/p\u003e\n\u003c\/li\u003e\n\u003cli\u003e\n\u003cp\u003e\u003cspan style=\"color: #00aaff;\"\u003e\u003cstrong\u003e[High Quality] \u003c\/strong\u003e\u003c\/span\u003eMade of flexible silicone material, non-slip, characterized by the resilience and abrasive resistance, extremely durable to use.\u003c\/p\u003e\n\u003c\/li\u003e\n\u003c\/ul\u003e\n\u003cdiv class=\"listing-build-item\"\u003e\n\u003cul\u003e\u003c\/ul\u003e\n\u003c\/div\u003e\n\u003c!-- END Using Method --\u003e \u003c!-- BEGIN usage_scene --\u003e \u003c!-- END usage_scene --\u003e \u003c!-- BEGIN specification --\u003e\n\u003cdiv class=\"listing-build-item\"\u003e\n\u003ch3\u003eSpecifications\u003c\/h3\u003e\n\u003ctable\u003e\n\u003c!-- BEGIN specification_material --\u003e \u003c!-- END specification_material --\u003e \u003c!-- BEGIN specification_weight --\u003e\n\u003ctbody\u003e\n\u003ctr\u003e\n\u003cth scope=\"row\"\u003eProduct Weight\u003c\/th\u003e\n\u003ctd\u003e\n\u003cul\u003e\n\u003cli\u003e35G\u003c\/li\u003e\n\u003c\/ul\u003e\n\u003c\/td\u003e\n\u003c\/tr\u003e\n\u003c!-- END specification_weight --\u003e \u003c!-- BEGIN specification_size --\u003e\n\u003ctr\u003e\n\u003cth scope=\"row\"\u003ePackage Size\u003cbr\u003e (L x W x H)\u003c\/th\u003e\n\u003ctd\u003e\n\u003cul\u003e\n\u003cli\u003e10 × 10 × 1CM\u003c\/li\u003e\n\u003c\/ul\u003e\n\u003c\/td\u003e\n\u003c\/tr\u003e\n\u003c!-- END specification_size --\u003e \u003c!-- BEGIN specification_many_package --\u003e\n\u003ctr\u003e\n\u003cth scope=\"row\"\u003ePackage Contents\u003c\/th\u003e\n\u003ctd\u003e\n\u003cul\u003e\n\u003cli\u003eSewer filter × 1\u003c\/li\u003e\n\u003c\/ul\u003e\n\u003c\/td\u003e\n\u003c\/tr\u003e\n\u003c!-- END specification_one_package --\u003e \u003c!-- BEGIN specification_custom_attribute --\u003e\n\u003ctr\u003e\n\u003cth scope=\"row\"\u003eColor\u003c\/th\u003e\n\u003ctd\u003ePink, green, blue, gray, white\u003c\/td\u003e\n\u003c\/tr\u003e\n\u003ctr\u003e\n\u003cth scope=\"row\"\u003eMaterial\u003c\/th\u003e\n\u003ctd\u003eSilicone\u003c\/td\u003e\n\u003c\/tr\u003e\n\u003c!-- END specification_custom_attribute --\u003e\n\u003c\/tbody\u003e\n\u003c\/table\u003e\n\u003c!-- BEGIN specification_size_img --\u003e \u003c!-- END specification_size_img --\u003e\n\u003c\/div\u003e\n\u003c!-- END specification --\u003e \u003c!-- BEGIN note --\u003e\n\u003ch3\u003eNote\u003c\/h3\u003e\n\u003cul\u003e\n\u003cli\u003eDue to the different display and lighting effects, the actual color of the item may be slightly different from the color displayed in the picture.\u003c\/li\u003e\n\u003cli\u003eDue to manual measurements, please allow slight measurement deviations.\u003c\/li\u003e\n\u003c\/ul\u003e\n\u003c!-- END note --\u003e"}
Rotary Anti-clogging Sewer Filter
Product Description
Have you ever had a smell of the sewer? Are you still worried about getting your hair to block by the sewer? Say goodbye to the stink and blockage with our Sewer Filter!

Main Features
[Anti-clogging & Insect Prevention] The sewer filter can block hair and other debris effectively while allowing water to drain rapidly. The design of this drain filter increases the drains flowing area and accelerate drainage. What's more, it can prevent the bad smell and insects out from sewer, give you a more clean home.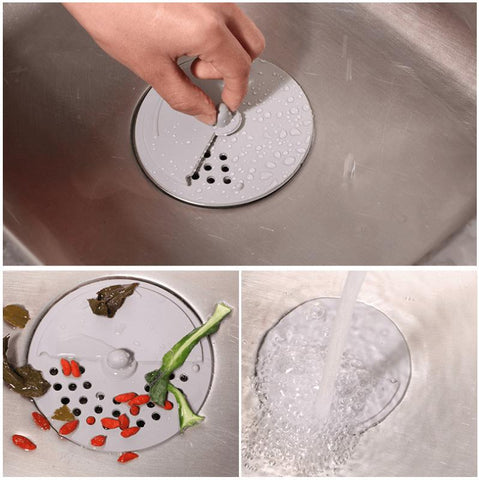 [Rotary Lid] Upgraded freely rotatable lid, you can control the water flow easily according to your needs, more practical use.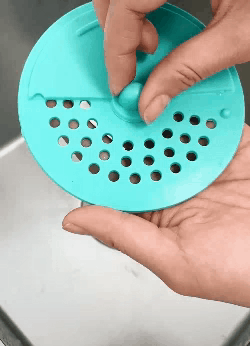 [Easy To Clean And Use] Round holes design for easy cleaning of debris, it is recommended to regularly clean the hair and other debris on the shower hair trap to prevent blockage and ensure drainage speed.

[Wide Application] Suitable for bathroom, laundry, bathtub, kitchen, and so on, just need to put the sewer filter in the corresponding sink.

[High Quality] Made of flexible silicone material, non-slip, characterized by the resilience and abrasive resistance, extremely durable to use.
Specifications
Product Weight
Package Size
(L x W x H)
Package Contents
Color
Pink, green, blue, gray, white
Material
Silicone
Note
Due to the different display and lighting effects, the actual color of the item may be slightly different from the color displayed in the picture.
Due to manual measurements, please allow slight measurement deviations.
Shipping:
We processes orders between Monday and Friday. Orders will be processed within 7 business days of ordering and shipped out the next day after the processing day. We don't ship on weekends.