{"id":5961976905892,"title":"Mintiml Egg Wave-Cut(2Pcs\/Set)","handle":"egg-2","description":"\u003c!-- Build time: 2020-11-12 14:35:46 --\u003e\n\u003cstyle\u003e\u003c!--\n.listing-build-item table {\n width: 100% !important;\n margin: 5px 0 !important;\n border-collapse: collapse !important;\n table-layout: initial !important;\n }\n\n .listing-build-item table ul li,\n .listing-build-item table dl dd,\n .listing-build-item table dl dt {\n list-style:outside none !important;\n margin:0 !important;\n }\n\n .listing-build-item table ul,\n .listing-build-item table dl {\n margin-left: 0 !important;\n }\n\n .listing-build-item table tr\u003etd,\n .listing-build-item table tr\u003eth {\n padding: 10px 14px !important;\n font-size: 14px !important;\n border: 1px solid #cbcbcb !important;\n background-clip: padding-box !important;\n position: relative !important;\n letter-spacing:initial !important;\n text-align: left !important;\n }\n\n .listing-build-item table tr\u003eth {\n font-weight: 600 !important;\n }\n\n .listing-build-item h3 {\n color: #000 !important;\n font-size: 20px !important;\n font-weight: 600 !important;\n margin: 0 !important;\n padding: 10px 0 !important;\n text-align: left !important;\n }\n .listing-build-item table th,.listing-build-item h5{\n color:#000 !important;\n }\n\n .listing-build-item {\n margin-bottom: 30px !important;\n word-break: break-word !important;\n }\n\n .listing-build-item ul,\n .listing-build-item dl {\n margin: 0 !important;\n padding:0 !important;\n list-style:outside none !important\n }\n\n .listing-build-item .img-box {\n margin: 10px 0 !important;\n }\n\n .listing-build-item .img-box img {\n height: auto !important;\n max-width: 100% !important;\n margin: 0 auto !important;\n padding: 0 !important;\n display: block !important;\n }\n @media screen and (min-width: 992px){\n .listing-build-item table tr\u003eth {\n width: 180px !important;\n }\n }\n @media screen and (max-width: 750px){\n .listing-build-item table tr\u003eth {\n width: 100px !important;\n }\n }\n\n .listing-build-item tr:first-child th:after,\n .listing-build-item tr:first-child td:after {\n border: initial !important;\n }\n\n .listing-build-item ul\u003eli:last-child,\n .listing-build-item ul.features\u003eli:last-child,\n .listing-build-item ul\u003eli.package-row:last-child {\n margin-bottom: 0 !important;\n }\n .listing-build-item ul.features li,.listing-build-item ul li.package-row{\n margin-bottom:7px !important;\n }\n .listing-build-item h5{\n margin: 20px 0 5px 0 !important;\n font-weight: 600 !important;\n text-align: left !important;\n }\n .listing-build-item strong{\n font-weight: 600 !important;\n }\n--\u003e\u003c\/style\u003e\n\u003c!-- BEGIN Descriptions --\u003e\n\u003ch4 class=\"listing-build-item\" style=\"text-align: center;\" data-mce-style=\"text-align: center;\"\u003e\u003cspan style=\"color: #ff8000;\" color=\"#ff8000\" data-mce-style=\"color: #ff8000;\"\u003e\u003cb\u003eOrdinary boiled eggs are a bit boring, don't you think?\u003c\/b\u003e\u003c\/span\u003e\u003c\/h4\u003e\n\u003ch4 style=\"text-align: left;\" class=\"listing-build-item\" data-mce-style=\"text-align: left;\"\u003e\u003cstrong style=\"color: #ff8000; font-size: 1.4em;\" data-mce-style=\"color: #ff8000; font-size: 1.4em;\"\u003e\u003cimg alt=\"\" src=\"https:\/\/cdn.shopifycdn.net\/s\/files\/1\/0082\/9148\/3738\/files\/01_83f7dbb7-c5e0-46da-9838-24b58aef5706_480x480.gif?v=1605163810\" width=\"267\" height=\"267\" style=\"display: block; margin-left: auto; margin-right: auto;\" data-mce-style=\"display: block; margin-left: auto; margin-right: auto;\"\u003e\u003c\/strong\u003e\u003c\/h4\u003e\n\u003cul\u003e\u003c\/ul\u003e\n\u003ch4 class=\"listing-build-item\" style=\"text-align: center;\" data-mce-style=\"text-align: center;\"\u003e\u003cspan style=\"color: #1779ab;\" color=\"#1779ab\" data-mce-style=\"color: #1779ab;\"\u003e\u003cb\u003eMintiml Egg Wave-Cut offers very beautiful and attractive eggs for your guests or family here!\u003c\/b\u003e\u003c\/span\u003e\u003c\/h4\u003e\n\u003cp\u003e\u003cspan style=\"color: #1779ab;\" color=\"#1779ab\" data-mce-style=\"color: #1779ab;\"\u003e\u003cb\u003e\u003cimg height=\"267\" width=\"267\" alt=\"\" src=\"https:\/\/cdn.shopifycdn.net\/s\/files\/1\/0082\/9148\/3738\/files\/01_1_480x480.gif?v=1605163833\" style=\"display: block; margin-left: auto; margin-right: auto;\" data-mce-style=\"display: block; margin-left: auto; margin-right: auto;\"\u003e\u003c\/b\u003e\u003c\/span\u003e\u003c\/p\u003e\n\u003ch1 style=\"text-align: left;\" itemprop=\"name\" data-mce-style=\"text-align: left;\"\u003e\u003c\/h1\u003e\n\u003ch3\u003e\n\u003cstrong\u003e\u003c\/strong\u003eMintiml Egg Wave-Cut(2Pcs\/Set)Main Features\u003c\/h3\u003e\n\u003cdiv class=\"listing-build-item\"\u003e\n\u003cul class=\"features\"\u003e\n\u003cli\u003e\n\u003cspan style=\"color: #ff8000;\" data-mce-style=\"color: #ff8000;\"\u003e\u003cstrong\u003e♥Material:\u003c\/strong\u003e\u003c\/span\u003e Use PP plastic material, safe and tasteless, rest assured to use; two pattern designs, free DIY, unlimited creativity.\u003c\/li\u003e\n\u003cli\u003e\n\u003cspan style=\"color: #ff8000;\" data-mce-style=\"color: #ff8000;\"\u003e\u003cstrong\u003e♥Creative design:\u003c\/strong\u003e\u003c\/span\u003e head and smiling face design, cute and beautiful, two sets, one is triangular design, the other is semicircular design, beautiful and practical appearance.\u003cimg data-mce-fragment=\"1\" height=\"318\" width=\"318\" style=\"display: block; margin-left: auto; margin-right: auto;\" alt=\"\" src=\"https:\/\/cdn.shopifycdn.net\/s\/files\/1\/0082\/9148\/3738\/products\/Egg-Wave-Cut_03-min_480x480.jpg?v=1605168272\" data-mce-src=\"https:\/\/cdn.shopifycdn.net\/s\/files\/1\/0082\/9148\/3738\/products\/Egg-Wave-Cut_03-min_480x480.jpg?v=1605168272\" data-mce-style=\"display: block; margin-left: auto; margin-right: auto;\"\u003e\n\u003c\/li\u003e\n\u003cli\u003e\n\u003cstrong\u003e\u003cspan style=\"color: #ff8000;\" data-mce-style=\"color: #ff8000;\"\u003e♥Easy to use: \u003c\/span\u003e\u003c\/strong\u003eSo simple to use and a great tool for shaping cute egg shapes for your bento lunch or home parties.\u003c\/li\u003e\n\u003cli\u003e\n\u003cspan style=\"color: #ff8000;\" data-mce-style=\"color: #ff8000;\"\u003e\u003cstrong\u003e♥The best gift:\u003c\/strong\u003e \u003c\/span\u003eQuickly prepare delicious boiled eggs for breakfast, which is a great start for the family. The best gift for Father's Day, Thanksgiving Day, Mother's Day, and Women's Day.\u003cimg data-mce-fragment=\"1\" height=\"320\" width=\"320\" style=\"display: block; margin-left: auto; margin-right: auto;\" alt=\"\" src=\"https:\/\/cdn.shopifycdn.net\/s\/files\/1\/0082\/9148\/3738\/products\/Egg-Wave-Cut_06-min_480x480.jpg?v=1605168272\" data-mce-src=\"https:\/\/cdn.shopifycdn.net\/s\/files\/1\/0082\/9148\/3738\/products\/Egg-Wave-Cut_06-min_480x480.jpg?v=1605168272\" data-mce-style=\"display: block; margin-left: auto; margin-right: auto;\"\u003e\n\u003c\/li\u003e\n\u003cli\u003e\n\u003cspan style=\"color: #ff8000;\" data-mce-style=\"color: #ff8000;\"\u003e\u003cstrong\u003e♥Easy to clean:\u003c\/strong\u003e \u003c\/span\u003eMintiml Egg Wave is made of high-quality PP plastic, which is very easy to clean, will not fade or deform, and ensure that the eggs have a fresh and original taste.\u003c\/li\u003e\n\u003cli\u003e\n\u003ch3\u003eEgg Boiler Main Features\u003c\/h3\u003e\n\u003cdiv\u003eThe perfect hard-boiled egg cooker without the shell. BPA Free non-stick silicone pods make cooking eggs easier than ever! Easy to use, just sprayed oil in a cup and wiped to evenly distribute, crack open the eggs, pour into an egg cooker, boil and pop eggs out of the cup.\u003c\/div\u003e\n\u003c\/li\u003e\n\u003c\/ul\u003e\n\u003cbr\u003e\n\u003cul class=\"features\"\u003e\n\u003cli\u003e\n\u003cdiv\u003e\u003c\/div\u003e\n\u003cp\u003e\u003cimg alt=\"\" src=\"https:\/\/cdn.shopifycdn.net\/s\/files\/1\/0498\/5559\/4648\/files\/SP_B9CB_00_00_00--00_00_05_480x480.gif?v=1609128541\" style=\"display: block; margin-left: auto; margin-right: auto;\" data-mce-style=\"display: block; margin-left: auto; margin-right: auto;\"\u003e\u003c\/p\u003e\n\u003c\/li\u003e\n\u003c\/ul\u003e\n\u003c\/div\u003e\n\u003c!-- END features --\u003e \u003c!-- BEGIN Using Method --\u003e\n\u003cdiv class=\"listing-build-item\"\u003e\n\u003ch3\u003eMintiml Egg Wave-Cut Using Methods\u003c\/h3\u003e\n\u003cul\u003e\n\u003cli\u003ePlace the hard-boiled egg on one end of a wavy or serrated piece of plastic.\u003c\/li\u003e\n\u003cli\u003eNext, roll slowly while pressing down to cut the white part of the egg.\u003c\/li\u003e\n\u003cli\u003eOnce you've finished scrolling, use the smiley end to create a smiley face on the egg. decorate them with small sesame seeds, the smiley face is complete.\u003c\/li\u003e\n\u003cli\u003e\n\u003c\/li\u003e\n\u003c\/ul\u003e\n\u003cimg data-mce-fragment=\"1\" height=\"376\" width=\"376\" alt=\"\" src=\"https:\/\/cdn.shopifycdn.net\/s\/files\/1\/0082\/9148\/3738\/products\/Egg-Wave-Cut_08-min_480x480.jpg?v=1605168272\" style=\"font-size: 1.4em; display: block; margin-left: auto; margin-right: auto;\" data-mce-src=\"https:\/\/cdn.shopifycdn.net\/s\/files\/1\/0082\/9148\/3738\/products\/Egg-Wave-Cut_08-min_480x480.jpg?v=1605168272\" data-mce-style=\"font-size: 1.4em; display: block; margin-left: auto; margin-right: auto;\"\u003e\n\u003cul\u003e\n\u003cli\u003e\n\u003ch3\u003e\n\u003cbr\u003eSpecifications\u003cbr\u003e\n\u003c\/h3\u003e\n\u003c\/li\u003e\n\u003c\/ul\u003e\n\u003c\/div\u003e\n\u003cdiv class=\"listing-build-item\"\u003e\n\u003ctable\u003e\n\u003c!-- BEGIN specification_material --\u003e \u003c!-- END specification_material --\u003e \u003c!-- BEGIN specification_weight --\u003e\n\u003ctbody\u003e\n\u003ctr\u003e\n\u003cth scope=\"row\"\u003eWeight\u003c\/th\u003e\n\u003ctd\u003e\n\u003cul\u003e\n\u003cli\u003e\n\u003cspan data-mce-fragment=\"1\"\u003eMintiml Egg Wave-Cut Product Weight:\u003c\/span\u003e40G\u003cbr\u003e\n\u003c\/li\u003e\n\u003cli\u003e\u003cspan\u003eMintiml Egg Wave-Cut Package Weight:57G\u003c\/span\u003e\u003c\/li\u003e\n\u003cli\u003eEgg Boiler Weight: 210\u003cspan data-mce-fragment=\"1\"\u003eG\u003c\/span\u003e\n\u003c\/li\u003e\n\u003c\/ul\u003e\n\u003c\/td\u003e\n\u003c\/tr\u003e\n\u003c!-- END specification_weight --\u003e \u003c!-- BEGIN specification_size --\u003e\n\u003ctr\u003e\n\u003cth scope=\"row\"\u003eSize\u003cbr\u003e (L x W x H)\u003c\/th\u003e\n\u003ctd\u003e\n\u003cul\u003e\n\u003cli\u003eMintiml Egg Wave-Cut \u003cspan data-mce-fragment=\"1\"\u003eProduct Size:\u003c\/span\u003e16.5 × 2 × 1cm \/ 6.5 × 0.8 × 0.4inches\u003c\/li\u003e\n\u003cli\u003e\u003cspan\u003eMintiml Egg Wave-Cut Package Size:28 × 23 × 2cm \/ 11 × 9 × 0.8inches\u003c\/span\u003e\u003c\/li\u003e\n\u003cli\u003e\n\u003cspan data-mce-fragment=\"1\"\u003eEgg Boiler \u003c\/span\u003eSize: 3 x 3 x 6 inches.\u003c\/li\u003e\n\u003c\/ul\u003e\n\u003c\/td\u003e\n\u003c\/tr\u003e\n\u003c!-- END specification_size --\u003e \u003c!-- BEGIN specification_many_package --\u003e\n\u003ctr\u003e\n\u003cth scope=\"row\"\u003ePackage Contents\u003c\/th\u003e\n\u003ctd\u003e\n\u003cul\u003e\n\u003cli\u003eMintiml Egg Wave-Cut(2Pcs Set) × 1\u003c\/li\u003e\n\u003cli\u003e\u003cspan data-mce-fragment=\"1\"\u003eEgg Boiler× 1\u003c\/span\u003e\u003c\/li\u003e\n\u003c\/ul\u003e\n\u003c\/td\u003e\n\u003c\/tr\u003e\n\u003c!-- END specification_one_package --\u003e \u003c!-- BEGIN specification_custom_attribute --\u003e\n\u003ctr\u003e\n\u003cth scope=\"row\"\u003eMaterial\u003c\/th\u003e\n\u003ctd\u003e\n\u003cp\u003eMintiml Egg Wave-Cut: PP\u003c\/p\u003e\n\u003cp\u003eEgg Boiler: \u003cspan data-mce-fragment=\"1\"\u003ePP + Silicone\u003c\/span\u003e\u003c\/p\u003e\n\u003c\/td\u003e\n\u003c\/tr\u003e\n\u003c!-- END specification_custom_attribute --\u003e\n\u003c\/tbody\u003e\n\u003c\/table\u003e\n\u003c!-- BEGIN specification_size_img --\u003e \u003c!-- END specification_size_img --\u003e\n\u003c\/div\u003e\n\u003c!-- END specification --\u003e \u003c!-- BEGIN note --\u003e\n\u003cdiv class=\"listing-build-item\"\u003e\n\u003ch3\u003eNote\u003c\/h3\u003e\n\u003cul\u003e\n\u003cli\u003eDue to manual measurements, please allow slight measurement deviations.\u003c\/li\u003e\n\u003cli\u003eDue to the different display and lighting effects, the actual color of the item may be slightly different from the color displayed in the picture.\u003c\/li\u003e\n\u003c\/ul\u003e\n\u003c\/div\u003e\n\u003c!-- END note --\u003e","published_at":"2021-01-05T18:10:48+08:00","created_at":"2021-01-05T18:10:48+08:00","vendor":"solegg","type":"Hot produts","tags":[],"price":999,"price_min":999,"price_max":1599,"available":true,"price_varies":true,"compare_at_price":1998,"compare_at_price_min":1998,"compare_at_price_max":3998,"compare_at_price_varies":true,"variants":[{"id":37376508461220,"title":"Wave-Cut","option1":"Wave-Cut","option2":null,"option3":null,"sku":"LE12042805","requires_shipping":true,"taxable":false,"featured_image":{"id":21512588034212,"product_id":5961976905892,"position":1,"created_at":"2021-01-05T18:10:48+08:00","updated_at":"2021-01-05T18:10:48+08:00","alt":null,"width":800,"height":800,"src":"https:\/\/cdn.shopify.com\/s\/files\/1\/0508\/2592\/0676\/products\/Egg-Wave-Cut_01-min_b16ffeb6-d7fb-4147-bdb3-f8d64e0fc2dd.jpg?v=1609841448","variant_ids":[37376508461220,37376508526756]},"available":true,"name":"Mintiml Egg Wave-Cut(2Pcs\/Set) - Wave-Cut","public_title":"Wave-Cut","options":["Wave-Cut"],"price":999,"weight":0,"compare_at_price":1998,"inventory_management":null,"barcode":null,"featured_media":{"alt":null,"id":13688843698340,"position":1,"preview_image":{"aspect_ratio":1.0,"height":800,"width":800,"src":"https:\/\/cdn.shopify.com\/s\/files\/1\/0508\/2592\/0676\/products\/Egg-Wave-Cut_01-min_b16ffeb6-d7fb-4147-bdb3-f8d64e0fc2dd.jpg?v=1609841448"}},"requires_selling_plan":false,"selling_plan_allocations":[]},{"id":37376508493988,"title":"Egg Boiler (2 PCS)","option1":"Egg Boiler (2 PCS)","option2":null,"option3":null,"sku":"LE119165751PCS*2","requires_shipping":true,"taxable":false,"featured_image":{"id":21512588361892,"product_id":5961976905892,"position":10,"created_at":"2021-01-05T18:10:48+08:00","updated_at":"2021-01-05T18:10:48+08:00","alt":null,"width":800,"height":800,"src":"https:\/\/cdn.shopify.com\/s\/files\/1\/0508\/2592\/0676\/products\/9_04466095-8c48-4cb8-86e3-ec1f9d0dba97.jpg?v=1609841448","variant_ids":[37376508493988]},"available":true,"name":"Mintiml Egg Wave-Cut(2Pcs\/Set) - Egg Boiler (2 PCS)","public_title":"Egg Boiler (2 PCS)","options":["Egg Boiler (2 PCS)"],"price":1099,"weight":0,"compare_at_price":2598,"inventory_management":null,"barcode":null,"featured_media":{"alt":null,"id":13688843993252,"position":10,"preview_image":{"aspect_ratio":1.0,"height":800,"width":800,"src":"https:\/\/cdn.shopify.com\/s\/files\/1\/0508\/2592\/0676\/products\/9_04466095-8c48-4cb8-86e3-ec1f9d0dba97.jpg?v=1609841448"}},"requires_selling_plan":false,"selling_plan_allocations":[]},{"id":37376508526756,"title":"Wave-Cut+Egg Boiler (2 PCS)","option1":"Wave-Cut+Egg Boiler (2 PCS)","option2":null,"option3":null,"sku":"LE12042805+LE119165751PCS*2","requires_shipping":true,"taxable":false,"featured_image":{"id":21512588034212,"product_id":5961976905892,"position":1,"created_at":"2021-01-05T18:10:48+08:00","updated_at":"2021-01-05T18:10:48+08:00","alt":null,"width":800,"height":800,"src":"https:\/\/cdn.shopify.com\/s\/files\/1\/0508\/2592\/0676\/products\/Egg-Wave-Cut_01-min_b16ffeb6-d7fb-4147-bdb3-f8d64e0fc2dd.jpg?v=1609841448","variant_ids":[37376508461220,37376508526756]},"available":true,"name":"Mintiml Egg Wave-Cut(2Pcs\/Set) - Wave-Cut+Egg Boiler (2 PCS)","public_title":"Wave-Cut+Egg Boiler (2 PCS)","options":["Wave-Cut+Egg Boiler (2 PCS)"],"price":1599,"weight":0,"compare_at_price":3998,"inventory_management":null,"barcode":null,"featured_media":{"alt":null,"id":13688843698340,"position":1,"preview_image":{"aspect_ratio":1.0,"height":800,"width":800,"src":"https:\/\/cdn.shopify.com\/s\/files\/1\/0508\/2592\/0676\/products\/Egg-Wave-Cut_01-min_b16ffeb6-d7fb-4147-bdb3-f8d64e0fc2dd.jpg?v=1609841448"}},"requires_selling_plan":false,"selling_plan_allocations":[]}],"images":["\/\/cdn.shopify.com\/s\/files\/1\/0508\/2592\/0676\/products\/Egg-Wave-Cut_01-min_b16ffeb6-d7fb-4147-bdb3-f8d64e0fc2dd.jpg?v=1609841448","\/\/cdn.shopify.com\/s\/files\/1\/0508\/2592\/0676\/products\/Egg-Wave-Cut_02-min_eecb32fd-c583-4f4b-b490-43aa737f9915.jpg?v=1609841448","\/\/cdn.shopify.com\/s\/files\/1\/0508\/2592\/0676\/products\/8_b2310ad7-ce70-435c-b192-2f29a8368c2c.jpg?v=1609841448","\/\/cdn.shopify.com\/s\/files\/1\/0508\/2592\/0676\/products\/Egg-Wave-Cut_06-min_b6702974-4e90-47a7-8a73-aad9a6677df1.jpg?v=1609841448","\/\/cdn.shopify.com\/s\/files\/1\/0508\/2592\/0676\/products\/Egg-Wave-Cut_07-min_aaa95861-d6e3-4999-967c-80be3dcbab89.jpg?v=1609841448","\/\/cdn.shopify.com\/s\/files\/1\/0508\/2592\/0676\/products\/Egg-Wave-Cut_04-min_e5c0a582-9132-49fe-8aca-0cf059574ffc.jpg?v=1609841448","\/\/cdn.shopify.com\/s\/files\/1\/0508\/2592\/0676\/products\/Egg-Wave-Cut_03-min_e84e14fe-c9e1-4c9d-aa3b-87b55a134a0c.jpg?v=1609841448","\/\/cdn.shopify.com\/s\/files\/1\/0508\/2592\/0676\/products\/Egg-Wave-Cut_05-min_4d31b3a7-b810-4413-b58b-cbcbc4d1f642.jpg?v=1609841448","\/\/cdn.shopify.com\/s\/files\/1\/0508\/2592\/0676\/products\/Egg-Wave-Cut_08-min_5b01cbaf-74b3-420b-9ad4-98adc9b54f48.jpg?v=1609841448","\/\/cdn.shopify.com\/s\/files\/1\/0508\/2592\/0676\/products\/9_04466095-8c48-4cb8-86e3-ec1f9d0dba97.jpg?v=1609841448","\/\/cdn.shopify.com\/s\/files\/1\/0508\/2592\/0676\/products\/6_94c7fc97-0619-480e-8a31-fa54485f14d6.jpg?v=1609841448"],"featured_image":"\/\/cdn.shopify.com\/s\/files\/1\/0508\/2592\/0676\/products\/Egg-Wave-Cut_01-min_b16ffeb6-d7fb-4147-bdb3-f8d64e0fc2dd.jpg?v=1609841448","options":["BUY MORE SAVE MORE"],"media":[{"alt":null,"id":13688843698340,"position":1,"preview_image":{"aspect_ratio":1.0,"height":800,"width":800,"src":"https:\/\/cdn.shopify.com\/s\/files\/1\/0508\/2592\/0676\/products\/Egg-Wave-Cut_01-min_b16ffeb6-d7fb-4147-bdb3-f8d64e0fc2dd.jpg?v=1609841448"},"aspect_ratio":1.0,"height":800,"media_type":"image","src":"https:\/\/cdn.shopify.com\/s\/files\/1\/0508\/2592\/0676\/products\/Egg-Wave-Cut_01-min_b16ffeb6-d7fb-4147-bdb3-f8d64e0fc2dd.jpg?v=1609841448","width":800},{"alt":null,"id":13688843731108,"position":2,"preview_image":{"aspect_ratio":1.0,"height":800,"width":800,"src":"https:\/\/cdn.shopify.com\/s\/files\/1\/0508\/2592\/0676\/products\/Egg-Wave-Cut_02-min_eecb32fd-c583-4f4b-b490-43aa737f9915.jpg?v=1609841448"},"aspect_ratio":1.0,"height":800,"media_type":"image","src":"https:\/\/cdn.shopify.com\/s\/files\/1\/0508\/2592\/0676\/products\/Egg-Wave-Cut_02-min_eecb32fd-c583-4f4b-b490-43aa737f9915.jpg?v=1609841448","width":800},{"alt":null,"id":13688843763876,"position":3,"preview_image":{"aspect_ratio":1.0,"height":800,"width":800,"src":"https:\/\/cdn.shopify.com\/s\/files\/1\/0508\/2592\/0676\/products\/8_b2310ad7-ce70-435c-b192-2f29a8368c2c.jpg?v=1609841448"},"aspect_ratio":1.0,"height":800,"media_type":"image","src":"https:\/\/cdn.shopify.com\/s\/files\/1\/0508\/2592\/0676\/products\/8_b2310ad7-ce70-435c-b192-2f29a8368c2c.jpg?v=1609841448","width":800},{"alt":null,"id":13688843796644,"position":4,"preview_image":{"aspect_ratio":1.0,"height":800,"width":800,"src":"https:\/\/cdn.shopify.com\/s\/files\/1\/0508\/2592\/0676\/products\/Egg-Wave-Cut_06-min_b6702974-4e90-47a7-8a73-aad9a6677df1.jpg?v=1609841448"},"aspect_ratio":1.0,"height":800,"media_type":"image","src":"https:\/\/cdn.shopify.com\/s\/files\/1\/0508\/2592\/0676\/products\/Egg-Wave-Cut_06-min_b6702974-4e90-47a7-8a73-aad9a6677df1.jpg?v=1609841448","width":800},{"alt":null,"id":13688843829412,"position":5,"preview_image":{"aspect_ratio":1.0,"height":800,"width":800,"src":"https:\/\/cdn.shopify.com\/s\/files\/1\/0508\/2592\/0676\/products\/Egg-Wave-Cut_07-min_aaa95861-d6e3-4999-967c-80be3dcbab89.jpg?v=1609841448"},"aspect_ratio":1.0,"height":800,"media_type":"image","src":"https:\/\/cdn.shopify.com\/s\/files\/1\/0508\/2592\/0676\/products\/Egg-Wave-Cut_07-min_aaa95861-d6e3-4999-967c-80be3dcbab89.jpg?v=1609841448","width":800},{"alt":null,"id":13688843862180,"position":6,"preview_image":{"aspect_ratio":1.0,"height":800,"width":800,"src":"https:\/\/cdn.shopify.com\/s\/files\/1\/0508\/2592\/0676\/products\/Egg-Wave-Cut_04-min_e5c0a582-9132-49fe-8aca-0cf059574ffc.jpg?v=1609841448"},"aspect_ratio":1.0,"height":800,"media_type":"image","src":"https:\/\/cdn.shopify.com\/s\/files\/1\/0508\/2592\/0676\/products\/Egg-Wave-Cut_04-min_e5c0a582-9132-49fe-8aca-0cf059574ffc.jpg?v=1609841448","width":800},{"alt":null,"id":13688843894948,"position":7,"preview_image":{"aspect_ratio":1.0,"height":800,"width":800,"src":"https:\/\/cdn.shopify.com\/s\/files\/1\/0508\/2592\/0676\/products\/Egg-Wave-Cut_03-min_e84e14fe-c9e1-4c9d-aa3b-87b55a134a0c.jpg?v=1609841448"},"aspect_ratio":1.0,"height":800,"media_type":"image","src":"https:\/\/cdn.shopify.com\/s\/files\/1\/0508\/2592\/0676\/products\/Egg-Wave-Cut_03-min_e84e14fe-c9e1-4c9d-aa3b-87b55a134a0c.jpg?v=1609841448","width":800},{"alt":null,"id":13688843927716,"position":8,"preview_image":{"aspect_ratio":1.0,"height":800,"width":800,"src":"https:\/\/cdn.shopify.com\/s\/files\/1\/0508\/2592\/0676\/products\/Egg-Wave-Cut_05-min_4d31b3a7-b810-4413-b58b-cbcbc4d1f642.jpg?v=1609841448"},"aspect_ratio":1.0,"height":800,"media_type":"image","src":"https:\/\/cdn.shopify.com\/s\/files\/1\/0508\/2592\/0676\/products\/Egg-Wave-Cut_05-min_4d31b3a7-b810-4413-b58b-cbcbc4d1f642.jpg?v=1609841448","width":800},{"alt":null,"id":13688843960484,"position":9,"preview_image":{"aspect_ratio":1.0,"height":800,"width":800,"src":"https:\/\/cdn.shopify.com\/s\/files\/1\/0508\/2592\/0676\/products\/Egg-Wave-Cut_08-min_5b01cbaf-74b3-420b-9ad4-98adc9b54f48.jpg?v=1609841448"},"aspect_ratio":1.0,"height":800,"media_type":"image","src":"https:\/\/cdn.shopify.com\/s\/files\/1\/0508\/2592\/0676\/products\/Egg-Wave-Cut_08-min_5b01cbaf-74b3-420b-9ad4-98adc9b54f48.jpg?v=1609841448","width":800},{"alt":null,"id":13688843993252,"position":10,"preview_image":{"aspect_ratio":1.0,"height":800,"width":800,"src":"https:\/\/cdn.shopify.com\/s\/files\/1\/0508\/2592\/0676\/products\/9_04466095-8c48-4cb8-86e3-ec1f9d0dba97.jpg?v=1609841448"},"aspect_ratio":1.0,"height":800,"media_type":"image","src":"https:\/\/cdn.shopify.com\/s\/files\/1\/0508\/2592\/0676\/products\/9_04466095-8c48-4cb8-86e3-ec1f9d0dba97.jpg?v=1609841448","width":800},{"alt":null,"id":13688844026020,"position":11,"preview_image":{"aspect_ratio":1.0,"height":800,"width":800,"src":"https:\/\/cdn.shopify.com\/s\/files\/1\/0508\/2592\/0676\/products\/6_94c7fc97-0619-480e-8a31-fa54485f14d6.jpg?v=1609841448"},"aspect_ratio":1.0,"height":800,"media_type":"image","src":"https:\/\/cdn.shopify.com\/s\/files\/1\/0508\/2592\/0676\/products\/6_94c7fc97-0619-480e-8a31-fa54485f14d6.jpg?v=1609841448","width":800}],"requires_selling_plan":false,"selling_plan_groups":[],"content":"\u003c!-- Build time: 2020-11-12 14:35:46 --\u003e\n\u003cstyle\u003e\u003c!--\n.listing-build-item table {\n width: 100% !important;\n margin: 5px 0 !important;\n border-collapse: collapse !important;\n table-layout: initial !important;\n }\n\n .listing-build-item table ul li,\n .listing-build-item table dl dd,\n .listing-build-item table dl dt {\n list-style:outside none !important;\n margin:0 !important;\n }\n\n .listing-build-item table ul,\n .listing-build-item table dl {\n margin-left: 0 !important;\n }\n\n .listing-build-item table tr\u003etd,\n .listing-build-item table tr\u003eth {\n padding: 10px 14px !important;\n font-size: 14px !important;\n border: 1px solid #cbcbcb !important;\n background-clip: padding-box !important;\n position: relative !important;\n letter-spacing:initial !important;\n text-align: left !important;\n }\n\n .listing-build-item table tr\u003eth {\n font-weight: 600 !important;\n }\n\n .listing-build-item h3 {\n color: #000 !important;\n font-size: 20px !important;\n font-weight: 600 !important;\n margin: 0 !important;\n padding: 10px 0 !important;\n text-align: left !important;\n }\n .listing-build-item table th,.listing-build-item h5{\n color:#000 !important;\n }\n\n .listing-build-item {\n margin-bottom: 30px !important;\n word-break: break-word !important;\n }\n\n .listing-build-item ul,\n .listing-build-item dl {\n margin: 0 !important;\n padding:0 !important;\n list-style:outside none !important\n }\n\n .listing-build-item .img-box {\n margin: 10px 0 !important;\n }\n\n .listing-build-item .img-box img {\n height: auto !important;\n max-width: 100% !important;\n margin: 0 auto !important;\n padding: 0 !important;\n display: block !important;\n }\n @media screen and (min-width: 992px){\n .listing-build-item table tr\u003eth {\n width: 180px !important;\n }\n }\n @media screen and (max-width: 750px){\n .listing-build-item table tr\u003eth {\n width: 100px !important;\n }\n }\n\n .listing-build-item tr:first-child th:after,\n .listing-build-item tr:first-child td:after {\n border: initial !important;\n }\n\n .listing-build-item ul\u003eli:last-child,\n .listing-build-item ul.features\u003eli:last-child,\n .listing-build-item ul\u003eli.package-row:last-child {\n margin-bottom: 0 !important;\n }\n .listing-build-item ul.features li,.listing-build-item ul li.package-row{\n margin-bottom:7px !important;\n }\n .listing-build-item h5{\n margin: 20px 0 5px 0 !important;\n font-weight: 600 !important;\n text-align: left !important;\n }\n .listing-build-item strong{\n font-weight: 600 !important;\n }\n--\u003e\u003c\/style\u003e\n\u003c!-- BEGIN Descriptions --\u003e\n\u003ch4 class=\"listing-build-item\" style=\"text-align: center;\" data-mce-style=\"text-align: center;\"\u003e\u003cspan style=\"color: #ff8000;\" color=\"#ff8000\" data-mce-style=\"color: #ff8000;\"\u003e\u003cb\u003eOrdinary boiled eggs are a bit boring, don't you think?\u003c\/b\u003e\u003c\/span\u003e\u003c\/h4\u003e\n\u003ch4 style=\"text-align: left;\" class=\"listing-build-item\" data-mce-style=\"text-align: left;\"\u003e\u003cstrong style=\"color: #ff8000; font-size: 1.4em;\" data-mce-style=\"color: #ff8000; font-size: 1.4em;\"\u003e\u003cimg alt=\"\" src=\"https:\/\/cdn.shopifycdn.net\/s\/files\/1\/0082\/9148\/3738\/files\/01_83f7dbb7-c5e0-46da-9838-24b58aef5706_480x480.gif?v=1605163810\" width=\"267\" height=\"267\" style=\"display: block; margin-left: auto; margin-right: auto;\" data-mce-style=\"display: block; margin-left: auto; margin-right: auto;\"\u003e\u003c\/strong\u003e\u003c\/h4\u003e\n\u003cul\u003e\u003c\/ul\u003e\n\u003ch4 class=\"listing-build-item\" style=\"text-align: center;\" data-mce-style=\"text-align: center;\"\u003e\u003cspan style=\"color: #1779ab;\" color=\"#1779ab\" data-mce-style=\"color: #1779ab;\"\u003e\u003cb\u003eMintiml Egg Wave-Cut offers very beautiful and attractive eggs for your guests or family here!\u003c\/b\u003e\u003c\/span\u003e\u003c\/h4\u003e\n\u003cp\u003e\u003cspan style=\"color: #1779ab;\" color=\"#1779ab\" data-mce-style=\"color: #1779ab;\"\u003e\u003cb\u003e\u003cimg height=\"267\" width=\"267\" alt=\"\" src=\"https:\/\/cdn.shopifycdn.net\/s\/files\/1\/0082\/9148\/3738\/files\/01_1_480x480.gif?v=1605163833\" style=\"display: block; margin-left: auto; margin-right: auto;\" data-mce-style=\"display: block; margin-left: auto; margin-right: auto;\"\u003e\u003c\/b\u003e\u003c\/span\u003e\u003c\/p\u003e\n\u003ch1 style=\"text-align: left;\" itemprop=\"name\" data-mce-style=\"text-align: left;\"\u003e\u003c\/h1\u003e\n\u003ch3\u003e\n\u003cstrong\u003e\u003c\/strong\u003eMintiml Egg Wave-Cut(2Pcs\/Set)Main Features\u003c\/h3\u003e\n\u003cdiv class=\"listing-build-item\"\u003e\n\u003cul class=\"features\"\u003e\n\u003cli\u003e\n\u003cspan style=\"color: #ff8000;\" data-mce-style=\"color: #ff8000;\"\u003e\u003cstrong\u003e♥Material:\u003c\/strong\u003e\u003c\/span\u003e Use PP plastic material, safe and tasteless, rest assured to use; two pattern designs, free DIY, unlimited creativity.\u003c\/li\u003e\n\u003cli\u003e\n\u003cspan style=\"color: #ff8000;\" data-mce-style=\"color: #ff8000;\"\u003e\u003cstrong\u003e♥Creative design:\u003c\/strong\u003e\u003c\/span\u003e head and smiling face design, cute and beautiful, two sets, one is triangular design, the other is semicircular design, beautiful and practical appearance.\u003cimg data-mce-fragment=\"1\" height=\"318\" width=\"318\" style=\"display: block; margin-left: auto; margin-right: auto;\" alt=\"\" src=\"https:\/\/cdn.shopifycdn.net\/s\/files\/1\/0082\/9148\/3738\/products\/Egg-Wave-Cut_03-min_480x480.jpg?v=1605168272\" data-mce-src=\"https:\/\/cdn.shopifycdn.net\/s\/files\/1\/0082\/9148\/3738\/products\/Egg-Wave-Cut_03-min_480x480.jpg?v=1605168272\" data-mce-style=\"display: block; margin-left: auto; margin-right: auto;\"\u003e\n\u003c\/li\u003e\n\u003cli\u003e\n\u003cstrong\u003e\u003cspan style=\"color: #ff8000;\" data-mce-style=\"color: #ff8000;\"\u003e♥Easy to use: \u003c\/span\u003e\u003c\/strong\u003eSo simple to use and a great tool for shaping cute egg shapes for your bento lunch or home parties.\u003c\/li\u003e\n\u003cli\u003e\n\u003cspan style=\"color: #ff8000;\" data-mce-style=\"color: #ff8000;\"\u003e\u003cstrong\u003e♥The best gift:\u003c\/strong\u003e \u003c\/span\u003eQuickly prepare delicious boiled eggs for breakfast, which is a great start for the family. The best gift for Father's Day, Thanksgiving Day, Mother's Day, and Women's Day.\u003cimg data-mce-fragment=\"1\" height=\"320\" width=\"320\" style=\"display: block; margin-left: auto; margin-right: auto;\" alt=\"\" src=\"https:\/\/cdn.shopifycdn.net\/s\/files\/1\/0082\/9148\/3738\/products\/Egg-Wave-Cut_06-min_480x480.jpg?v=1605168272\" data-mce-src=\"https:\/\/cdn.shopifycdn.net\/s\/files\/1\/0082\/9148\/3738\/products\/Egg-Wave-Cut_06-min_480x480.jpg?v=1605168272\" data-mce-style=\"display: block; margin-left: auto; margin-right: auto;\"\u003e\n\u003c\/li\u003e\n\u003cli\u003e\n\u003cspan style=\"color: #ff8000;\" data-mce-style=\"color: #ff8000;\"\u003e\u003cstrong\u003e♥Easy to clean:\u003c\/strong\u003e \u003c\/span\u003eMintiml Egg Wave is made of high-quality PP plastic, which is very easy to clean, will not fade or deform, and ensure that the eggs have a fresh and original taste.\u003c\/li\u003e\n\u003cli\u003e\n\u003ch3\u003eEgg Boiler Main Features\u003c\/h3\u003e\n\u003cdiv\u003eThe perfect hard-boiled egg cooker without the shell. BPA Free non-stick silicone pods make cooking eggs easier than ever! Easy to use, just sprayed oil in a cup and wiped to evenly distribute, crack open the eggs, pour into an egg cooker, boil and pop eggs out of the cup.\u003c\/div\u003e\n\u003c\/li\u003e\n\u003c\/ul\u003e\n\u003cbr\u003e\n\u003cul class=\"features\"\u003e\n\u003cli\u003e\n\u003cdiv\u003e\u003c\/div\u003e\n\u003cp\u003e\u003cimg alt=\"\" src=\"https:\/\/cdn.shopifycdn.net\/s\/files\/1\/0498\/5559\/4648\/files\/SP_B9CB_00_00_00--00_00_05_480x480.gif?v=1609128541\" style=\"display: block; margin-left: auto; margin-right: auto;\" data-mce-style=\"display: block; margin-left: auto; margin-right: auto;\"\u003e\u003c\/p\u003e\n\u003c\/li\u003e\n\u003c\/ul\u003e\n\u003c\/div\u003e\n\u003c!-- END features --\u003e \u003c!-- BEGIN Using Method --\u003e\n\u003cdiv class=\"listing-build-item\"\u003e\n\u003ch3\u003eMintiml Egg Wave-Cut Using Methods\u003c\/h3\u003e\n\u003cul\u003e\n\u003cli\u003ePlace the hard-boiled egg on one end of a wavy or serrated piece of plastic.\u003c\/li\u003e\n\u003cli\u003eNext, roll slowly while pressing down to cut the white part of the egg.\u003c\/li\u003e\n\u003cli\u003eOnce you've finished scrolling, use the smiley end to create a smiley face on the egg. decorate them with small sesame seeds, the smiley face is complete.\u003c\/li\u003e\n\u003cli\u003e\n\u003c\/li\u003e\n\u003c\/ul\u003e\n\u003cimg data-mce-fragment=\"1\" height=\"376\" width=\"376\" alt=\"\" src=\"https:\/\/cdn.shopifycdn.net\/s\/files\/1\/0082\/9148\/3738\/products\/Egg-Wave-Cut_08-min_480x480.jpg?v=1605168272\" style=\"font-size: 1.4em; display: block; margin-left: auto; margin-right: auto;\" data-mce-src=\"https:\/\/cdn.shopifycdn.net\/s\/files\/1\/0082\/9148\/3738\/products\/Egg-Wave-Cut_08-min_480x480.jpg?v=1605168272\" data-mce-style=\"font-size: 1.4em; display: block; margin-left: auto; margin-right: auto;\"\u003e\n\u003cul\u003e\n\u003cli\u003e\n\u003ch3\u003e\n\u003cbr\u003eSpecifications\u003cbr\u003e\n\u003c\/h3\u003e\n\u003c\/li\u003e\n\u003c\/ul\u003e\n\u003c\/div\u003e\n\u003cdiv class=\"listing-build-item\"\u003e\n\u003ctable\u003e\n\u003c!-- BEGIN specification_material --\u003e \u003c!-- END specification_material --\u003e \u003c!-- BEGIN specification_weight --\u003e\n\u003ctbody\u003e\n\u003ctr\u003e\n\u003cth scope=\"row\"\u003eWeight\u003c\/th\u003e\n\u003ctd\u003e\n\u003cul\u003e\n\u003cli\u003e\n\u003cspan data-mce-fragment=\"1\"\u003eMintiml Egg Wave-Cut Product Weight:\u003c\/span\u003e40G\u003cbr\u003e\n\u003c\/li\u003e\n\u003cli\u003e\u003cspan\u003eMintiml Egg Wave-Cut Package Weight:57G\u003c\/span\u003e\u003c\/li\u003e\n\u003cli\u003eEgg Boiler Weight: 210\u003cspan data-mce-fragment=\"1\"\u003eG\u003c\/span\u003e\n\u003c\/li\u003e\n\u003c\/ul\u003e\n\u003c\/td\u003e\n\u003c\/tr\u003e\n\u003c!-- END specification_weight --\u003e \u003c!-- BEGIN specification_size --\u003e\n\u003ctr\u003e\n\u003cth scope=\"row\"\u003eSize\u003cbr\u003e (L x W x H)\u003c\/th\u003e\n\u003ctd\u003e\n\u003cul\u003e\n\u003cli\u003eMintiml Egg Wave-Cut \u003cspan data-mce-fragment=\"1\"\u003eProduct Size:\u003c\/span\u003e16.5 × 2 × 1cm \/ 6.5 × 0.8 × 0.4inches\u003c\/li\u003e\n\u003cli\u003e\u003cspan\u003eMintiml Egg Wave-Cut Package Size:28 × 23 × 2cm \/ 11 × 9 × 0.8inches\u003c\/span\u003e\u003c\/li\u003e\n\u003cli\u003e\n\u003cspan data-mce-fragment=\"1\"\u003eEgg Boiler \u003c\/span\u003eSize: 3 x 3 x 6 inches.\u003c\/li\u003e\n\u003c\/ul\u003e\n\u003c\/td\u003e\n\u003c\/tr\u003e\n\u003c!-- END specification_size --\u003e \u003c!-- BEGIN specification_many_package --\u003e\n\u003ctr\u003e\n\u003cth scope=\"row\"\u003ePackage Contents\u003c\/th\u003e\n\u003ctd\u003e\n\u003cul\u003e\n\u003cli\u003eMintiml Egg Wave-Cut(2Pcs Set) × 1\u003c\/li\u003e\n\u003cli\u003e\u003cspan data-mce-fragment=\"1\"\u003eEgg Boiler× 1\u003c\/span\u003e\u003c\/li\u003e\n\u003c\/ul\u003e\n\u003c\/td\u003e\n\u003c\/tr\u003e\n\u003c!-- END specification_one_package --\u003e \u003c!-- BEGIN specification_custom_attribute --\u003e\n\u003ctr\u003e\n\u003cth scope=\"row\"\u003eMaterial\u003c\/th\u003e\n\u003ctd\u003e\n\u003cp\u003eMintiml Egg Wave-Cut: PP\u003c\/p\u003e\n\u003cp\u003eEgg Boiler: \u003cspan data-mce-fragment=\"1\"\u003ePP + Silicone\u003c\/span\u003e\u003c\/p\u003e\n\u003c\/td\u003e\n\u003c\/tr\u003e\n\u003c!-- END specification_custom_attribute --\u003e\n\u003c\/tbody\u003e\n\u003c\/table\u003e\n\u003c!-- BEGIN specification_size_img --\u003e \u003c!-- END specification_size_img --\u003e\n\u003c\/div\u003e\n\u003c!-- END specification --\u003e \u003c!-- BEGIN note --\u003e\n\u003cdiv class=\"listing-build-item\"\u003e\n\u003ch3\u003eNote\u003c\/h3\u003e\n\u003cul\u003e\n\u003cli\u003eDue to manual measurements, please allow slight measurement deviations.\u003c\/li\u003e\n\u003cli\u003eDue to the different display and lighting effects, the actual color of the item may be slightly different from the color displayed in the picture.\u003c\/li\u003e\n\u003c\/ul\u003e\n\u003c\/div\u003e\n\u003c!-- END note --\u003e"}
Mintiml Egg Wave-Cut(2Pcs/Set)
Product Description
Ordinary boiled eggs are a bit boring, don't you think?

Mintiml Egg Wave-Cut offers very beautiful and attractive eggs for your guests or family here!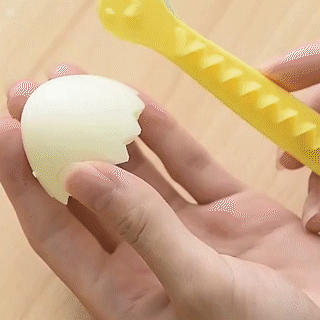 Mintiml Egg Wave-Cut(2Pcs/Set)Main Features
♥Material: Use PP plastic material, safe and tasteless, rest assured to use; two pattern designs, free DIY, unlimited creativity.
♥Creative design: head and smiling face design, cute and beautiful, two sets, one is triangular design, the other is semicircular design, beautiful and practical appearance.

♥Easy to use:

So simple to use and a great tool for shaping cute egg shapes for your bento lunch or home parties.
♥The best gift: Quickly prepare delicious boiled eggs for breakfast, which is a great start for the family. The best gift for Father's Day, Thanksgiving Day, Mother's Day, and Women's Day.
♥Easy to clean: Mintiml Egg Wave is made of high-quality PP plastic, which is very easy to clean, will not fade or deform, and ensure that the eggs have a fresh and original taste.

Egg Boiler Main Features

The perfect hard-boiled egg cooker without the shell. BPA Free non-stick silicone pods make cooking eggs easier than ever! Easy to use, just sprayed oil in a cup and wiped to evenly distribute, crack open the eggs, pour into an egg cooker, boil and pop eggs out of the cup.

Mintiml Egg Wave-Cut Using Methods
Place the hard-boiled egg on one end of a wavy or serrated piece of plastic.
Next, roll slowly while pressing down to cut the white part of the egg.
Once you've finished scrolling, use the smiley end to create a smiley face on the egg. decorate them with small sesame seeds, the smiley face is complete.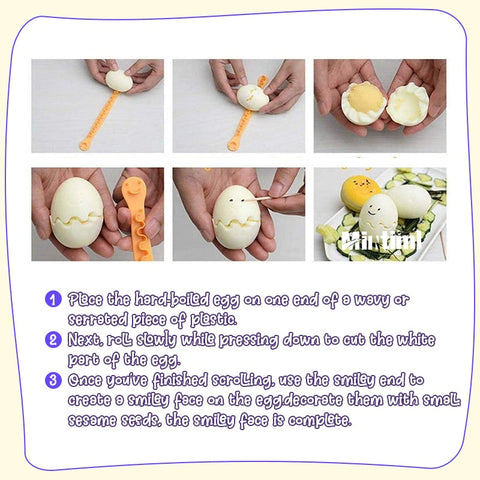 Weight

Mintiml Egg Wave-Cut Product Weight:

40G


Mintiml Egg Wave-Cut Package Weight:57G

Egg Boiler Weight: 210

G

Size
(L x W x H)

Mintiml Egg Wave-Cut 

Product Size:

16.5 × 2 × 1cm / 6.5 × 0.8 × 0.4inches

Mintiml Egg Wave-Cut Package Size:28 × 23 × 2cm / 11 × 9 × 0.8inches

Egg Boiler 

Size: 3 x 3 x 6 inches.

Package Contents

Mintiml Egg Wave-Cut(2Pcs Set) × 1

Egg Boiler× 1

Material

Mintiml Egg Wave-Cut: PP

Egg Boiler: PP + Silicone
Note
Due to manual measurements, please allow slight measurement deviations.
Due to the different display and lighting effects, the actual color of the item may be slightly different from the color displayed in the picture.
Shipping:
We processes orders between Monday and Friday. Orders will be processed within 7 business days of ordering and shipped out the next day after the processing day. We don't ship on weekends.