{"id":5953922826404,"title":"Donuts Hair Curling Roller Set","handle":"do","description":"\u003c!-- Build time: 2020-06-18 14:25:32 --\u003e \u003c!--\n * @Description: listing build template\n --\u003e\n\u003cstyle\u003e\u003c!--\n.listing-build-item table {\n width: 100% !important;\n margin: 5px 0 !important;\n border-collapse: collapse !important;\n table-layout: initial !important;\n word-break: break-word !important;\n }\n\n .listing-build-item table ul li,\n .listing-build-item table dl dd,\n .listing-build-item table dl dt {\n list-style:outside none !important;\n margin:0 !important;\n }\n\n .listing-build-item table ul,\n .listing-build-item table dl {\n margin-left: 0 !important;\n }\n\n .listing-build-item table tr\u003etd,\n .listing-build-item table tr\u003eth {\n padding: 10px 14px !important;\n font-size: 14px !important;\n border: 1px solid #cbcbcb !important;\n background-clip: padding-box !important;\n position: relative !important;\n letter-spacing:initial !important;\n text-align: left !important;\n }\n\n .listing-build-item table tr\u003eth {\n font-weight: 600 !important;\n }\n\n .listing-build-item h3 {\n color: #000 !important;\n font-size: 20px !important;\n font-weight: 600 !important;\n margin: 0 !important;\n padding: 10px 0 !important;\n text-align: left !important;\n }\n .listing-build-item table th,.listing-build-item h5{\n color:#000 !important;\n }\n .listing-build-item ul li,\n .listing-build-item dl dd,\n .listing-build-item dl dt {\n list-style: disc outside !important;\n margin: 0 0 3px 18px !important;\n padding:0;\n }\n\n\n .listing-build-item {\n margin-bottom: 30px !important;\n word-break: break-word !important;\n }\n\n .listing-build-item ul,\n .listing-build-item dl {\n margin: 0 !important;\n padding:0 !important;\n list-style:outside none !important\n }\n\n .listing-build-item .img-box {\n margin: 10px 0 !important;\n }\n\n .listing-build-item .img-box img {\n height: auto !important;\n max-width: 100% !important;\n margin: 0 auto !important;\n padding: 0 !important;\n display: block !important;\n }\n @media screen and (min-width: 992px){\n .listing-build-item table tr\u003eth {\n width: 180px !important;\n }\n }\n @media screen and (max-width: 750px){\n .listing-build-item table tr\u003eth {\n width: 100px !important;\n }\n }\n\n .listing-build-item tr:first-child th:after,\n .listing-build-item tr:first-child td:after {\n border: initial !important;\n }\n\n .listing-build-item ul\u003eli:last-child,\n .listing-build-item ul.features\u003eli:last-child,\n .listing-build-item ul\u003eli.package-row:last-child {\n margin-bottom: 0 !important;\n }\n .listing-build-item ul.features li,.listing-build-item ul li.package-row{\n margin-bottom:7px !important;\n }\n .listing-build-item h5{\n margin: 20px 0 5px 0 !important;\n font-weight: 600 !important;\n text-align: left !important;\n }\n .listing-build-item strong{\n font-weight: 600 !important;\n }\n--\u003e\u003c\/style\u003e\n\u003c!-- BEGIN features --\u003e\n\u003cdiv class=\"listing-build-item\"\u003e\n\u003ch3\u003eMain Features\u003c\/h3\u003e\n\u003cul class=\"features\"\u003e\n\u003cli\u003e\n\u003cspan style=\"color: #00aaff;\"\u003e \u003cstrong\u003eA GREAT GIFT\u003c\/strong\u003e\u003c\/span\u003e\u003cbr\u003eFast hair rollers create sexy curly hairstyles in minutes. Do it yourself at home and save money and time by spending at the salon.\u003c\/li\u003e\n\u003cli\u003e\n\u003cspan style=\"color: #ff00ff;\"\u003e \u003cstrong\u003eEASY TO USE\u003c\/strong\u003e\u003c\/span\u003e\u003cbr\u003eQuick and easy way to create beautiful curls at home.\u003c\/li\u003e\n\u003c\/ul\u003e\n\u003cimg src=\"https:\/\/cdn.shopifycdn.net\/s\/files\/1\/0327\/4755\/2904\/files\/HTB1CNS4dFkoBKNjSZFEq6zrEVXaI_480x480.jpg?v=1592465105\" alt=\"\" style=\"display: block; margin-left: auto; margin-right: auto;\"\u003e\u003cbr\u003e\n\u003cul class=\"features\"\u003e\n\u003cli\u003e\n\u003cspan style=\"color: #00aaff;\"\u003e \u003cstrong\u003ePROTECT HAIR\u003c\/strong\u003e\u003c\/span\u003e\u003cbr\u003eNo chemical treatment, protect your hair.\u003c\/li\u003e\n\u003cli\u003e\n\u003cspan style=\"color: #ff00ff;\"\u003e \u003cstrong\u003eADVANTAGE\u003c\/strong\u003e\u003c\/span\u003e\u003cbr\u003eMagic perm in unimaginable high-speed change.\u003c\/li\u003e\n\u003c\/ul\u003e\n\u003c\/div\u003e\n\u003c!-- END features --\u003e \u003c!-- BEGIN usage_scene --\u003e\n\u003cdiv class=\"listing-build-item\"\u003e\n\u003ch3\u003eUsage Scenarios\u003c\/h3\u003e\n\u003cul\u003e\n\u003cli\u003eQuick and easy way to create beautiful curls at home.\u003c\/li\u003e\n\u003c\/ul\u003e\n\u003c\/div\u003e\n\u003c!-- END usage_scene --\u003e \u003c!-- BEGIN using_text --\u003e\n\u003cdiv class=\"listing-build-item\"\u003e\n\u003ch3\u003eUsing Methods\u003c\/h3\u003e\n\u003cp\u003e\u003cimg src=\"https:\/\/cdn.shopifycdn.net\/s\/files\/1\/0327\/4755\/2904\/files\/4_480x480.jpg?v=1592464965\" alt=\"\" style=\"display: block; margin-left: auto; margin-right: auto;\"\u003e\u003c\/p\u003e\n\u003cul\u003e\n\u003cli\u003e1. control the hair at 60% -70% of the humidity of the zone;\u003c\/li\u003e\n\u003cli\u003e2. in the middle of the prominent part he curled his hair, and buttoned the hair curler;\u003c\/li\u003e\n\u003cli\u003e3. then roll your hair one by one;\u003c\/li\u003e\n\u003cli\u003e4. at the same time you can use the hairdryer to blow your hair;\u003c\/li\u003e\n\u003cli\u003e5. the next morning or 10 minutes after you blow your hair so that you can get your perfect hairstyle.\u003c\/li\u003e\n\u003c\/ul\u003e\n\u003c\/div\u003e\n\u003c!-- END using_text --\u003e \u003c!-- BEGIN specification --\u003e\n\u003cdiv class=\"listing-build-item\"\u003e\n\u003ch3\u003eSpecification\u003c\/h3\u003e\n\u003ctable\u003e\n\u003c!-- BEGIN specification_material --\u003e\n\u003ctbody\u003e\n\u003ctr\u003e\n\u003cth scope=\"row\" class=\"specification-th\"\u003eMaterials\u003c\/th\u003e\n\u003ctd class=\"specification-td\"\u003e\n\u003cul\u003e\n\u003cli\u003ePlastic\u003c\/li\u003e\n\u003c\/ul\u003e\n\u003c\/td\u003e\n\u003c\/tr\u003e\n\u003c!-- END specification_material --\u003e \u003c!-- BEGIN specification_custom_attribute --\u003e \u003c!-- END specification_custom_attribute --\u003e \u003c!-- BEGIN specification_models --\u003e \u003c!-- END specification_models --\u003e \u003c!-- BEGIN specification_colors --\u003e \u003c!-- END specification_colors --\u003e \u003c!-- BEGIN specification_size --\u003e\n\u003ctr\u003e\n\u003cth scope=\"row\"\u003eProduct Size\u003c\/th\u003e\n\u003ctd\u003e\n\u003cul\u003e\n\u003cli\u003eLARGE: 19CM × 1.8CM(Diameter)\u003c\/li\u003e\n\u003cli\u003eSAMLL: 16CM × 1.4CM\u003cspan\u003e(D\u003c\/span\u003e\u003cspan\u003eiameter)\u003c\/span\u003e\n\u003c\/li\u003e\n\u003c\/ul\u003e\n\u003c\/td\u003e\n\u003c\/tr\u003e\n\u003c!-- END specification_size --\u003e \u003c!-- BEGIN specification_weight --\u003e \u003c!-- END specification_weight --\u003e \u003c!-- BEGIN specification_weight --\u003e \u003c!-- END specification_weight --\u003e \u003c!-- BEGIN specification_many_package --\u003e\n\u003ctr\u003e\n\u003cth scope=\"row\"\u003ePackage Contents\u003c\/th\u003e\n\u003ctd\u003e\n\u003cul\u003e\n\u003cli\u003eDonuts Hair Curling Roller Set × 1\u003c\/li\u003e\n\u003c\/ul\u003e\n\u003c\/td\u003e\n\u003c\/tr\u003e\n\u003c!-- END specification_one_package --\u003e\n\u003c\/tbody\u003e\n\u003c\/table\u003e\n\u003c!-- BEGIN specification_size_img --\u003e \u003c!-- END specification_size_img --\u003e\n\u003c\/div\u003e\n\u003c!-- END specification --\u003e \u003c!-- BEGIN note --\u003e\n\u003cdiv class=\"listing-build-item\"\u003e\n\u003ch3\u003eNote\u003c\/h3\u003e\n\u003cul\u003e\n\u003c!-- BEGIN note_apply --\u003e \u003c!-- END note_apply --\u003e \u003c!-- BEGIN note_other --\u003e\n\u003cli\u003eDue to the different display and lighting effects, the actual color of the item may be slightly different from the color displayed on the picture.\u003c\/li\u003e\n\u003c!-- END note_other --\u003e\n\u003c\/ul\u003e\n\u003c\/div\u003e\n\u003c!-- END note --\u003e","published_at":"2020-12-30T18:00:01+08:00","created_at":"2020-12-30T18:00:01+08:00","vendor":"solegg","type":"Beauty \u0026 Health","tags":[],"price":990,"price_min":990,"price_max":1890,"available":true,"price_varies":true,"compare_at_price":1798,"compare_at_price_min":1798,"compare_at_price_max":2998,"compare_at_price_varies":true,"variants":[{"id":37340602695844,"title":"SAMLL(8 PCS)","option1":"SAMLL(8 PCS)","option2":null,"option3":null,"sku":"LG220403138PCS","requires_shipping":true,"taxable":false,"featured_image":null,"available":true,"name":"Donuts Hair Curling Roller Set - SAMLL(8 PCS)","public_title":"SAMLL(8 PCS)","options":["SAMLL(8 PCS)"],"price":990,"weight":0,"compare_at_price":1798,"inventory_management":null,"barcode":null,"requires_selling_plan":false,"selling_plan_allocations":[]},{"id":37340602728612,"title":"LARGE(6 PCS)","option1":"LARGE(6 PCS)","option2":null,"option3":null,"sku":"LG220403136PCS","requires_shipping":true,"taxable":false,"featured_image":null,"available":true,"name":"Donuts Hair Curling Roller Set - LARGE(6 PCS)","public_title":"LARGE(6 PCS)","options":["LARGE(6 PCS)"],"price":1290,"weight":0,"compare_at_price":2198,"inventory_management":null,"barcode":null,"requires_selling_plan":false,"selling_plan_allocations":[]},{"id":37340602761380,"title":"LARGE(6 PCS) + SAMLL(8 PCS)","option1":"LARGE(6 PCS) + SAMLL(8 PCS)","option2":null,"option3":null,"sku":"LG220403136PCS*1+LG220403138PCS*1","requires_shipping":true,"taxable":false,"featured_image":null,"available":true,"name":"Donuts Hair Curling Roller Set - LARGE(6 PCS) + SAMLL(8 PCS)","public_title":"LARGE(6 PCS) + SAMLL(8 PCS)","options":["LARGE(6 PCS) + SAMLL(8 PCS)"],"price":1890,"weight":0,"compare_at_price":2998,"inventory_management":null,"barcode":null,"requires_selling_plan":false,"selling_plan_allocations":[]}],"images":["\/\/cdn.shopify.com\/s\/files\/1\/0508\/2592\/0676\/products\/1_44b08212-7d80-4a9d-b90a-f4f9f282a523.jpg?v=1609322401","\/\/cdn.shopify.com\/s\/files\/1\/0508\/2592\/0676\/products\/2_e0ecc792-ddca-4dc0-b553-36d33ec4f9f0.jpg?v=1609322401","\/\/cdn.shopify.com\/s\/files\/1\/0508\/2592\/0676\/products\/3_0b108d47-3a03-45e6-a757-48d5679f9cff.jpg?v=1609322401","\/\/cdn.shopify.com\/s\/files\/1\/0508\/2592\/0676\/products\/4_3356e87c-0455-4208-80dc-570d8dae4c0d.jpg?v=1609322401","\/\/cdn.shopify.com\/s\/files\/1\/0508\/2592\/0676\/products\/5_a8acf8ab-5b58-4e21-9dfb-da4a20e55aa8.jpg?v=1609322402","\/\/cdn.shopify.com\/s\/files\/1\/0508\/2592\/0676\/products\/6_1da63702-fb45-4b7e-9f78-e72d5d75e083.jpg?v=1609322402","\/\/cdn.shopify.com\/s\/files\/1\/0508\/2592\/0676\/products\/7_19d30a2c-46d2-415c-be66-8400b107ea64.jpg?v=1609322402","\/\/cdn.shopify.com\/s\/files\/1\/0508\/2592\/0676\/products\/8_d043a92f-afb0-40f6-89e5-865b9c302803.jpg?v=1609322402"],"featured_image":"\/\/cdn.shopify.com\/s\/files\/1\/0508\/2592\/0676\/products\/1_44b08212-7d80-4a9d-b90a-f4f9f282a523.jpg?v=1609322401","options":["Size"],"media":[{"alt":null,"id":13623540842660,"position":1,"preview_image":{"aspect_ratio":1.0,"height":800,"width":800,"src":"https:\/\/cdn.shopify.com\/s\/files\/1\/0508\/2592\/0676\/products\/1_44b08212-7d80-4a9d-b90a-f4f9f282a523.jpg?v=1609322401"},"aspect_ratio":1.0,"height":800,"media_type":"image","src":"https:\/\/cdn.shopify.com\/s\/files\/1\/0508\/2592\/0676\/products\/1_44b08212-7d80-4a9d-b90a-f4f9f282a523.jpg?v=1609322401","width":800},{"alt":null,"id":13623540908196,"position":2,"preview_image":{"aspect_ratio":1.0,"height":800,"width":800,"src":"https:\/\/cdn.shopify.com\/s\/files\/1\/0508\/2592\/0676\/products\/2_e0ecc792-ddca-4dc0-b553-36d33ec4f9f0.jpg?v=1609322401"},"aspect_ratio":1.0,"height":800,"media_type":"image","src":"https:\/\/cdn.shopify.com\/s\/files\/1\/0508\/2592\/0676\/products\/2_e0ecc792-ddca-4dc0-b553-36d33ec4f9f0.jpg?v=1609322401","width":800},{"alt":null,"id":13623540940964,"position":3,"preview_image":{"aspect_ratio":1.0,"height":800,"width":800,"src":"https:\/\/cdn.shopify.com\/s\/files\/1\/0508\/2592\/0676\/products\/3_0b108d47-3a03-45e6-a757-48d5679f9cff.jpg?v=1609322401"},"aspect_ratio":1.0,"height":800,"media_type":"image","src":"https:\/\/cdn.shopify.com\/s\/files\/1\/0508\/2592\/0676\/products\/3_0b108d47-3a03-45e6-a757-48d5679f9cff.jpg?v=1609322401","width":800},{"alt":null,"id":13623540973732,"position":4,"preview_image":{"aspect_ratio":1.0,"height":800,"width":800,"src":"https:\/\/cdn.shopify.com\/s\/files\/1\/0508\/2592\/0676\/products\/4_3356e87c-0455-4208-80dc-570d8dae4c0d.jpg?v=1609322401"},"aspect_ratio":1.0,"height":800,"media_type":"image","src":"https:\/\/cdn.shopify.com\/s\/files\/1\/0508\/2592\/0676\/products\/4_3356e87c-0455-4208-80dc-570d8dae4c0d.jpg?v=1609322401","width":800},{"alt":null,"id":13623541006500,"position":5,"preview_image":{"aspect_ratio":1.0,"height":800,"width":800,"src":"https:\/\/cdn.shopify.com\/s\/files\/1\/0508\/2592\/0676\/products\/5_a8acf8ab-5b58-4e21-9dfb-da4a20e55aa8.jpg?v=1609322402"},"aspect_ratio":1.0,"height":800,"media_type":"image","src":"https:\/\/cdn.shopify.com\/s\/files\/1\/0508\/2592\/0676\/products\/5_a8acf8ab-5b58-4e21-9dfb-da4a20e55aa8.jpg?v=1609322402","width":800},{"alt":null,"id":13623541039268,"position":6,"preview_image":{"aspect_ratio":1.0,"height":800,"width":800,"src":"https:\/\/cdn.shopify.com\/s\/files\/1\/0508\/2592\/0676\/products\/6_1da63702-fb45-4b7e-9f78-e72d5d75e083.jpg?v=1609322402"},"aspect_ratio":1.0,"height":800,"media_type":"image","src":"https:\/\/cdn.shopify.com\/s\/files\/1\/0508\/2592\/0676\/products\/6_1da63702-fb45-4b7e-9f78-e72d5d75e083.jpg?v=1609322402","width":800},{"alt":null,"id":13623541072036,"position":7,"preview_image":{"aspect_ratio":1.0,"height":800,"width":800,"src":"https:\/\/cdn.shopify.com\/s\/files\/1\/0508\/2592\/0676\/products\/7_19d30a2c-46d2-415c-be66-8400b107ea64.jpg?v=1609322402"},"aspect_ratio":1.0,"height":800,"media_type":"image","src":"https:\/\/cdn.shopify.com\/s\/files\/1\/0508\/2592\/0676\/products\/7_19d30a2c-46d2-415c-be66-8400b107ea64.jpg?v=1609322402","width":800},{"alt":null,"id":13623541104804,"position":8,"preview_image":{"aspect_ratio":1.0,"height":800,"width":800,"src":"https:\/\/cdn.shopify.com\/s\/files\/1\/0508\/2592\/0676\/products\/8_d043a92f-afb0-40f6-89e5-865b9c302803.jpg?v=1609322402"},"aspect_ratio":1.0,"height":800,"media_type":"image","src":"https:\/\/cdn.shopify.com\/s\/files\/1\/0508\/2592\/0676\/products\/8_d043a92f-afb0-40f6-89e5-865b9c302803.jpg?v=1609322402","width":800}],"requires_selling_plan":false,"selling_plan_groups":[],"content":"\u003c!-- Build time: 2020-06-18 14:25:32 --\u003e \u003c!--\n * @Description: listing build template\n --\u003e\n\u003cstyle\u003e\u003c!--\n.listing-build-item table {\n width: 100% !important;\n margin: 5px 0 !important;\n border-collapse: collapse !important;\n table-layout: initial !important;\n word-break: break-word !important;\n }\n\n .listing-build-item table ul li,\n .listing-build-item table dl dd,\n .listing-build-item table dl dt {\n list-style:outside none !important;\n margin:0 !important;\n }\n\n .listing-build-item table ul,\n .listing-build-item table dl {\n margin-left: 0 !important;\n }\n\n .listing-build-item table tr\u003etd,\n .listing-build-item table tr\u003eth {\n padding: 10px 14px !important;\n font-size: 14px !important;\n border: 1px solid #cbcbcb !important;\n background-clip: padding-box !important;\n position: relative !important;\n letter-spacing:initial !important;\n text-align: left !important;\n }\n\n .listing-build-item table tr\u003eth {\n font-weight: 600 !important;\n }\n\n .listing-build-item h3 {\n color: #000 !important;\n font-size: 20px !important;\n font-weight: 600 !important;\n margin: 0 !important;\n padding: 10px 0 !important;\n text-align: left !important;\n }\n .listing-build-item table th,.listing-build-item h5{\n color:#000 !important;\n }\n .listing-build-item ul li,\n .listing-build-item dl dd,\n .listing-build-item dl dt {\n list-style: disc outside !important;\n margin: 0 0 3px 18px !important;\n padding:0;\n }\n\n\n .listing-build-item {\n margin-bottom: 30px !important;\n word-break: break-word !important;\n }\n\n .listing-build-item ul,\n .listing-build-item dl {\n margin: 0 !important;\n padding:0 !important;\n list-style:outside none !important\n }\n\n .listing-build-item .img-box {\n margin: 10px 0 !important;\n }\n\n .listing-build-item .img-box img {\n height: auto !important;\n max-width: 100% !important;\n margin: 0 auto !important;\n padding: 0 !important;\n display: block !important;\n }\n @media screen and (min-width: 992px){\n .listing-build-item table tr\u003eth {\n width: 180px !important;\n }\n }\n @media screen and (max-width: 750px){\n .listing-build-item table tr\u003eth {\n width: 100px !important;\n }\n }\n\n .listing-build-item tr:first-child th:after,\n .listing-build-item tr:first-child td:after {\n border: initial !important;\n }\n\n .listing-build-item ul\u003eli:last-child,\n .listing-build-item ul.features\u003eli:last-child,\n .listing-build-item ul\u003eli.package-row:last-child {\n margin-bottom: 0 !important;\n }\n .listing-build-item ul.features li,.listing-build-item ul li.package-row{\n margin-bottom:7px !important;\n }\n .listing-build-item h5{\n margin: 20px 0 5px 0 !important;\n font-weight: 600 !important;\n text-align: left !important;\n }\n .listing-build-item strong{\n font-weight: 600 !important;\n }\n--\u003e\u003c\/style\u003e\n\u003c!-- BEGIN features --\u003e\n\u003cdiv class=\"listing-build-item\"\u003e\n\u003ch3\u003eMain Features\u003c\/h3\u003e\n\u003cul class=\"features\"\u003e\n\u003cli\u003e\n\u003cspan style=\"color: #00aaff;\"\u003e \u003cstrong\u003eA GREAT GIFT\u003c\/strong\u003e\u003c\/span\u003e\u003cbr\u003eFast hair rollers create sexy curly hairstyles in minutes. Do it yourself at home and save money and time by spending at the salon.\u003c\/li\u003e\n\u003cli\u003e\n\u003cspan style=\"color: #ff00ff;\"\u003e \u003cstrong\u003eEASY TO USE\u003c\/strong\u003e\u003c\/span\u003e\u003cbr\u003eQuick and easy way to create beautiful curls at home.\u003c\/li\u003e\n\u003c\/ul\u003e\n\u003cimg src=\"https:\/\/cdn.shopifycdn.net\/s\/files\/1\/0327\/4755\/2904\/files\/HTB1CNS4dFkoBKNjSZFEq6zrEVXaI_480x480.jpg?v=1592465105\" alt=\"\" style=\"display: block; margin-left: auto; margin-right: auto;\"\u003e\u003cbr\u003e\n\u003cul class=\"features\"\u003e\n\u003cli\u003e\n\u003cspan style=\"color: #00aaff;\"\u003e \u003cstrong\u003ePROTECT HAIR\u003c\/strong\u003e\u003c\/span\u003e\u003cbr\u003eNo chemical treatment, protect your hair.\u003c\/li\u003e\n\u003cli\u003e\n\u003cspan style=\"color: #ff00ff;\"\u003e \u003cstrong\u003eADVANTAGE\u003c\/strong\u003e\u003c\/span\u003e\u003cbr\u003eMagic perm in unimaginable high-speed change.\u003c\/li\u003e\n\u003c\/ul\u003e\n\u003c\/div\u003e\n\u003c!-- END features --\u003e \u003c!-- BEGIN usage_scene --\u003e\n\u003cdiv class=\"listing-build-item\"\u003e\n\u003ch3\u003eUsage Scenarios\u003c\/h3\u003e\n\u003cul\u003e\n\u003cli\u003eQuick and easy way to create beautiful curls at home.\u003c\/li\u003e\n\u003c\/ul\u003e\n\u003c\/div\u003e\n\u003c!-- END usage_scene --\u003e \u003c!-- BEGIN using_text --\u003e\n\u003cdiv class=\"listing-build-item\"\u003e\n\u003ch3\u003eUsing Methods\u003c\/h3\u003e\n\u003cp\u003e\u003cimg src=\"https:\/\/cdn.shopifycdn.net\/s\/files\/1\/0327\/4755\/2904\/files\/4_480x480.jpg?v=1592464965\" alt=\"\" style=\"display: block; margin-left: auto; margin-right: auto;\"\u003e\u003c\/p\u003e\n\u003cul\u003e\n\u003cli\u003e1. control the hair at 60% -70% of the humidity of the zone;\u003c\/li\u003e\n\u003cli\u003e2. in the middle of the prominent part he curled his hair, and buttoned the hair curler;\u003c\/li\u003e\n\u003cli\u003e3. then roll your hair one by one;\u003c\/li\u003e\n\u003cli\u003e4. at the same time you can use the hairdryer to blow your hair;\u003c\/li\u003e\n\u003cli\u003e5. the next morning or 10 minutes after you blow your hair so that you can get your perfect hairstyle.\u003c\/li\u003e\n\u003c\/ul\u003e\n\u003c\/div\u003e\n\u003c!-- END using_text --\u003e \u003c!-- BEGIN specification --\u003e\n\u003cdiv class=\"listing-build-item\"\u003e\n\u003ch3\u003eSpecification\u003c\/h3\u003e\n\u003ctable\u003e\n\u003c!-- BEGIN specification_material --\u003e\n\u003ctbody\u003e\n\u003ctr\u003e\n\u003cth scope=\"row\" class=\"specification-th\"\u003eMaterials\u003c\/th\u003e\n\u003ctd class=\"specification-td\"\u003e\n\u003cul\u003e\n\u003cli\u003ePlastic\u003c\/li\u003e\n\u003c\/ul\u003e\n\u003c\/td\u003e\n\u003c\/tr\u003e\n\u003c!-- END specification_material --\u003e \u003c!-- BEGIN specification_custom_attribute --\u003e \u003c!-- END specification_custom_attribute --\u003e \u003c!-- BEGIN specification_models --\u003e \u003c!-- END specification_models --\u003e \u003c!-- BEGIN specification_colors --\u003e \u003c!-- END specification_colors --\u003e \u003c!-- BEGIN specification_size --\u003e\n\u003ctr\u003e\n\u003cth scope=\"row\"\u003eProduct Size\u003c\/th\u003e\n\u003ctd\u003e\n\u003cul\u003e\n\u003cli\u003eLARGE: 19CM × 1.8CM(Diameter)\u003c\/li\u003e\n\u003cli\u003eSAMLL: 16CM × 1.4CM\u003cspan\u003e(D\u003c\/span\u003e\u003cspan\u003eiameter)\u003c\/span\u003e\n\u003c\/li\u003e\n\u003c\/ul\u003e\n\u003c\/td\u003e\n\u003c\/tr\u003e\n\u003c!-- END specification_size --\u003e \u003c!-- BEGIN specification_weight --\u003e \u003c!-- END specification_weight --\u003e \u003c!-- BEGIN specification_weight --\u003e \u003c!-- END specification_weight --\u003e \u003c!-- BEGIN specification_many_package --\u003e\n\u003ctr\u003e\n\u003cth scope=\"row\"\u003ePackage Contents\u003c\/th\u003e\n\u003ctd\u003e\n\u003cul\u003e\n\u003cli\u003eDonuts Hair Curling Roller Set × 1\u003c\/li\u003e\n\u003c\/ul\u003e\n\u003c\/td\u003e\n\u003c\/tr\u003e\n\u003c!-- END specification_one_package --\u003e\n\u003c\/tbody\u003e\n\u003c\/table\u003e\n\u003c!-- BEGIN specification_size_img --\u003e \u003c!-- END specification_size_img --\u003e\n\u003c\/div\u003e\n\u003c!-- END specification --\u003e \u003c!-- BEGIN note --\u003e\n\u003cdiv class=\"listing-build-item\"\u003e\n\u003ch3\u003eNote\u003c\/h3\u003e\n\u003cul\u003e\n\u003c!-- BEGIN note_apply --\u003e \u003c!-- END note_apply --\u003e \u003c!-- BEGIN note_other --\u003e\n\u003cli\u003eDue to the different display and lighting effects, the actual color of the item may be slightly different from the color displayed on the picture.\u003c\/li\u003e\n\u003c!-- END note_other --\u003e\n\u003c\/ul\u003e\n\u003c\/div\u003e\n\u003c!-- END note --\u003e"}
Donuts Hair Curling Roller Set
Product Description
Main Features
A GREAT GIFT
Fast hair rollers create sexy curly hairstyles in minutes. Do it yourself at home and save money and time by spending at the salon.
EASY TO USE
Quick and easy way to create beautiful curls at home.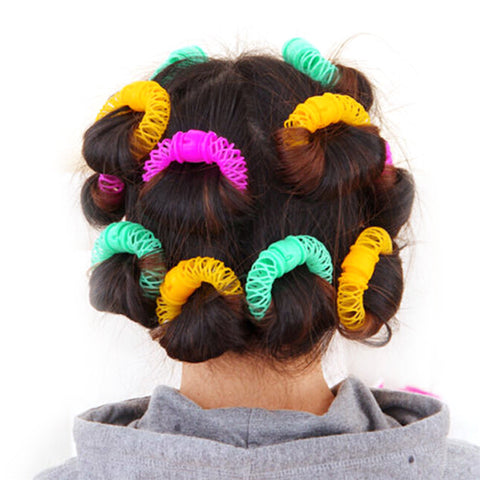 PROTECT HAIR
No chemical treatment, protect your hair.
ADVANTAGE
Magic perm in unimaginable high-speed change.
Usage Scenarios
Quick and easy way to create beautiful curls at home.
Using Methods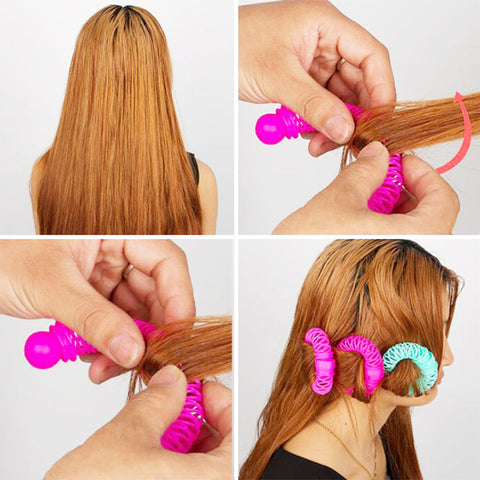 1. control the hair at 60% -70% of the humidity of the zone;
2. in the middle of the prominent part he curled his hair, and buttoned the hair curler;
3. then roll your hair one by one;
4. at the same time you can use the hairdryer to blow your hair;
5. the next morning or 10 minutes after you blow your hair so that you can get your perfect hairstyle.
Specification
Materials
Product Size

LARGE: 19CM × 1.8CM(Diameter)
SAMLL: 16CM × 1.4CM

(D

iameter)

Package Contents

Donuts Hair Curling Roller Set × 1
Note
Due to the different display and lighting effects, the actual color of the item may be slightly different from the color displayed on the picture.
Shipping:
We processes orders between Monday and Friday. Orders will be processed within 7 business days of ordering and shipped out the next day after the processing day. We don't ship on weekends.