{"id":5918568448164,"title":"Creative Christmas Atmosphere Hanging Scroll(Christmas Hanging Flags)","handle":"creat","description":"\u003ch5 style=\"text-align: center;\"\u003e\u003cspan style=\"color: #e91515;\"\u003e\u003cstrong data-mce-fragment=\"1\"\u003e? \u003c\/strong\u003eChristmas is coming soon! \u003cstrong data-mce-fragment=\"1\"\u003e?\u003c\/strong\u003e\u003c\/span\u003e\u003c\/h5\u003e\n\u003cp\u003e\u003cspan style=\"color: #e91515;\"\u003e\u003cstrong data-mce-fragment=\"1\"\u003e\u003cimg alt=\"\" src=\"https:\/\/cdn.shopifycdn.net\/s\/files\/1\/0082\/9148\/3738\/files\/1_01_480x480.jpg?v=1607421924\" style=\"display: block; margin-left: auto; margin-right: auto;\" data-mce-src=\"https:\/\/cdn.shopifycdn.net\/s\/files\/1\/0082\/9148\/3738\/files\/1_01_480x480.jpg?v=1607421924\" data-mce-style=\"display: block; margin-left: auto; margin-right: auto;\"\u003e\u003c\/strong\u003e\u003c\/span\u003e\u003c\/p\u003e\n\u003cdiv class=\"listing-build-item\"\u003eThe decoration of classic elements is \u003cspan style=\"color: #e81515;\"\u003e\u003cstrong\u003ean indispensable part of the festival.\u003c\/strong\u003e \u003c\/span\u003eWhether you are \u003cspan style=\"color: #e81515;\"\u003e\u003cstrong\u003ehosting a Christmas party or a Christmas event in a shopping mall,\u003c\/strong\u003e\u003c\/span\u003e you need some exquisite decorations to enhance the atmosphere!\u003cbr\u003e\n\u003c\/div\u003e\n\u003cdiv class=\"listing-build-item\"\u003e\n\u003cul\u003e\u003c\/ul\u003e\n\u003c\/div\u003e\n\u003c!-- END Descriptions --\u003e \u003c!-- BEGIN features --\u003e\n\u003cdiv class=\"listing-build-item\"\u003e\n\u003ch3\u003eMain Features\u003c\/h3\u003e\n\u003c\/div\u003e\n\u003cul class=\"features\"\u003e\n\u003cli\u003e\n\u003cp\u003e\u003cspan style=\"color: #008b45;\"\u003e\u003cstrong\u003e\u003cspan style=\"color: #e81515;\"\u003e?? [CLASSIC CHRISTMAS PATTERN]\u003c\/span\u003e \u003c\/strong\u003e\u003c\/span\u003eSanta Claus, snowman, elk, Christmas tree, elves, and wreath are all symbolic patterns of Christmas. \u003cstrong\u003e\u003cspan style=\"color: #08630e;\"\u003eAs the perfect expression of the festive mood, their appearance means that Christmas is really here.\u003c\/span\u003e \u003c\/strong\u003eDo you want to attract more customers? Get these decorations for your store now!\u003c\/p\u003e\n\u003cp\u003e\u003cimg src=\"https:\/\/cdn.shopifycdn.net\/s\/files\/1\/0082\/9148\/3738\/files\/1_03_480x480.jpg?v=1607422013\" alt=\"\"\u003e\u003c\/p\u003e\n\u003c\/li\u003e\n\u003cli\u003e\n\u003cp\u003e\u003cspan style=\"color: #e81515;\"\u003e\u003cstrong\u003e\u003cspan style=\"color: #e81515;\"\u003e?? [HOME \u0026amp; GARDEN DECOR]\u003c\/span\u003e \u003c\/strong\u003e\u003c\/span\u003eHang these Christmas decorations \u003cspan style=\"color: #08630e;\"\u003e\u003cstrong\u003efor your living room, balcony, backyard, and garden.\u003c\/strong\u003e\u003c\/span\u003e It is a new Christmas theme park for children and makes guests feel satisfied.\u003c\/p\u003e\n\u003c\/li\u003e\n\u003cli\u003e\n\u003cp\u003e\u003cspan style=\"color: #008b45;\"\u003e\u003cstrong\u003e\u003cspan style=\"color: #e81515;\"\u003e?? [DURABLE MATERIAL]\u003c\/span\u003e \u003c\/strong\u003e\u003c\/span\u003e100% high-quality and durable non-woven fabric, with weather resistance and UV resistance, it\u003cspan style=\"color: #08630e;\"\u003e \u003cstrong\u003ewill not fade even in cold winter or high-intensity ultraviolet rays.\u003c\/strong\u003e\u003c\/span\u003e They can accompany you through the long winter.\u003c\/p\u003e\n\u003cp\u003e\u003cimg data-mce-fragment=\"1\" alt=\"\" src=\"https:\/\/cdn.shopifycdn.net\/s\/files\/1\/0082\/9148\/3738\/files\/1_02_2ea7a346-e010-4d0e-bc7e-ee227ab24f1f_480x480.jpg?v=1607422033\" data-mce-src=\"https:\/\/cdn.shopifycdn.net\/s\/files\/1\/0082\/9148\/3738\/files\/1_02_2ea7a346-e010-4d0e-bc7e-ee227ab24f1f_480x480.jpg?v=1607422033\"\u003e\u003c\/p\u003e\n\u003c\/li\u003e\n\u003cli\u003e\n\u003cp\u003e\u003cspan style=\"color: #e81515;\"\u003e\u003cstrong\u003e?? [EASY TO INSTALL] \u003c\/strong\u003e\u003c\/span\u003eThere is no difficulty in the installation process! \u003cspan style=\"color: #08640e;\"\u003e\u003cstrong\u003eYou only need to use nails to hang the lanyard\u003c\/strong\u003e \u003c\/span\u003ethat comes with the roll in the desired position. The right length (115cm\/45.3inches) makes it suitable for indoor and outdoor decoration.\u003c\/p\u003e\n\u003c\/li\u003e\n\u003c\/ul\u003e\n\u003c!-- END features --\u003e \u003c!-- BEGIN Using Method --\u003e\n\u003cdiv class=\"listing-build-item\"\u003e\n\u003ch3\u003eUsing Methods\u003c\/h3\u003e\n\u003cp class=\"img-box\"\u003e\u003cimg src=\"https:\/\/cdn.shopifycdn.net\/s\/files\/1\/0030\/9415\/1277\/files\/3_e6dd108d-1dbc-4d3b-9e1b-7341eb19ca73_480x480.jpg?v=1598690013\" alt=\"\"\u003e\u003c\/p\u003e\n\u003c\/div\u003e\n\u003c!-- END Using Method --\u003e \u003c!-- BEGIN usage_scene --\u003e \u003c!-- END usage_scene --\u003e \u003c!-- BEGIN specification --\u003e\n\u003cdiv class=\"listing-build-item\"\u003e\n\u003ch3\u003eSpecifications\u003c\/h3\u003e\n\u003ctable\u003e\n\u003c!-- BEGIN specification_material --\u003e\n\u003ctbody\u003e\n\u003ctr\u003e\n\u003cth scope=\"row\" class=\"specification-th\"\u003eMaterials\u003c\/th\u003e\n\u003ctd class=\"specification-td\"\u003e\n\u003cul\u003e\n\u003cli\u003eNon-woven Fabric\u003c\/li\u003e\n\u003c\/ul\u003e\n\u003c\/td\u003e\n\u003c\/tr\u003e\n\u003c!-- END specification_material --\u003e \u003c!-- BEGIN specification_weight --\u003e\n\u003ctr\u003e\n\u003cth scope=\"row\"\u003eProduct Weight\u003c\/th\u003e\n\u003ctd\u003e\n\u003cul\u003e\n\u003cli\u003e70G\u003c\/li\u003e\n\u003c\/ul\u003e\n\u003c\/td\u003e\n\u003c\/tr\u003e\n\u003c!-- END specification_weight --\u003e \u003c!-- BEGIN specification_size --\u003e\n\u003ctr\u003e\n\u003cth scope=\"row\"\u003eProduct Size\u003cbr\u003e (L x W)\u003c\/th\u003e\n\u003ctd\u003e\n\u003cul\u003e\n\u003cli\u003e115 × 40 cm \/ 45.3 × 15.7 inches\u003c\/li\u003e\n\u003c\/ul\u003e\n\u003c\/td\u003e\n\u003c\/tr\u003e\n\u003c!-- END specification_size --\u003e \u003c!-- BEGIN specification_many_package --\u003e\n\u003ctr\u003e\n\u003cth scope=\"row\"\u003ePackage Contents\u003c\/th\u003e\n\u003ctd\u003e\n\u003cul\u003e\n\u003cli\u003eCreative Christmas Atmosphere Hanging Scroll × 1\u003c\/li\u003e\n\u003c\/ul\u003e\n\u003c\/td\u003e\n\u003c\/tr\u003e\n\u003c!-- END specification_one_package --\u003e \u003c!-- BEGIN specification_custom_attribute --\u003e\n\u003ctr\u003e\n\u003cth scope=\"row\"\u003ePattern\u003c\/th\u003e\n\u003ctd\u003eSanta Claus\/Snowman\/Elk\/Christmas Tree\/Elves\/Wreath\u003c\/td\u003e\n\u003c\/tr\u003e\n\u003c!-- END specification_custom_attribute --\u003e\n\u003c\/tbody\u003e\n\u003c\/table\u003e\n\u003c!-- BEGIN specification_size_img --\u003e \u003c!-- END specification_size_img --\u003e\n\u003c\/div\u003e\n\u003c!-- END specification --\u003e \u003c!-- BEGIN note --\u003e\n\u003cdiv class=\"listing-build-item\"\u003e\n\u003ch3\u003eNote\u003c\/h3\u003e\n\u003cul\u003e\n\u003cli\u003eDue to manual measurements, please allow slight measurement deviations.\u003c\/li\u003e\n\u003cli\u003eDue to the different display and lighting effects, the actual color of the item may be slightly different from the color displayed on the picture.\u003c\/li\u003e\n\u003c\/ul\u003e\n\u003c\/div\u003e\n\u003c!-- END note --\u003e\n\u003cstyle\u003e\u003c!--\n.listing-build-item table {\n width: 100% !important;\n margin: 5px 0 !important;\n border-collapse: collapse !important;\n table-layout: initial !important;\n }\n\n .listing-build-item table ul li,\n .listing-build-item table dl dd,\n .listing-build-item table dl dt {\n list-style:outside none !important;\n margin:0 !important;\n }\n\n .listing-build-item table ul,\n .listing-build-item table dl {\n margin-left: 0 !important;\n }\n\n .listing-build-item table tr\u003etd,\n .listing-build-item table tr\u003eth {\n padding: 10px 14px !important;\n font-size: 14px !important;\n border: 1px solid #cbcbcb !important;\n background-clip: padding-box !important;\n position: relative !important;\n letter-spacing:initial !important;\n text-align: left !important;\n }\n\n .listing-build-item table tr\u003eth {\n font-weight: 600 !important;\n }\n\n .listing-build-item h3 {\n color: #000 !important;\n font-size: 20px !important;\n font-weight: 600 !important;\n margin: 0 !important;\n padding: 10px 0 !important;\n text-align: left !important;\n }\n .listing-build-item table th,.listing-build-item h5{\n color:#000 !important;\n }\n\n .listing-build-item {\n margin-bottom: 30px !important;\n word-break: break-word !important;\n }\n\n .listing-build-item ul,\n .listing-build-item dl {\n margin: 0 !important;\n padding:0 !important;\n list-style:outside none !important\n }\n\n .listing-build-item .img-box {\n margin: 10px 0 !important;\n }\n\n .listing-build-item .img-box img {\n height: auto !important;\n max-width: 100% !important;\n margin: 0 auto !important;\n padding: 0 !important;\n display: block !important;\n }\n @media screen and (min-width: 992px){\n .listing-build-item table tr\u003eth {\n width: 180px !important;\n }\n }\n @media screen and (max-width: 750px){\n .listing-build-item table tr\u003eth {\n width: 100px !important;\n }\n }\n\n .listing-build-item tr:first-child th:after,\n .listing-build-item tr:first-child td:after {\n border: initial !important;\n }\n\n .listing-build-item ul\u003eli:last-child,\n .listing-build-item ul.features\u003eli:last-child,\n .listing-build-item ul\u003eli.package-row:last-child {\n margin-bottom: 0 !important;\n }\n .listing-build-item ul.features li,.listing-build-item ul li.package-row{\n margin-bottom:7px !important;\n }\n .listing-build-item h5{\n margin: 20px 0 5px 0 !important;\n font-weight: 600 !important;\n text-align: left !important;\n }\n .listing-build-item strong{\n font-weight: 600 !important;\n }\n--\u003e\u003c\/style\u003e","published_at":"2020-12-10T15:52:52+08:00","created_at":"2020-12-10T15:52:52+08:00","vendor":"solegg","type":"Toys, Kids \u0026 Gift","tags":[],"price":1299,"price_min":1299,"price_max":1299,"available":true,"price_varies":false,"compare_at_price":2998,"compare_at_price_min":2998,"compare_at_price_max":2998,"compare_at_price_varies":false,"variants":[{"id":37203644580004,"title":"Santa Claus","option1":"Santa Claus","option2":null,"option3":null,"sku":"LE42041629C01","requires_shipping":true,"taxable":false,"featured_image":null,"available":true,"name":"Creative Christmas Atmosphere Hanging Scroll(Christmas Hanging Flags) - Santa Claus","public_title":"Santa Claus","options":["Santa Claus"],"price":1299,"weight":0,"compare_at_price":2998,"inventory_management":null,"barcode":null,"requires_selling_plan":false,"selling_plan_allocations":[]},{"id":37203644612772,"title":"Snowman","option1":"Snowman","option2":null,"option3":null,"sku":"LE42041629C02","requires_shipping":true,"taxable":false,"featured_image":null,"available":true,"name":"Creative Christmas Atmosphere Hanging Scroll(Christmas Hanging Flags) - Snowman","public_title":"Snowman","options":["Snowman"],"price":1299,"weight":0,"compare_at_price":2998,"inventory_management":null,"barcode":null,"requires_selling_plan":false,"selling_plan_allocations":[]},{"id":37203644645540,"title":"Elk","option1":"Elk","option2":null,"option3":null,"sku":"LE42041629C03","requires_shipping":true,"taxable":false,"featured_image":null,"available":true,"name":"Creative Christmas Atmosphere Hanging Scroll(Christmas Hanging Flags) - Elk","public_title":"Elk","options":["Elk"],"price":1299,"weight":0,"compare_at_price":2998,"inventory_management":null,"barcode":null,"requires_selling_plan":false,"selling_plan_allocations":[]},{"id":37203644678308,"title":"Christmas Tree","option1":"Christmas Tree","option2":null,"option3":null,"sku":"LE42041629C04","requires_shipping":true,"taxable":false,"featured_image":null,"available":true,"name":"Creative Christmas Atmosphere Hanging Scroll(Christmas Hanging Flags) - Christmas Tree","public_title":"Christmas Tree","options":["Christmas Tree"],"price":1299,"weight":0,"compare_at_price":2998,"inventory_management":null,"barcode":null,"requires_selling_plan":false,"selling_plan_allocations":[]},{"id":37203644711076,"title":"Elves","option1":"Elves","option2":null,"option3":null,"sku":"LE42041629C05","requires_shipping":true,"taxable":false,"featured_image":null,"available":true,"name":"Creative Christmas Atmosphere Hanging Scroll(Christmas Hanging Flags) - Elves","public_title":"Elves","options":["Elves"],"price":1299,"weight":0,"compare_at_price":2998,"inventory_management":null,"barcode":null,"requires_selling_plan":false,"selling_plan_allocations":[]},{"id":37203644743844,"title":"Wreath","option1":"Wreath","option2":null,"option3":null,"sku":"LE42041629C06","requires_shipping":true,"taxable":false,"featured_image":null,"available":true,"name":"Creative Christmas Atmosphere Hanging Scroll(Christmas Hanging Flags) - Wreath","public_title":"Wreath","options":["Wreath"],"price":1299,"weight":0,"compare_at_price":2998,"inventory_management":null,"barcode":null,"requires_selling_plan":false,"selling_plan_allocations":[]}],"images":["\/\/cdn.shopify.com\/s\/files\/1\/0508\/2592\/0676\/products\/Creative-Christmas-Atmosphere-Hanging-Scroll_01.jpg?v=1607586772","\/\/cdn.shopify.com\/s\/files\/1\/0508\/2592\/0676\/products\/Creative-Christmas-Atmosphere-Hanging-Scroll_02.jpg?v=1607586772","\/\/cdn.shopify.com\/s\/files\/1\/0508\/2592\/0676\/products\/Creative-Christmas-Atmosphere-Hanging-Scroll_03.jpg?v=1607586772","\/\/cdn.shopify.com\/s\/files\/1\/0508\/2592\/0676\/products\/Creative-Christmas-Atmosphere-Hanging-Scroll_04.jpg?v=1607586772","\/\/cdn.shopify.com\/s\/files\/1\/0508\/2592\/0676\/products\/Creative-Christmas-Atmosphere-Hanging-Scroll_05.jpg?v=1607586772","\/\/cdn.shopify.com\/s\/files\/1\/0508\/2592\/0676\/products\/Creative-Christmas-Atmosphere-Hanging-Scroll_06.jpg?v=1607586773","\/\/cdn.shopify.com\/s\/files\/1\/0508\/2592\/0676\/products\/Creative-Christmas-Atmosphere-Hanging-Scroll_07.jpg?v=1607586773","\/\/cdn.shopify.com\/s\/files\/1\/0508\/2592\/0676\/products\/Creative-Christmas-Atmosphere-Hanging-Scroll_08.jpg?v=1607586773"],"featured_image":"\/\/cdn.shopify.com\/s\/files\/1\/0508\/2592\/0676\/products\/Creative-Christmas-Atmosphere-Hanging-Scroll_01.jpg?v=1607586772","options":["Pattern"],"media":[{"alt":null,"id":13304659312804,"position":1,"preview_image":{"aspect_ratio":1.0,"height":800,"width":800,"src":"https:\/\/cdn.shopify.com\/s\/files\/1\/0508\/2592\/0676\/products\/Creative-Christmas-Atmosphere-Hanging-Scroll_01.jpg?v=1607586772"},"aspect_ratio":1.0,"height":800,"media_type":"image","src":"https:\/\/cdn.shopify.com\/s\/files\/1\/0508\/2592\/0676\/products\/Creative-Christmas-Atmosphere-Hanging-Scroll_01.jpg?v=1607586772","width":800},{"alt":null,"id":13304659345572,"position":2,"preview_image":{"aspect_ratio":1.0,"height":800,"width":800,"src":"https:\/\/cdn.shopify.com\/s\/files\/1\/0508\/2592\/0676\/products\/Creative-Christmas-Atmosphere-Hanging-Scroll_02.jpg?v=1607586772"},"aspect_ratio":1.0,"height":800,"media_type":"image","src":"https:\/\/cdn.shopify.com\/s\/files\/1\/0508\/2592\/0676\/products\/Creative-Christmas-Atmosphere-Hanging-Scroll_02.jpg?v=1607586772","width":800},{"alt":null,"id":13304659378340,"position":3,"preview_image":{"aspect_ratio":1.0,"height":800,"width":800,"src":"https:\/\/cdn.shopify.com\/s\/files\/1\/0508\/2592\/0676\/products\/Creative-Christmas-Atmosphere-Hanging-Scroll_03.jpg?v=1607586772"},"aspect_ratio":1.0,"height":800,"media_type":"image","src":"https:\/\/cdn.shopify.com\/s\/files\/1\/0508\/2592\/0676\/products\/Creative-Christmas-Atmosphere-Hanging-Scroll_03.jpg?v=1607586772","width":800},{"alt":null,"id":13304659411108,"position":4,"preview_image":{"aspect_ratio":1.0,"height":800,"width":800,"src":"https:\/\/cdn.shopify.com\/s\/files\/1\/0508\/2592\/0676\/products\/Creative-Christmas-Atmosphere-Hanging-Scroll_04.jpg?v=1607586772"},"aspect_ratio":1.0,"height":800,"media_type":"image","src":"https:\/\/cdn.shopify.com\/s\/files\/1\/0508\/2592\/0676\/products\/Creative-Christmas-Atmosphere-Hanging-Scroll_04.jpg?v=1607586772","width":800},{"alt":null,"id":13304659443876,"position":5,"preview_image":{"aspect_ratio":1.0,"height":800,"width":800,"src":"https:\/\/cdn.shopify.com\/s\/files\/1\/0508\/2592\/0676\/products\/Creative-Christmas-Atmosphere-Hanging-Scroll_05.jpg?v=1607586772"},"aspect_ratio":1.0,"height":800,"media_type":"image","src":"https:\/\/cdn.shopify.com\/s\/files\/1\/0508\/2592\/0676\/products\/Creative-Christmas-Atmosphere-Hanging-Scroll_05.jpg?v=1607586772","width":800},{"alt":null,"id":13304659476644,"position":6,"preview_image":{"aspect_ratio":1.0,"height":800,"width":800,"src":"https:\/\/cdn.shopify.com\/s\/files\/1\/0508\/2592\/0676\/products\/Creative-Christmas-Atmosphere-Hanging-Scroll_06.jpg?v=1607586773"},"aspect_ratio":1.0,"height":800,"media_type":"image","src":"https:\/\/cdn.shopify.com\/s\/files\/1\/0508\/2592\/0676\/products\/Creative-Christmas-Atmosphere-Hanging-Scroll_06.jpg?v=1607586773","width":800},{"alt":null,"id":13304659509412,"position":7,"preview_image":{"aspect_ratio":1.0,"height":800,"width":800,"src":"https:\/\/cdn.shopify.com\/s\/files\/1\/0508\/2592\/0676\/products\/Creative-Christmas-Atmosphere-Hanging-Scroll_07.jpg?v=1607586773"},"aspect_ratio":1.0,"height":800,"media_type":"image","src":"https:\/\/cdn.shopify.com\/s\/files\/1\/0508\/2592\/0676\/products\/Creative-Christmas-Atmosphere-Hanging-Scroll_07.jpg?v=1607586773","width":800},{"alt":null,"id":13304659542180,"position":8,"preview_image":{"aspect_ratio":1.0,"height":800,"width":800,"src":"https:\/\/cdn.shopify.com\/s\/files\/1\/0508\/2592\/0676\/products\/Creative-Christmas-Atmosphere-Hanging-Scroll_08.jpg?v=1607586773"},"aspect_ratio":1.0,"height":800,"media_type":"image","src":"https:\/\/cdn.shopify.com\/s\/files\/1\/0508\/2592\/0676\/products\/Creative-Christmas-Atmosphere-Hanging-Scroll_08.jpg?v=1607586773","width":800}],"requires_selling_plan":false,"selling_plan_groups":[],"content":"\u003ch5 style=\"text-align: center;\"\u003e\u003cspan style=\"color: #e91515;\"\u003e\u003cstrong data-mce-fragment=\"1\"\u003e? \u003c\/strong\u003eChristmas is coming soon! \u003cstrong data-mce-fragment=\"1\"\u003e?\u003c\/strong\u003e\u003c\/span\u003e\u003c\/h5\u003e\n\u003cp\u003e\u003cspan style=\"color: #e91515;\"\u003e\u003cstrong data-mce-fragment=\"1\"\u003e\u003cimg alt=\"\" src=\"https:\/\/cdn.shopifycdn.net\/s\/files\/1\/0082\/9148\/3738\/files\/1_01_480x480.jpg?v=1607421924\" style=\"display: block; margin-left: auto; margin-right: auto;\" data-mce-src=\"https:\/\/cdn.shopifycdn.net\/s\/files\/1\/0082\/9148\/3738\/files\/1_01_480x480.jpg?v=1607421924\" data-mce-style=\"display: block; margin-left: auto; margin-right: auto;\"\u003e\u003c\/strong\u003e\u003c\/span\u003e\u003c\/p\u003e\n\u003cdiv class=\"listing-build-item\"\u003eThe decoration of classic elements is \u003cspan style=\"color: #e81515;\"\u003e\u003cstrong\u003ean indispensable part of the festival.\u003c\/strong\u003e \u003c\/span\u003eWhether you are \u003cspan style=\"color: #e81515;\"\u003e\u003cstrong\u003ehosting a Christmas party or a Christmas event in a shopping mall,\u003c\/strong\u003e\u003c\/span\u003e you need some exquisite decorations to enhance the atmosphere!\u003cbr\u003e\n\u003c\/div\u003e\n\u003cdiv class=\"listing-build-item\"\u003e\n\u003cul\u003e\u003c\/ul\u003e\n\u003c\/div\u003e\n\u003c!-- END Descriptions --\u003e \u003c!-- BEGIN features --\u003e\n\u003cdiv class=\"listing-build-item\"\u003e\n\u003ch3\u003eMain Features\u003c\/h3\u003e\n\u003c\/div\u003e\n\u003cul class=\"features\"\u003e\n\u003cli\u003e\n\u003cp\u003e\u003cspan style=\"color: #008b45;\"\u003e\u003cstrong\u003e\u003cspan style=\"color: #e81515;\"\u003e?? [CLASSIC CHRISTMAS PATTERN]\u003c\/span\u003e \u003c\/strong\u003e\u003c\/span\u003eSanta Claus, snowman, elk, Christmas tree, elves, and wreath are all symbolic patterns of Christmas. \u003cstrong\u003e\u003cspan style=\"color: #08630e;\"\u003eAs the perfect expression of the festive mood, their appearance means that Christmas is really here.\u003c\/span\u003e \u003c\/strong\u003eDo you want to attract more customers? Get these decorations for your store now!\u003c\/p\u003e\n\u003cp\u003e\u003cimg src=\"https:\/\/cdn.shopifycdn.net\/s\/files\/1\/0082\/9148\/3738\/files\/1_03_480x480.jpg?v=1607422013\" alt=\"\"\u003e\u003c\/p\u003e\n\u003c\/li\u003e\n\u003cli\u003e\n\u003cp\u003e\u003cspan style=\"color: #e81515;\"\u003e\u003cstrong\u003e\u003cspan style=\"color: #e81515;\"\u003e?? [HOME \u0026amp; GARDEN DECOR]\u003c\/span\u003e \u003c\/strong\u003e\u003c\/span\u003eHang these Christmas decorations \u003cspan style=\"color: #08630e;\"\u003e\u003cstrong\u003efor your living room, balcony, backyard, and garden.\u003c\/strong\u003e\u003c\/span\u003e It is a new Christmas theme park for children and makes guests feel satisfied.\u003c\/p\u003e\n\u003c\/li\u003e\n\u003cli\u003e\n\u003cp\u003e\u003cspan style=\"color: #008b45;\"\u003e\u003cstrong\u003e\u003cspan style=\"color: #e81515;\"\u003e?? [DURABLE MATERIAL]\u003c\/span\u003e \u003c\/strong\u003e\u003c\/span\u003e100% high-quality and durable non-woven fabric, with weather resistance and UV resistance, it\u003cspan style=\"color: #08630e;\"\u003e \u003cstrong\u003ewill not fade even in cold winter or high-intensity ultraviolet rays.\u003c\/strong\u003e\u003c\/span\u003e They can accompany you through the long winter.\u003c\/p\u003e\n\u003cp\u003e\u003cimg data-mce-fragment=\"1\" alt=\"\" src=\"https:\/\/cdn.shopifycdn.net\/s\/files\/1\/0082\/9148\/3738\/files\/1_02_2ea7a346-e010-4d0e-bc7e-ee227ab24f1f_480x480.jpg?v=1607422033\" data-mce-src=\"https:\/\/cdn.shopifycdn.net\/s\/files\/1\/0082\/9148\/3738\/files\/1_02_2ea7a346-e010-4d0e-bc7e-ee227ab24f1f_480x480.jpg?v=1607422033\"\u003e\u003c\/p\u003e\n\u003c\/li\u003e\n\u003cli\u003e\n\u003cp\u003e\u003cspan style=\"color: #e81515;\"\u003e\u003cstrong\u003e?? [EASY TO INSTALL] \u003c\/strong\u003e\u003c\/span\u003eThere is no difficulty in the installation process! \u003cspan style=\"color: #08640e;\"\u003e\u003cstrong\u003eYou only need to use nails to hang the lanyard\u003c\/strong\u003e \u003c\/span\u003ethat comes with the roll in the desired position. The right length (115cm\/45.3inches) makes it suitable for indoor and outdoor decoration.\u003c\/p\u003e\n\u003c\/li\u003e\n\u003c\/ul\u003e\n\u003c!-- END features --\u003e \u003c!-- BEGIN Using Method --\u003e\n\u003cdiv class=\"listing-build-item\"\u003e\n\u003ch3\u003eUsing Methods\u003c\/h3\u003e\n\u003cp class=\"img-box\"\u003e\u003cimg src=\"https:\/\/cdn.shopifycdn.net\/s\/files\/1\/0030\/9415\/1277\/files\/3_e6dd108d-1dbc-4d3b-9e1b-7341eb19ca73_480x480.jpg?v=1598690013\" alt=\"\"\u003e\u003c\/p\u003e\n\u003c\/div\u003e\n\u003c!-- END Using Method --\u003e \u003c!-- BEGIN usage_scene --\u003e \u003c!-- END usage_scene --\u003e \u003c!-- BEGIN specification --\u003e\n\u003cdiv class=\"listing-build-item\"\u003e\n\u003ch3\u003eSpecifications\u003c\/h3\u003e\n\u003ctable\u003e\n\u003c!-- BEGIN specification_material --\u003e\n\u003ctbody\u003e\n\u003ctr\u003e\n\u003cth scope=\"row\" class=\"specification-th\"\u003eMaterials\u003c\/th\u003e\n\u003ctd class=\"specification-td\"\u003e\n\u003cul\u003e\n\u003cli\u003eNon-woven Fabric\u003c\/li\u003e\n\u003c\/ul\u003e\n\u003c\/td\u003e\n\u003c\/tr\u003e\n\u003c!-- END specification_material --\u003e \u003c!-- BEGIN specification_weight --\u003e\n\u003ctr\u003e\n\u003cth scope=\"row\"\u003eProduct Weight\u003c\/th\u003e\n\u003ctd\u003e\n\u003cul\u003e\n\u003cli\u003e70G\u003c\/li\u003e\n\u003c\/ul\u003e\n\u003c\/td\u003e\n\u003c\/tr\u003e\n\u003c!-- END specification_weight --\u003e \u003c!-- BEGIN specification_size --\u003e\n\u003ctr\u003e\n\u003cth scope=\"row\"\u003eProduct Size\u003cbr\u003e (L x W)\u003c\/th\u003e\n\u003ctd\u003e\n\u003cul\u003e\n\u003cli\u003e115 × 40 cm \/ 45.3 × 15.7 inches\u003c\/li\u003e\n\u003c\/ul\u003e\n\u003c\/td\u003e\n\u003c\/tr\u003e\n\u003c!-- END specification_size --\u003e \u003c!-- BEGIN specification_many_package --\u003e\n\u003ctr\u003e\n\u003cth scope=\"row\"\u003ePackage Contents\u003c\/th\u003e\n\u003ctd\u003e\n\u003cul\u003e\n\u003cli\u003eCreative Christmas Atmosphere Hanging Scroll × 1\u003c\/li\u003e\n\u003c\/ul\u003e\n\u003c\/td\u003e\n\u003c\/tr\u003e\n\u003c!-- END specification_one_package --\u003e \u003c!-- BEGIN specification_custom_attribute --\u003e\n\u003ctr\u003e\n\u003cth scope=\"row\"\u003ePattern\u003c\/th\u003e\n\u003ctd\u003eSanta Claus\/Snowman\/Elk\/Christmas Tree\/Elves\/Wreath\u003c\/td\u003e\n\u003c\/tr\u003e\n\u003c!-- END specification_custom_attribute --\u003e\n\u003c\/tbody\u003e\n\u003c\/table\u003e\n\u003c!-- BEGIN specification_size_img --\u003e \u003c!-- END specification_size_img --\u003e\n\u003c\/div\u003e\n\u003c!-- END specification --\u003e \u003c!-- BEGIN note --\u003e\n\u003cdiv class=\"listing-build-item\"\u003e\n\u003ch3\u003eNote\u003c\/h3\u003e\n\u003cul\u003e\n\u003cli\u003eDue to manual measurements, please allow slight measurement deviations.\u003c\/li\u003e\n\u003cli\u003eDue to the different display and lighting effects, the actual color of the item may be slightly different from the color displayed on the picture.\u003c\/li\u003e\n\u003c\/ul\u003e\n\u003c\/div\u003e\n\u003c!-- END note --\u003e\n\u003cstyle\u003e\u003c!--\n.listing-build-item table {\n width: 100% !important;\n margin: 5px 0 !important;\n border-collapse: collapse !important;\n table-layout: initial !important;\n }\n\n .listing-build-item table ul li,\n .listing-build-item table dl dd,\n .listing-build-item table dl dt {\n list-style:outside none !important;\n margin:0 !important;\n }\n\n .listing-build-item table ul,\n .listing-build-item table dl {\n margin-left: 0 !important;\n }\n\n .listing-build-item table tr\u003etd,\n .listing-build-item table tr\u003eth {\n padding: 10px 14px !important;\n font-size: 14px !important;\n border: 1px solid #cbcbcb !important;\n background-clip: padding-box !important;\n position: relative !important;\n letter-spacing:initial !important;\n text-align: left !important;\n }\n\n .listing-build-item table tr\u003eth {\n font-weight: 600 !important;\n }\n\n .listing-build-item h3 {\n color: #000 !important;\n font-size: 20px !important;\n font-weight: 600 !important;\n margin: 0 !important;\n padding: 10px 0 !important;\n text-align: left !important;\n }\n .listing-build-item table th,.listing-build-item h5{\n color:#000 !important;\n }\n\n .listing-build-item {\n margin-bottom: 30px !important;\n word-break: break-word !important;\n }\n\n .listing-build-item ul,\n .listing-build-item dl {\n margin: 0 !important;\n padding:0 !important;\n list-style:outside none !important\n }\n\n .listing-build-item .img-box {\n margin: 10px 0 !important;\n }\n\n .listing-build-item .img-box img {\n height: auto !important;\n max-width: 100% !important;\n margin: 0 auto !important;\n padding: 0 !important;\n display: block !important;\n }\n @media screen and (min-width: 992px){\n .listing-build-item table tr\u003eth {\n width: 180px !important;\n }\n }\n @media screen and (max-width: 750px){\n .listing-build-item table tr\u003eth {\n width: 100px !important;\n }\n }\n\n .listing-build-item tr:first-child th:after,\n .listing-build-item tr:first-child td:after {\n border: initial !important;\n }\n\n .listing-build-item ul\u003eli:last-child,\n .listing-build-item ul.features\u003eli:last-child,\n .listing-build-item ul\u003eli.package-row:last-child {\n margin-bottom: 0 !important;\n }\n .listing-build-item ul.features li,.listing-build-item ul li.package-row{\n margin-bottom:7px !important;\n }\n .listing-build-item h5{\n margin: 20px 0 5px 0 !important;\n font-weight: 600 !important;\n text-align: left !important;\n }\n .listing-build-item strong{\n font-weight: 600 !important;\n }\n--\u003e\u003c\/style\u003e"}
Creative Christmas Atmosphere Hanging Scroll(Christmas Hanging Flags)
Product Description
? Christmas is coming soon! ?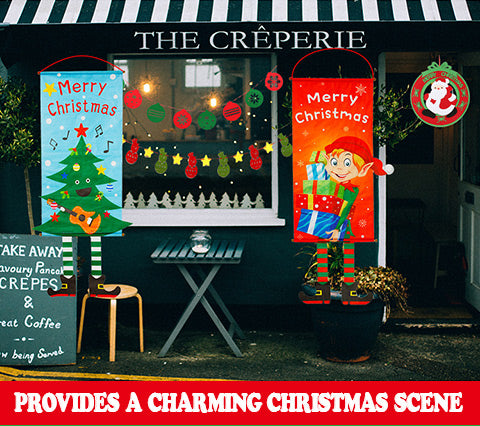 The decoration of classic elements is an indispensable part of the festival. Whether you are hosting a Christmas party or a Christmas event in a shopping mall, you need some exquisite decorations to enhance the atmosphere!

Main Features
?? [CLASSIC CHRISTMAS PATTERN] Santa Claus, snowman, elk, Christmas tree, elves, and wreath are all symbolic patterns of Christmas. As the perfect expression of the festive mood, their appearance means that Christmas is really here. Do you want to attract more customers? Get these decorations for your store now!

?? [HOME & GARDEN DECOR] Hang these Christmas decorations for your living room, balcony, backyard, and garden. It is a new Christmas theme park for children and makes guests feel satisfied.

?? [DURABLE MATERIAL] 100% high-quality and durable non-woven fabric, with weather resistance and UV resistance, it will not fade even in cold winter or high-intensity ultraviolet rays. They can accompany you through the long winter.

?? [EASY TO INSTALL] There is no difficulty in the installation process! You only need to use nails to hang the lanyard that comes with the roll in the desired position. The right length (115cm/45.3inches) makes it suitable for indoor and outdoor decoration.
Using Methods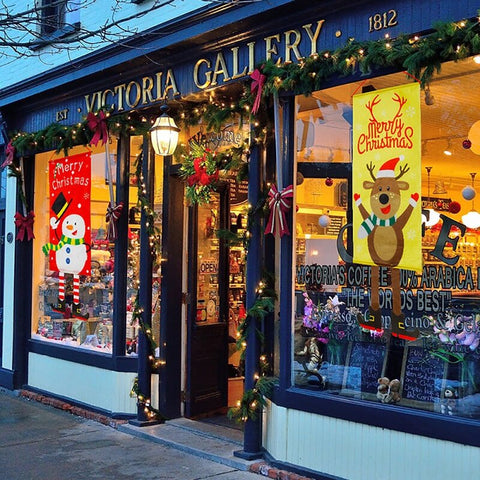 Specifications
Materials
Product Weight
Product Size
(L x W)

115 × 40 cm / 45.3 × 15.7 inches

Package Contents

Creative Christmas Atmosphere Hanging Scroll × 1

Pattern
Santa Claus/Snowman/Elk/Christmas Tree/Elves/Wreath
Note
Due to manual measurements, please allow slight measurement deviations.
Due to the different display and lighting effects, the actual color of the item may be slightly different from the color displayed on the picture.
Shipping:
We processes orders between Monday and Friday. Orders will be processed within 7 business days of ordering and shipped out the next day after the processing day. We don't ship on weekends.