{"id":7008443924644,"title":"Chalk Fabric Marker","handle":"chalk-fabric-marker","description":"\u003cp data-mce-fragment=\"1\"\u003e\u003cspan style=\"color: #ff8000;\"\u003e\u003cstrong\u003eThese chalk fabric makers are clearner and more precies than tailor's chalk, allowing you to produce very fine and precies chalk lines on different types of fabrics.\u003c\/strong\u003e\u003c\/span\u003e\u003c\/p\u003e\n\u003cp data-mce-fragment=\"1\"\u003e\u003cimg alt=\"\" src=\"https:\/\/cdn.shopifycdn.net\/s\/files\/1\/0589\/1440\/6575\/files\/00-00-02--00-00-06_480x480.gif?v=1632882012\" style=\"display: block; margin-left: auto; margin-right: auto;\"\u003e\u003c\/p\u003e\n\u003cp data-mce-fragment=\"1\"\u003e\u003cstrong data-mce-fragment=\"1\"\u003e\u003cb data-mce-fragment=\"1\"\u003eMAIN FEATURES\u003c\/b\u003e\u003c\/strong\u003e\u003c\/p\u003e\n\u003cp data-mce-fragment=\"1\"\u003e\u003cspan style=\"color: #ff8000;\"\u003e\u003cstrong data-mce-fragment=\"1\"\u003e\u003cb data-mce-fragment=\"1\"\u003e❥ [Fabric Markers]\u003c\/b\u003e\u003c\/strong\u003e\u003c\/span\u003e\u003c\/p\u003e\n\u003cp data-mce-fragment=\"1\"\u003e\u003cspan style=\"color: #1f4dc1;\"\u003e\u003cstrong\u003eMake temporary markings on clothing, sewing and other textile items.\u003c\/strong\u003e \u003c\/span\u003eThese fabric pens are \u003cspan style=\"color: #1f4dc1;\"\u003e\u003cstrong\u003ecleaner and more precise\u003c\/strong\u003e\u003c\/span\u003e than tailor's chalk, allowing you to make smooth markings to indicate changes or decoration locations.\u003c\/p\u003e\n\u003cp data-mce-fragment=\"1\"\u003e\u003cimg alt=\"\" src=\"https:\/\/cdn.shopifycdn.net\/s\/files\/1\/0589\/1440\/6575\/files\/02_6be8b300-6902-4045-8f6d-5172a4ce92f5_480x480.jpg?v=1632882307\" style=\"display: block; margin-left: auto; margin-right: auto;\"\u003e\u003c\/p\u003e\n\u003cp data-mce-fragment=\"1\"\u003e\u003cspan style=\"color: #ff8000;\"\u003e\u003cstrong data-mce-fragment=\"1\"\u003e\u003cb data-mce-fragment=\"1\"\u003e❥ [Metering Wheel Technology]\u003c\/b\u003e\u003c\/strong\u003e\u003c\/span\u003e\u003c\/p\u003e\n\u003cp data-mce-fragment=\"1\"\u003eIt can ensure that the chalk is \u003cspan style=\"color: #1f4dc1;\"\u003e\u003cstrong\u003eevenly distributed on the toothed metal wheel\u003c\/strong\u003e\u003c\/span\u003e. The sleek, pen barrel and small wheels \u003cspan style=\"color: #1f4dc1;\"\u003e\u003cstrong\u003egive you the flexibility to draw straight, curved or thin lines\u003c\/strong\u003e\u003c\/span\u003e, even on fabric types that are difficult to mark.\u003c\/p\u003e\n\u003cp data-mce-fragment=\"1\"\u003e\u003cimg alt=\"\" src=\"https:\/\/cdn.shopifycdn.net\/s\/files\/1\/0589\/1440\/6575\/files\/03_480x480.jpg?v=1632882334\" style=\"display: block; margin-left: auto; margin-right: auto;\"\u003e\u003c\/p\u003e\n\u003cp data-mce-fragment=\"1\"\u003e\u003cspan style=\"color: #ff8000;\"\u003e\u003cstrong data-mce-fragment=\"1\"\u003e\u003cb data-mce-fragment=\"1\"\u003e❥ [Compatible With All Fabrics]\u003c\/b\u003e\u003c\/strong\u003e\u003c\/span\u003e\u003c\/p\u003e\n\u003cp data-mce-fragment=\"1\"\u003eIncluding cotton, leather, suede and synthetic fibers, it can be rolled easily on knitted and knitted sweaters without dragging or hooking. \u003cspan style=\"color: #1f4dc1;\"\u003e\u003cstrong\u003eCan make accurate and obvious marks on the fabric.\u003c\/strong\u003e\u003c\/span\u003e\u003c\/p\u003e\n\u003cp data-mce-fragment=\"1\"\u003e\u003cspan style=\"color: #1f4dc1;\"\u003e\u003cstrong\u003e\u003cimg alt=\"\" src=\"https:\/\/cdn.shopifycdn.net\/s\/files\/1\/0589\/1440\/6575\/files\/04_a256869f-f806-428c-b07a-cc4c4e7faad4_480x480.jpg?v=1632882406\" style=\"display: block; margin-left: auto; margin-right: auto;\"\u003e\u003c\/strong\u003e\u003c\/span\u003e\u003c\/p\u003e\n\u003cp data-mce-fragment=\"1\"\u003e\u003cspan style=\"color: #ff8000;\"\u003e\u003cstrong data-mce-fragment=\"1\"\u003e\u003cb data-mce-fragment=\"1\"\u003e❥ [Fast And Convenient]\u003c\/b\u003e\u003c\/strong\u003e\u003c\/span\u003e\u003c\/p\u003e\n\u003cp data-mce-fragment=\"1\"\u003e\u003cspan style=\"color: #1f4dc1;\"\u003e\u003cstrong\u003eInadvertently rubbing or staining the lines with chalk on the fabric will not cause inaccurate sewing.\u003c\/strong\u003e\u003c\/span\u003e After assembly or modification, you can wipe the powder with your hands or with a damp cloth.\u003c\/p\u003e\n\u003cp data-mce-fragment=\"1\"\u003e\u003cimg alt=\"\" src=\"https:\/\/cdn.shopifycdn.net\/s\/files\/1\/0589\/1440\/6575\/files\/05_7cf547cc-4b3d-4585-a150-f79d2e84eee6_480x480.jpg?v=1632882436\" style=\"display: block; margin-left: auto; margin-right: auto;\"\u003e\u003c\/p\u003e\n\u003cp data-mce-fragment=\"1\"\u003e\u003cspan style=\"color: #ff8000;\"\u003e\u003cstrong data-mce-fragment=\"1\"\u003e\u003cb data-mce-fragment=\"1\"\u003e❥ [Sewing Assistant]\u003c\/b\u003e\u003c\/strong\u003e\u003c\/span\u003e\u003c\/p\u003e\n\u003cp data-mce-fragment=\"1\"\u003eOur sewing chalk is \u003cspan style=\"color: #1f4dc1;\"\u003e\u003cstrong\u003erefillable\u003c\/strong\u003e\u003c\/span\u003e and comes with a cap with a clip. \u003cspan style=\"color: #1f4dc1;\"\u003e\u003cstrong\u003eThe bottle cap can prevent damage to the metering wheel, prevent accidental marks,\u003c\/strong\u003e\u003c\/span\u003e and can be stored neatly, suitable for professional tailors, quilts and amateurs.\u003c\/p\u003e\n\u003cp data-mce-fragment=\"1\"\u003e\u003cstrong data-mce-fragment=\"1\"\u003e\u003cb data-mce-fragment=\"1\"\u003eSPECIFICATIONS\u003c\/b\u003e\u003c\/strong\u003e\u003c\/p\u003e\n\u003cp data-mce-fragment=\"1\"\u003eMaterial: Chalk powder\u003c\/p\u003e\n\u003cp data-mce-fragment=\"1\"\u003eColor: Random Color\u003c\/p\u003e\n\u003cp data-mce-fragment=\"1\"\u003eWeight: 27g\u003c\/p\u003e\n\u003cp data-mce-fragment=\"1\"\u003ePackage Includes: 1 x Chalk Fabric Marker\u003c\/p\u003e\n\u003cp data-mce-fragment=\"1\"\u003e \u003cimg src=\"https:\/\/cdn.shopifycdn.net\/s\/files\/1\/0589\/1440\/6575\/files\/08_468c3b9d-54bb-422d-a684-488b4960eb8c_480x480.jpg?v=1632882476\" alt=\"\" style=\"display: block; margin-left: auto; margin-right: auto;\" data-mce-fragment=\"1\" data-mce-src=\"https:\/\/cdn.shopifycdn.net\/s\/files\/1\/0589\/1440\/6575\/files\/08_468c3b9d-54bb-422d-a684-488b4960eb8c_480x480.jpg?v=1632882476\"\u003e\u003c\/p\u003e","published_at":"2021-09-29T11:11:37+08:00","created_at":"2021-09-29T11:11:38+08:00","vendor":"solegg","type":"Houseware \u0026 Kitchen","tags":[],"price":1299,"price_min":1299,"price_max":3897,"available":true,"price_varies":true,"compare_at_price":1999,"compare_at_price_min":1999,"compare_at_price_max":5997,"compare_at_price_varies":true,"variants":[{"id":41152852328612,"title":"1 PC","option1":"1 PC","option2":null,"option3":null,"sku":"LE32147822","requires_shipping":true,"taxable":false,"featured_image":null,"available":true,"name":"Chalk Fabric Marker - 1 PC","public_title":"1 PC","options":["1 PC"],"price":1299,"weight":0,"compare_at_price":1999,"inventory_management":null,"barcode":"","requires_selling_plan":false,"selling_plan_allocations":[]},{"id":41152855146660,"title":"Buy 2 Get 1 Free(3PCS)","option1":"Buy 2 Get 1 Free(3PCS)","option2":null,"option3":null,"sku":"LE32147822*3","requires_shipping":true,"taxable":false,"featured_image":null,"available":true,"name":"Chalk Fabric Marker - Buy 2 Get 1 Free(3PCS)","public_title":"Buy 2 Get 1 Free(3PCS)","options":["Buy 2 Get 1 Free(3PCS)"],"price":2598,"weight":0,"compare_at_price":3998,"inventory_management":null,"barcode":"","requires_selling_plan":false,"selling_plan_allocations":[]},{"id":41152858095780,"title":"Buy 3 Get 2 Free(3PCS)","option1":"Buy 3 Get 2 Free(3PCS)","option2":null,"option3":null,"sku":"LE32147822*5","requires_shipping":true,"taxable":false,"featured_image":null,"available":true,"name":"Chalk Fabric Marker - Buy 3 Get 2 Free(3PCS)","public_title":"Buy 3 Get 2 Free(3PCS)","options":["Buy 3 Get 2 Free(3PCS)"],"price":3897,"weight":0,"compare_at_price":5997,"inventory_management":null,"barcode":"","requires_selling_plan":false,"selling_plan_allocations":[]}],"images":["\/\/cdn.shopify.com\/s\/files\/1\/0508\/2592\/0676\/products\/01_0cd31675-bc0c-4edc-9d15-d8b3c28f9066.jpg?v=1632885098","\/\/cdn.shopify.com\/s\/files\/1\/0508\/2592\/0676\/products\/02_475fcc62-9c78-4b84-94df-2189d58cd864.jpg?v=1632885098","\/\/cdn.shopify.com\/s\/files\/1\/0508\/2592\/0676\/products\/03_166eef8d-b3d6-45f0-a69c-f5f019a4a11f.jpg?v=1632885098","\/\/cdn.shopify.com\/s\/files\/1\/0508\/2592\/0676\/products\/04_fd258333-6d51-4be9-8863-9c9d25034f86.jpg?v=1632885098","\/\/cdn.shopify.com\/s\/files\/1\/0508\/2592\/0676\/products\/05_5c4ddda8-d24e-472a-997f-effec020264b.jpg?v=1632885098","\/\/cdn.shopify.com\/s\/files\/1\/0508\/2592\/0676\/products\/06_391d96fc-3a10-4a01-8f89-d85ec20c96d0.jpg?v=1632885098","\/\/cdn.shopify.com\/s\/files\/1\/0508\/2592\/0676\/products\/07_4fe97d1c-3331-47e5-8e66-3852dfdef807.jpg?v=1632885098","\/\/cdn.shopify.com\/s\/files\/1\/0508\/2592\/0676\/products\/08_720fcfac-f37f-4df3-906b-1d595307ca0a.jpg?v=1632885098"],"featured_image":"\/\/cdn.shopify.com\/s\/files\/1\/0508\/2592\/0676\/products\/01_0cd31675-bc0c-4edc-9d15-d8b3c28f9066.jpg?v=1632885098","options":["Style"],"media":[{"alt":null,"id":23722320920740,"position":1,"preview_image":{"aspect_ratio":1.0,"height":800,"width":800,"src":"https:\/\/cdn.shopify.com\/s\/files\/1\/0508\/2592\/0676\/products\/01_0cd31675-bc0c-4edc-9d15-d8b3c28f9066.jpg?v=1632885098"},"aspect_ratio":1.0,"height":800,"media_type":"image","src":"https:\/\/cdn.shopify.com\/s\/files\/1\/0508\/2592\/0676\/products\/01_0cd31675-bc0c-4edc-9d15-d8b3c28f9066.jpg?v=1632885098","width":800},{"alt":null,"id":23722320953508,"position":2,"preview_image":{"aspect_ratio":1.0,"height":800,"width":800,"src":"https:\/\/cdn.shopify.com\/s\/files\/1\/0508\/2592\/0676\/products\/02_475fcc62-9c78-4b84-94df-2189d58cd864.jpg?v=1632885098"},"aspect_ratio":1.0,"height":800,"media_type":"image","src":"https:\/\/cdn.shopify.com\/s\/files\/1\/0508\/2592\/0676\/products\/02_475fcc62-9c78-4b84-94df-2189d58cd864.jpg?v=1632885098","width":800},{"alt":null,"id":23722320986276,"position":3,"preview_image":{"aspect_ratio":1.0,"height":800,"width":800,"src":"https:\/\/cdn.shopify.com\/s\/files\/1\/0508\/2592\/0676\/products\/03_166eef8d-b3d6-45f0-a69c-f5f019a4a11f.jpg?v=1632885098"},"aspect_ratio":1.0,"height":800,"media_type":"image","src":"https:\/\/cdn.shopify.com\/s\/files\/1\/0508\/2592\/0676\/products\/03_166eef8d-b3d6-45f0-a69c-f5f019a4a11f.jpg?v=1632885098","width":800},{"alt":null,"id":23722321019044,"position":4,"preview_image":{"aspect_ratio":1.0,"height":800,"width":800,"src":"https:\/\/cdn.shopify.com\/s\/files\/1\/0508\/2592\/0676\/products\/04_fd258333-6d51-4be9-8863-9c9d25034f86.jpg?v=1632885098"},"aspect_ratio":1.0,"height":800,"media_type":"image","src":"https:\/\/cdn.shopify.com\/s\/files\/1\/0508\/2592\/0676\/products\/04_fd258333-6d51-4be9-8863-9c9d25034f86.jpg?v=1632885098","width":800},{"alt":null,"id":23722321051812,"position":5,"preview_image":{"aspect_ratio":1.0,"height":800,"width":800,"src":"https:\/\/cdn.shopify.com\/s\/files\/1\/0508\/2592\/0676\/products\/05_5c4ddda8-d24e-472a-997f-effec020264b.jpg?v=1632885098"},"aspect_ratio":1.0,"height":800,"media_type":"image","src":"https:\/\/cdn.shopify.com\/s\/files\/1\/0508\/2592\/0676\/products\/05_5c4ddda8-d24e-472a-997f-effec020264b.jpg?v=1632885098","width":800},{"alt":null,"id":23722321084580,"position":6,"preview_image":{"aspect_ratio":1.0,"height":800,"width":800,"src":"https:\/\/cdn.shopify.com\/s\/files\/1\/0508\/2592\/0676\/products\/06_391d96fc-3a10-4a01-8f89-d85ec20c96d0.jpg?v=1632885098"},"aspect_ratio":1.0,"height":800,"media_type":"image","src":"https:\/\/cdn.shopify.com\/s\/files\/1\/0508\/2592\/0676\/products\/06_391d96fc-3a10-4a01-8f89-d85ec20c96d0.jpg?v=1632885098","width":800},{"alt":null,"id":23722321117348,"position":7,"preview_image":{"aspect_ratio":1.0,"height":800,"width":800,"src":"https:\/\/cdn.shopify.com\/s\/files\/1\/0508\/2592\/0676\/products\/07_4fe97d1c-3331-47e5-8e66-3852dfdef807.jpg?v=1632885098"},"aspect_ratio":1.0,"height":800,"media_type":"image","src":"https:\/\/cdn.shopify.com\/s\/files\/1\/0508\/2592\/0676\/products\/07_4fe97d1c-3331-47e5-8e66-3852dfdef807.jpg?v=1632885098","width":800},{"alt":null,"id":23722321150116,"position":8,"preview_image":{"aspect_ratio":1.0,"height":800,"width":800,"src":"https:\/\/cdn.shopify.com\/s\/files\/1\/0508\/2592\/0676\/products\/08_720fcfac-f37f-4df3-906b-1d595307ca0a.jpg?v=1632885098"},"aspect_ratio":1.0,"height":800,"media_type":"image","src":"https:\/\/cdn.shopify.com\/s\/files\/1\/0508\/2592\/0676\/products\/08_720fcfac-f37f-4df3-906b-1d595307ca0a.jpg?v=1632885098","width":800}],"requires_selling_plan":false,"selling_plan_groups":[],"content":"\u003cp data-mce-fragment=\"1\"\u003e\u003cspan style=\"color: #ff8000;\"\u003e\u003cstrong\u003eThese chalk fabric makers are clearner and more precies than tailor's chalk, allowing you to produce very fine and precies chalk lines on different types of fabrics.\u003c\/strong\u003e\u003c\/span\u003e\u003c\/p\u003e\n\u003cp data-mce-fragment=\"1\"\u003e\u003cimg alt=\"\" src=\"https:\/\/cdn.shopifycdn.net\/s\/files\/1\/0589\/1440\/6575\/files\/00-00-02--00-00-06_480x480.gif?v=1632882012\" style=\"display: block; margin-left: auto; margin-right: auto;\"\u003e\u003c\/p\u003e\n\u003cp data-mce-fragment=\"1\"\u003e\u003cstrong data-mce-fragment=\"1\"\u003e\u003cb data-mce-fragment=\"1\"\u003eMAIN FEATURES\u003c\/b\u003e\u003c\/strong\u003e\u003c\/p\u003e\n\u003cp data-mce-fragment=\"1\"\u003e\u003cspan style=\"color: #ff8000;\"\u003e\u003cstrong data-mce-fragment=\"1\"\u003e\u003cb data-mce-fragment=\"1\"\u003e❥ [Fabric Markers]\u003c\/b\u003e\u003c\/strong\u003e\u003c\/span\u003e\u003c\/p\u003e\n\u003cp data-mce-fragment=\"1\"\u003e\u003cspan style=\"color: #1f4dc1;\"\u003e\u003cstrong\u003eMake temporary markings on clothing, sewing and other textile items.\u003c\/strong\u003e \u003c\/span\u003eThese fabric pens are \u003cspan style=\"color: #1f4dc1;\"\u003e\u003cstrong\u003ecleaner and more precise\u003c\/strong\u003e\u003c\/span\u003e than tailor's chalk, allowing you to make smooth markings to indicate changes or decoration locations.\u003c\/p\u003e\n\u003cp data-mce-fragment=\"1\"\u003e\u003cimg alt=\"\" src=\"https:\/\/cdn.shopifycdn.net\/s\/files\/1\/0589\/1440\/6575\/files\/02_6be8b300-6902-4045-8f6d-5172a4ce92f5_480x480.jpg?v=1632882307\" style=\"display: block; margin-left: auto; margin-right: auto;\"\u003e\u003c\/p\u003e\n\u003cp data-mce-fragment=\"1\"\u003e\u003cspan style=\"color: #ff8000;\"\u003e\u003cstrong data-mce-fragment=\"1\"\u003e\u003cb data-mce-fragment=\"1\"\u003e❥ [Metering Wheel Technology]\u003c\/b\u003e\u003c\/strong\u003e\u003c\/span\u003e\u003c\/p\u003e\n\u003cp data-mce-fragment=\"1\"\u003eIt can ensure that the chalk is \u003cspan style=\"color: #1f4dc1;\"\u003e\u003cstrong\u003eevenly distributed on the toothed metal wheel\u003c\/strong\u003e\u003c\/span\u003e. The sleek, pen barrel and small wheels \u003cspan style=\"color: #1f4dc1;\"\u003e\u003cstrong\u003egive you the flexibility to draw straight, curved or thin lines\u003c\/strong\u003e\u003c\/span\u003e, even on fabric types that are difficult to mark.\u003c\/p\u003e\n\u003cp data-mce-fragment=\"1\"\u003e\u003cimg alt=\"\" src=\"https:\/\/cdn.shopifycdn.net\/s\/files\/1\/0589\/1440\/6575\/files\/03_480x480.jpg?v=1632882334\" style=\"display: block; margin-left: auto; margin-right: auto;\"\u003e\u003c\/p\u003e\n\u003cp data-mce-fragment=\"1\"\u003e\u003cspan style=\"color: #ff8000;\"\u003e\u003cstrong data-mce-fragment=\"1\"\u003e\u003cb data-mce-fragment=\"1\"\u003e❥ [Compatible With All Fabrics]\u003c\/b\u003e\u003c\/strong\u003e\u003c\/span\u003e\u003c\/p\u003e\n\u003cp data-mce-fragment=\"1\"\u003eIncluding cotton, leather, suede and synthetic fibers, it can be rolled easily on knitted and knitted sweaters without dragging or hooking. \u003cspan style=\"color: #1f4dc1;\"\u003e\u003cstrong\u003eCan make accurate and obvious marks on the fabric.\u003c\/strong\u003e\u003c\/span\u003e\u003c\/p\u003e\n\u003cp data-mce-fragment=\"1\"\u003e\u003cspan style=\"color: #1f4dc1;\"\u003e\u003cstrong\u003e\u003cimg alt=\"\" src=\"https:\/\/cdn.shopifycdn.net\/s\/files\/1\/0589\/1440\/6575\/files\/04_a256869f-f806-428c-b07a-cc4c4e7faad4_480x480.jpg?v=1632882406\" style=\"display: block; margin-left: auto; margin-right: auto;\"\u003e\u003c\/strong\u003e\u003c\/span\u003e\u003c\/p\u003e\n\u003cp data-mce-fragment=\"1\"\u003e\u003cspan style=\"color: #ff8000;\"\u003e\u003cstrong data-mce-fragment=\"1\"\u003e\u003cb data-mce-fragment=\"1\"\u003e❥ [Fast And Convenient]\u003c\/b\u003e\u003c\/strong\u003e\u003c\/span\u003e\u003c\/p\u003e\n\u003cp data-mce-fragment=\"1\"\u003e\u003cspan style=\"color: #1f4dc1;\"\u003e\u003cstrong\u003eInadvertently rubbing or staining the lines with chalk on the fabric will not cause inaccurate sewing.\u003c\/strong\u003e\u003c\/span\u003e After assembly or modification, you can wipe the powder with your hands or with a damp cloth.\u003c\/p\u003e\n\u003cp data-mce-fragment=\"1\"\u003e\u003cimg alt=\"\" src=\"https:\/\/cdn.shopifycdn.net\/s\/files\/1\/0589\/1440\/6575\/files\/05_7cf547cc-4b3d-4585-a150-f79d2e84eee6_480x480.jpg?v=1632882436\" style=\"display: block; margin-left: auto; margin-right: auto;\"\u003e\u003c\/p\u003e\n\u003cp data-mce-fragment=\"1\"\u003e\u003cspan style=\"color: #ff8000;\"\u003e\u003cstrong data-mce-fragment=\"1\"\u003e\u003cb data-mce-fragment=\"1\"\u003e❥ [Sewing Assistant]\u003c\/b\u003e\u003c\/strong\u003e\u003c\/span\u003e\u003c\/p\u003e\n\u003cp data-mce-fragment=\"1\"\u003eOur sewing chalk is \u003cspan style=\"color: #1f4dc1;\"\u003e\u003cstrong\u003erefillable\u003c\/strong\u003e\u003c\/span\u003e and comes with a cap with a clip. \u003cspan style=\"color: #1f4dc1;\"\u003e\u003cstrong\u003eThe bottle cap can prevent damage to the metering wheel, prevent accidental marks,\u003c\/strong\u003e\u003c\/span\u003e and can be stored neatly, suitable for professional tailors, quilts and amateurs.\u003c\/p\u003e\n\u003cp data-mce-fragment=\"1\"\u003e\u003cstrong data-mce-fragment=\"1\"\u003e\u003cb data-mce-fragment=\"1\"\u003eSPECIFICATIONS\u003c\/b\u003e\u003c\/strong\u003e\u003c\/p\u003e\n\u003cp data-mce-fragment=\"1\"\u003eMaterial: Chalk powder\u003c\/p\u003e\n\u003cp data-mce-fragment=\"1\"\u003eColor: Random Color\u003c\/p\u003e\n\u003cp data-mce-fragment=\"1\"\u003eWeight: 27g\u003c\/p\u003e\n\u003cp data-mce-fragment=\"1\"\u003ePackage Includes: 1 x Chalk Fabric Marker\u003c\/p\u003e\n\u003cp data-mce-fragment=\"1\"\u003e \u003cimg src=\"https:\/\/cdn.shopifycdn.net\/s\/files\/1\/0589\/1440\/6575\/files\/08_468c3b9d-54bb-422d-a684-488b4960eb8c_480x480.jpg?v=1632882476\" alt=\"\" style=\"display: block; margin-left: auto; margin-right: auto;\" data-mce-fragment=\"1\" data-mce-src=\"https:\/\/cdn.shopifycdn.net\/s\/files\/1\/0589\/1440\/6575\/files\/08_468c3b9d-54bb-422d-a684-488b4960eb8c_480x480.jpg?v=1632882476\"\u003e\u003c\/p\u003e"}
Chalk Fabric Marker
Product Description
These chalk fabric makers are clearner and more precies than tailor's chalk, allowing you to produce very fine and precies chalk lines on different types of fabrics.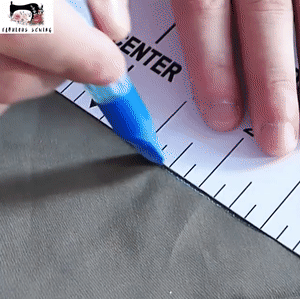 MAIN FEATURES
❥ [Fabric Markers]
Make temporary markings on clothing, sewing and other textile items. These fabric pens are cleaner and more precise than tailor's chalk, allowing you to make smooth markings to indicate changes or decoration locations.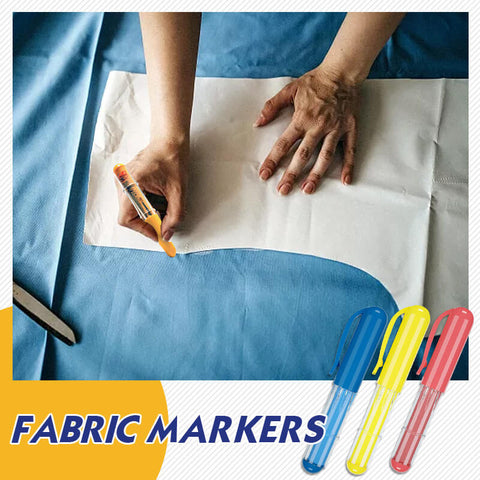 ❥ [Metering Wheel Technology]
It can ensure that the chalk is evenly distributed on the toothed metal wheel. The sleek, pen barrel and small wheels give you the flexibility to draw straight, curved or thin lines, even on fabric types that are difficult to mark.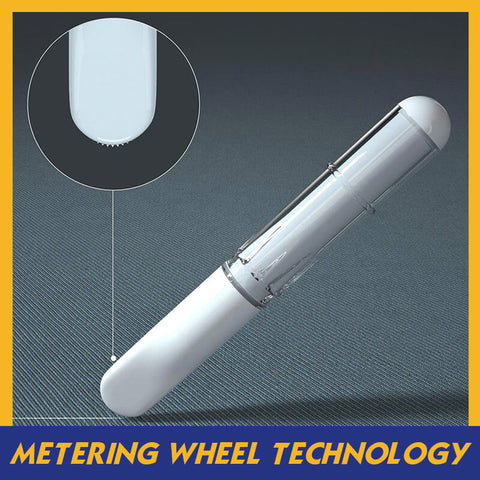 ❥ [Compatible With All Fabrics]
Including cotton, leather, suede and synthetic fibers, it can be rolled easily on knitted and knitted sweaters without dragging or hooking. Can make accurate and obvious marks on the fabric.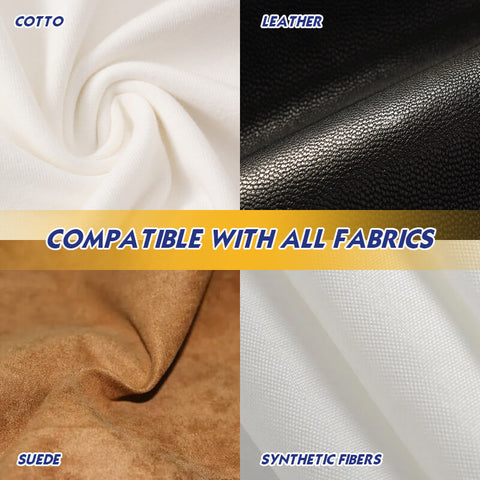 ❥ [Fast And Convenient]
Inadvertently rubbing or staining the lines with chalk on the fabric will not cause inaccurate sewing. After assembly or modification, you can wipe the powder with your hands or with a damp cloth.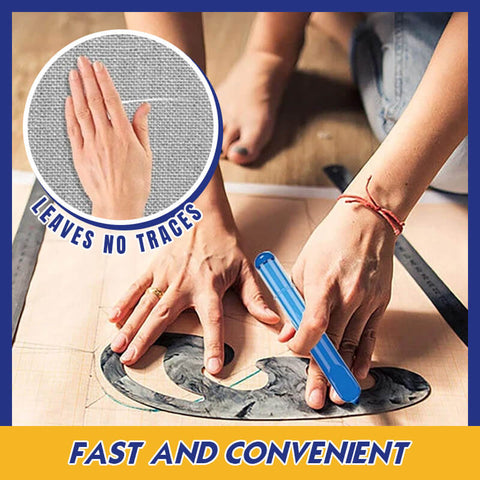 ❥ [Sewing Assistant]
Our sewing chalk is refillable and comes with a cap with a clip. The bottle cap can prevent damage to the metering wheel, prevent accidental marks, and can be stored neatly, suitable for professional tailors, quilts and amateurs.
SPECIFICATIONS
Material: Chalk powder
Color: Random Color
Weight: 27g
Package Includes: 1 x Chalk Fabric Marker
Shipping:
We processes orders between Monday and Friday. Orders will be processed within 7 business days of ordering and shipped out the next day after the processing day. We don't ship on weekends.