{"id":5951996068004,"title":"Bowknot Hair Ribbon","handle":"bowknot-hair-ribbon","description":"\u003c!-- Build time: 2020-12-28 14:58:33 --\u003e\n\u003cstyle\u003e\u003c!--\n.listing-build-item table {\n width: 100% !important;\n margin: 5px 0 !important;\n border-collapse: collapse !important;\n table-layout: initial !important;\n }\n\n .listing-build-item table ul li,\n .listing-build-item table dl dd,\n .listing-build-item table dl dt {\n list-style:outside none !important;\n margin:0 !important;\n }\n\n .listing-build-item table ul,\n .listing-build-item table dl {\n margin-left: 0 !important;\n }\n\n .listing-build-item table tr\u003etd,\n .listing-build-item table tr\u003eth {\n padding: 10px 14px !important;\n font-size: 14px !important;\n border: 1px solid #cbcbcb !important;\n background-clip: padding-box !important;\n position: relative !important;\n letter-spacing:initial !important;\n text-align: left !important;\n }\n\n .listing-build-item table tr\u003eth {\n font-weight: 600 !important;\n }\n\n .listing-build-item h3 {\n color: #000 !important;\n font-size: 20px !important;\n font-weight: 600 !important;\n margin: 0 !important;\n padding: 10px 0 !important;\n text-align: left !important;\n }\n .listing-build-item table th,.listing-build-item h5{\n color:#000 !important;\n }\n\n .listing-build-item {\n margin-bottom: 30px !important;\n word-break: break-word !important;\n }\n\n .listing-build-item ul,\n .listing-build-item dl {\n margin: 0 !important;\n padding:0 !important;\n list-style:outside none !important\n }\n\n .listing-build-item .img-box {\n margin: 10px 0 !important;\n }\n\n .listing-build-item .img-box img {\n height: auto !important;\n max-width: 100% !important;\n margin: 0 auto !important;\n padding: 0 !important;\n display: block !important;\n }\n @media screen and (min-width: 992px){\n .listing-build-item table tr\u003eth {\n width: 180px !important;\n }\n }\n @media screen and (max-width: 750px){\n .listing-build-item table tr\u003eth {\n width: 100px !important;\n }\n }\n\n .listing-build-item tr:first-child th:after,\n .listing-build-item tr:first-child td:after {\n border: initial !important;\n }\n\n .listing-build-item ul\u003eli:last-child,\n .listing-build-item ul.features\u003eli:last-child,\n .listing-build-item ul\u003eli.package-row:last-child {\n margin-bottom: 0 !important;\n }\n .listing-build-item ul.features li,.listing-build-item ul li.package-row{\n margin-bottom:7px !important;\n }\n .listing-build-item h5{\n margin: 20px 0 5px 0 !important;\n font-weight: 600 !important;\n text-align: left !important;\n }\n .listing-build-item strong{\n font-weight: 600 !important;\n }\n--\u003e\u003c\/style\u003e\n\u003c!-- BEGIN Descriptions --\u003e\n\u003cdiv class=\"listing-build-item\"\u003e\n\u003cul\u003e\n\u003cli style=\"text-align: center;\" class=\"text\"\u003e\n\u003cstrong\u003eA\u003cspan style=\"color: #00aaff;\"\u003e clip-on \u003cem\u003eBowknot Hair Ribbon\u003c\/em\u003e\u003c\/span\u003e that makes you look more elegant and cute!\u003c\/strong\u003e\u003cbr\u003e\n\u003c\/li\u003e\n\u003cli style=\"text-align: center;\" class=\"text\"\u003e\u003cimg alt=\"\" src=\"https:\/\/cdn.shopifycdn.net\/s\/files\/1\/0082\/9148\/3738\/files\/D1_240x240.gif?v=1609150427\"\u003e\u003c\/li\u003e\n\u003c\/ul\u003e\n\u003c\/div\u003e\n\u003c!-- END Descriptions --\u003e \u003c!-- BEGIN features --\u003e\n\u003ch3\u003eMain Features\u003c\/h3\u003e\n\u003cul class=\"features\"\u003e\n\u003cli\u003e\n\u003cp\u003e\u003cspan style=\"color: #00aaff;\"\u003e\u003cstrong\u003e[Suitable For Various Hairstyles] \u003c\/strong\u003e\u003c\/span\u003eThe hair ribbon is suitable for all hair types, whether your hair is curly or straight, thick or thin, suitable for many hairstyles such as a bun, a knot, a half knot, a ponytail, a braid\\braids and so on.\u003c\/p\u003e\n\u003c\/li\u003e\n\u003cli\u003e\n\u003cp\u003e\u003cspan style=\"color: #00aaff;\"\u003e\u003cstrong\u003e[Cuttable Length \u0026amp; Easy To Wear] \u003c\/strong\u003e\u003c\/span\u003eActually, this is a hairpin, it is easy to wear and can stay in place. Besides, you can cut the ribbon to the length you want, suitable for all kinds of hair long people wear.\u003c\/p\u003e\n\u003c\/li\u003e\n\u003c\/ul\u003e\n\u003cp\u003e\u003cimg alt=\"\" src=\"https:\/\/cdn.shopifycdn.net\/s\/files\/1\/0082\/9148\/3738\/files\/D2_240x240.gif?v=1609150475\" style=\"display: block; margin-left: auto; margin-right: auto;\"\u003e\u003c\/p\u003e\n\u003cul class=\"features\"\u003e\n\u003cli\u003e\n\u003cp\u003e\u003cstrong\u003e\u003cspan style=\"color: #00aaff;\"\u003e[7 Colors \u0026amp; Occasion]\u003c\/span\u003e \u003c\/strong\u003e7 classic colors bowknot hair ribbon can go with any kind of clothing and occasions, birthday, party, or beach vacation. And also it is a perfect gift for girls. You could DIY any hairstyle just you want and attending parties, ceremonies, and daily wearing, which make you look more charming.\u003c\/p\u003e\n\u003c\/li\u003e\n\u003cli\u003e\n\u003cp\u003e\u003cstrong\u003e\u003cspan style=\"color: #00aaff;\"\u003e[Durable Material]\u003c\/span\u003e \u003c\/strong\u003eThey are made of polyester material, durable, and skin-friendly. The fabric is nice so it lays pretty instead of being stiff and looking all wonky. Soft and smooth texture, will not damage the hair.\u003c\/p\u003e\n\u003c\/li\u003e\n\u003c\/ul\u003e\n\u003c!-- END features --\u003e \u003c!-- BEGIN Using Method --\u003e\n\u003cdiv class=\"listing-build-item\"\u003e\n\u003ch3\u003e\u003cimg style=\"display: block; margin-left: auto; margin-right: auto;\" src=\"https:\/\/cdn.shopifycdn.net\/s\/files\/1\/0082\/9148\/3738\/files\/266ECFA8-3130-4973-A829-F00A510A4BF6_480x480.jpg?v=1609139283\" alt=\"\"\u003e\u003c\/h3\u003e\n\u003cul\u003e\u003c\/ul\u003e\n\u003c\/div\u003e\n\u003c!-- END Using Method --\u003e \u003c!-- BEGIN usage_scene --\u003e \u003c!-- END usage_scene --\u003e \u003c!-- BEGIN specification --\u003e\n\u003cdiv class=\"listing-build-item\"\u003e\n\u003ch3\u003eSpecifications\u003c\/h3\u003e\n\u003ctable\u003e\n\u003c!-- BEGIN specification_material --\u003e \u003c!-- END specification_material --\u003e \u003c!-- BEGIN specification_weight --\u003e\n\u003ctbody\u003e\n\u003ctr\u003e\n\u003cth scope=\"row\"\u003eProduct Weight\u003c\/th\u003e\n\u003ctd\u003e\n\u003cul\u003e\n\u003cli\u003e10G\u003c\/li\u003e\n\u003c\/ul\u003e\n\u003c\/td\u003e\n\u003c\/tr\u003e\n\u003c!-- END specification_weight --\u003e \u003c!-- BEGIN specification_size --\u003e\n\u003ctr\u003e\n\u003cth scope=\"row\"\u003ePackage Size\u003cbr\u003e (L x W x H)\u003c\/th\u003e\n\u003ctd\u003e\n\u003cul\u003e\n\u003cli\u003e10 × 10 × 2CM\u003c\/li\u003e\n\u003c\/ul\u003e\n\u003c\/td\u003e\n\u003c\/tr\u003e\n\u003ctr\u003e\n\u003cth scope=\"row\"\u003eRibbon Length (Bowknot Not Included)\u003c\/th\u003e\n\u003ctd\u003e38CM\u003c\/td\u003e\n\u003c\/tr\u003e\n\u003c!-- END specification_size --\u003e \u003c!-- BEGIN specification_many_package --\u003e\n\u003ctr\u003e\n\u003cth scope=\"row\"\u003ePackage Contents\u003c\/th\u003e\n\u003ctd\u003e\n\u003cul\u003e\n\u003cli\u003eBowknot hair ribbon × 1\u003c\/li\u003e\n\u003c\/ul\u003e\n\u003c\/td\u003e\n\u003c\/tr\u003e\n\u003c!-- END specification_one_package --\u003e \u003c!-- BEGIN specification_custom_attribute --\u003e\n\u003ctr\u003e\n\u003cth scope=\"row\"\u003eColor\u003c\/th\u003e\n\u003ctd\u003eWine red, blue, light purple, pink, ice blue, gray, red\u003c\/td\u003e\n\u003c\/tr\u003e\n\u003ctr\u003e\n\u003cth scope=\"row\"\u003eMaterial\u003c\/th\u003e\n\u003ctd\u003ePolyester\u003c\/td\u003e\n\u003c\/tr\u003e\n\u003c!-- END specification_custom_attribute --\u003e\n\u003c\/tbody\u003e\n\u003c\/table\u003e\n\u003c!-- BEGIN specification_size_img --\u003e \u003c!-- END specification_size_img --\u003e\n\u003c\/div\u003e\n\u003c!-- END specification --\u003e \u003c!-- BEGIN note --\u003e\n\u003ch3\u003eNote\u003c\/h3\u003e\n\u003cul\u003e\n\u003cli\u003eDue to the different display and lighting effects, the actual color of the item may be slightly different from the color displayed in the picture.\u003c\/li\u003e\n\u003cli\u003eDue to manual measurements, please allow slight measurement deviations.\u003c\/li\u003e\n\u003c\/ul\u003e\n\u003c!-- END note --\u003e","published_at":"2020-12-29T16:50:40+08:00","created_at":"2020-12-29T16:50:40+08:00","vendor":"solegg","type":"Beauty \u0026 Health","tags":[],"price":999,"price_min":999,"price_max":999,"available":true,"price_varies":false,"compare_at_price":1998,"compare_at_price_min":1998,"compare_at_price_max":1998,"compare_at_price_varies":false,"variants":[{"id":37333854584996,"title":"Blue","option1":"Blue","option2":null,"option3":null,"sku":"LG22043388KQL","requires_shipping":true,"taxable":false,"featured_image":{"id":21430341140644,"product_id":5951996068004,"position":1,"created_at":"2020-12-29T16:50:40+08:00","updated_at":"2020-12-29T16:50:40+08:00","alt":null,"width":750,"height":750,"src":"https:\/\/cdn.shopify.com\/s\/files\/1\/0508\/2592\/0676\/products\/Bowknot-Hair-Ribbon_01.gif?v=1609231840","variant_ids":[37333854584996]},"available":true,"name":"Bowknot Hair Ribbon - Blue","public_title":"Blue","options":["Blue"],"price":999,"weight":0,"compare_at_price":1998,"inventory_management":null,"barcode":null,"featured_media":{"alt":null,"id":13606555189412,"position":1,"preview_image":{"aspect_ratio":1.0,"height":750,"width":750,"src":"https:\/\/cdn.shopify.com\/s\/files\/1\/0508\/2592\/0676\/products\/Bowknot-Hair-Ribbon_01.gif?v=1609231840"}},"requires_selling_plan":false,"selling_plan_allocations":[]},{"id":37333854617764,"title":"Wine Red","option1":"Wine Red","option2":null,"option3":null,"sku":"LG22043388JHS","requires_shipping":true,"taxable":false,"featured_image":{"id":21430341173412,"product_id":5951996068004,"position":2,"created_at":"2020-12-29T16:50:40+08:00","updated_at":"2020-12-29T16:50:40+08:00","alt":null,"width":800,"height":800,"src":"https:\/\/cdn.shopify.com\/s\/files\/1\/0508\/2592\/0676\/products\/Bowknot-Hair-Ribbon_02.jpg?v=1609231840","variant_ids":[37333854617764]},"available":true,"name":"Bowknot Hair Ribbon - Wine Red","public_title":"Wine Red","options":["Wine Red"],"price":999,"weight":0,"compare_at_price":1998,"inventory_management":null,"barcode":null,"featured_media":{"alt":null,"id":13606555222180,"position":2,"preview_image":{"aspect_ratio":1.0,"height":800,"width":800,"src":"https:\/\/cdn.shopify.com\/s\/files\/1\/0508\/2592\/0676\/products\/Bowknot-Hair-Ribbon_02.jpg?v=1609231840"}},"requires_selling_plan":false,"selling_plan_allocations":[]},{"id":37333854650532,"title":"Light Purple","option1":"Light Purple","option2":null,"option3":null,"sku":"LG22043388ZSQ","requires_shipping":true,"taxable":false,"featured_image":{"id":21430341206180,"product_id":5951996068004,"position":3,"created_at":"2020-12-29T16:50:40+08:00","updated_at":"2020-12-29T16:50:40+08:00","alt":null,"width":800,"height":800,"src":"https:\/\/cdn.shopify.com\/s\/files\/1\/0508\/2592\/0676\/products\/Bowknot-Hair-Ribbon_07.jpg?v=1609231840","variant_ids":[37333854650532]},"available":true,"name":"Bowknot Hair Ribbon - Light Purple","public_title":"Light Purple","options":["Light Purple"],"price":999,"weight":0,"compare_at_price":1998,"inventory_management":null,"barcode":null,"featured_media":{"alt":null,"id":13606555287716,"position":3,"preview_image":{"aspect_ratio":1.0,"height":800,"width":800,"src":"https:\/\/cdn.shopify.com\/s\/files\/1\/0508\/2592\/0676\/products\/Bowknot-Hair-Ribbon_07.jpg?v=1609231840"}},"requires_selling_plan":false,"selling_plan_allocations":[]},{"id":37333854683300,"title":"Pink","option1":"Pink","option2":null,"option3":null,"sku":"LG22043388FEN","requires_shipping":true,"taxable":false,"featured_image":{"id":21430341238948,"product_id":5951996068004,"position":4,"created_at":"2020-12-29T16:50:40+08:00","updated_at":"2020-12-29T16:50:40+08:00","alt":null,"width":800,"height":800,"src":"https:\/\/cdn.shopify.com\/s\/files\/1\/0508\/2592\/0676\/products\/Bowknot-Hair-Ribbon_04.jpg?v=1609231840","variant_ids":[37333854683300]},"available":true,"name":"Bowknot Hair Ribbon - Pink","public_title":"Pink","options":["Pink"],"price":999,"weight":0,"compare_at_price":1998,"inventory_management":null,"barcode":null,"featured_media":{"alt":null,"id":13606555353252,"position":4,"preview_image":{"aspect_ratio":1.0,"height":800,"width":800,"src":"https:\/\/cdn.shopify.com\/s\/files\/1\/0508\/2592\/0676\/products\/Bowknot-Hair-Ribbon_04.jpg?v=1609231840"}},"requires_selling_plan":false,"selling_plan_allocations":[]},{"id":37333854716068,"title":"Ice Blue","option1":"Ice Blue","option2":null,"option3":null,"sku":"LG22043388LAN","requires_shipping":true,"taxable":false,"featured_image":{"id":21430341337252,"product_id":5951996068004,"position":7,"created_at":"2020-12-29T16:50:40+08:00","updated_at":"2020-12-29T16:50:40+08:00","alt":null,"width":800,"height":800,"src":"https:\/\/cdn.shopify.com\/s\/files\/1\/0508\/2592\/0676\/products\/Bowknot-Hair-Ribbon_05.jpg?v=1609231840","variant_ids":[37333854716068]},"available":true,"name":"Bowknot Hair Ribbon - Ice Blue","public_title":"Ice Blue","options":["Ice Blue"],"price":999,"weight":0,"compare_at_price":1998,"inventory_management":null,"barcode":null,"featured_media":{"alt":null,"id":13606555451556,"position":7,"preview_image":{"aspect_ratio":1.0,"height":800,"width":800,"src":"https:\/\/cdn.shopify.com\/s\/files\/1\/0508\/2592\/0676\/products\/Bowknot-Hair-Ribbon_05.jpg?v=1609231840"}},"requires_selling_plan":false,"selling_plan_allocations":[]},{"id":37333854748836,"title":"Gray","option1":"Gray","option2":null,"option3":null,"sku":"LG22043388HUI","requires_shipping":true,"taxable":false,"featured_image":{"id":21430341370020,"product_id":5951996068004,"position":8,"created_at":"2020-12-29T16:50:40+08:00","updated_at":"2020-12-29T16:50:40+08:00","alt":null,"width":800,"height":800,"src":"https:\/\/cdn.shopify.com\/s\/files\/1\/0508\/2592\/0676\/products\/Bowknot-Hair-Ribbon_03.jpg?v=1609231840","variant_ids":[37333854748836]},"available":true,"name":"Bowknot Hair Ribbon - Gray","public_title":"Gray","options":["Gray"],"price":999,"weight":0,"compare_at_price":1998,"inventory_management":null,"barcode":null,"featured_media":{"alt":null,"id":13606555517092,"position":8,"preview_image":{"aspect_ratio":1.0,"height":800,"width":800,"src":"https:\/\/cdn.shopify.com\/s\/files\/1\/0508\/2592\/0676\/products\/Bowknot-Hair-Ribbon_03.jpg?v=1609231840"}},"requires_selling_plan":false,"selling_plan_allocations":[]},{"id":37333854781604,"title":"Red","option1":"Red","option2":null,"option3":null,"sku":"LG22043388XGH","requires_shipping":true,"taxable":false,"featured_image":{"id":21430341304484,"product_id":5951996068004,"position":6,"created_at":"2020-12-29T16:50:40+08:00","updated_at":"2020-12-29T16:50:40+08:00","alt":null,"width":800,"height":800,"src":"https:\/\/cdn.shopify.com\/s\/files\/1\/0508\/2592\/0676\/products\/Bowknot-Hair-Ribbon_06.jpg?v=1609231840","variant_ids":[37333854781604]},"available":true,"name":"Bowknot Hair Ribbon - Red","public_title":"Red","options":["Red"],"price":999,"weight":0,"compare_at_price":1998,"inventory_management":null,"barcode":null,"featured_media":{"alt":null,"id":13606555418788,"position":6,"preview_image":{"aspect_ratio":1.0,"height":800,"width":800,"src":"https:\/\/cdn.shopify.com\/s\/files\/1\/0508\/2592\/0676\/products\/Bowknot-Hair-Ribbon_06.jpg?v=1609231840"}},"requires_selling_plan":false,"selling_plan_allocations":[]}],"images":["\/\/cdn.shopify.com\/s\/files\/1\/0508\/2592\/0676\/products\/Bowknot-Hair-Ribbon_01.gif?v=1609231840","\/\/cdn.shopify.com\/s\/files\/1\/0508\/2592\/0676\/products\/Bowknot-Hair-Ribbon_02.jpg?v=1609231840","\/\/cdn.shopify.com\/s\/files\/1\/0508\/2592\/0676\/products\/Bowknot-Hair-Ribbon_07.jpg?v=1609231840","\/\/cdn.shopify.com\/s\/files\/1\/0508\/2592\/0676\/products\/Bowknot-Hair-Ribbon_04.jpg?v=1609231840","\/\/cdn.shopify.com\/s\/files\/1\/0508\/2592\/0676\/products\/Bowknot-Hair-Ribbon_08.jpg?v=1609231840","\/\/cdn.shopify.com\/s\/files\/1\/0508\/2592\/0676\/products\/Bowknot-Hair-Ribbon_06.jpg?v=1609231840","\/\/cdn.shopify.com\/s\/files\/1\/0508\/2592\/0676\/products\/Bowknot-Hair-Ribbon_05.jpg?v=1609231840","\/\/cdn.shopify.com\/s\/files\/1\/0508\/2592\/0676\/products\/Bowknot-Hair-Ribbon_03.jpg?v=1609231840"],"featured_image":"\/\/cdn.shopify.com\/s\/files\/1\/0508\/2592\/0676\/products\/Bowknot-Hair-Ribbon_01.gif?v=1609231840","options":["Color"],"media":[{"alt":null,"id":13606555189412,"position":1,"preview_image":{"aspect_ratio":1.0,"height":750,"width":750,"src":"https:\/\/cdn.shopify.com\/s\/files\/1\/0508\/2592\/0676\/products\/Bowknot-Hair-Ribbon_01.gif?v=1609231840"},"aspect_ratio":1.0,"height":750,"media_type":"image","src":"https:\/\/cdn.shopify.com\/s\/files\/1\/0508\/2592\/0676\/products\/Bowknot-Hair-Ribbon_01.gif?v=1609231840","width":750},{"alt":null,"id":13606555222180,"position":2,"preview_image":{"aspect_ratio":1.0,"height":800,"width":800,"src":"https:\/\/cdn.shopify.com\/s\/files\/1\/0508\/2592\/0676\/products\/Bowknot-Hair-Ribbon_02.jpg?v=1609231840"},"aspect_ratio":1.0,"height":800,"media_type":"image","src":"https:\/\/cdn.shopify.com\/s\/files\/1\/0508\/2592\/0676\/products\/Bowknot-Hair-Ribbon_02.jpg?v=1609231840","width":800},{"alt":null,"id":13606555287716,"position":3,"preview_image":{"aspect_ratio":1.0,"height":800,"width":800,"src":"https:\/\/cdn.shopify.com\/s\/files\/1\/0508\/2592\/0676\/products\/Bowknot-Hair-Ribbon_07.jpg?v=1609231840"},"aspect_ratio":1.0,"height":800,"media_type":"image","src":"https:\/\/cdn.shopify.com\/s\/files\/1\/0508\/2592\/0676\/products\/Bowknot-Hair-Ribbon_07.jpg?v=1609231840","width":800},{"alt":null,"id":13606555353252,"position":4,"preview_image":{"aspect_ratio":1.0,"height":800,"width":800,"src":"https:\/\/cdn.shopify.com\/s\/files\/1\/0508\/2592\/0676\/products\/Bowknot-Hair-Ribbon_04.jpg?v=1609231840"},"aspect_ratio":1.0,"height":800,"media_type":"image","src":"https:\/\/cdn.shopify.com\/s\/files\/1\/0508\/2592\/0676\/products\/Bowknot-Hair-Ribbon_04.jpg?v=1609231840","width":800},{"alt":null,"id":13606555386020,"position":5,"preview_image":{"aspect_ratio":1.0,"height":800,"width":800,"src":"https:\/\/cdn.shopify.com\/s\/files\/1\/0508\/2592\/0676\/products\/Bowknot-Hair-Ribbon_08.jpg?v=1609231840"},"aspect_ratio":1.0,"height":800,"media_type":"image","src":"https:\/\/cdn.shopify.com\/s\/files\/1\/0508\/2592\/0676\/products\/Bowknot-Hair-Ribbon_08.jpg?v=1609231840","width":800},{"alt":null,"id":13606555418788,"position":6,"preview_image":{"aspect_ratio":1.0,"height":800,"width":800,"src":"https:\/\/cdn.shopify.com\/s\/files\/1\/0508\/2592\/0676\/products\/Bowknot-Hair-Ribbon_06.jpg?v=1609231840"},"aspect_ratio":1.0,"height":800,"media_type":"image","src":"https:\/\/cdn.shopify.com\/s\/files\/1\/0508\/2592\/0676\/products\/Bowknot-Hair-Ribbon_06.jpg?v=1609231840","width":800},{"alt":null,"id":13606555451556,"position":7,"preview_image":{"aspect_ratio":1.0,"height":800,"width":800,"src":"https:\/\/cdn.shopify.com\/s\/files\/1\/0508\/2592\/0676\/products\/Bowknot-Hair-Ribbon_05.jpg?v=1609231840"},"aspect_ratio":1.0,"height":800,"media_type":"image","src":"https:\/\/cdn.shopify.com\/s\/files\/1\/0508\/2592\/0676\/products\/Bowknot-Hair-Ribbon_05.jpg?v=1609231840","width":800},{"alt":null,"id":13606555517092,"position":8,"preview_image":{"aspect_ratio":1.0,"height":800,"width":800,"src":"https:\/\/cdn.shopify.com\/s\/files\/1\/0508\/2592\/0676\/products\/Bowknot-Hair-Ribbon_03.jpg?v=1609231840"},"aspect_ratio":1.0,"height":800,"media_type":"image","src":"https:\/\/cdn.shopify.com\/s\/files\/1\/0508\/2592\/0676\/products\/Bowknot-Hair-Ribbon_03.jpg?v=1609231840","width":800}],"requires_selling_plan":false,"selling_plan_groups":[],"content":"\u003c!-- Build time: 2020-12-28 14:58:33 --\u003e\n\u003cstyle\u003e\u003c!--\n.listing-build-item table {\n width: 100% !important;\n margin: 5px 0 !important;\n border-collapse: collapse !important;\n table-layout: initial !important;\n }\n\n .listing-build-item table ul li,\n .listing-build-item table dl dd,\n .listing-build-item table dl dt {\n list-style:outside none !important;\n margin:0 !important;\n }\n\n .listing-build-item table ul,\n .listing-build-item table dl {\n margin-left: 0 !important;\n }\n\n .listing-build-item table tr\u003etd,\n .listing-build-item table tr\u003eth {\n padding: 10px 14px !important;\n font-size: 14px !important;\n border: 1px solid #cbcbcb !important;\n background-clip: padding-box !important;\n position: relative !important;\n letter-spacing:initial !important;\n text-align: left !important;\n }\n\n .listing-build-item table tr\u003eth {\n font-weight: 600 !important;\n }\n\n .listing-build-item h3 {\n color: #000 !important;\n font-size: 20px !important;\n font-weight: 600 !important;\n margin: 0 !important;\n padding: 10px 0 !important;\n text-align: left !important;\n }\n .listing-build-item table th,.listing-build-item h5{\n color:#000 !important;\n }\n\n .listing-build-item {\n margin-bottom: 30px !important;\n word-break: break-word !important;\n }\n\n .listing-build-item ul,\n .listing-build-item dl {\n margin: 0 !important;\n padding:0 !important;\n list-style:outside none !important\n }\n\n .listing-build-item .img-box {\n margin: 10px 0 !important;\n }\n\n .listing-build-item .img-box img {\n height: auto !important;\n max-width: 100% !important;\n margin: 0 auto !important;\n padding: 0 !important;\n display: block !important;\n }\n @media screen and (min-width: 992px){\n .listing-build-item table tr\u003eth {\n width: 180px !important;\n }\n }\n @media screen and (max-width: 750px){\n .listing-build-item table tr\u003eth {\n width: 100px !important;\n }\n }\n\n .listing-build-item tr:first-child th:after,\n .listing-build-item tr:first-child td:after {\n border: initial !important;\n }\n\n .listing-build-item ul\u003eli:last-child,\n .listing-build-item ul.features\u003eli:last-child,\n .listing-build-item ul\u003eli.package-row:last-child {\n margin-bottom: 0 !important;\n }\n .listing-build-item ul.features li,.listing-build-item ul li.package-row{\n margin-bottom:7px !important;\n }\n .listing-build-item h5{\n margin: 20px 0 5px 0 !important;\n font-weight: 600 !important;\n text-align: left !important;\n }\n .listing-build-item strong{\n font-weight: 600 !important;\n }\n--\u003e\u003c\/style\u003e\n\u003c!-- BEGIN Descriptions --\u003e\n\u003cdiv class=\"listing-build-item\"\u003e\n\u003cul\u003e\n\u003cli style=\"text-align: center;\" class=\"text\"\u003e\n\u003cstrong\u003eA\u003cspan style=\"color: #00aaff;\"\u003e clip-on \u003cem\u003eBowknot Hair Ribbon\u003c\/em\u003e\u003c\/span\u003e that makes you look more elegant and cute!\u003c\/strong\u003e\u003cbr\u003e\n\u003c\/li\u003e\n\u003cli style=\"text-align: center;\" class=\"text\"\u003e\u003cimg alt=\"\" src=\"https:\/\/cdn.shopifycdn.net\/s\/files\/1\/0082\/9148\/3738\/files\/D1_240x240.gif?v=1609150427\"\u003e\u003c\/li\u003e\n\u003c\/ul\u003e\n\u003c\/div\u003e\n\u003c!-- END Descriptions --\u003e \u003c!-- BEGIN features --\u003e\n\u003ch3\u003eMain Features\u003c\/h3\u003e\n\u003cul class=\"features\"\u003e\n\u003cli\u003e\n\u003cp\u003e\u003cspan style=\"color: #00aaff;\"\u003e\u003cstrong\u003e[Suitable For Various Hairstyles] \u003c\/strong\u003e\u003c\/span\u003eThe hair ribbon is suitable for all hair types, whether your hair is curly or straight, thick or thin, suitable for many hairstyles such as a bun, a knot, a half knot, a ponytail, a braid\\braids and so on.\u003c\/p\u003e\n\u003c\/li\u003e\n\u003cli\u003e\n\u003cp\u003e\u003cspan style=\"color: #00aaff;\"\u003e\u003cstrong\u003e[Cuttable Length \u0026amp; Easy To Wear] \u003c\/strong\u003e\u003c\/span\u003eActually, this is a hairpin, it is easy to wear and can stay in place. Besides, you can cut the ribbon to the length you want, suitable for all kinds of hair long people wear.\u003c\/p\u003e\n\u003c\/li\u003e\n\u003c\/ul\u003e\n\u003cp\u003e\u003cimg alt=\"\" src=\"https:\/\/cdn.shopifycdn.net\/s\/files\/1\/0082\/9148\/3738\/files\/D2_240x240.gif?v=1609150475\" style=\"display: block; margin-left: auto; margin-right: auto;\"\u003e\u003c\/p\u003e\n\u003cul class=\"features\"\u003e\n\u003cli\u003e\n\u003cp\u003e\u003cstrong\u003e\u003cspan style=\"color: #00aaff;\"\u003e[7 Colors \u0026amp; Occasion]\u003c\/span\u003e \u003c\/strong\u003e7 classic colors bowknot hair ribbon can go with any kind of clothing and occasions, birthday, party, or beach vacation. And also it is a perfect gift for girls. You could DIY any hairstyle just you want and attending parties, ceremonies, and daily wearing, which make you look more charming.\u003c\/p\u003e\n\u003c\/li\u003e\n\u003cli\u003e\n\u003cp\u003e\u003cstrong\u003e\u003cspan style=\"color: #00aaff;\"\u003e[Durable Material]\u003c\/span\u003e \u003c\/strong\u003eThey are made of polyester material, durable, and skin-friendly. The fabric is nice so it lays pretty instead of being stiff and looking all wonky. Soft and smooth texture, will not damage the hair.\u003c\/p\u003e\n\u003c\/li\u003e\n\u003c\/ul\u003e\n\u003c!-- END features --\u003e \u003c!-- BEGIN Using Method --\u003e\n\u003cdiv class=\"listing-build-item\"\u003e\n\u003ch3\u003e\u003cimg style=\"display: block; margin-left: auto; margin-right: auto;\" src=\"https:\/\/cdn.shopifycdn.net\/s\/files\/1\/0082\/9148\/3738\/files\/266ECFA8-3130-4973-A829-F00A510A4BF6_480x480.jpg?v=1609139283\" alt=\"\"\u003e\u003c\/h3\u003e\n\u003cul\u003e\u003c\/ul\u003e\n\u003c\/div\u003e\n\u003c!-- END Using Method --\u003e \u003c!-- BEGIN usage_scene --\u003e \u003c!-- END usage_scene --\u003e \u003c!-- BEGIN specification --\u003e\n\u003cdiv class=\"listing-build-item\"\u003e\n\u003ch3\u003eSpecifications\u003c\/h3\u003e\n\u003ctable\u003e\n\u003c!-- BEGIN specification_material --\u003e \u003c!-- END specification_material --\u003e \u003c!-- BEGIN specification_weight --\u003e\n\u003ctbody\u003e\n\u003ctr\u003e\n\u003cth scope=\"row\"\u003eProduct Weight\u003c\/th\u003e\n\u003ctd\u003e\n\u003cul\u003e\n\u003cli\u003e10G\u003c\/li\u003e\n\u003c\/ul\u003e\n\u003c\/td\u003e\n\u003c\/tr\u003e\n\u003c!-- END specification_weight --\u003e \u003c!-- BEGIN specification_size --\u003e\n\u003ctr\u003e\n\u003cth scope=\"row\"\u003ePackage Size\u003cbr\u003e (L x W x H)\u003c\/th\u003e\n\u003ctd\u003e\n\u003cul\u003e\n\u003cli\u003e10 × 10 × 2CM\u003c\/li\u003e\n\u003c\/ul\u003e\n\u003c\/td\u003e\n\u003c\/tr\u003e\n\u003ctr\u003e\n\u003cth scope=\"row\"\u003eRibbon Length (Bowknot Not Included)\u003c\/th\u003e\n\u003ctd\u003e38CM\u003c\/td\u003e\n\u003c\/tr\u003e\n\u003c!-- END specification_size --\u003e \u003c!-- BEGIN specification_many_package --\u003e\n\u003ctr\u003e\n\u003cth scope=\"row\"\u003ePackage Contents\u003c\/th\u003e\n\u003ctd\u003e\n\u003cul\u003e\n\u003cli\u003eBowknot hair ribbon × 1\u003c\/li\u003e\n\u003c\/ul\u003e\n\u003c\/td\u003e\n\u003c\/tr\u003e\n\u003c!-- END specification_one_package --\u003e \u003c!-- BEGIN specification_custom_attribute --\u003e\n\u003ctr\u003e\n\u003cth scope=\"row\"\u003eColor\u003c\/th\u003e\n\u003ctd\u003eWine red, blue, light purple, pink, ice blue, gray, red\u003c\/td\u003e\n\u003c\/tr\u003e\n\u003ctr\u003e\n\u003cth scope=\"row\"\u003eMaterial\u003c\/th\u003e\n\u003ctd\u003ePolyester\u003c\/td\u003e\n\u003c\/tr\u003e\n\u003c!-- END specification_custom_attribute --\u003e\n\u003c\/tbody\u003e\n\u003c\/table\u003e\n\u003c!-- BEGIN specification_size_img --\u003e \u003c!-- END specification_size_img --\u003e\n\u003c\/div\u003e\n\u003c!-- END specification --\u003e \u003c!-- BEGIN note --\u003e\n\u003ch3\u003eNote\u003c\/h3\u003e\n\u003cul\u003e\n\u003cli\u003eDue to the different display and lighting effects, the actual color of the item may be slightly different from the color displayed in the picture.\u003c\/li\u003e\n\u003cli\u003eDue to manual measurements, please allow slight measurement deviations.\u003c\/li\u003e\n\u003c\/ul\u003e\n\u003c!-- END note --\u003e"}
Bowknot Hair Ribbon
Product Description
A clip-on Bowknot Hair Ribbon that makes you look more elegant and cute!

Main Features
[Suitable For Various Hairstyles] The hair ribbon is suitable for all hair types, whether your hair is curly or straight, thick or thin, suitable for many hairstyles such as a bun, a knot, a half knot, a ponytail, a braid\braids and so on.

[Cuttable Length & Easy To Wear] Actually, this is a hairpin, it is easy to wear and can stay in place. Besides, you can cut the ribbon to the length you want, suitable for all kinds of hair long people wear.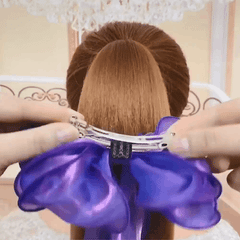 [7 Colors & Occasion] 7 classic colors bowknot hair ribbon can go with any kind of clothing and occasions, birthday, party, or beach vacation. And also it is a perfect gift for girls. You could DIY any hairstyle just you want and attending parties, ceremonies, and daily wearing, which make you look more charming.

[Durable Material] They are made of polyester material, durable, and skin-friendly. The fabric is nice so it lays pretty instead of being stiff and looking all wonky. Soft and smooth texture, will not damage the hair.

Specifications
Product Weight
Package Size
(L x W x H)
Ribbon Length (Bowknot Not Included)
38CM
Package Contents
Color
Wine red, blue, light purple, pink, ice blue, gray, red
Material
Polyester
Note
Due to the different display and lighting effects, the actual color of the item may be slightly different from the color displayed in the picture.
Due to manual measurements, please allow slight measurement deviations.
Shipping:
We processes orders between Monday and Friday. Orders will be processed within 7 business days of ordering and shipped out the next day after the processing day. We don't ship on weekends.