{"id":6759657177252,"title":"Bottle Opener Resin Molds Kit(40% OFF)","handle":"bottle-opener-kit","description":"\u003ch3 style=\"text-align: center;\"\u003e\u003cspan style=\"color: #ba52fc;\"\u003e\u003cem\u003eCreate your own unique bottle opener with this resin molds kit!\u003c\/em\u003e\u003c\/span\u003e\u003c\/h3\u003e\n\u003ch3 style=\"text-align: center;\"\u003e\u003cspan style=\"color: #ff8000;\"\u003e\u003cem\u003e\u003cimg alt=\"\" src=\"https:\/\/cdn.shopifycdn.net\/s\/files\/1\/0227\/0209\/6456\/products\/1_c9070c6f-8c4c-402f-8d82-6c46bae56c1b_480x480.jpg?v=1623741245\" data-mce-src=\"https:\/\/cdn.shopifycdn.net\/s\/files\/1\/0227\/0209\/6456\/products\/1_c9070c6f-8c4c-402f-8d82-6c46bae56c1b_480x480.jpg?v=1623741245\" data-mce-fragment=\"1\"\u003e\u003c\/em\u003e\u003c\/span\u003e\u003c\/h3\u003e\n\u003cp\u003e\u003cspan style=\"color: #000000;\"\u003e\u003cspan style=\"color: #ba52fc;\"\u003e\u003cstrong\u003eNo more boring bottle opener!\u003c\/strong\u003e\u003c\/span\u003e This bottle opener resin molds kit makes your house special even in these details!\u003c\/span\u003e\u003c\/p\u003e\n\u003cp\u003e\u003cspan style=\"color: #000000;\"\u003e\u003cimg style=\"display: block; margin-left: auto; margin-right: auto;\" alt=\"\" src=\"https:\/\/cdn.shopifycdn.net\/s\/files\/1\/0227\/0209\/6456\/products\/2_b42b8ff4-9975-41fa-ad2f-73829abbd188_480x480.jpg?v=1623741245\" data-mce-src=\"https:\/\/cdn.shopifycdn.net\/s\/files\/1\/0227\/0209\/6456\/products\/2_b42b8ff4-9975-41fa-ad2f-73829abbd188_480x480.jpg?v=1623741245\" data-mce-fragment=\"1\"\u003e\u003c\/span\u003e\u003c\/p\u003e\n\u003ch3\u003e\u003cspan style=\"color: #000000;\"\u003eMain Features:\u003c\/span\u003e\u003c\/h3\u003e\n\u003cul\u003e\n\u003cli\u003e\n\u003cp\u003e\u003cspan style=\"color: #ba52fc;\"\u003e\u003cstrong\u003e【DIY Bottle Opener】\u003c\/strong\u003e\u003c\/span\u003e\u003cbr\u003eOur bottle opener molds have\u003cspan style=\"color: #000000;\"\u003e\u003cstrong\u003e various personalization options\u003c\/strong\u003e\u003c\/span\u003e like color, pattern, name, word on it, so feel free to use your imagination and add your own unique style to them, \u003cspan style=\"color: #000000;\"\u003e\u003cstrong\u003emake your bottle opener craft more beautiful!\u003c\/strong\u003e\u003c\/span\u003e\u003c\/p\u003e\n\u003c\/li\u003e\n\u003c\/ul\u003e\n\u003cp\u003e\u003cimg alt=\"\" src=\"https:\/\/cdn.shopifycdn.net\/s\/files\/1\/0227\/0209\/6456\/products\/6_1d4d60cb-586f-449d-9fa4-95552a2f49e5_480x480.jpg?v=1623741245\" style=\"display: block; margin-left: auto; margin-right: auto;\"\u003e\u003c\/p\u003e\n\u003cul\u003e\n\u003cli\u003e\n\u003cspan style=\"color: #ba52fc;\"\u003e \u003cstrong\u003e【High-Quality Resin Molds】\u003c\/strong\u003e\u003c\/span\u003e\u003cbr\u003eSilicone resin molds are made from \u003cspan style=\"color: #000000;\"\u003e\u003cstrong\u003epremium quality silicone material\u003c\/strong\u003e\u003c\/span\u003e with excellent elasticity, superior high tear strength, and a glossy interior surface; durable resin molds able to keep the shape without any deformation; your embellishment will pop out easily.\u003c\/li\u003e\n\u003c\/ul\u003e\n\u003cdiv\u003e\u003cimg src=\"https:\/\/cdn.shopifycdn.net\/s\/files\/1\/0227\/0209\/6456\/files\/00_00_03--00_00_23_480x480.gif?v=1623740403\" alt=\"\" style=\"font-size: 1.4em; display: block; margin-left: auto; margin-right: auto;\" data-mce-src=\"https:\/\/cdn.shopifycdn.net\/s\/files\/1\/0227\/0209\/6456\/files\/00_00_03--00_00_23_480x480.gif?v=1623740403\" data-mce-fragment=\"1\"\u003e\u003c\/div\u003e\n\u003cul\u003e\u003c\/ul\u003e\n\u003cdiv\u003e\u003cbr\u003e\u003c\/div\u003e\n\u003cul\u003e\n\u003cli\u003e\u003cspan style=\"color: #000000;\"\u003e\u003cspan style=\"color: #ba52fc;\"\u003e\u003cstrong\u003e【Easy to Use】\u003c\/strong\u003e\u003c\/span\u003e\u003cbr\u003eAfter the resin is fully cured, you can \u003cstrong\u003eeasily de-mold\u003c\/strong\u003e from the mold. You just need to twist the silicone resin molds and release your creation out of your silicone molds for epoxy resin after the resin is completely cured.\u003c\/span\u003e\u003c\/li\u003e\n\u003c\/ul\u003e\n\u003cdiv\u003e\u003cimg src=\"https:\/\/cdn.shopifycdn.net\/s\/files\/1\/0227\/0209\/6456\/products\/5_6383535e-a848-4965-aa5f-e290129a62be_480x480.jpg?v=1623741245\" alt=\"\" style=\"color: #000000; font-size: 1.4em; display: block; margin-left: auto; margin-right: auto;\" data-mce-src=\"https:\/\/cdn.shopifycdn.net\/s\/files\/1\/0227\/0209\/6456\/products\/5_6383535e-a848-4965-aa5f-e290129a62be_480x480.jpg?v=1623741245\" data-mce-fragment=\"1\"\u003e\u003c\/div\u003e\n\u003cul\u003e\n\u003cli\u003e\u003cspan style=\"color: #000000;\"\u003e\u003cspan style=\"color: #ba52fc;\"\u003e\u003cstrong\u003e【A fun and creative gift】\u003c\/strong\u003e\u003c\/span\u003e\u003cbr\u003eThis epoxy resin mold\u003cstrong\u003e looks fantastic\u003c\/strong\u003e and can become \u003cstrong\u003ethe perfect gift\u003c\/strong\u003e for friends for Birthdays, Parties, Children's Day, Valentine's Day, New Year's Day, Mother's Day, Father's Day, Thanksgiving Day, Halloween, Easter, and Christmas gifts.\u003c\/span\u003e\u003c\/li\u003e\n\u003c\/ul\u003e\n\u003cdiv\u003e\u003cimg style=\"color: #000000; font-size: 1.4em; display: block; margin-left: auto; margin-right: auto;\" alt=\"\" src=\"https:\/\/cdn.shopifycdn.net\/s\/files\/1\/0227\/0209\/6456\/products\/3_2db789a3-2fc9-421b-9a35-2c5b404c786a_480x480.jpg?v=1623741245\" data-mce-src=\"https:\/\/cdn.shopifycdn.net\/s\/files\/1\/0227\/0209\/6456\/products\/3_2db789a3-2fc9-421b-9a35-2c5b404c786a_480x480.jpg?v=1623741245\" data-mce-fragment=\"1\"\u003e\u003c\/div\u003e\n\u003ch3\u003e\u003cspan style=\"color: #000000;\" color=\"#000000\"\u003e\u003c\/span\u003e\u003c\/h3\u003e\n\u003ch3\u003e\u003cspan style=\"color: #000000;\" color=\"#000000\"\u003eSpecifications:\u003c\/span\u003e\u003c\/h3\u003e\n\u003cul\u003e\n\u003cli\u003e\u003cspan style=\"color: #000000;\" color=\"#000000\"\u003eMaterial: Silicone\u003c\/span\u003e\u003c\/li\u003e\n\u003cli\u003e\u003cspan style=\"color: #000000;\" color=\"#000000\"\u003eColor: Mold\u003cimg alt=\"\" src=\"https:\/\/cdn.shopifycdn.net\/s\/files\/1\/0227\/0209\/6456\/products\/8_99651920-5f49-4ff6-9338-53e12b8a07bb_480x480.jpg?v=1623741245\" data-mce-src=\"https:\/\/cdn.shopifycdn.net\/s\/files\/1\/0227\/0209\/6456\/products\/8_99651920-5f49-4ff6-9338-53e12b8a07bb_480x480.jpg?v=1623741245\" data-mce-fragment=\"1\"\u003e\u003c\/span\u003e\u003c\/li\u003e\n\u003c\/ul\u003e\n\u003ch3\u003e\u003cspan style=\"color: #000000;\" color=\"#000000\"\u003ePackage Include:\u003cbr\u003e\u003c\/span\u003e\u003c\/h3\u003e\n\u003cul\u003e\n\u003cli\u003e\u003cspan style=\"color: #000000;\" color=\"#000000\"\u003e\u003cspan style=\"color: #000000;\" color=\"#000000\"\u003eOption 1:  1\u003cspan data-mce-fragment=\"1\"\u003ex \u003c\/span\u003eBottle Opener Resin Molds Kit (1pc mold, 1pc screwdriver, 5pcs wrenches \u0026amp; 10pcs screws)\u003c\/span\u003e\u003c\/span\u003e\u003c\/li\u003e\n\u003cli\u003e\u003cspan style=\"color: #000000;\" color=\"#000000\"\u003e\u003cspan style=\"color: #000000;\" color=\"#000000\"\u003eOption 2: 1 \u003cspan data-mce-fragment=\"1\"\u003ex\u003c\/span\u003e\u003cspan data-mce-fragment=\"1\"\u003e  Set of Accessories (5pcs wrenches \u0026amp; 10pcs screws)\u003c\/span\u003e\u003c\/span\u003e\u003c\/span\u003e\u003c\/li\u003e\n\u003c\/ul\u003e\n\u003ch3 data-mce-fragment=\"1\"\u003e\u003cstrong data-mce-fragment=\"1\"\u003e\u003cb data-mce-fragment=\"1\"\u003eNote:\u003c\/b\u003e\u003c\/strong\u003e\u003c\/h3\u003e\n\u003cul data-mce-fragment=\"1\"\u003e\n\u003cli\u003eDue to manual measurements, please allow slight measurement deviations.\u003c\/li\u003e\n\u003cli\u003eDue to the different display and lighting effects, the actual color of the item may be slightly different from the color displayed in the picture.\u003c\/li\u003e\n\u003c\/ul\u003e","published_at":"2021-06-15T16:44:22+08:00","created_at":"2021-06-15T16:44:22+08:00","vendor":"solegg","type":"Hot produts","tags":[],"price":999,"price_min":999,"price_max":1999,"available":true,"price_varies":true,"compare_at_price":1599,"compare_at_price_min":1599,"compare_at_price_max":3599,"compare_at_price_varies":true,"variants":[{"id":40113787797668,"title":"Bottle Opener Resin Molds Kit","option1":"Bottle Opener Resin Molds Kit","option2":null,"option3":null,"sku":"LE12145890-2","requires_shipping":true,"taxable":false,"featured_image":{"id":29621131968676,"product_id":6759657177252,"position":1,"created_at":"2021-06-15T16:44:22+08:00","updated_at":"2021-06-15T16:44:22+08:00","alt":null,"width":700,"height":700,"src":"https:\/\/cdn.shopify.com\/s\/files\/1\/0508\/2592\/0676\/products\/1_c9070c6f-8c4c-402f-8d82-6c46bae56c1b.jpg?v=1623746662","variant_ids":[40113787797668]},"available":true,"name":"Bottle Opener Resin Molds Kit(40% OFF) - Bottle Opener Resin Molds Kit","public_title":"Bottle Opener Resin Molds Kit","options":["Bottle Opener Resin Molds Kit"],"price":1999,"weight":0,"compare_at_price":3599,"inventory_management":null,"barcode":null,"featured_media":{"alt":null,"id":21955182526628,"position":1,"preview_image":{"aspect_ratio":1.0,"height":700,"width":700,"src":"https:\/\/cdn.shopify.com\/s\/files\/1\/0508\/2592\/0676\/products\/1_c9070c6f-8c4c-402f-8d82-6c46bae56c1b.jpg?v=1623746662"}},"requires_selling_plan":false,"selling_plan_allocations":[]},{"id":40113787830436,"title":"Accessories","option1":"Accessories","option2":null,"option3":null,"sku":"LE12145890-1","requires_shipping":true,"taxable":false,"featured_image":{"id":29621132263588,"product_id":6759657177252,"position":9,"created_at":"2021-06-15T16:44:23+08:00","updated_at":"2021-06-15T16:44:23+08:00","alt":null,"width":700,"height":700,"src":"https:\/\/cdn.shopify.com\/s\/files\/1\/0508\/2592\/0676\/products\/9_74b18425-1f10-4b6e-9b25-c5f1b019e978.jpg?v=1623746663","variant_ids":[40113787830436]},"available":true,"name":"Bottle Opener Resin Molds Kit(40% OFF) - Accessories","public_title":"Accessories","options":["Accessories"],"price":999,"weight":0,"compare_at_price":1599,"inventory_management":null,"barcode":null,"featured_media":{"alt":null,"id":21955182788772,"position":9,"preview_image":{"aspect_ratio":1.0,"height":700,"width":700,"src":"https:\/\/cdn.shopify.com\/s\/files\/1\/0508\/2592\/0676\/products\/9_74b18425-1f10-4b6e-9b25-c5f1b019e978.jpg?v=1623746663"}},"requires_selling_plan":false,"selling_plan_allocations":[]}],"images":["\/\/cdn.shopify.com\/s\/files\/1\/0508\/2592\/0676\/products\/1_c9070c6f-8c4c-402f-8d82-6c46bae56c1b.jpg?v=1623746662","\/\/cdn.shopify.com\/s\/files\/1\/0508\/2592\/0676\/products\/2_b42b8ff4-9975-41fa-ad2f-73829abbd188.jpg?v=1623746662","\/\/cdn.shopify.com\/s\/files\/1\/0508\/2592\/0676\/products\/3_2db789a3-2fc9-421b-9a35-2c5b404c786a.jpg?v=1623746662","\/\/cdn.shopify.com\/s\/files\/1\/0508\/2592\/0676\/products\/4_ad5be576-f7d0-4315-aa59-dbaffccea9c7.jpg?v=1623746662","\/\/cdn.shopify.com\/s\/files\/1\/0508\/2592\/0676\/products\/5_6383535e-a848-4965-aa5f-e290129a62be.jpg?v=1623746663","\/\/cdn.shopify.com\/s\/files\/1\/0508\/2592\/0676\/products\/6_1d4d60cb-586f-449d-9fa4-95552a2f49e5.jpg?v=1623746663","\/\/cdn.shopify.com\/s\/files\/1\/0508\/2592\/0676\/products\/7_6d77d5cb-c864-4420-bdd6-ec37a06b07b7.jpg?v=1623746663","\/\/cdn.shopify.com\/s\/files\/1\/0508\/2592\/0676\/products\/8_99651920-5f49-4ff6-9338-53e12b8a07bb.jpg?v=1623746663","\/\/cdn.shopify.com\/s\/files\/1\/0508\/2592\/0676\/products\/9_74b18425-1f10-4b6e-9b25-c5f1b019e978.jpg?v=1623746663"],"featured_image":"\/\/cdn.shopify.com\/s\/files\/1\/0508\/2592\/0676\/products\/1_c9070c6f-8c4c-402f-8d82-6c46bae56c1b.jpg?v=1623746662","options":["Option"],"media":[{"alt":null,"id":21955182526628,"position":1,"preview_image":{"aspect_ratio":1.0,"height":700,"width":700,"src":"https:\/\/cdn.shopify.com\/s\/files\/1\/0508\/2592\/0676\/products\/1_c9070c6f-8c4c-402f-8d82-6c46bae56c1b.jpg?v=1623746662"},"aspect_ratio":1.0,"height":700,"media_type":"image","src":"https:\/\/cdn.shopify.com\/s\/files\/1\/0508\/2592\/0676\/products\/1_c9070c6f-8c4c-402f-8d82-6c46bae56c1b.jpg?v=1623746662","width":700},{"alt":null,"id":21955182559396,"position":2,"preview_image":{"aspect_ratio":1.0,"height":700,"width":700,"src":"https:\/\/cdn.shopify.com\/s\/files\/1\/0508\/2592\/0676\/products\/2_b42b8ff4-9975-41fa-ad2f-73829abbd188.jpg?v=1623746662"},"aspect_ratio":1.0,"height":700,"media_type":"image","src":"https:\/\/cdn.shopify.com\/s\/files\/1\/0508\/2592\/0676\/products\/2_b42b8ff4-9975-41fa-ad2f-73829abbd188.jpg?v=1623746662","width":700},{"alt":null,"id":21955182592164,"position":3,"preview_image":{"aspect_ratio":1.0,"height":700,"width":700,"src":"https:\/\/cdn.shopify.com\/s\/files\/1\/0508\/2592\/0676\/products\/3_2db789a3-2fc9-421b-9a35-2c5b404c786a.jpg?v=1623746662"},"aspect_ratio":1.0,"height":700,"media_type":"image","src":"https:\/\/cdn.shopify.com\/s\/files\/1\/0508\/2592\/0676\/products\/3_2db789a3-2fc9-421b-9a35-2c5b404c786a.jpg?v=1623746662","width":700},{"alt":null,"id":21955182624932,"position":4,"preview_image":{"aspect_ratio":1.0,"height":700,"width":700,"src":"https:\/\/cdn.shopify.com\/s\/files\/1\/0508\/2592\/0676\/products\/4_ad5be576-f7d0-4315-aa59-dbaffccea9c7.jpg?v=1623746662"},"aspect_ratio":1.0,"height":700,"media_type":"image","src":"https:\/\/cdn.shopify.com\/s\/files\/1\/0508\/2592\/0676\/products\/4_ad5be576-f7d0-4315-aa59-dbaffccea9c7.jpg?v=1623746662","width":700},{"alt":null,"id":21955182657700,"position":5,"preview_image":{"aspect_ratio":1.0,"height":700,"width":700,"src":"https:\/\/cdn.shopify.com\/s\/files\/1\/0508\/2592\/0676\/products\/5_6383535e-a848-4965-aa5f-e290129a62be.jpg?v=1623746663"},"aspect_ratio":1.0,"height":700,"media_type":"image","src":"https:\/\/cdn.shopify.com\/s\/files\/1\/0508\/2592\/0676\/products\/5_6383535e-a848-4965-aa5f-e290129a62be.jpg?v=1623746663","width":700},{"alt":null,"id":21955182690468,"position":6,"preview_image":{"aspect_ratio":1.0,"height":700,"width":700,"src":"https:\/\/cdn.shopify.com\/s\/files\/1\/0508\/2592\/0676\/products\/6_1d4d60cb-586f-449d-9fa4-95552a2f49e5.jpg?v=1623746663"},"aspect_ratio":1.0,"height":700,"media_type":"image","src":"https:\/\/cdn.shopify.com\/s\/files\/1\/0508\/2592\/0676\/products\/6_1d4d60cb-586f-449d-9fa4-95552a2f49e5.jpg?v=1623746663","width":700},{"alt":null,"id":21955182723236,"position":7,"preview_image":{"aspect_ratio":1.0,"height":700,"width":700,"src":"https:\/\/cdn.shopify.com\/s\/files\/1\/0508\/2592\/0676\/products\/7_6d77d5cb-c864-4420-bdd6-ec37a06b07b7.jpg?v=1623746663"},"aspect_ratio":1.0,"height":700,"media_type":"image","src":"https:\/\/cdn.shopify.com\/s\/files\/1\/0508\/2592\/0676\/products\/7_6d77d5cb-c864-4420-bdd6-ec37a06b07b7.jpg?v=1623746663","width":700},{"alt":null,"id":21955182756004,"position":8,"preview_image":{"aspect_ratio":1.0,"height":700,"width":700,"src":"https:\/\/cdn.shopify.com\/s\/files\/1\/0508\/2592\/0676\/products\/8_99651920-5f49-4ff6-9338-53e12b8a07bb.jpg?v=1623746663"},"aspect_ratio":1.0,"height":700,"media_type":"image","src":"https:\/\/cdn.shopify.com\/s\/files\/1\/0508\/2592\/0676\/products\/8_99651920-5f49-4ff6-9338-53e12b8a07bb.jpg?v=1623746663","width":700},{"alt":null,"id":21955182788772,"position":9,"preview_image":{"aspect_ratio":1.0,"height":700,"width":700,"src":"https:\/\/cdn.shopify.com\/s\/files\/1\/0508\/2592\/0676\/products\/9_74b18425-1f10-4b6e-9b25-c5f1b019e978.jpg?v=1623746663"},"aspect_ratio":1.0,"height":700,"media_type":"image","src":"https:\/\/cdn.shopify.com\/s\/files\/1\/0508\/2592\/0676\/products\/9_74b18425-1f10-4b6e-9b25-c5f1b019e978.jpg?v=1623746663","width":700}],"requires_selling_plan":false,"selling_plan_groups":[],"content":"\u003ch3 style=\"text-align: center;\"\u003e\u003cspan style=\"color: #ba52fc;\"\u003e\u003cem\u003eCreate your own unique bottle opener with this resin molds kit!\u003c\/em\u003e\u003c\/span\u003e\u003c\/h3\u003e\n\u003ch3 style=\"text-align: center;\"\u003e\u003cspan style=\"color: #ff8000;\"\u003e\u003cem\u003e\u003cimg alt=\"\" src=\"https:\/\/cdn.shopifycdn.net\/s\/files\/1\/0227\/0209\/6456\/products\/1_c9070c6f-8c4c-402f-8d82-6c46bae56c1b_480x480.jpg?v=1623741245\" data-mce-src=\"https:\/\/cdn.shopifycdn.net\/s\/files\/1\/0227\/0209\/6456\/products\/1_c9070c6f-8c4c-402f-8d82-6c46bae56c1b_480x480.jpg?v=1623741245\" data-mce-fragment=\"1\"\u003e\u003c\/em\u003e\u003c\/span\u003e\u003c\/h3\u003e\n\u003cp\u003e\u003cspan style=\"color: #000000;\"\u003e\u003cspan style=\"color: #ba52fc;\"\u003e\u003cstrong\u003eNo more boring bottle opener!\u003c\/strong\u003e\u003c\/span\u003e This bottle opener resin molds kit makes your house special even in these details!\u003c\/span\u003e\u003c\/p\u003e\n\u003cp\u003e\u003cspan style=\"color: #000000;\"\u003e\u003cimg style=\"display: block; margin-left: auto; margin-right: auto;\" alt=\"\" src=\"https:\/\/cdn.shopifycdn.net\/s\/files\/1\/0227\/0209\/6456\/products\/2_b42b8ff4-9975-41fa-ad2f-73829abbd188_480x480.jpg?v=1623741245\" data-mce-src=\"https:\/\/cdn.shopifycdn.net\/s\/files\/1\/0227\/0209\/6456\/products\/2_b42b8ff4-9975-41fa-ad2f-73829abbd188_480x480.jpg?v=1623741245\" data-mce-fragment=\"1\"\u003e\u003c\/span\u003e\u003c\/p\u003e\n\u003ch3\u003e\u003cspan style=\"color: #000000;\"\u003eMain Features:\u003c\/span\u003e\u003c\/h3\u003e\n\u003cul\u003e\n\u003cli\u003e\n\u003cp\u003e\u003cspan style=\"color: #ba52fc;\"\u003e\u003cstrong\u003e【DIY Bottle Opener】\u003c\/strong\u003e\u003c\/span\u003e\u003cbr\u003eOur bottle opener molds have\u003cspan style=\"color: #000000;\"\u003e\u003cstrong\u003e various personalization options\u003c\/strong\u003e\u003c\/span\u003e like color, pattern, name, word on it, so feel free to use your imagination and add your own unique style to them, \u003cspan style=\"color: #000000;\"\u003e\u003cstrong\u003emake your bottle opener craft more beautiful!\u003c\/strong\u003e\u003c\/span\u003e\u003c\/p\u003e\n\u003c\/li\u003e\n\u003c\/ul\u003e\n\u003cp\u003e\u003cimg alt=\"\" src=\"https:\/\/cdn.shopifycdn.net\/s\/files\/1\/0227\/0209\/6456\/products\/6_1d4d60cb-586f-449d-9fa4-95552a2f49e5_480x480.jpg?v=1623741245\" style=\"display: block; margin-left: auto; margin-right: auto;\"\u003e\u003c\/p\u003e\n\u003cul\u003e\n\u003cli\u003e\n\u003cspan style=\"color: #ba52fc;\"\u003e \u003cstrong\u003e【High-Quality Resin Molds】\u003c\/strong\u003e\u003c\/span\u003e\u003cbr\u003eSilicone resin molds are made from \u003cspan style=\"color: #000000;\"\u003e\u003cstrong\u003epremium quality silicone material\u003c\/strong\u003e\u003c\/span\u003e with excellent elasticity, superior high tear strength, and a glossy interior surface; durable resin molds able to keep the shape without any deformation; your embellishment will pop out easily.\u003c\/li\u003e\n\u003c\/ul\u003e\n\u003cdiv\u003e\u003cimg src=\"https:\/\/cdn.shopifycdn.net\/s\/files\/1\/0227\/0209\/6456\/files\/00_00_03--00_00_23_480x480.gif?v=1623740403\" alt=\"\" style=\"font-size: 1.4em; display: block; margin-left: auto; margin-right: auto;\" data-mce-src=\"https:\/\/cdn.shopifycdn.net\/s\/files\/1\/0227\/0209\/6456\/files\/00_00_03--00_00_23_480x480.gif?v=1623740403\" data-mce-fragment=\"1\"\u003e\u003c\/div\u003e\n\u003cul\u003e\u003c\/ul\u003e\n\u003cdiv\u003e\u003cbr\u003e\u003c\/div\u003e\n\u003cul\u003e\n\u003cli\u003e\u003cspan style=\"color: #000000;\"\u003e\u003cspan style=\"color: #ba52fc;\"\u003e\u003cstrong\u003e【Easy to Use】\u003c\/strong\u003e\u003c\/span\u003e\u003cbr\u003eAfter the resin is fully cured, you can \u003cstrong\u003eeasily de-mold\u003c\/strong\u003e from the mold. You just need to twist the silicone resin molds and release your creation out of your silicone molds for epoxy resin after the resin is completely cured.\u003c\/span\u003e\u003c\/li\u003e\n\u003c\/ul\u003e\n\u003cdiv\u003e\u003cimg src=\"https:\/\/cdn.shopifycdn.net\/s\/files\/1\/0227\/0209\/6456\/products\/5_6383535e-a848-4965-aa5f-e290129a62be_480x480.jpg?v=1623741245\" alt=\"\" style=\"color: #000000; font-size: 1.4em; display: block; margin-left: auto; margin-right: auto;\" data-mce-src=\"https:\/\/cdn.shopifycdn.net\/s\/files\/1\/0227\/0209\/6456\/products\/5_6383535e-a848-4965-aa5f-e290129a62be_480x480.jpg?v=1623741245\" data-mce-fragment=\"1\"\u003e\u003c\/div\u003e\n\u003cul\u003e\n\u003cli\u003e\u003cspan style=\"color: #000000;\"\u003e\u003cspan style=\"color: #ba52fc;\"\u003e\u003cstrong\u003e【A fun and creative gift】\u003c\/strong\u003e\u003c\/span\u003e\u003cbr\u003eThis epoxy resin mold\u003cstrong\u003e looks fantastic\u003c\/strong\u003e and can become \u003cstrong\u003ethe perfect gift\u003c\/strong\u003e for friends for Birthdays, Parties, Children's Day, Valentine's Day, New Year's Day, Mother's Day, Father's Day, Thanksgiving Day, Halloween, Easter, and Christmas gifts.\u003c\/span\u003e\u003c\/li\u003e\n\u003c\/ul\u003e\n\u003cdiv\u003e\u003cimg style=\"color: #000000; font-size: 1.4em; display: block; margin-left: auto; margin-right: auto;\" alt=\"\" src=\"https:\/\/cdn.shopifycdn.net\/s\/files\/1\/0227\/0209\/6456\/products\/3_2db789a3-2fc9-421b-9a35-2c5b404c786a_480x480.jpg?v=1623741245\" data-mce-src=\"https:\/\/cdn.shopifycdn.net\/s\/files\/1\/0227\/0209\/6456\/products\/3_2db789a3-2fc9-421b-9a35-2c5b404c786a_480x480.jpg?v=1623741245\" data-mce-fragment=\"1\"\u003e\u003c\/div\u003e\n\u003ch3\u003e\u003cspan style=\"color: #000000;\" color=\"#000000\"\u003e\u003c\/span\u003e\u003c\/h3\u003e\n\u003ch3\u003e\u003cspan style=\"color: #000000;\" color=\"#000000\"\u003eSpecifications:\u003c\/span\u003e\u003c\/h3\u003e\n\u003cul\u003e\n\u003cli\u003e\u003cspan style=\"color: #000000;\" color=\"#000000\"\u003eMaterial: Silicone\u003c\/span\u003e\u003c\/li\u003e\n\u003cli\u003e\u003cspan style=\"color: #000000;\" color=\"#000000\"\u003eColor: Mold\u003cimg alt=\"\" src=\"https:\/\/cdn.shopifycdn.net\/s\/files\/1\/0227\/0209\/6456\/products\/8_99651920-5f49-4ff6-9338-53e12b8a07bb_480x480.jpg?v=1623741245\" data-mce-src=\"https:\/\/cdn.shopifycdn.net\/s\/files\/1\/0227\/0209\/6456\/products\/8_99651920-5f49-4ff6-9338-53e12b8a07bb_480x480.jpg?v=1623741245\" data-mce-fragment=\"1\"\u003e\u003c\/span\u003e\u003c\/li\u003e\n\u003c\/ul\u003e\n\u003ch3\u003e\u003cspan style=\"color: #000000;\" color=\"#000000\"\u003ePackage Include:\u003cbr\u003e\u003c\/span\u003e\u003c\/h3\u003e\n\u003cul\u003e\n\u003cli\u003e\u003cspan style=\"color: #000000;\" color=\"#000000\"\u003e\u003cspan style=\"color: #000000;\" color=\"#000000\"\u003eOption 1:  1\u003cspan data-mce-fragment=\"1\"\u003ex \u003c\/span\u003eBottle Opener Resin Molds Kit (1pc mold, 1pc screwdriver, 5pcs wrenches \u0026amp; 10pcs screws)\u003c\/span\u003e\u003c\/span\u003e\u003c\/li\u003e\n\u003cli\u003e\u003cspan style=\"color: #000000;\" color=\"#000000\"\u003e\u003cspan style=\"color: #000000;\" color=\"#000000\"\u003eOption 2: 1 \u003cspan data-mce-fragment=\"1\"\u003ex\u003c\/span\u003e\u003cspan data-mce-fragment=\"1\"\u003e  Set of Accessories (5pcs wrenches \u0026amp; 10pcs screws)\u003c\/span\u003e\u003c\/span\u003e\u003c\/span\u003e\u003c\/li\u003e\n\u003c\/ul\u003e\n\u003ch3 data-mce-fragment=\"1\"\u003e\u003cstrong data-mce-fragment=\"1\"\u003e\u003cb data-mce-fragment=\"1\"\u003eNote:\u003c\/b\u003e\u003c\/strong\u003e\u003c\/h3\u003e\n\u003cul data-mce-fragment=\"1\"\u003e\n\u003cli\u003eDue to manual measurements, please allow slight measurement deviations.\u003c\/li\u003e\n\u003cli\u003eDue to the different display and lighting effects, the actual color of the item may be slightly different from the color displayed in the picture.\u003c\/li\u003e\n\u003c\/ul\u003e"}
Bottle Opener Resin Molds Kit(40% OFF)
Product Description
Create your own unique bottle opener with this resin molds kit!

No more boring bottle opener! This bottle opener resin molds kit makes your house special even in these details!
Main Features:
【DIY Bottle Opener】
Our bottle opener molds have various personalization options like color, pattern, name, word on it, so feel free to use your imagination and add your own unique style to them, make your bottle opener craft more beautiful!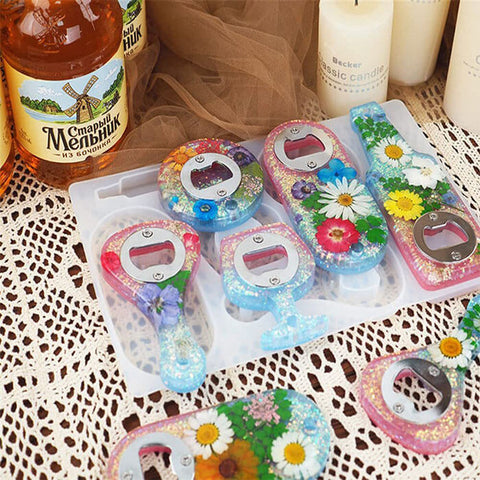 【High-Quality Resin Molds】
Silicone resin molds are made from premium quality silicone material with excellent elasticity, superior high tear strength, and a glossy interior surface; durable resin molds able to keep the shape without any deformation; your embellishment will pop out easily.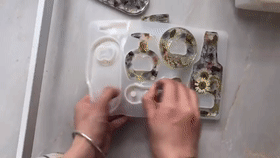 【Easy to Use】
After the resin is fully cured, you can easily de-mold from the mold. You just need to twist the silicone resin molds and release your creation out of your silicone molds for epoxy resin after the resin is completely cured.
【A fun and creative gift】
This epoxy resin mold looks fantastic and can become the perfect gift for friends for Birthdays, Parties, Children's Day, Valentine's Day, New Year's Day, Mother's Day, Father's Day, Thanksgiving Day, Halloween, Easter, and Christmas gifts.
Specifications:
Material: Silicone

Color: Mold
Package Include:

Option 1:  1

x 

Bottle Opener Resin Molds Kit (1pc mold, 1pc screwdriver, 5pcs wrenches & 10pcs screws)
Option 2: 1 

x

  Set of Accessories (5pcs wrenches & 10pcs screws)
Note:
Due to manual measurements, please allow slight measurement deviations.
Due to the different display and lighting effects, the actual color of the item may be slightly different from the color displayed in the picture.
Shipping:
We processes orders between Monday and Friday. Orders will be processed within 7 business days of ordering and shipped out the next day after the processing day. We don't ship on weekends.