{"id":5977048416420,"title":"Adjustable Countertop Split Drain Organizer","handle":"acsdo","description":"\u003c!-- Build time: 2021-01-11 18:11:12 --\u003e\n\u003cstyle\u003e\u003c!--\n.listing-build-item table {\n width: 100% !important;\n margin: 5px 0 !important;\n border-collapse: collapse !important;\n table-layout: initial !important;\n }\n\n .listing-build-item table ul li,\n .listing-build-item table dl dd,\n .listing-build-item table dl dt {\n list-style:outside none !important;\n margin:0 !important;\n }\n\n .listing-build-item table ul,\n .listing-build-item table dl {\n margin-left: 0 !important;\n }\n\n .listing-build-item table tr\u003etd,\n .listing-build-item table tr\u003eth {\n padding: 10px 14px !important;\n font-size: 14px !important;\n border: 1px solid #cbcbcb !important;\n background-clip: padding-box !important;\n position: relative !important;\n letter-spacing:initial !important;\n text-align: left !important;\n }\n\n .listing-build-item table tr\u003eth {\n font-weight: 600 !important;\n }\n\n .listing-build-item h3 {\n color: #000 !important;\n font-size: 20px !important;\n font-weight: 600 !important;\n margin: 0 !important;\n padding: 10px 0 !important;\n text-align: left !important;\n }\n .listing-build-item table th,.listing-build-item h5{\n color:#000 !important;\n }\n\n .listing-build-item {\n margin-bottom: 30px !important;\n word-break: break-word !important;\n }\n\n .listing-build-item ul,\n .listing-build-item dl {\n margin: 0 !important;\n padding:0 !important;\n list-style:outside none !important\n }\n\n .listing-build-item .img-box {\n margin: 10px 0 !important;\n }\n\n .listing-build-item .img-box img {\n height: auto !important;\n max-width: 100% !important;\n margin: 0 auto !important;\n padding: 0 !important;\n display: block !important;\n }\n @media screen and (min-width: 992px){\n .listing-build-item table tr\u003eth {\n width: 180px !important;\n }\n }\n @media screen and (max-width: 750px){\n .listing-build-item table tr\u003eth {\n width: 100px !important;\n }\n }\n\n .listing-build-item tr:first-child th:after,\n .listing-build-item tr:first-child td:after {\n border: initial !important;\n }\n\n .listing-build-item ul\u003eli:last-child,\n .listing-build-item ul.features\u003eli:last-child,\n .listing-build-item ul\u003eli.package-row:last-child {\n margin-bottom: 0 !important;\n }\n .listing-build-item ul.features li,.listing-build-item ul li.package-row{\n margin-bottom:7px !important;\n }\n .listing-build-item h5{\n margin: 20px 0 5px 0 !important;\n font-weight: 600 !important;\n text-align: left !important;\n }\n .listing-build-item strong{\n font-weight: 600 !important;\n }\n--\u003e\u003c\/style\u003e\n\u003c!-- BEGIN Descriptions --\u003e\n\u003cdiv class=\"listing-build-item\"\u003e\n\u003cul\u003e\n\u003cli style=\"text-align: center;\" class=\"text\"\u003e\n\u003cspan style=\"color: #00aaff;\"\u003e\u003cstrong\u003eOptimize your kitchen drawer space effortlessly!\u003c\/strong\u003e\u003c\/span\u003e\u003cbr\u003e\n\u003c\/li\u003e\n\u003cli style=\"text-align: center;\" class=\"text\"\u003e\u003cspan style=\"color: #00aaff;\"\u003e\u003cstrong\u003e\u003cimg alt=\"\" src=\"https:\/\/cdn.shopifycdn.net\/s\/files\/1\/0082\/9148\/3738\/files\/dc2b6924b02786b9ede0392f8ca3a05d_240x240.gif?v=1610416743\"\u003e\u003c\/strong\u003e\u003c\/span\u003e\u003c\/li\u003e\n\u003c\/ul\u003e\n\u003c\/div\u003e\n\u003c!-- END Descriptions --\u003e \u003c!-- BEGIN features --\u003e\n\u003ch3\u003eMain Features\u003c\/h3\u003e\n\u003cul class=\"features\"\u003e\n\u003cli\u003e\n\u003cp\u003e\u003cstrong\u003e\u003cspan style=\"color: #00aaff;\"\u003e[Adaptable Storage And Organizing Solution]\u003c\/span\u003e \u003c\/strong\u003eThe organizer is designed to help you reclaim your most valuable kitchen storage space while at the same time keeping everything neatly arranged including your food storage containers, mixing bowls, cookware, serve ware, pots, pans, lids, utensils and more.\u003c\/p\u003e\n\u003c\/li\u003e\n\u003c\/ul\u003e\n\u003cp\u003e\u003cimg style=\"display: block; margin-left: auto; margin-right: auto;\" src=\"https:\/\/cdn.shopifycdn.net\/s\/files\/1\/0082\/9148\/3738\/files\/21794759033_510422106_480x480.jpg?v=1610361244\" alt=\"\"\u003e\u003c\/p\u003e\n\u003cul class=\"features\"\u003e\n\u003cli\u003e\n\u003cp\u003e\u003cspan style=\"color: #00aaff;\"\u003e \u003cstrong\u003e[Fully Adjustable] \u003c\/strong\u003e\u003c\/span\u003eUnlike many organizer trays that are confined to a single pre-determined configuration, this organizer gives you the ability to adjust based on your changing storage and organizational needs.\u003c\/p\u003e\n\u003c\/li\u003e\n\u003c\/ul\u003e\n\u003cp\u003e\u003cimg alt=\"\" src=\"https:\/\/cdn.shopifycdn.net\/s\/files\/1\/0082\/9148\/3738\/files\/BE340108-5A69-4416-813E-F68316230A2F_480x480.jpg?v=1610360898\" style=\"display: block; margin-left: auto; margin-right: auto;\"\u003e\u003c\/p\u003e\n\u003cul class=\"features\"\u003e\n\u003cli\u003e\n\u003cp\u003e\u003cspan style=\"color: #00aaff;\"\u003e \u003cstrong\u003e[Quick Drain] \u003c\/strong\u003e\u003c\/span\u003eThe pegboard comes with multi-hole evenly, easy to drain, well ventilation, keep your cutlery from mildew, make sure better and more hygienic kitchen storage.\u003c\/p\u003e\n\u003c\/li\u003e\n\u003c\/ul\u003e\n\u003cp\u003e\u003cimg alt=\"\" src=\"https:\/\/cdn.shopifycdn.net\/s\/files\/1\/0082\/9148\/3738\/files\/A21A2BE0-7902-4f26-AE2C-00680A6B97C3_480x480.jpg?v=1610360950\" style=\"display: block; margin-left: auto; margin-right: auto;\"\u003e\u003c\/p\u003e\n\u003cul class=\"features\"\u003e\n\u003cli\u003e\n\u003cp\u003e\u003cstrong\u003e\u003cspan style=\"color: #00aaff;\"\u003e[Versatile Organizer]\u003c\/span\u003e \u003c\/strong\u003eIt is the ideal kitchen drawer organizer tray and also works equally well inside cupboards, cabinets, or even on a shelf. This makes it a must-have for your kitchen if you want to declutter your most vital storage areas and keep items of all shapes and sizes in their proper place.\u003c\/p\u003e\n\u003c\/li\u003e\n\u003c\/ul\u003e\n\u003cp\u003e\u003cimg alt=\"\" src=\"https:\/\/cdn.shopifycdn.net\/s\/files\/1\/0082\/9148\/3738\/files\/21794720788_510422106_480x480.jpg?v=1610360982\" style=\"display: block; margin-left: auto; margin-right: auto;\"\u003e\u003c\/p\u003e\n\u003cul class=\"features\"\u003e\n\u003cli\u003e\n\u003cp\u003e\u003cstrong\u003e\u003cspan style=\"color: #00aaff;\"\u003e[Easy To Set Up]\u003c\/span\u003e \u003c\/strong\u003eThe organizer sets up in a matter of seconds and the non-slip feet help ensure it stays in place wherever you need it most. Just position the included pegs (set includes 12 pegs) on the pegboard tray to fit the items you're trying to keep organized.\u003c\/p\u003e\n\u003c\/li\u003e\n\u003c\/ul\u003e\n\u003cp\u003e\u003cimg alt=\"\" src=\"https:\/\/cdn.shopifycdn.net\/s\/files\/1\/0082\/9148\/3738\/files\/945CE2AE-41CD-4d44-AFA0-D5B25489B4E7_480x480.jpg?v=1610361002\" style=\"display: block; margin-left: auto; margin-right: auto;\"\u003e\u003c\/p\u003e\n\u003cdiv class=\"listing-build-item\"\u003e\n\u003cul\u003e\u003c\/ul\u003e\n\u003c\/div\u003e\n\u003c!-- END Using Method --\u003e \u003c!-- BEGIN usage_scene --\u003e \u003c!-- END usage_scene --\u003e \u003c!-- BEGIN specification --\u003e\n\u003cdiv class=\"listing-build-item\"\u003e\n\u003ch3\u003eSpecifications\u003c\/h3\u003e\n\u003ctable\u003e\n\u003c!-- BEGIN specification_material --\u003e \u003c!-- END specification_material --\u003e \u003c!-- BEGIN specification_weight --\u003e\n\u003ctbody\u003e\n\u003ctr style=\"height: 38px;\"\u003e\n\u003cth style=\"height: 38px;\" scope=\"row\"\u003eProduct Weight\u003c\/th\u003e\n\u003ctd style=\"height: 38px;\"\u003e\n\u003cul\u003e\n\u003cli\u003e336G\u003c\/li\u003e\n\u003c\/ul\u003e\n\u003c\/td\u003e\n\u003c\/tr\u003e\n\u003c!-- END specification_weight --\u003e \u003c!-- BEGIN specification_size --\u003e\n\u003ctr style=\"height: 38px;\"\u003e\n\u003cth style=\"height: 38px;\" scope=\"row\"\u003ePackageSize\u003cbr\u003e (L x W x H)\u003c\/th\u003e\n\u003ctd style=\"height: 38px;\"\u003e\n\u003cul\u003e\n\u003cli\u003e54 × 15 × 9CM\u003c\/li\u003e\n\u003c\/ul\u003e\n\u003c\/td\u003e\n\u003c\/tr\u003e\n\u003c!-- END specification_size --\u003e \u003c!-- BEGIN specification_many_package --\u003e\n\u003ctr style=\"height: 36.375px;\"\u003e\n\u003cth style=\"height: 36.375px;\" scope=\"row\"\u003ePackage Contents\u003c\/th\u003e\n\u003ctd style=\"height: 36.375px;\"\u003e\n\u003cul\u003e\n\u003cli\u003eDrain organizer × 1 set\u003c\/li\u003e\n\u003c\/ul\u003e\n\u003c\/td\u003e\n\u003c\/tr\u003e\n\u003c!-- END specification_one_package --\u003e \u003c!-- BEGIN specification_custom_attribute --\u003e\n\u003ctr style=\"height: 19px;\"\u003e\n\u003cth style=\"height: 19px;\" scope=\"row\"\u003eColor\u003c\/th\u003e\n\u003ctd style=\"height: 19px;\"\u003eBlack\u003c\/td\u003e\n\u003c\/tr\u003e\n\u003ctr style=\"height: 19px;\"\u003e\n\u003cth style=\"height: 19px;\" scope=\"row\"\u003eMaterial\u003c\/th\u003e\n\u003ctd style=\"height: 19px;\"\u003eABS\u003c\/td\u003e\n\u003c\/tr\u003e\n\u003ctr style=\"height: 19px;\"\u003e\n\u003cth style=\"height: 19px;\" scope=\"row\"\u003e\n\u003cp\u003eExpand Size\u003c\/p\u003e\n\u003cp\u003e\u003cspan\u003e(L x W x H)\u003c\/span\u003e\u003c\/p\u003e\n\u003c\/th\u003e\n\u003ctd style=\"height: 19px;\"\u003e54 x 15 x 9.3CM\u003c\/td\u003e\n\u003c\/tr\u003e\n\u003ctr style=\"height: 38px;\"\u003e\n\u003cth style=\"height: 38px;\" scope=\"row\"\u003e\n\u003cp\u003eUnexpanded Size \u003cspan data-mce-fragment=\"1\"\u003e(L x W x H)\u003c\/span\u003e\u003c\/p\u003e\n\u003c\/th\u003e\n\u003ctd style=\"height: 38px;\"\u003e40 x 15 x 9.3CM\u003c\/td\u003e\n\u003c\/tr\u003e\n\u003c!-- END specification_custom_attribute --\u003e\n\u003c\/tbody\u003e\n\u003c\/table\u003e\n\u003c!-- BEGIN specification_size_img --\u003e \u003c!-- END specification_size_img --\u003e\n\u003c\/div\u003e\n\u003c!-- END specification --\u003e \u003c!-- BEGIN note --\u003e\n\u003ch3\u003e\u003cimg alt=\"\" src=\"https:\/\/cdn.shopifycdn.net\/s\/files\/1\/0082\/9148\/3738\/files\/468ef44610c31b5b50b747b4f9f5ee49_0540bfea-8220-414f-ac55-ce60244b4964_480x480.jpg?v=1610361027\" style=\"display: block; margin-left: auto; margin-right: auto;\"\u003e\u003c\/h3\u003e\n\u003ch3\u003eNote\u003c\/h3\u003e\n\u003cul\u003e\n\u003cli\u003eDue to the different display and lighting effects, the actual color of the item may be slightly different from the color displayed in the picture.\u003c\/li\u003e\n\u003cli\u003eDue to manual measurements, please allow slight measurement deviations.\u003c\/li\u003e\n\u003c\/ul\u003e\n\u003c!-- END note --\u003e","published_at":"2021-01-12T15:40:58+08:00","created_at":"2021-01-12T15:40:58+08:00","vendor":"solegg","type":"Houseware \u0026 Kitchen","tags":[],"price":2999,"price_min":2999,"price_max":2999,"available":true,"price_varies":false,"compare_at_price":4999,"compare_at_price_min":4999,"compare_at_price_max":4999,"compare_at_price_varies":false,"variants":[{"id":37433209290916,"title":"Default Title","option1":"Default Title","option2":null,"option3":null,"sku":"LE12143605HEI","requires_shipping":true,"taxable":false,"featured_image":null,"available":true,"name":"Adjustable Countertop Split Drain Organizer","public_title":null,"options":["Default Title"],"price":2999,"weight":0,"compare_at_price":4999,"inventory_management":null,"barcode":null,"requires_selling_plan":false,"selling_plan_allocations":[]}],"images":["\/\/cdn.shopify.com\/s\/files\/1\/0508\/2592\/0676\/products\/01_8614c81c-a5a0-4c93-801a-c8e969e05495.gif?v=1610437259","\/\/cdn.shopify.com\/s\/files\/1\/0508\/2592\/0676\/products\/2_73393853-d8de-46d0-921b-94178486bc38.jpg?v=1610437259","\/\/cdn.shopify.com\/s\/files\/1\/0508\/2592\/0676\/products\/3_1b761ccb-ec4f-46a2-87c7-d7c65f8cb0e8.jpg?v=1610437259","\/\/cdn.shopify.com\/s\/files\/1\/0508\/2592\/0676\/products\/6_9f656c8d-45d8-4b57-a84f-70e37d840f08.jpg?v=1610437259","\/\/cdn.shopify.com\/s\/files\/1\/0508\/2592\/0676\/products\/4_6c76dc41-868b-43c4-9fd8-1bd2ef622f84.jpg?v=1610437259","\/\/cdn.shopify.com\/s\/files\/1\/0508\/2592\/0676\/products\/8_908d3003-057f-4cd8-9e1c-3dc75864ef74.jpg?v=1610437259","\/\/cdn.shopify.com\/s\/files\/1\/0508\/2592\/0676\/products\/7_d3b62b2e-1c6b-4a3a-a64f-3fe3a20fae85.jpg?v=1610437259","\/\/cdn.shopify.com\/s\/files\/1\/0508\/2592\/0676\/products\/5_ec1436ea-adc3-4c7a-9262-e3032f982b95.jpg?v=1610437259"],"featured_image":"\/\/cdn.shopify.com\/s\/files\/1\/0508\/2592\/0676\/products\/01_8614c81c-a5a0-4c93-801a-c8e969e05495.gif?v=1610437259","options":["Title"],"media":[{"alt":null,"id":13788574318756,"position":1,"preview_image":{"aspect_ratio":1.0,"height":680,"width":680,"src":"https:\/\/cdn.shopify.com\/s\/files\/1\/0508\/2592\/0676\/products\/01_8614c81c-a5a0-4c93-801a-c8e969e05495.gif?v=1610437259"},"aspect_ratio":1.0,"height":680,"media_type":"image","src":"https:\/\/cdn.shopify.com\/s\/files\/1\/0508\/2592\/0676\/products\/01_8614c81c-a5a0-4c93-801a-c8e969e05495.gif?v=1610437259","width":680},{"alt":null,"id":13788574351524,"position":2,"preview_image":{"aspect_ratio":1.0,"height":800,"width":800,"src":"https:\/\/cdn.shopify.com\/s\/files\/1\/0508\/2592\/0676\/products\/2_73393853-d8de-46d0-921b-94178486bc38.jpg?v=1610437259"},"aspect_ratio":1.0,"height":800,"media_type":"image","src":"https:\/\/cdn.shopify.com\/s\/files\/1\/0508\/2592\/0676\/products\/2_73393853-d8de-46d0-921b-94178486bc38.jpg?v=1610437259","width":800},{"alt":null,"id":13788574384292,"position":3,"preview_image":{"aspect_ratio":1.0,"height":800,"width":800,"src":"https:\/\/cdn.shopify.com\/s\/files\/1\/0508\/2592\/0676\/products\/3_1b761ccb-ec4f-46a2-87c7-d7c65f8cb0e8.jpg?v=1610437259"},"aspect_ratio":1.0,"height":800,"media_type":"image","src":"https:\/\/cdn.shopify.com\/s\/files\/1\/0508\/2592\/0676\/products\/3_1b761ccb-ec4f-46a2-87c7-d7c65f8cb0e8.jpg?v=1610437259","width":800},{"alt":null,"id":13788574417060,"position":4,"preview_image":{"aspect_ratio":1.0,"height":800,"width":800,"src":"https:\/\/cdn.shopify.com\/s\/files\/1\/0508\/2592\/0676\/products\/6_9f656c8d-45d8-4b57-a84f-70e37d840f08.jpg?v=1610437259"},"aspect_ratio":1.0,"height":800,"media_type":"image","src":"https:\/\/cdn.shopify.com\/s\/files\/1\/0508\/2592\/0676\/products\/6_9f656c8d-45d8-4b57-a84f-70e37d840f08.jpg?v=1610437259","width":800},{"alt":null,"id":13788574449828,"position":5,"preview_image":{"aspect_ratio":1.0,"height":800,"width":800,"src":"https:\/\/cdn.shopify.com\/s\/files\/1\/0508\/2592\/0676\/products\/4_6c76dc41-868b-43c4-9fd8-1bd2ef622f84.jpg?v=1610437259"},"aspect_ratio":1.0,"height":800,"media_type":"image","src":"https:\/\/cdn.shopify.com\/s\/files\/1\/0508\/2592\/0676\/products\/4_6c76dc41-868b-43c4-9fd8-1bd2ef622f84.jpg?v=1610437259","width":800},{"alt":null,"id":13788574482596,"position":6,"preview_image":{"aspect_ratio":1.0,"height":800,"width":800,"src":"https:\/\/cdn.shopify.com\/s\/files\/1\/0508\/2592\/0676\/products\/8_908d3003-057f-4cd8-9e1c-3dc75864ef74.jpg?v=1610437259"},"aspect_ratio":1.0,"height":800,"media_type":"image","src":"https:\/\/cdn.shopify.com\/s\/files\/1\/0508\/2592\/0676\/products\/8_908d3003-057f-4cd8-9e1c-3dc75864ef74.jpg?v=1610437259","width":800},{"alt":null,"id":13788574515364,"position":7,"preview_image":{"aspect_ratio":1.0,"height":800,"width":800,"src":"https:\/\/cdn.shopify.com\/s\/files\/1\/0508\/2592\/0676\/products\/7_d3b62b2e-1c6b-4a3a-a64f-3fe3a20fae85.jpg?v=1610437259"},"aspect_ratio":1.0,"height":800,"media_type":"image","src":"https:\/\/cdn.shopify.com\/s\/files\/1\/0508\/2592\/0676\/products\/7_d3b62b2e-1c6b-4a3a-a64f-3fe3a20fae85.jpg?v=1610437259","width":800},{"alt":null,"id":13788574548132,"position":8,"preview_image":{"aspect_ratio":1.0,"height":800,"width":800,"src":"https:\/\/cdn.shopify.com\/s\/files\/1\/0508\/2592\/0676\/products\/5_ec1436ea-adc3-4c7a-9262-e3032f982b95.jpg?v=1610437259"},"aspect_ratio":1.0,"height":800,"media_type":"image","src":"https:\/\/cdn.shopify.com\/s\/files\/1\/0508\/2592\/0676\/products\/5_ec1436ea-adc3-4c7a-9262-e3032f982b95.jpg?v=1610437259","width":800}],"requires_selling_plan":false,"selling_plan_groups":[],"content":"\u003c!-- Build time: 2021-01-11 18:11:12 --\u003e\n\u003cstyle\u003e\u003c!--\n.listing-build-item table {\n width: 100% !important;\n margin: 5px 0 !important;\n border-collapse: collapse !important;\n table-layout: initial !important;\n }\n\n .listing-build-item table ul li,\n .listing-build-item table dl dd,\n .listing-build-item table dl dt {\n list-style:outside none !important;\n margin:0 !important;\n }\n\n .listing-build-item table ul,\n .listing-build-item table dl {\n margin-left: 0 !important;\n }\n\n .listing-build-item table tr\u003etd,\n .listing-build-item table tr\u003eth {\n padding: 10px 14px !important;\n font-size: 14px !important;\n border: 1px solid #cbcbcb !important;\n background-clip: padding-box !important;\n position: relative !important;\n letter-spacing:initial !important;\n text-align: left !important;\n }\n\n .listing-build-item table tr\u003eth {\n font-weight: 600 !important;\n }\n\n .listing-build-item h3 {\n color: #000 !important;\n font-size: 20px !important;\n font-weight: 600 !important;\n margin: 0 !important;\n padding: 10px 0 !important;\n text-align: left !important;\n }\n .listing-build-item table th,.listing-build-item h5{\n color:#000 !important;\n }\n\n .listing-build-item {\n margin-bottom: 30px !important;\n word-break: break-word !important;\n }\n\n .listing-build-item ul,\n .listing-build-item dl {\n margin: 0 !important;\n padding:0 !important;\n list-style:outside none !important\n }\n\n .listing-build-item .img-box {\n margin: 10px 0 !important;\n }\n\n .listing-build-item .img-box img {\n height: auto !important;\n max-width: 100% !important;\n margin: 0 auto !important;\n padding: 0 !important;\n display: block !important;\n }\n @media screen and (min-width: 992px){\n .listing-build-item table tr\u003eth {\n width: 180px !important;\n }\n }\n @media screen and (max-width: 750px){\n .listing-build-item table tr\u003eth {\n width: 100px !important;\n }\n }\n\n .listing-build-item tr:first-child th:after,\n .listing-build-item tr:first-child td:after {\n border: initial !important;\n }\n\n .listing-build-item ul\u003eli:last-child,\n .listing-build-item ul.features\u003eli:last-child,\n .listing-build-item ul\u003eli.package-row:last-child {\n margin-bottom: 0 !important;\n }\n .listing-build-item ul.features li,.listing-build-item ul li.package-row{\n margin-bottom:7px !important;\n }\n .listing-build-item h5{\n margin: 20px 0 5px 0 !important;\n font-weight: 600 !important;\n text-align: left !important;\n }\n .listing-build-item strong{\n font-weight: 600 !important;\n }\n--\u003e\u003c\/style\u003e\n\u003c!-- BEGIN Descriptions --\u003e\n\u003cdiv class=\"listing-build-item\"\u003e\n\u003cul\u003e\n\u003cli style=\"text-align: center;\" class=\"text\"\u003e\n\u003cspan style=\"color: #00aaff;\"\u003e\u003cstrong\u003eOptimize your kitchen drawer space effortlessly!\u003c\/strong\u003e\u003c\/span\u003e\u003cbr\u003e\n\u003c\/li\u003e\n\u003cli style=\"text-align: center;\" class=\"text\"\u003e\u003cspan style=\"color: #00aaff;\"\u003e\u003cstrong\u003e\u003cimg alt=\"\" src=\"https:\/\/cdn.shopifycdn.net\/s\/files\/1\/0082\/9148\/3738\/files\/dc2b6924b02786b9ede0392f8ca3a05d_240x240.gif?v=1610416743\"\u003e\u003c\/strong\u003e\u003c\/span\u003e\u003c\/li\u003e\n\u003c\/ul\u003e\n\u003c\/div\u003e\n\u003c!-- END Descriptions --\u003e \u003c!-- BEGIN features --\u003e\n\u003ch3\u003eMain Features\u003c\/h3\u003e\n\u003cul class=\"features\"\u003e\n\u003cli\u003e\n\u003cp\u003e\u003cstrong\u003e\u003cspan style=\"color: #00aaff;\"\u003e[Adaptable Storage And Organizing Solution]\u003c\/span\u003e \u003c\/strong\u003eThe organizer is designed to help you reclaim your most valuable kitchen storage space while at the same time keeping everything neatly arranged including your food storage containers, mixing bowls, cookware, serve ware, pots, pans, lids, utensils and more.\u003c\/p\u003e\n\u003c\/li\u003e\n\u003c\/ul\u003e\n\u003cp\u003e\u003cimg style=\"display: block; margin-left: auto; margin-right: auto;\" src=\"https:\/\/cdn.shopifycdn.net\/s\/files\/1\/0082\/9148\/3738\/files\/21794759033_510422106_480x480.jpg?v=1610361244\" alt=\"\"\u003e\u003c\/p\u003e\n\u003cul class=\"features\"\u003e\n\u003cli\u003e\n\u003cp\u003e\u003cspan style=\"color: #00aaff;\"\u003e \u003cstrong\u003e[Fully Adjustable] \u003c\/strong\u003e\u003c\/span\u003eUnlike many organizer trays that are confined to a single pre-determined configuration, this organizer gives you the ability to adjust based on your changing storage and organizational needs.\u003c\/p\u003e\n\u003c\/li\u003e\n\u003c\/ul\u003e\n\u003cp\u003e\u003cimg alt=\"\" src=\"https:\/\/cdn.shopifycdn.net\/s\/files\/1\/0082\/9148\/3738\/files\/BE340108-5A69-4416-813E-F68316230A2F_480x480.jpg?v=1610360898\" style=\"display: block; margin-left: auto; margin-right: auto;\"\u003e\u003c\/p\u003e\n\u003cul class=\"features\"\u003e\n\u003cli\u003e\n\u003cp\u003e\u003cspan style=\"color: #00aaff;\"\u003e \u003cstrong\u003e[Quick Drain] \u003c\/strong\u003e\u003c\/span\u003eThe pegboard comes with multi-hole evenly, easy to drain, well ventilation, keep your cutlery from mildew, make sure better and more hygienic kitchen storage.\u003c\/p\u003e\n\u003c\/li\u003e\n\u003c\/ul\u003e\n\u003cp\u003e\u003cimg alt=\"\" src=\"https:\/\/cdn.shopifycdn.net\/s\/files\/1\/0082\/9148\/3738\/files\/A21A2BE0-7902-4f26-AE2C-00680A6B97C3_480x480.jpg?v=1610360950\" style=\"display: block; margin-left: auto; margin-right: auto;\"\u003e\u003c\/p\u003e\n\u003cul class=\"features\"\u003e\n\u003cli\u003e\n\u003cp\u003e\u003cstrong\u003e\u003cspan style=\"color: #00aaff;\"\u003e[Versatile Organizer]\u003c\/span\u003e \u003c\/strong\u003eIt is the ideal kitchen drawer organizer tray and also works equally well inside cupboards, cabinets, or even on a shelf. This makes it a must-have for your kitchen if you want to declutter your most vital storage areas and keep items of all shapes and sizes in their proper place.\u003c\/p\u003e\n\u003c\/li\u003e\n\u003c\/ul\u003e\n\u003cp\u003e\u003cimg alt=\"\" src=\"https:\/\/cdn.shopifycdn.net\/s\/files\/1\/0082\/9148\/3738\/files\/21794720788_510422106_480x480.jpg?v=1610360982\" style=\"display: block; margin-left: auto; margin-right: auto;\"\u003e\u003c\/p\u003e\n\u003cul class=\"features\"\u003e\n\u003cli\u003e\n\u003cp\u003e\u003cstrong\u003e\u003cspan style=\"color: #00aaff;\"\u003e[Easy To Set Up]\u003c\/span\u003e \u003c\/strong\u003eThe organizer sets up in a matter of seconds and the non-slip feet help ensure it stays in place wherever you need it most. Just position the included pegs (set includes 12 pegs) on the pegboard tray to fit the items you're trying to keep organized.\u003c\/p\u003e\n\u003c\/li\u003e\n\u003c\/ul\u003e\n\u003cp\u003e\u003cimg alt=\"\" src=\"https:\/\/cdn.shopifycdn.net\/s\/files\/1\/0082\/9148\/3738\/files\/945CE2AE-41CD-4d44-AFA0-D5B25489B4E7_480x480.jpg?v=1610361002\" style=\"display: block; margin-left: auto; margin-right: auto;\"\u003e\u003c\/p\u003e\n\u003cdiv class=\"listing-build-item\"\u003e\n\u003cul\u003e\u003c\/ul\u003e\n\u003c\/div\u003e\n\u003c!-- END Using Method --\u003e \u003c!-- BEGIN usage_scene --\u003e \u003c!-- END usage_scene --\u003e \u003c!-- BEGIN specification --\u003e\n\u003cdiv class=\"listing-build-item\"\u003e\n\u003ch3\u003eSpecifications\u003c\/h3\u003e\n\u003ctable\u003e\n\u003c!-- BEGIN specification_material --\u003e \u003c!-- END specification_material --\u003e \u003c!-- BEGIN specification_weight --\u003e\n\u003ctbody\u003e\n\u003ctr style=\"height: 38px;\"\u003e\n\u003cth style=\"height: 38px;\" scope=\"row\"\u003eProduct Weight\u003c\/th\u003e\n\u003ctd style=\"height: 38px;\"\u003e\n\u003cul\u003e\n\u003cli\u003e336G\u003c\/li\u003e\n\u003c\/ul\u003e\n\u003c\/td\u003e\n\u003c\/tr\u003e\n\u003c!-- END specification_weight --\u003e \u003c!-- BEGIN specification_size --\u003e\n\u003ctr style=\"height: 38px;\"\u003e\n\u003cth style=\"height: 38px;\" scope=\"row\"\u003ePackageSize\u003cbr\u003e (L x W x H)\u003c\/th\u003e\n\u003ctd style=\"height: 38px;\"\u003e\n\u003cul\u003e\n\u003cli\u003e54 × 15 × 9CM\u003c\/li\u003e\n\u003c\/ul\u003e\n\u003c\/td\u003e\n\u003c\/tr\u003e\n\u003c!-- END specification_size --\u003e \u003c!-- BEGIN specification_many_package --\u003e\n\u003ctr style=\"height: 36.375px;\"\u003e\n\u003cth style=\"height: 36.375px;\" scope=\"row\"\u003ePackage Contents\u003c\/th\u003e\n\u003ctd style=\"height: 36.375px;\"\u003e\n\u003cul\u003e\n\u003cli\u003eDrain organizer × 1 set\u003c\/li\u003e\n\u003c\/ul\u003e\n\u003c\/td\u003e\n\u003c\/tr\u003e\n\u003c!-- END specification_one_package --\u003e \u003c!-- BEGIN specification_custom_attribute --\u003e\n\u003ctr style=\"height: 19px;\"\u003e\n\u003cth style=\"height: 19px;\" scope=\"row\"\u003eColor\u003c\/th\u003e\n\u003ctd style=\"height: 19px;\"\u003eBlack\u003c\/td\u003e\n\u003c\/tr\u003e\n\u003ctr style=\"height: 19px;\"\u003e\n\u003cth style=\"height: 19px;\" scope=\"row\"\u003eMaterial\u003c\/th\u003e\n\u003ctd style=\"height: 19px;\"\u003eABS\u003c\/td\u003e\n\u003c\/tr\u003e\n\u003ctr style=\"height: 19px;\"\u003e\n\u003cth style=\"height: 19px;\" scope=\"row\"\u003e\n\u003cp\u003eExpand Size\u003c\/p\u003e\n\u003cp\u003e\u003cspan\u003e(L x W x H)\u003c\/span\u003e\u003c\/p\u003e\n\u003c\/th\u003e\n\u003ctd style=\"height: 19px;\"\u003e54 x 15 x 9.3CM\u003c\/td\u003e\n\u003c\/tr\u003e\n\u003ctr style=\"height: 38px;\"\u003e\n\u003cth style=\"height: 38px;\" scope=\"row\"\u003e\n\u003cp\u003eUnexpanded Size \u003cspan data-mce-fragment=\"1\"\u003e(L x W x H)\u003c\/span\u003e\u003c\/p\u003e\n\u003c\/th\u003e\n\u003ctd style=\"height: 38px;\"\u003e40 x 15 x 9.3CM\u003c\/td\u003e\n\u003c\/tr\u003e\n\u003c!-- END specification_custom_attribute --\u003e\n\u003c\/tbody\u003e\n\u003c\/table\u003e\n\u003c!-- BEGIN specification_size_img --\u003e \u003c!-- END specification_size_img --\u003e\n\u003c\/div\u003e\n\u003c!-- END specification --\u003e \u003c!-- BEGIN note --\u003e\n\u003ch3\u003e\u003cimg alt=\"\" src=\"https:\/\/cdn.shopifycdn.net\/s\/files\/1\/0082\/9148\/3738\/files\/468ef44610c31b5b50b747b4f9f5ee49_0540bfea-8220-414f-ac55-ce60244b4964_480x480.jpg?v=1610361027\" style=\"display: block; margin-left: auto; margin-right: auto;\"\u003e\u003c\/h3\u003e\n\u003ch3\u003eNote\u003c\/h3\u003e\n\u003cul\u003e\n\u003cli\u003eDue to the different display and lighting effects, the actual color of the item may be slightly different from the color displayed in the picture.\u003c\/li\u003e\n\u003cli\u003eDue to manual measurements, please allow slight measurement deviations.\u003c\/li\u003e\n\u003c\/ul\u003e\n\u003c!-- END note --\u003e"}
Adjustable Countertop Split Drain Organizer
Product Description
Optimize your kitchen drawer space effortlessly!

Main Features
[Adaptable Storage And Organizing Solution] The organizer is designed to help you reclaim your most valuable kitchen storage space while at the same time keeping everything neatly arranged including your food storage containers, mixing bowls, cookware, serve ware, pots, pans, lids, utensils and more.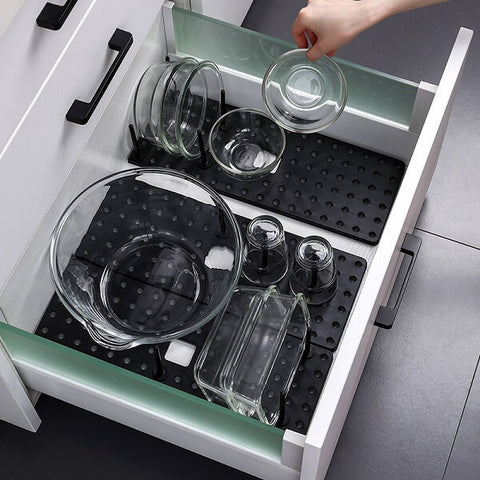 [Fully Adjustable] Unlike many organizer trays that are confined to a single pre-determined configuration, this organizer gives you the ability to adjust based on your changing storage and organizational needs.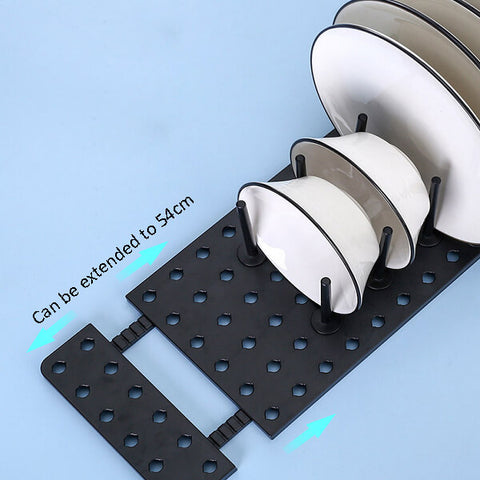 [Quick Drain] The pegboard comes with multi-hole evenly, easy to drain, well ventilation, keep your cutlery from mildew, make sure better and more hygienic kitchen storage.
[Versatile Organizer] It is the ideal kitchen drawer organizer tray and also works equally well inside cupboards, cabinets, or even on a shelf. This makes it a must-have for your kitchen if you want to declutter your most vital storage areas and keep items of all shapes and sizes in their proper place.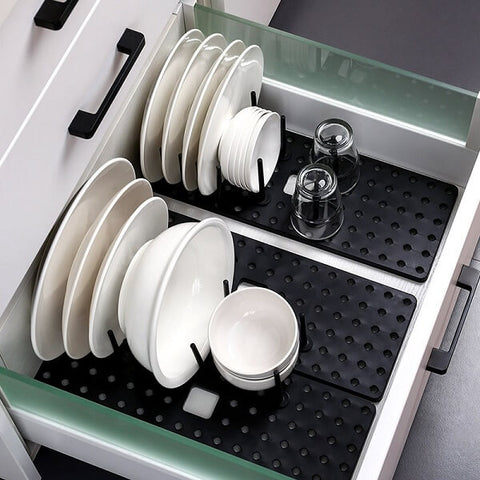 [Easy To Set Up] The organizer sets up in a matter of seconds and the non-slip feet help ensure it stays in place wherever you need it most. Just position the included pegs (set includes 12 pegs) on the pegboard tray to fit the items you're trying to keep organized.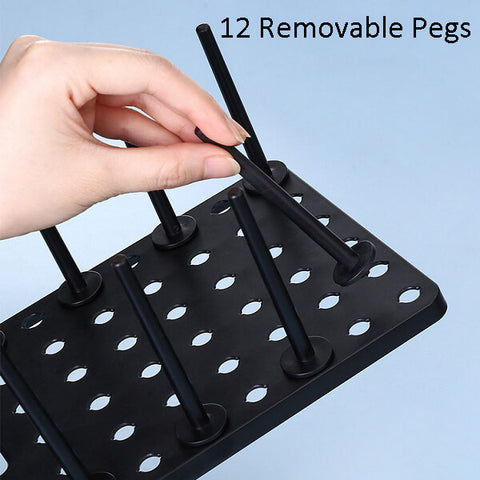 Specifications
Product Weight
PackageSize
(L x W x H)
Package Contents
Color
Black
Material
ABS

Expand Size

(L x W x H)

54 x 15 x 9.3CM

Unexpanded Size (L x W x H)

40 x 15 x 9.3CM

Note
Due to the different display and lighting effects, the actual color of the item may be slightly different from the color displayed in the picture.
Due to manual measurements, please allow slight measurement deviations.
Shipping:
We processes orders between Monday and Friday. Orders will be processed within 7 business days of ordering and shipped out the next day after the processing day. We don't ship on weekends.